Winning a state football championship is nothing new to Mater Dei Catholic High School. After all, the Crusaders defeated Reedley Immanuel, 56-21, to win the Division 5-AA title in 2015.
But last Friday's 35-24 win over Modesto Central Catholic at Saddleback College in Mission Viejo was a milestone in its own right as the Crusaders captured their second state championship.
The way the reigning Mesa League champions accomplished the feat was perhaps even more impressive.
"Winning a state championship is a huge accomplishment and we are very proud of the boys for what they have done for the school community," Mater Dei Catholic head coach John Joyner said, "Central Catholic is a great football team and program and they were a tough task. Their size and run game were excellent but our defense held strong and really led us to the victory."
No kidding as far as the latter goes. Defense was the Crusaders' forte throughout the entire season but it definitely took on new meaning in the playoffs, both at the section and state levels.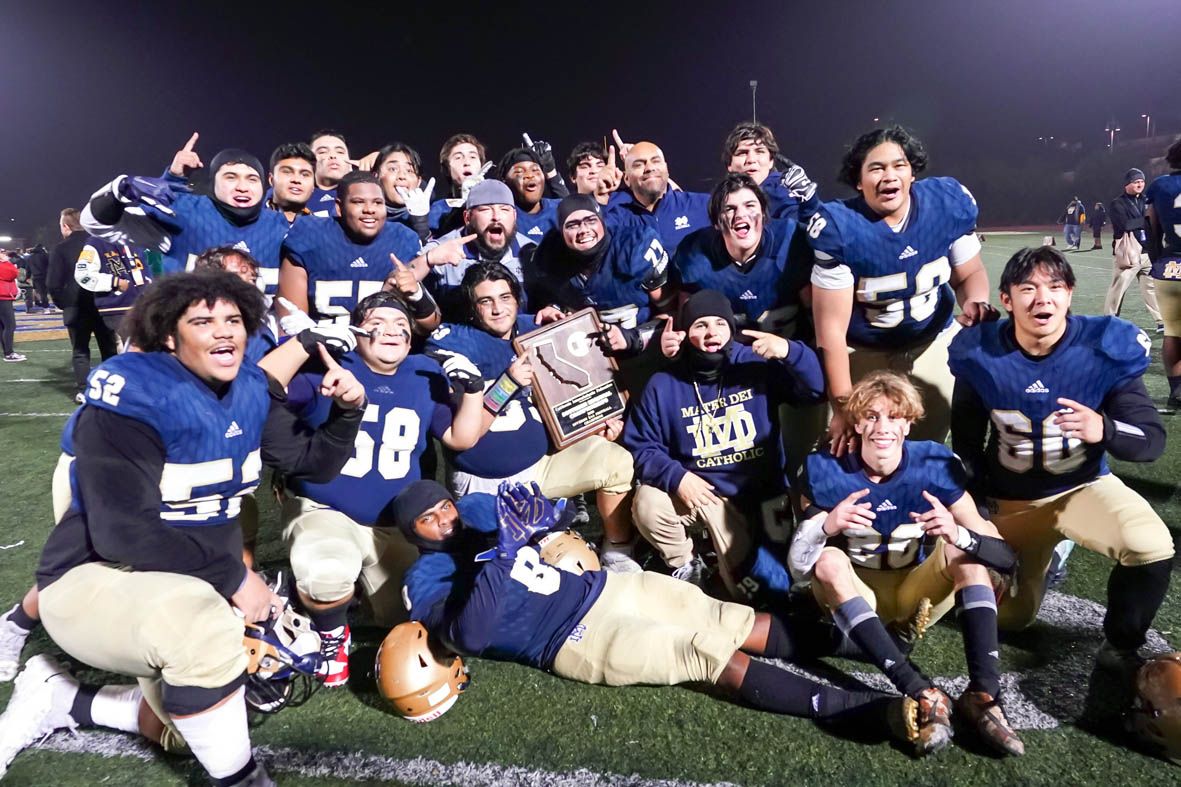 Picture perfect
The undefeated season was the first for the school since 2003. The Crusaders' first state championship team, braced by current Oregon star C.J. Verdell, finished its glory season 14-1.
The latest state championship came about in slightly different fashion.
Mater Dei Catholic aired out its prolific passing game as junior Dominic Nankil passed for 297 yards; the Crusaders made the most of their less prolific on-the- day running attack as junior Nico Mosley scored three touchdowns on 47 rushing yards.
But there was the team's vaunted defense to reckon with.
Sophomore Isaiah Bruxton returned an intercepted pass 88 yards for a touchdown to put Mater Dei Catholic on the scoreboard first. Brian Dukes made an interception later in the game that led to another touchdown scored on a two-yard run by Mosley.
The Crusaders stopped a pair of fourth-down attempts by Central Catholic in the dying stages of the game, including a key stop by junior Anthony Lopez with 3:32 to play that allowed Mater Dei Catholic to run precious time off the clock.
Seniors Jason Harden and Frank Zhou combined to make the final stop to stymie a fourth-down reverse to put the finishing touch on the history-making victory.
The Mesa League champions roared out to a monstrous 20-7 first quarter lead. The bulge proved crucial as Central Catholic out-scored the Crusaders 18-14 over the balance of the game.
Mater Dei Catholic led 27-13 at halftime. The Crusaders would only score seven points in the second half but the pair of late defensive stands provided dividends.
That was not a surprise.
The Raiders narrowed the score to 27-19 in the third quarter before Dukes' drive-killing pick.
When the Chula Vista team wasn't necessarily great during the game, it was also lucky as the  Sac-Joaquin Section champions missed two extra-point conversions and a two-point conversion that could have swung the score in a different direction at key moments in the game.
The Crusaders held Central Catholic to just 45 passing yards in the game, forcing 11 incompletions in 16 passing attempts while gathering in two interceptions. Sophomore Tyler Wentworth finished the contest with a woeful 1.0 quarterback rating.
Mater Dei Catholic's defense was less effective against the running game as the Raiders racked up 331 rushing yards and four touchdowns — two each by seniors Aiden Taylor (18 carries, 192 yards) and Julian Lopez (23 carries, 108 yards).
The Crusaders were fairly effective at protecting the ball on offense with just one interception and one lost fumble.
In the receiving department, junior Jerry McClure had five catches for 103 yards while junior Cruz Estrada had two receptions for 109 yards but missed on a touchdown when he fumbled the ball through the end zone.
The Crusader victory snapped an eight-game winning streak by the Raiders (13-2).
With 27 juniors, six sophomores and one freshman on this year's state championship squad, expect Mater Dei Catholic to be well-stocked for another exciting run in 2022.
State Championship
Bowl Games
Division 1-AA
Cathedral Catholic 33, Folsom 21
Division 2-AA
Mater Dei Catholic 35, Modesto Central Catholic 24
Division 1-A
Scripps Ranch 31, Wilcox 28
MATER DEI CATHOLIC
CRUSADERS — 13-0
Mater Dei Catholic 53, Brawley 21
Mater Dei Catholic 53, Westview 6
Mater Dei Catholic 56, La Jolla 0
Mater Dei Catholic 35, St. Augustine 0
Mater Dei Catholic 46, Bonita Vista 0
Mater Dei Catholic 41, Otay Ranch 7
Mater Dei Catholic 28, Eastlake 14
Mater Dei Catholic 45, Hilltop 3
Mater Dei Catholic 55, El Capitan 0
Mater Dei Catholic 40, Santa Fe Christian 8
Mater Dei Catholic 37, Ramona 10
Mater Dei Catholic 24, Helix 21
Mater Dei Catholic 34, Modesto Central Catholic 25
x-state champions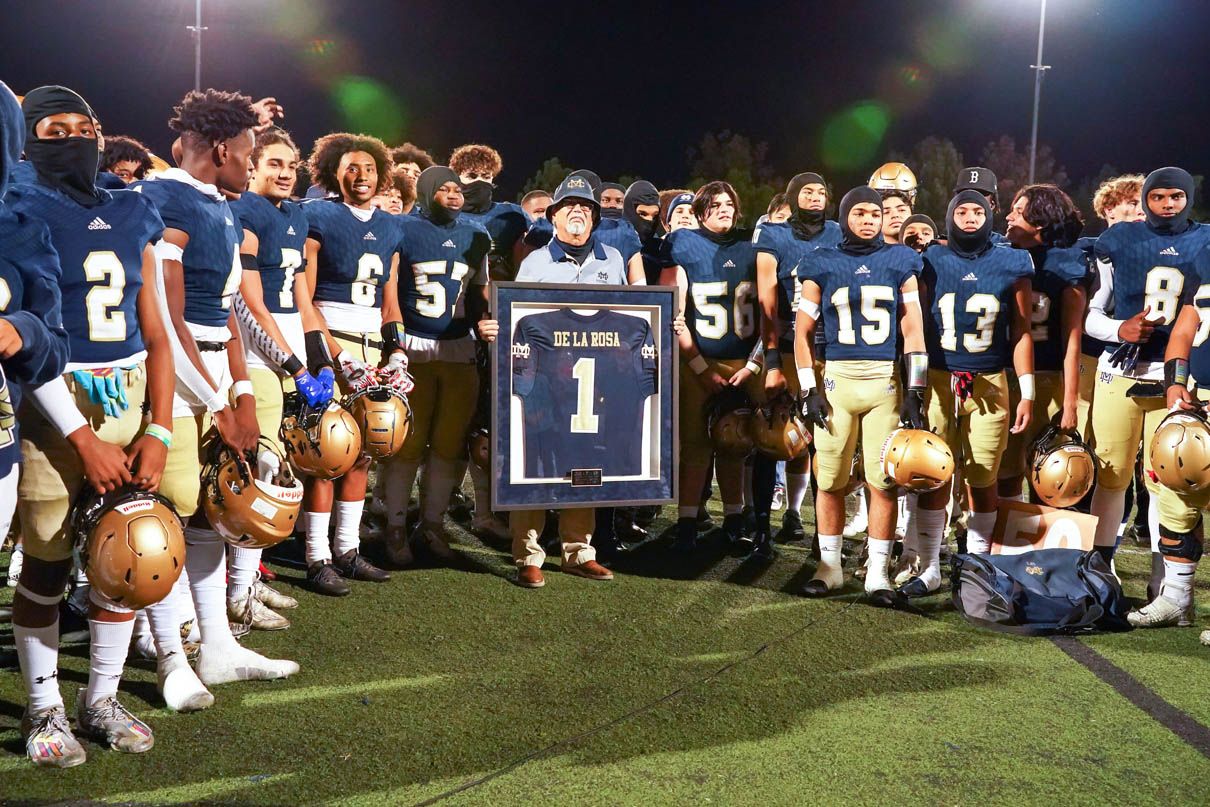 Crusaders honor 'Coach D' for long service with team
The Mater Dei Catholic High School football team honored longtime equipment manager Alfred De La Rosa with a special recognition ceremony and jersey number prior to its quarterfinal playoff game on Nov. 19.
A 1969 graduate of Marian High School, De La Rosa became involved with the Crusader program in 1990 when his oldest son was playing with the team. John Pappas was then head coach.
"I asked him if he needed any help," De La Rossa said.
The answer was affirmative. The rest is history.
A specialist in fabrication and welding, De La Rosa helped build the frame for the school's scoreboard among other projects on campus.
De La Rosa was around for the Mike David era that saw the Crusaders win San Diego Section Division IV championships in 1998 and 1999.
Last weekend's state championship game victory has to rank among his most memorable moments with the team.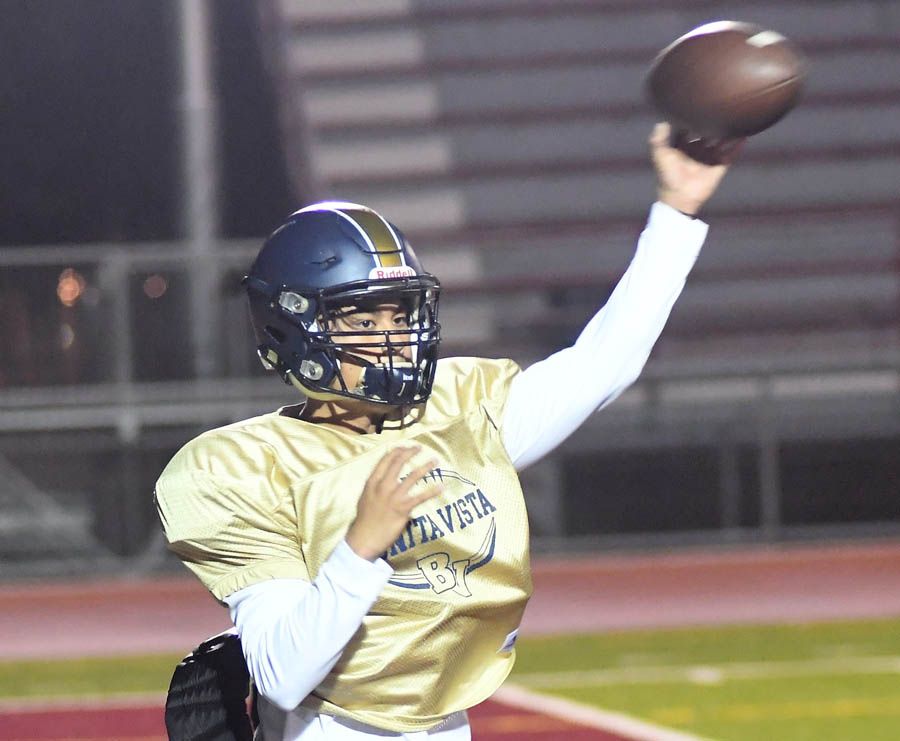 High school football season finally comes to an end with a rich reward
The high school football season has mercifully — and quite eventfully — finally come to an end.
Three San Diego Section teams won state championship titles last weekend at Saddleback College. The Cathedral Catholic Dons defeated Folsom, 33-21, to win the Division 1-AA championship while Mater Dei Catholic defeated Modesto Central Catholic, 35-24, to win the Division 2-AA championship. Scripps Ranch defeated Wilcox, 31-28, to win the Division 2-A title.
Prior to the state bowl games, Cathedral Catholic defeated Carlsbad, 48-19, to win the section's Open Division championship while Mater Dei Catholic defeated Ramona, 37-10, to win the section's Division III championship. Scripps Ranch battered La Jolla, 41-0, to win the section's Division II championship.
Mater Dei Catholic defeated section Division I champion Helix Charter, 24-21, in the Southern California regional playoff to advance to the state championship game.
Cathedral Catholic finished its season with a 12-2 record while Mater Dei Catholic was the section's lone undefeated team at 13-0. Scripps Ranch ended its season of plenty at 14-1.
That wasn't the only high-profile competition to take place last weekend.
Fourteen South County players were selected to participate in last Saturday's 31st annual Alex Spanos All-Star Classic at Escondido High School.
Metro Conference schools contributed a third of the players to this year's 43-man South roster. Other representation came from the Grossmont Conference (15 players) and the City Conference 14 players).
South County players represented included receiver/defensive back Jaydin Jackson, linebacker Jayden Kendricks and defensive back Jayden Cortell from Eastlake High School; receiver/defensive back Jordan Mahan from Mar Vista High School; receiver/defensive back Jayhalin Sanders, defensive back Noah Concepcion, receiver/defensive back Jonathan Nava, defensive end Dominic Yancey and offensive lineman/defensive tackle Kito Fierro from Otay Ranch High School; quarterback Nathan Roble-Cistobal and receiver/defensive back Malosi Iuli from Bonita Vista High School; running back/linebacker/long-snapper Javier Sanchez from Sweetwater High School; and tight end/defensive end Zack Bernard from Hilltop High School.
All players named to the senior all-star squad called it an honor.
"I consider it blessed to be out with these guys, execute and be competitive," Sanchez said. "The season was great, it was hard work. We finished 6-3."
"It's a big more for me," Fierro said. "When I found out some of my friends were selected, I was waiting to be selected, When I got it, I was pretty excited. It means a lot.
'We did our best. We didn't come on top all the time (3-6 record) but we tried out hardest and we played as a team. Our brotherhood was tight and that was the most important."
"It's a blessing," Mahan said. "I've been practicing every day for this moment. It's a blessing to be out here balling with everyone. All this talent is amazing.
"Our season was pretty good (5-5 record, playoff appearance). We had a lot of talent on the field. Playing as a team made us better every day."
"I feel very honored and blessed to be able to come here and participate in the game," explained Sanders, who caught 21 passes for 223 yards and one touchdown. "It's a great honor. I wasn't expecting it because of our season but I'm glad to be picked.
"It's actually very fun. The guys are very friendly. We're all one big family. It's good to come here and play with them.
"I think out season went well overall considering we had no field, no lights after dark. It was tough but we made do, and it was a good season."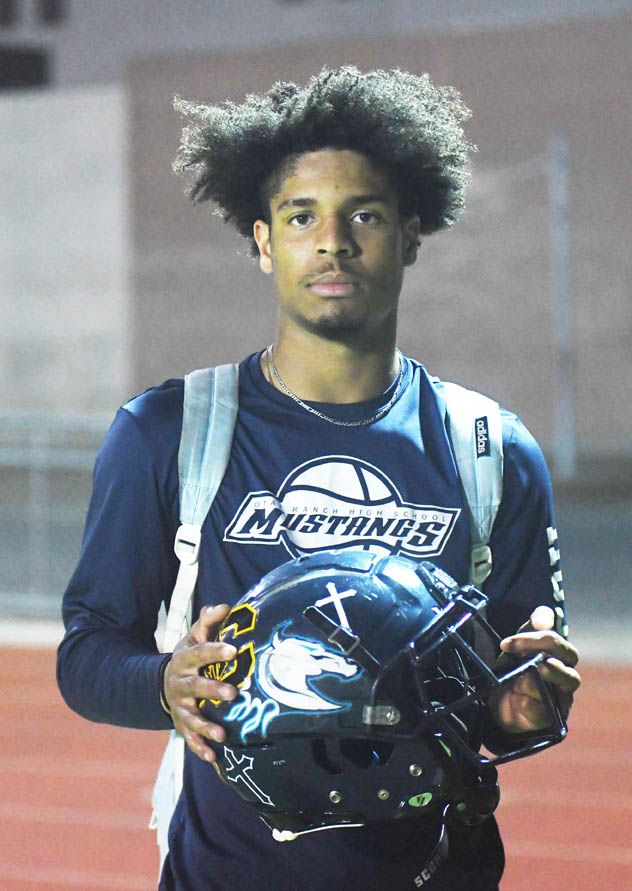 The Bonita Vista High School coaching staff served as the South team's coaches, headed by Baron head coach Tyler Arciaga.
"What's really nice about it is just getting a diverse group of kids together from all these different schools — from the City Conference, from the Grossmont Conference, from the Metro Conference — where you have rivalries, you have Bonita-Eastlake, Santana and West Hills, just seeing them kind of come together for a common goal, work together and become kind of friends off the field, too," Arciaga said. "What's neat about it is to put aside all those rivalries and basically bring out the best in people."
Despite all the enthusiasm exhibited by the players and coaches, the South team took it on the chin in a 35-12 loss to the North team. Five turnovers and 13 penalties proved costly in the outcome of the contest.
With an all-star team with a limited number of practices, that might have been expected.
Savigon Yokely scored both South touchdowns — the first came on a 36-yard catch-and-carry from Roble-Cistobal with 1:25 left in the first half while the second scoring play came on a 35-yard pass from Mission Bay quarterback Clash Osborn.
North MVP Malachi Keels of Orange Glen caught six passes for 55 yards and one touchdown. El Camino's Kiah Reid tossed a pair of TD passes.
The North led 11-6 at halftime.
St. Augustine tight end/defensive lineman Grayson Halton earned MVP honors for the South team and also served as one of its team captains.
"It was truly an honor to be selected to coach the South in the Alex Spanos All-Star Classic," Arciaga said. "Coaching talent from the City, Grossmont and Metro Conference was a special experience for our coaching staff. To see this collection of talent come together and put aside heated rivalries shows the power of football and how it can bring people together.
"Most of these players were the top players on their team, and it was refreshing to see how coachable and selfless they were. Some players played a different position than they were accustomed to, others played special teams when they didn't on their own team, and others embraced their backup roles even though they were all-league players.
"I think that is a testament to player's families and their coaches for helping mold such great young men. Even though we didn't get the result we wanted, the opportunity for these kids to play one final high school game was a special experience."
East County players represented included receiver/defensive backs Savigon Yokley and Antwone Yokley, twin brothers, from El Capitan High School; receiver/defensive back Dylan Snyder and center Andrew Engstrom from West Hills High School; quarterback Trenton Giles, linebacker Ryan Odom, defensive back Christian Espino, linebacker Brennen Sanders and receiver Ryan Rodieck from Grossmont High School; linebacker Spencer Campillo, defensive back Nathan Gillis and kicker David Martinez from Steele Canyon High School; offensive/defensive lineman Tanner Vielguth and tight end/defensive lineman Zach Burton from Granite Hills High School; and center/defensive lineman Jackson Dolan from Santana High School.
Selections from City Conference schools included Halton, running back Isaiah Pressley, linebacker Jake Bolin and offensive lineman Luke Bolin from St. Augustine High School; running back/defensive back Elijah Lux, receiver/defensive back Omar Hammond and tight end/linebacker Makia Elliot from Patrick Henry; Mission Bay quarterback Clash Osborn; Coronado running back/linebacker Zane Delcore; Kearny offensive guard Cedric Wells; San Diego running back/linebacker Michael Savage; Madison tight end/defensive end Cole Hartman; University City offensive tackle Jose Sanchez; and Mira Mesa offensive guard Andy White.
Pressley was the South's other team captain.