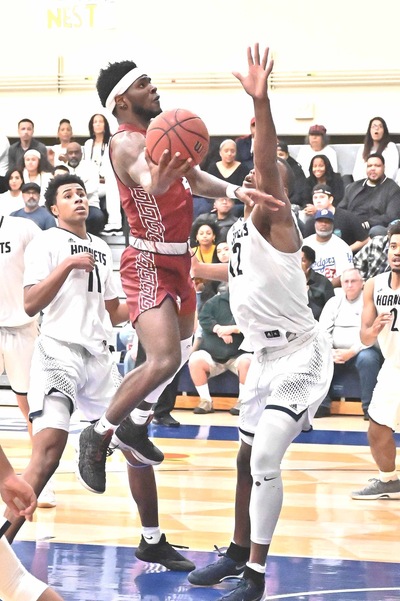 Southwestern College's men's basketball team rolled to a 10-0 finish to win the Pacific Athletic Coast Conference South Division championship for 2018-19. The Jaguars were richly rewarded for the deed with seven all-conference selections, including South Division MVP Marquavian Stephens (Swartz Creek, Flint, Mich).
Jordan Cooke (Ramsey, N.J) and Nathaniel Pearson (Hoover) joined Stephens as fellow first team selections while D.J. Wilson (Horizon) and Marc Combs (Queens, N.Y.) received second team honors. Honorable mention picks included Quincy Ferebee (Serra) and Tyler Simmons (Riverside Poly).
Stephens led the Jaguars in season scoring with a 17.9 average.
San Diego City's Joseph Riley and Robby Robinson, Grossmont's Lamon Hudson, Imperial Valley's Alvin Martin, San Diego Mesa's Aren Thompson and Cuyamaca's Frankie Gutierrez joined SWC's Stephens, Cooke and Pearson as PCAC first team selctions.
Southwestern coach John Cosentino earned honors as the PCAC co-coach of the year honors joining San Bernardino Valley coach Quincy Brewer.
The Jaguars, braced by a 16-game winning streak, finished 24-4 in regular season play to win the PCAC South Division championship while San Bernardino Valley finished regular season play 22-6 overall to win the PCAC North Division championship with a 9-1 division record.
San Bernardino Valley's Roman Silva and Mt. San Jacinto's David Thompson received recognition as the PCAC North Division Co-MVP recipients while San Bernardino's Damani Washington and Nathan Pendarvis, Mt. San Jacinto's C.J. Hyder and Deshawn Millington, San Diego Miramar's Blake Seits and Damien Miller and College of the Desert's Sam Skipper joined them as PCAC North Division first team selections.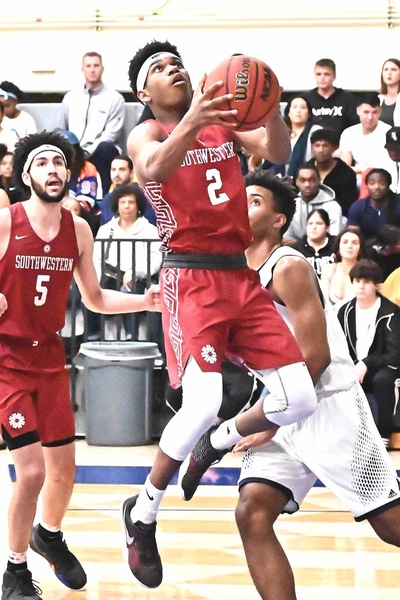 Regional playoffs
Five PCAC teams were among 20 teams to receive bids to the Southern California regional championship playoffs.
Southwestern received the No. 8 seed and hosted ninth-seeded San Bernardino Valley in a quarterfinal round elimination game on March 1, winning 92-82.
San Jacinto received the No. 10 seed while Miramar received the No. 17 seed and San Diego received the No. 18 seed. Both Miramar and San Diego City tipped off tournament play with play-in games on Feb. 27.
Top-seeded Fullerton (27-3) stopped Southwestern, 67-64, in the regional semifinals on March 9.
The four semifinal winners qualified for the state tournament March 14, 16-17 at Ventura College.
Santa Monica, seeded 15th, proved to be the bracket buster in this year's regional tournament after posting upset wins over second-seeded East Los Angeles (24-4) and seventh-seeded Riverside (20-9).
Also advancing to the state finals are third-seeded Citrus (23-6) and fourth-seeded Chaffey (23-7).
In games on Thursday, March 14, Fullerton and Citrus both advanced with victories while Chaffey and Santa Monica both ended their seasons with setbacks.
Fullerton defeated Santa Rosa, 71-68, while Citrus stopped College of the Sequoias by a score of 70-59.
Fresno defeated Chaffey, 68-56, while San Francisco defeated Santa Monica 70-63.
In semifinal matchups on Saturday, March 16, Citrus will meet San Francisco while Fullerton will play Fresno.
The winners will play for the state championship.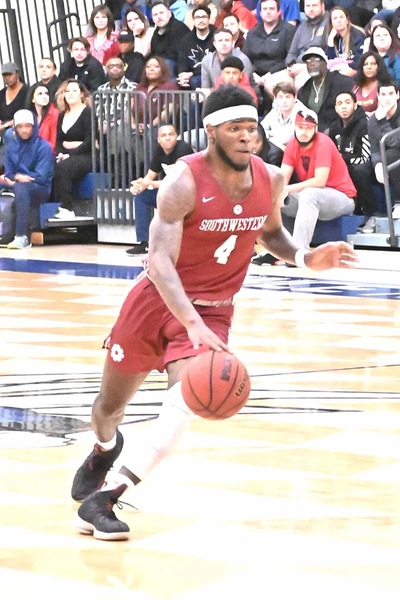 Marathon men
Southwestern tipped off the season with a 2-1 showing at the Don Gehler Memorial Tournament Nov. 1-3 at San Diego Miramar College. The Jaguars won all three of their games at the Palomar tournament Nov. 23-25 and finished 1-1 at the ensuing Citrus Invitational Nov. 30 to Dec. 1 and Southwestern tournament Dec. 7-8.
Southwestern wrapped up conference play with a 103-78 win against visiting Grossmont on Feb. 20 and a 79-64 win at San Diego Mesa on Feb. 22.
Stephens led all scorers with 22 points and eight rebounds in the win over Mesa while Combs pumped in 15 points.
SWC defeated visiting Santiago College, 92-83, on Dec. 15 to start its marathon 16-game winning streak. The Jaguars tipped off PCAC South Division play Jan. 18 with a 72-59 win at Cuyamaca College.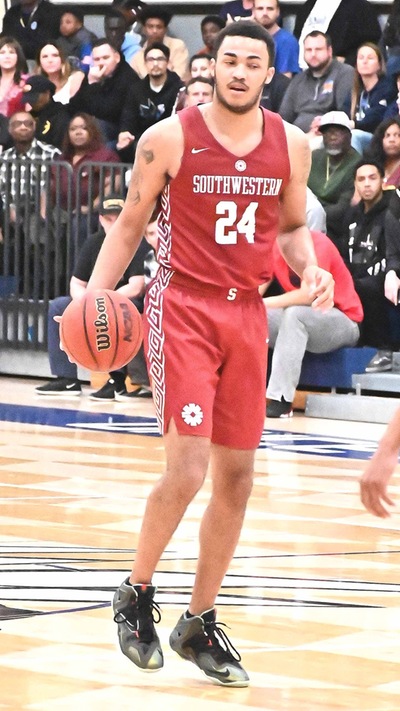 Pearson followed Stephens on the score sheet with a 14.9 scoring average while Jose Serrano ranked third at 13.7. Cooke ranked fourth on the team with a 10.2 season scoring average while Nikko Paranada (Foothills Christian) was fifth at 10.1.
Wilson (8.4), Combs (7.7), Simmons (7.3) and Ferebee (6.8) rounded out the team's top scorers.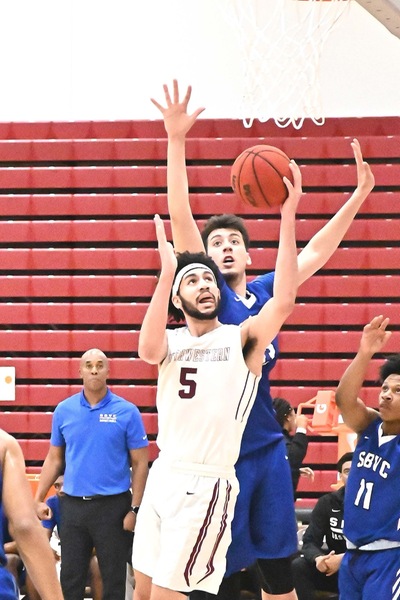 Cooke led the Jags with a 7.7 season rebounding average, followed by Pearson (7.0), Serrano (6.9) and Stephens (6.0).
Ferebee led the team with 5.0 assists per game, followed by Pearson (3.0) and Paranada (2.6). Cooke led the team with 2.4 blocks per game while Combs led the team with 1.7 steals per game.
Century mark
The Jags topped the 100-point mark four times this season, scoring a game-high 114 points in a Nov. 16 home game against Miramar College. SWC also racked up 102 points at Mt. San Jacinto on Jan. 5, 107 points against visiting Imperial Valley on Jan. 23 and 103 points against visiting Grossmont on Feb. 20.
Combs led SWC with 22 points in the blowout win over Grossmont while Cooke dropped in 16 points. Pearson added 15 points while Simmons scored 14 points as the hosts led 50-33 at halftime.
Stephens poured in 22 points while five other Jaguars scored in double figures in the win over Mt. San Jacinto. Wilson had 17 points, followed by Ferebee and Pearson each with 15 points, Simmons with 14 points and Cooke with 11 points.
Stephens had a big game in the win over Miramar by pouring in 37 points. Pearson had 12 rebounds and 17 points in the runaway victory.
Stephens dropped in 33 points in the win over Imperial Valley as SWC built a 56-29 halftime lead.
The Jaguars averaged 83.6 points per game and 40.3 rebounds per game through 30 games.
PCAC South Division
Final Standings
Southwestern 10-0, 25-5
San Diego City 7-3, 16-13
San Diego Mesa 6-4, 10-17
Imperial Valley 3-7, 10-17
Grossmont 3-7, 6-22
Cuyamaca 1-9, 4-24
Lady Jags: three-way tie for PCAC lead
The SWC women's basketball team finished its season 15-11, 5-3 in conference play, to tie Imperial Valley and Grossmont, for the South Division lead, all with 5-3 division records.
The Lady Jaguars closed the season with a three-game winning streak but did not advance to post-season play.
Three Southwestern players — Maya Robinson, Satera Bates, Danielle Simmons — earned berths on the PCAC South Division all-conference first team along with two San Diego Mesa athletes (Yusra Gharram, Lavinia Moa), two Grossmont players (Chiara Mattern, Drew Mendoza) and one San Diego City athlete (Elliott Nixon), and two Imperial Valley players (Destiny Salgado and Keren Hogue).
Salgado earned distinction as the division MVP. She started 25 of 26 games, averaging 18.9 points and 15.5 rebounds-per-game. She notched the No. 1 rebounding average in the state while her scoring average ranked 14th. The Lady Arab standout scored a season-high of 38 points against Southwestern in a Feb. 13 match-up and grabbed a season-high 22 rebounds against Grossmont in a Jan. 25 game.
Malia Talavera was the lone Lady Jag to earn all-conference second team honors.
Southwestern averaged 76.3 points per game and 49.3 rebounds per game through 26 games.
The Lady Jaguars ended the 2018-19 season with a 74-67 win at San Diego Mesa on Feb. 22. Bates (Mount Miguel) led all scorers in the game with 19 points while Robinson (Eastlake) dropped in 14 points.
The Southwestern roster was comprised of almost all local players from Mount Miguel, Sweetwater, Grossmont, Olympian, Eastlake, Otay Ranch, Santana, Morse, Montgomery and Helix high schools.
PCAC South Division
Final Standings
Southwestern 5-3, 15-11
Imperial Valley 5-3, 14-14
Grossmont 5-3, 7-17
San Diego City 3-5, 11-16
San Diego Mesa 2-6, 6-18
Community college basketball:
SWC men fall in SoCal regional semifinals
Winners of 16 consecutive games, the Southwestern College men's basketball team finally tasted defeat in the Southern California regional semifinals, coming up short by a 67-64 score to Fullerton on March 9 to end an otherwise standout 2018-19 campaign.
The Jaguars finished 25-5 overall after posting a perfect 10-0 conference season.
Tyler Simmons led SWC with 14 points in the loss to Fullerton while teammate Nathaniel Pearson dropped in 12 points. Marc Combs added 10 points for the Jaguars.
Southwestern and Fullerton were tied at 31 at halftime before the hosts won a 36-33 scoring battle in the second half.
Fullerton's Omajae Smith led all players on the court with 15 points.
Fullerton improved to 27-3 with the win.
Southwestern defeated visiting San Bernardino Valley, 92-82, in the second round of the regional playoffs on March 1.
The Jaguars held a narrow 40-39 lead at halftime before recording a nine-point scoring edge, 52-43, in the second half to win by 10 points.
Five SWC players scored in double figures, led by Marquavian Stephens with 18 points. Combs with 17 points and Pearson with 16 points. Jordan Cooke collected 13 points while Simmons tacked on 11 points.
Five SBV players scored in double figures, including three players with 14 points each: Damani Washington, Eric Hancik and K'Lon Williams.
Southwestern out-rebounded San Bernardino Valley 42-31 to win the battle of the boards.
Playoff Photo Gallery by Russell Scoffin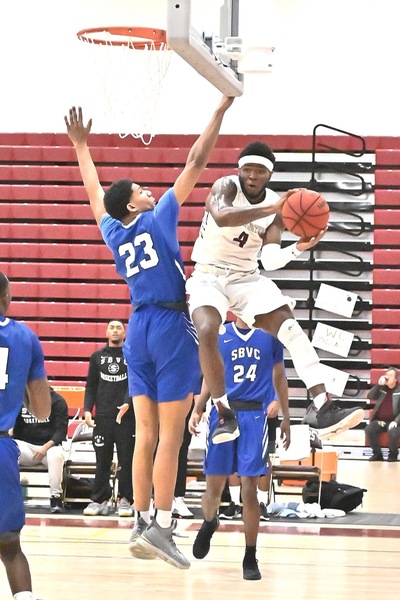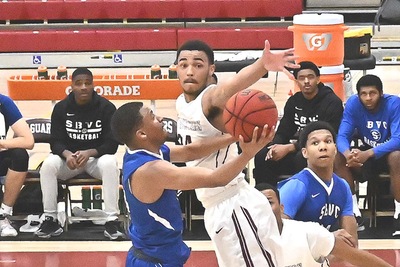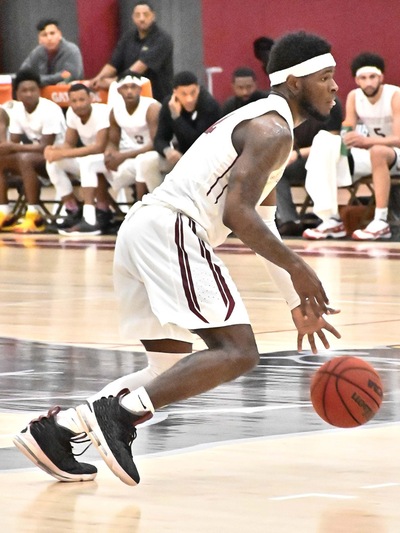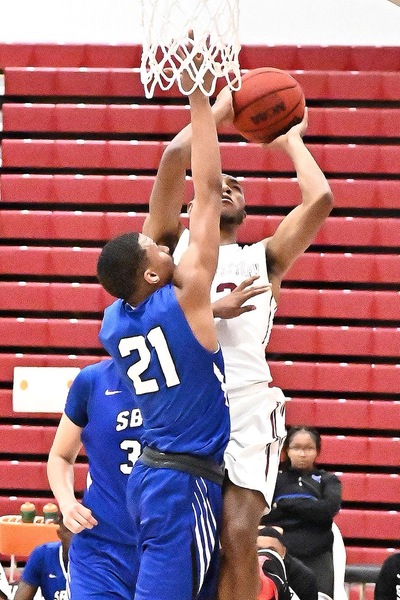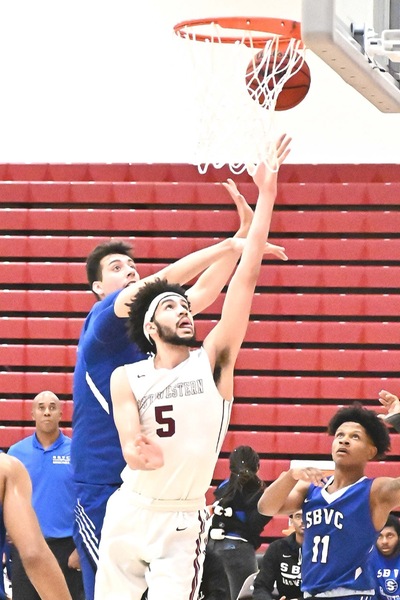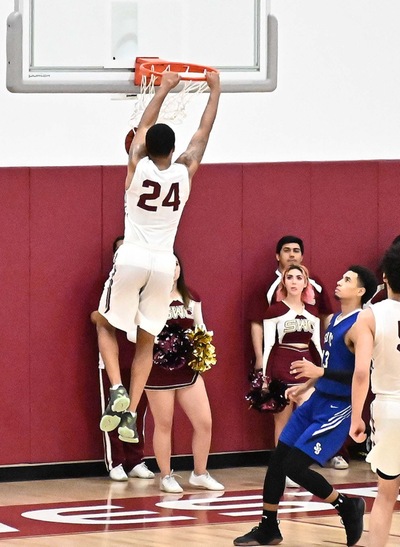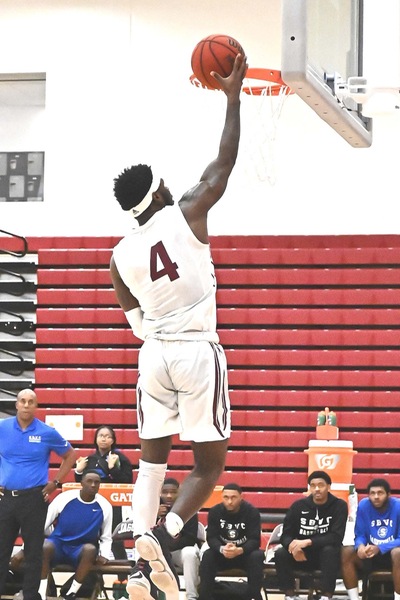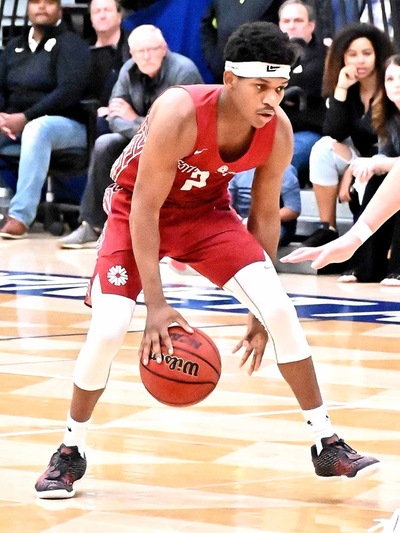 Women's photo gallery versus Grossmont