According to California District 42 Little League administrator Ernie Lucero, it's a good time to remind fans and volunteers of the Little League parent/volunteer pledge as we embark on a new season of Little League:
I will teach all children to play fair and do their best.
I will positively support all managers, coaches and players.
I will respect the decisions of the umpires.
I will praise a good effort despite the outcome of the game.
"California District 42 Little League strives to create a positive atmosphere where children learn the game of baseball or softball, develop values and have fun," Lucero explained.
"All members of the District 42 community have a role to play in creating this positive atmosphere. Players, volunteers and parents should have signed a local league code of conduct. By giving careful thought to your local league's codes of conduct and putting effort into living up to them, you can help create this positive atmosphere.
"Let's have a great season and play ball!"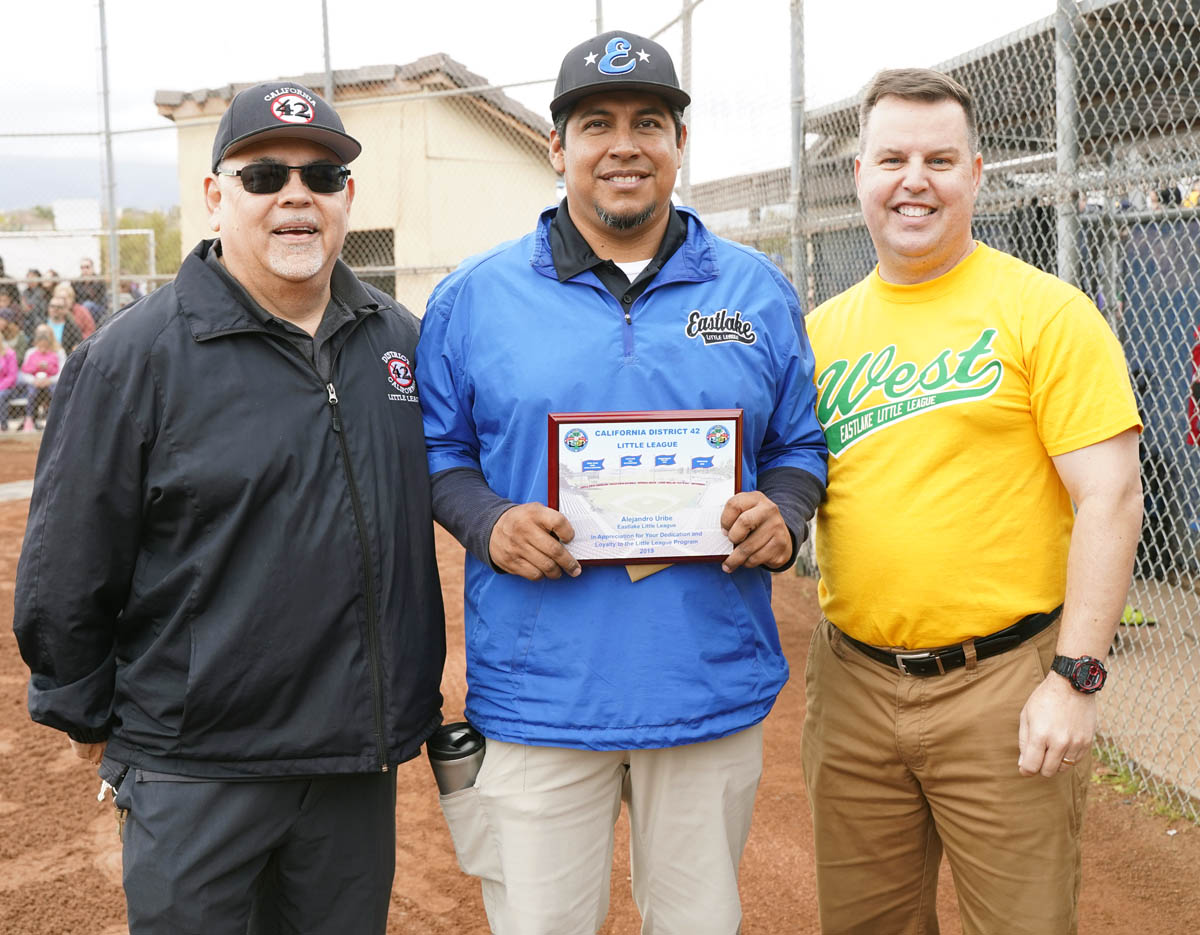 Many leagues within the District 42 boundaries will be starting their season soon after holding opening day ceremonies.
Some leagues held their opening day ceremonies last Saturday, while other leagues have had to reschedule their opening day ceremonies due to inclement weather.
This past weekend, Eastlake Little League held a special presentation for the Dave Palet family in remembrance of Palet's son Jake, who died last fall unexpectedly. The elder Palet threw out the first pitch and son Josh Palet, an Eastlake High former baseball/football standout, caught the ball.
Dave Palet was recently named head coach at Bonita Vista High School and has the Barons off to a 6-3 start with non-league victories against El Capitan, Granite Hills, Serra, Christian, Coronado and Clairemont.
Chula Vista American Little League,? Park View Little League,?Southwest Little League and? Sweetwater Valley Little League were originally scheduled to host opening day ceremonies on March 2 but were rained out.
Chula Vista National Little League,?Luckie Waller Little League,?South Bay Little League?and the District 42 Challenger Division (at South Bay Little League) were all scheduled to hold opening day ceremonies last Saturday.
Luckie Waller Little League is celebrating its 50th anniversary this season.
Imperial Beach Little League held its opening day on Feb. 22.
Parents should check with their local leagues for reporting times and other information. The District 42 website is located at www.eteamz.com/cad42.
Photo Gallery by Jon Bigornia