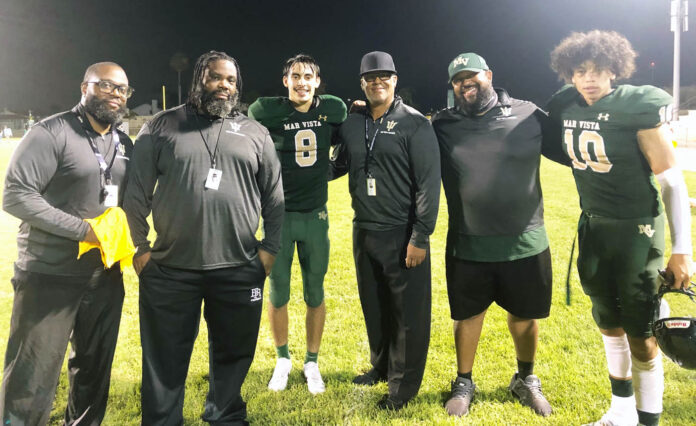 The Mar Vista High School football team started the 2021 season a day earlier than expected but one less day of practice didn't hurt the team's chances of picking up a victory after the Mariners topped the host Crawford Colts, 28-7, in a game played Aug. 19.
The teams had originally been slated to kick off the new season on Aug. 20. However, the game was moved up a day because of the lack of game officials.
Dante Pacheco scored two touchdowns to lead Mar Vista while Jordan Mahan had one touchdown and one interception and Gerardo Moya had one touchdown.
Defensively, Hunter Thomas had one forced fumble and one fumble recovery while Andrew Urquizu had one fumble recovery.
Pacheco hauled in a 15-yard scoring pass from Aleks Wojcik and a 60-yard touchdown pass from Mahan.
The Mariners exceled despite being under the gun from the Crawford defense that collected two interceptions and recorded five sacks. The Colts offense also presented a problem by racking up 321 yards in all-purpose yards, including 197 rushing yards.
Mar Vista scored the only points in the first quarter to lead 6-0 and built a somewhat comfortable 20-7 lead by halftime. The Mariners scored the only points in the second half, tacking on eight points in the fourth quarter.
Crawford quarterback Gavin Nguyen scored a rushing touchdown for the hosts in the second quarter.
Mar Vista will be out to remain undefeated when it meets the host Clairemont Chieftains (0-1) Saturday at 6:30 p.m.
San Ysidro 52, Clairemont 0
The Cougars roared in their season opener by scoring seven touchdowns — five rushing, one receiving and one on a punt return.
Senior Matthew Jaime rushed eight times for 63 yards and scored two touchdowns while senior Mckai Jackson had five carries for 60 yards and scored one touchdown. Sophomore Lance Aubrey had six carries for 22 yards and scored one touchdown while senior Cesar Lopez had one carry, scoring on a two-yard run.
Senior quarterback Ja'Marcus Jiles completed eight of 13 passing attempts for 193 yards with one touchdown and one interception. Jaime caught two passes for 86 yards, including one for 47 yards, while Lopez had two catches for 55 yards, including one for a touchdown.
San Ysidro amassed 475 all-purpose yards.
The big story in the game was the performance of the San Ysidro defense that allowed just three first downs. Cougar defenders recorded three sacks and three fumble recoveries while registering 17 tackles for a loss.
Seniors Sal Samano and Chris Rodriguez, and junior Angel Martinez, keyed the victors with eight tackles apiece while Rodriguez, Jackson and junior Junior Gutierrez all had one sack.
Jaime, Jackson and senior Santiago Luna all recovered fumbles.
Jaime averaged 47.1 yards on eight kickoffs while Rodriguez averaged 38 yards on his only punt in the game. Senior David Saldivar returned one punt 74 yards.
"We played well in all three phases and that's not just a compliment for the players, but all three coordinators coached their tails off," San Ysidro head coach Keith Aguon said.
"Ja' Marcus Jules making his first start on varsity showed poise and leadership in commanding the offense where we showed balance with 203 yards rushing and 193 yards passing.
"Track athlete of the year, David Salvidar had a big play on a punt return 74 yards for a touchdown, plus he added 44 yards receiving. But the story of the game was our defense, which had 17 tackles for a loss, three sacks, three forced fumbles and only gave up three first downs, and two of those were by penalty."
The Cougars were scheduled to play a non-league game Friday at Southwestern College against the Bonita Vista Barons but that game has since been canceled.
San Ysidro's next scheduled game is Sept. 3 at home against the Fallbrook Warriors. The Cougars, who have moved up to No. 10 in the Division V rankings, are scheduled to kick off South Bay League play Sept. 17 at Castle Park.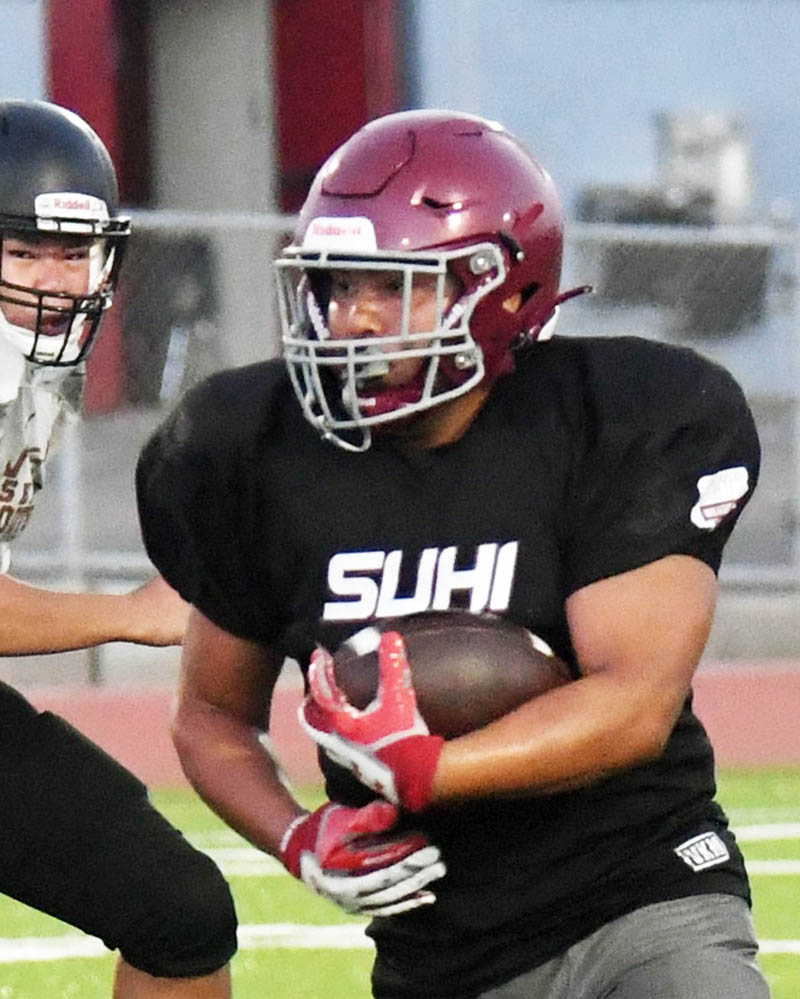 Devils see red in 37-14 loss to Foothillers
Sweetwater High School football coach Ervin Hernandez was disappointed by the outcome of last Friday's season opener — a 37-14 non-league loss at Grossmont High School — but remained proud of how his team competed.
"Grossmont is a great team and hats off to their coaches," Hernandez said. "We couldn't move the ball on offense and our special teams put us in bad field position. We were happy with our defense in the first half with two interceptions and a big stop on fourth down, but we need to stop big plays from happening and make them work to get down the field. We will adjust and ensure we have a better week of practice."
The schools rekindled a rivalry that first started 101 years ago.
The Red Devils, who were coming off a perfect 5-0 record and Metro-Pacific League championship from the 2021 spring season, actually scored the first points in the game after senior Javier Sanchez intercepted a pass and later scored on fourth down.
The visitors missed the extra-point conversion to lead 6-0.
But the hosts quickly got into the endzone to take a lead they would not relinquish the remainder of the game.
The Devils rushed 42 times for 148 yards and two touchdowns — both by Sanchez (13 carries, 58 yards) — but did not generate any passing yards.
The visitors did tally 36 yards on two interception returns for a total of 174 all-purpose yards in the game. Senior Carlos Hopper rushed 14 times for 66 yards to lead the visitors on the ground while also scoring on a two-point conversion.
Sophomore Adrian Guerrero had the team's other interception. Sophomore Cesar Guerra paced the visitors defensively with seven tackles while senior Fabian Venegas had six stops. Hopper and Sanchez both had five tackles, including three each for losses.
Senior Trenton Giles passed 35 yards to senior Ryan Rodieck for the Foothillers' first touchdown of the evening. Senior Gio Burns then returned a punt 43 yards to the SuHi 10-yard line to set up the second touchdown of the game for Grossmont on a short swing pass from Giles to Rodieck.
Rodieck later caught a 39-yard score to put his team up 21-6 at halftime. Rodieck finished the contest with three receiving touchdowns. He also completed a 45-yard halfback pass to senior receiver Jawad Rivera in the second half for another touchdown.
Burns returned another punt in the 40-yard range in the fourth quarter to set up Giles' four-yard scoring run.
The victory was the first for new Grossmont head coach Chris Holmes, who was beaming ear-to-ear following the game.
"The feeling of getting my first win with the Foothillers is amazing — something I will always cherish," Holmes said of the win that pushed his team to a 1-0 start to the 2021-22 season. "I am thankful to my coaching staff, school, and, of course, the football team for this amazing opportunity.
"I was proud of the way our team battled. It was our first game, so the execution wasn't perfect, but we figured out a way to put on a good showing. It took us a couple of drives to get settled, but once we got rolling, we took control of the game."
Grossmont will host the fifth-ranked El Camino Wildcats (1-0) this Friday in another non-league contest while Sweetwater will remain on the road with a non-league clash at Coronado (0-1).
El Camino is coming off a rousing 21-13 non-league victory against the No. 8 St. Augustine Saints while Coronado dropped a 10-7 overtime decision to the visiting Santana Sultans in season openers last Friday.
Lancers, Barons lose leads in season opening setbacks
The Hilltop Lancers and Valhalla Norsemen combined for a 0-10 record during the 2021 spring season. Thus, one of those teams was guaranteed not to have another winless campaign after matching up in last Friday's season opener in East County.
The Norsemen gave head coach Charles Bussey a 14-8 non-league win over the visiting Lancers as a nice present to denote his return to the program.
Bussey previously coached at Valhalla from 2011-17.
Hilltop alumnus Bryan Wagner remained winless in five games as the team's new head coach but feels his team is ready to turn the corner after letting a pair of leads — 3-0 and 8-7 on a pair of field goals by senior Salvador Vidrios — slip away to Valhalla.
"We played a very solid game on defense, minus a few big plays," Wagner said. "Offensively we moved the ball well but there were too many dropped passes and we killed drives by making mistakes. Our O-line is coming together after only working together for a handful of days. I'm expecting a huge jump forward and getting better before this next game (Thursday at El Capitan), so the short week will be a challenge."
Hilltop's offense sputtered at the most inopportune times in the game.
On the opening play of the fourth quarter, Valhalla sophomore Aidan Cornthwaite intercepted a pass at the goal line while the Lancers later fumbled the ball on fourth down inside the 10-yard line to negate another potential scoring chance.
A penalty also moved Vidrios back five yards on another field goal try, which sailed wide.
Senior Richard Vega had one interception while Hilltop also recovered a fumble to denote   key defensive plays in the game.
Morse 38, Bonita Vista 13
The opening moments of last Friday's game at Southwestern College seemed to favor the Barons as the hosts cobbled together an early 13-0 lead.
But the rest of the game belong to the visiting Tigers, who rolled up 38 unanswered points to claim the non-league victory.
"We had a great first quarter as our offense was rolling and our defense was making some great stops," Baron head coach Tyler Arciaga said. "Then we had a turnover and that began the avalanche of of bad things.
"We ended up with five turnovers and Morse recovered an onside kick, basically giving them six extra possessions (and a defensive touchdown). You cannot expect to win any games with that stat line. Our offense knows they have to do better than that to win games and make a commitment to ball security."
BV senior quarterback Nathan Roble-Cristobal completed two touchdown passes in the game — one each to senior Malosi Iuli and junior Dante Herrero to stake the hosts to a 13-0 lead — but also threw four interceptions.
Roble-Cristobal passed for 115 yards and rushed for 43 yards to led the Barons with 158 total yards.
Herrero ranked next on the team with 35 total yards — 24 rushing yards and 11 receiving yards. Sophomore Jayden Peterson had two catches for 19 yards.
Bonita Vista tallied just 107 yards in offense while Morse accumulated 414 all-purpose yards.
Senior quarterback Josephate Jordan rushed for 150 yards and scored three touchdowns while junior Damarion Wright racked up 163 rushing yards and scored one touchdown.
The Tigers recorded two sacks and two fumble recoveries besides the four interceptions.