What can be said about the Eastlake High School football team after its first game of the season?
The Titans appear to definitely be a team to watch in 2021-22.
"It feels great — the kids put their heart and soul into it," said EHS head coach Jose Mendoza following last Friday's 10-6 squeaker over the visiting Steele Canyon Cougars. "It showed what we can do if we all play together."
The non-league encounter paired two of the San Diego Section's top 20 teams. Eastlake entered the game ranked 10th in the section, eighth among Division I teams, while Steele Canyon was ranked 15th in the section, 10th in Division I.
The rankings seemed to hold in an otherwise defensive matchup.
Steele Canyon was the first to get on the scoreboard courtesy of a defensive touchdown by senior Spencer Campillo, who picked off Eastlake sophomore quarterback Johnny Limon and returned the intercepted pass 20 yards untouched into the endzone.
The Cougars missed the extra conversion point to lead 6-0.
The Eastlake defense had much to say about the rest of the game while holding the visitors' offense scoreless.
The Titans went ahead, 7-6, on a 12-yard scoring run by senior Trey White with 7:23 left in the third quarter. The hosts did not score again until junior Kalen Jones split the uprights on a 35-yard field goal with 5:20 left in the game to provide some much-needed breathing room.
Jones had missed two field goal attempts earlier in the game while Cougar senior place-kicker David Martinez had missed one to account for the low score.
The hosts punted with 1:49 remaining in the game but the visitors came up empty on a fourth-down run to turn the ball over.
The Titans ran out the remaining time in victory formation.
Eastlake converted on fourth-and-one to keep possession of the ball during a key juncture in the second half.
"We were wary of punting the ball and having it blocked," Mendoza explained. "We decided to run it and build our identity. If you're going to carve out an identity, you've got to prove it."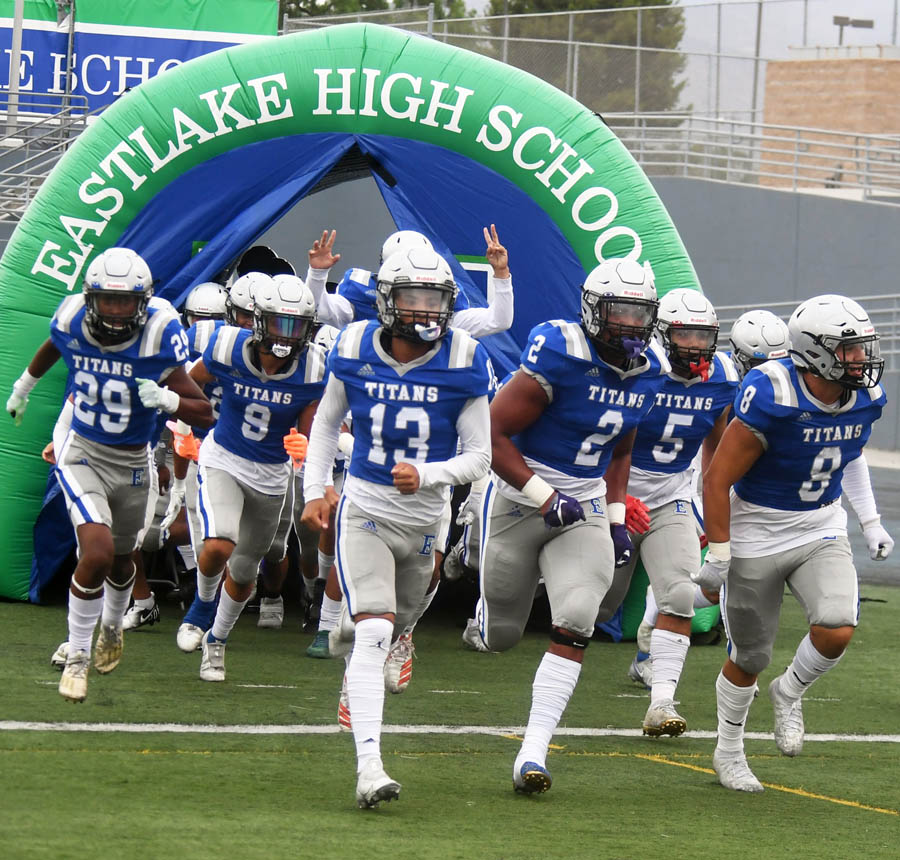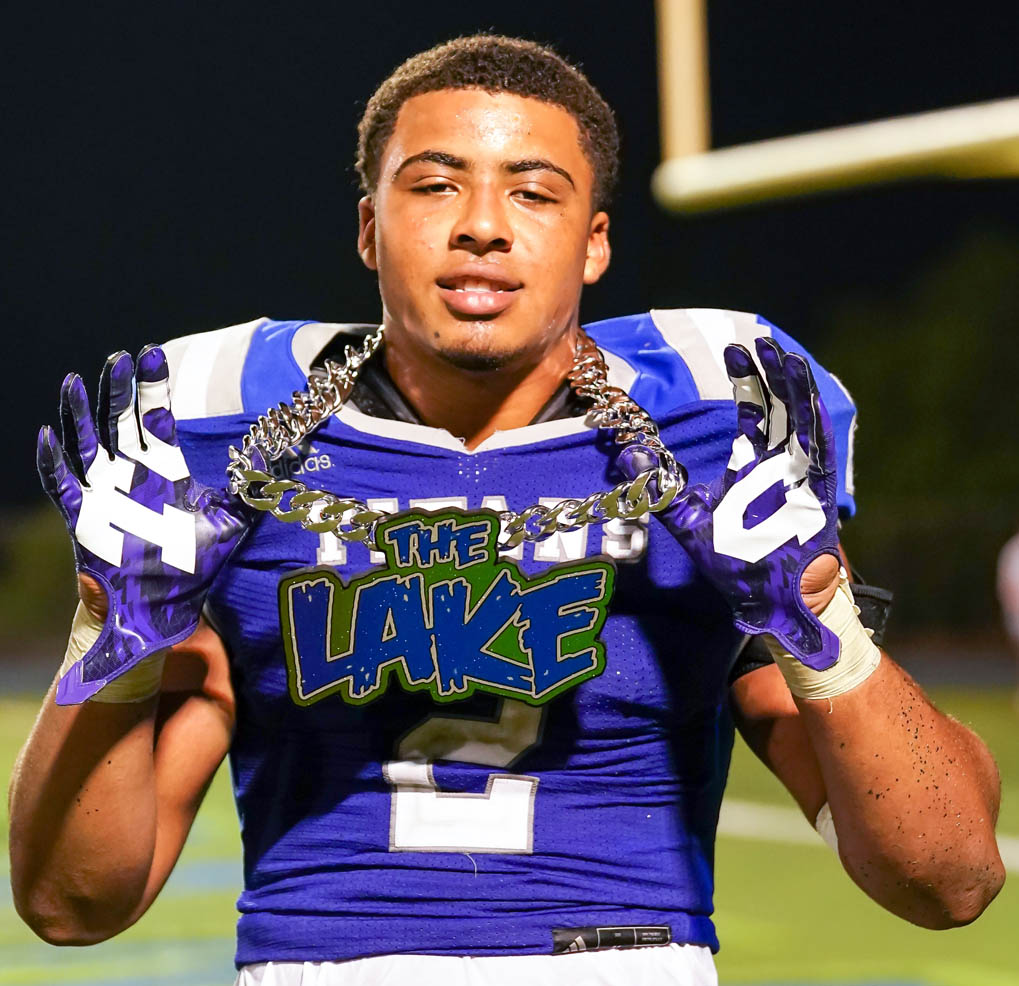 Mendoza said he knows his team can play even better. "If you pay attention to the details, you're going to get better as an individual and as a group," he said,
Campillo added 10 tackles, one sack and one caused fumble while classmate Davis Langfeldt wowed the standing-room only crowd with a leaping one-handed interception in front of the goal line. Senior Nathaniel Gillis also had one pick to brace the Cougar defense.
Junior Adrien Chargualaf paced the visitors overall with 11 tackles, including 10 unassisted stops. Senior Isaiah Walker had one fumble recovery.
Eastlake's defense was just as active with senior Jayden Cortell recording two interceptions and 45 return yards. Senior Isaiah Hinojosa had one blocked punt while White blocked the extra-point attempt.
"This is a typical young team," Steele Canyon head coach Scott Longerbone said. "We have only a few seniors, a lot of juniors and some sophomores and freshmen who are starting.
"We have a team that will get better each week. We need to limit our mistakes going forward."
The teams combined for eight turnovers.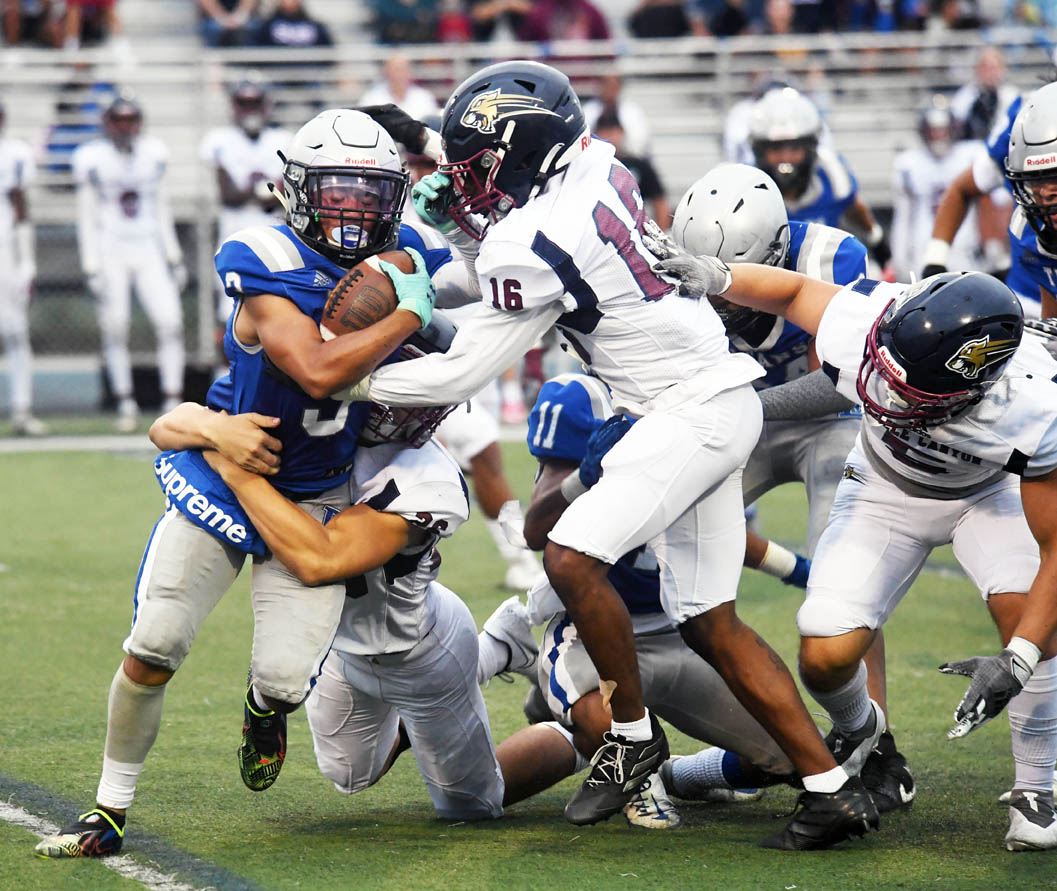 The Titans limited the visitors to just 27 passing yards and 102 rushing yards. Junior Major Givens gained 89 yards on 22 carries but was otherwise bottled up by Eastlake defenders.
Titan senior Jayden Kendricks led all players on the field with 17 tackles, including 14 solo hits. Senior Christian Aguilar followed with 12 tackles.
Aguilar and senior teammate Marco Gonzales each recorded one sack while junior Kaipo Mauga recovered one fumble, advancing the ball five yards.
The Titans forced eight punts by Steele Canyon in the game.
Eastlake totaled 204 yards in offense, including 135 rushing yards.
Eastlake will bid to remain undefeated on the young season when it travels to Poway (0-1) this Friday for a non-league game — the "Clash of the Titans — while Steele Canyon will bid to collect its first win of the new season when it hosts the Madison Warhawks (0-1) this Friday at 7 p.m.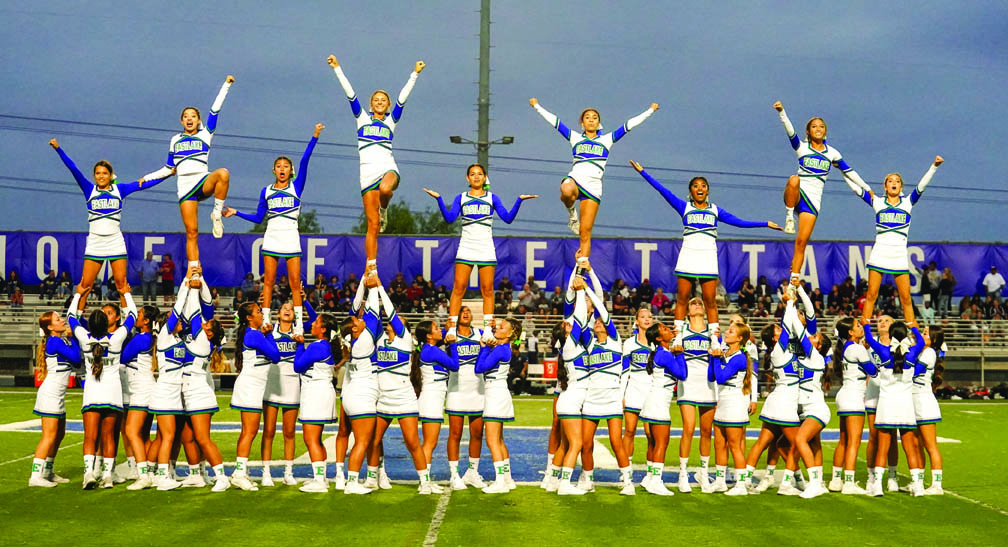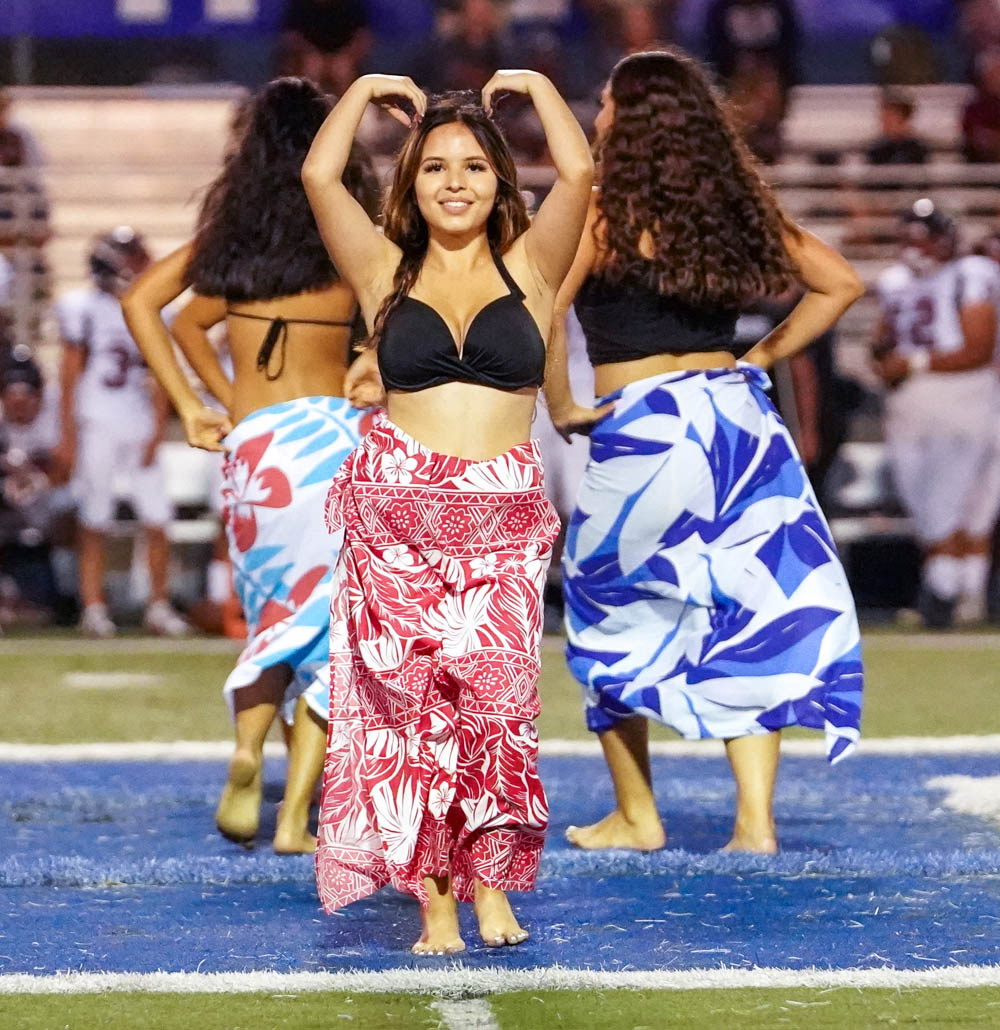 Prep Football Scoreboard
Thursday, Aug. 19
Mar Vista 28, Crawford 7
Grossmont 37, Sweetwater 14
Friday, Aug. 20
Eastlake 10, Steele Canyon 6
Otay Ranch 19, Madison 14
Mater Dei Catholic 53, Brawley 21
San Ysidro 52, Clairemont 0
Valhalla 14, Hilltop 8
Morse 38, Bonita Vista 13
Westview 14, Olympian 13
Rancho Buena Vista 32, Castle Park 0
Thursday, Aug. 26
Hilltop at El Capitan, 7 p.m.
Friday, Aug. 27
San Pasqual at Olympian, 6:30 p.m.
Helix vs. Otay Ranch at Eastlake, 7 p.m.
Montgomery at Santana, 7 p.m.
Eastlake at Poway, 7 p.m.
Mater Dei Catholic at Westview, 7 p.m.
Sweetwater at Coronado
Castle Park at Calexico, 7 p.m.
Chula Vista at Mount Miguel, canceled
San Ysidro vs. Bonita Vista at Southwestern College, canceled
Saturday, Aug. 28
Mar Vista at Clairemont, 6:30 p.m.
Crusaders, Mustangs score impressive victories in season debuts
The 2021-22 high school football schedule has already started to take a beating due to the shortage of game officials and positive COVID-19 tests.
Two Metro Conference teams — the Montgomery Aztecs and Chula Vista Spartans – did not play their scheduled season openers last week and the San Ysidro Cougars have had this week 's game canceled.
The San Diego Section rankings have been more concrete. The latest MaxPreps top 10 rankings list No. 1 Cathedral Catholic (1-0), No. 2 Carlsbad (1-0), No. 3 Mission Hills (1-0), No. 4 Lincoln (1-0), No. 5 El Camino (1-0), No. 6 Torrey Pines (0-1), No. 7 La Jolla (1-0), No. 8 St. Augustine (0-1), No. 9 Mater Dei Catholic (1-0) and no. 10 Eastlake (1-0).
Mater Dei Catholic defeated visiting Brawley, 53-21, in last Friday's spate of season openers while Eastlake trimmed visiting Steele Canyon by a 10-6 score.
The Otay Ranch Mustangs have moved up to No. 11 following their clutch 19-14 non-league win at Madison. The Mustangs are followed in the rankings by No. 12 Granite Hills (1-0), No. 13 Poway (0-1), No. 14 Ramona (1-0), No. 15. Helix (1-0), No. 16 Steele Canyon (0-1), No. 17 Santa Fe Christian (1-0), No. 18 Oceanside (0-1), No. 19 Madison (0-1) and No. 20 Rancho Bernardo (1-0).
Defending Metro-South Bay League champion Montgomery (0-0) sits at No. 22 in the top 25 rankings.
Eastlake visits Poway this Friday in a possible rankings shake-up.
Crusader state
Mater Dei Catholic lost quite a bit of talent to graduation but the team's offense was sure humming in last Friday's season opening win by putting up 53 points, including five touchdown passes from junior Domonic Nankil.
"Luckily with the spring season we got a chance to see a lot of young players perform at the varsity level and we felt good about the returning guys," Crusader coach John Joyner said. "Nico Mosely and Anthony McMillian both did a great job as a thunder and lightning combo at tailback. We have a ton of great receivers with Jerry McClure, Suhraz Buncom, Rollin George and Jaylen Hall."
If Nankil's name is familiar, it should be. His other brother Nate represented Sweetwater Valley in the 2015 Little League World Series and later attended Bonita Vista High School.
The younger Nankil passed for 378 yards in last Friday's win over the Wildcats while hitting three different receivers for touchdowns against one interception.
"Dom played fantastic," Joyner said. "He was in control. He threw five touchdowns and really played outstanding."
McClure hauled in four aerials for 148 yards and two touchdowns while Hall had two catches for 77 yards and one score. Buncom had two catches for seven yards and caught one TD pass. McClure's longest reception measured 62 yards.
The Crusaders piled up 700 all-purpose yards, adding 328 yards on the ground. Mosely rushed for 158 yards and three touchdowns while sophomore Anthony McMillan had six carries for 150 yards and one touchdown.
Junior Tre Edwards paced the Mater Dei Catholic defense with nine tackles, including two for losses, while senior Jason Harden recorded two sacks. Senior Josh Robinson had one fumble recovery.
"Defense is our strong suit," Joyner said. "Jason Harden and Luke Teskey played great at defensive end. Tre Edwards was strong as always at linebacker."
Nankil isn't the only impact newcomer to surprise. Hall and McClure at wideouts made an immediate impact. Freshman offensive lineman Joseph Kellogg started at offensive guard and Teskey at defensive end.
After one game, Joyner said it is tough to predict the outcome of the team's fortunes.
"It is such a long season with so many variables that it is going to take a while to see who is who," the Crusader coach said.
Mater Dei Catholic will see if its early season star power fades when it travels to Westview this Friday. The Wolverines are coming off a 14-13 non-league win at Olympian last Friday.
Horse power
Otay Ranch challenged for last spring's Metro-Mesa League championship and expects to do the same this fall based on the team's head-turning non-league win at Madison.
Junior quarterback Brian Rudden passed for 275 yards and two touchdowns — one each to senior Jake Baca (five catches, 94 yards) and senior Haydn Brotschi (one catch, 84 yards).
The Mustangs recorded five sacks (two by senior Keto Fierro) and one pick on defense (senior Isaac Fualave).
Otay Ranch continues its season long road trip with a top 20 non-league match-up against Helix (1-0) this Friday at Eastlake High School. Kick-off is 7 p.m.
Where Eagles dare
The home loss to Westview spoiled new Olympian head coach Jimmy Clark III's debut. The Eagles look to have something this fall after finishing 1-3 in the shortened spring season.
Freshman Kristian Noriega passed for 173 yards with one touchdown (to sophomore Jake Marcial) and one interception while the Olympian defense registered four sacks, two interceptions and two fumble recoveries.
Marcial had six catches for 123 yards while senior Owen Ocampo scored on a fumble recovery.
The Eagles host San Pasqual (0-1) this Friday.
San Diego Section Rankings
(Through Aug. 24/MaxPreps)
Division I: 1. Cathedral Catholic (1-0), 2. Carlsbad (1-0), 3. Mission Hills (1-0), 4. Lincoln (1-0), 5. El Camino (1-0), 6. Torrey Pines (0-1), 7, La Jolla (1-0), 8. Eastlake (1-0), 9. Granite Hills (1-0), 10. Steele Canyon (0-1), 11. Helix (1-0), 12. Oceanside (0-1), 13. Madison (0-1), 14. San Marcos (0-1), 15. La Costa Canyon (0-1), 16. Grossmont (1-0)
Division II: 1. La Jolla (1-0), 2. Otay Ranch (1-0), 3. Poway (0-1), 4. Rancho Bernardo (1-0), 5. Mira Mesa (0-1), 6. Vista (1-0), 7. Central Union (0-1), 8. Scripps Ranch (1-0), 9. Christian (1-0), 10. San Diego (1-0), 11. Point Loma (0-1), 12. Olympian (0-1), 13. Valley Center (0-1), 14. Morse (1-0), 15. San Pasqual (0-1), 16. Bishop's (0-1)
Division III: 1. Mater Dei Catholic (1-0), 2. Ramona (1-0), 3. Santa Fe Christian (1-0), 4. Mt. Carmel (1-0), 5. El Capitan (1-0), 6. Brawley (0-1), 7. West Hills (1-0), 8. Westview (1-0), 9. Monte Vista (0-1), 10. Santana (1-0), 11. Orange Glen (0-0), 12. Imperial (0-0), 13. Bonita Vista (0-1), 14. Canyon Hills (0-1), 15. Escondido (0-1), 16. Hilltop (0-1), 17. Kearny (0-1)
Division IV: 1. Montgomery (0-0), 2. Patrick Henry (1-0), 3. La Jolla Country Day (1-0), 4. Francis Parker (1-0), 5. Del Norte (1-0), 6. Sweetwater (0-1), 7. Coronado (0-1), 8. Mount Miguel (0-1), 9. University City (1-0), 10. Rancho Buena Vista (1-0), 11. Valhalla (1-0), 12. Vincent Memorial (0-1), 13. Castle Park (0-1), 14. Classical Academy (0-0), 15. Chula Vista (0-0), 16. Mar Vista (1-0), 17. Southwest El Centro (0-1)
Division V: 1. Holtville (1-0), 2. Tri-City Christian (0-1), 3. Mission Bay (1-0), 4. Palo Verde (1-0), 5. Fallbrook (0-1), 6. O'Farrell Charter (0-0), 7. Mountain Empire (1-0), 8. El Cajon Valley (0-1), 9. Escondido Charter (1-0), 10. San Ysidro (1-0), 11. Army-Navy Academy (1-0), 12. Maranatha Christian (0-1), 13. Calexico (0-1), 14. Clairemont (0-1), 15. Foothills Christian (0-1), 16. Crawford (0-1), 17. Hoover (0-0), Calipatria (0-0)