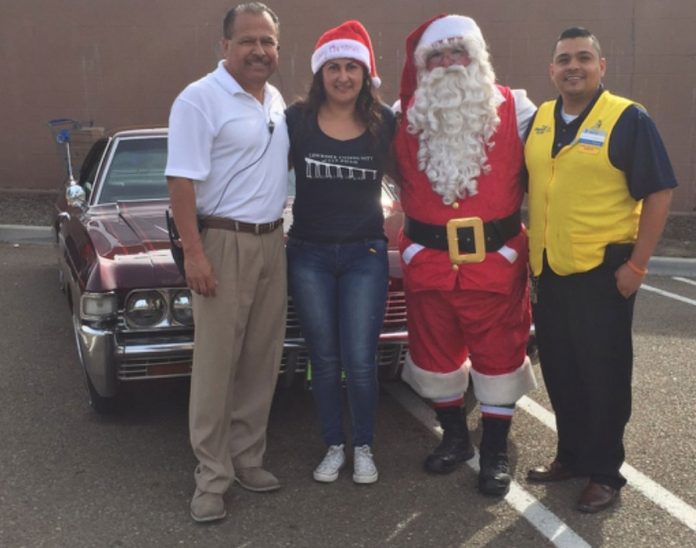 The San Diego Lowrider Community has partnered with the San Diego County Probation Department in helping provide Christmas gifts and a holiday meal to underprivileged children and needy families.
The holiday generosity is part of the San Diego Lowrider Community's 14th annual Christmas Toy Drive.
Although different law enforcement agencies are always involved with the event, this is the first year the probation department has participated.
"It's a partnership with law enforcement and lowriders, which is something that you typically don't see," said Mayra Nunez, community liaison for the San Diego Lowrider Community about the toy drive. "So, we're uniting for the community for a good cause."
Toy donations can be made during a car show on Dec. 9 between 10 a.m. to 3 p.m. at the Walmart store in National City, 1200 Highland Ave. In addition to toys, Nunez said Walmart gift cards are also accepted.
Car clubs who are participating in the event are required to bring an unwrapped toy as their admission into the show. Nunez said toys that are donated range from new bicycles, stuffed animals, and books. She said gift cards are donated to older kids and teenagers.
The car show will feature Santa Claus, classic low rider cars, dignitaries and a trophy presentation to the best lowriders across several categories.
The holiday meals are provided by Wrigley's Supermarket in National City and IGA Foodland.
Meals include a turkey, stuffing, canned goods, a pie and bread rolls. Nunez said the meal can feed a family of 6.
Nunez said the lowrider community and the probation department will deliver meals and toys in a caravan on Dec. 15.
She said the caravan, along with Santa Claus, will go to each child's home and deliver the meal and toys.
She said the toy drive serves children from Chula Vista to San Marcos.
Recipients are selected by school districts across the county.