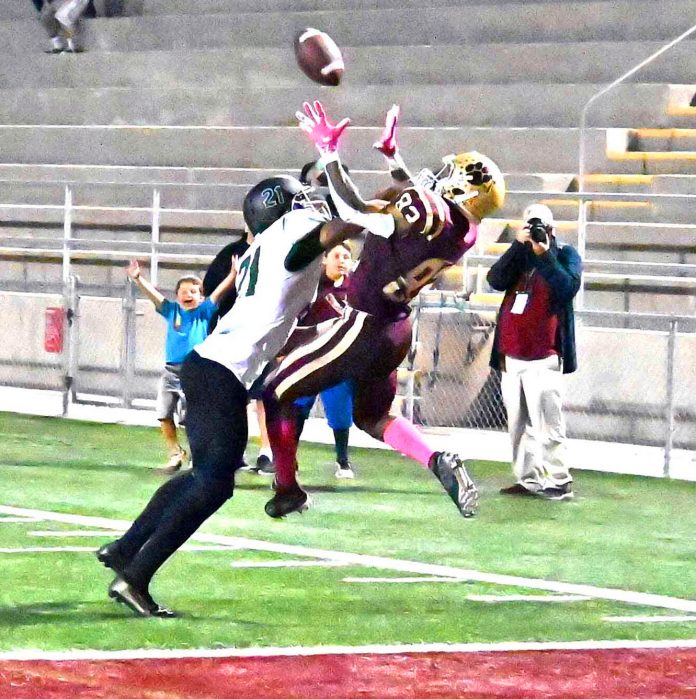 The Southwestern College football team enters its bye week with a chance to rest and recuperate — and reflect on its current four-game winning streak.
The Jaguars kicked off the season with a disappointing 14-4 loss to host San Diego Mesa College in which their point total consisted of two defensive safeties.
Since then, head coach Ed Carberry's team has found its offense and, mixed in with some timely defense, has won its last four games, including last Saturday's 27-17 non-conference victory against visiting East Los Angeles College.
At 4-1 on the season, the Jaguars kick off their National-Southern Conference schedule with an Oct. 19 game against Saddleback College at Mission Viejo High School, then host crosstown rival Grossmont College on Oct. 26.
Southwestern's remaining conference slate includes home games against Riverside City on Nov. 2 and Orange Coast College on Nov. 16 and a road game at Golden West on Nov. 9.
It's a challenging line-up.
Riverside and Saddleback are both 5-0 while Golden West is 2-3. Orange Coast is 1-4 while Grossmont is 0-5.
The Jags need six wins on the season to become bowl eligible.
"It was crucial to get the win over East Los Angeles heading into our bye week," Carberry said. "You never want to take a loss into your bye week because you have to wait two weeks sitting on that loss before you get back on the field."
SWC hopes to take the momentum it has created in the first half of the season to generate additional wins in the second half. The Jags needs to pick up two victories in their final five games to become bowl eligible.
While a bowl game appearance is obviously a goal, contending for the conference title is another.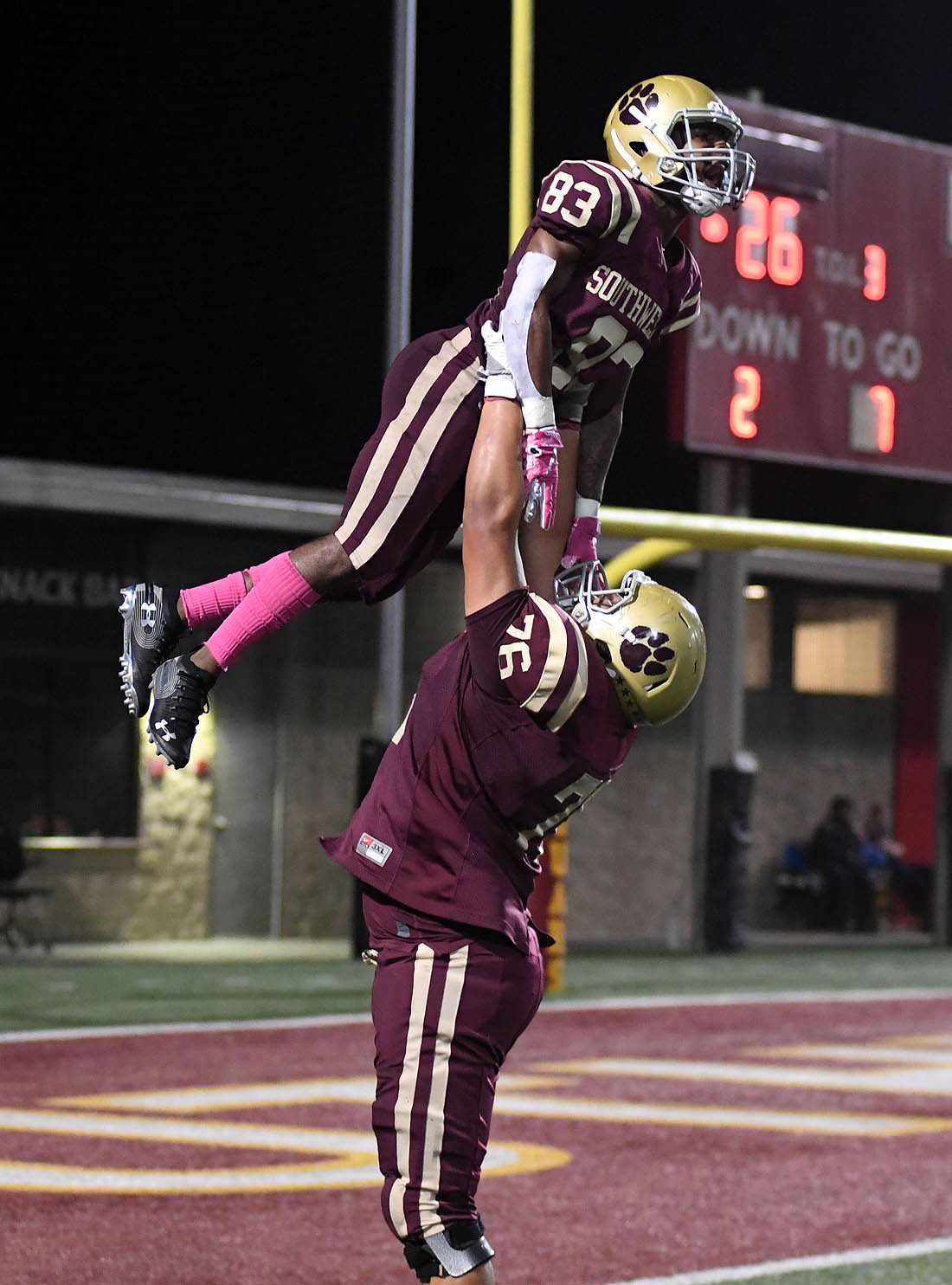 Game on
Last Saturday's game featured 644 yards in total offense between the teams. The Jags tallied 341 yards in total offense — 283 net passing yards and 58 net rushing yards.
The aerial game remains potent for SWC.
Quarterback Josh Owen completed 17 of 28 passing attempts for 245 yards and three touchdowns. The Jags also pulled off a trick play as Terry Wright completed a halfback pass for a 50-yard touchdown.
But the game remained close until the hosts were able to create some space between the teams in the final quarter.
The hosts went up 14-0 on Wright's 50-yarder to receiver Deago Stubbs and a 45-yard TD completion by Owen to speedster Davion Johnson.
The Huskies (2-3) tied the game, 14-14, as signal-caller Rudy Garcia passed four yards to Branden Peterson for a touchdown with 3:02 remaining in the second quarter and Ben Key bulled in from one yard out with 10:02 to play in the third quarter.
The teams combined for 16 points in the third quarter — 10 by ELAC and six by SWC.
The Jaguars took a 20-14 lead on a 15-yard touchdown pass to Johnson to cap a quick five-play drive that covered 62 yards in 1:25. However, the hosts missed the extra-point conversion, leaving the Huskies within six points.
East Los Angles promptly drove down the field to narrow the score to three points, 20-17, on a 50-yard field goal by Juan Rangel with 2:59 to play in the third quarter.
The Jaguars sealed the win on a looping 26-yard scoring pass to Johnson in the corner of the end zone with 6:47 to play in the fourth quarter. Johnson made the catch while battling an ELAC defender for joint possession of the ball. The SWC receiver managed to score the touchdown after wrestling it away while coming down in the end zone.
D.J. Del Fierro's extra-point conversion put Southwestern ahead by 10 points. The Jags later took possession of the ball deep in ELAC territory but ended the game in victory formation.
Owen has passed for 1,014 yards with 13 touchdowns and three interceptions at the halfway mark of the season while Johnson has made 10 catches for 264 yards and six touchdowns.
Johnson had five catches for 101 yards and three touchdowns in last Saturday's win.
"We're getting better every week," Owen said. "We're scoring more points in games. We came out strong (against the Huskies), laid off a bit in the middle but rallied at the end."
Carberry said the team made some second-half adjustments to secure the victory.
"We did a bunch of things that worked great for us in the overtime win over Fullerton (the previous week) but for some reason I didn't call the same plays to start the game," the SWC coach admitted. "ELAC came out with a different defense.
"The coaching staff talked about it at halftime and we put in some of those plays in the second half and we were OK."
Other statistical leaders from last Saturday's game for SWC included running back Keylan Chapman with 23 carries for 81 yards, Stubbs with four catches for 87 yards, Tysheid Dixon (Serra) with three catches for 56 yards and Wright (St. Augustine) with three catches for 33 yards.
Special teams provided mixed results.
DeAngelo Howard averaged 33 yards on two kickoff returns, including one sprint up field measuring 43 yards, while Johnson averaged 30.5 yards on two kickoff returns.
Del Fierro (Eastlake) made three of four PAT conversions but missed a field goal attempt.
Justin McElligott (Granite Hills) nailed a 44-yard punt but was smothered for an 18-yard loss on another attempt due to a dropped snap.
Cesar Macias (Mar Vista) averaged 28 yards on three punts but did place the ball inside the 20-yard line on one occasion.
Josh McCurty (Eastlake) turned in a monster performance on defense with 14 tackles, including 12 unassisted stops, four tackles for a loss and one sack.
The Jaguars recorded nine tackles for a loss and two sacks in the game. Ubaldo Torres (Chula Vista) had the other sack while Atotasi Fox (Bonita Vista) was credited with two tackles for a loss. Fox ranked second on the team with seven tackles, including six solo stops.
McCurty tops SWC on the season with 36 tackles. As a team, the Jags have logged 13 sacks, nine fumble recoveries and four interceptions.
Extra points
San Diego Mesa is 4-1 while Palomar College is 2-3. Mesa dropped its first game of the season last Saturday, 61-26, to visiting Riverside.
Riverside and Saddleback are ranked second and third, respectively, in the latest state poll (first and second, respectively, in Southern California).
Riverside has outscored its five opponents 221-115 while Saddleback owns a 209-116 scoring spread.
Southwestern, which has outscored its five opponents 133-102, is ranked 12th in the state (sixth in Southern California).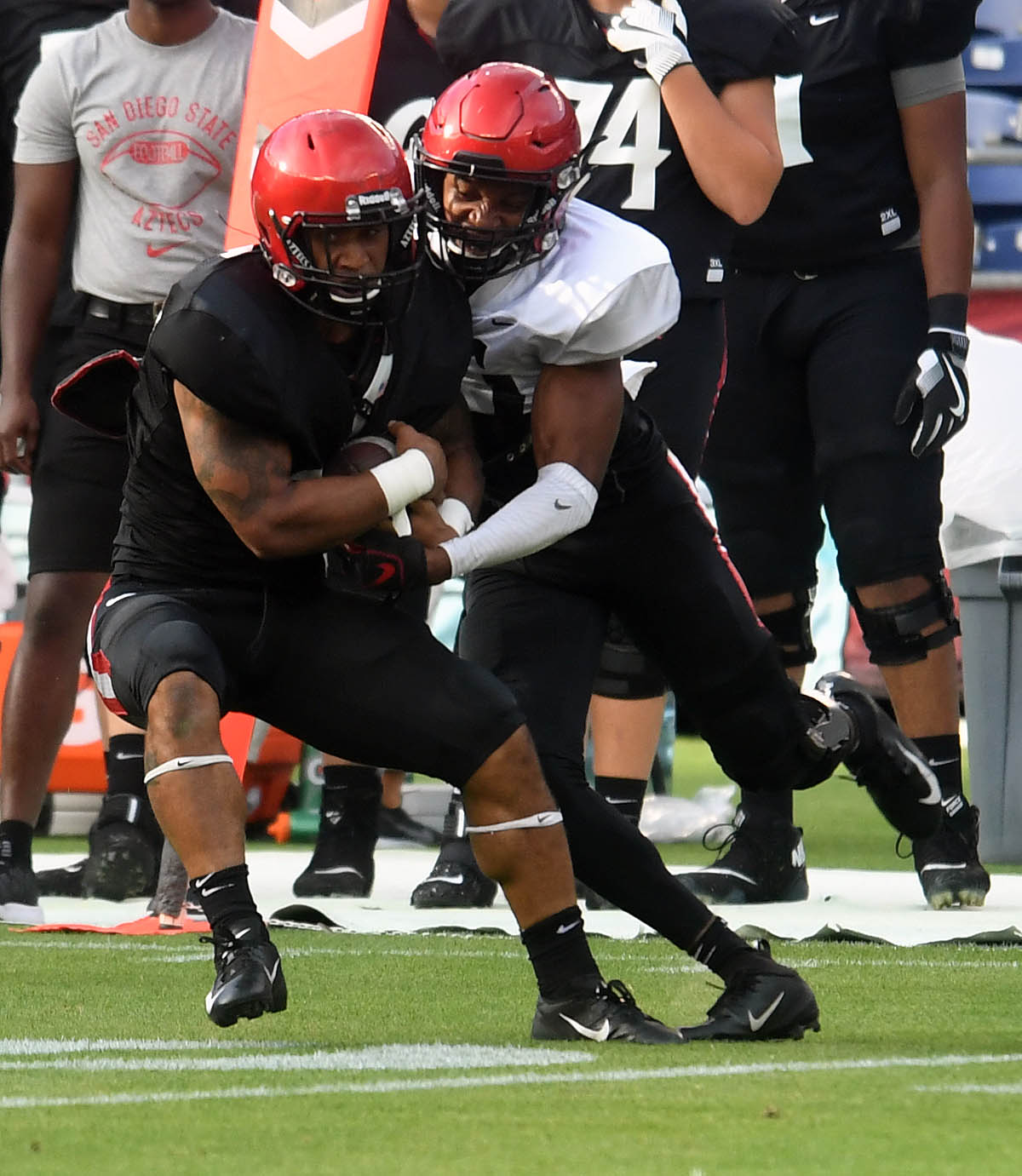 SDSU's Barcoo named MW Defensive Player of the Week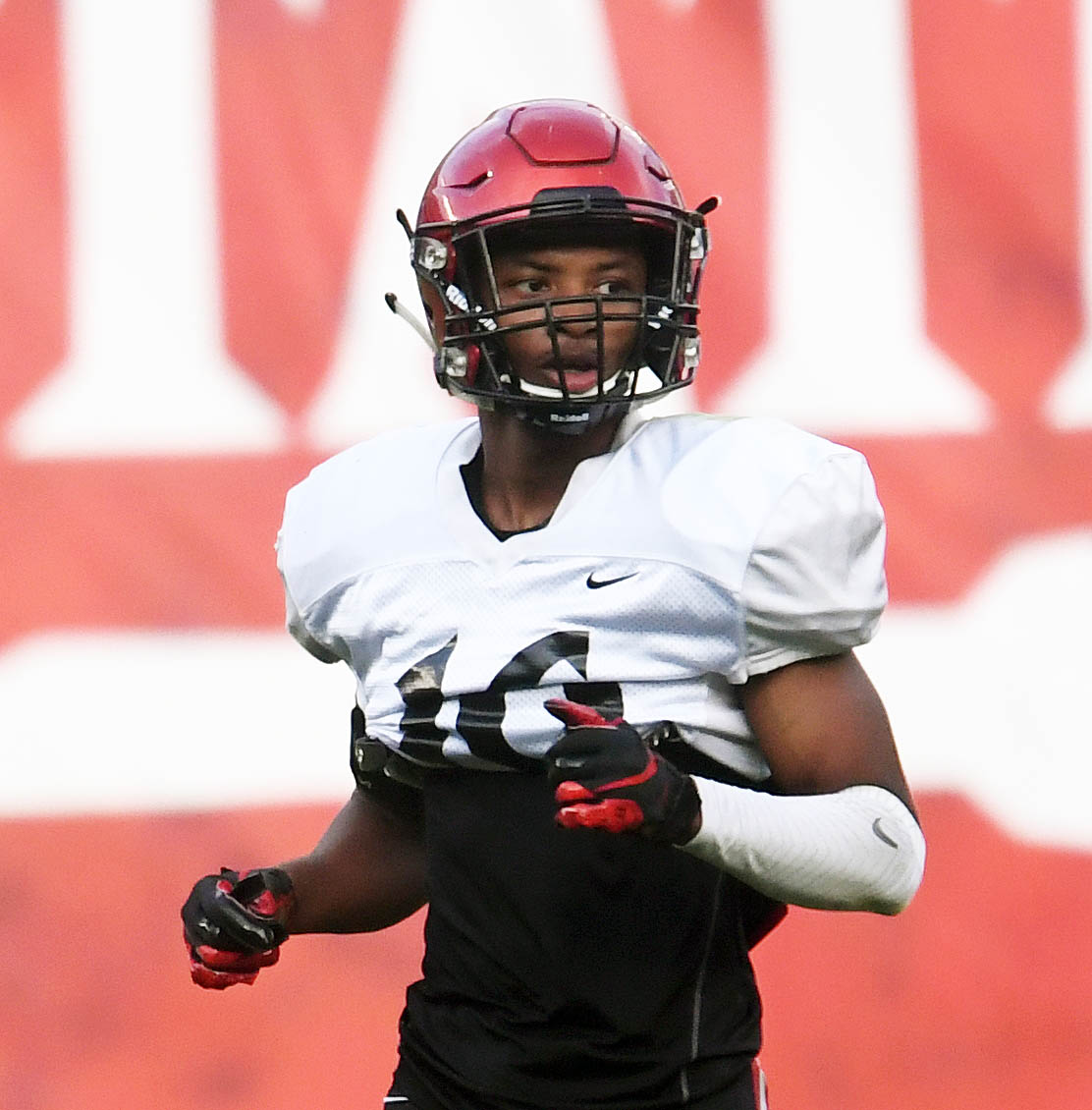 Castle Park High School alumnus Luq Barcoo earned honors as the Mountain West Defensive Player of the Week after making three interceptions while adding six tackles and a pass break-up in last Saturday's 24-10 win by San Diego State at Colorado State.
Barcoo, playing in his second year with the Aztecs, earned notoriety as the first player in the nation since at least 2012 to intercept three passes on three consecutive snaps.
Barcoo has logged 24 tackles, four interceptions and six pass breakups in five games this season.
SDSU (4-1) hosts the Wyoming Cowboys (4-1) this Saturday night at SDCCU Stadium at 7:32 p.m. The Cowboys are 1-0 in MW play; the Aztecs are 1-1 in MW play.