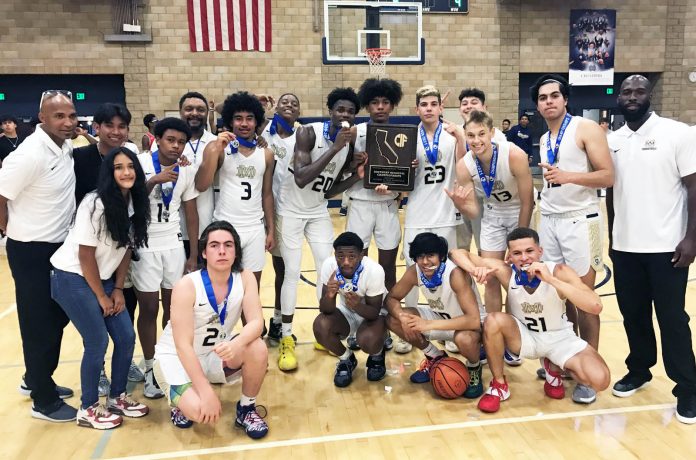 Mater Dei Catholic High School wrapped up a sensational spring season last Saturday as its boys and girls basketball teams both won Southern California regional championships and its girls softball team repeated as San Diego Section Open Division champions.
The school's girls water polo team was also making its first appearance in the section finals last weekend.
"It has been an unbelievable spring," Mater Dei Catholic High School athletic director Jared Izidoro underscored. "What these athletes and coaches were able to accomplish with all of the obstacles in their way this year has been awesome to watch.
"All of the testing, screening and different protocols needed to compete took a lot of work and buy-in from our coaches, players and families but they were still able to compete at high levels.
"I couldn't be happier for all of our student-athletes!"
Boys basketball
Top-seeded Mater Dei Catholic defeated seventh-seeded La Costa Canyon, 51-49, on June 12 to claim the rights to this year's San Diego Section Division I championship. At times back and forth, but always entertaining and filled with intrigue, the Crusaders grabbed the victory on a pair of free-throws by senior Mello Sanchez with 17.5 seconds to play.
The newly crowned Division I section champions hardly had time to rest on their laurels as the regional pairings were announced the next day. Mater Dei Catholic received the No. 3 seed in the Division 2-A regionals and defeated sixth-seeded Dominguez, 91-74, the opening quarterfinal round on June 15.
The Crusaders advanced to the regional semifinals at second-seeded Carlsbad, a 67-52 quarterfinal winner over seventh-seeded Murrieta Valley (13-6), on June 17.
Mater Dei Catholic prevailed, 80-62, to land a berth in last Saturday's championship game against fifth-seeded Fresno Central.
As the highest remaining seed, the Crusaders hosted the game – and thrilled their fans with a 67-50 victory to cap a very stressful but at the same time rewarding season.
Central (12-7) had upset fourth-seeded Agoura, 58-48, in the quarterfinals before defeating eighth-seeded Narbonne (8-3) in the semifinals by a tight score of 53-51.
Top-seeded Long Beach Poly (14-5) had taken an early exit from the bracket after dropping a 67-65 decision to Narbonne in the quarterfinals.
Saturday's championship game was close through the opening three quarters before the hosts employed a late burst to finish off their magical season.
Central led, 21-20, at the end of the first quarter before the Crusaders took a 39-33 halftime lead. Mater Dei Catholic led 51-46 heading into the final quarter.
The Crusaders (18-4) crowned themselves regional champions with a 16-0 scoring run to start the final quarter.
Carlsbad (14-10) had received the No. 8 seed in this year's section Open Division playoffs but bowed out with a 70-48 loss to top-seeded Torrey Pines, which went on to win the division championship following a stunning 63-60 win over second-seeded Cathedral Catholic (17-3) on the final shot of the game by Nick Herrmann.
The Falcons received the No. 1-seed in the Open Division regional playoffs based on their 29-0 record and a first-round bye in the opening round.
Torrey Pines defeated fourth-seeded Damien, 63-42, in the semifinals to meet third-seeded Etiwanda in the championship game. But Etiwanda dashed the hopes of the Falcons and their fans of claiming an undefeated season with a 68-65 win.
Torrey Pines finished its season 30-1. Herrmann had 24 points in the loss.
Girls basketball
Mater Dei Catholic, the Mesa League runner-up in 2021 with a 10-2 record, received the No. 8 seed in the section's Open Division playoffs but could not get past top-seeded Cathedral Catholic in the quarterfinal round following a 61-54 setback.
But that didn't end the Lady Crusaders' season.
Mater Dei Catholic received the fifth seed in the Division 2-AA regional playoffs and soared with a 75-59 victory at fourth-seeded Cajon in the opening quarterfinals on June 15. Senior Kayanna Spriggs led the way with 21 points and 12 rebounds while junior Teanna Alaman tacked on 20 points.
The visitors sank nine three-point shots in the game to create separation on the scoreboard from their opponent.
The Lady Crusaders advanced to the semifinals on June 17 against eighth-seeded Paloma Valley (13-4) after Paloma Valley had upset top-seeded Righetti (14-3) by a 57-45 score in the quarterfinals.
Mater Dei Catholic took care of business with a 60-45 win while playing on their home court. Four Lady Crusaders hit double digits in the scoring column. Alaman led the hosts to victory with 17 points while senior Naila Mitchell dropped in 13 points. Sophomore Asia Boone tallied 12 points while Spriggs contributed 11 points.
Mitchell pulled down 10 rebounds while Alaman had five assists and five steals.
It was back on the road again for Mater Dei Catholic as they took on second-seeded Alemany in the championship game. The Lady Crusaders (20-9) didn't seem to mind the trip to the San Fernando Valley as they promptly gained a 17-8 first-quarter advantage that later grew to a 32-21 lead at halftime.
The action slowed down in the third quarter, through the visitors still out-scored the Warriors 8-6 to take a 40-27 lead into the final quarter. Mater Dei Catholic won the scoring battle in each quarter by out-pointing Alemany 16-15 in the final period for a final 14-point victory.
Boone poured in 23 points while Alaman added 13 points. Spriggs had seven points and a team-high 12 rebounds. Boone sank three three-point shots while Mitchell had three blocks. The Lady Crusaders pulled down 44 boards in the win.
Mater Dei Catholic defeated Montgomery, 91-9, in a Mesa League encounter on May 28 to close out regular season play.
Thirteen players racked up points in the contest, led by sophomore Kailani Gary with 14 points. Senior Savannah Snith had 17 rebounds for the Lady Aztecs (0-12 in league 2-17).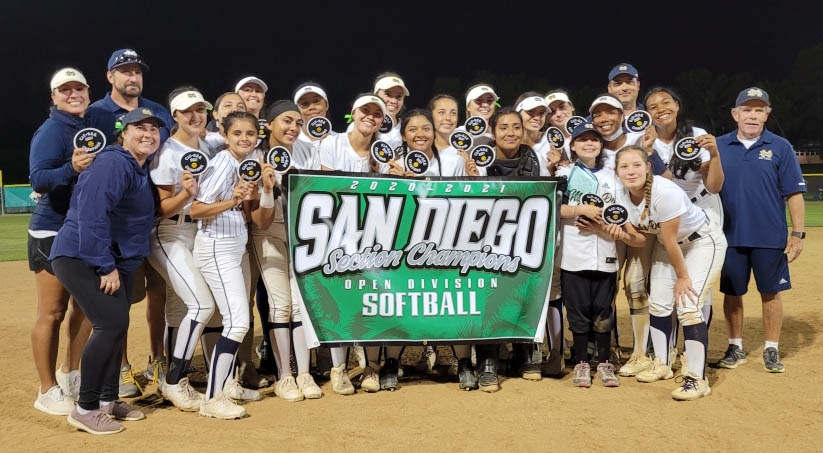 Softball
Mater Dei Catholic was among three Mesa League teams to gain entry into this year's San Diego Section Open Division playoffs along with Bonita Vista and Eastlake.
Bonita Vista won the league title with a 9-1 record, followed by Mater Dei Catholic at 8-2 in the standings and Eastlake in third place at 7-3.
Mater Dei Catholic received the top seed in the playoffs while Bonita Vista was seeded third and Eastlake was seeded fifth. Despite each meeting twice in league play, none of them met in the playoffs.
Of the three Mesa League entrants, only Mater Dei Catholic won its opening game — 8-1 over eighth-seeded Mission Hills. Bonita Vista fell, 13-4, to sixth-seeded Patrick Henry (18-8) while Eastlake came up short by a 10-5 score at fourth-seeded Carlsbad (17-7) in games played on June 8.
Both Bonita Vista (18-7) and Eastlake (16-7) went out in the next round. Bonita Vista lost, 8-3, to seventh-seeded Cathedral Catholic (16-9) while Eastlake ended its season with a 3-2 loss to Mission Hills (21-10).
Meanwhile, the Lady Crusaders kept winning.
Mater Dei Catholic defeated Carlsbad, 7-1, in a second-round game on June 11. The teams were back on the field for a rematch in fourth round play on June 16 after Carlsbad eliminated Mission Hills, 8-3, in a third-round game the previous day.
The Lady Crusaders cleared a path to the championship game with an 8-3 win over Carlsbad.
Second-seeded Rancho Buena Vista advanced to meet Mater Dei Catholic in last Saturday's final at Helix Charter High School by also winning three consecutive games. The Lady Longhorns (23-7) dispatched Cathedral Catholic in the first round by a score of 2-1, then defeated Patrick Henry twice by scores of 10-0 and 8-1.
The Lady Crusaders (26-2) rode the momentum of a five-run third inning en route to capturing a 10-0 championship game victory over RBV.
Senior Sami Gutierrez, freshman Michelle Cervantes and senior Gisselle Garcia each drove in two runs while sophomore Ayanna Shaw and senior Giselle Gonzalez both collected one RBI.
Mater Dei Catholic had 10 hits in the game, including three for extra bases Shaw and Cervantes both slapped doubles while Gutierrez, who scored three runs, hit a two-run homer that ended the game.
Garcia (21-2) pitched six innings in the run-rule shortened game. She did not allow a hit while striking out 12 batters. She faced 19 batters — one over the minimum — on 73 pitches.
In 27 games this season, Garcia compiled a 0.89 earned-run average and 239 strikeouts in 165 innings.
Top hitters on the team included junior Avery Jones (.442 hitting average), Shaw (.418, 28 RBI), freshman Michaella Salvatierra (.382), senior Brianna Escalante (.356, 23 RBI), Gonzalez (.341, 20 RBI), Gutierrez (.333, 15 RBI), Garcia (.312, 13 RBI) and senior Kiyra Moody (.310, 20 RBI).
Gonzalez paced the team with six home runs while Shaw collected four round-trippers. Shaw also had four three-baggers.
Moody led the team with 25 runs scored, followed by Gonzalez, Shaw and Salvatierra all with 24 runs scored.
Escalante had three RBI in the opening playoff win over Mission Hills while Shaw had six RBI in the two wins over Carlsbad.
Garcia racked up 24 strikeouts in the three preliminary games.
"We are very proud of this team," Mater Dei Catholic head coach Mike Centrullo said. "Every single player played a major role in finishing the season the way we did. They played for each other and got the job done. They're fun to coach."
The latest section title was the seventh for the program. The Lady Crusaders dominated the Division IV playoffs with four titles from 2010-13, then added a Division II championship banner in 2014.
Mater Dei Catholic won the 2019 Open Division title but the 2020 season was wiped out by the coronavirus pandemic.
The Lady Crusaders elected to opt out of this year's Southern California regional playoffs.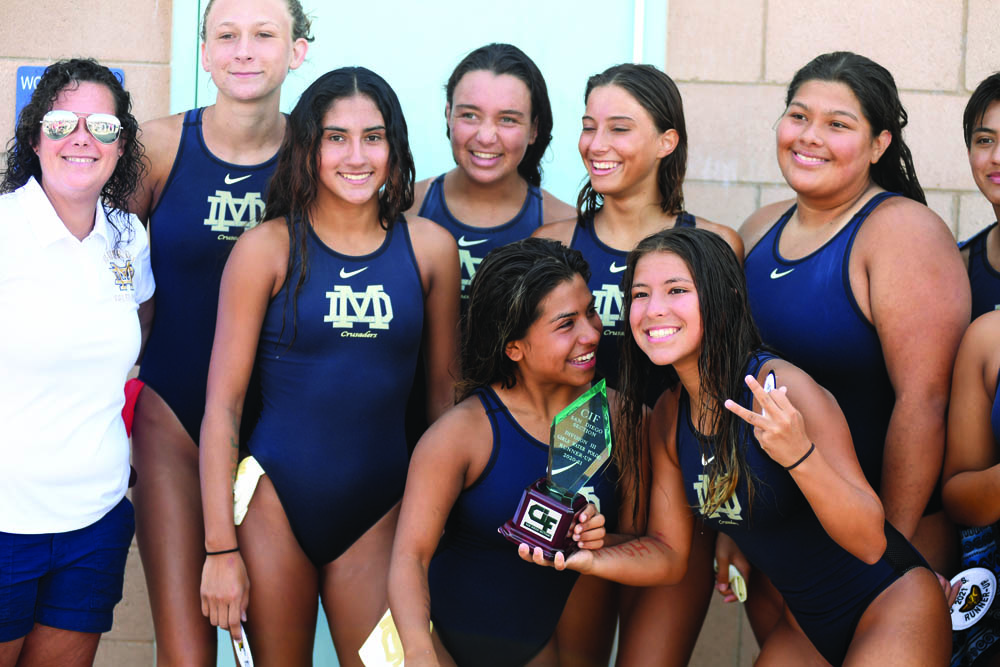 Girls water polo
Mater Dei Catholic tied for second place in the Metro-Mesa League standings with Eastlake, with both teams finishing 3-3 in league play behind league champion Mar Vista (6-0 in league).
The Lady Crusaders received the No. 2 seed in the Division III playoff field and opened postseason play with an 8-3 quarterfinal victory against seventh-seeded Mira Mesa on June 11 at Granite Hills High School.
Mater Dei Catholic was back in East County for the semifinals on June 14 against third-seeded Hilltop, the Metro-South Bay League champion. The Lady Crusaders opened the game with a 3-1 halftime lead and weathered a pair of second-half Hilltop goals to post a 4-3 win and advance to the program's first section championship game.
Mater Dei Catholic paired up against the top-seeded Valley Center Jaguars, who posted an 11-4 victory to end the Lady Crusaders' otherwise noteworthy season at 10-7 overall.
The championship game was scoreless until 3:59 remained in the opening seven-minute quarter as Mater Dei Catholic set up a tenacious defense. The Lady Jaguars (14-2) proved just to be a step faster in execution and methodically built up a 4-0 lead to close the first quarter and a 7-2 lead at halftime.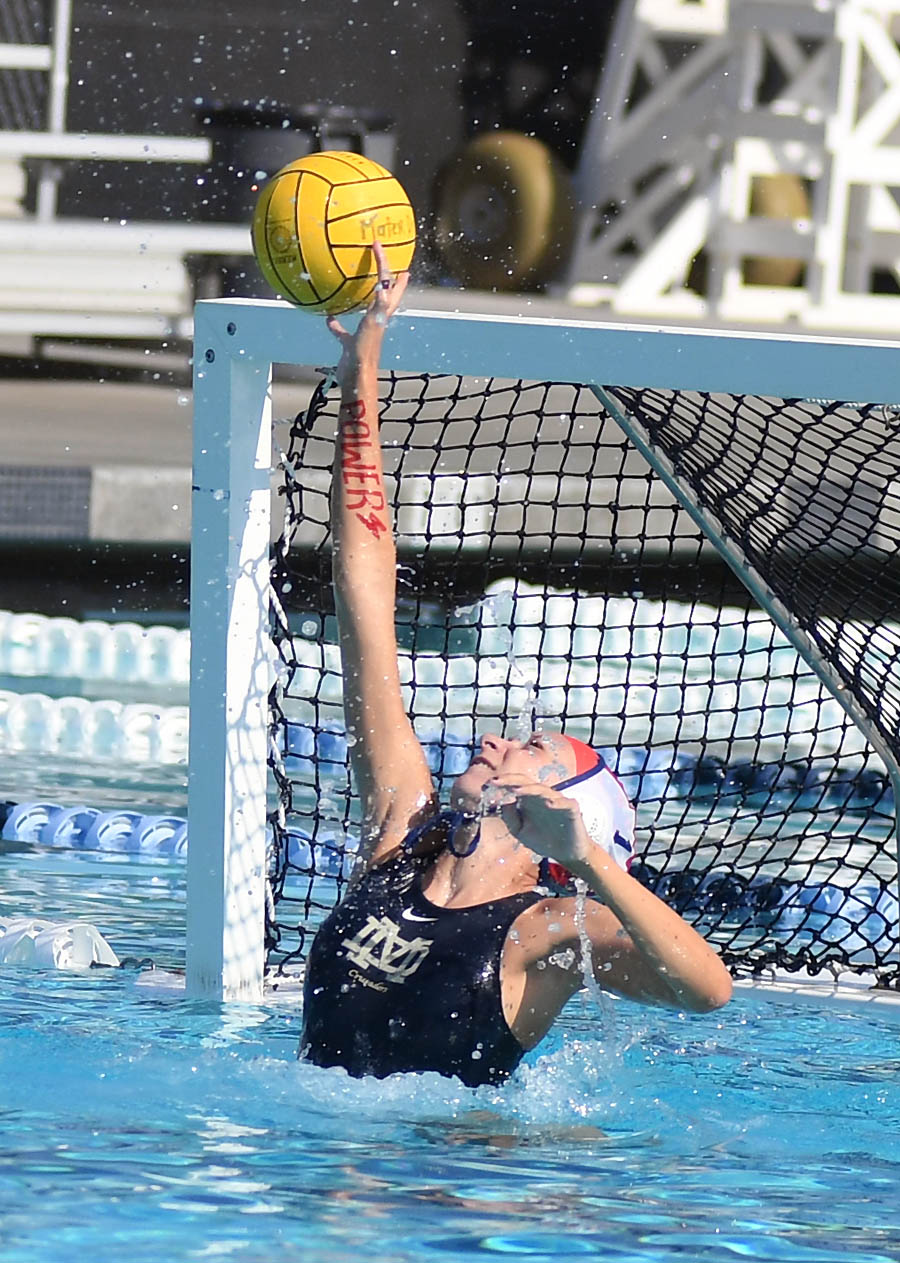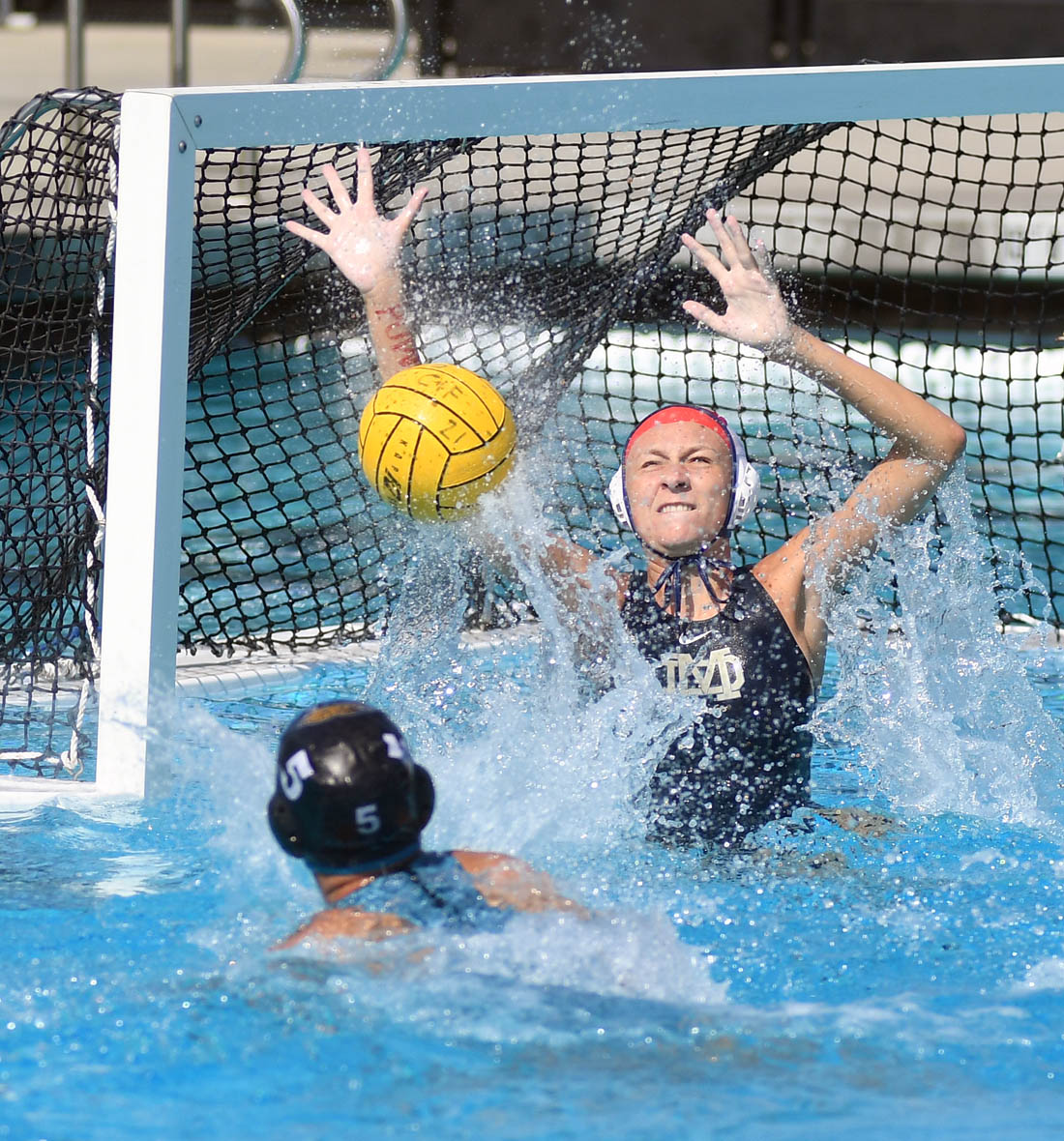 The second half was more conducive to the Lady Crusaders' style of play and Valley Center only managed to out-score the South County team 4-2 over the final two quarters.
Senior Anna Cetnar led Mater Dei Catholic on the scoreboard with two goals while juniors Haniah Avila and Adriana Petro both scored one goal.
Junior goalie Adrianna Sammartano provided the highlights of the game with 11 saves, most of them acrobatic, as she set a new school record with 219 saves on the season.
"They were a little bit stronger on fundamentals, but we fought," MDCHS coach Jennie Charlesworth said. "We had moments when we pushed them. Our goalie had a good game."
The Lady Crusaders lose two players to graduation.
"We lose two very strong players, but the returners will be looking to push for a championship," Charlesworth said.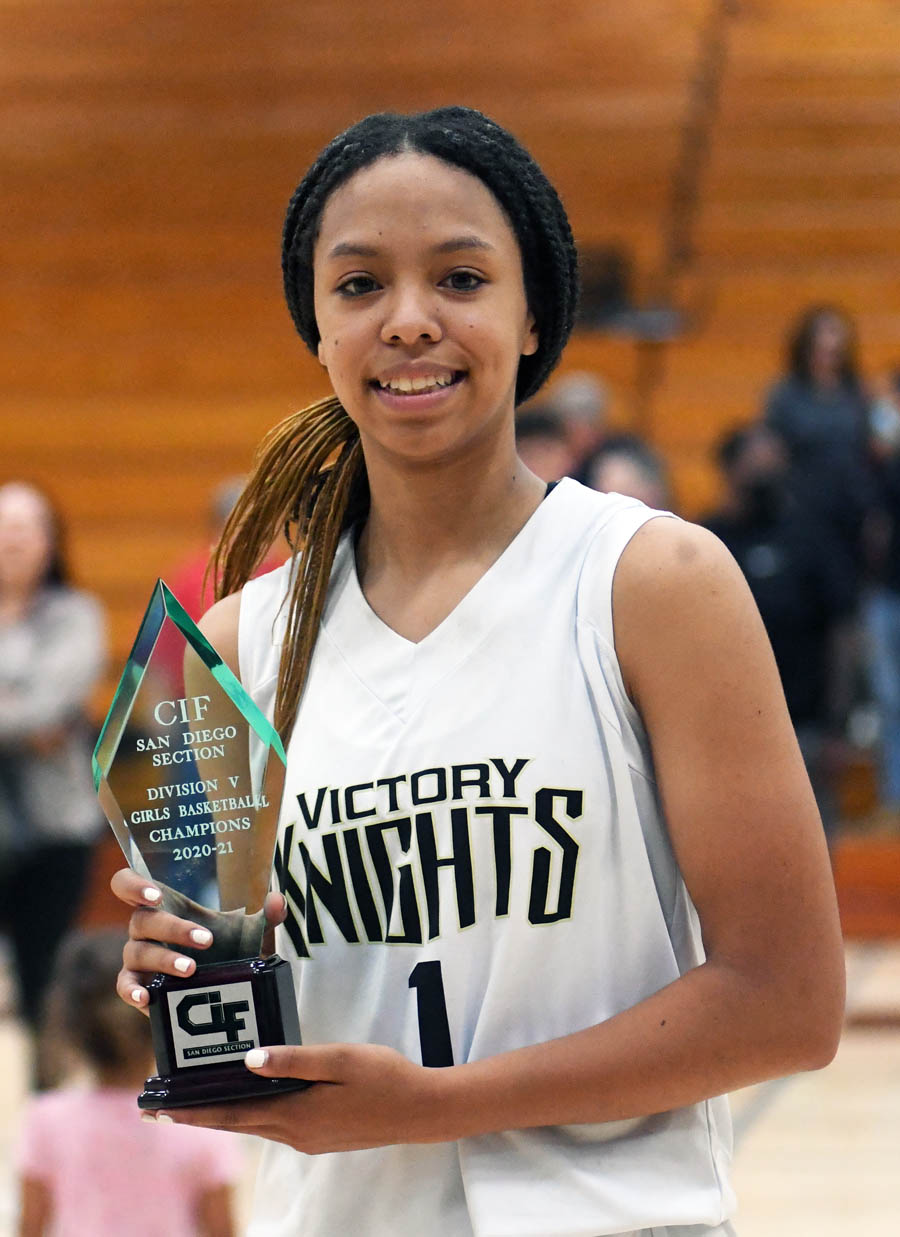 GIRLS BASKETBALL
Victory Christian Academy's history-making season ends with loss in SoCal championship game
The Victory Christian Academy girls basketball team earned its place in history this season by winning the school's first San Diego Section championship in the sport after defeating High Tech High San Diego, 57-33, to capture the Division V title June 10 at Serra High School.
The Lady Knights took it a step farther by advancing to last Saturday's Division 6-AA Southern California regional championship game as the top seed in the division.
But history had something different in store for the small Chula Vista private school as the third-seeded Corcoran Panthers came out on top in the regional final by a score of 61-57.
The Lady Knights, who finished 4-4 in Citrus League play, ended an otherwise stellar season at 14-7 overall.
Victory Christian played catch-up for the balance of last Saturday's game against Corcoran (10-7) after building a 12-10 first quarter lead.
The Panthers rebounded for a 31-26 halftime lead and led 47-40 heading into the final quarter.
The hosts racked up a 17-14 scoring edge in the final quarter, but the rally fell four points short of sending the game into overtime.
Junior Salma Youngblood led all scorers on the court with 34 points, while sophomore Jayln Johnson contributed 11 points. Johnson (three) and Youngblood (two) combined for five three-point shots in the game.
As a team, Victory Christian faltered a bit at the free-throw line by making 10 of 20 shots from the charity stripe (50 percent). Corcoran sank 11 of 15 shots from the free-throw line for a 73 percent conversion rate.
The Lady Panthers recorded a decisive edge in the rebounding department 43-29. Junior Aaliyah Thompson led all players on the court with 20 rebounds, including 15 defensive rebounds, while pouring in 22 points on offense.
Youngblood keyed the hosts with 10 rebounds while sophomore Jada Adams had eight boards.
Youngblood also notched six assists and six steals.
Sophomore Justice Rouston had five rebounds, three assists and four points (all from the field).
Adams, who ranked third on the team with seven points, was five-for-six from the free-throw line.
Victory Christian advanced to last Saturday's regional championship game following a 67-28 semifinal blowout victory against fourth-seeded St. Bernardo two days earlier on June 17.
Three players scored in double figures: Youngblood (31 points), Johnson (19 points) and Adams (10 points). Youngblood also recorded team highs with 13 rebounds, six assists, six steals and two blocks.
Johnson sank four treys while Adams grabbed 11 rebounds. Rouston had nine rebounds and four steals.
The Lady Knights were 10-for-25 (40 percent) at the free-throw line.
Corcoran advanced following s 61-47 semifinal win over second-seeded Los Angeles Franklin (5-6) as Thompson recorded 22 points and 10 rebounds.