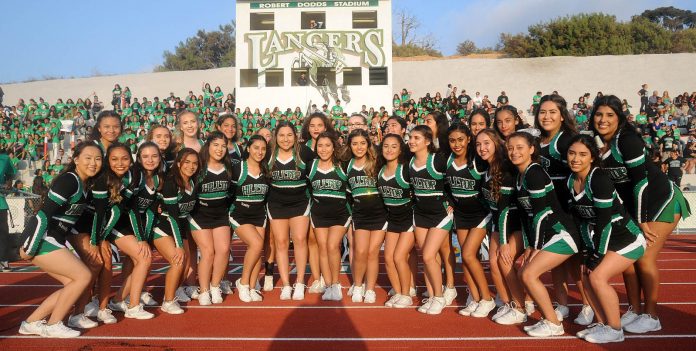 The finishing touches are still being put on Hilltop High School's new all-weather stadium field but early reviews are pointing in the direction of a field of dreams for the west side Chula Vista school.
Hilltop opened in 1959 and its first three-year class graduated in 1962. All physical education classes and athletic sports teams at the school competed on a bumpy natural grass field and dirt track.
Not any more.
Though it took two years and an estimated $3.5 million to complete amid unexpected (and grossly disappointing) delays, the school's new athletic field at Robert Dodds Stadium officially saw its first game action last Friday when the Hilltop football team hosted the Escondido Cougars in a non-league game.
Though the Lancers dropped a 31-20 decision to the Cougars, fans, including parents, alumni and district administrators, seemed pleased to be a part of the history-making event.
For the record, Hilltop's Micaiah Iuli scored the first touchdown on the new field.
Chip Holmes, who coached track and field at the school for 20 years, was among those obviously impressed by the unveiling.
"It's a great facility," said Holmes, who graduated from the school in 1968 and now runs the scoreboard for varsity football home games. "It will save your legs on the new surface, a lot less wear and tear. Hopefully, it will get more kids to come out (for field sports).
"As an alumni, I'm excited."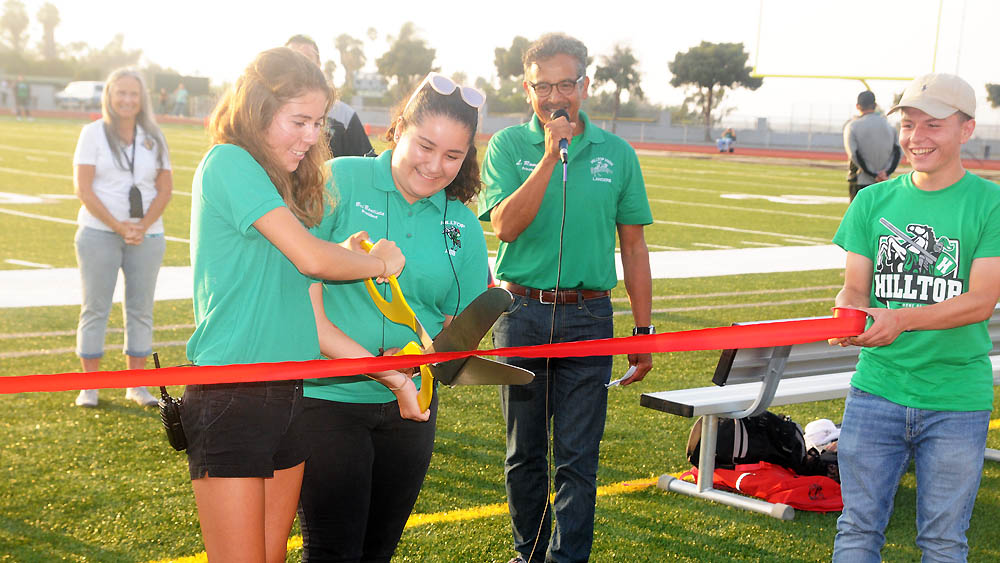 Last Friday's community unveiling started with an early morning pep rally as part of KUSI-TV's "Prep Pigskin Report."
"The gym was packed, loud and sweaty," Holmes noted. "The cheerleaders put on an amazing show."
Longtime Hilltop coach and athletic director Nancy Acerrio was equally enthused by the long anticipated field debut.
"There's a buzz on campus," noted Acerrio, who has coached at the school since 1976 and taught at the school since 1984. "The junior varsity football game was packed. The field will be used for all the teams; it's just awesome.
"It's like a big burden has been lifted off our shoulders. The company that came in to complete the job was very accommodating."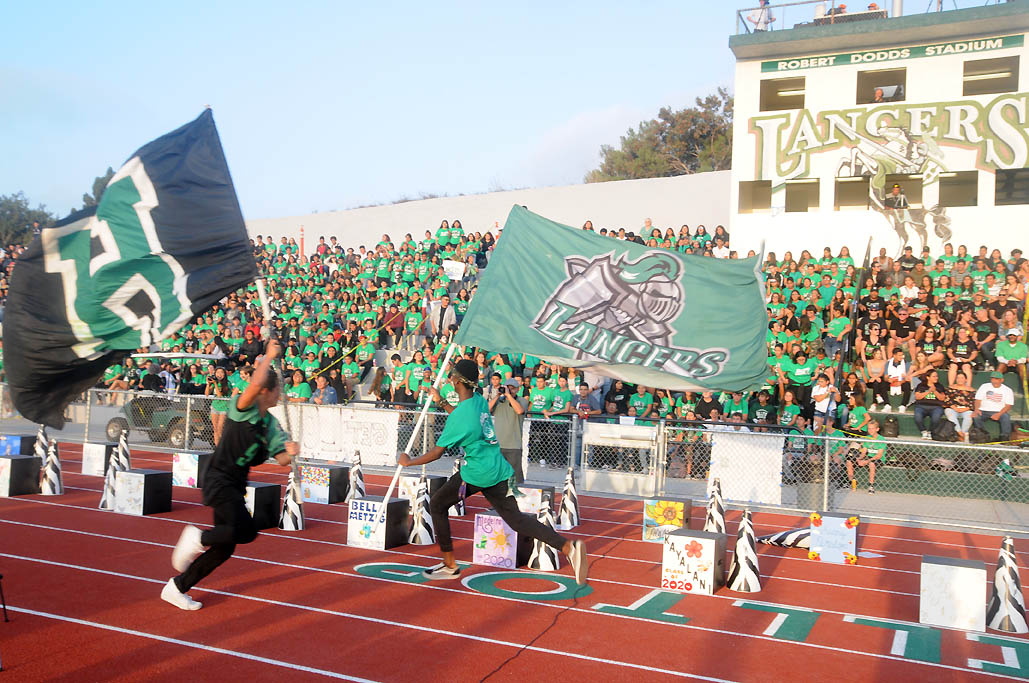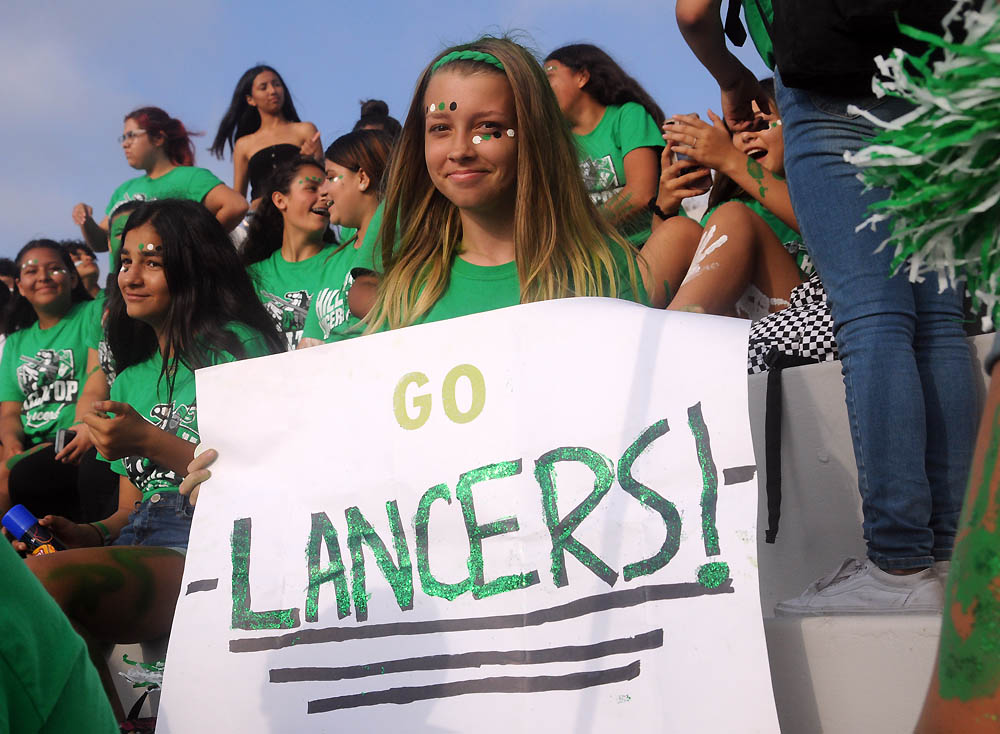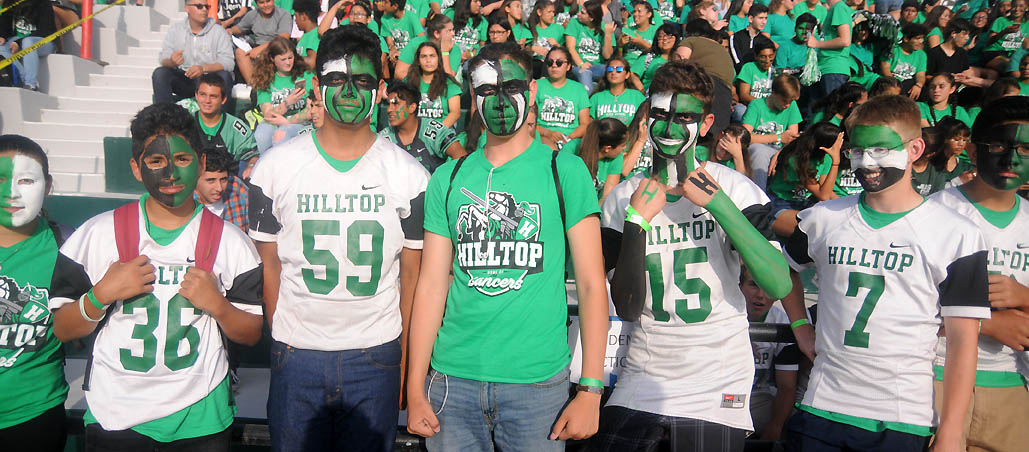 The new field features an all-weather surface that can be utilized by the school's football, soccer, lacrosse and field hockey teams. An eight-lane all-weather track surrounds the field complete with horizontal and vertical jumping pits, a shot put area and discus throw ring.
There are also plans for extra storage space to go with a new snack bar and ticket booth. A new sound system will also be installed.
Not everything was ready for last Friday's season opener. The snack bar and ticket booth were not yet completed and the sound system was not yet installed. Storage areas have yet to be finished.
Construction will be ongoing on campus until the job is finished. Hilltop's next home football game is scheduled Sept. 7 when the Lancers host Olympian High School in a non-league game.
Some things have remained the same, such as the concrete bleacher seating, restrooms, press box, scoreboard and dim stadium lighting.
Also, Lancer fans will note the color scheme of the end zones resembles that of the NFL Oakland Raiders.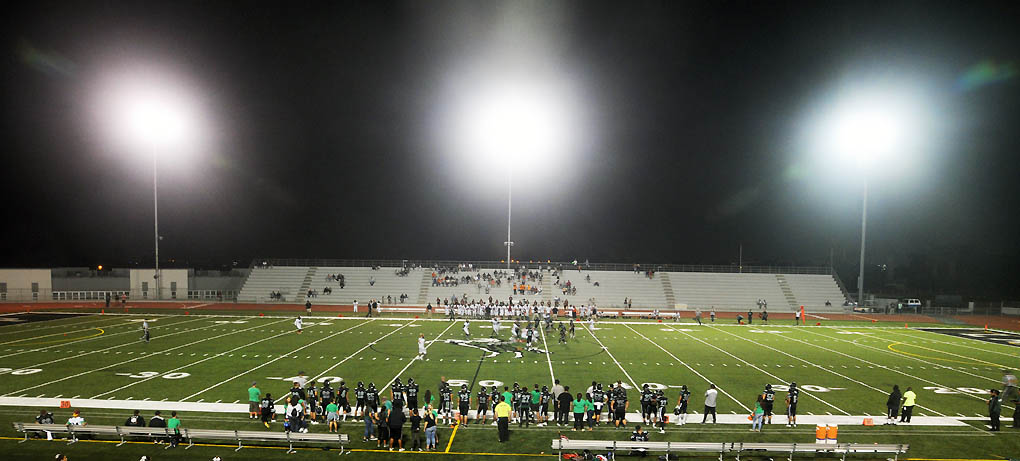 Current coaches, however, seem elated that the field is ready for use despite some shortcomings.
Football coach Drew Westling called the new field "awesome."
"It's a great facility for all the field sports," he said. "Overall, it's outstanding. It's the biggest thing to happen (at the school) since I've been here."
Soccer coach John Salts said he was "very happy" from a continuity aspect.
"We've been playing a lot of our games on these types of turf fields (at other school sites) anyway, so we're ready for this," Salts explained. "It's one of the big things for us.
"It's about five yards shorter than what we wanted — it's 70 by 115. We were hoping for 75 by 120, the optimum playing size, but it's a beautiful field. We have water cannons put in to cool off the turf. We haven't had a chance to play on it yet but it's also one of the few fields that has a concussion pad placed underneath to meet the new concussion protocol."
Lacrosse field markings have yet to be painted on the new turf field but boys lacrosse coach Pete Bishop remains enthused by the positive upgrades the new field will bring to the program.
"We're looking forward to playing on it," said Bishop, who has coached the team since its inception. "The last field was so rough it made scooping the ball more difficult and it also was harder to run on because you could step into a hole. We're looking forward to playing on the rug. The only down side is that it's hotter than playing on grass."
Last Friday's game was certainly a hot ticket. The student cheering section featured about 500 green-clad and green-painted Hilltop Hooligans.
Cheers went up from the onset and continued throughout the contest. Iuli finished the game with two touchdowns while Marko Aki scored another.
Lancers fall short in new field inauguration; Eagles, Mustangs show well in losses
New varsity quarterback Joey Castillo hit senior receiver Micaiah Iuli on an eight-yard scoring pass to cap a 70-yard field march on the Hilltop Lancers' opening possession of last Friday's non-league home game against the Escondido Cougars.
It was the perfect complement to festive pre-game ceremonies that included a ribbon-cutting dedication of the school's new all-weather stadium field.
Following a three-yard scoring run by Escondido quarterback Robbie Ramos, the Lancers were celebrating in the end zone again after Iuli hauled in a 41-yard catch and carry from Castillo to put the finishing touches on a 79-yard scoring drive.
But there would be no encore as the Lancers fell by a score of 31-20 in the teams' season opener.
After scoring on their opening two possessions, the hosts were unable to find an offensive spark thereafter. Hilltop head coach Drew Westling said his team did not go down to defeat for a lack of effort, however.
"When we're in a rhythm, we're hard to stop," Westling explained. "When we're out of rhythm, it takes a while for us to get going.
"All the credit goes to them. They did an excellent job. Our young guys got some valuable experience from this game. I'm excited to see them grow from this game."
The Lancers travel to Metro-Mesa League heavyweight Eastlake for their next game on Friday and then play at San Ysidro High School on Aug. 31 before returning home to test the Olympian Eagles, another top team from the Metro-Mesa, on Sept. 7.
Westling will be looking for steady improvement from his team as the schedule unfolds.
Game on
Luis Flores kicked a 37-yard field goal with 20.5 seconds left in the first quarter to dent Hilltop's early 14-7 lead to make the score 14-10.
From there, the visiting Cougars resorted to a pounding ball-possession oriented ground attack that repeatedly approached and, in many instances, dipped inside the Hilltop red zone.
Flores missed a 38-yard field goal attempt midway through the second quarter as the ball hit the upright and bounced away.
But Escondido was persistent. Ramos scored on a one-yard sneak with 19.4 seconds left in the third quarter to give the visitors their first lead of the night at 17-14.
Escondido's Mason Malone blocked a punt that was subsequently recovered by the Cougars at the Hilltop five-yard line. Ramos scored on a two-yard sneak to make the score 24-14.
The visitors hiked the score to 31-14 when Tajae Brooks caught a 25-yard scoring pass with 6:21 left in the fourth quarter.
The Lancers finally regained some momentum when Castillo hit junior Marko Aki on a 27-yard scoring pass with 5:20 left in the game.
However, the hosts could not inch any closer on the scoreboard.
Castillo engineered three scoring drives, passing for 109 yards in the first half, but was intercepted twice on the night.
Escondido received key rushing yards from the tandem of Matt Malone and Shawn Moskowitz. In fact, the Cougars had a chance to widen the score but missed three field goal attempts.
Castillo completed 14 of 28 passing attempts for 148 yards in the loss with three touchdown passes and two interceptions. Iuli had two catches for 49 yards while Marcos Deanda had four catches for 34 yards. Aki caught to passes for 30 yards.
The Lancers' rushing yardage was minimal in the game — just 18 yards.
Julian Roque keyed Hilltop defensively with 11 tackles while Aki and teammate Joel Olivares each had 10 tackles. Deanda had two tackles for losses, including one sack.
Trevor Fune had one interception for the Lancers while David Delgado successfully made two of three point-after touchdown conversions.
Friday's Hilltop-Eastlake game kicks off at 7 p.m.
Eastlake, which recorded a runner-up finish in last year's San Diego Section Division I championship game, is coming off a 13-0 non-league loss to visiting Torrey Pines, which continues to be ranked second among section teams despite No. 1-ranked Helix's 43-3 non-league setback at San Bernardino Cajon.
After being shut out in their season opener, the Titans will be looking to get their offense on track in the matchup against the Lancers.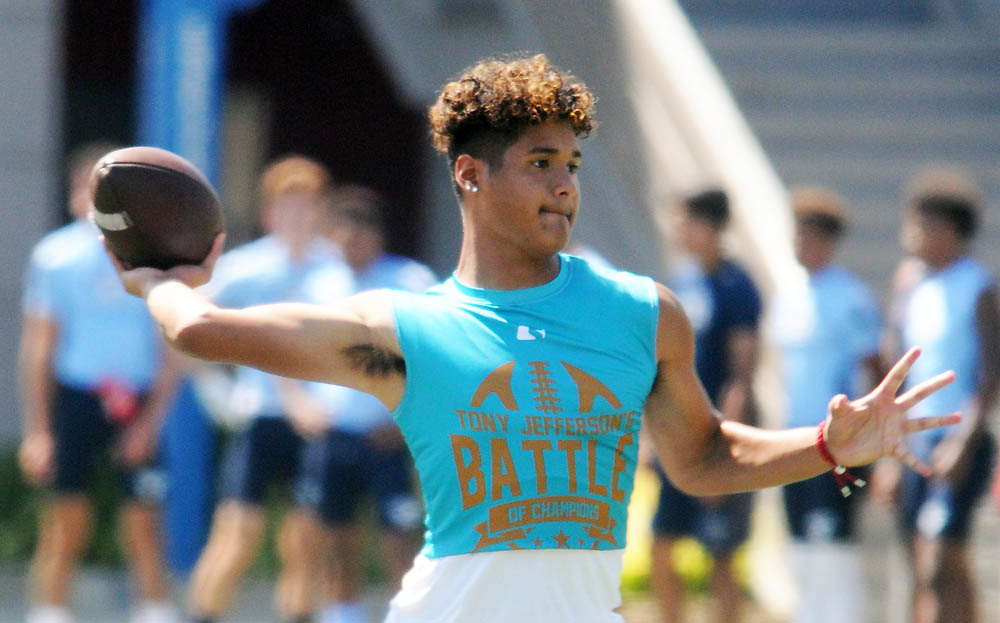 Eagles rebound from massive graduation hit with inspired effort
After graduating 32 seniors, the bulk featuring skilled talent, the Olympian Eagles might have had some rather large question marks concerning this year's team.
But all those fears seem to be put to rest, at least for one week, after the Eagles came up short in a 28-25 overtime loss at Santa Fe Christian last Friday afternoon in a match-up of teams both sporting Eagles nicknames.
"Turnabout is fair play I guess," seventh-year Olympian coach Paul Van Nostrand assessed of his team's season opening loss. "We got them in overtime last year. It's always a competitive game with Santa Fe Christian. Both sides played hard and it was exciting to the very last play — both in regulation and OT."
Olympian's offense rolled up 407 total yards, with new quarterback Lukas Hamilton throwing for just over 300 yards in his varsity debut.
The game remained close throughout. SFC ended the first quarter with a 7-0 lead and led 10-9 at halftime. The hosts posted a 7-6 scoring advantage in the third quarter to extend their lead to 17-15.
Olympian sent the game into overtime by outscoring SFC 10-8 in the fourth quarter.
SFC emerged with the OT win on the strength of a 39-yard field goal by Jack Bosman in the tiebreaker.
Damarian Thornton scored Olympian's first touchdown of the new season on a 10-yard run but the Eagles missed the extra-point conversion.
But Erik Duarte later came back to boot a field goal as Olympian pulled to within one point on the scoreboard at halftime.
The visitors took a 22-17 lead early in the fourth quarter on a 12-yard scoring run by Ka'lehn Newson.
The hosts took a 25-22 lead after that but could not secure the win in regulation play after Olympian's Arnold Escano returned the ensuing kickoff 41 yards. Hamilton then connected for three passes totaling 36 yards to set up Duarte for a game-tying 39-yard field goal.
Jared Desmond led Olympian defensively with 21 tackles while teammates Tyler Powers and Diego Sanchez each recorded 12 stops.
Berry Buxton also had one interception.
Olympian (0-1) will seek its first win of the new season when it visits Poway (0-1) for a non-league encounter on Friday. Kick-off is 7 p.m.
Mustangs flirt with a victory in season opener at San Marcos
The defending Metro-Mesa League champion Otay Ranch Mustangs lost 30 players to graduation but appear to be hanging in there just fine after narrowly dropping their season opener, 24-21, at San Marcos last Friday.
The Mustangs, braced by a pair of rushing touchdowns by senior Noah Isley, positioned themselves for a possible win after taking a 14-10 lead at halftime.
But the host Knights outscored the visitors 14-7 in the second half to post the non-league victory.
Isley scored on a pair of touchdown runs in the second quarter to boost Otay Ranch. He led all rushers in the game with nine carries for 81 yards.
Quarterback Jonte Stewart rushed nine times for 67 yards and completed nine of 19 passes for 67 yards with one interception.
As a team, the Mustangs rushed for 158 yards and finished the game with 225 total yards.
The Knights went up 24-14 on a 17-yard field goal by Caleb Mancini and a trick pass play that ended up in the hands of J.T. Dozer.
Otay Ranch pulled to within three points on the scoreboard following a six-yard interception return by Michael Touchette. However, San Marcos was able to run out the final four minutes in the game backed up by a powerful showing by its offensive line.
Knights quarterback Miles Hastings passed for 194 yards.
Miguel Felix led the Mustangs defense with 22 tackles while teammate Dylan Zolezzi made 16 stops. Touchette, Cameron Galloway and Xzavier Abasolo each recorded one sack. Galloway also had a fumble recovery.
Otay Ranch (0-1) will attempt to get into the win column by hosting Valley Center (1-0) this Friday. The Jaguars routed Mt. Miguel, 57-3, last Friday.
New San Ysidro head coach finds positives in opening 38-14 setback
A new coaching era dawned for the San Ysidro Cougars in last Friday's 38-14 non-league loss at Mission Bay. Skipper Keith Aguon assessed his first game on the sideline with a positive attitude.
"I was pleased with our offensive drives," Aguon said. "We had a 13-play drive and a 14-play drive, however we must take care of the football. We lost two fumbles.
"Also on defense we're not a team that can afford to give up one-play scoring drives which happened twice. I believe in our coaching staff to fix those things, and we believe we are talented enough to be a top team in Division V."
Junior running back Josue Juarez had 32 carries for 107 yards while senior quarterback Marcus Bowman had 11 carries for 55 yards and one touchdown.
Senior linebacker Josef Bielma recorded 11 tackles and one interception while junior defensive tackle Erik Bojorquez registered three tackles for losses and one sack.
San Ysidro rushed for 253 yards in the loss. Junior Ruben Fernandez scored the team's other rushing touchdown.
The Cougars hope to post their first win for Aguon when they travel to Mountain Empire for a non-league game on Friday. Kick-off is 6:30 p.m.
Prep Kick-off 2018
Friday Night Lights
Friday, Aug. 17
Non-League
Chula Vista 27, La Jolla Country Day 14
Castle Park 55, O'Farrell Charter 6
Montgomery 12, Hoover 6
Santa Fe Christian 28, Olympian 25 (OT)
Escondido 31, Hilltop 20
Southwest 57, Escondido Charter 26
St. Augustine 35, Bonita Vista 0
Torrey Pines 13, Eastlake 0
Monte Vista 44, Mar Vista 0
Mission Bay 38, San Ysidro 14
Ramona 28, Mater Dei Catholic 0
San Marcos 24, Otay Ranch 21
San Pasqual 48, Sweetwater 7
Friday, Aug. 24
Non-League
San Ysidro at Mountain Empire, 6:30 p.m.
Madison vs. Bonita Vista at Southwestern College, 7 p.m.
Hilltop at Eastlake, 7 p.m.
Valley Center at Otay Ranch, 7 p.m.
Castle Park at Mar Vista, 7 p.m.
Vincent Memorial at Southwest, 7 p.m.
Chula Vista at Mt. Miguel, 7 p.m.
Mater Dei Catholic at El Capitan, 7 p.m.
Olympian at Poway, 7 p.m.
Montgomery at Classical Academy, 7 p.m.
Sweetwater at Fallbrook, 7 p.m.
San Diego Section Football Rankings
MaxPreps/Top 10
Division I: 1. Helix (0-1), 2. Torrey Pines (1-0), 3. Madison (1-0), 4. Mission Hills (0-1), 5. La Costa Canyon (1-0), 6. San Marcos (1-0), 7. Carlsbad (1-0), 8. Eastlake (0-1), 9. Steele Canyon (0-1), 10. Grossmont (1-0). Others: 13. Otay Ranch (0-1)
Division II: 1. Ramona (1-0), 2. Valley Center (1-0), 3. Granite Hills (1-0), 4. Bishop's (0-1), 5. Lincoln (1-0), 6. Mira Mesa (1-0), 7. Southwest El Centro (0-1), 8. Point Loma (0-1), 9. Westview (1-0), 10. Vista (1-0). Others: 11. Olympian (0-1), 14. Mater Dei Catholic (0-1), 15. Bonita Vista (0-1)
Division III: 1. Monte Vista (1-0), 2. Santa Fe Christian (1-0), 3. University City (1-0), 4. Christian (1-0), 5. West Hills (1-0), 6. Central Union (1-0), 7. Brawley (1-0), 8. El Capitan (0-1), 9. Escondido (1-0), 10. Morse (1-0). Others: 11. Hilltop (0-1)
Division IV: 1. San Diego (1-0), 2. Chula Vista (1-0), 3. Kearny (1-0), 4. Sweetwater (0-1), 5. La Jolla Country Day (0-1), 6. Classical Academy (0-1), 7. Santana (1-0), 8. Del Norte (1-0), 9. Serra (0-1), 10. Mar Vista (0-1). Others: 13. Montgomery (1-0)
Division V: 1. Vincent Memorial (1-0), 2. Francis Parker (1-0), 3. Tri-City Christian (1-0), 4. Palo Verde Valley (0-1), 5. Holtville (1-0), 6. Army-Navy Academy (0-0), 7. Mountain Empire (0-1), 8. Maranatha Christian (0-1), 9. Orange Glen (1-0), 10. Southwest (1-0). Others: 11. Castle Park (1-0), 15. San Ysiro (0-1)