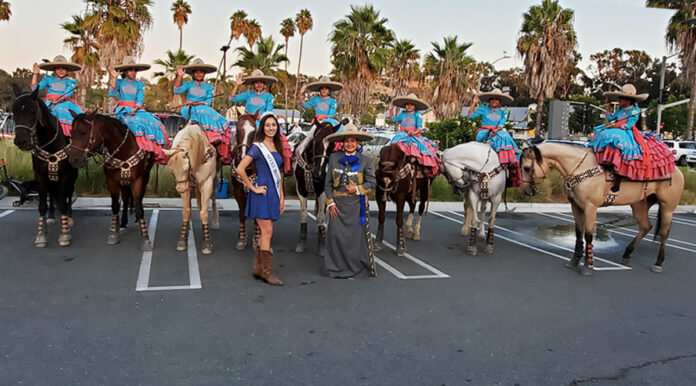 What began as a small parade and street fair nearly 50 years ago, Bonitafest is "Back in the Saddle!" again, as it prepares to continue this community celebration with two parades, and a pandemic modified radio melodrama.
Equestrians, walkers, bicyclists, and almost any form of transportation, all armed with glowsticks, will kick off the 49th Bonitafest with the annual Twilight Trail Parade on Sept. 17 at 6 p.m. Traveling from Sunnyside Saddle Club Arena in Rohr Park, along the Chula Vista Municipal Golf Course trail, musical performances and more await participants at the Bonita Sunnyside Library.
From the trails to the streets, the Bonitafest Car Parade kicks off the morning of Sept. 18, forming at Sweetwater Community Church at 9 a.m., with the parade at 10 a.m., traveling 13.1 miles through the Sweetwater Valley with the Bonita Sunnyside Fire Department and San Diego County Sheriff's leading the way.
Dr. Jeff Nevin, professor of Music and Director of Mariachi Activities at Southwestern College is this year's Bonitafest Grand Marshall. Considered the best collegiate mariachi, SWC's Mariachi Garibaldi has traveled the globe under Nevin's direction, who also is a virtuoso trumpeter who performs with the San Diego Symphony.
"Since 1973 Bonitafest has honored outstanding members of the community whose contributions have made the South County a better place," said Bonitafest Chairman Max Branscomb. "Dr. Jeff Nevin continues that tradition. His work creating the Southwestern College mariachi program and a high school mariachi curriculum has opened this diverse community to Mexico's greatest musical form. Thousands of Sweetwater High School District and Southwestern College musicians have gone through his programs and his curriculum, and hundreds of thousands of global mariachi fans from Guadalajara to Beijing have enjoyed performances by Southwestern's mariachi groups."
Other honorees are Bonita Vista High School teacher and basketball coach Don Dumas, retired National School District teacher Daryl Hern, COVID ward nurse Ariana Delucchi, MJ and Chef Kevin of MJ's Fusion Grill, teenage recording artist Kieler Avery Muller, college magazine editor Xiomara Villarreal-Gerardo and posthumous honoree Professor Richard Robinson.
Branscomb said Bonitafest "values the young people" of the local community and this year's youth honorees Kieler and Xiomara's works "speaks for itself."
Villarreal-Gerardo said she is honored to be recognized at this year's Bonitafest.
"I was given the great opportunity to be the Editor-in-Chief of Southwestern College's El Sol Magazine 2021 and it feels amazing to see people in the community reading it as it is filled with valuable stories about heroes in our communities and important topics that need to be talked about," she said. "To me, representing Bonitafest as a Youth Ambassador VIP recipient it means a great deal because I want to encourage younger generations to dream high, reach their educational goals, and succeed in their future professional careers."
Bonitafest 2021 VIP Host Daryl Hern said Bonita has a "unique country in the city feeling with miles of trails for horses, hikers, and mountain bikers."
"We have a wonderful history and art museum, a library with a bookstore, and a historic church. People come from all over to our community garden, golf course, and county park. The long-running Bonitafest brings the local community, as well as surrounding communities, together to celebrate Bonita's history and residents. I am proud and honored to be a part of it," he said.