It's crazy to think that this is just the second week of September and many high school football teams in the San Diego Section will be playing their fifth game this weekend.
That's halfway through regular season play.
The season is indeed going by fast, perhaps too fast.
What can be said at this point? Certainly the teams that seem to have what it takes to win on a consistent basis have made their presence known.
La Costa Canyon and Torrey Pines, both with spotless 4-0 records, lead an elite group of 16 undefeated teams in the section.
St. Augustine (4-0), Madison (4-0) and San Marcos (3-0) also are unbeaten among Division I section teams while Mira Mesa (4-0), Lincoln (4-0) and Granite Hills (3-0) are undefeated among Division II teams.
Christian (4-0), Central Union (4-0) and West Hills (4-0) are all undefeated among Division III teams while Kearny (3-0) is the only unbeaten among Division IV teams.
Four Division V teams remain undefeated: Vincent Memorial (3-0), Francis Parker (4-0), Tri-City Christian (3-0) and Orange Glen (3-0).
There is a large group of teams with 3-1 records, among them Mar Vista and Eastlake, both of which have won their last three games after being shut out in their season openers.
In particular, Eastlake appears to be gaining momentum after outscoring its last three opponents 112-17. The Titans blanked a strong Grossmont team, 35-0, last Friday after building a 21-0 first quarter lead.
Eastlake plays at winless Valhalla (0-3) this Friday. Don't be surprised if the Titans register another blowout. The Norsemen, who have been outscored 90-34, are positioned at the bottom of the Division II rankings.
Eastlake head coach John McFadden said he believes his team is getting better each week.
"Grossmont is a very good team, and we outplayed them in every aspect of the game," McFadden said. "The players and coaches are starting to mesh together and it really shows."
Sophomore quarterback Richard Colmenero continued to gain confidence by completing seven of 10 passes for 151 yards and two touchdowns to post a 152.1 quarterback rating. Eastlake piled up 306 rushing yards and three touchdowns to round out the team's offensive showing.
Senior Roman Coe rushed 15 times for 71 yards and scored one touchdown while senior Parker Merrifield had 12 carries for 62 yards and one touchdown. Junior Darius De Los Reyes rushed seven times for 48 yards and one touchdown.
De Los Reyes had two catches for 63 yards and one touchdown while junior Holden Stephens caught a 28-yard scoring pass.
De Los Reyes finished the game with 111 all-purpose yards and two TDs while Colmenero racked up 169 total yards (151 yards passing, 18 yards rushing).
The Titan defense, however, remains the talk of the town.
Seniors Josh McCurty and Quinton Johnson recorded nine tackles each to lead the team defensively. McCurty registered one tackle for a loss, two quarterback hurries and one pass deflection.
"The leadership of Josh McCurty has been a very powerful tool — the players see him buying in and follow his role," McFadden said.
Junior Jerwin Novicio had one fumble recovery while junior Jose Rivas caused a fumble.
Senior Jack Hay had one sack.
Senior D.J. Fierro averaged 53.2 yards on six kickoffs while Merrifield averaged 37 yards on two punts.
Grossmont totaled 82 passing yards and 39 rushing yards in the loss.
Junior quarterback Jamie Odom completed 14 of 26 passing attempts and a 60.1 quarterback rating.
Senior Thomas Mangum led the Foothillers (1-3) with 167 all-purpose yards (nine yards rushing, 31 yards receiving and 127 yards on kick returns).
But the Titans, ranked fifth in the section according to the MaxPreps rankings logarithm, cannot rest on their early season laurels entering Metro-Mesa League play.
"All the teams in the league have played a tough schedule," the Eastlake coach cautioned. "I think Otay Ranch, Olympian and Eastlake have played the toughest schedules and we are looking pretty good as of now. In CIF I think we can compete with any team in San Diego, and I would love to be in the Open Division."
Stars of the game:

Eastlake's Richard Colmenero completed two touchdown passes against the Foothillers.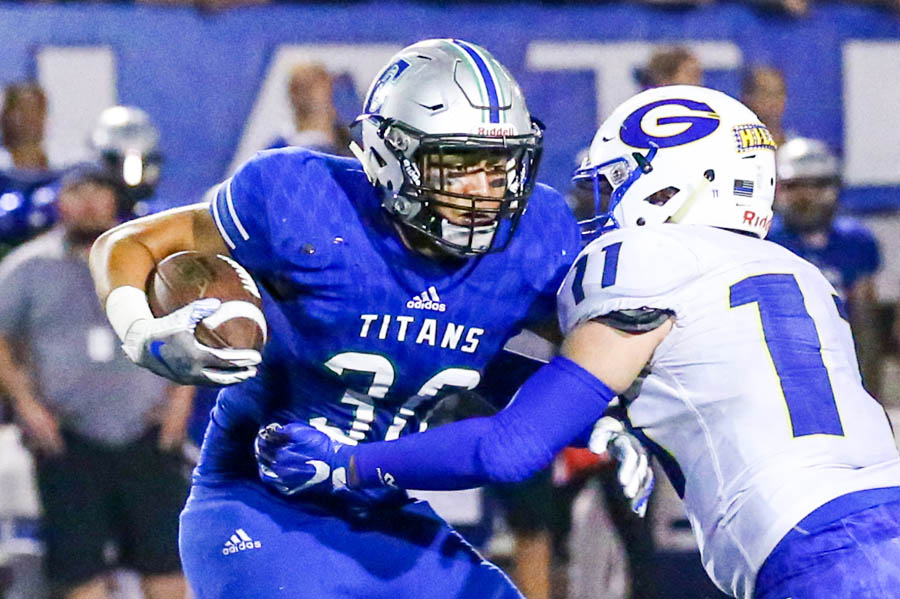 Parker Merrifield scored one rushing touchdown for Eastlake while gaining 62 yards.
Mariners chill Islanders for third consecutive victory
Mar Vista head coach Tyler Arciaga called last Friday's 34-7 non-league victory against the visiting Coronado Islanders "a good physical game for us."
"I thought our front seven did a nice job neutralizing their skill positions," Arciaga said.  "We put a lot of pressure on the quarterback — senior Damon Thomas had four sacks — and our offensive line did a nice job moving the line of scrimmage."
As a team, the Mariners (3-1) rushed 36 times for 345 yards and five touchdowns. Senior Hassan Spruill had 20 carries for 164 yards and scored three touchdowns while senior Jacob Galeana had 11 carries for 132 yards and scored two touchdowns.
Defensively, Mar Vista recorded seven sacks and two interceptions. Thomas led the team with 13 tackles while Galeana and sophomores Pablo Malave and Lyzaiah Wright both had one sack.
The Mariners led 13-0 after the first quarter and 20-7 at halftime.
Mar Vista takes its three-game winning streak into Friday's home game against University City before travelling to Santana the following week in a pair of key non-league matchups. Both the Centurions and Sultans are currently 3-1 on the season.
"We have a tough game against University City this week," Arciaga noted. "They are very good at their skill positions and can score a lot of points. We have to make sure we control the ball on offense and limit the amount of time that their offense is on the field."
The Mariners have moved up the Division IV rankings to sixth place, one place behind Santana. Kearny (3-0) has replaced San Diego (3-1) as the top-ranked team in the division while Chula Vista, despite dropping its last two games, is ranked third in the division ahead of Del Norte, another team boasting a 3-1 record.
"Overall, our staff is happy with the momentum that we have," Arciaga explained. "We are very thin — we only suit up 29 to 31 players — as he have had some injuries. Our kids are playing hard and continuing to get better.
"In our league, Sweetwater and Hilltop have played a very tough schedule, but they are improving each week. Chula Vista is playing good 'old school football' with a great ground game and sound defense. I think this could be one of the more competitive leagues from top to bottom in all of San Diego County."
South Bay League play kicks off Oct. 12 when Mar Vista visits Chula Vista and Sweetwater hosts Hilltop.
Santana topped host Clairemont, 28-7, last Friday to get back into the win column following a 48-7 loss to Christian. Converted quarterback Sean Iverson completed three touchdown passes without an interception to lead the Sultans to the win.
Randy Smith finished the game with two touchdown receptions while Chaz Baker caught one scoring pass and Brooks Moutaw scored on a 31-yard touchdown run.
Santana kicked off the season with a 42-7 win over visiting Mountain Empire on Aug. 17 and followed that up with a 24-22 win over visiting Serra the following week.
Santana hosts undefeated Vincent Memorial (3-0) on Friday. Vincent Memorial won last year's Division V section championship, advancing to the state championship bowl round.
Meanwhile, Mountain Empire (3-1) hosts Coronado (3-1) in a key non-league game on Friday as the rankings in all divisions continue to fall into place.
Mountain Empire picked up its third consecutive shutout win by blanking host Silver Valley, 20-0, last Friday behind another strong defensive effort. The Red Hawks have now outscored their last three opponents 96-0, including wins over San Ysidro (35-0 on Aug. 24) and Hoover (41-0 on Aug. 31).
Mountain Empire hosts Hilltop in a non-league game on Sept. 28.
Still searching
Three Metro Conference teams are still looking for their first win of the season. Bonita Vista, Sweetwater and San Ysidro all currently sport 0-4 records.
But that could change this Friday.
Bonita Vista plays likewise winless Patrick Henry (0-4) while Sweetwater hosts winless El Cajon Valley (0-4). San Ysidro has a tougher assignment when its hosts undefeated Kearny (3-0).
Bonita Vista has played one of the section's toughest schedules to date and is likely a better team than its record indicates. The Barons have been outscored 207-13, including 35-0 by St. Augustine and 62-0 by Madison, two teams bidding for berths in this year's Open Division playoffs.
Bonita Vista lost, 47-7, last Friday at Steele Canyon and seems to have put the toughest part of its schedule behind it. The Barons play their next three games at Southwestern College.
Following Friday's game against Patrick Henry, Bonita Vista will host Hilltop on Sept. 21 and Mater Dei Catholic on Sept. 28. Both Hilltop and Mater Dei Catholic are currently 1-3 in the win-loss column.
"Our next three games are all against respectable programs and coaches," BVHS head coach Sam Kirkland explained. "We're looking forward to finally getting to play some of these familiar opponents as we start preparing for league."
Roland Cota scored the team's lone touchdown against Steele Canyon.
Patrick Henry has been outscored 168-12 in its four games thus far while scoring just one touchdown. The Patriots are averaging just 59.3 passing yards per game and 36.8 rushing yards per game.
Patrick Henry lost, 41-3, at El Capitan last Friday.
Sweetwater's non-league schedule to kick off the season has been no less grueling.
The Red Devils have been outscored 207-19, dropping their last two games 62-0 at Carlsbad on Aug. 31 and 67-0 at Lincoln last Friday.
Sweetwater is averaging 119.5 rushing yards per game, so there is hope of a turnaround. Senior Luciano Estophier has rushed for 343 yards and two touchdowns in four games.
El Cajon Valley has been outscored 217-13 in its four games. The Braves have been shut out in their last three games: 76-0 at Coronado on Aug. 24, 55-0 against visiting Kearny on Aug. 31 and 44-0 against visiting Serra last Friday.
El Cajon is averaging 37 passing yards per game and 24 rushing yards per game and have scored a total of two touchdowns this season.
Following this Friday's game against the Braves, the Devils host San Ysidro on Sept. 28 and play at Montgomery on Oct. 5 before hitting Metro-South Bay League play.
The combined record of Sweetwater's final six opponents: 7-17. That's quite a turnaround from the opening four games.
San Ysidro has been out-scored 124-22 in its first four trips to the gridiron. The Cougars have been shut out twice: 35-0 at Mountain Empire on Aug. 24 and 39-0 against visiting Hilltop on Aug. 31.
San Ysidro dropped last Friday's game against visiting Crawford 12-8.
The Cougars are averaging 121 rushing yards per game and 30 passing yards per game and have scored three touchdowns to date.
Marcus Bowman (22 carries, 98 yards), Ruben Fernandez (12 carries, 39 yards) and Josue Juarez (50 carries, 169 yards) all have scored one touchdown this season. Josef Bielma leads the team with 38 tackles while Jiovani Castill has two interceptions.
Prep Football Kickoff
Friday Night Lights
Friday, Sept. 7
Non-League
Eastlake 35, Grossmont 0
Olympian 49, Hilltop 6
Mar Vista 34, Coronado 7
West Hills 13, Chula Vista 0
St. Augustine 40, Otay Ranch 0
Kearny 35, Mater Dei Catholic 14
Steele Canyon 47, Bonita Vista 7
Lincoln 67, Sweetwater 0
Maranatha Christian 49, Southwest 14
Crawford 12, San Ysidro 8
San Diego 40, Montgomery 6
Fallbrook defeated Castle Park by forfeit
Calvary Christian Academy 38, Ocean View Christian Academy 0
Friday, Sept. 14
Non-League
Castle Park at Hoover, 6:30 p.m.
Patrick Henry vs. Bonita Vista at Southwestern College, 7 p.m.
Point Loma at Olympian, 7 p.m.
Chula Vista at Mater Dei Catholic, 7 p.m.
El Cajon Valley at Sweetwater, 7 p.m.
University City at Mar Vista, 7 p.m.
O'Farrell Charter at Southwest, 7 p.m.
Kearny at San Ysidro, 7 p.m.
Otay Ranch at Steele Canyon, 7 p.m.
Eastlake at Valhalla, 7 p.m.
Hilltop at Granite Hills, 7 p.m.
Montgomery at Army-Navy Academy, 7 p.m.
MaxPreps/Top 10 Rankings
Division I: 1. La Costa Canyon (4-0), 2. Torrey Pines (4-0), 3. Cathedral Catholic (3-1), 4. St. Augustine (4-0), 5. Eastlake (3-1), 6. Helix (1-3), 7. San Marcos (3-0), 8, Madison (4-0), 9. Mission Hills (1-3), 10. Otay Ranch (2-2). Others: 11. Steele Canyon (2-1)
Division II: 1. Granite Hills (3-0), 2. Point Loma (2-2), 3. Vista (3-1), 4. Ramona (3-1), 5. Mira Mesa (4-0), 6. Lincoln (4-0), 7. Valley Center (2-2), 8. Poway (2-2), 9. Bishop's (2-1), 10. San Pasqual (2-2). Others: 11. Olympian (1-3), 13. Bonita Vista (0-4), 14. Mater Dei Catholic (1-3), 17. Valhalla (0-3)
Division III: 1. Christian (4-0), 2. Monte Vista (3-1), 3. Brawley (3-1), 4. Central Union (4-0), 5. Santa Fe Christian (3-1), 6. West Hills (4-0), 7. University City (3-1), 8. Morse (2-2), 9. Scripps Ranch (3-1), 10. Escondido (2-2). Others: 16. Hilltop (1-3)
Division IV: 1. Kearny (3-0), 2. San Diego (3-1), Chula Vista (2-2), 4. Del Norte (3-1), 5. Santana (3-1), 6. Mar Vista (3-1), 7. La Jolla Country Day (1-3), 8. Classical Academy (2-1), 9. Fallbrook (1-2), 10. Serra (1-3). Others: 11. Sweetwater (0-4), 16. Montgomery (1-3), 17. El Cajon Valley (0-4)
Division V: 1. Vincent Memorial (3-0), 2. Francis Parker (4-0), 3. Tri-City Christian (3-0), 4. Palo Verde Valley (3-1), 5. Holtville (3-1), 6. Maranatha Christian (3-1), 7. Mountain Empire (3-1), 8. Orange Glen (3-0), 9. Army-Navy Academy (2-1), 10. Southwest (1-2). Others: 11. Castle Park (1-3), 14. San Ysidro (0-4)
Eight-man records: Calvary Christian Academy 3-0, Ocean View Christian Academy, Victory Christian Academy 0-2
Game of the Week:
Grossmont Foothillers at Eastlake Titans

Photo Gallery by Jon Bigornia