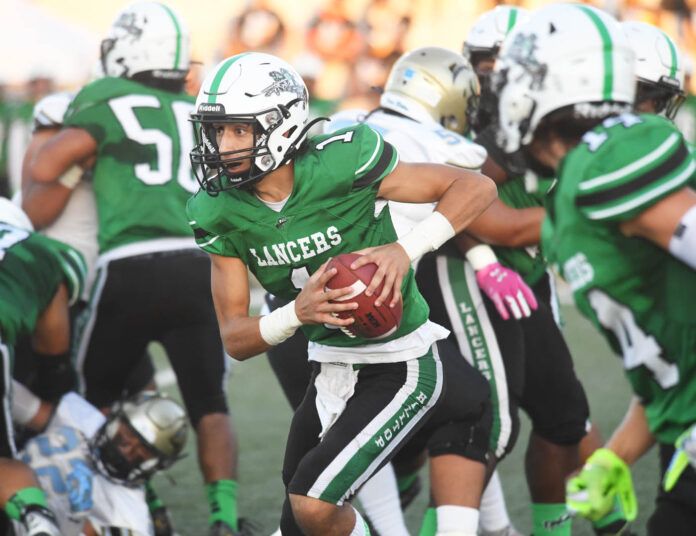 Many teams across the San Diego Section have already reached the halfway point of the 2022 high school football season or about to do so.
The Sweetwater Red Devils and Hilltop Lancers both improved to 3-2 with non-league victories on Sept. 15 in Thursday night matchups.
Hilltop defeated the San Ysidro Cougars (2-3) by a score of 44-14 while Sweetwater upended the host Monte Vista Monarchs (1-3) by a score of 29-7.
In games last Friday, the Montgomery Aztecs improved to 4-1 with a 9-6 upset win over the visiting Mission Bay Buccaneers while the Southwest Raiders downed visiting Calipatria, 21-7, to hike their record to 3-2.
Meanwhile, the Chula Vista Spartans, Otay Ranch Mustangs and Mar Vista Mariners all captured their first victories of the season.
Chula Vista defeated the host Olympian Eagles, 36-12, while Otay Ranch lassoed the host San Diego Cavers by a score of 47-22. Mar Vista pummeled host Clairemont, 51-22, to move into the win column for the first time this season.
With the loss, Olympian saw its record dip to 2-3 while Otay Ranch improved to 1-3.
Chula Vista and Mar Vista are both 1-4.
In other games last weekend, Castle Park dropped a 16-9 non-league decision at Crawford (3-1) while Bonita Vista took it on the chin by a score of 48-20 at Patrick Henry (1-2) in yet another non-league encounter.
Bonita Vista and Castle Park are both 1-3 through four games.
At the midpoint of the season, Montgomery possesses the Metro Conference's top win-loss record.
Eastlake, Otay Ranch, Mater Dei Catholic, Chula Vista and Mar Vista all had entered last Friday's round of non-league games still looking for their first wins of the season. Eastlake and Mater Dei Catholic are still winless entering this week's round of games.
Eastlake lost its fifth consecutive game to start the season by a score of 39-3 to visiting Villa Park (2-2) while Mater Dei Catholic (0-4) had a bye.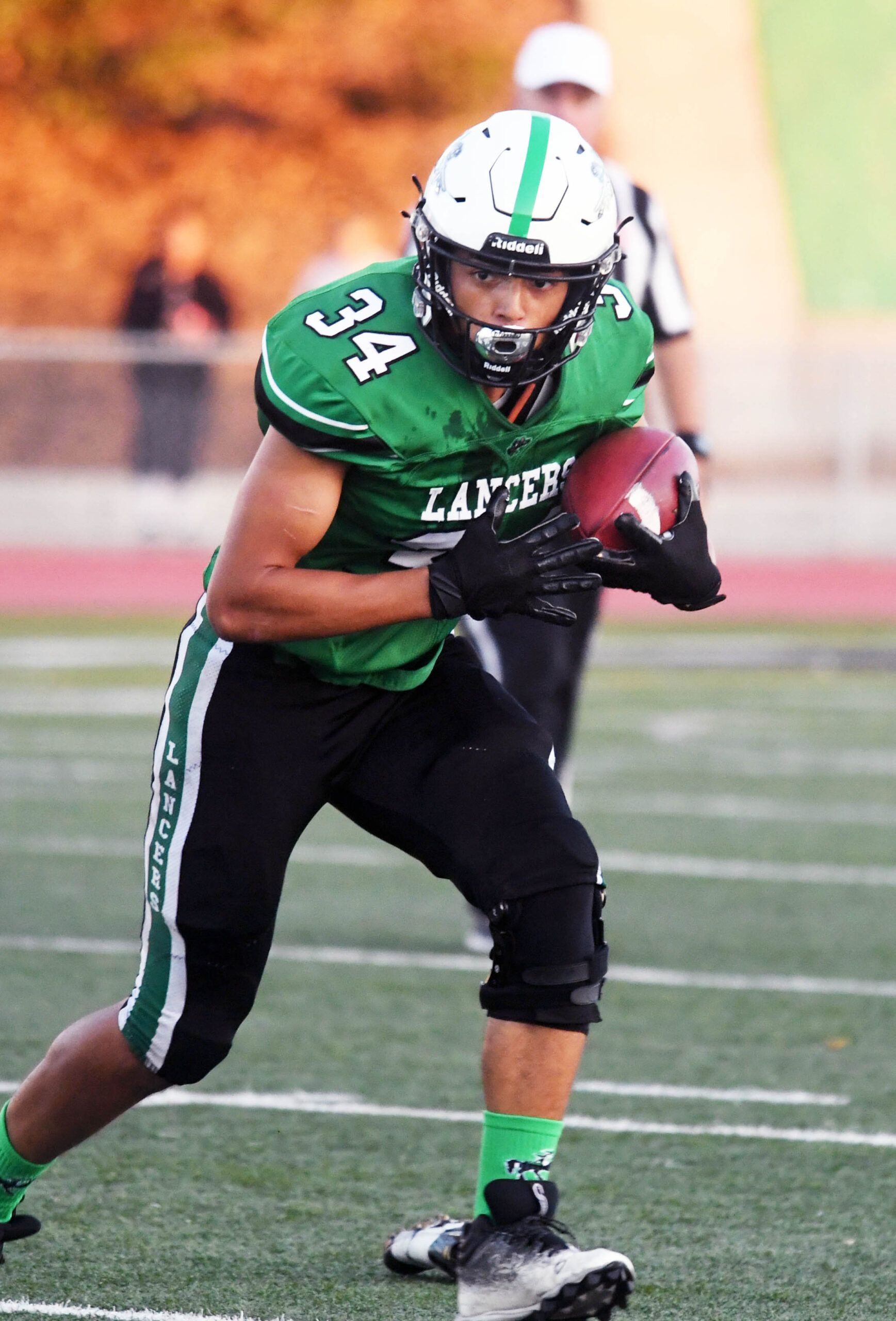 Midterm report
Hilltop turned in an explosive performance both offensively and defensively in taming the Cougars. The Lancers broke out to a 34-0 lead and didn't let their foot off the gas pedal too much after taking a 37-6 halftime lead.
Lancer senior quarterback Jorge Garcia displayed his dual-threat capabilities with 141 passing yards and 128 rushing yards to lead all players on the field with 269 total yards. He completed five of eight passes, including a 50-yard touchdown to senior Angelo Zapata, while rushing eight times with a 77-yard touchdown sprint through the San Ysidro defense.
Hilltop racked up 404 yards in total offense. Junior Isaac Nones had four carries for 31 yards and one pass completion for 15 yards. Seniors Subastian Calara and Zapata both rushed for 25 yards. Zapata had three catches for 75 yards while senior Luis Mendoza had two catches for 66 yards, including a touchdown, which rushing twice for 14 yards and one touchdown.
Mendoza also starred on defense with two interceptions in the first half.
Senior Sal Vidrios converted five of six extra-point tries and also split the uprights on a 33-yard field goal.
Through five games, Garcia has passed for 533 yards with four touchdowns and rushed for 459 yards with five touchdowns in nearing the 1,000-yard mark in total offense.
"We are sitting in a good position right now at 3-2," Hilltop head coach Bryan Wagner said. "We have had to fight for where we are, so the kids are learning how to finish games. We have two games left in our non-conference schedule, so the game this week is a must-win for us (Friday at Escondido).
"We put in a full team effort against San Ysidro. The defense had five interceptions with one pick six. The offense moved the ball consistently. Jorge Garcia is playing better and learning how this offensive system works — to include other players will make him that much more dangerous. Luis Mendoza is a great two-way player who contributes on both sides of the ball."
Senior Ja'Marcus Jiles led San Ysidro in the game against Hilltop with 106 yards in total offense (84 passing, 22 rushing).
Junior Johnny Castro (eight carries, 56 yards) and freshman A.J. Logan (82-yard kick-off return) scored touchdowns for the Cougars.
Logan had 10 tackles while sophomore Jaiden Dominguez had nine defensive stops. Dominguez and sophomore Jacob Duarte both had fumble recoveries.
San Ysidro will make a bid to return to the 0.500 mark with Friday's non-league home game against Crawford. The Colts are ranked third among Division V teams while the Cougars are ranked ninth.
"We have a young roster, so we knew coming in, there would be some growing pains, but we also knew that we can win games when we put it all together in all three phases," San Yisdro head coach Keith Aguon said.
"We've shown we could close out games, and we've shown we couldn't close out a game, and that comes with youth. Offensively, we want to continue to try to be a balanced team run/pass. When we do that, we're competing. On the defense, we have to have more football awareness, situational and fundamentally sound.
"Through five games we aren't consistent enough in that regard. Special teams have been coming through in games with big plays; we want to continue to build off that. At 2-3 there is definitely room for improvement."
Sweetwater 29, Monte Vista 7
The Red Devils prevailed with 370 total yards, including 357 rushing yards, to send the host Monarchs for their third loss in four outings.
Senior Gabriel Gutierrez had eight carries for 157 yards and two touchdowns while Carlos Delgado had eight carries for 85 yards and one touchdown. Sophomore Zarayan Crews (13 passing yards) rushed 12 times for 70 yards and one touchdown.
Gomez finished the game with 205 all-purpose yards by adding 48 yards on an interception return.
The SuHi defense was just as active in spreading the wealth. Kenny Fulgham recorded 19 tackles, including 16 assists, while junior Izell Wright had 11 tackles, including nine assists. Miguel Mireles had 12 stops, including 10 assists.
Delgado had one sack while Mireles scored a safety.
Julian Ramos averaged 40.4 yards on five kickoffs and added 68 yards on punts. Senior Jesus Gariby added three kicking points.
"We are beginning to establish our identity on offense again," SuHi coach Ervin Hernandez said. "Every game we have increased in offensive rushing yards with 250, 275, then recently over 350 yards. They are starting to believe and have confidence. That is important as a team moving forward knowing they have that positive mentality going into games. If we continue to compete in practice and focus on winning the day our confidence will grow.
"We do have a tough schedule ahead and our league is competitive.  We are looking forward to it. We still need to see some consistency with our drives but believe we are heading in the right direction."
Southwest 21, Calipatria 7
The Raiders' three wins are the most since 2018 when they secured a 5-7 mark.
All the scoring happened in the first half. The Raiders took a 7-0 lead in the first quarter and tacked on 14 points in the second quarter to counter a touchdown by the Hornets (0-4). Sophomore Conner Davis had touchdown runs of 23, 12 and four yards for Southwest, which hosts winless O'Farrell Charter (0-5) on Friday.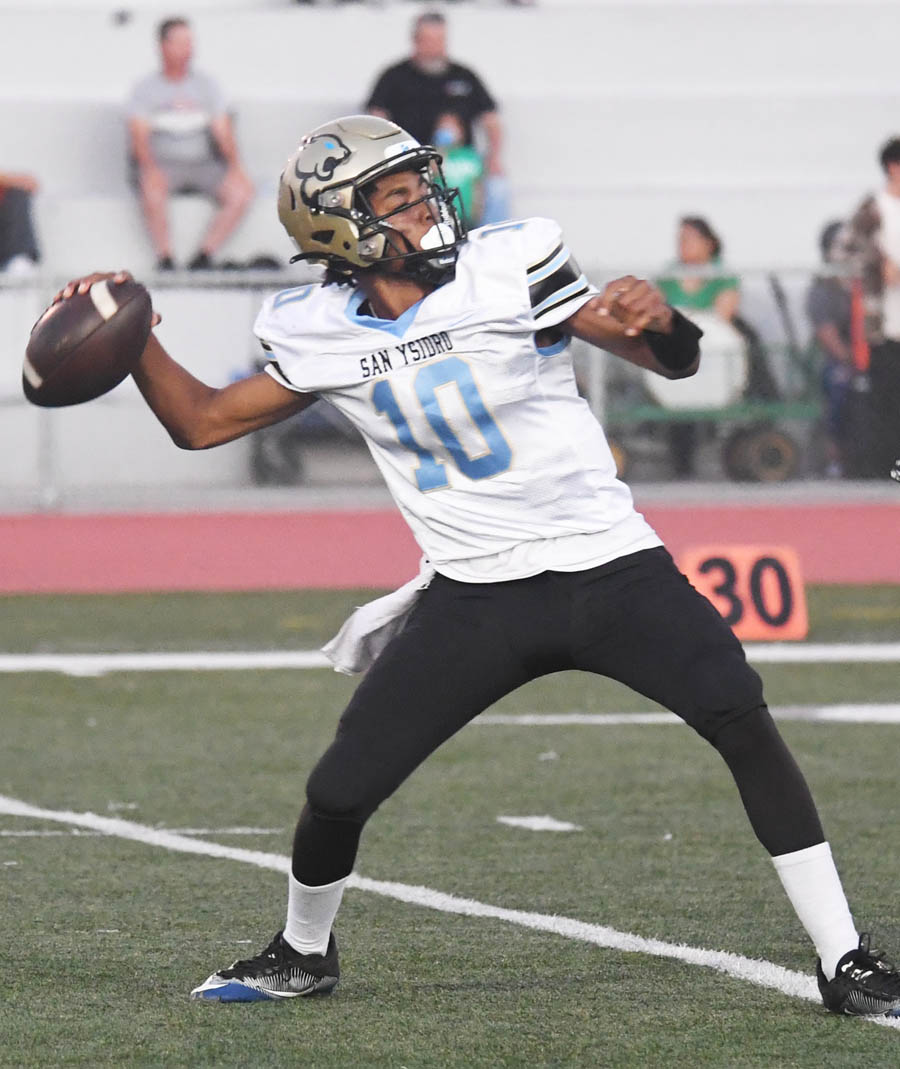 San Diego Section Football Rankings
Top 50 Teams
MaxPreps through Sept. 20
Cathedral Catholic 2-3
Lincoln 4-1
Madison 4-0
Carlsbad 3-1
Helix 4-1
Poway 4-1
Granite Hills 4-1
Mira Mesa 3-1
Mater Dei Catholic 0-4
La Costa Canyon 3-2
Mission Hills 2-3
Torrey Pines 2-3
El Camino 3-2
Rancho Buena Vista 5-0
Central Union 2-2
Ramona 2-3
San Marcos 3-2
St. Augustine 2-2
Point Loma 4-1
Fallbrook 4-1
Mt. Carmel 3-1
University City 2-2
Morse 4-1
Otay Ranch 1-3
La Jolla 3-2
Santa Fe Christian 4-1
Bishop's 3-1
Del Norte 3-2
Imperial 3-1
Patrick Henry 1-2
Calexico 5-0
Palo Verde Valley 4-1
Rancho Bernardo 2-3
Valley Center 2-3
Eastlake 0-5
Christian 2-3
Steele Canyon 1-4
Scripps Ranch 1-4
Brawley 2-2
Oceanside 0-5
Mission Bay 4-1
Escondido Charter 4-0
West Hills 3-2
El Capital 3-2
Montgomery 4-1
San Pasqual 3-2
La Jolla Country Day 4-1
Vincent Memorial 4-0
Grossmont 0-5
Crawford 3-1
Division I
Cathedral Catholic (2-3), 2. Lincoln (4-1), 3. Madison (4-0), 4. Carlsbad (3-1), 5. Helix (4-1), 6. Poway (4-1), 7. Mater Dei Catholic (0-4), 8. La Costa Canyon (3-2), 9. Mission Hills (2-3), 10. Torrey Pines (2-3)
Division II
Granite Hills (4-1), 2. Mira Mesa (3-1), 3. Central Union (2-2), 4. Ramona (2-3), 5. San Marcos (3-2), 6. Mt. Carmel (3-1), 7. Otay Ranch (1-3), 8. La Jolla (3-2), 9. Santa Fe Christian (4-1), 10. University City (2-3)
Division III
Rancho Buena Vista (5-0), 2. Point Loma (4-1), 3. University City (2-2), 4. Morse (4-1), 5. Bishop's (3-1), 6. Del Norte (3-2), 7. Imperial (3-1), 8. Patrick Henry (1-2), 9. West Hills (3-2), 10. El Capitan (3-2)
Division IV
Fallbrook (4-1), 2. Calexico (5-0), 3. Palo Verde Valley (4-1), 4. Mission Bay (4-1), 5. Montgomery (4-1), 6. La Jolla Country Day (4-1), 7. Coronado (3-2), 8. Mt. Miguel (2-3), 9. Sweetwater (3-2), 10. Hilltop (3-2)
Division V
Escondido Charter (4-0), 2. Vincent Memorial (4-0), 3. Crawford (3-1), 4. Classical Academy (4-1), 5. Mar Vista (1-4), 6. El Cajon Valley (1-4), 7. Army-Navy Academy (4-1), 8. Castle Park (1-3), 9. San Ysidro (2-3), 10. Mountain Empire (2-2)
GIRLS VOLLEYBALL: Eastlake defeated host Otay Ranch 25-23, 17-25, 28-26, 25-17, 15-9 in the teams' Metro-Mesa League opener on Tuesday. Eastlake improved to 16-4 overall while Otay Ranch dropped to 15-5 overall.
BOYS WATER POLO: Eastlake defeated host Patrick Henry, 16-12, in non-league play on Sept. 15 to improve its early season record to 6-2. The Titans previously defeated host University City, 12-8, on Sept. 7.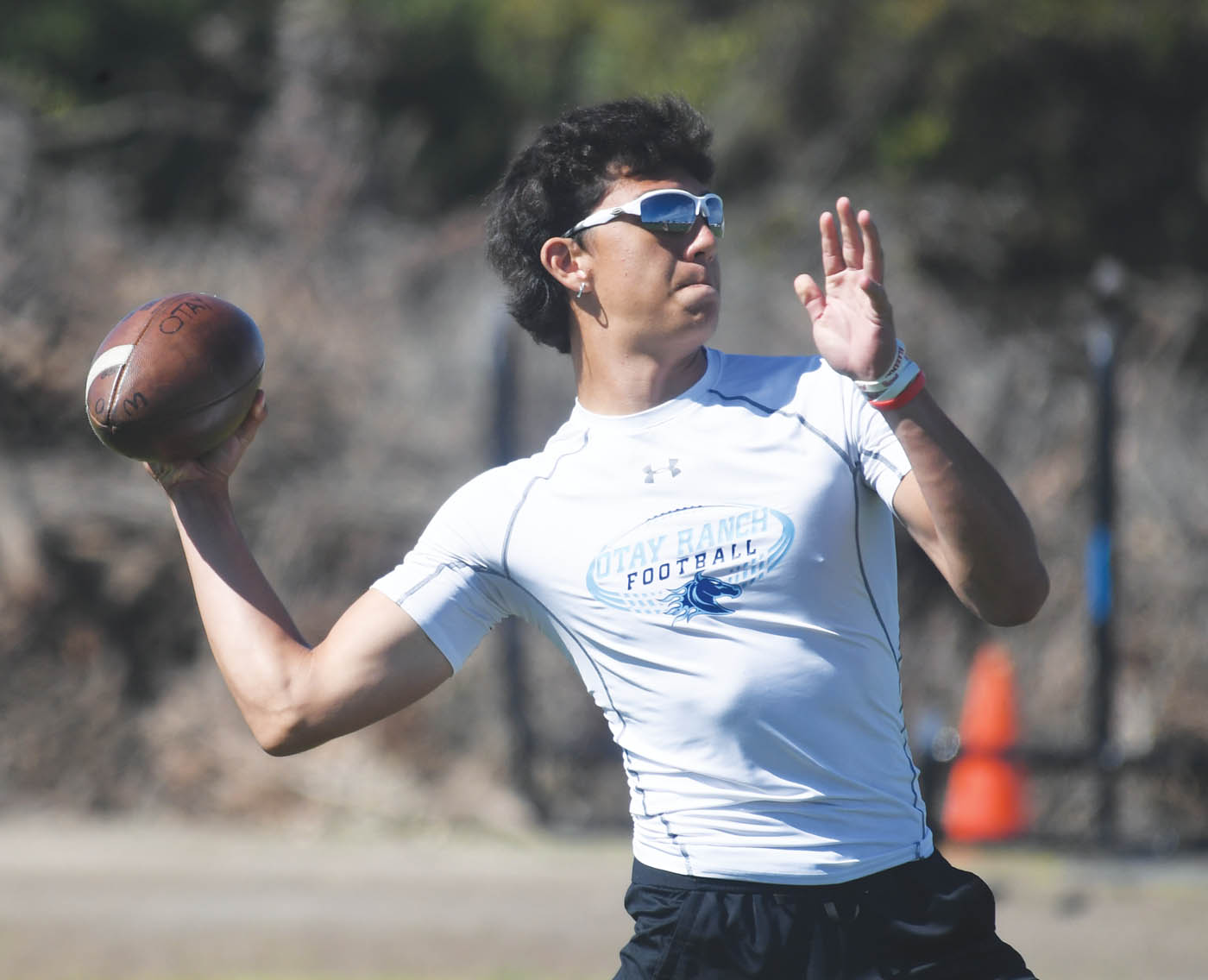 Spartans, Mustangs, Mariners all pick up first wins of season
Collectively, the Chula Vista Spartans, Otay Ranch Mustangs and Mar Vista Mariners were 0-11 through the opening four weeks of the season. They are now 3-11 after each recorded their first wins of the season last weekend.
"I am very proud of the way our kids played," Chula Vista head coach Howard Bannister III said following his team's 36-12 non-league win at Olympian. "There was a lot of energy surrounding the game: Coach (Jimmy) Clark (III) (of Olympian) coached under me at Chula Vista; it was a white-out and homecoming for them and there are few players over there who went to Chula Vista Middle with our guys.
"In the end, our boys harnessed that energy and simply played well. This was also the first game that we've been semi-healthy all season and that gives us a glimpse of what we can be if we stay that way."
Blue and White
A week after setting a school record with five touchdown passes in a 48-0 win over the visiting Valhalla Norsemen, the host Olympian Eagles were held to just two scores amid a ferocious second-half comeback by the visiting Spartans.
Olympian led, 6-3, at halftime on a 73-yard passing touchdown from senior Matthew Pentland to junior Jacob Marcial, but was overwhelmed by 33 points from Chula Vista in the second half.
Senior Jacob Pedroza completed 13 of 30 passes for 152 yards with one touchdown and one interception to help guide the visitors through the air while senior Giovanni Barrios rushed eight times for 83 yards and two touchdowns.
Overall, the Spartans totaled 302 yards in total offense, including 150 rushing yards on 27 carries, an average of 5.6 yards per carry.
Barrios' longest jaunt from the line of scrimmage went for 47 yards. Senior Octavio Ramirez also scored on a four-yard carry. Sophomore John Paul Zapata had five catches for 54 yards and one receiving touchdown. Junior Paul Alvarez had 12 carries for 54 yards and one reception for 10 yards.
Senior Arbahl Saucedo scored on an interception return.
Ramirez and senior Demetrious Ferreira both led the CV defense with nine tackles. Ramirez recorded two sacks. The visitors had four sacks overall, including singletons by senior Nicholas Gillespie and Matthew Robertson. Saucedo and Armando Alvarez each made interceptions.
Robertson also made a fumble recovery. Senior Gio Aguirre had one extra-point conversion along with a 21-yard field goal. Sophomore Elijah Gillespie scored on a two-point pass conversion.
Pentland passed for 81 yards while sophomore teammate Kristian Noriega five of 17 passes for 89 yards with one interception.
Junior Ethan Mallon had 10 carries for 32 yards while Marcial had three catches for 114 yards. Mallon made a team co-leading nine tackles with senior Luke Mena. Mallon also averaged 40.0 yards on three punts.
The Spartans will host the Sweetwater Red Devils in the teams' 76th annual Legacy of Pride rivalry game on Friday. The series is the longest active continuous rivalry series in the section, starting in 1947.
Kick-off is 6:30 p.m.
The Devils have won the last two match-ups – 36-7 during the abbreviated 2021 spring season and 35-3 last fall. Despite a lengthy CV win streak last decade, Sweetwater still leads the longtime series 41-29-5.
Otay Ranch 47, San Diego 22
Senior quarterback Makai Corpuz completed three touchdown passes, including two to sophomore receiver Johnnie Welborne (37 and 26 yards), to allow the visiting Mustangs to erase a 0-3 start to the season.
"Our team had some players return from injury and came together against a tough San Diego team," Otay Ranch coach Brad Burton said.
Senior outside linebacker Kaleb Bowler returned an intercepted pass for a touchdown to lead the Mustang defense.
The Cavers (2-3) received touchdowns from D'Angelo Besikof, Charlie Berkley and Deandre Evans.
Otay Ranch has a bye before hosting Olympian in the schools' annual Battle of the O's rivalry game on Sept. 30.
Mar Vista 51, Clairemont 22
The visiting Mariners turned a close game – leading 14-6 after the first quarter and 21-14 at halftime –into a rout with 30 second-half points.
Senior Aleks Wojcik completed eight of 13 passing attempts for 238 yards with three touchdowns and one interception to help navigate his team to its first victory of the season in five games. He accumulated 306 yards in total offense by tacking on 68 rushing yards on eight carries.
Touchdown catches went to sophomore Benjamin Moya (two catches, 99 yards), junior Lah'darius Crawford (three catches, 89 yards) and junior Elijah Clark (two catches, 25 yards). Senior De'Andre Hendrick had one catch for 25 yards.
The Mariners were just as prodigious on the ground with 285 rushing yards, including 148 yards on 13 carries by senior Demarco Wright with one touchdown.
The visitors broke several big plays in the non-league encounter, including a 59-yard run by Wright, a 58-yard catch by Crawford and a 52-yard catch by Moya.
Senior Adrian Martinez had seven unassisted tackles to help lead the MV defense, which logged seven sacks, including three by senior Christopher Balansay.
Junior Sydney Pacheco had one interception.
Wojcik has passed for 1,121 yards and 12 touchdowns in five games.
The Mariners have a bye this week but resume non-league play with a home game against Bonita Vista on Sept. 30.
Aztecs top Bucs in heroic fashion to move up Division IV football rankings
The Montgomery Aztecs, it appears, are very much for real. The Otay Mesa team certainly clinched its most heroic victory of the season last Friday when it toppled the visiting Mission Bay Buccaneers, 9-6, in a non-league match-up.
The Bucs entered the Division IV clash ranked second in the division while the Aztecs were ranked seventh.
Montgomery gained some valuable ranking points in moving up to No. 5 in the division entering this week while Mission Bay dropped to No. 4. Both teams are 4-1 at the midpoint of the season.
Fallbrook leads the division with a 4-1 record, followed by the new No. 2 Calexico (5-0).
The Aztecs extended their season-high win streak to four games with the upset win.
Montgomery scored first on a 25-yard field goal by senior Xavier Rosales in the first quarter while Mission Bay tied the game with a 39-yard field goal in the second quarter. The Bucs added a 27-yard field goal by Jacob Sloan in the third quarter to go ahead, 6-3, but the Aztecs scored a touchdown later in the quarter that ultimately stood up as the game-winner.
Senior running back Isaac Cervantes collected a monster game on the ground with 33 carries for 230 yards to lead the Aztecs against a strong Mission Bay defense.
Junior defensive end/running back Arath Leyva led the Montgomery defense against a strong Mission Bay offense with seven tackles, 2.5 sacks and four tackles for a loss.
Senior defensive end Anthony Hamilton assisted the Aztec defense with four tackles, one sack and one forced fumble. He sealed the win for the hosts with a five-yard touchdown run in the third quarter after Cervantes had broken loose on a 75-yard run.
Montgomery out-gained Mission Bay 321-160 yards in total offense to set the tone in the game.
It was the second consecutive game in which Cervantes rushed for more than 200 yards. "My line played great to open up holes," he told an on-site television news crew after the game.
The Aztecs are scheduled to play at Castle Park on Thursday in the teams' annual Warrior Bowl rivalry game before hosting Eastlake on Oct. 7.
Patrick Henry 48, Bonita Vista 20
The Barons dropped to 1-3 while the host Patriots (1-2) picked up their first win of the season. Bonita Vista enjoyed some success through the air as junior Antonio DiStefano passed for 80 yards and two touchdowns while senior Juan Gomez passed for 111 yards with one touchdown and three interceptions.
Top receivers included sophomore Marcos Pena (three catches, 49 yards) with two touchdowns and senior Dante Herrero (five catches, 56 yards) with one touchdown.
The visitors were less successful on the ground with just 31 rushing yards.
Freshman Alex Garcia had two interceptions and one caused fumble for Patrick Henry.
Bonita Vista hosts undefeated Vincent Memorial (4-0) this Friday at Sweetwater High School in a non-league match-up.
Villa Park 39, Eastlake 3
The Titans dropped to 0-5 following the loss to the visiting Spartans.
Eastlake was limited to 107 total offensive yards – 39 passing yards and 68 rushing yards — while Villa Park collected 318 total yards.
Sophomore Nate Rodriguez had five carries for 34 yards to lead the hosts on the ground while sophomore Zivan Caranza had four catches for 27 yards.
Junior Fabian Gerbella led the EHS defense with 17 tackles, including 12 first stops, while senior A.J. Rodriguez had 12 tackles (eight solo).
Junior Marco Gonzalez kicked a 40-yard field goal to account for the Titans' points in the non-league game.
Senior Carson Ridge led Villa Park (2-2) with two rushing touchdowns.
Eastlake plays its first road game of the season this Friday at Oakley Freedom (1-2).