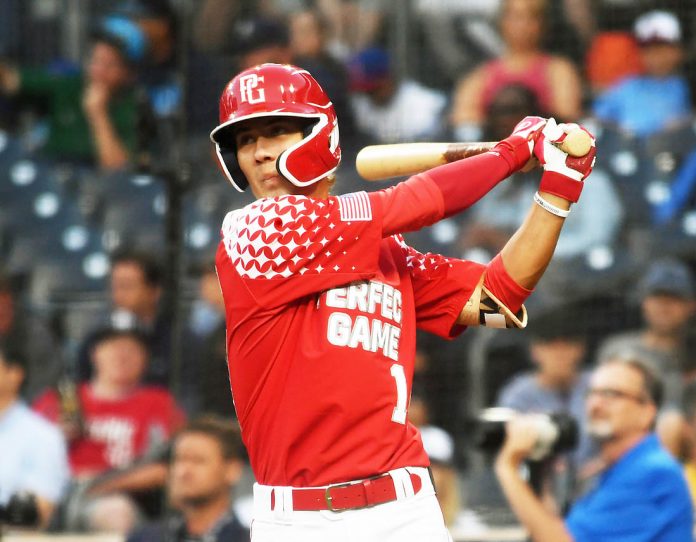 Chula Vistan Jordan Thompson has committed to continue his baseball career at Louisiana State University. However, he could find his name called in July's upcoming Major League Baseball amateur draft.
If so, it would be a dream come true for the former Sweetwater Valley Little League all-star.
But Thompson is getting used to having his name called for big events.
The Helix High School senior participated in last June's San Diego Section Baseball All-Star Game at Petco Park. He reached base three times via two singles and a walk and scored one run.
It wasn't the only time he played at Petco Park last summer.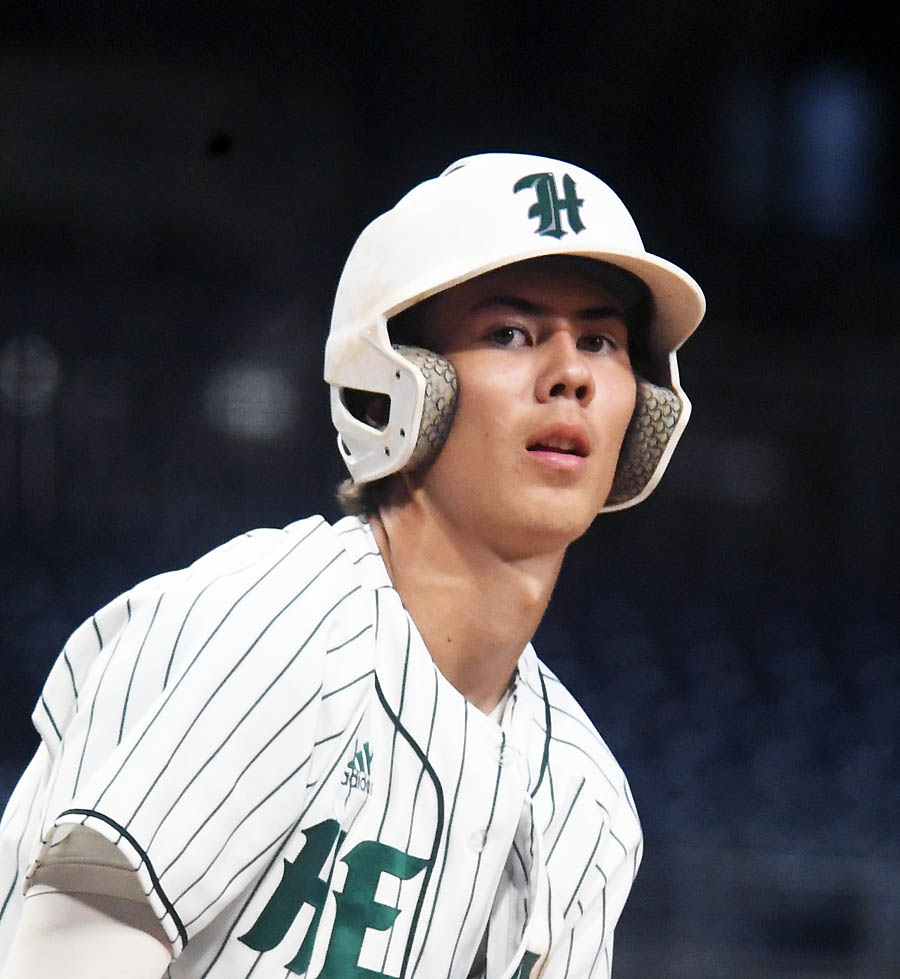 Thompson was among two San Diego County preps who participated in the 17th annual Perfect Game All-American Classic in August.
The game showcased the top 50 incoming seniors who are projected to be potential high draft picks in the annual Major League Baseball amateur draft.
Thompson fit right in with the group.
"Everyone here is obviously here for a reason, so it's just super awesome," he said.
The scouting report on Thompson notes that he "has quick hands and feet and has advanced athletic balance defensively."
The report adds that Thompson has a solid athletic build at six feet, 160 pounds, with a frame that could hold "lots of bulk."
Thompson earned honors as a First Team All-San Diego Section selection after posting a solid junior season when he hit .283 with seven doubles, two triples, five home runs and 16 RBI.
He showed promise as a sophomore by batting .247 with three doubles, one home run, 17 runs scored and nine RBI as the Highlanders finished 21-10.
Thompson has honed his skills at shortstop but can pitch, too.
In 49.2 innings as a junior, he posted a 1.40 earned-run average with 71strikeouts as Helix posted a 20-13 record in advancing to the Open Division semifinals. He was clocked at 93 mph.
He also has a good eye for the ball, striking out 23 times in 122 plate appearances while drawing 15 walks last season.
Add speed (6.7 seconds in the 60 dash) and it's easy to see why Thompson is such a hot commodity.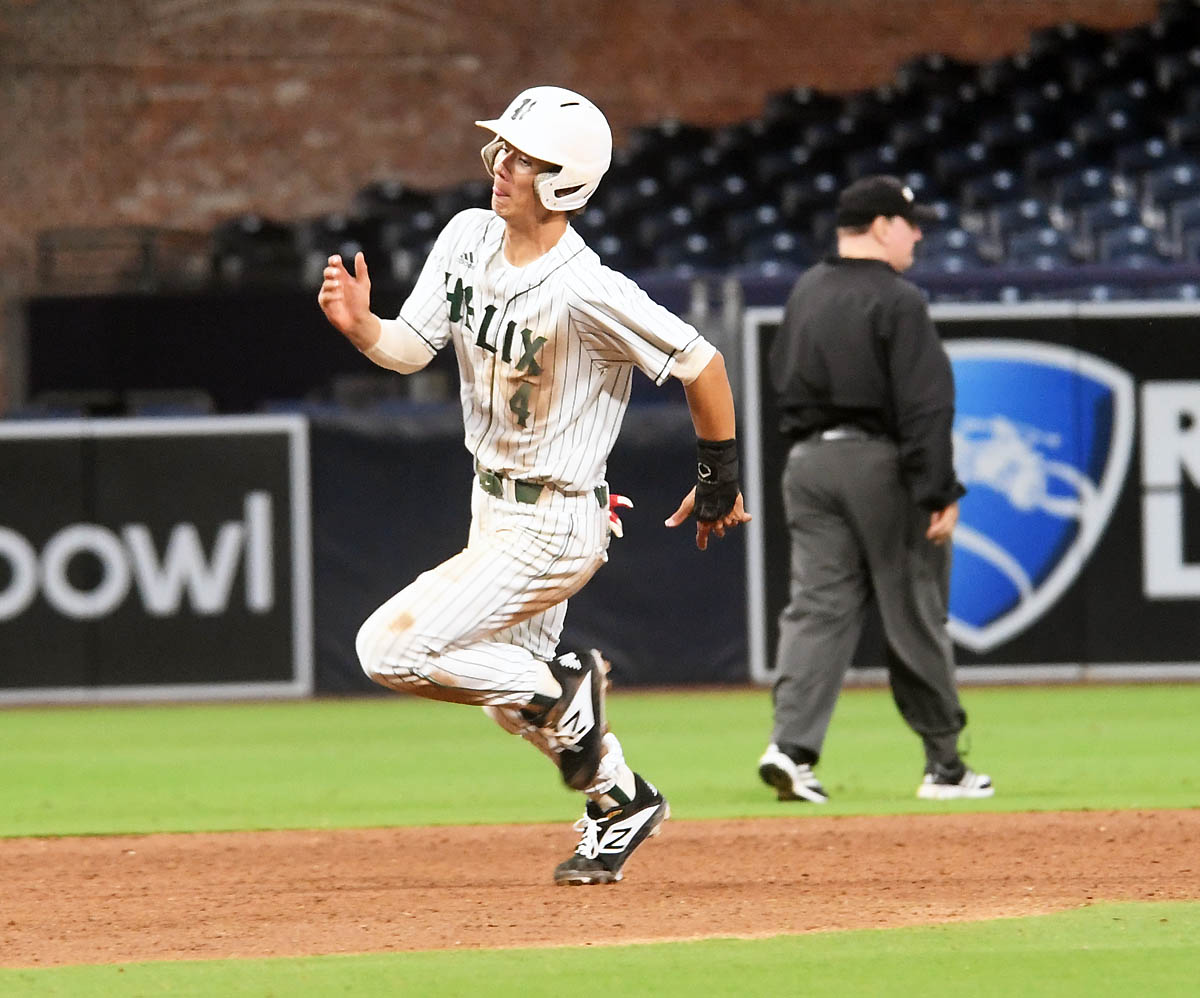 "Jordan is a great athlete who brings great work ethic and leadership to our program," Helix head coach Cole Holland said. "He is a great kid who has a very high ceiling."
Thompson's potential was apparent from an early age, according to Ward Lannom, who coached Thompson on the 2014 Sweetwater Valley all-star team.
"He always had a ball in his hand as long as I can recall, from the age of 5," Lannom explained. "There was always something special about him. He's a five-tool player — he has speed, he can hit, he can hit with power, throw and field. That's what everyone looks for. He's got all of them.
"He's got a sixth tool — his baseball IQ. You can't teach that.
"I'll enjoy watching him play whether it's in college or if he's drafted."
Thompson, who is the younger brother of former Eastlake player Mason Thompson, did not get a chance to show very much in this year's abbreviated spring season.
But his entire career remains ahead of him, whether it be at the collegiate or professional levels.
Sweetwater Valley Little League notable alumni:
Kevin Kouzmanoff (Evergreen, Colo.)
Kousmanoff played in Major League Baseball with the Cleveland Indians (2006), San Diego Padres (2007-09), Oakland Athletics (2010-11), Colorado Rockies (2011) and Texas Rangers (2014).
He played at Sweetwater Valley Little League before moving to Colorado and was drafted in the sixth round by Cleveland in 2003 after hitting .364 at the University of Arkansas-Little Rock in 2002 and .361 at the University of Nevada-Reno in 2003.
His career MLB statistics include a .257 hitting average, 87 home runs and 371 RBI.
Daniel Camarena (Cathedral Catholic)
Camarena was drafted in the 20th round of the 2011 MLB amateur draft by the New York Yankees and received a one-game call-up in July 2019 but did not see any game action. He has played seven seasons at all levels in the minor leagues, including four seasons at both the AAA and AA levels.
Cody Poteet (Christian)
Poteet played three seasons at UCLA and with six teams in the minor leagues over a five-year period after being selected by the Washington Nationals in the 27th round of the 2012 amateur draft and by the Miami Marlins in the fourth round of the 2015 draft. He last played with the Aguilas Cibaenas in the 2019-20 Dominican Winter League.
Nick Guerra (USDHS)
Guerra played in the Golden Baseball League in 2005 and 2006 with the San Diego Surf Dawgs and in 2007 and 2008 with the Orange County Flyers after attending USDHS, Grossmont College and San Jose State University.
Kevin McCann (Bonita Vista)
McCann played college baseball in 2016 at Arizona State University.