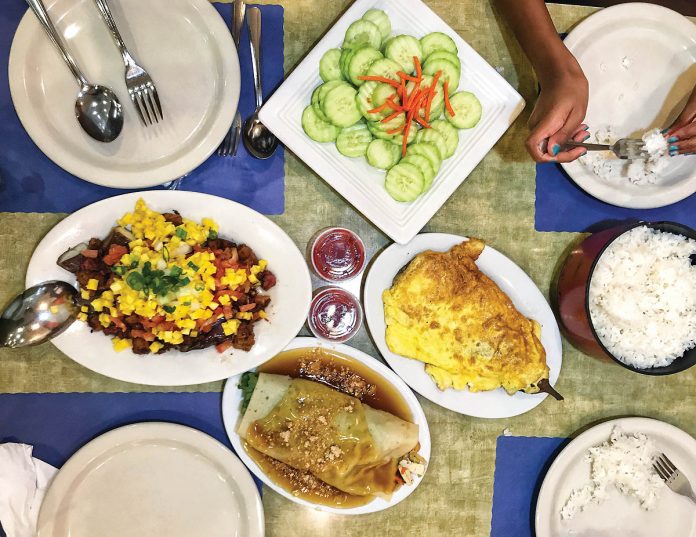 Though Goldilocks, located at 1420 E. Plaza Blvd., Suite D-7, in National City, opened 11 years ago, it still seems to be a big deal and a special destination, especially for out-of-towners visiting San Diego. But why?
Walk by the storefront and on either side of the doors you'll notice a display of large and fancy, almost ornate, cakes. You'll find Goldilocks offers much more than traditional Filipino-baked goods and cakes.
Enter the doors and a full service bakery is to the right and a full service restaurant on the left. Goldilocks is the most popular and largest family-owned bakeshop/restaurant in the Philippines with more than 400 locations throughout the country.
Here in the United States, there are only 11 Goldilocks locations, which is why our Goldilocks in National City is a popular destination.
The bakery items, especially the breads, mamon and ensaymada (brioche), are delicious and a cultural breakfast staple. But there is one item in the restaurant you must try — the crispy binagoongan.
This particular dish is a gem in its own right; I've never seen this on menus in other Filipino restaurants in the area.
The name is hard to pronounce (crispy bina-go-ong-an), which I suspect deters the unfamiliar to order more familiar items instead, like pork barbecue, adobo and, of course, the ever popular pancit and lumpia.
Crispy binagoongan is a layered dish, a medley of flavors that marry and pop in your mouth. Small diced bits of crisp fried pork is tossed with bagoong, a salty shrimp paste (it's amazing, trust me), on a bed of roasted eggplant and topped generously with diced tomato, onion and mango.
Eat it with steamed rice and enjoy the party in your mouth.
Make sure to also try the fresh vegetable lumpia — yes there are various types of lumpia! This is the opposite of the familiar small deep fried version, lumpia shanghai.
Contact Kris Galicia Brown via social media at:
Instagram: @krisgaliciabrown
Twitter: @krisgaliciabrwn
Facebook: /krisgaliciabrown
ON TAP:
American Idiot
Southwestern College's theater department will present "American Idiot" through March 17 at the Mayan Hall Theater. The energy-fueled rock opera features little dialogue and instead relies on the lyrics from Green Day's groundbreaking albums to execute the story line.
This high-octane show includes every song from Green Day's album "American Idiot" as well as several songs from its follow-up release "21st Century Breakdown."
The play contains adult content and language and is not appropriate for children under 16. Parental discretion is advised. Tickets are $15 for general admission and $10 for students/seniors/military. To order tickets online, visit the website at www.swccd.edu/americanidiot.
Southwestern College is located at 900 Otay Lakes Blvd., Chula Vista.