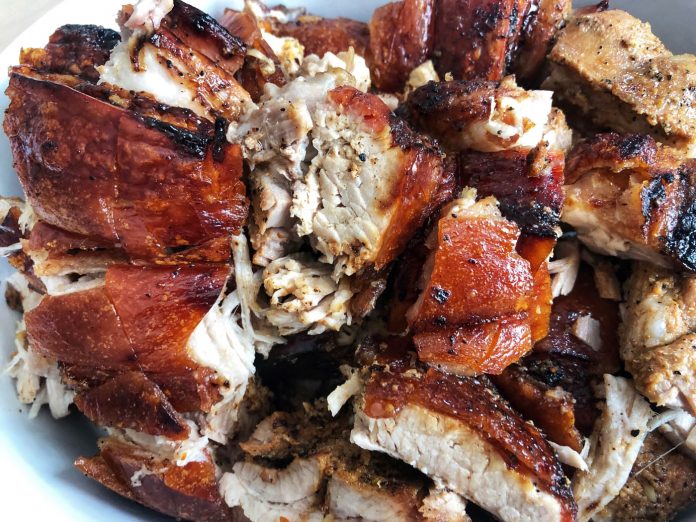 While arguably the center of attention at holiday gatherings is the company, the food offerings are definitely the stars of the show and preparation doesn't have to include endless hours.
Here's at least one shortcut: order lechon from Porky's Porky's Lechon Barbecue. Porky's has the best lechon in Chula Vista and National City.
I've observed that the term "lechon" paints one of two pictures: either a whole roasted pig with an apple in its mouth, or cubes of pork with crispy, fried bubbly skin. These are both common ways of serving lechon, but there are actually a few ways lechon is prepared.
A whole roasted pig is called "lechon baboy," "lechon Cebu" or suckling pig roast. Cubes of pork that have an outer crust that's crisp and has fried bubbly skin is called "lechon kawali." Kawali literally means "pot" in Tagalog. These cubes of pork are deep fried in an oil-filled pot rather than roasted.
My favorite kind of lechon though, is simply called roasted pork belly or "lechon liempo style."
This is the kind of lechon that just falls apart and melts in your mouth every time. The entire pork belly section is cut from the pig, the inside is then rubbed with spices, stuffed with herbs and green onions, then rolled up and tightly tied with twine along the entire roll. It's then slow roasted for maximum flavor, a crisp crust and the most tender, buttery meat.
Porky's specializes in making lechon in their huge ovens. Roasted pork belly is only $12 a pound. Order at least a day in advance for this. A whole roasted pig requires a four-day notice and price ranges from $260-$300 depending on size.
Happy holidays! May your tables be full of food and laughter.
Porky's is located at 1430 E. Plaza Blvd., National City. Call (619) 474-0062 for information.
Contact Kris at:
Email: kris@krisgaliciabrown.com
Instagram: @krisgaliciabrown
Twitter: @krisgaliciabrwn
www.krisgaliciabrown.com