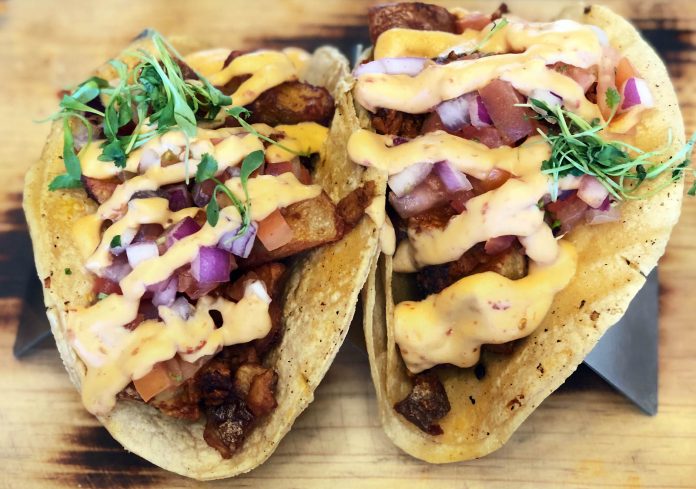 What do you get when you cross a specialty beverage bar and delicious vegan food? At Brew Bar, also home to Anthem Annex, you get a cool heightened palette and social experience under one roof.
Opening late last year, Brew Bar is a unique casual coffee lounge with a bar setting, a social coffee experience that is unlike any I've had before. They are a new addition to Third Avenue Village's collection of comfortable hangouts.
The menu on the wall is suggestive, listing only seven beverage options, which include: pour over, espresso, tea, potions, wine, beers and draft.
Be prepared to enter into a space where the experience doesn't start when you taste your beverage, rather as you order it.
Walk up to the bar and Alex, the mastermind behind Brew Bar, is sure to capture your beverage desire in conversation and serve it up to you in such a way that you're sure to learn new tidbits about coffee, preparations and culture that alters your entire coffee knowledge and experience. You'll have to pay a visit to learn about the concoctions called "potions."
Operating within the same space, you'll find the only complete plant-based dining experience in Chula Vista, Anthem Vegan's South County hub dubbed Anthem Annex.
Anthem Annex currently serves lunch and dinner fare. At a glance, their menu is comparable to that of any fast casual dining experience and includes burgers, sandwiches, wraps and tacos, except it is all vegan, made using plant-based mock-meats.
Anthem does this so successfully it's unreal. The food is incredibly delicious. Favorites include buffalo chicken fries, avocado chicken wrap, potrizo tacos and Philly cheese steak.
Stop in, learn and try something new, and experience a thing or two!
Brew Bar/Anthem Annex is located at 277 Third Ave., Chula Vista.
Contact Kris
Share your favorite Chula Vista and National City favorites with Kris. Contact her at the following addresses:
Email: kris@krisgaliciabrown.com
Instagram: @krisgaliciabrown
Twitter: @krisgaliciabrwn
www.krisgaliciabrown.com