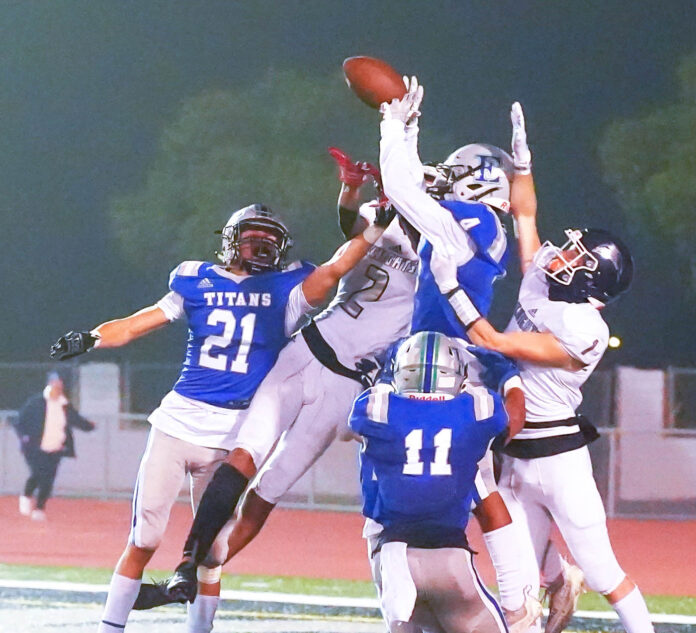 The San Diego Section football playoffs kicked off with eight South County entrants. Five remain in title contention entering this weekend's divisional quarterfinals.
The Mater Dei Catholic Crusaders were the lone Metro Conference team to receive a bye to the second round. Of the remaining seven teams that participated in last Friday's opening round, four won to advance.
Second-seeded Mater Dei Catholic (8-0) will host seventh-seeded El Capitan (9-2) on Friday while Eastlake (Division I), Sweetwater (Division IV), Montgomery (Division IV) and San Ysidro (Division V) all will play on the road in hopes of advancing deeper into post season play.
El Capitan is led by senior game-changer Savigon Yokley, who scored the game-winning touchdown on a 10-yard run in overtime to lift the Grossmont Valley League runners-up past the 10th-seeded Orange Glen Patriots 41-34.
Yokley had a big game last Friday with a receiving touchdown, passing touchdown, two-point conversion, interception and two rushing scores.
"It was a great game," El Capitan head coach Ron Burner said. "Both teams fought hard with plays being made on both sides all game long."
The Crusaders counter with their own special signal-caller, junior Dominic Nankil, who has passed for 2,488 yards and 24 touchdowns.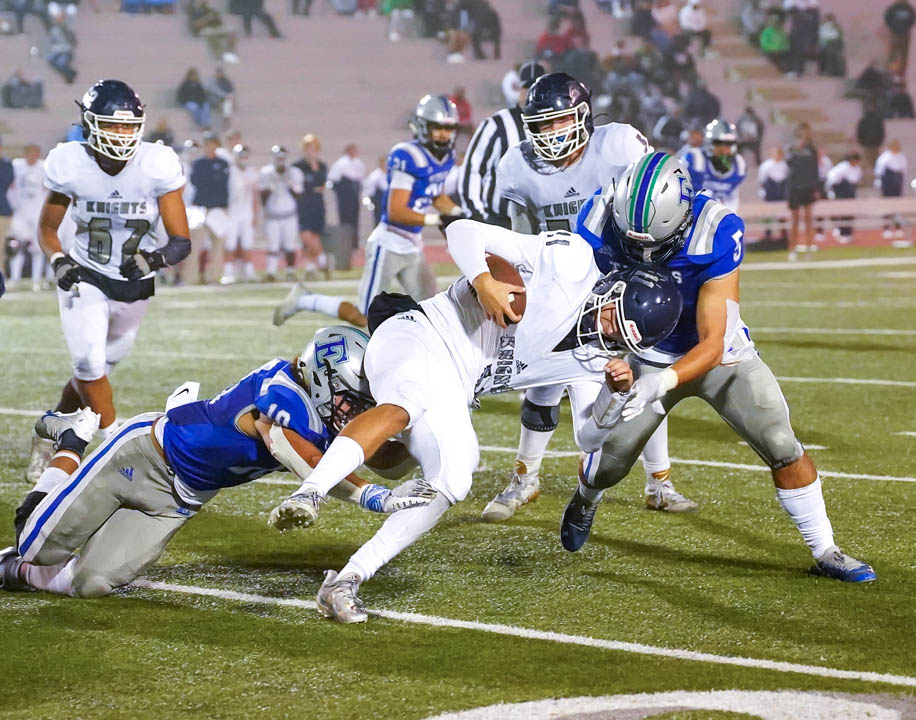 Division I: Titans score late, win defensive battle
The sixth-seeded Eastlake Titans managed to earn a berth in Friday's quarterfinals, though it wasn't easy. The Mesa League runner-up hosted the 11th-seeded San Marcos Knights and it appeared to be a mismatch on paper with the Titans boasting a 7-3 record and the Knights traveling south with a 1-9 record.
But it was anything like that. The Knights, braced by female place-kicker junior Charlie Rosenthal, took a 3-0 lead on a 35-yard field goal in the fourth quarter to break a scoreless deadlock and the game was an all-out defensive battle until Eastlake scored what proved to be the game-winning touchdown on an 11-yard run by senior Jordan Blondin with 6:24 remaining in the fourth quarter.
The Titan defense played a role in securing the first-round victory at Hilltop High School when a Hail Mary pass into the endzone by San Marcos senior signal-caller Carter Schultz was batted down to preserve a tenuous 7-3 win.
The matchup highlighted once again the disparity in competition level between North County and South County football teams.
"San Marcos was a solid opponent," Eastlake head coach Jose Mendoza declared. "They are big, strong and physical. They are well-coached and much better than their 1-9 record. They play in a much better league than ours and put up points against everyone.
"Our defense only gave up three points. Our defense has given up 63 points in 11 games. That's an average of 5.72 points per game. As a staff, we were extremely pleased on how our players performed and executed the game plan."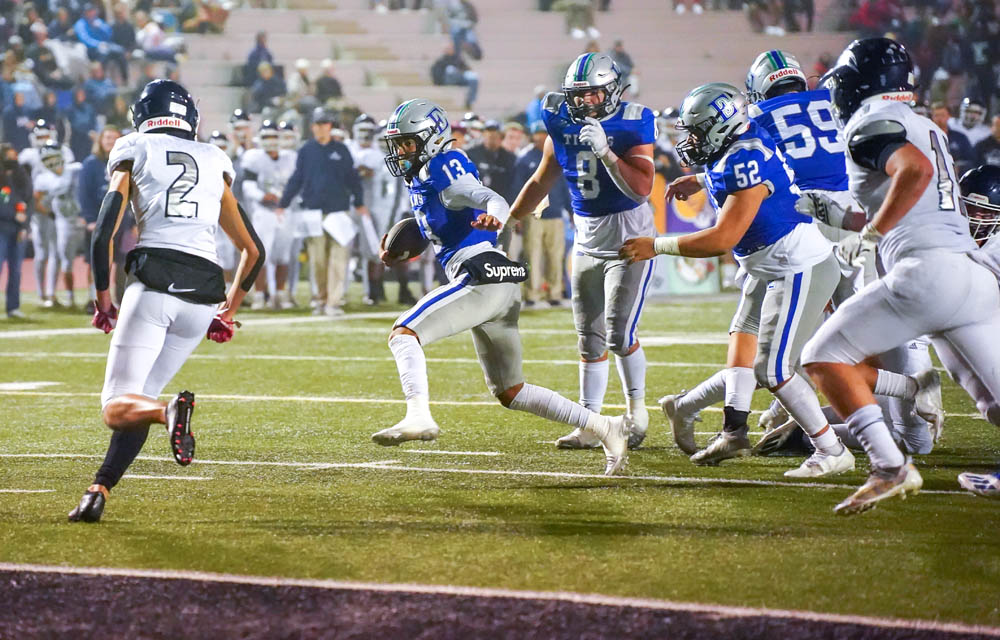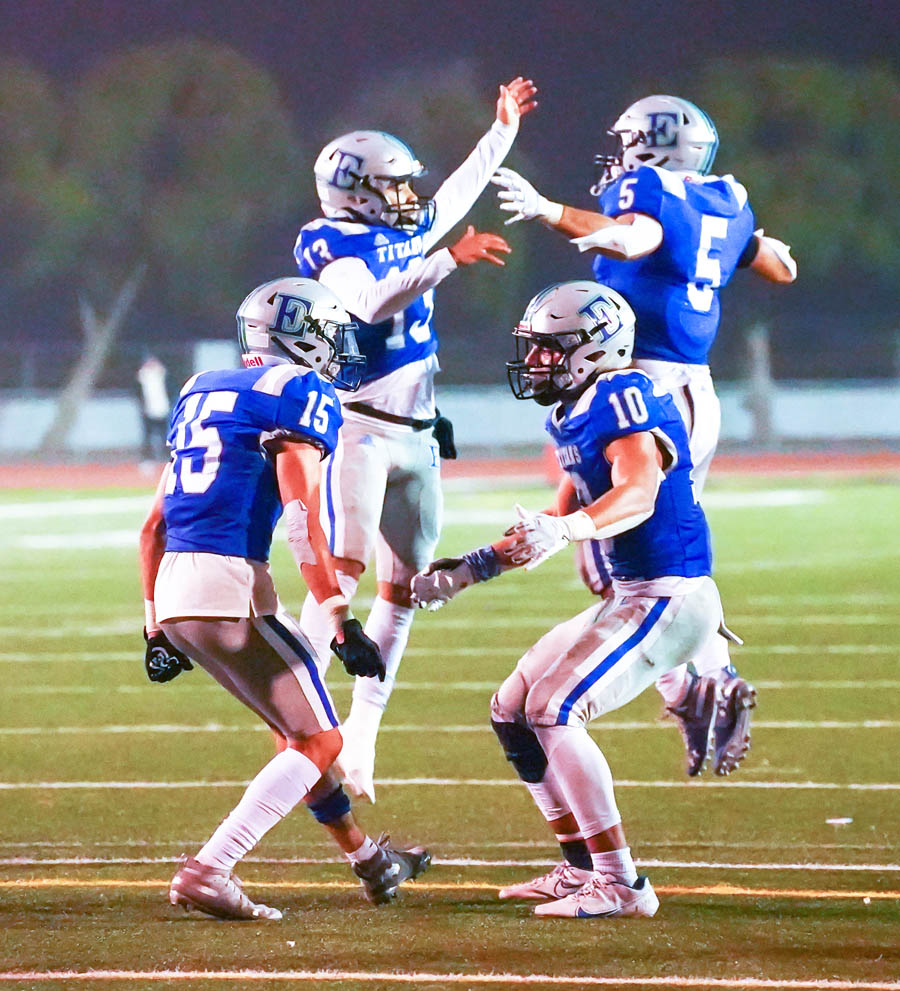 It will be much of the same when the Titans engage the third-seeded Lincoln Hornets (6-3) in Friday's quarterfinals. The Hornets can put up a lot of points – they're averaging 30.7 points per game this season – and the Eastlake defense will obviously have to play its best game of the season to advance to the semifinals.
The Titans (8-3) did move the ball in last Friday's playoff win, though drives ended prematurely because of good defensive play by the Knights (1-10).
Blondin completed nine of 15 passes for just 40 yards. He had six carries for 28 yards and the game's only touchdown. Senior Ashton Flores had eight carries for 67 yards while adding two pass receptions for 22 yards.
As a team, the Titans collected 315 yards in total offense — 183 rushing, 45 passing, 55 kick returns and 35 punt returns.
The team's defensive statistics were more robust.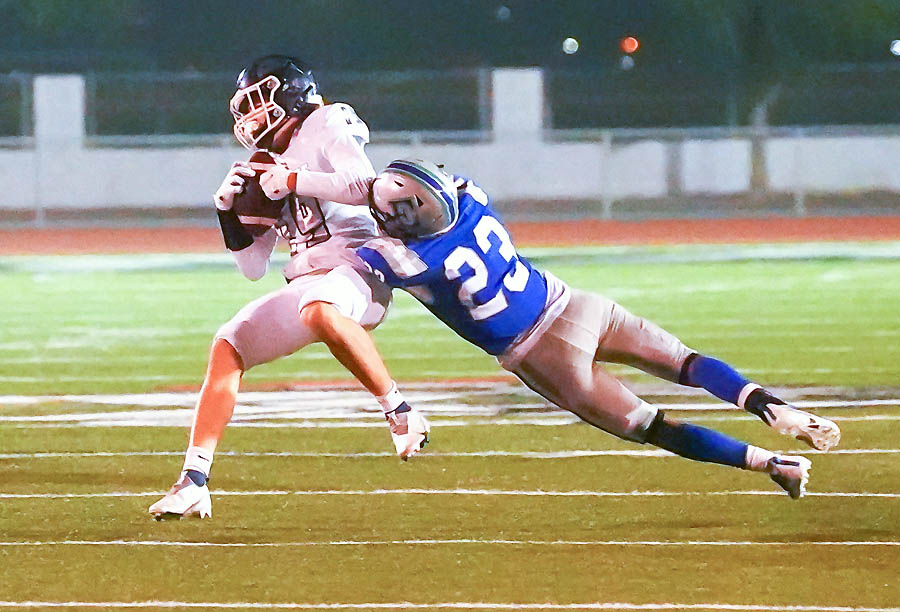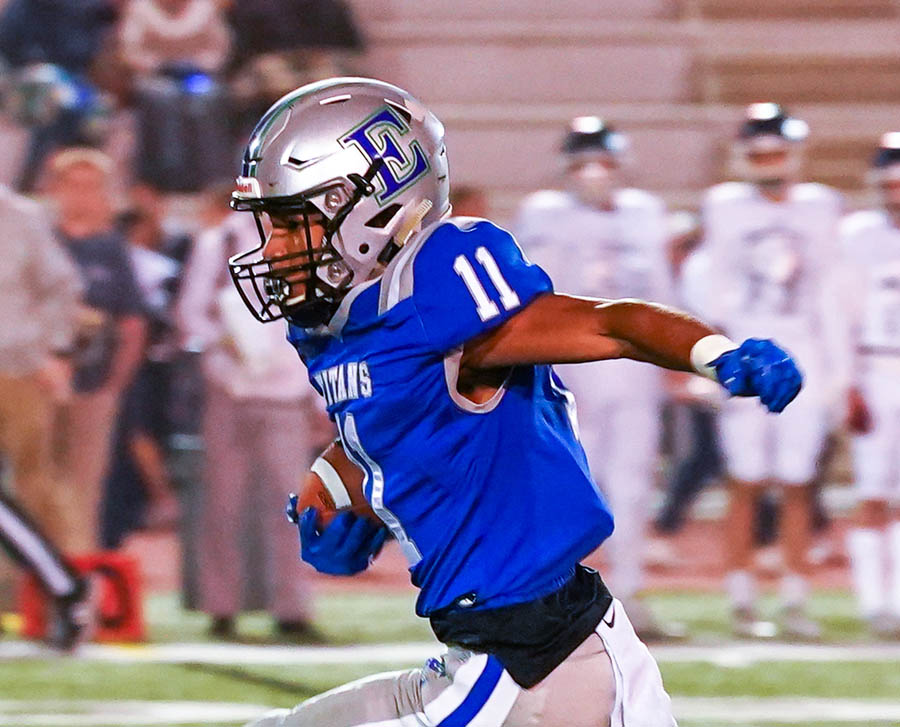 Senior Jayden Kendricks accumulated 19 tackles, including 10 solo stops, while senior Christian Aguilar chipped in with 15 tackles (12 unassisted). Senior Dominick Wright had 11 tackles (nine unassisted).
Eastlake defenders amassed nine sacks in the game – four by senior Trey White and two each by senior Isaiah Hinojosa and senior Marcus House. Hinojosa also had one caused fumble to his credit.
On the season, Lincoln senior Jalen Daniels has passed for 2,076 yards with 15 touchdowns. Junior Rodrick Robinson has rushed for 785 yards and scored 10 rushing touchdowns.
Blondin leads Eastlake with six touchdowns — three rushing and three receiving — while passing for seven scores with three interceptions.
Kendricks tops the Titans with 121 tackles — 11 per game — while White and Hinojosa each have 13 sacks. Senior Jayden Cortell has six interceptions to lead the secondary.
Schultz led San Marcos with 94 passing yards while senior Kaden Vohnout rushed 18 times for 86 yards.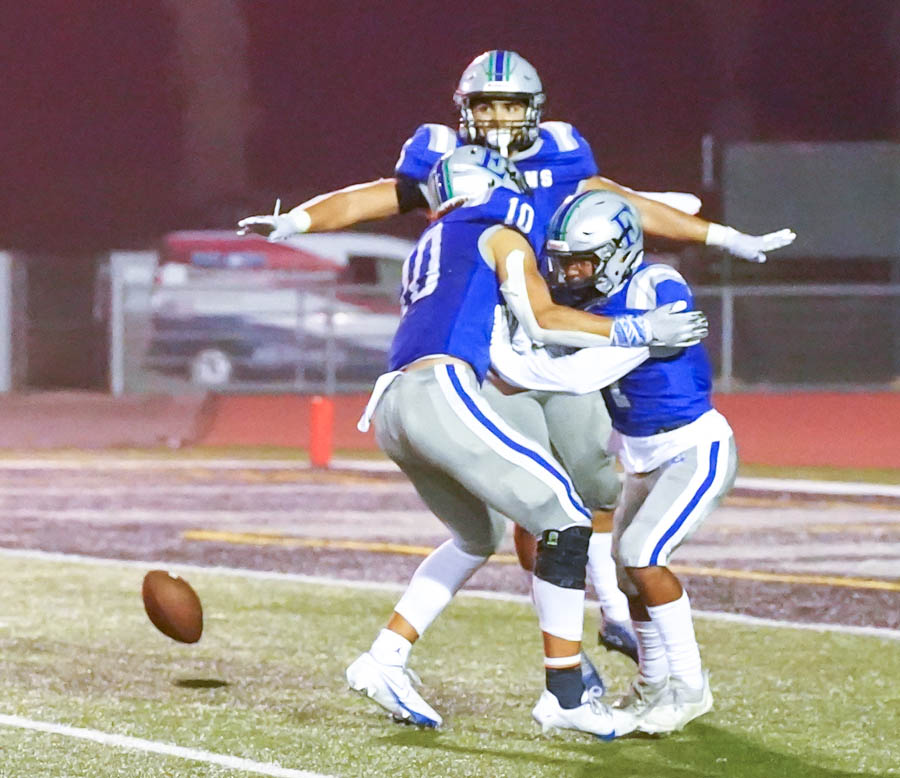 PHOTOS BY ANDY BARTOTTO: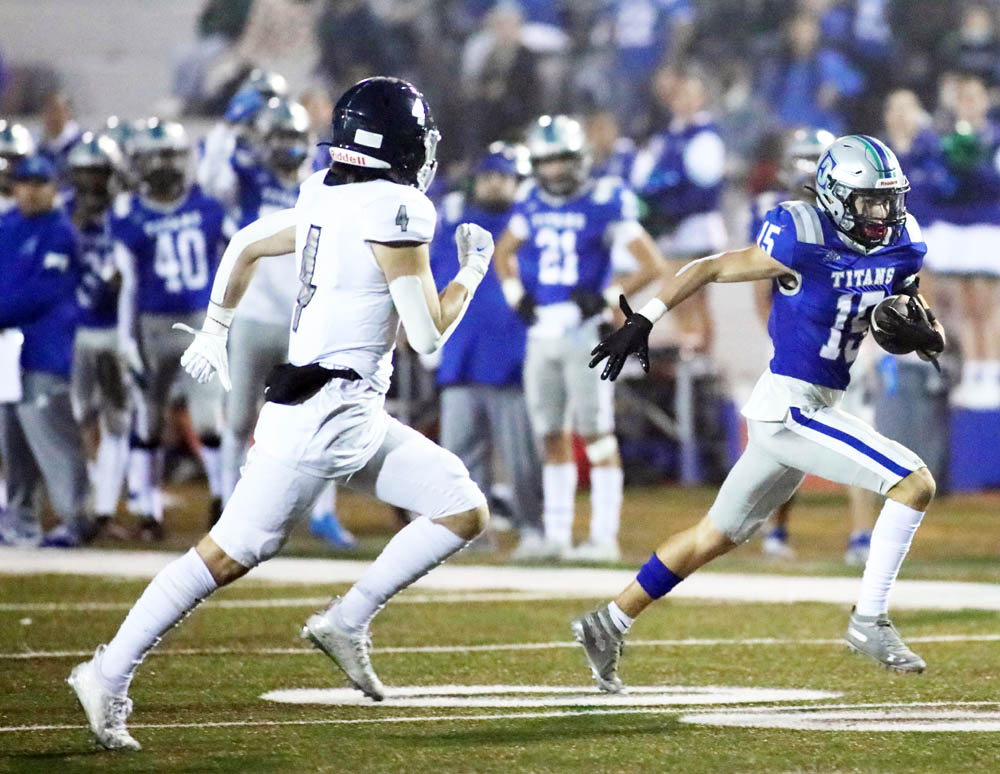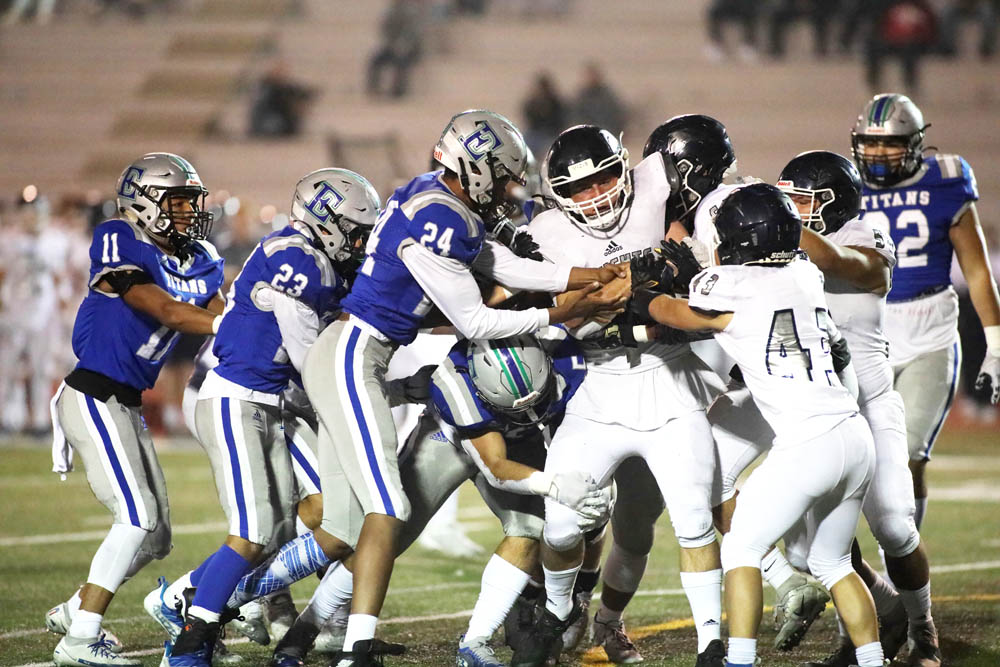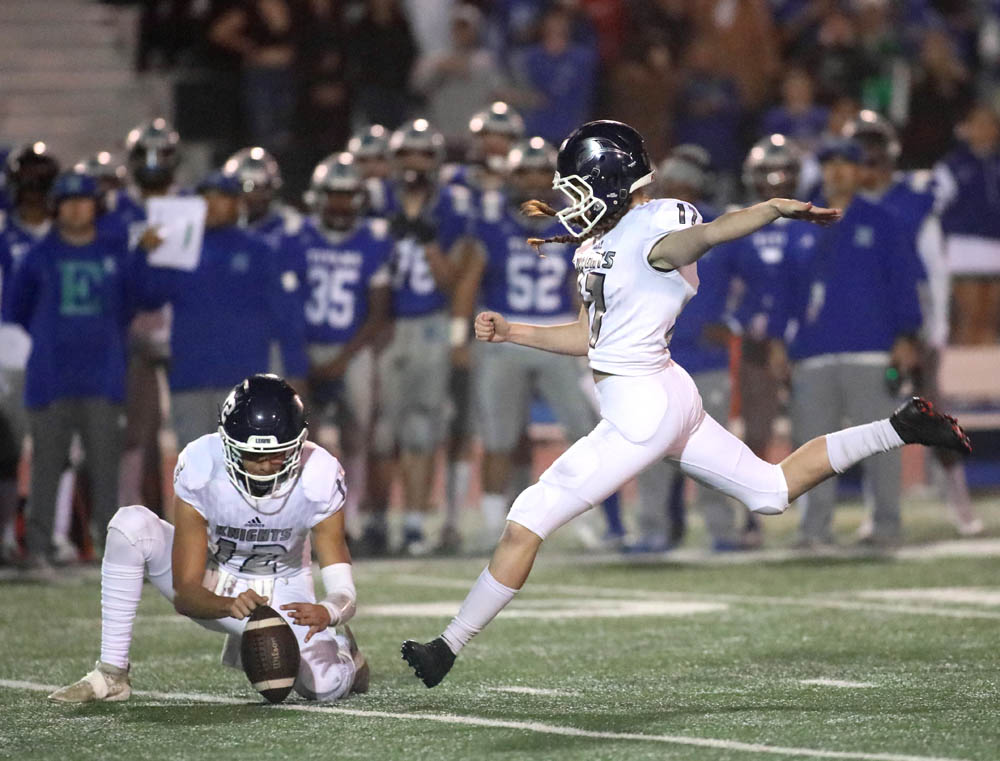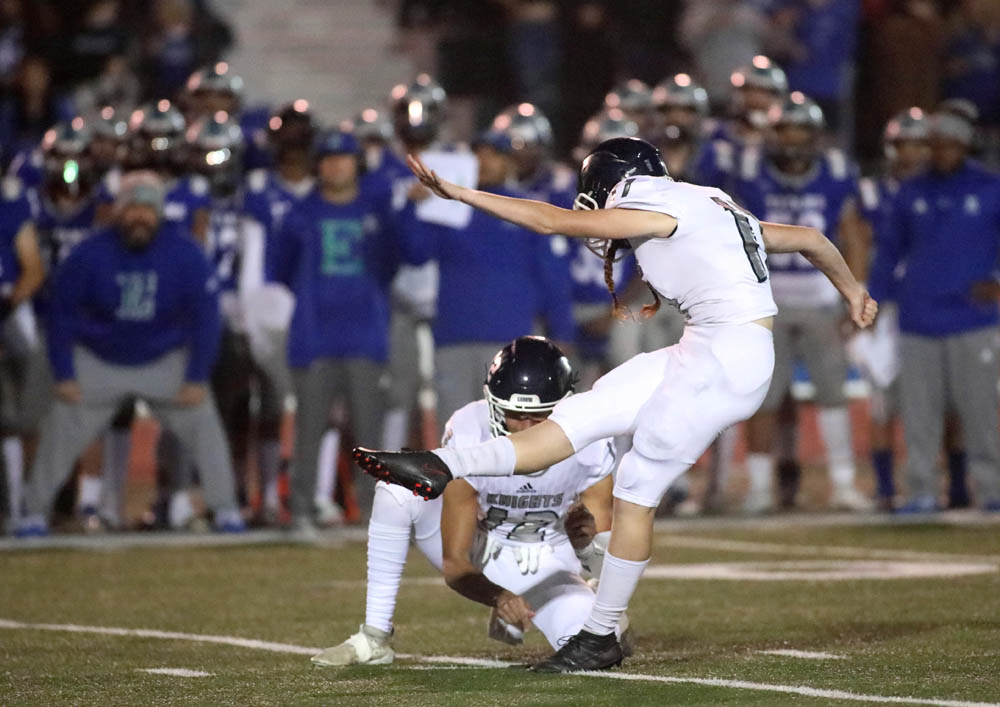 Division II: Mustangs start fast but eclipsed by Spartans
Seventh-seeded Otay Ranch hosted 10th-seeded Central Union at Olympian High School. Though the host Mustangs took a 14-6 first quarter lead on an 81-yard kickoff return by senior Jayhalin Sanders on the first play of the game and a short touchdown run by senior Noah Concepcion, the visiting Spartans (6-5) rallied with 20 second-half points to capture the first-round playoff game by a final score of 33-28.
Concepcion scored twice for Otay Ranch (3-6) while also making an interception on defense. Seniors Isaac Faalave (13) and Johnathan Nava (12) combined for 25 tackles.
Central Union advances to play at second-seeded Scripps Ranch (8-1).
Division III: Barons score points but not enough against undefeated Wolf Pack
Bonita Vista bowed out of this year's playoffs following a 41-28 first-round loss at undefeated West Hills (11-0).
West Hills, braced by 540 all-purpose yards, scored three rushing touchdowns and three passing touchdowns to extend its school record streak. Senior quarterback Braden Oberg passed for two touchdowns while sophomore Collin Dill passed for one score and ran for another. Sophomore Diego Calderon scored two rushing touchdowns while senior Max Conaway caught two touchdown passes.
Junior running back Jamar Haines rushed 11 times for 150 yards and one touchdown while senior quarterback Nate Roble Cristobal completed 10 of 18 passes for 206 yards and two touchdowns. Junior receiver Dante Scott had three catches for 137 yards and two touchdowns.
Senior Julian Acosta had four PAT.
"Our kids battled and played hard the entire game," BVHS head coach Tyler Arciaga said. "We did some real nice things that we can build on for next year."
The Wolf Pack advances to play at fourth-seeded Ramona (7-3) in Friday's quarterfinals.
"West Hills was not undefeated by accident," Arciaga said. "They were well coached and very disciplined. They should have a great game with Ramona."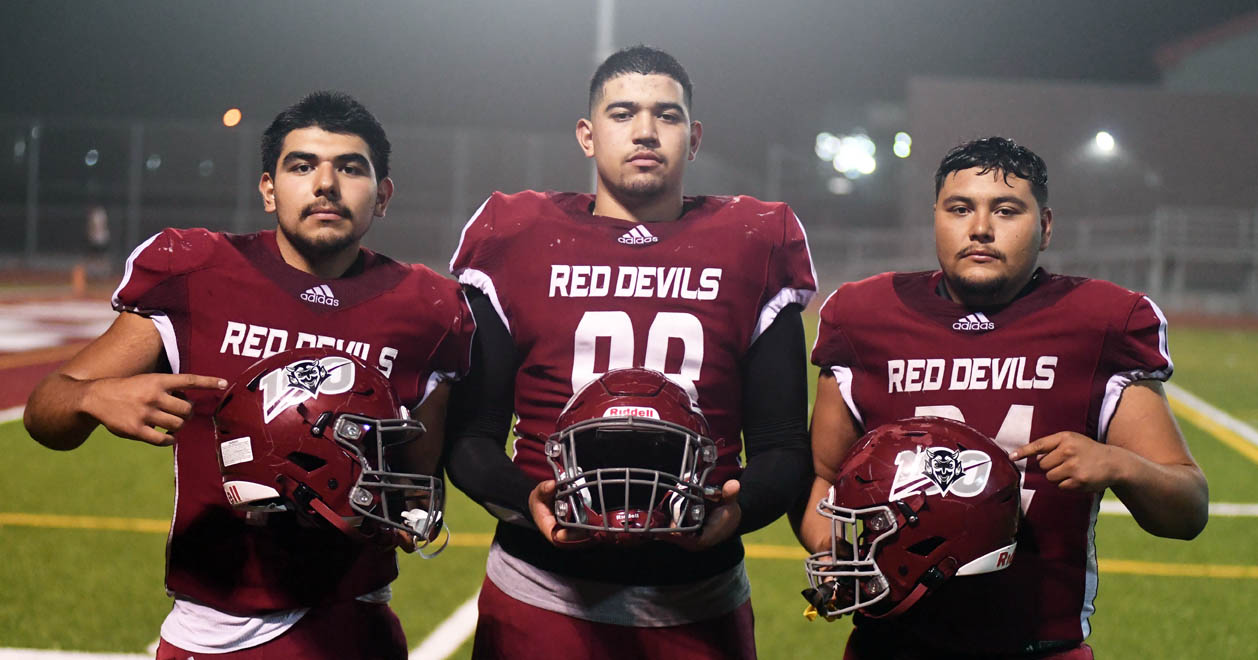 Division IV: Red Devils, Aztecs advance to CIF quarterfinals
The Sweetwater Red Devils, Montgomery Aztecs and Mar Vista Mariners all entered last Friday's opening round of the San Diego Section playoffs with optimism. But only Sweetwater and Montgomery came out with wins.
The sixth-seeded Red Devils claimed their first playoff win since 2014 with a blockbuster 73-6 win over the visiting Valhalla Norsemen while the seventh-seeded Aztecs took care of business with a 34-6 win over the visiting Francis Parker Lancers.
Twelfth-seeded Mar Vista finished its season with a 50-18 setback at fifth-seeded Rancho Buena Vista.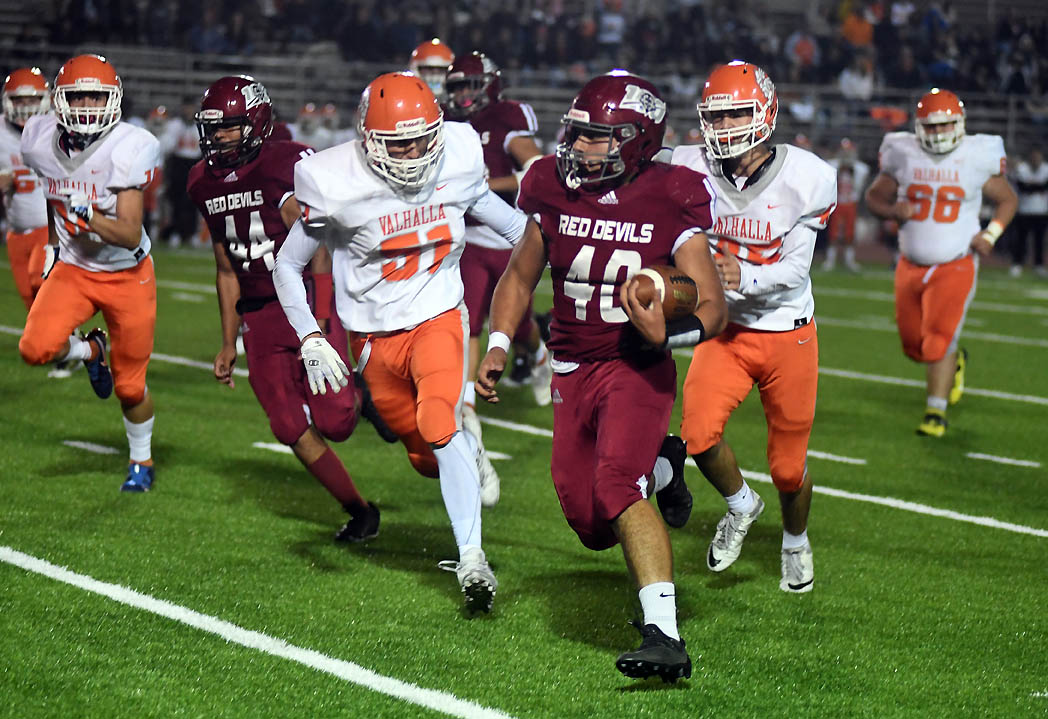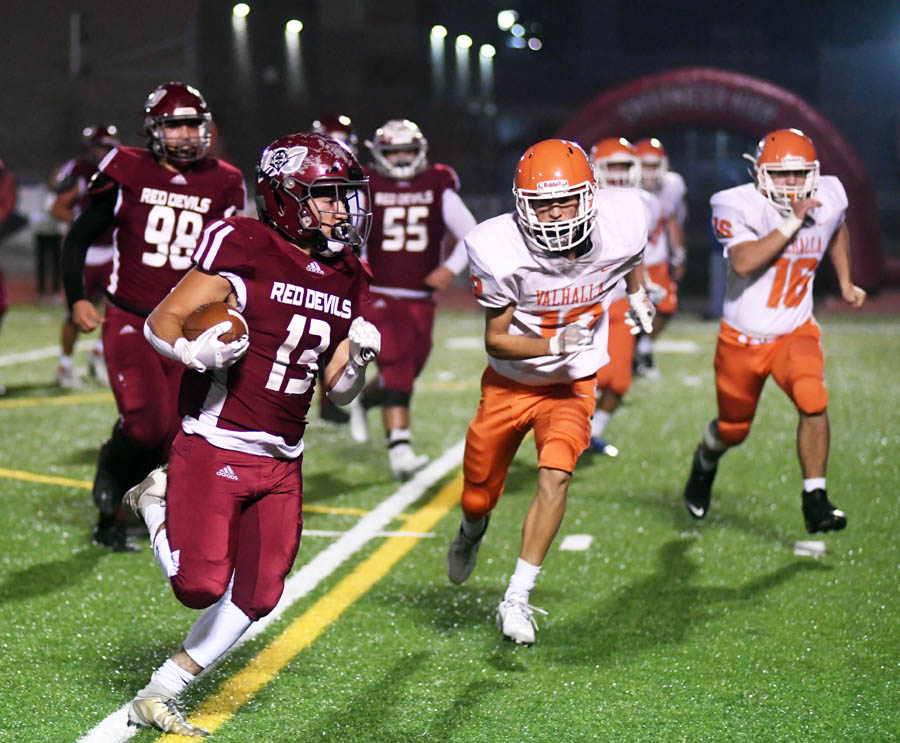 Sweetwater (6-3) roared to its sixth consecutive win by overwhelming 11th-seeded Valhalla (3-8). The Devils innocently led 12-0 at the end of the first quarter but hiked that margin to 40-0 at halftime and 60-0 through three quarters.
The reigning South Bay League champions led 73-0 before Norseman junior Tony Famoyin returned a kickoff 75 yards for a touchdown with 4:32 remaining in the game to spoil the host's shutout bid.
"I didn't expect the score the way it was," Sweetwater head coach Ervin Hernandez offered somewhat apologetically. "I knew we were going to play hard and come out firing. Every day we want to go 1-0. We had a good week of practice, so it's not a surprise. We came out with a lot of energy on offense and defense."
The Devils will need to maintain that energy level in Friday's quarterfinal game at third-seeded Coronado (5-5). The Islanders handed the National City visitors a 13-7 loss in the second week of the season.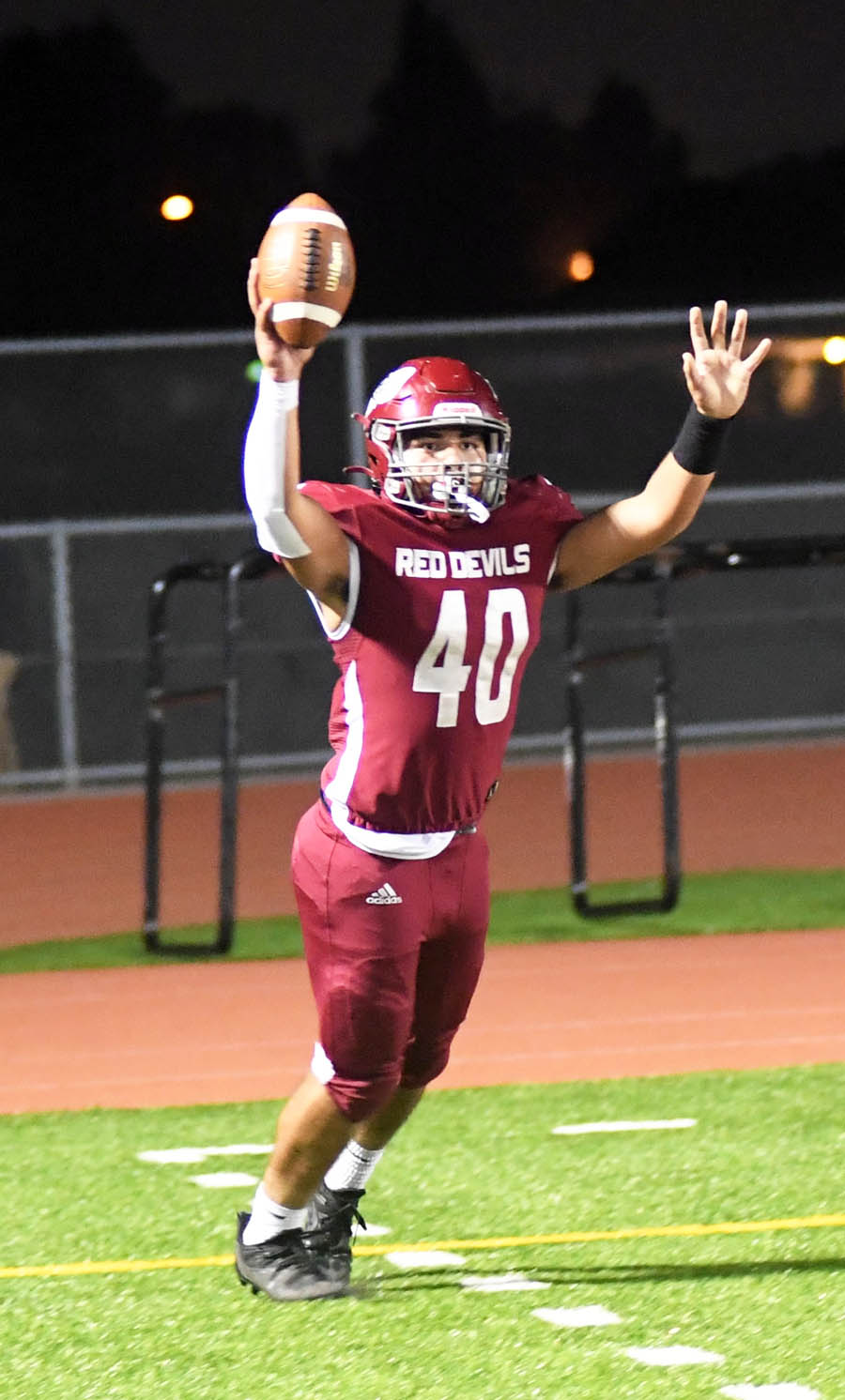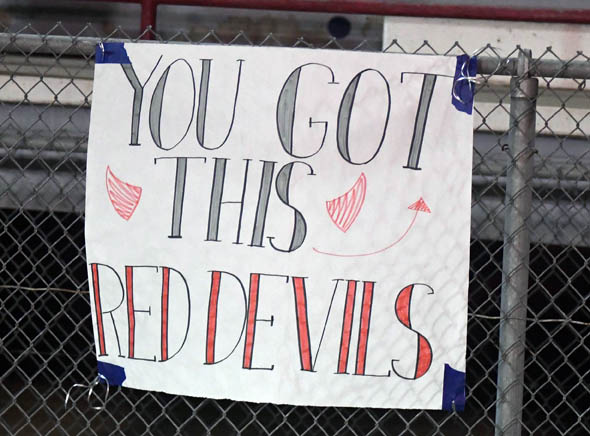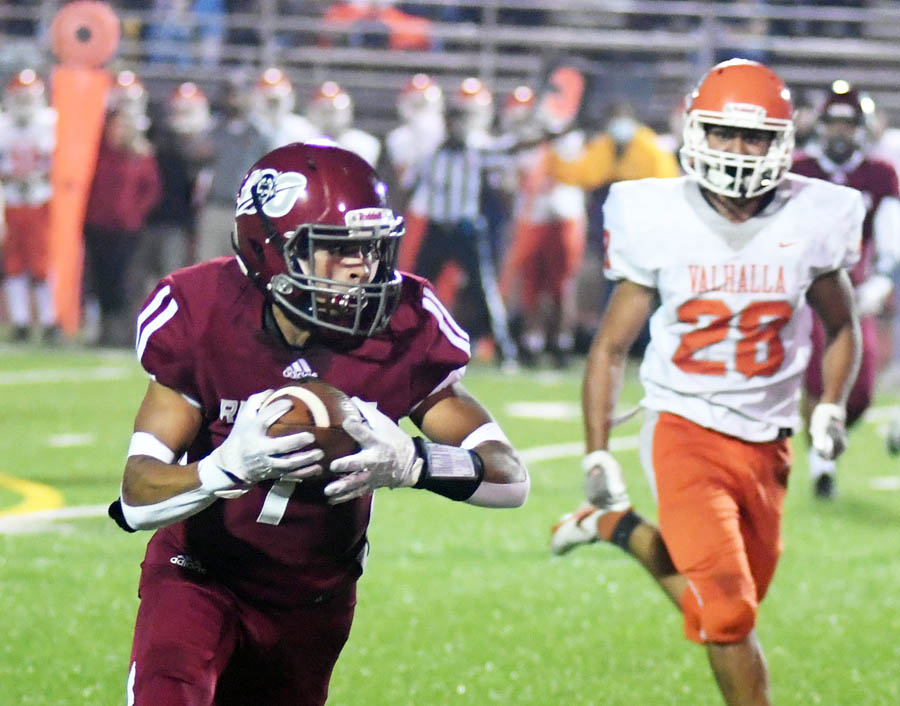 Sweetwater is not the same team as it was then.
"They've had a more challenging schedule than we've had and since Week 2 they've gotten better," Hernandez said. "But we've gotten better since Week 2."
The Red Devils rushed 37 times for 420 yards and scored eight rushing touchdowns — 11 overall in the game – in recording their highest-scoring game of the season.
Seniors Carlos Hopper and Fabian Venegas both scored three rushing touchdowns. Venegas carried the ball 10 times for 203 yards, scoring on runs of 25, 79 and 35 yards. Hopper scored on runs of 20, one and 12 yards.
Venegas completed his lone pass attempt of the game to junior Ben Grubbs for 44 yards and a touchdown to make the score 33-0 with 4:17 left in the second quarter.
Senior Javier Sanchez (six carries, 105 yards) and Xzavier Crews (two carries, four yards) both scored one rushing touchdown while sophomore Izell Wright (55 yards) and senior Ricky Rodriguez (47 yards) both scored on interception returns.
The SuHi defense collected three sacks — one each by Wright, Crews and Sanchez —and two fumble recoveries (one each by senior Charles Cota and sophomore Carlos Delgado).
Venegas led the winners with eight tackles.
Senior Juan Estrada braced Montgomery's win by rushing 23 times for 196 yards and three touchdowns. The Aztecs (7-3) rolled up 387 total rushing yards and five TDs.
Junior Isaac Cervantes (three carries, 83 yards) and sophomore Arath Leyva (seven carries,38 yards) both score one touchdown.
Junior Ryan Vasquez and senior Levi Garcia both logged interceptions — Garcia for 28 yards.
RBV 50, Mar Vista 18
The visiting Mariners broke out to an early 12-0 lead but were unable to maintain the scoring edge as RBV's B.J. Hermansen rushed for 254 yards and scored three touchdowns.
Sophomore Lah'Darius Crawford and senior Jordan Mahan both caught scoring passes from junior quarterback Aleks Wojcik, who also scored one rushing touchdown.
"We are building something great at Mar Vista, the students have welcomed us with open arms," MVHS head coach Syd Reed said. "This was the first playoff appearance in a couple years, the transition to a winning program has started. Thanks to our community, students and faculty, the South Bay still has something to say."
Division V: Cougars get history-making first CIF playoff win
Senior Matthew Jaime rushed for 137 yards and scored two touchdowns while senior Angel Lopez kicked a 27-yard field goal to lead the San Ysidro High School football team to the school's first San Diego Section divisional playoff win last Friday, 16-13, at Escondido Charter High School.
"It was an historic win … our first playoff win in school history," Cougar head coach Keith Aguon said. "We came out sluggish, Escondido Charter came out clicking on all cylinders. But we hung around, and I liked how our special teams came up with a big play on a punt and we forced a fumble deep, to get us going. We didn't punch it in, but we got a field goal, which turned out to be the difference in the game.
San Ysidro (5-5) collected 279 yards in rushing (189), receiving (18) and kick-returns (72). The Cougars rallied from a 13-3 deficit with 13 points in the fourth quarter.
"I loved how we played the last six minutes, that was our best football of the season," Aguon said. "It proved that even though we are struggling in a game, we believe we can come back at any time. The last three weeks we've shown it, however, this time we finished."
Senior Sal Samano once again led the defense with 14 tackles, including 12 first hits. The Cougars recorded five sacks in the game — 1.5 by senior Domenick Romo — and two fumble recoveries (one each by seniors Juan Castro and Santiago Luna).
San Ysidro advances to play at fourth-seeded Fallbrook (4-6) this Friday.
Pacific League champion Escondido Charter finished its season 9-2 overall.