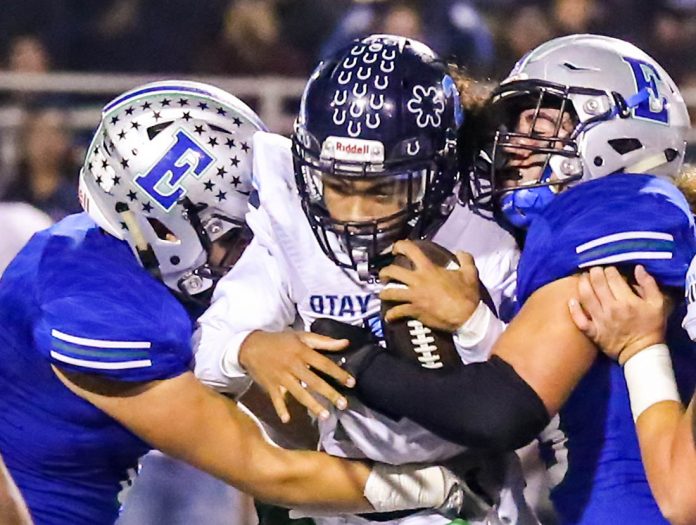 The old axiom that defense wins championships proved to once again be on the mark in determining this year's Metro-Mesa League football title.
The Eastlake Titans used a strong defensive effort to edge the defending league champion Otay Ranch Mustangs, 14-0, last Friday to the delight of a boisterous homecoming crowd.
With the win, the Titans reclaim the league championship after a three-year hiatus.
Eastlake last won the Mesa title in 2014, followed by Bonita Vista in 2015, Mater Dei Catholic in 2016 and Otay Ranch last year.
The Mustangs were reluctant to let go of the title this year.
"The game was very hard fought by two teams that really wanted it," Eastlake head coach John McFadden stressed of the bang-up gridiron battle.
"Eastlake's defense proved to be the dominant force of the night. Offensively, Eastlake moved the ball more consistently than Otay, but Otay's defense did a great job against the pass and we couldn't finish as many drives as I hoped.
"Overall, it was a great game for the league championship — (you've) got to give credit to both staffs and players."
Eastlake scored the only touchdown of the first half on a four-yard pass from sophomore quarterback Richard Colmenero III to junior Darius De Los Reyes with six minutes remaining in the first quarter.
The score remained 7-0 in the Titans' favor until two minutes remained in the fourth quarter when McKinley Egland-Young intercepted a pass and returned it 62 yards for a touchdown.
At the time of Egland-Young's dramatic interception return, it appeared as if Otay Ranch, under the direction of highly mobile quarterback Puka Stewart, was driving to tie the score.
With the win, Eastlake — which improved to 9-1 overall with its ninth consecutive victory — sewed up sole rights to this year's Metro-Mesa League title with a 4-0 league record.
The Mustangs, who finished league play with a 3-1 record, ended regular season play 6-4 overall.
Defensive match-ups figured prominently on the Titans' 2018 schedule. Eastlake was shut out, 13-0, by top-ranked Torrey Pines in its season opener but closed regular season play with a shutout of its own in its biggest game of the season.
Both Eastlake and Otay Ranch will compete in the upcoming San Diego Section Division I playoffs, and may yet meet again on the playing field before the season is over.
The Titans received the No. 2 seed in the Division I field while the Mustangs received the No. 10 seed.
Otay Ranch will play at seventh-seeded Oceanside (5-5) in Friday's opening round. Eastlake will host the winner of that game in the quarterfinals on Nov. 9.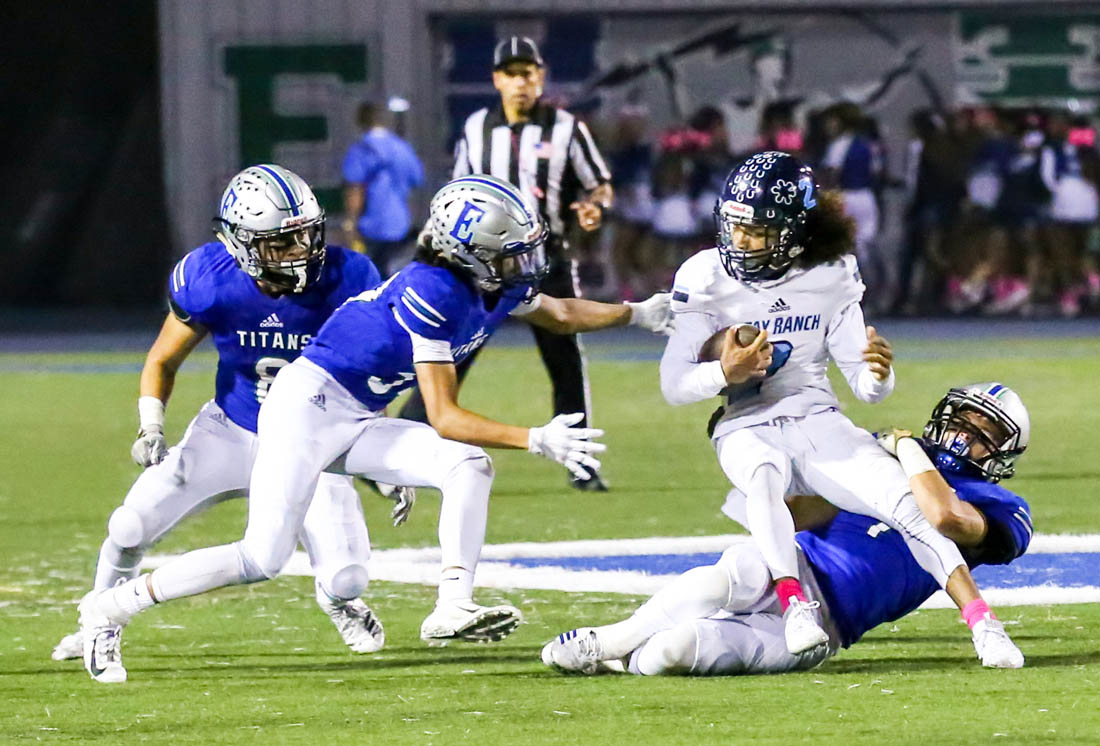 Clash of the Titans
Offensive yards came at a premium for both teams in last Friday's high impact match-up. Eastlake generated 233 total yards while Otay Ranch recorded 223 total yards.
The Titans rushed 32 times for 149 yards and hit 12 passes for 87 additional yards; the Mustangs rushed 27 times for 88 yards and completed 20 passes for 135 yards.
Eastlake's Roman Coe led all ball-carriers in the game with 13 carries for 80 yards. However, Stewart was clearly the game's offensive star.
The Otay Ranch signal-caller collected 200 total yards — 135 passing with one interception and 65 rushing yards on 13 carries.
Kenneth Robinson led the Mustangs with 95 receiving yards on five catches. De Los Reyes had four catches for 38 yards for the hosts.
Defensive numbers definitely stand out. Eastlake recorded seven sacks, led by a pair by senior Trevor Trussell, while senior Josh McCurty led the Titans with 13 tackles, including eight unassisted stops.
Eastlake did roll up 124 yards in punt returns, including returns of 46 yards by Parker Merrifield and 40 yards by Maximus Susi. Merrifield finished the game with two punt returns for 84 yards.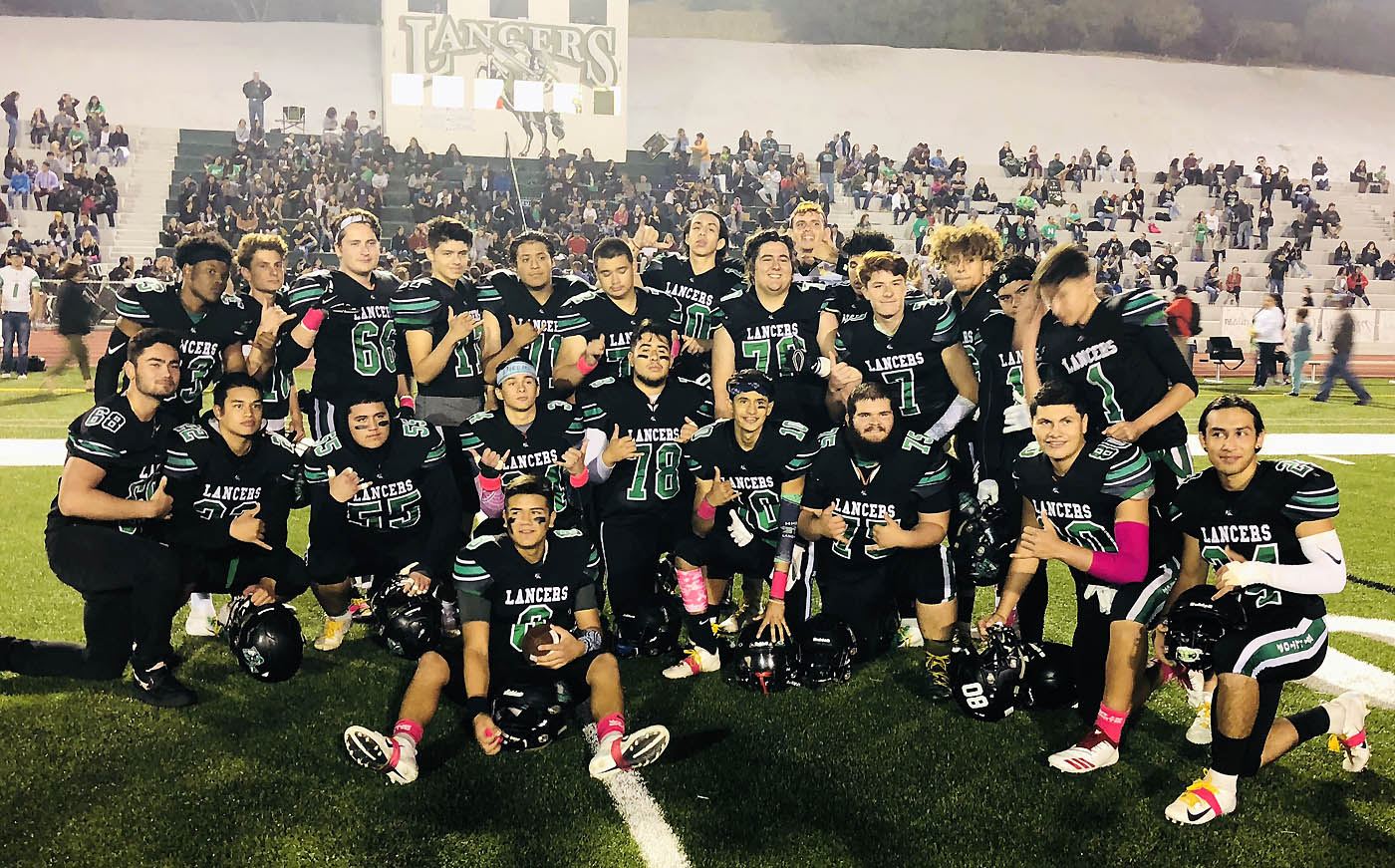 Kiwanis Bowl football coaches donate funds to charity
The Chula Vista Kiwanis Bowl is all about community. Last Friday's 17th annual event between the Hilltop and Chula Vista high school football teams drove home that point.
The Kiwanis Club of Chula Vista annually presents each team with a monetary donation for its program. This year the winning team received $1,500 while the losing team received $1,000.
However, the head coaches of both teams — Hilltop's Andrew Westling and Chula Vista's Howard Bannister III — elected to donate their checks to the St. Jude Children's Research Hospital in memory of assistant coaches Jonathan Molina from Hilltop and Greg Molina from Chula Vista.
Jonathan Molina, a member of Hilltop's athletic staff since he graduated from the school in 2013 (coaching baseball and football), died in late September after a battle with Ewing's sarcoma, a form of cancer.
Greg Molina was a longtime coach and teacher at Chula Vista High School. He finished his coaching career in the early 2000s but continued teaching until last year. "He made an impact on the lives of so many people in the classroom and on the field," Bannister noted of Molina, who passed away this past spring from cancer.
Prior to coaching at Hilltop, Westling served one year as head coach at CVHS.
"Coach Bannister and I decided to donate this year's Kiwanis donation to St. Jude in honor of Greg and Jonathan Molina," Westling said. "(Jonathan) wanted the money to go to St. Jude as he never wanted any children to go through what he had to."
Hilltop won the game 37-0 to secure uncontested rights to this year's Metro-South Bay League championship with a 3-0 league record and, as a result, earn an automatic berth in the San Diego Section Division III playoffs.
As a league champion, the Lancers (5-5), who enter this year's playoff field as the No. 12 seed, will host will host the fifth-seeded Morse Tigers (6-4) in a first-round playoff game on Friday.
Kick-off is 7 p.m.
The winner of the Nov. 2 first-round match-up advances to the quarterfinal round on Nov. 9 against the fourth-seeded Brawley Wildcats (8-2), who received a first-round bye.
Christian (9-1) received the No. 1 seed among Division III teams, followed by No. 2-seeded Central Union (10-0) and No. 3-seeded Monte Vista (9-1).
Central Union, one of only two undefeated teams in the section this season, topped Brawley, 14-10, last Friday to win the Imperial Valley League title.
Christian edged Monte Vista, 22-21, in overtime in a non-league game on Sept. 7.
Chula Vista, which slid to its eighth consecutive loss to end regular season play, received the No. 9 seed in the Division IV playoffs. The Spartans (2-8) will kick off postseason play with a first-round game Friday at eighth-seeded Coronado (7-3).
The Chula Vista-Coronado winner advances to meet top-seeded San Diego (7-2) in the quarterfinals.
"I'm very proud of how we responded to a 1-5 start," Westling summarized after last Friday's game. "We have been lucky with injuries and Chula has been very unlucky. They will be a tough draw in the D4 playoffs. Morse is very athletic and big up front. It will be an exciting challenge."
Senior quarterback Joey Castillo earned Hilltop's Kiwanis Bowl offensive MVP award by completing 24 of 31 passes for 236 yards. He did not throw a touchdown pass but did score two rushing touchdowns while accumulating 19 yards on seven carries.
Senior Jeremiah Serrano rushed 14 times for 120 yards and scored two touchdowns while junior Marko Aki scored on a 28-yard run.
Senior Marcos Deanda led Hilltop's receivers with 11 catches for 120 yards while senior Dylan McCoy had five catches for 63 yards.
The Lancers out-gained the Spartans 497-82 in total yards. Hilltop chalked up 255 rushing yards and tacked on 242 passing yards. Chula Vista was limited to just 14 rushing yards while notching 68 passing yards.
The Lancers recorded four sacks, including two by Deanda and singletons by Gage Scruggs and Brendan Hinkle.
Michael Macherzak had one sack for the Spartans.
Senior offensive lineman Alfonso Hernandez, who led the Spartans with 15 tackles, earned honors as Chula Vista's Kiwanis Bowl defensive MVP award winner.
Senior linebacker Oscar Piceno, who led the Lancers with six tackles, made a fumble recovery and caught a two-point conversion attempt, earned recognition as Hilltop's Kiwanis Bowl defensive MVP award winner.
Sophomore Carlos Jimenez, who rushed 10 times for 27 yards, received Chula Vista's Kiwanis Bowl offensive MVP award.
Extra points
The Hilltop offense appears to be heating up at the right time of the year. Castillo has passed for 2,024 yards with 11 touchdowns and 12 interceptions. He's also rushed for 249 yards and five touchdowns.
Serrano leads the Lancers with 584 rushing yards and has scored four rushing touchdowns. Deanda has rushed for 175 yards and scored five rushing touchdowns while also making 68 catches for 662 yards and three touchdowns.
Deanda also leads the team with five sacks.
Chula Vista senior quarterback Moses Contreras has passed for 674 yards with three touchdowns and two interceptions in 10 games.
Chula Vista continues to lead the Kiwanis Bowl series 10-7.
Mariners stop Red Devils, carry No. 4 seed into Division IV playoffs
Mar Vista defeated visiting Sweetwater, 40-13, last Friday to finish regular season play 7-3 overall, 2-1 in Metro-South Bay League play.
The Mariners received the No. 4 seed in the Division IV playoffs and a first-round bye. Mar Vista will host either fifth-seeded Santana (5-4) or 12th-seeded La Jolla Country Day (2-7) in the quarterfinal round on Nov. 9.
The Mariners snapped a scoreless first quarter standoff with 16 points in the second quarter to lead 16-0 at halftime. The hosts racked up a 21-6 scoring edge in the third quarter to take firm control of the game on the scoreboard.
Jacob Galena completed both his passes for 105 yards, including a 55-yard touchdown pass to Demetrius Smith, while rushing for 154 yards on 16 carries and three touchdowns, including a 52-yard breakaway run, to record a phenomenal 177.1 quarterback rating.
Hasan Spruill rushed for 55 yards and seven carries and scored one rushing touchdown. Cesar Macias tacked on nine kicking points, including a pair of field goals.
Sweetwater, which finished 1-2 in league play, 3-7 overall, was limited to 79 rushing yards. Luciano Estopier led the Red Devils with 53 yards on 12 carries while quarterback Adrian Gutierrez completed four of 16 passes for 65 yards with one touchdown and two interceptions.
"It was a solid win for us against Sweetwater," Mar Vista head coach Tyler Arciaga said.
"Our defense has done a great job all year anchored by defensive linemen Damon Thomas and Demetrius Smith and linebacker Diego Garza.
"Thomas is second in the county with 13 sacks and Smith had eight sacks in six games. Also, Jacob Galeana filled in valiantly at quarterback rushing for three touchdowns and 150-plus yards and throwing for one touchdown and 105 yards.
"Our offensive line, led by J.P. Alba and Paul Fieweger, has done a great job opening holes for our runners all season."
Mar Vista is averaging 239 rushing yards per game and has scored a total of 28 touchdowns – 11 of them via the run. Defensively, the Mariners have accumulated 33 sacks and nine interceptions.
Galeana tops the Imperial Beach team with 1,158 total offensive yards, including 1,053 rushing yards. He leads the team with 13 touchdowns, including two on kick returns.
Hasan Spruill has scored 10 rushing touchdowns to go with 897 rushing yards in eight games.
Mar Vista defeated Santana, 27-13, on the road in late September to start a three-game winning streak. The Mariners finished regular season play with momentum on their side by winning four of their last five games.
"We are fortunate to get the bye in order have some guys heal up and refocus on fundamentals," Arciaga pointed out.
"Santana was a tough game for us and they did not have their starting quarterback. We were down 10-0 in the first quarter and were able to come back and win the game. It is also very difficult to beat a team twice in a single season.
"La Jolla Country Day is only two years removed from a state title and can throw the ball all over the field. Both teams provide unique challenges to us and we will need to play a good game in order to advance."
Friday Night Lights
La Jolla Country Day enters Friday's game at Santana on a four-game losing streak, including a 0-3 mark in Coastal League play. The Torreys dropped their last two regular season games by a cumulative score of 90-30, losing 56-3 to Santa Fe Christian and 34-27 to Classical Academy to cap league play.
Santana defeated host El Cajon Valley, 40-7, last Friday to end a four-game losing streak. Quarterback Nathan Temple returned to the Sultans lineup and fired up his team with a pair of touchdown passes while also rushing for a score.
Jared Forster and Brooks Moutaw both caught touchdown passes in the win over the Braves (0-10); Moutaw also scored on a blocked punt and rushing play.
Meanwhile, LJCD quarterback Phillip Gooding has thrown for 2,263 yards and 19 touchdowns with 19 interceptions. Nicholas Albert (730 receiving yards, four touchdowns), Daniel Rosenberg (608 receiving yards, five touchdowns), Brandon Kim (489 receiving yards, six touchdowns) and Trevor Ace (353 receiving yards, four touchdowns) are the team's primary receivers.
Trojans claim Metro-Pacific League title to highlight turnaround season
The Castle Park Trojans have been a different team the second half of the season. Head coach Bernard Ansolabehere has to hope his team continues its winning ways into postseason play.
The Metro-Pacific League champion Trojans (6-4 overall, 3-0 in league play) received the No. 8 seed in this year's San Diego Section Division V playoff field and will host the No. 9 Maranatha Christian Eagles (5-5).
Kick off is Friday at 7 p.m. at Otay Ranch High School.
"I am very proud of our players and coaches for all that we have overcome this season to earn the league championship," Ansolabehere said. "We have a big test coming up this week against Maranatha Christian and we will need to have a great week of preparation. The second season starts now and I believe we will be ready to go."
Castle Park was tested by a strong effort from host San Ysidro in last Friday's final regular season game, as the winless Cougars, playing in front of a homecoming crowd, did their best to avoid turning in a 0-10 season.
Tyrone Lake scored all three Trojan touchdowns, rushing 24 times for 165 yards. He scored on a two-yard run in the first quarter to enable the visitors to tie the game, 7-7, and tacked on a 25-yard touchdown run in the third quarter to put Castle Park up 14-7.
Lake closed out his scoring barrage on the night with an 11-yard scoring run.
Likely due to the fog, both teams kept the ball on the ground. The Trojans rushed for 209 yards while San Ysidro piled up 230 rushing yards, highlighted by a 74-yard breakaway touchdown by freshman Makai Jackson to stake the hosts to an early 7-0 lead.
Next up
The winner of Friday's game plays at top-seeded Orange Glen (6-3) in the quarterfinal round on Nov. 9.
Pacific League champion Tri-City Christian (8-2) received the No. 2 seed in the division and will host either seventh-seeded Palo Verde Valley (4-6) or 10th-seeded Calipatria (3-7) while third-seeded Francis Parker (9-1) will host either sixth-seeded Vincent Memorial (7-3) or 11th-seeded Southwest (4-6) in the quarterfinals.
Fourth-seeded Holtville (8-2) will host Friday's winner between fifth-seeded Mountain Empire (7-3) and 12th-seeded Army Navy Academy (2-6) in the upcoming quarterfinals.
Maranatha Christian kicked off the 2018 season by winning three of its first four games but closed the season with four losses in its last six games.
The Eagles and Trojans have played two common opponents this season and the outcome suggests Friday's playoff match-up should be close.
Maranatha Christian defeated Southwest, 49-14, in a non-league game on Sept. 7 while Castle Park topped Southwest, 37-21, in a Metro-Pacific League game on Oct. 19.
Maranatha Christian posted a 26-20 overtime win over Crawford on Aug. 24 in a non-league contest while Castle Park lost, 27-21, to Crawford in overtime in a non-league game on Sept. 21.
Diego Martinez has passed for 942 yards with 17 touchdowns and two interceptions in eight games with a 111.8 quarterback rating for the regular season to lead Castle Park.
Lake has emerged as a force in the ground game with 567 yards and four touchdowns in six games.
Top receivers include Joel Torres (20 catches for 409 yards and five touchdowns) and Christian Bustos (17 catches for 359 yards and six touchdowns).
Defensive leaders for Castle Park include Robert Abarca with 51 tackles, Torres with four interceptions and Lake with two fumble recoveries.
Jose Castro, Ramon Cabal and Victor Rodriguez each have recorded two sacks.
Logan Godwin paces the Maranatha Christian offense with 1,028 rushing yards and 17 touchdowns, including 15 rushing TDs, while Patrick Collins has passed for 722 yards with seven touchdowns and six interceptions.
Defensively, the Eagles are led by John Norwood (three sacks) and C.J. Buenviaje (three interceptions).
Maranatha Christian has not played since Oct. 20 when the Eagles dropped a 41-13 league contest at Francis Parker.
Aztec warriors
Last Friday's 43-14 win over visiting Southwest was not enough to push Montgomery into the Division IV playoffs. The Aztecs finished the season 2-1 in league play, 5-5 overall, but fell short of making the top 12 cut.
Montgomery scored six touchdowns in the win over the Raiders. Jaheem Williams (five carries, 83 yards) rushed for two touchdowns while Keoa Gumataotao passed for 180 yards with two touchdowns and two interceptions.
David Vargas scored twice — once on a 65-yard TD catch and once on a 10-yard interception return. Isiah King had one touchdown reception while Kyrell Thomas scored on an 84-yard kick-off return.
The Aztecs finished the season with three wins in their last four games, including back-to-back wins over San Ysidro (53-6) and Southwest.
Montgomery lost, 21-17, to Vincent Memorial, last year's Division V champion, in a non-league game on Sept. 28 as a matter of reference.
Season leaders for the Aztecs included Gumataotao with 1,090 passing yards, seven touchdowns and 12 interceptions; Williams and Christian Venegas with six rushing touchdowns each; and Samson You and King with two touchdown catches each.
Gumataotao finished as the team leader with 1,329 total offensive yards, tacking on 249 rushing yards and one touchdown to his passing totals.
Defensively, Guillermo Rojas led the team with 68 tackles while Ben Larsen and Adrian Briseno recorded two interceptions and two fumble recoveries, respectively.
San Ysidro also missed the playoffs. The Cougars, who were shut out in four games, scored seven touchdowns in 10 games, including two rushing touhdowns by Jackson.
The big top
Due to a spate of upsets last Friday, both the Open Division and Division I playoff fields were scrambled quite a bit.
La Costa Canyon, which lost 38-0 to Torrey Pines in the teams' annual Beach Bowl bash, was unceremoniously dropped from the ranks of the Open Division elite to become the No. 1 seed in this year's Division I field.
The Helix Highlanders, whom many considered another solid Open Division team, were shocked in a 22-21 loss to visiting Steele Canyon to finish in a three-way tie with the Cougars and Granite Hills Eagles for this year's Grossmont Hills League title.
Correspondingly, the Highlanders also dropped from the Open Division and are seeded third in the Division I playoffs.
Eastlake set a goal to return to this year's Division I championship game after recording a runner-up finish to El Camino last year. With LLC and Helix both in Division I this year, that task becomes more difficult.
But not impossible. After all, the Mavericks (6-3) and Highlanders (6-4) did prove they are not unbeatable.
Game on!
METRO CONFERENCE
FINAL REGULAR SEASON STANDINGS
Metro-Mesa League: Eastlake Titans 4-0, 9-1; Otay Ranch Mustangs 3-1, 6-4; Olympian Eagles 2-2, 3-7; Mater Dei Catholic 1-3, 3-7; Bonita Vista Barons 0-4, 2-8
Metro-South Bay League: Hilltop Lancers 3-0, 5-5; Mar Vista Mariners 2-1, 7-3; Sweetwater Red Devils 1-2, 3-7; Chula Vista 0-3, 2-8
Metro-Pacific League: Castle Park Trojans 3-0, 6-4; Montgomery Aztecs 2-1, 5-5; Southwest Raiders 1-2, 4-6; San Ysidro Cougars 0-3, 0-10
CIF football playoffs to include nine Metro teams
Overall, nine Metro Conference teams received admission to this year's San Diego Section football playoffs.
Metro-Mesa League champion Eastlake and Metro-Mesa runner-up Otay Ranch head the local pack in the Division I field.
Olympian will compete in the Division II field while Metro-South Bay League champion Hilltop secured a berth in the Division III field.
The remaining three Metro-South Bay League teams — Mar Vista, Chula Vista and Sweetwater — are included in the Division IV field.
Southwest joins Metro-Pacific League champion Castle Park in the Division V field.
Eastlake (seeded second) and Mar Vista (seeded fourth) received byes in the first round and will host as yet determined opponents in the quarterfinal round on Nov. 9.
All other seven Metro qualifiers will be in action this Friday, Nov. 2.
Castle Park (seeded eighth) will host Maranatha Christian (seeded ninth).
Hilltop (seeded 12th) will host Morse (seeded fifth).
Otay Ranch (seeded 10th) will play at Oceanside (seeded seventh).
Olympian (seeded ninth) will play at Ramona (seeded eighth).
Chula Vista (seeded ninth) will play at Coronado (seeded eighth).
Sweetwater (seeded 11th) will play at Serra (seeded sixth).
Southwest (seeded 11th) will play at Vincent Memorial (seeded sixth).
All games are at 7 p.m.
First-round winners advance to the quarterfinal round.
Semifinal games are scheduled Nov. 16.
The Division II and Division IV championship games are scheduled Nov. 23 at Southwestern College.
The Division I and Division III championship games are scheduled Nov. 24 at Southwestern College.
The Open Division championship game is scheduled Nov. 17 at Southwestern College while the Division V championship game is scheduled Nov. 23 at Otay Ranch high School.
Open Division teams include top-seeded Torrey Pines (9-0), second-seeded Cathedral Catholic (9-1), third-seeded Carlsbad (6-3) and fourth-seeded San Marcos (8-1).
The four-team Open Division playoffs feature just two rounds. The semifinal round is Nov. 9, with the two winners advancing to the championship game.
SAN DIEGO SECTION PLAYOFF PREVIEWS
Division I
Otay Ranch (6-4) at Oceanside (5-5)
A win over the Pirates will land the Mustangs a rematch against Eastlake, so there is much to play for in Friday's game. Team leaders for Otay Ranch, which has won of its last five games, include dual-threat quarterback Jonte Stewart with 1,120 passing yards and 595 rushing yards. Stewart has thrown nine touchdown passes and scored five rushing touchdowns. Noah Isley tops the Mustangs with 725 rushing yards and six touchdowns in that department. Boogie Phillips paces the team's receiving corps with four touchdowns.
Defensive leaders for Otay Ranch include Miguel Felix with 107 tackles, Dylan Zolezzi with seven sacks, Vita Hafoka with four interceptions and Cameron Galloway with two fumble recoveries.
Oceanside is led by dual-threat quarterback Kyrim Beaham, who has logged 1,877 passing yards and 18 touchdowns to go with 908 rushing yards and 10 touchdowns. Kavika Tua has rushed for 805 yards and 12 touchdowns.
Division II
Olympian (3-7) at Ramona (6-3)
Olympian finished 2-2 in Metro-Mesa League play as the league's third place team. The Eagles entered the playoffs having won two of their final three regular season games after topping Mater Dei Catholic (35-7 on Oct. 12) and Bonita Vista (47-7 last Friday).
"We have a little momentum heading into the playoffs," OHS head coach Paul Van Nostrand acknowledged. "It will take a solid team effort in all three phases: offense, defense and special teams."
Team leaders for the Eagles include Blake Yamamoto with 433 rushing yards, quarterback Lukas Hamilton with 1,108 passing yards and Anthony Gilpin Jr. with 526 receiving yards. Damarian Thornton (368 receiving yards, 268 rushing yards) leads Olympian with seven touchdowns (four receiving, three rushing).
Olympian has scored 15 rushing touchdowns on the season. Yamamoto leads the team with five rushing touchdowns, followed by Arnold Escano with four rushing touchdowns. Hamilton has thrown six touchdown passes.
Defensive leaders for Olympian include Jared Desmond with 142 tackles, Jonah Guerrero with three sacks, and Berry Buxton and Thornton with three interceptions each.
Ramona finished runner-up in last year's Division II section final to Steele Canyon. The Bulldogs have won three of their last four games, falling 49-10 to Valley Center in last Friday's Valley League championship game.
Ramona is averaging 218.2 rushing yards per game, led by senior Sean McDonald (1,183 yards, 12 touchdowns). Quarterback Derek Diamond has thrown for 934 yards with seven touchdowns and eight interceptions.
The winner of Friday's game plays at top-seeded Granite Hills (9-1).
DIVISION IV
Sweetwater (3-7) at Serra (7-3)
Sweetwater enters postseason play as the No. 11 seed among Division IV teams and will play at sixth-seeded Serra (7-3) in Friday's first-round match-up. The Red Devils ended regular season play with three wins in their last six games after opening the season 0-4.
"It has been a rollercoaster type of season, but I am proud of the way our guys battled all the adversities we've had to endure," SuHi head coach Bryan Wagner said. "We may have backed into the playoffs, but we haven't been in four years, so it will be a great experience."
Luciano Estopier leads Sweetwater with 1,055 rushing yards while Adrian Gutierrez has passed for 624 yards with five touchdowns against seven interceptions. Julian Torres paces SuHI receivers with 18 catches for 329 yards.
Sweetwater will meet a red-hot Conquistadors team that has won its last seven games, including last Friday's 54-0 City-Central League win at Coronado. Dustan Ellison rushed for 212 yards and scored two touchdowns in last Friday's win over the Islanders while signal-caller Timmy Zebroski passed for three touchdowns.
Zebroski has passed for 1,503 yards with 17 touchdowns and four interceptions while Ellison has rushed for 1,152 yards and scored a team-leading 18 touchdowns, including 17 rushing TDs.
The winner of Friday's game plays at third-seeded Del Norte (6-4).
DIVISION V
Southwest (4-6) at Vincent Memorial (7-3)
Southwest dropped its final regular season game, 43-14, at Montgomery last Friday to finish 1-2 in Metro-Pacific League play. The Raiders enter the playoffs with two wins in their last five games.
Heading into the team's final game, Daniel Belton had rushed for 755 yards and scored 15 touchdowns in eight games while Aaron Hidalgo had passed for 595 yards with five touchdowns and three interceptions in five games.
Defensively, Belton has racked up a team-leading 64 tackles, including 13 tackles for a loss, while Joel Salazar had recorded three fumble recoveries in five games.
Vincent Memorial won last year's Division V championship and advanced as far as the state championship game, losing 38-20 to visiting San Francisco Galileo in the Division 6-A title game.
The Scots, who finished 1-2 in Manzanita League play behind Mountain Empire (3-0 in league) and Holtville (2-1 in league), run a fairly balanced offense, averaging 177.6 rushing yards per game and 140.1 passing yards per game.
Herman Olivas has passed for 1,119 yards with nine touchdowns and 11 interceptions while Daniel Rizzo has rushed for 777 yards with eight touchdowns.
Baraquiel Fimbres has been a one-man wrecking crew on defense for Vincent memorial with 94 tackles, including 27 tackles for a loss, eight sacks and one fumble recovery.
The winner of Friday's game plays at third-seeded Francis Parker (9-1).