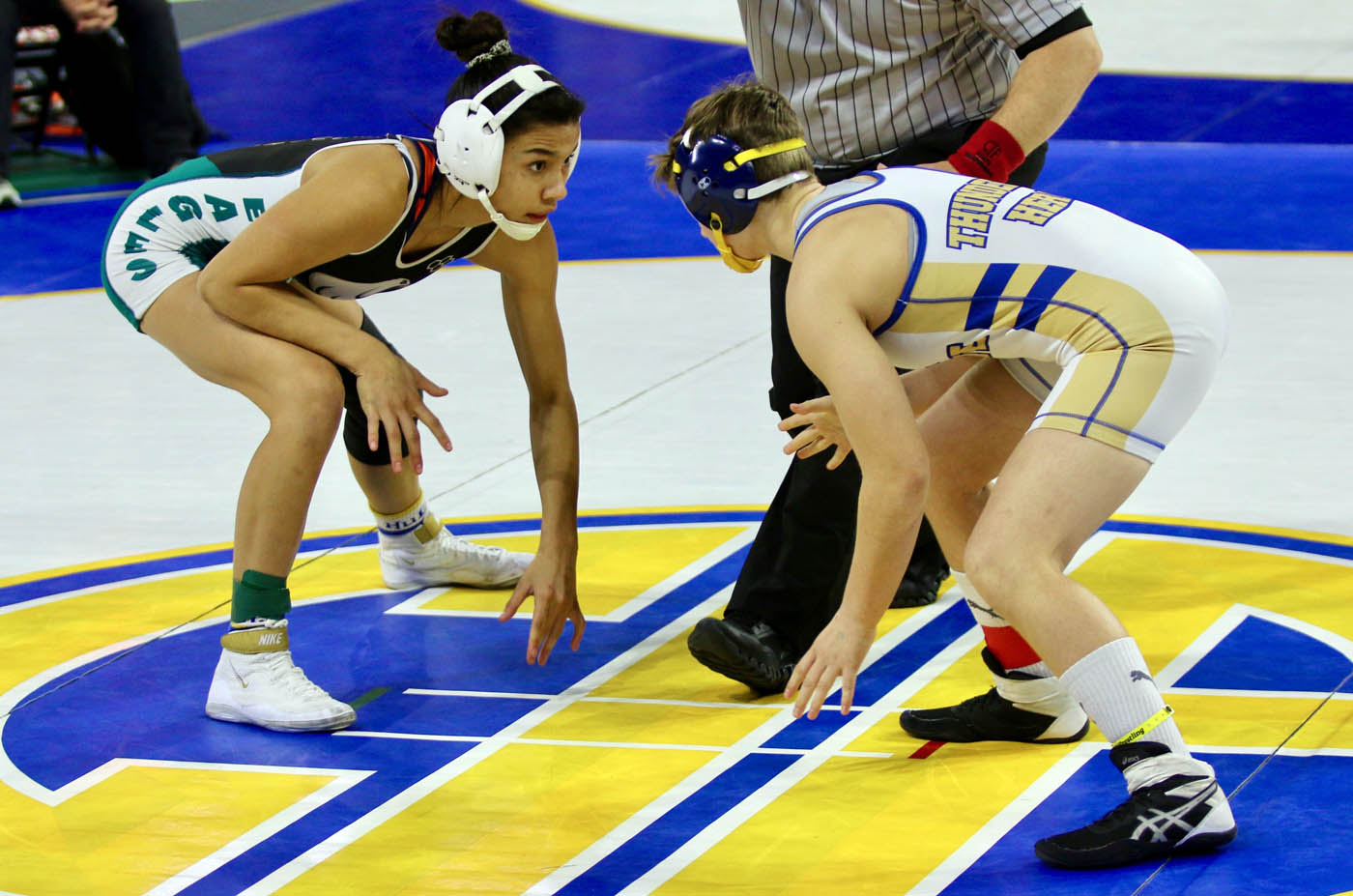 It was a history-making moment when Olympian High School senior Yesenia DeGuire stepped onto the awards platform with her eighth-place medal to conclude last weekend's California state wrestling tournament at Bakersfield's Mechanics Arena.
In doing so, DeGuire, a three-time state meet qualifier, became the Metro Conference's first female wrestler to capture a state medal.
"It's exciting," said DeGuire, who competed at 113 pounds. "With each tournament I've gained experience. I feel accomplished getting the state medal. It's a special feeling."
Each weight class included 35 entrants from around the Golden State.
DeGuire, a two-time section champion, finished 3-3 in six matches at last weekend's state tournament, which took place Feb. 27-29. She finished 2-0 on the first day to advance to the quarterfinals.
She won her opening match in sudden victory, 4-2, over Anaheim's Victoria Buchholz then won by a 1:36 pin in her second match against El Camino Real's Alexandra Waitsman.
However, DeGuire lost her quarterfinal match when she was pinned in 3:46 by Yucaipa's Leah Gaitan, a returning state champion.
The Lady Eagle grappler defeated Northview's Leilani Lazaro by a 2-1 decision to remain in contention for a state medal.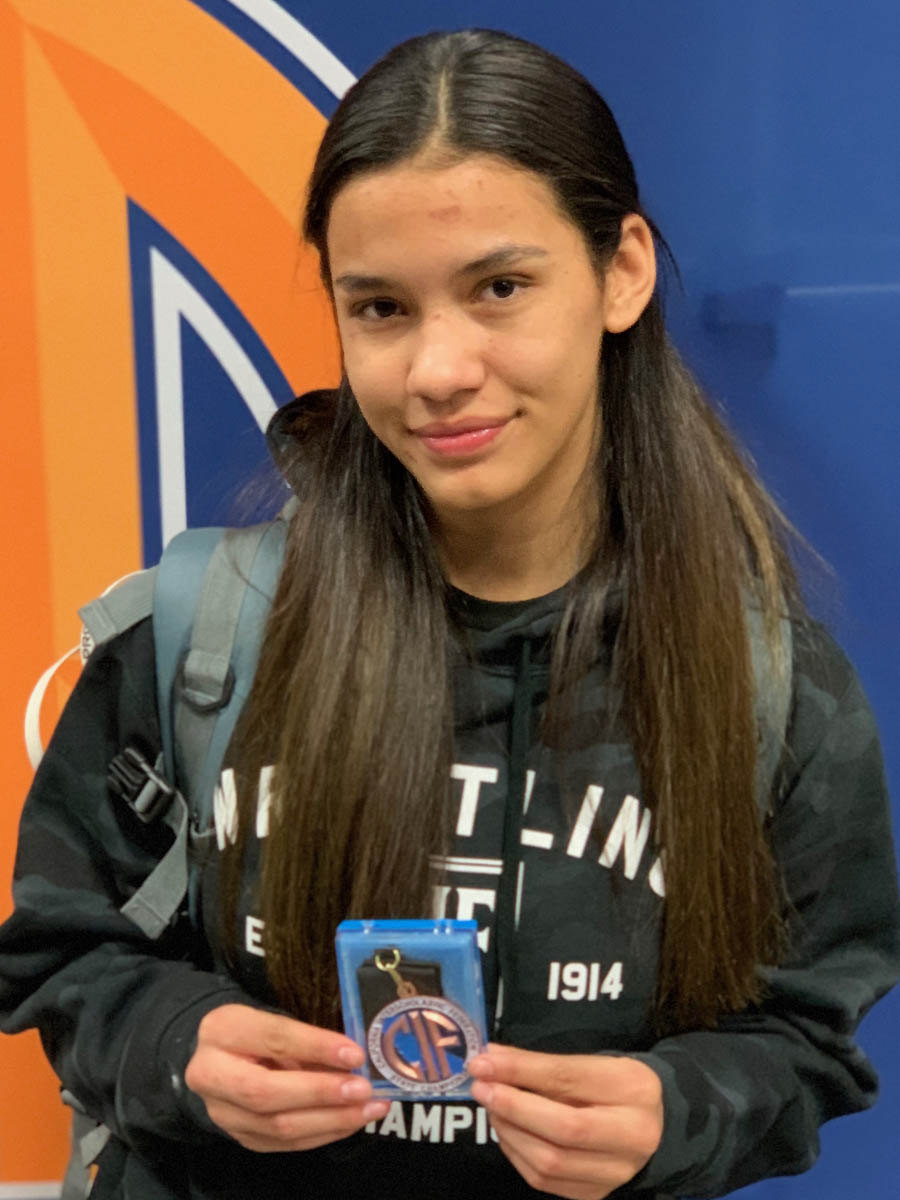 DeGuire wrestled two more matches.
She lost by a 1:33 pin to Davis' Adrienna Turner to drop to the seventh-place match. The Olympian mat woman then closed out her season with a 9-2 loss to Elk Grove's Sarah Null to place eighth.
"Competition-wise, it's way harder than San Diego," said DeGuire, who finished her senior season with a 37-6 record that included 31 pins. "There's so much more out there."
DeGuire is the first Olympian wrestler — male or female — to earn a state medal.
Hilltop High School athletic director Nancy Acerrio, who sits on the state executive board, attended the event.
"I was in awe," Acerrio said. "I was so impressed. All the girls were excited to be there. The place was packed all three days."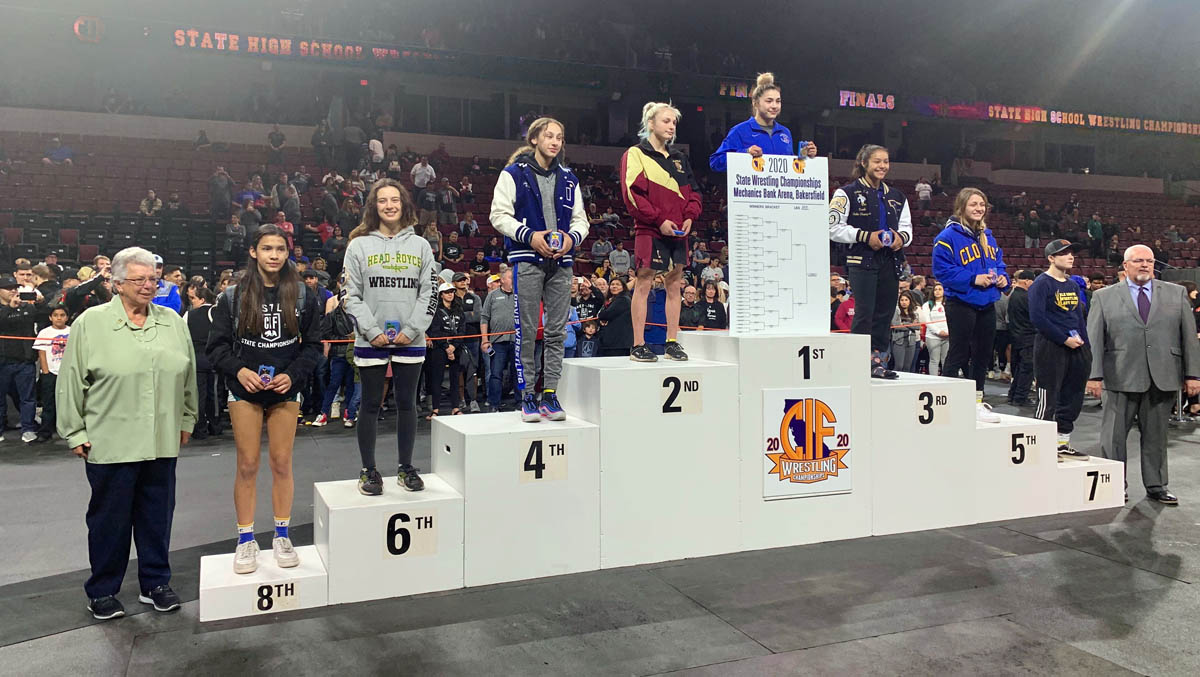 DeGuire was among 12 Metro Conference qualifiers for this year's state tournament. Nine advanced to the second day.
Mar Vista led the South County contingent with three qualifiers. Anya Rodriguez (128) finished 2-2 while Mary Cincotta (133) and Nuonnettra Kanzaki (139) both finished 1-2.
Eastlake, Hilltop and San Ysidro all had two state qualifiers.
Hilltop's Nahdia Barrientos (133) posted a 3-2 record, though she did not medal.
The Lady Lancer lost her first match by a 13-2 decision to Santa Ana's Mercedes Salazar but courageously fought off elimination by winning three consecutive matches, including two by pins.
Barrientos pinned Franklin-Elk Grove's Kaely Eva in 4:54 in her first consolation match, then won by a 2-0 decision over Bullard's Sara Kazarian.
Barrientos pinned La Lomas' Mari Johns in 4:31 to keep her winning streak going but eventually lost by a 57-second pin to Oak Hills' Athena Willden in her fourth consolation match.
San Ysidro's Desirae Ferguson finished 2-2 in her four matches at 128 pounds. The Lady Cougar got off to a promising start by winning her opening two matches — an injury default decision against Atwater's Ulyette Curiel and a 1:35 pin against Mission Oak's Izabella Evans.
However, Ferguson lost her next two matches by forfeit to bow out of the tournament.
Eastlake's Brooke Klomp finished 1-2 at 162 pounds. She lost her first match, won her second match, then lost her third match.
Her lone win came in a 7-6 decision over Elk Grove's Bianca Pesole.
Klomp was shut out in her other two matches — 5-0 by Walnut's Cynthia Esquivel and 8-0 by Dana Hills' Layla Donahoe.
Hilltop's Valerie Gurule-Metzig (108), San Yisdro's Alexa Rosales (123) and Eastlake's Sabrin Farha (152) all finished 0-2 in their respective weight classes.
"Competing at state was one of the biggest accomplishments I've ever had," Farha said. "I learned a lot from the other girls who weren't from San Diego — good moves, different wrestling techniques. Going to state was one of the biggest dreams I've had."
Otay Ranch's Kayla Tolentino finished 1-2 at 118 pounds. She lost her first match, won her second match, then lost her third match.
Tolentino pinned Corona's Savannah Lewis in 44 seconds but lost by pins in her other matches — 2:40 against Redwood's Melody Hernandez and 1:26 against Vintage's Natalie Scott.
Olympian had two state qualifiers. Angelina Leal, the Metro champion at 237 pounds, finished 0-2 in Bakersfield, losing both matches by pins.
Masters champion Brawley finished 18th among the 244 teams that sent wrestlers to the meet. Rancho Buena Vista tied for 34th. Ramona was 58th while La Costa Canyon was 63rd.
James Logan won the team title ahead of runner-up San Fernand and third place finisher Pitman.
The top eight place-finishers in each weight class received medals.
Overall, nine San Diego Section wrestlers earned medals — up from five the previous year.
Brawley's Savannah Gomez finished second in her 139-pound weight class.
Calexico's Karen Salais (108) and Valley Center's Sierra Mefford (162) both finished third.
The section had two wrestlers place at 118 pounds: Ramona's Berlin Kiddoo and Steele Canyon's Toren Dunbar.
Kiddoo finished 5-2 with four pins while Dunbar finished 4-3 with two pins.
Imperial's Ariah Barragan placed fifth at 123 pounds.
The section had two more medalists at 152 pounds: RBV's Cassandra Betancourt and La Costa Canyon's Maddie Konopka.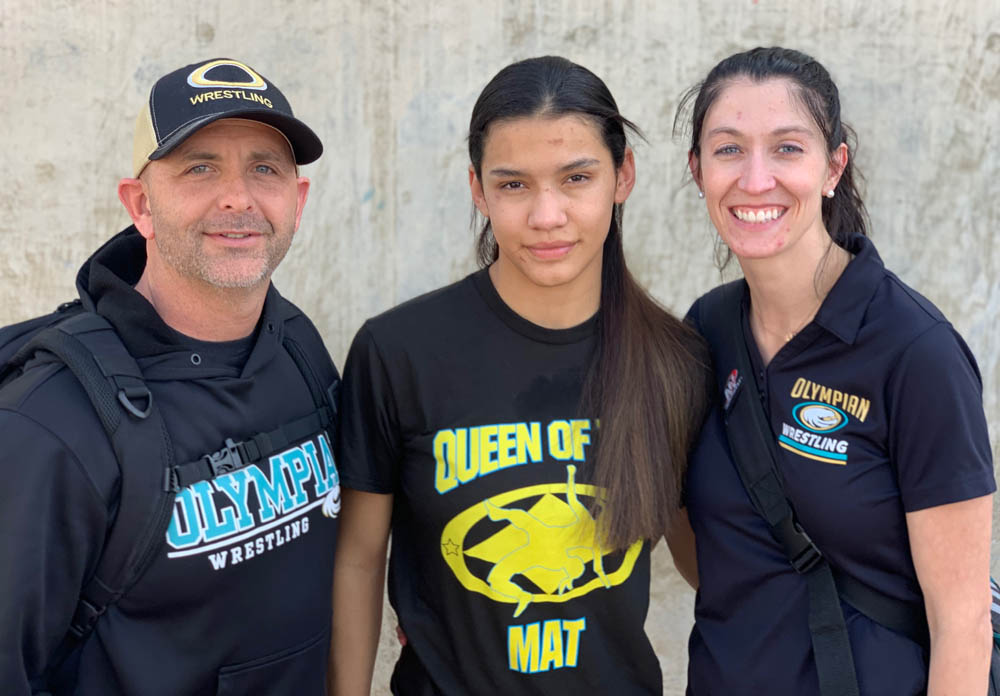 Metro man men encounter stiff competition at state tournament
The San Diego Section finished last weekend's boys wrestling state championship tournament in Bakersfield with two top 10 teams, one individual state champion and four finalists.
But for the four Metro Conference qualifiers, it was over all too soon.
Eastlake's Jesus Plascencia (113), Olympian's Ralph Magsino (120) and Bonita Vista's Ricardo Castillo (138) all finished 0-2.
Olympian's Zachary Ramos (39-6 with 30 pins) had the most success of the quartet by finishing 2-2 in his 113-pound division.
"It was very competitive," said Ramos, who finished fourth in his weight class at the preceding San Diego Masters state-qualifying tournament. "I had a lot of matches where people had different styles of wrestling."
Ramos lost his opening match by a 3:41 pin to Oakdale's Brayden Abell (the eventual sixth-place medalist) but quickly rebounded with a pair of wins by minor decision to avoid quick elimination in the consolation wrestle-backs.
Ramos defeated Union Mine's Michael Mallot 5-0 and Redwood's Alex Calderon 15-8.
But the Eagle mat man's run ended in the third consolation round with a 1-0 setback to Palma's Zack Thompson.
Magsino (32-12 with 24 pins) lost his first match at the tournament by a 2:42 fall to St. John Bosco's Maxximus Martinez, the eventual third-place finisher.
"It was very surreal and eventful," Magsino said.
Poway finished third in the team standings while Rancho Bernardo placed ninth.
Poway's Andre Gonzalez won the state title at 108 pounds while Rancho Bernardo's Jaden Le (147) and Tyler Badgett (154), along with La Costa Canyon's Joe Curtis (184), all captured second-place medals.
Overall, the San Diego Section finished with nine medalists, including five from Poway and three from Rancho Bernardo.