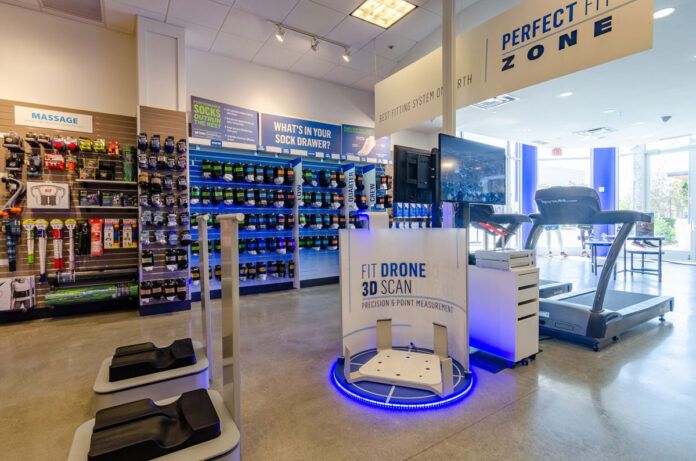 A San Diego based running, walking and fitness retailer, Road Runner Sports Chula Vista opened its first South Bay location in the Otay Ranch Town Center with its grand opening kickoff on Oct. 7 through Oct. 9. The new storefront features 4,000 square feet of retail space and is the retailer's 44th location in the U.S.
Along with the grand opening, Road Runner partnered with Project Sole, inviting customers to bring used or unwanted shoes that will be distributed to communities in need through the charity's mission of "Give compassion and a pair of shoes." For every used or unwanted shoe brought to the store, Project Sole also donates three dollars to Athletes Helping Athletes, a nonprofit founded by Road Runner Sports to provide free adaptive bikes to children with permanent physical disabilities.
Road Runner Sports Director of Customer Acquisition Sean Peterson said Road Runner is a San Diego family-owned and operated entity that started in Del Mar in the garage of its owner Mike Gotfredson in 1983.
"We are so rooted to San Diego we felt that we had an opportunity to better serve our existing customers who live in the southern part of the San Diego metro region," he said. "We are constantly listening to our customer feedback, and they kept saying we need a store down here. So, we were so excited to meet them where they were and provide a better opportunity for the Chula Vista area."
Peterson said knowing that Chula Vista is such a "rich and vibrant community," including the running and fitness community, the new location is a perfect fit for Road Runner.
"Anecdotally, being close to the Olympic Training Center, that facility was a fun bonus as well," he said. "It is all in the space of fitness and running and living and active, healthy lifestyle."
In terms of location, Peterson said it is a fantastic spot, great mall, great walk-by traffic.
"The events they do consistently, and the support from the complex and the community, it was just an ideal spot for us," he said. "We are so thrilled what they have going on weekly with their farmer's market, the vendors, they block off the road regularly. It feels very community oriented, and we aspire to live within those spaces."
Beside that, Peterson said it wanted to give opportunity to its international market.
"We knew we already had people coming up from Tijuana shopping our main store in Kearny Mesa and having one closer in Chula Vista allows them access to the top running and fitness gear that they did not have access to previously. It is an easier commute for those trying to make their way across the border and we wanted to make sure that we provide opportunities for everyone down there."
Peterson said Road Runner is primarily running specialty store, but it is more the shoes that will help you with your running, walking, and general fitness.
"We do have our house label apparel Korsa, apparel we have built off of 40 years of experience in the industry. We also have our own label Rgear, house socks and custom insoles as well. It is kind of our center point of our retail experience is that fitting process. We come in, have you walk or run on a treadmill, analyze what is going on with your gait, and we then make recommendations for you to run healthy, stay happy, and stay injury free through the full process."
Petersons said Road Runner has several locations in San Diego. Carlsbad, Solana Beach, Kearny Mesa, and now Chula Vista. He said Mike Gotfredson is still very much involved, and Mike Gotfredson Jr. is slowly taking over the reins, so it is still very much a loyal San Diego family business.