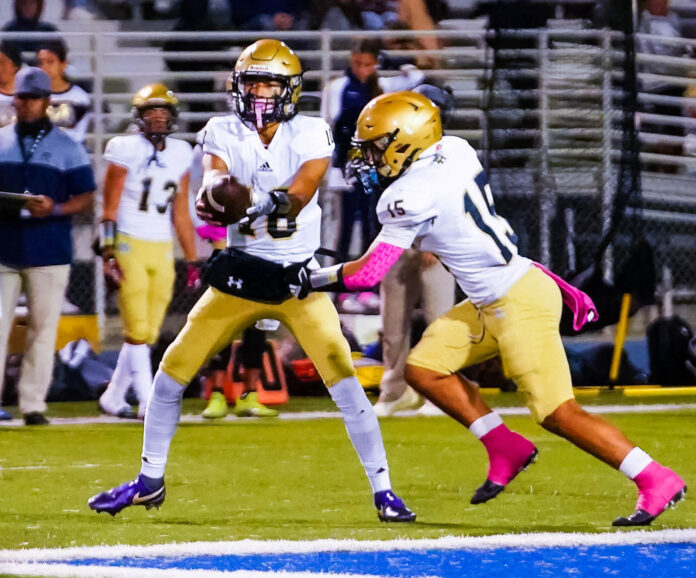 While each team has three league games remaining, there is no underestimating Friday's Mesa League showdown between the Eastlake Titans and host Mater Dei Catholic Crusaders, both undefeated in league play thus far.
Mater Dei Catholic (2-0 in league, 6-0 overall) passed its first big test of league play by defeating Otay Ranch, 41-7, in a game played at Eastlake High School last Friday. The game was tied, 7-7, before the Crusaders went on a scoring rampage to remain undefeated on the season.
Eastlake (2-0 in league, 5-2 overall) shut out host Hilltop, 50-0, last Friday to keep pace with Mater Dei Catholic in the league standings. The Titans spoiled the Lancers' homecoming game by jumping out to a 20-0 first quarter lead en route to a 34-0 halftime edge.
Mater Dei Catholic enters Friday's game ranked fourth overall among San Diego Section teams by MaxPreps while Eastlake is ranked 12th.
In the San Diego Section power rankings, the Titans are 10th among Division I teams while the Crusaders are first among Division III teams.
After Friday's game, there are two weeks left in regular season play.
The scenario is set for a dramatic finish. The winner of Friday's game gets the inside track to this year's league title while the possibility is still open for either a co-championship or even a tri-championship.
Otay Ranch enters Friday's game against Bonita Vista (1-1 in league, 3-3 overall) at Southwestern College 23rd overall in the MaxPreps rankings and sixth among Division II teams in the section power rankings.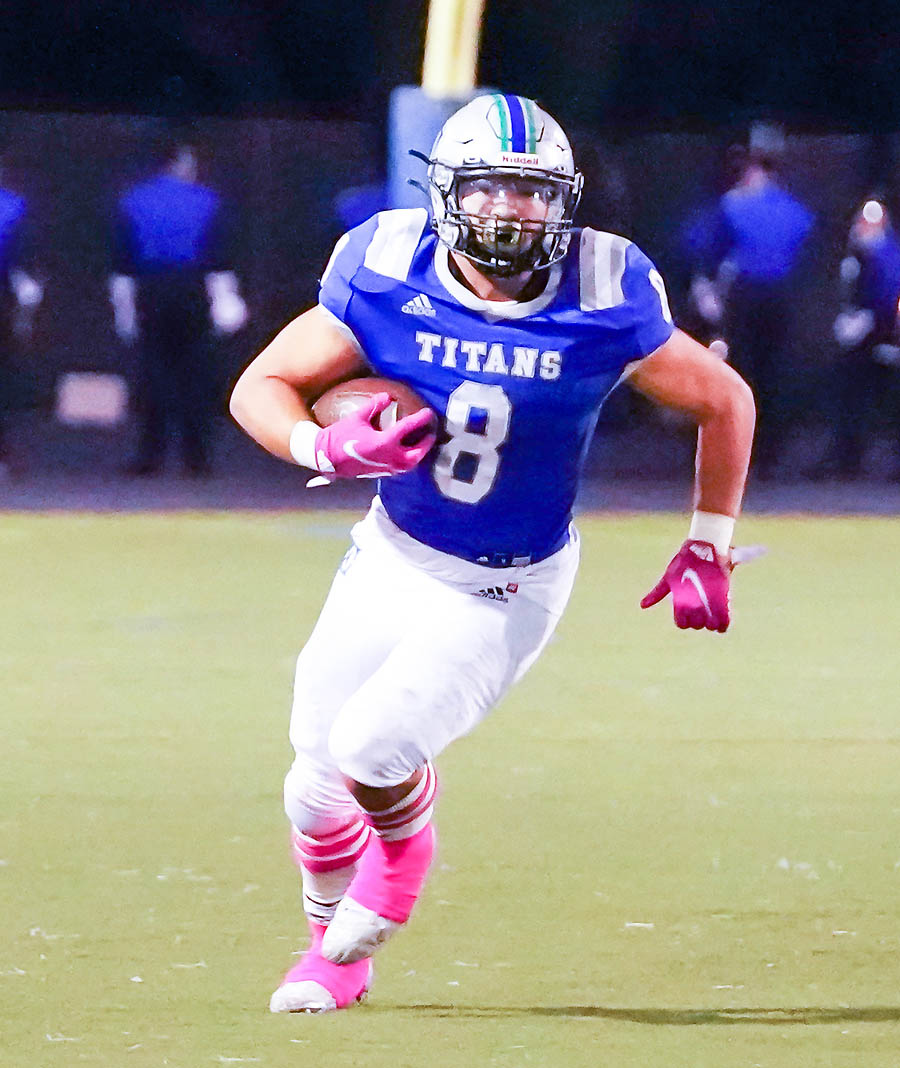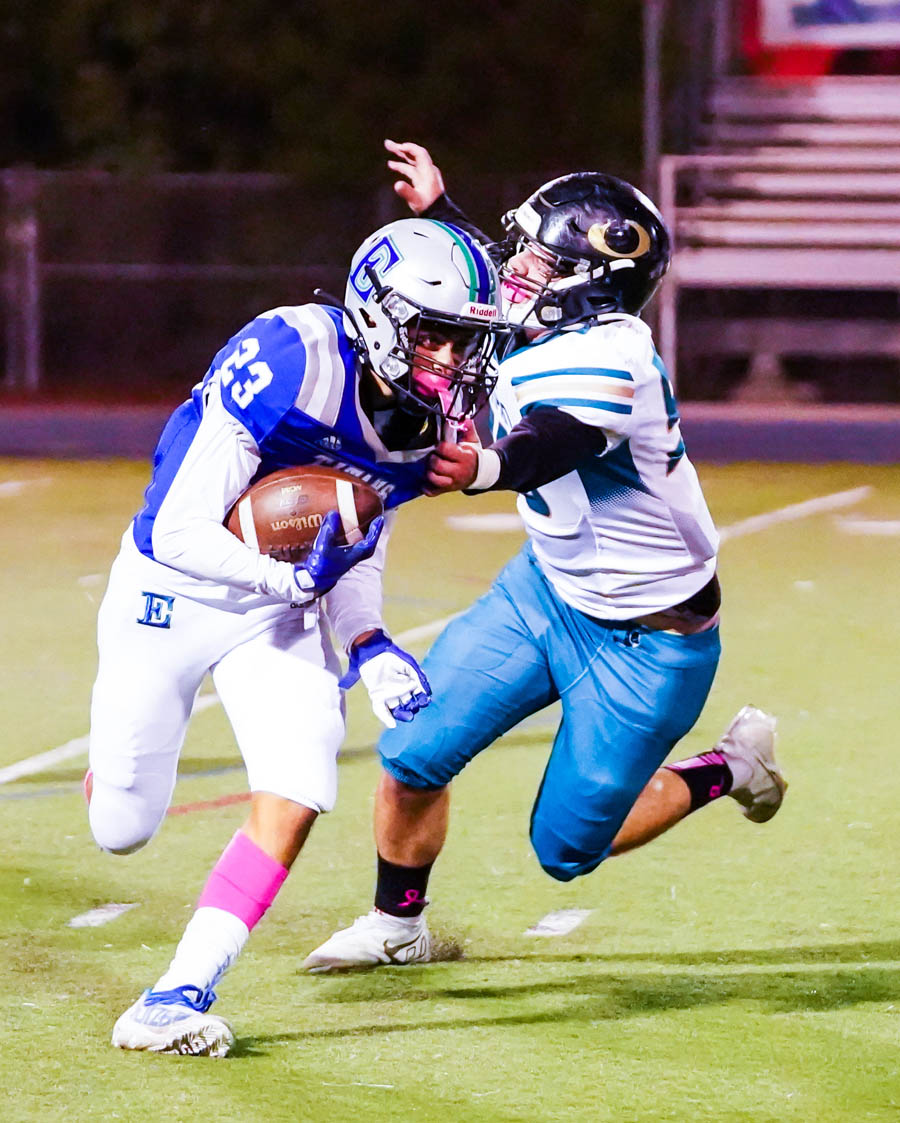 All three teams — Mater Dei Catholic, Eastlake and Otay Ranch — have to play their best if they are going to have a shot at hanging a championship banner in their respective gyms this season.
"We are very excited for this upcoming game," Eastlake head coach Jose Mendoza said. "It seems to us that every league game is important in the quest for the league title. Our focus is one game at a time; this week it is Mater Dei Catholic. We will be focus on ourselves and on our opponent's strengths and weakness."
There doesn't seem to be too many weaknesses where either team is concerned.
Eastlake piled up 405 yards and scored seven touchdowns against the Lancers (0-2, 1-6) last Friday.
Sophomore quarterback Johnny Limon returned to the lineup, completing 12 of 19 passes for 171 yards with three touchdowns. Senior Jordan Blondin was perfect on all five passing attempts he took, throwing two touchdowns. Between them, the Titans racked up 242 passing yards.
Eastlake averaged 5.1 yards per carry on the ground, scoring twice on runs by senior Dominick Wright (two carries, 55 yards) and sophomore Parker Patterson (five carries, 34 yards).
The team's five touchdown passes were spread around to five receivers: senior Justin Cardoza (one catch, 20 yards), senior Nicolas Peters (one catch, 11 yards), Blondin (four catches, 55 yards), senior Estabond Moss (two catches, 38 yards) and senior Jayden Cortell (two catches, 26 yards).
Seniors Jayden Kendricks and Christian Aguilar led the team defensively with seven tackles apiece.
Senior Isaiah Hinojosa had two sacks while senior Marcus House recorded one sack. Wright had one interception while Kendricks had one fumble recovery.
Junior Kalen Jones averaged 40.0 yards on seven kickoffs; he also accumulated 91 kick-return yards.
Eight players scored points in last Friday's game for the visitors.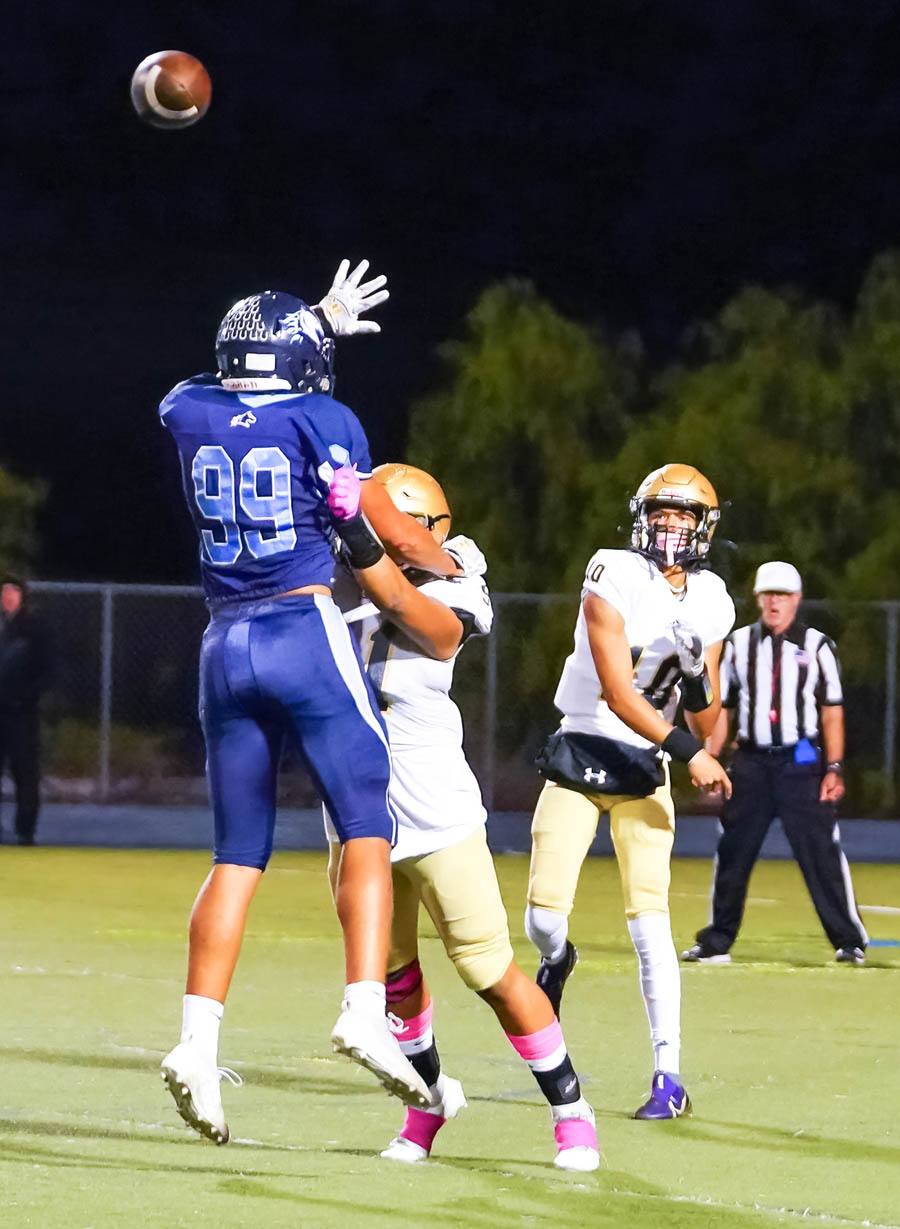 Mater Dei Catholic also profited from the passing game in last Friday's win over Otay Ranch with four touchdown passes from junior Dominic Nankil — two to junior Jerry McClure.
Isaac Faalave registered 11 tackles, seven unassisted stops, and one sack for the Mustangs. Senior Dominic Yancey also had a sack while junior Epati Faalave had one fumble recovery.
Junior signal-caller Brian Rudden fired one touchdown pass to senior Jake Baca (two catches, nine yards) but was also intercepted once.
The Crusader defense held Otay Ranch to 35 rushing yards on 21 attempts for a 1.7 yard-per-carry average and 120 total yards.
"I was very happy with the way our defense played on Friday," MDCHS coach John Joyner said. "We played fast, mistake-free and tackled very well. Otay Ranch is always a well-coached and very physical team and I felt like we were the more physical team Friday and that is very difficult to do against Otay Ranch. I think Dom Nankil played unbelievable in the second half and really led us on offense and spread the ball around great."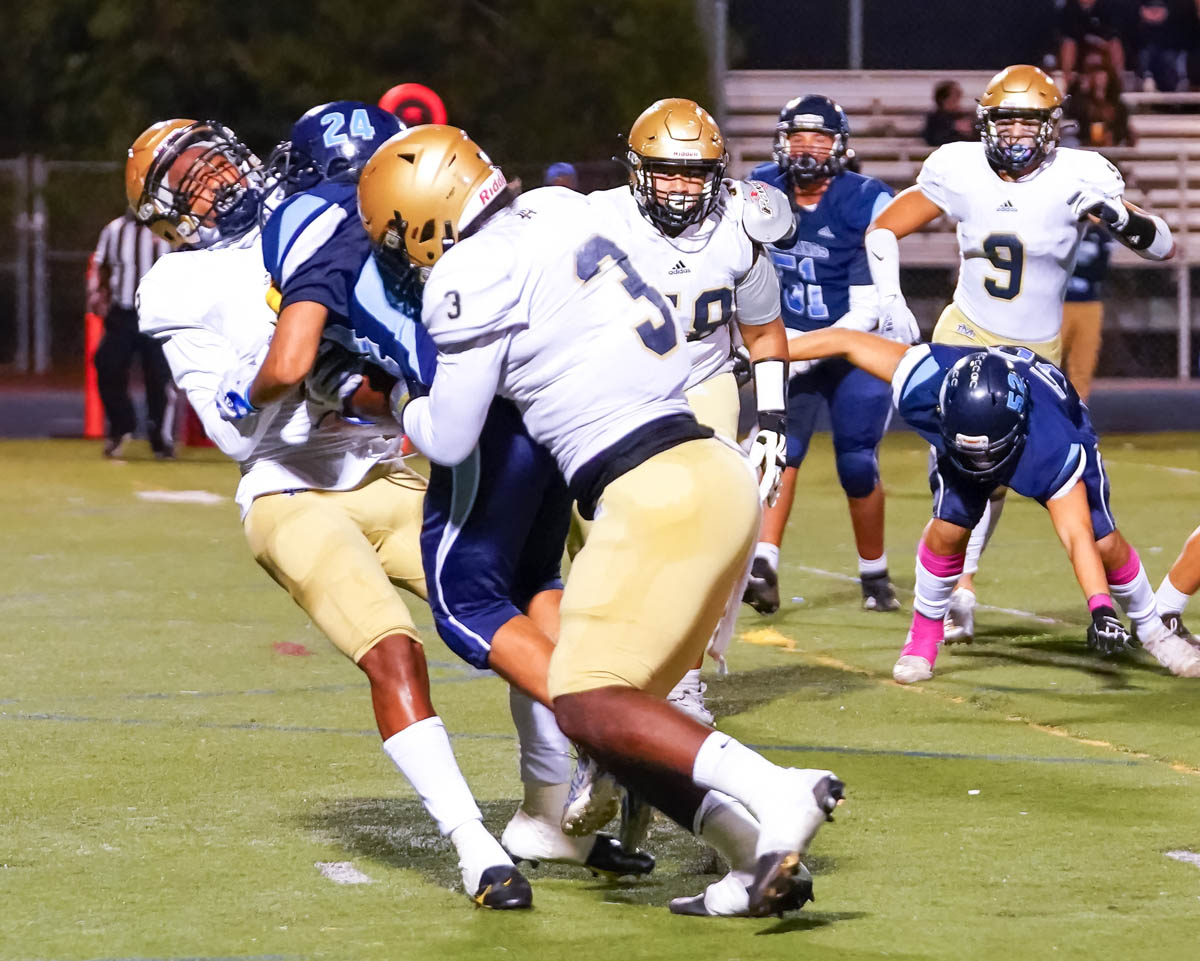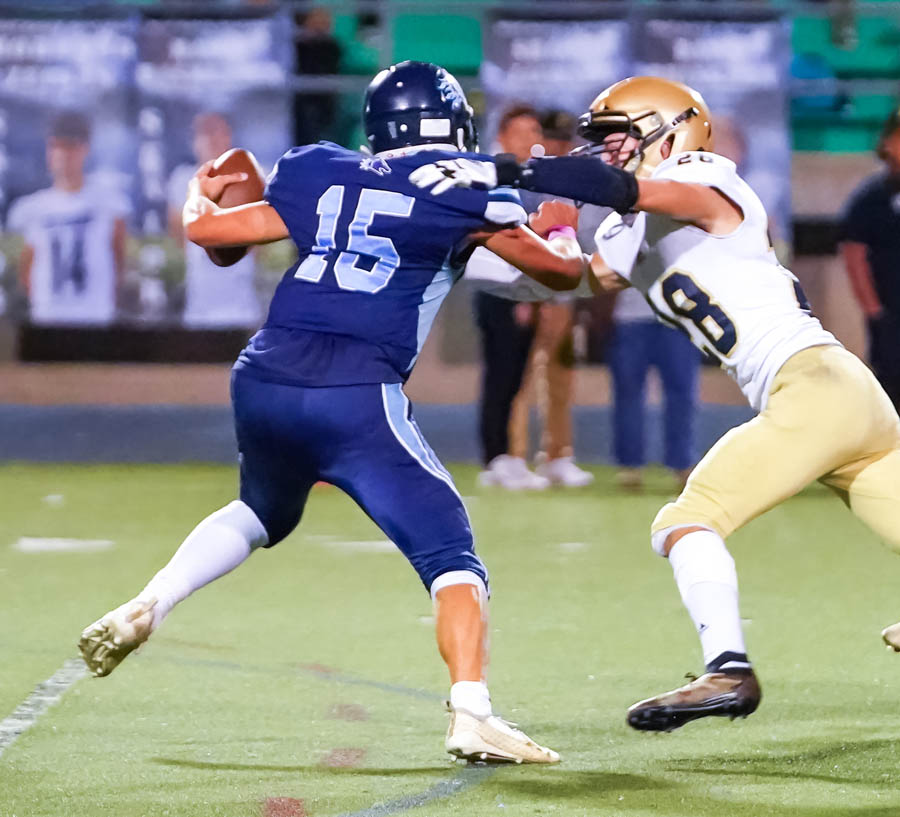 The Crusaders have performed well to date in all their "big games." They will need to raise their level of play up a notch for Eastlake.
"Our senior class and their leadership have been off the charts in these games," Joyner said. "Jason Harden, Jeremiah Cook, Taylor Lepisi, Jose Santos, Danny Lopez, Shane Cagle etc. They have all made sure we have a great week of practice and come out prepared no matter who the opponent is."
Mater Dei Catholic led a lead slip away in its spring encounter against the Titans.
"We have to match their physicality up front," Joyner said as a key to victory. "This is the best defense we have faced and maybe the best defense in San Diego. Coach Mendoza has those guys playing lights out. We cannot turn the ball over and give them short fields and we have to be able to give our running backs some room and our quarterback some time in the pocket. It will be a huge test."
Kick-off is 6:30 p.m.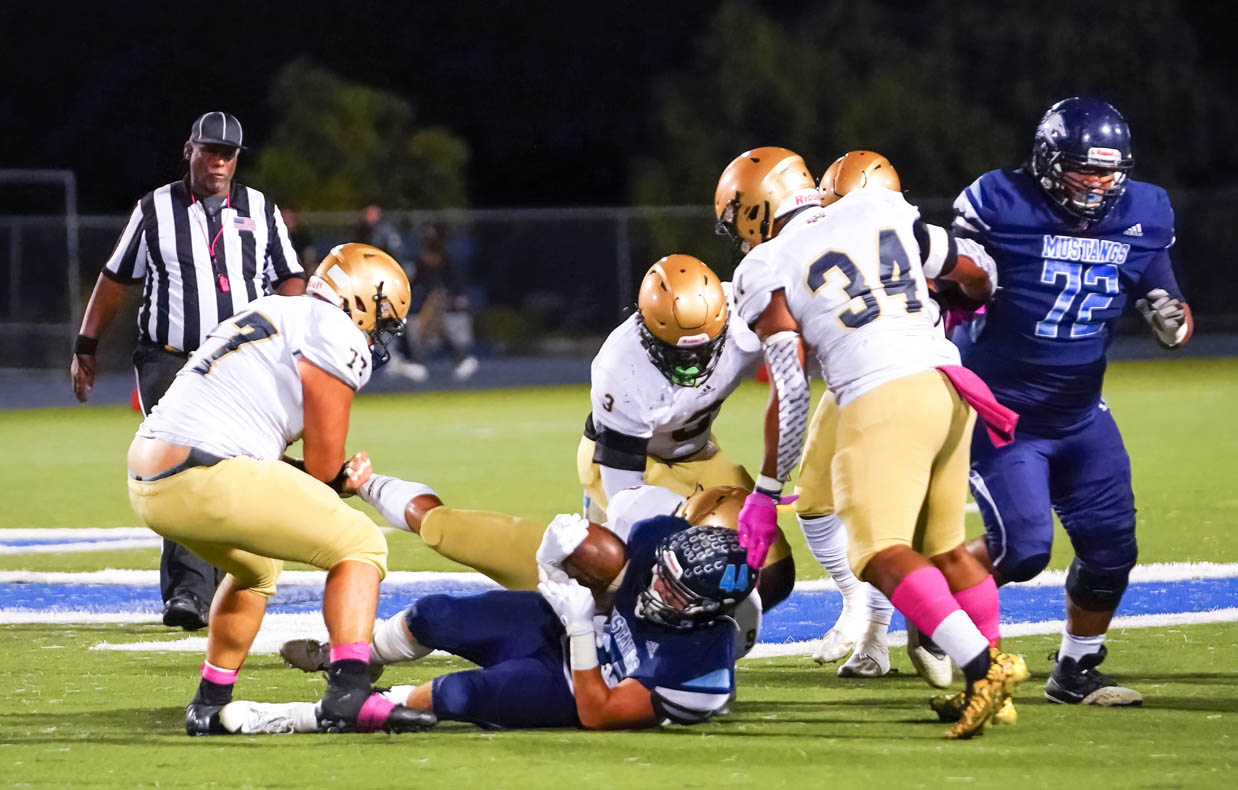 Barons clip Eagles' wings, claim first league win
The Bonita Vista Barons picked up their first Mesa League win in five years by defeating the host Olympian Eagles, 21-6, last Friday.
The Barons evened their record across the board at 1-1 in league play, 3-3 overall, while Olympian remained winless on the season (0-2, 0-6).
"It was a big win for our program and a step in the right direction," Bonita Vista head coach Tyler Arciaga said. "Olympian was down quite a few players due to being close contacts of a COVID-19 case, and they played very hard. Coach (Jimmy) Clark has a bright future there."
The Barons' last Mesa League win came in October 2016.
Senior quarterback Nate Roble-Cristobal completed 15 of 21 passes for 255 yards and two touchdowns. Junior receiver Dante Scott caught five passes for 176 yards and two scores while senior receiver Malosi Iuli had four catches for 80 yards.
Scott hauled in one TD pass for 98 yards. Roble-Cristobal, who gained 62 rushing yards, broke off a 40-yard run.
Bonita Vista, 12th in the Division III power rankings, will face Otay Ranch, sixth in the Division II power rankings this Friday.
"We have a lot of things we need to improve on in order to compete with a quality Otay Ranch team," Arciaga noted. "We have way too many penalties and need to do a better job running the football. I am hoping we can have a great week of practice and preparation as we get ready for Otay Ranch. They will be disciplined and well-coached by head coach Lance Christensen and offensive coordinator Judd Rachow."
MESA LEAGUE STANDINGS
League/Overall
Mater Dei Catholic           2-0, 6-0
Eastlake                         2-0, 5-2
Bonita Vista                    1-1, 3-3
Otay Ranch                     1-1, 2-4
Hilltop                            0-2, 1-6
Olympian                        0-2, 0-6
Friday, Oct. 8
Mater Dei Catholic 41, Otay Ranch 7
Eastlake 50, Hilltop 0
Bonita Vista 21, Olympian 6
Friday, Oct. 15
Eastlake at Mater Dei Catholic, 6:30 p.m.
Olympian at Hilltop, 6:30 p.m.
Otay Ranch vs, Bonita Vista at Southwestern College, 6:30 p.m.
San Diego Section Power Rankings
Division I: 1. Carlsbad (7-0), 2. Mission Hills (5-2), 3. Cathedral Catholic (5-2), 4. Torrey Pines (4-2), 5. Lincoln (6-1), 6. Helix (3-3), 7. Granite Hills (4-3), 8. Madison (5-2), 9. La Costa Canyon (4-3), 10. Eastlake (5-2), 11. El Camino (3-4), 12. Grossmont (2-5), 13. Oceanside (3-4), 14. Steele Canyon (1-6), 15. San Marcos (1-6), 16. St. Augustine (1-7)
Division II: 1. Scripps Ranch (6-0), 2. Poway (5-2), 3. La Jolla (3-4), 4. Christian (4-2), 5. Valley Center (4-3), 6. Otay Ranch (2-4), 7. Rancho Bernardo (4-3), 8. Mira Mesa (3-2), 9. San Diego (7-1), 10. Central Union (3-4), 11. San Pasqual (4-3), 12. Morse (3-4), 13. Bishop's (5-2), 14. Point Loma (3-4), 15. Vista (2-5), 16. Olympian (0-6)
Division III: 1. Mater Dei Catholic (6-0), 2. Mt. Carmel (7-0), 3. Santa Fe Christian (7-0), 4. Santana (6-1), 5. Ramona (5-2), 6. West Hills (7-0), 7. El Capitan (6-1), 8. Brawley (6-2), 9. Imperial (4-3), 10. Westview (2-5), 11. Orange Glen (4-2), 12. Bonita Vista (3-3), 13. Canyon Hills (1-6), 14. Escondido (3-5), 15. Hilltop (1-6), 16. Kearny (0-6), 17. Monte Vista (0-7)
Division IV: 1. Coronado (5-2), 2. Rancho Buena Vista (5-3), 3. Patrick Henry (5-2), 4. University City (3-4), 5. Sweetwater (3-3), 6. Valhalla (2-5), 7. Del Norte (3-4-1), 8. Mount Miguel (2-3), 9. Chula Vista (4-2), 10. La Jolla Country Day (5-2), 11. Mar Vista (4-3), 12. Montgomery (3-3), 13. Vincent Memorial (5-2), 14. Francis Parker (3-4), 15. Southwest El Centro (2-5), 16. Classical Academy (1-6), 17. Castle Park (0-8), 18. Hoover (2-5)
Division V: 1. Palo Verde Valley (5-2), 2. Mission Bay (6-1), 3. Army-Navy Academy (4-3), 4. Holtville (5-2), 5. Escondido Charter (7-0), 6. Fallbrook (2-5), 7. Calexico (4-3), 8. Crawford (2-6), 9. El Cajon Valley (2-6), 10. Foothills Christian (3-3), 11. San Ysidro (3-3), 12. Mountain Empire (3-4), 13. O'Farrell Charter (1-6), 14. Calipatria (2-4), 15. Maranatha Christian (1-6), 16. Tri-City Christian (1-6), 17. Clairemont (0-8)
MaxPreps Rankings
Top 25: 1. Cathedral Catholic (5-2), 2. Carlsbad (7-0), 3. Lincoln (6-1), 4. Mater Dei Catholic (6-0), 5. Mission Hills (5-2), 6. Torrey Pines (4-2), 7. Scripps Ranch (6-0), 8. Helix (3-3), 9. Madison (5-2), 10. Mt. Carmel (7-0), 11. Poway (5-2), 12. Eastlake (5-2), 13. La Costa Canyon (4-3), 14. Ramona (5-2), 15. Oceanside (3-4), 16. Rancho Bernardo (4-3), 17. La Lolla (3-4), 18. El Camino (2-4), 19. Santa Fe Christian (7-0), 20. Granite Hills (4-3), 21. Mira Mesa (4-2), 22. St. Augustine (1-7), 23. Otay Ranch (2-4), 24. Patrick Henry (5-2), 25. San Diego (7-1)