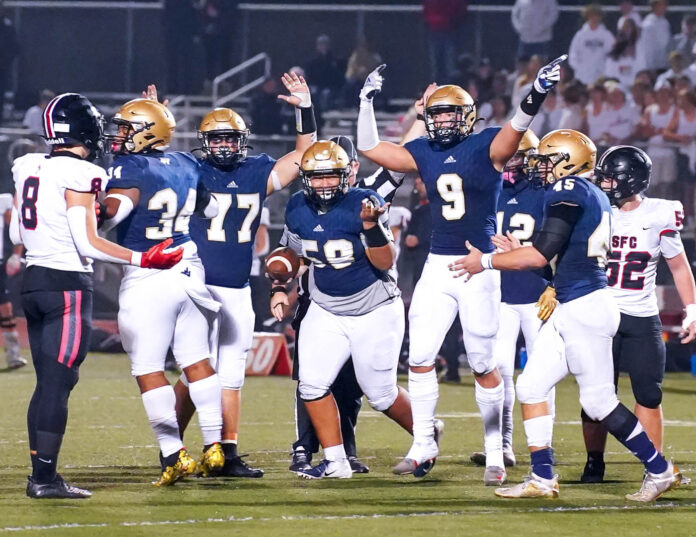 The Mater Dei Catholic High School football team missed two games on its regular season schedule because of COVID-19 protocols. The Crusaders appear to have more than made up for that missed time in the San Diego Section playoffs.
Mater Dei Catholic recorded its second consecutive blowout victory in postseason play to land a berth in Saturday's Division III championship game.
The undefeated Crusaders (10-0) will play the fourth-seeded Ramona Bulldogs (9-3) for the division title. Kick-off is 1 p.m. at Escondido High School.
Mater Dei Catholic is the only undefeated team remaining in the section playoffs and will be out to continue a season-long winning streak that began with a 53-21 non-league victory against visiting Brawley on Aug. 20.
The Crusaders opened the playoffs with a 55-0 win over seventh-seeded El Capitan on Nov. 12 and followed that with an equally intrepid 40-8 victory against third-seeded Santa Fe Christian last Friday.
The Crusaders and Eagles entered last Friday's game with a combined record of 19-0.
"The fact that Santa Fe Christian and Mater Dei were undefeated made the game very special," Crusaders head coach John Joyner said. "They have a great program and it was great to compete with them."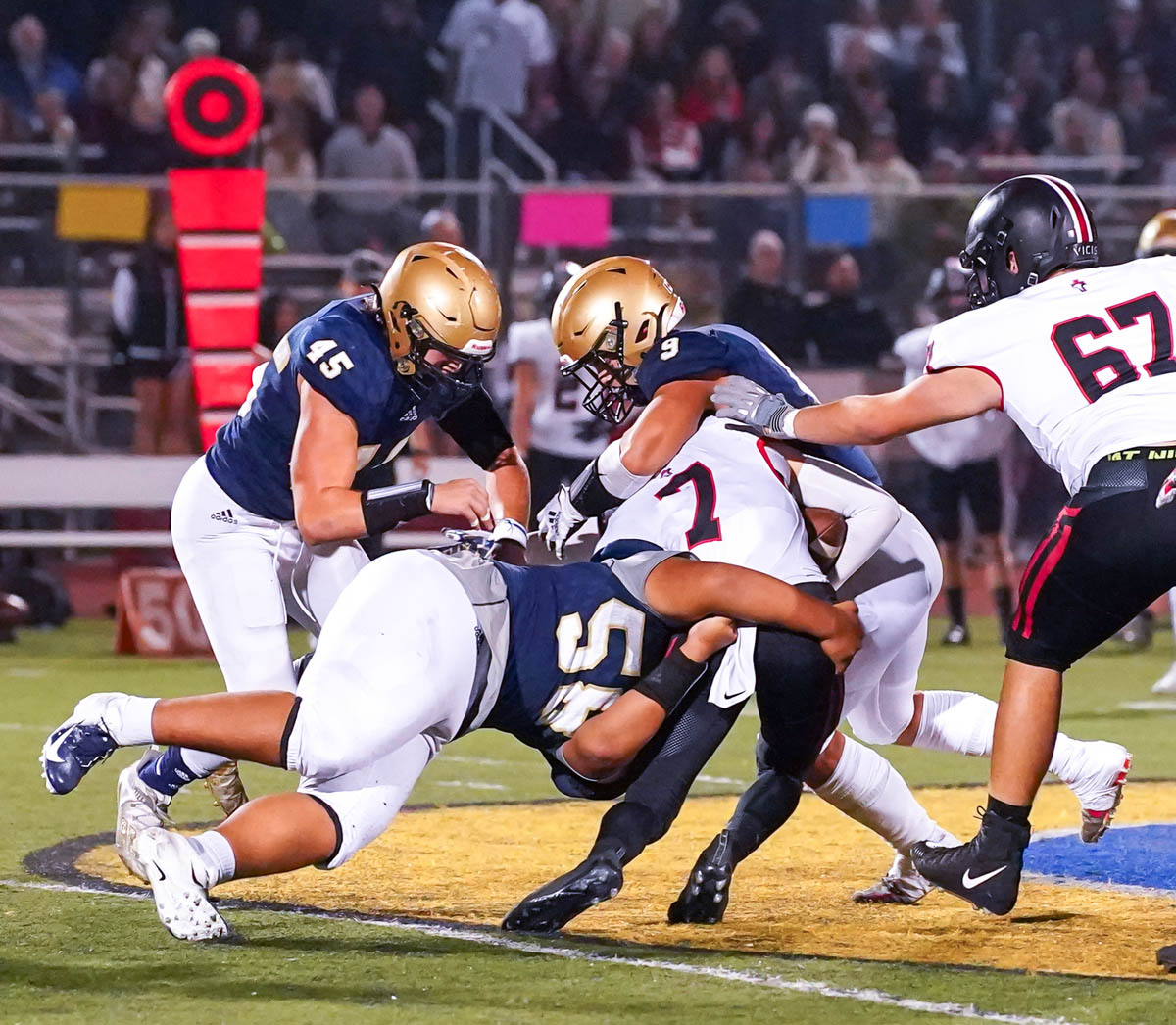 The hosts wasted little time in taking control of the game. Mater Dei Catholic led 16-0 at the end of the first quarter and 23-0 at halftime. The Crusaders carried a 33-0 lead into the final quarter.
The reigning Mesa League champions scored at least one touchdown in every quarter.
The Crusaders ended the game with six touchdowns overall, including five off the arm of junior quarterback Dominic Nankil.
Nankil completed 21 of 30 passing attempts for 297 yards with five touchdowns and one interception.
Junior Surahz Buncom had four catches for 106 yards and three touchdowns (40, 39 and 13 yards) while juniors Cruz Estrada (seven catches, 82 yards) and Chris Snyder (six catches, 49 yards) caught touchdown passes of 18 and 11 yards, respectively.
Mater Dei Catholic also received a 35-yard field goal from sophomore Ricky Osuna and a blocked punt in the end zone that was recovered for a touchdown by senior linebacker Jeremiah Cook.
The Crusaders rolled up 464 yards in total offense, adding 144 yards on the ground. Junior Nico Mosley rushed 10 times for 99 yards.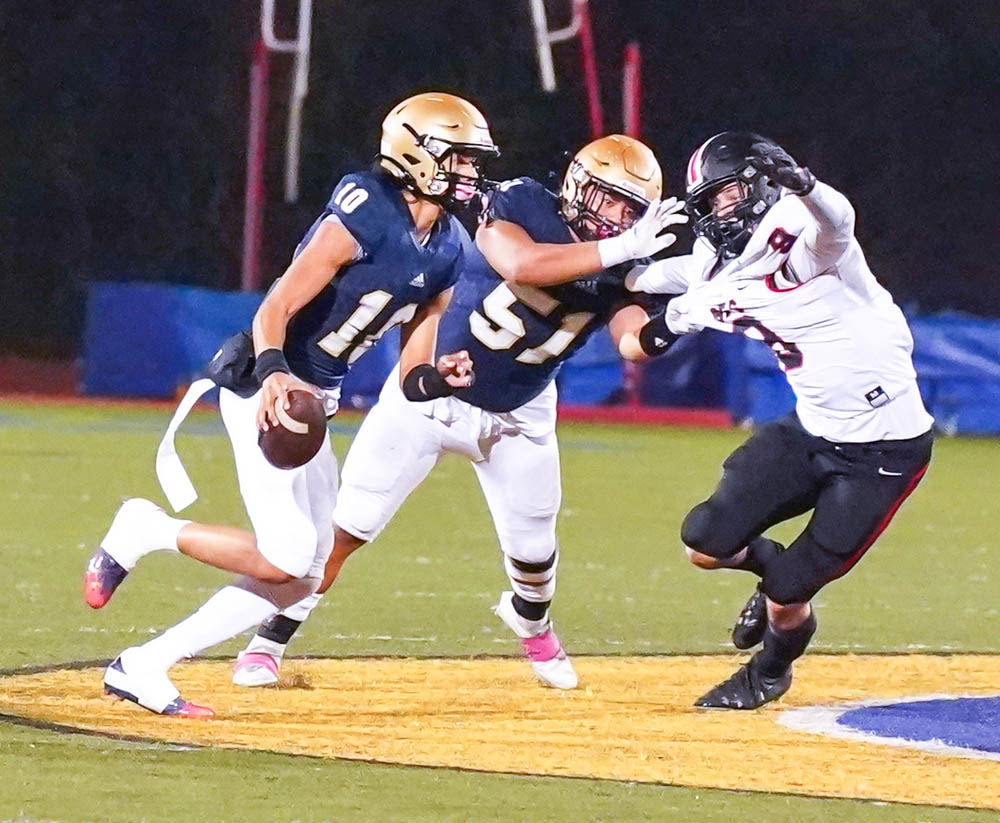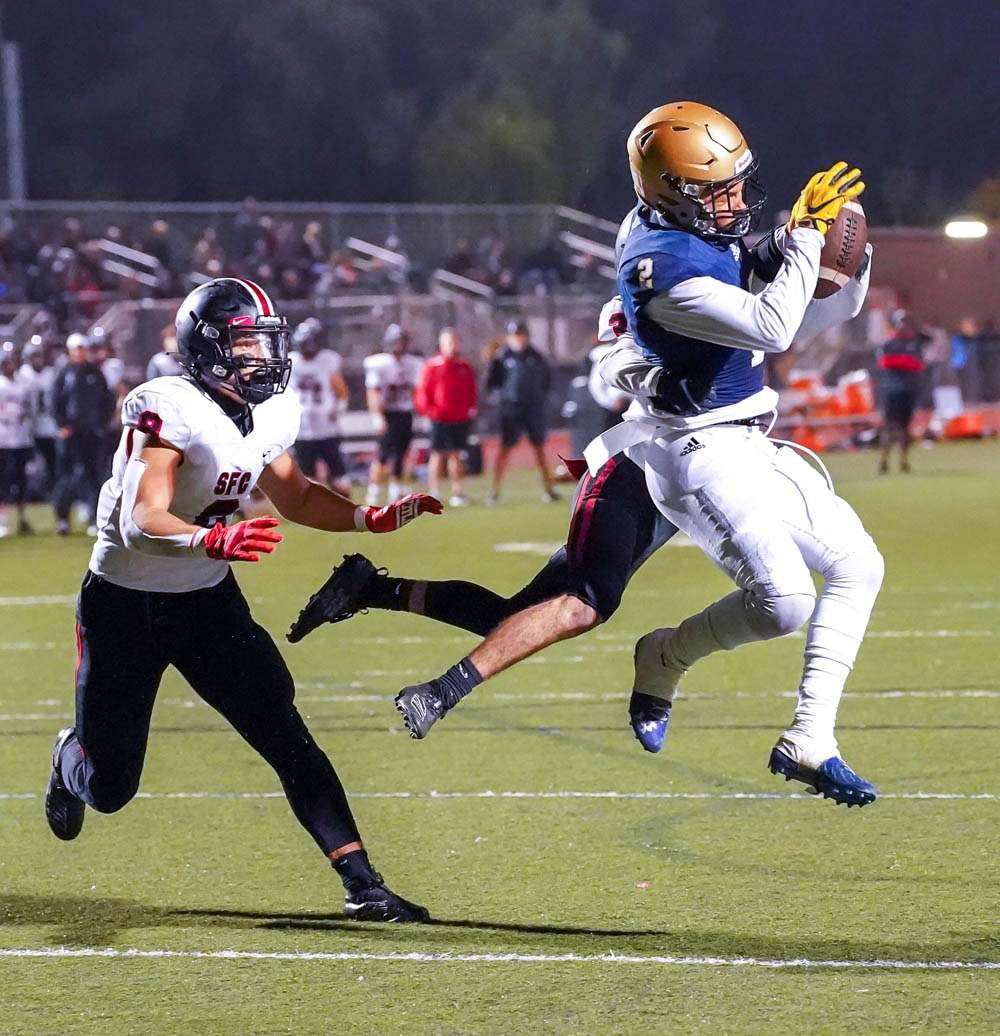 Defensively, junior Tre Edwards logged seven tackles while senior Luke Teskey recorded three sacks. Senior Taylor Lepisi recovered one fumble.
Mater Dei Catholic limited Santa Fe Christian to 85 rushing yards on 27 attempts and 110 passing yards.
"We needed to be able to stop the run and make SFC beat us in the air," Joyner said. "Our defense was fantastic all night."
Ramona is riding a three-game winning streak that includes playoff wins over fifth-seeded West Hills (51-0 on Nov. 5) and top-seeded Mt. Carmel (34-7 last Friday).
The Bulldogs' resurgence coincides with the return of senior Cash Jones to the lineup.
Jones rushed for 99 yards and scored three touchdowns in the win over previously undefeated West Hills (11-1). He rushed for 107 yards and scored two touchdowns against the Sundevils (10-2).
Senior quarterback Devin Sobczak completed five of eight passing attempts for 120 yards with two touchdowns and one interception in the win over Mt. Carmel while junior Colin Lester completed a seven-yard scoring pass.
Senior Gabriel Lutz (three catches, 50 yards) caught two touchdown passes while junior Azian Enriquez scored on a 65-yard pass reception.
Ramona received 10 tackles each from senior Morgan Strong and sophomore Kyle Wilford. The Bulldogs decimated the Sundevils' offensive attack with three sacks and three interceptions.
"Our defense has to tackle well against Ramona," Joyner said. "They are big and physical. We must match their intensity.
"Ramona has a very disciplined defense. They don't make mistakes. It will be a tough matchup."
SAN DIEGO SECTION FOOTBALL FINALS
Friday, Nov. 26
Escondido High School
Division IV
(1) Patrick Henry (9-2) vs. (2) University City (8-4), 1 p.m.
DIVISION II
(2) Scripps Ranch (10-1) vs. (4) La Jolla (5-7), 7 p.m.
Grossmont High School
DIVISION V
(1) Palo Verde Valley (10-2) vs. (2) Mission Bay (10-2), 7 p.m.
Saturday, Nov. 27
Escondido High School
Division III
(2) Mater Dei Catholic (10-0) vs. (4) Ramona (9-3), 1 p.m.
Division I
(1) Helix (8-3) vs. (3) Lincoln (8-3), 7 p.m.