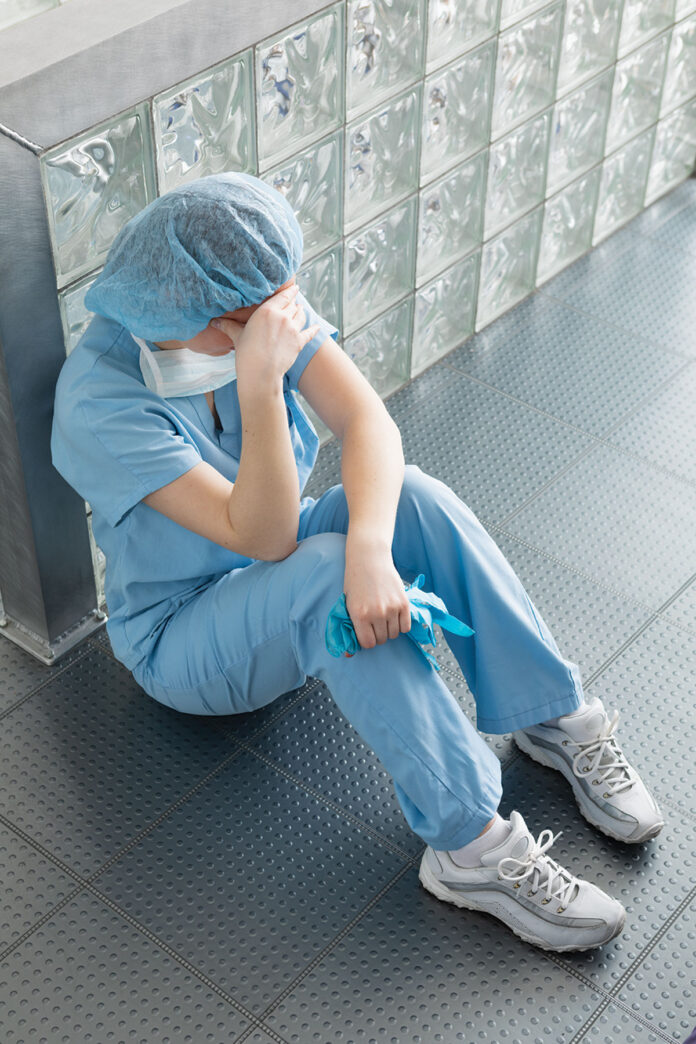 In the middle of a COVID-19 surge after holiday gatherings and a record breaking number of travelers, the county of San Diego reported on Monday that there have been a record number of new cases recently reported: 12,563 on Jan. 9; 17,507 on Jan. 8; and 19,009 on Jan 7.
The previous daily high was 8,313 on Jan. 2 this year.
Family Medicine doctor Jyotu Sandhu of Sharp Rees-Stealy, said this is an obvious surge in cases across the hospital system, including Sharp. The severity of cases and death rates are down, which points to the virulence and the infectious rate of Omicron versus Delta.
"The virulence of Omicron, the severity of the illness, is less than Delta, but it is far more infectious," he said. "We are seeing more cases and because of that it results in many more people going to the hospital. But the amounts of deaths have not correlated with the number of patients going to the hospitals, which is good."
Sandhu said right now, the Delta variant is more likely to put a person in the Intensive Care Unit, and hospitals are seeing that of the patients in the ICU, or having adverse outcomes like death, are primarily the unvaccinated.
"But right now, the dominant variant by far is Omicron," he said. "Delta is still out there and if a person succumbs to COVID, the chances are it is likely Delta. What we are seeing is this inverse relationship among people being infected with Omicron, which is far higher, and the intensity of the infection which is lower. This points to a different type of COVID than we have been dealing with, Delta versus Omicron."
Sandhu said with the cases hitting medical staff in clinics and hospitals, it has affected patient care and access.
"When we cannot staff clinics and hospitals then patient care gets delayed," he said. "We have been dealing with that. It has also trickled downstream when it comes to people travelling as well, affecting people's flights and itineraries as well. Thankfully, when we look at the outcomes of people as they go through these episodes, they are more favorable, and people do get better, especially when they are vaccinated."
Sandhu said the "conundrum" here is although Omicron severity is low, it is far more transmissible, and that is why testing is important.
The FDA approved boosters for children 12 and up and, he said, the medical community supports this because they believe children should be as protected as possible so that their daily lives can go on as usual.
"We know that keeping kids in school is of utmost importance, not only for their mental and physical development, but it also puts less strain on the parents," he said. "Though we have seen COVID not be as serious of an illness in the younger pediatric age group, they have the capability of easily transmitting it to other more vulnerable people, including the people that take care of them, parents, grandparents…We want to make sure that we are protecting everybody the best we can to prevent the spread. This vaccine and booster expansion to reach as many people as possible is of utmost importance."
Sandhu said with the spread of Omicron in the vaccinated and the unvaccinated, that it would help get to herd immunity, but pointed out that herd immunity is only reached when people remain immune to the virus.
"If people get COVID and think since they had it, they have antibodies, what we do not know is how long people will sustain those antibodies and how long those antibodies will remain in their system from a natural infection versus vaccination," he said.
"The data is coming out in real time and right now we are encouraging everyone to get vaccinated because we know the immune response is large after a vaccine series and once you are boosted. We cannot just rely on people getting infected. For us to end this pandemic, is when all people get onboard and get vaccinated and protected. If you are eligible to get vaccinated, get vaccinated. Those who have not been vaccinated are a part of the problem because we must get in front of this virus."
Sandhu said the virus does not want to die, and it does not want to kill you.
"The virus wants to mutate and wants to keep going," he said. "Just like we want to continue to survive as well. Every time we have a mass population who get vaccinated, we are further and further cornering the virus and not allowing it to mutate. It will mutate but it will be a far less chance of spread. If we can get enough people vaccinated, then the virus will not have a lot of room to go. We will start seeing fewer and fewer infections, which we have seen in this last year after the vaccines came out, but we need to continue to push the effort of everybody getting vaccinated and cornering the virus so that it does not have the room or time to spread."
Sandhu said some people, media say that the vaccines do not work, but they do not practice medicine and "do not know what they are talking about." He compared vaccination and COVID as a "car driving through spikes."
"The car does not necessarily stop right there at the spikes. The car is going to roll a couple hundred yards afterwards and then it will come to a stop. During that time where it is coming to a stop, consider that as breakthrough infections. But eventually if you hit all four tires, which is an analogy of everybody getting vaccinated and protected, the car will come to a stop. As will COVID."