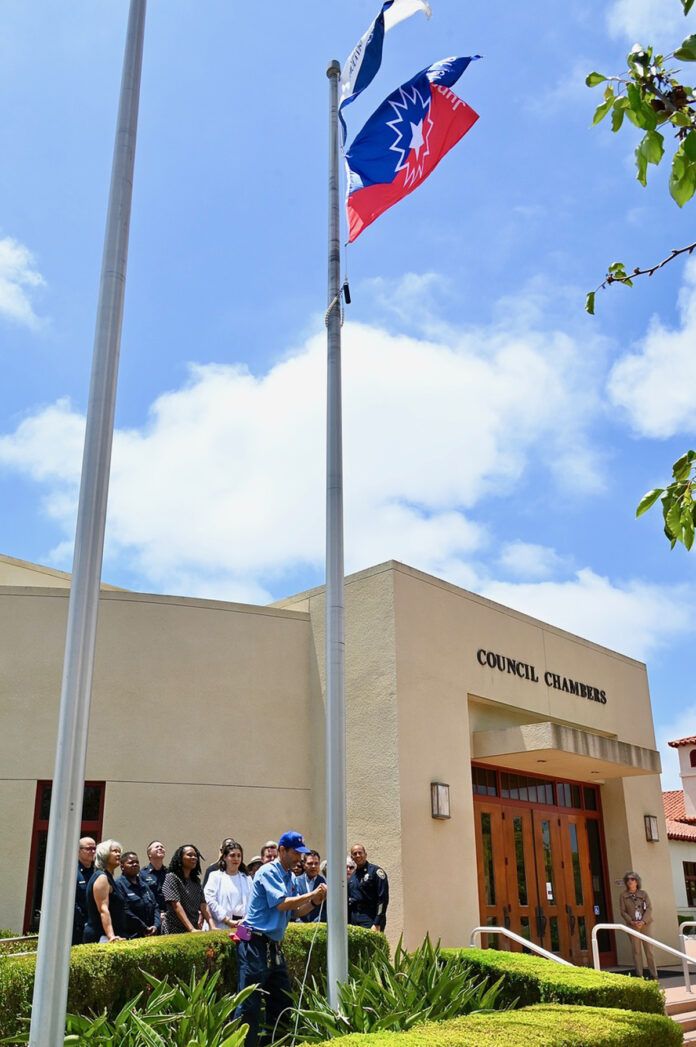 With members of the Major Taylor Cycling Club of San Diego, Black Girls Do Bike and others from the community, California State Assemblywoman Shirley Weber and National City Mayor Alejandra Sotelo-Solis raised the Juneteenth flag outside city hall in National City on June 18 to a crowd of over 100 attendees.
National Juneteenth Celebration Foundation founder Ben Haith created the red, white and blue flag in 1997; the date June 19, 1865 was later added to commemorate the day when Union Army Major General Gordon Granger informed slaves in Galveston, TX of their freedom.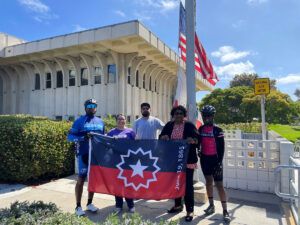 "The raising of the Juneteenth flag is another way of acknowledging the history of strength and struggles that still exist for our African American brothers and sisters," Sotelo-Solis said.
In National City, the bevy of bike riders who gathered at the flag raising were en route from the World Beat Center in Balboa Park to Chula Vista by way of Chicano Park and National City with stops at Imperial Beach and Coronado on their return trip.
"Being alongside the MTCCSD bike riders who are encouraging more people of color to enjoy bicycling while celebrating the accomplishments of Major Taylor really reflect the intersectionality and complexity of the holiday," Sotelo-Solis said.
Juneteenth became a federal holiday in 2021, and for the first time, the city of Chula Vista observed June 19 with the raising of the Juneteenth flag at City Hall.
The city of Chula Vista, in collaboration with the Human Relations Commission, flew the flag at City Hall from June 17 through June 20.