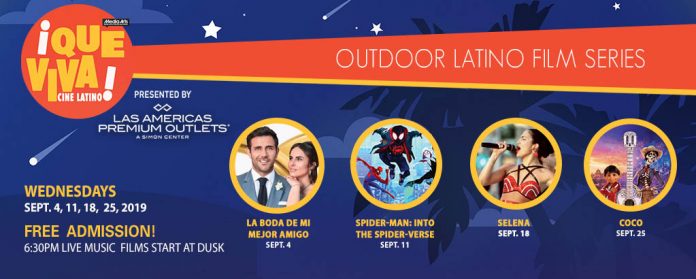 Que Viva Cine Latino is back for another year at Las Americas Premium Outlets in San Ysidro. Screenings are scheduled every Wednesday from Sept. 4 through Sept 25.
Live entertainment starts at 6:30 p.m. The films start at dusk.
Admission is free.
The series is being organized by the Media Arts Center San Diego, producer of the San Diego Latino Film Festival, and is presented by Las Americas Premium Outlets
The series features innovative, critically acclaimed and inspiring Latino films from the past 12 months in a unique outdoor setting. Films include "La Boda De Mi Mejor Amigo" (Sept. 4), "Spider-Man: Into the Spider-Verse" (Sept. 11), "Selena" (Sept. 18) and "Coco" (Sept. 25).
All films are in Spanish with English subtitles.
Seating will be available on a first-come basis. Attendees are encouraged to bring their own blankets and grab a snack at one of the many food locations throughout the center.
Las Americas Premium Outlets is located at 4211 Camino de la Plaza, San Diego.
The 2020 San Diego Latino Film Festival is scheduled March 12-22. Early bird registration ends Sept. 13.
For more information, visit the website at www.sdlatinofilm.com.