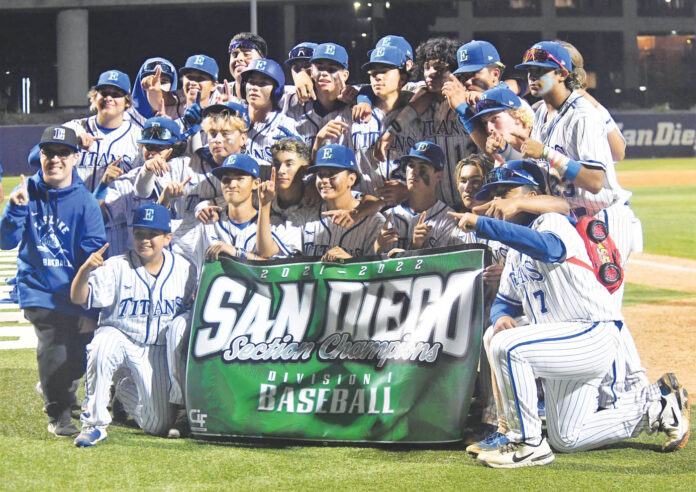 Parity? No top-seeded team won a division championship in this year's San Diego Section baseball championships. In fact, just one top-seeded team even advanced to the divisional championship game.
Grossmont Hills League champion Granite Hills received the No. 1 seed in the Open Division and won its opening three playoff games before being smacked by No. 2 La Costa Canyon, 10-3, in the division final.
St. Augustine received top seed among Division I teams but went out in two games following back-to-back losses to No. 8 Cathedral Catholic (10-7) and No. 5 Grossmont (7-6).
Francis Parker (26-7) received the No. 1 seed in Division II. The Lancers lost, 3-0, to eighth-seeded Christian in their first game, came back to win their next two games in double-elimination play, including eliminating Christian, 7-3, in the fourth round, before finally biting the dust in an 11-7 setback to fourth-seeded Canyon Crest Academy (24-8) in fifth-round action.
Rancho Buena Vista (20-13) continued the trend in the Division III playoffs by dropping its first game to an eighth-seeded team, this time Metro-South Bay League champion Mar Vista. The teams rematched in the fifth round with the Mariners prevailing by a score of 5-2 after the Longhorns forced the "if necessary" game with clutch 6-1 victory.
Top-seeded Oceanside (23-9) lasted four games in the Division IV bracket, winning its opening two games before being eliminated with two losses to fifth-seeded Fallbrook (20-15).
Pacific Ridge, top-seeded in Division V. lost, 6-1, to ninth-seeded Army-Navy Academy in its playoff opener. The Firebirds (15-9) bounced back with elimination wins over Ocean View Christian Academy (9-3) and Army-Navy Academy (12-2) but ended the season with a 5-3 loss to fourth-seeded Lincoln (16-14) in the fifth round.
Five second-seeded teams did advance to the championship round, however.
Besides LCC, Eastlake (Division I), Montgomery (Division II), Olympian (Division III) and Mission Bay (Division IV) all managed to successfully navigate their double-elimination brackets to reach the championship game.
Three — LCC, Eastlake and Mission Bay — won division titles.
Mission Bay (22-11) was the only team to advance to the championship round with three consecutive victories. All the other teams had to play an extra game to avoid premature elimination.
La Costa Canyon (24-11) lost its opening game, 11-9, to seventh-seeded Madison but bounced back with four consecutive wins, including two straight over third-seeded Torrey Pines (23-12), to finally earn the right to meet top-seeded Granite Hills in the Open Division final.
The Mavs made it five consecutive wins to claim the division title with a 10-3 defeat of the Eagles (24-7) in eight innings.
Eastlake (22-11) appeared to be humming along in the Division I bracket before suffering an 11-7 loss to seventh-seeded Carlsbad in fourth round play on May 24. The Titans rebounded with a walk-off 3-2 win over the Lancers the next day to meet Grossmont for the division title, winning 7-6 in an 11-inning marathon to cap a series of three games in three days.
Metro-Mesa League champion Montgomery (22-8) won its opening two games against North County opposition, defeating seventh-seeded Mission Hills, 3-2, in nine innings before edging third-seeded Del Norte, 2-1, in second round play on May 20.
Del Norte (24-9) countered with a 2-0 win in fourth round play, forcing the Aztecs into a double-elimination game with both teams sporting one loss. Montgomery won, 2-0, to advance to the championship game against Canyon Crest Academy.
Both Mar Vista (23-12) and Olympian (16-17-1) had to play into the fifth round to meet each other in an all-Metro Conference championship game on May 26 — a replay of the 2014 Division IV final.
Mar Vista proved to be the Division III bracket buster with two wins over top-seeded Rancho Buena Vista while second-seeded Olympian needed a pair of wins over 10th-seeded Maranatha Christian (19-14) to advance to the final.
Mission Bay defeated seventh-seeded Calexico (23-8) in its first game, 7-4, before topping third-seeded San Ysidro (21-11) by a score of 4-1 in the second round. San Ysidro eliminated Calexico, 8-7, in a third-round game to rematch with the Bucs in a fourth-round contest that went to Mission Bay by an 11-1 score.
The Bucs edged fifth-seeded Fallbrook, 5-4, to win the Division IV championship.
Palo Verde Valley, the 10th seed in Division V, proved to be the ultimate bracket buster in this year's tournament by defeating No. 7 seed St. Joseph Academy (12-7) in the single-elimination round, second-seeded Coastal Academy (14-9) in the opening round of double-elimination play, third-seeded Liberty Charter (15-8), sixth-seeded Calipatria (14-10) and Lincoln in the final round.
The Yellow Jackets, who suffered through a six-game losing streak in midseason, eventually concluded their season with a final 11-22 record and an appearance in the Southern California regional playoffs.
Aztec Nation
Montgomery won two of three games from Del Norte to advance to this year's Division II final. But Canyon Crest Academy stood in the path of a possible third Metro Conference CIF championship this year with a gritty pitching performance.
"We faced a very good Del Norte team three times," veteran Montgomery coach Manny Hermosillo said. "Last Tuesday (May 24) was elimination for them. They threw (junior Chris) DiPrima, their ace, and beat us 2-0. We had to go with our ace, Adrian Herrera, and he threw a shutout as well (2-0) to lower his ERA to 0.41.
"It was on to the finals and Canyon Crest Academy. We faced one of the best in the county, Sam Garewal, who shut us out, 2-0, on a one hitter. Khalyl Perez had our only hit.
"It was nothing to be ashamed of after a league championship and reaching the finals. Six of 20 are seniors, four starters. We have good pitching returning."
After eliminating top-seeded Francis Parker, the Ravens responded with a 2-0 shutout win to send the Aztecs to a runner-up finish in the final.
Next level
A total of 10 San Diego Section baseball teams were invited to this year's Southern California regional playoffs, including Open Division champion La Costa Canyon, Open Division runner-up Granite Hills, Open Division semifinalists Torrey Pines and Rancho Bernardo, Division I champion Eastlake, Division I runner-up Grossmont, Division II semifinalist Francis Parker, Division III champion Mar Vista, Division IV champion Mission Bay and Division V champion Palo Verde Valley.
Torrey Pines, seeded second, defeated top-seeded Etiwanda, 19-8, to win the Division II regional championship.
Both San Diego Section Open Division finalists La Costa Canyon and Granite Hills advanced to the Division I regional, but both teams dropped their opening game. LCC received the No. 3 seed but fell, 5-1, to sixth-seeded Huntington Beach while Granite Hills, which drew the No. 8 seed, ended its season with a 5-2 loss at top-seeded JSerra Catholic.
Top-seeded Eastlake was joined by two other section teams in the Division III field: sixth-seeded Grossmont and seventh-seeded Francis Parker.
Eastlake topped eighth-seeded La Sierra, 9-1, in the opening quarterfinal round before ending its season with an 8-2 upset loss to fifth-seeded Newport Harbor in the semifinals.
Grossmont defeated third-seeded La Quinta, 5-3, before ending its run with a 4-2 loss to second-seeded Oaks Christian in the semifinals. Oaks Christian eliminated Francis Parker, 6-5, in the opening round.
The Titans scored five times in the fourth inning and three more times in the sixth inning to vanquish their opening-round opponent as senor Michael Rocha collected one home run and four RBI.
Sophomore Brody Wells (six innings, six strikeouts) got the win on the mound.
Stars in their eyes
The Padres' annual high school all-star game is scheduled Sunday (June 12) following the team's MLB game against the Rockies at Petco Park.
Montgomery's Adrian Herrera and Jose Mendoza have been tabbed to the West team coached by Chula Vista's James Westlund while Bonita Vista (Victor Castaneda. Glen Huggins), and Olympian (Aiden Bleisch) are contributing players to the East team coached by Helix Charter's Cole Holland.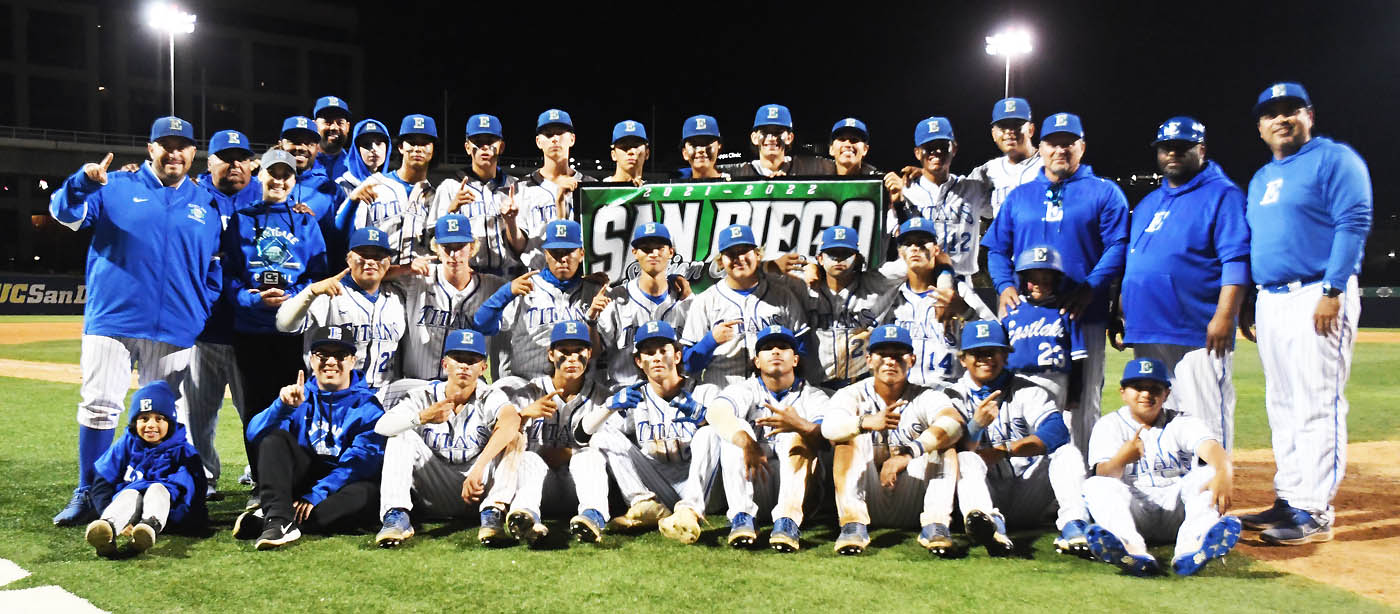 Titans win marathon contest, claim CIF Division I baseball title
Eastlake High School baseball coach Dave Gallegos has amassed quite a collection of San Diego Section championship trophies in recent years. Gallegos and the Titans captured their fourth CIF championship in six tries after outlasting the Grossmont Foothillers, 7-6, in an 11-inning marathon contest May 26 at UC San Diego's Triton Ballpark.
"I'm so proud of this group," Gallegos said in regard to his latest CIF championship showing, the program's third consecutive and fourth in the past five years. "We had so many chances to win but we never gave up. I've never had a group of fighters like this."
Gallegos has now guided the EHS program to three Open Division championships (2017, 2019 and 2021), one Division I championship (2022) and two runner-up finishes (Division I in 2015 and Open Division in 2016).
The latest CIF title was perhaps the most harrowing to secure.
The fifth-seeded Foothillers (15-18-1, 4-8 in Grossmont Hills League play) defeated eighth-seeded Cathedral Catholic (15-18) twice in the double-elimination bracket while second-seeded Eastlake (21-10) also had to win a clutch double-elimination game against seventh-seeded Carlsbad (15-19) to meet each other in the championship round on severely short notice (one day).
Grossmont wasted little time in putting the Titans in a hole. Eastlake senior starter David Vargas hit junior River Diaz De Leon with a pitch to give the Foothillers an instant man on base.
Junior Justin Tucker followed with a double to plate one run. Senior Barron Zamora later followed with a sacrifice fly to score Tucker.
2-0 Grossmont.
Eastlake followed with three runs of its own in the bottom of the first inning and the chase was on.
Junior Matthew Duran slapped a base hit up the middle, was forced at second on a ball hit by junior Nico Libed, who took third on a overthrow after stealing second base.
Senior James Taylor followed with a walk to place runners at the corners. Sophomore Justin May, recently promoted from the junior varsity team because of a spate of late season injuries, promptly smacked a three-run home run to place the Metro-Mesa League runners-up in the lead.
The Foothillers promptly leveled the score, 3-3, in the top of the second inning on a solo home run by sophomore Cody Bigley and took a 4-3 lead on a two-out base hit by Tucker.
May picked up his fourth RBI in the game with a run-scoring single in the bottom of the third inning to place the teams in a 4-4 deadlock.
The teams traded leads thereafter.
Libed, who stole five bases in the contest (nine overall for Eastlake) scored on a throwing error to place his team up 5-4 in the bottom of the fifth inning. But the Titans couldn't hold the lead as Grossmont scored twice in the next frame to go ahead 6-5.
A walk, stolen base, walk, double steal and sacrifice fly by senior Michael Rocha led to a clutch sixth run for Eastlake in the bottom of the seventh inning to extend the game.
The Titans stranded runners in the eighth and ninth innings before finally pushing the winning run across two frames later.
Daniel Mora opened the home half of the 11th inning (now pushing 11:30 p.m.) with a base hit and advanced on a wild pitch. Duran bunted Mora to third base with one out. Libed was issued an intentional walk to place runners at the corners.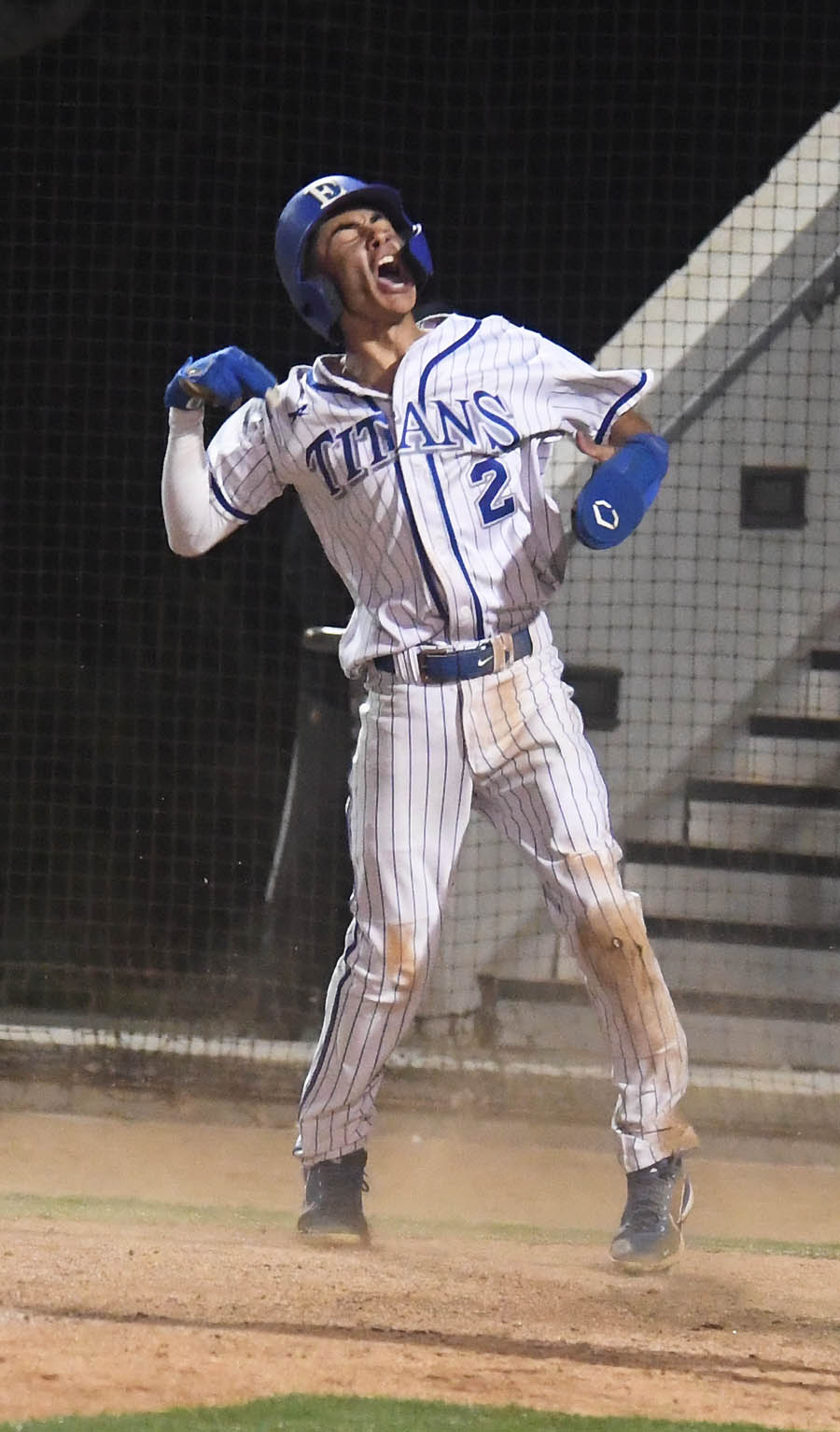 Taylor came to the plate and twice attempted a squeeze play. The first try was unsuccessful. On the second try, the Grossmont pitcher uncorked a pitch in the dirt that went to the backstop to allow Mora to score.
"As soon as I saw the ball go in the dirt, I took off," Mora said.
It was an unplanned ending to the game.
"We had a lot of chances to score but couldn't clutch up," Gallegos said. "We kept fighting. One of our JV guys hit a three-run home run."
Junior Trevor Adame went the final 5.2 frames while allowing one hit and striking out four. Vargas pitched the first 5.1 innings with six runs allowed (four earned) and seven strikeouts. The EHS duo combined for 11 strikeouts.
The ending was obviously a heartbreaker for the Foothillers.
"We battled a tough 11 innings, everyone played their hearts out," said Tucker, who doubled twice and drove in three runs. "Obviously, we were trying to score to win it. Both pitchers were tough in the extra innings. Give credit to Eastlake. It was a great game."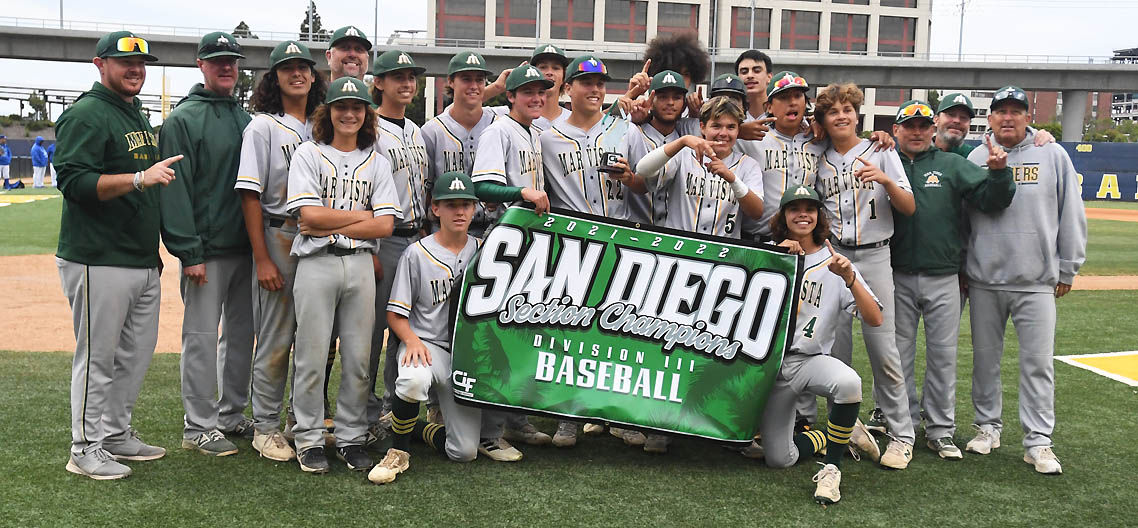 Mariners make history with first CIF championship in Division III
All of Mar Vista High School's San Diego Section championships have come since 2016. The school's boys volleyball team made history earlier this spring by winning the Division IV championship, the first boys CIF banner for the Imperial Beach school.
The baseball team made it two boys banners after defeating the Olympian Eagles, 7-3, in an all-South County matchup May 26 at UC San Diego's Triton Ballpark.
"It's history," MVHS head coach Bobby Rector said. "It was storybook. These kids stuck together. Their attitude was that no lead was too large for them to overcome.
"They came up to the plate swinging their bats. They definitely kept that up in the playoffs and in this game."
The Metro-South Bay League champion Mariners, who upset No. 1-seeded Rancho Buena Vista to advance to the division final, staked themselves to an early 6-0 lead in the game by scoring twice in the top of the second inning and tacking on four more runs in the top of the third inning.
Senior Benny Ramseier (bases loaded hit) and junior Trevor Rector (bases loaded walk) both recorded RBI in the second inning while senior J.P. Risley had a sacrifice bly and senior Jordan Mahan netted a two-RBI double in the third inning.
The second-seeded Eagles (16-17-1) halved the deficit to 6-3 with three runs in the bottom of the fourth inning as junior Ivan Murillo delivered the big blow with a two-RBI single.
But Olympian's big chance to get back in the game ended in frustration after loading the bases in the bottom of the sixth inning. Aidan Bleisch, one of 14 seniors on the team, led off with a hit, senior Niko Semsa was hit by a pitch and senior Joshua Manness drew a one-out walk.
But the inning fizzled on a force-out at second base and a runners interference call on a double play attempt.
The Mariners (23-11) added an insurance run in the top of the seventh inning as sophomore Andrew Guevara doubled off the wall, took third base on a passed ball and came around on a base hit by senior Carlos Ibarra.
Mahan, pitching three innings in relief, set down the side in order in the bottom of the seventh inning to compete Mar Vista's history-making win.
"It feels amazing," junior starter Sergio Garcia said. "I didn't think we would even make the playoffs at one point in the season. But we won out. We just kept on going. We didn't give up."
This marked the second championship meeting between the teams. The Eagles won the Division IV banner in 2014 with a 5-4 win over Mar Vista.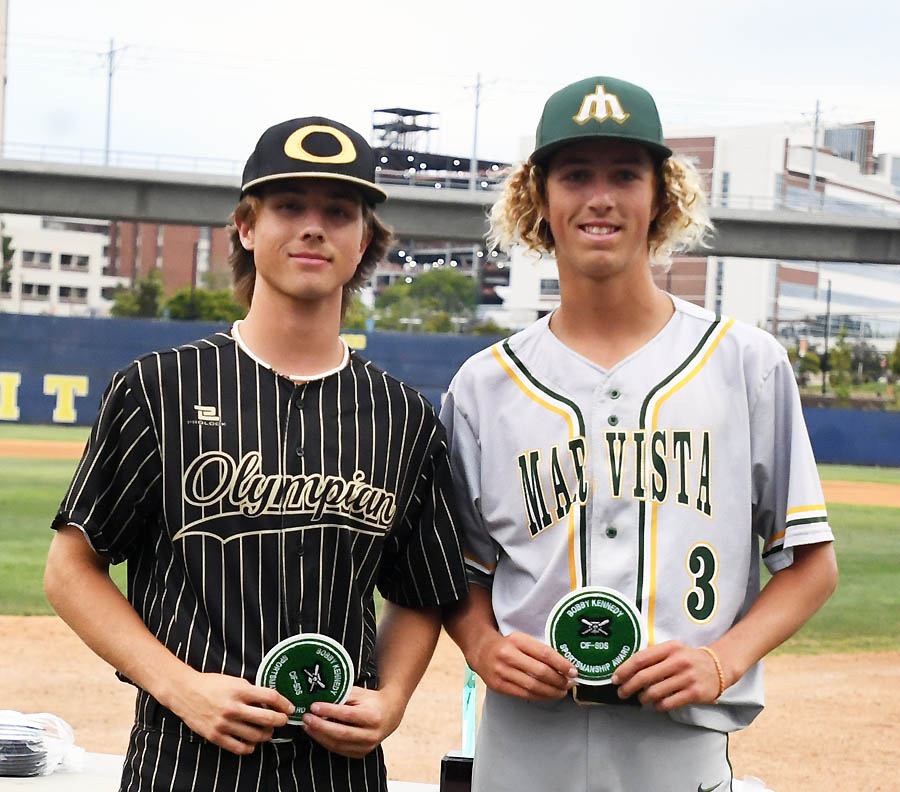 San Diego Section 2022 Divisional Baseball Playoff Log
Play-in Round
Monday, May 16
DIVISION II
Southwest El Centro 9, Coronado 0
DIVISION V
Kearny 16, Bayfront Charter 0
Single Elimination Round
Tuesday, May 17
DIVISION I
(8) Cathedral Catholic 7, (9) Bonita Vista 2
(5) Grossmont 6, (12) Sage Creek 5
(11) Scripps Ranch 13, (6) Westview 6
(7) Carlsbad 7, (10) Point Loma 3
DIVISION II
(8) Christian 7, (9) Santa Fe Christian 4
(5) La Jolla Country Day 21, (12) Southwest El Centro 0
(6) Patrick Henry 15, (11) Classical Academy 3
(7) Mission Hills 7, (10) Otay Ranch 0
DIVISION III
(8) Mar Vista 10, (9) El Camino 7
(5) La Jolla 7, (12) Hilltop 2
(11) Mater Dei Catholic 4, (6) Mission Vista 1
(10) Maranatha Christian 6, (7) Brawley 2
DIVISION IV
(9) Castle Park 4, (8) El Capitan 1
(5) Fallbrook 4, (12) Morse 2
(6) Escondido 2, (11) Escondido Charter 1
(7) Calexico 12, (10) High Tech High Chula Vista 1
DIVISION V
(9) Army-Navy Academy 12, (8) Chula Vista Learning Community Charter 0
(5) Ocean View Christian Academy 7, (12) Kearny 5
(6) Calipatria 7, (11) Hoover 2
(10) Palo Verde Valley 5, (7) St. Joseph Academy 2
Double-Elimination
OPEN DIVISION
First Round
Wednesday, May 18
(1) Granite Hills 6, (8) Helix Charter 1
(5) Santana 6, (4) Rancho Bernardo 1
(3) Torrey Pines 3, (6) San Marcos 0
(7) Madison 11, (2) La Costa Canyon 9
Second Round
Friday, May 20
(1) Granite Hills 4, (5) Santana 1
(4) Rancho Bernardo 8, (8) Helix Charter 2
(3) Torrey Pines 5, (7) Madison 4
(2) La Costa Canyon 5, (6) San Marcos 4
Third Round
Saturday, May 21
(4) Rancho Bernardo 3, (5) Santana 0
(2) La Costa Canyon 5, (7) Madison 4
Fourth Round
Tuesday, May 24
(1) Granite Hills 6, (4) Rancho Bernardo 5
(2) La Costa Canyon 4, (3) Torrey Pines 3
Fifth Round
Thursday, May 26
(2) La Costa Canyon 7, (3) Torrey Pines 2
Championship
Friday, May 27
(2) La Costa Canyon 10, (1) Granite Hills 3 (8 innings)
DIVISION I
First Round
Wednesday, May 18
(8) Cathedral Catholic 10, (1) St. Augustine 7
(4) Poway 4, (5) Grossmont 3
(3) Steele Canyon 7, (11) Scripps Ranch 3
(2) Eastlake 6, (7) Carlsbad 1
Second Round
Friday, May 20
(8) Cathedral Catholic 6, (4) Poway 4
(5) Grossmont 7, (1) St. Augustine 6
(7) Carlsbad 2, (11) Scripps Ranch 0
(2) Eastlake 11, (3) Steele Canyon 2
Third Round
Saturday, May 21
(5) Grossmont 7, (4) Poway 3
(7) Carlsbad 8, (3) Steele Canyon 2
Fourth Round
Tuesday, May 24
(5) Grossmont 12, (8) Cathedral Catholic 8
(7) Carlsbad 11, (2) Eastlake 7
Fifth Round
Wednesday, May 25
(5) Grossmont 10, (8) Cathedral 8
(2) Eastlake 3, (7) Carlsbad 2
Championship
Thursday, May 26
(2) Eastlake 7, (5) Grossmont 6 (11 innings)
DIVISION II
First Round
Wednesday, May 18
(8) Christian 3, (1) Francis Parker 0
(4) Canyon Crest Academy 3, (5) La Jolla Country Day 2
(3) Del Norte 3, (6) Patrick Henry 0
(2) Montgomery 3, (7) Mission Hills 2 (9 innings)
Second Round
Friday, May 20
(4) Canyon Crest Academy 4, (8) Christian 2
(1) Francis Parker 5, (5) La Jolla Country Day 1
(2) Montgomery 2, (3) Del Norte 1
(6) Patrick Henry 5, (7) Mission Hills 4
Third Round
Saturday, May 21
(1) Francis Parker 7, (8) Christian 3
(3) Del Norte 8, (6) Patrick Henry 2
Fourth Round
Tuesday, May 24
(4) Canyon Crest Academy 11, (1) Francis Parker 7
(3) Del Norte 2, (2) Montgomery 0
Fifth Round
Thursday, May 26
(2) Montgomery 2, (3) Del Norte 0
Championship
Friday, May 27
(4) Canyon Crest Academy 2, (2) Montgomery 0
DIVISION III
First Round
Wednesday, May 18
(8) Mar Vista 3, (1) Rancho Buena Vista 2
(4) Mt. Carmel 4, (5) La Jolla 1
(11) Mater Dei Catholic 13, (3) West Hills 4
(10) Maranatha Christian 7, (2) Olympian 4
Second Round
Friday, May 20
(8) Mar Vista 10, (4) Mt. Carmel 2
(1) Rancho Buena Vista 6, (5) La Jolla 5
(10) Maranatha Christian 6, (11) Mater Dei Catholic 5
(2) Olympian 10, 3) West Hills 7
Third Round
Saturday, May 21
(1) Rancho Buena Vista 6, (4) Mt. Carmel 2
(2) Olympian 7, (11) Mater Deo Catholic 1
Fourth Round
Tuesday, May 24
(1) Rancho Buena Vista 6, (8) Mar Vista 1
(2) Olympian 8, (10) Maranatha Christian 3
Fifth Round
Wednesday, May 25
(8) Mar Vista 5, (1) Rancho Buena Vista 2
(2) Olympian 13, (10) Maranatha Christian 11
Championship
Thursday, May 26
(8) Mar Vista 7, (2) Olympian 3
DIVISION IV
First Round
Wednesday, May 18
(1) Oceanside 8, (9) Castle Park 3
(4) Valley Center 6, (5) Fallbrook 3
(3) San Ysidro 2, (6) Escondido 1
(2) Mission Bay 7, (7) Calexico 4
Second Round
Friday, May 20
(1) Oceanside 6, (4) Valley Center 0
(5) Fallbrook 6, (9) Castle Park 0
(2) Mission Bay 4, (3) San Ysidro 1
(7) Calexico 5, (6) Escondido 2
Third Round
Saturday, May 21
(5) Fallbrook 6, (4) Valley Center 1
(3) San Ysidro 8, (7) Calexico 7
Fourth Round
Tuesday, May 24
(5) Fallbrok 2, (1) Oceanside 1
(2) Mission Bay 11, (3) San Ysidro 1
Fifth Round
Thursday, May 26
(5) Fallbrook 3, (1) Oceanside 2
Championship
Friday, May 27
(2) Mission Bay 5, (5) Fallbrook 4
DIVISION V
First Round
Wednesday, May 18
(9) Army-Navy Academy 6, (1) Pacific Ridge 1
(4) Lincoln 7, (5) Ocean View Christian Academy 6
(3) Liberty Charter 6, (6) Calipatria 5
(10) Palo Verde Valley 9, (2) Coastal Academy 1
Second Round
Friday, May 20
(4) Lincoln 5, (9) Army-Navy Academy 4
(1) Pacific Ridge 9, (5) Ocean View Christian Academy 3
(10) Palo Verde Valley 17, (3) Liberty Charter 2
(6) Calipatria 7, (2) Coastal Academy 2
Third Round
Saturday, May 21
(1) Pacific Ridge 12, (9) Army-Navy Academy 2
(6) Calipatria 19, (3) Liberty Charter 7
Fourth Round
Tuesday, May 24
(4) Lincoln 5, (1) Pacific Ridge 3
(10) Palo Verde Valley 9, (6) Calipatria 2
Championship
Thursday, May 26
(10) Palo Verde Valley 11, (4) Lincoln 4