While Major League Baseball has managed to resume play amid the COVID-19 (coronavirus) pandemic, youth sports in San Diego County effectively remain in a holding pattern.
Youth sports are currently limited to day camps with practices but no games. Administrators and coaches are hoping to receive permission from county and local city health officials to advance to game play in the near future to complete seasons that were put on hold in March.
Not everyone has managed to hold on in these challenging times, however.
Chula Vista American Little League announced over the first weekend in August the immediate conclusion of its 2020 season.
League president Martin Gutierrez said it was "with a heavy heart" that the announcement was made.
"Unfortunately, the decision was unavoidable due to ongoing public health restrictions, the continued threat of COVID-19 and the lack of access to the CVA fields," Gutierrez said in making the announcement on the league's Facebook page.
"We are particularly saddened that the season was cut short for our 12-year-olds, many of whom have been with our league since T-ball. Once appropriate, we look forward to giving them a proper send-off."
Gutierrez said the league's board of directors has been actively planning a robust return to play in 2021.
"Together, CVA will emerge stronger than ever in 2021," he said.
Field access to playing sites located on schools that remain closed due to the pandemic has been an issue for several local Little League organizations.
California District 42 Little League managed to open most of its member leagues to summer day camp experiences with proper social distancing and sanitizing measures.
However, other leagues have since followed Chula Vista American's decision to end the season early, which could curtail hopes for league play, Tournament of Champions play and All-Star tournaments.
The Little League season traditionally ends in late August with the Little League World Series in Pennsylvania. However, that event was one of the first ones to be cancelled after the pandemic was declared in March.
Little League organizations just didn't have enough time to weather the COVID-19 storm.
California District 42 Little League administrator Ernie Lucero said it was the goal of every league in the district to move forward toward actual games (versus practices and drills) in August. However, due to the evolving California state COVID-19 pandemic situation, some local leagues have made the difficult decision to end the continuation of the 2020 spring baseball season that began this summer.
"Unfortunately, due to ongoing pandemic restrictions, competitive games that occurred in February and March for District 42 Little Leaguers will not be continued this season," Lucero announced in an email to parents on Aug. 16.
In the email, Lucero noted that some District 42 leagues have already closed for the season and some are closing at the end of the month. He said other leagues will continue under the day camp protocol until additional direction is issued by the state.
Sweetwater Valley Little League announced it will be closing camps at the end of August.
Imperial Beach Little League announced it will close its day camp practices on Aug. 29.
San Diego County Supervisor Kristen Gaspar and about 214 sports organizations, including District 42 Little League, petitioned Gov. Gavin Newsom to allow children to practice sports under adherence of COVID-19 safety protocols.
The governor granted permission in early June if state and local guidelines were followed. San Diego youth sports organizations and District 42 leagues resumed practices under youth sports day camps guidance.
District 42 staff then met regularly with league presidents to discuss all the safety protocols handed down by governor's executive order.
"Once safety protocols, sanitation, and social distancing measures were in place, beginning in late June and through July and August, our Little League players enjoyed baseball camps and drills geared to learning and having fun with their teammates," Lucero said.
Lucero noted that while other organizations charged anywhere from $250-$500 per week for instructional baseball camps, District 42 allowed players to work within their leagues at no additional charge.
"Additionally, prior to COVID-19, all our leagues already held team practices, opening day events and actual games," Lucero added. "We tip our caps to the parents and all the league volunteers who were able to get the kids outdoors to exercise and practice baseball with their friends in a safe environment for more than two months."
Lucero painted a darker side to what the pandemic has wrought: the Little League baseball economy.
"Since the shutdown created by the pandemic, Little Leagues across the nation and the world have not generated any revenue," Lucero explained. "As non-profit entities, Little Leagues generate revenue from snack bar sales and game day fundraisers during their regular seasons.
"Due to the shutdown, none of our Little Leagues have generated income and faced additional new costs to implement the mandated safety and sanitation measures. In addition, financial obligations for field maintenance and to pay utilities continue to be met by Little Leagues. We have worked with leagues to review eligibility for financial assistance allowed due to the pandemic, but at this time, none is available. We are hopeful that community leaders, businesses, and other support agencies can step in and help with financial assistance to our non-profit leagues through District 42.
To help with finances, businesses or individuals can email the district directly at district.42@hotmail.com.
"This season has been one that no one envisioned, and we as a league and community are all trying to work through these difficult times," Lucero said. "We appreciate the support that our leagues, board members, managers, coaches, Little Leaguers and parents have given us, and we hope to continue with that support going forward. And most of all, a special thanks to everyone involved in keeping our players safe."
Besides financial issues, youth sports organizations are also dealing with the return to school classes, albeit through distance learning, which will create additional scheduling issues for parents and players.
The Chula Vista Elementary School District is scheduled to start the 2020-21 term on Aug. 31.
Fall ball could remain a possibility for some leagues if the health/safety situation improves.
Fletcher Hills Little League, for instance, is currently taking signups.
Youth football season sacked for 2020
Youth baseball isn't the only sport that has experienced issues with return to the playing field this summer due to the COVID-19 pandemic.
The San Diego Youth Football and Cheer Conference announced on July 14 that it has cancelled the 2020 season.
The board said it was "with great sadness" that it made the decision, which although difficult, was made in the best interest of all participants and volunteers.
"Unfortunately, due to the current COVID-19 pandemic and a rollback of governmental restrictions we are unable to guarantee the safety and health of our participants and volunteers," the statement from the board read. "Additionally, the availability of fields and additional costs due to sanitization protocols made it impossible to continue with a season."
The board is working on what it termed "new and exciting events" for the 2021 season.
The Bonita Buccaneers advanced four teams to last year's Super Q-Bowl championship, winning the 10U and 14U divisions.
Recreation services
Services provided through the City of Chula Vista Parks and Recreation Department are continuing in various phases of opening (and closures) during the ongoing COVID-19 (coronavirus) pandemic.
City parks and trails are open from 7 a.m. to 8 p.m. daily in August. Park gazebos, picnic areas and playground equipment are not available but all park restrooms, except at Lauderbach and Harborside, are now open.
The Parkway pool is undergoing a phased reopening. The first phase is open for rental groups.
Lap swim, swim lessons or individual swimming are not available at this time.
"We are hoping that if all goes well, we will begin to reopen for other programs," aquatic supervisor Karina Craig said.
The Loma Verde pool remains closed as are all other recreation facilities.
A designated Cool Zone location for the community has been created at 565 Broadway (the old Sears building). Current site hours are Monday through Friday from noon to 5 p.m. The site will be open on Saturday and Sunday only during heat advisories.
Residents can use this officially sanctioned Cool Zone to escape the mid-day summer heat and rest up before going back outside. If you need a break from the heat, come visit. City of Chula Vista Recreation staff will be on hand to play movies throughout operating site hours for visitor enjoyment.
For more information on aquatic schedules, call (619) 409-1985.
New health and safety guidelines for youth sports issued by state
New health and safety guidelines issued through Gov. Newsom's office on Aug. 3 reinforced the no-game play edict among youth sports leagues in the state.
The new directive makes it clear that youth sports leagues and organizations cannot hold competitions. It applies to all school teams, club teams and recreational teams.
"Outdoor and indoor sporting events, assemblies, and other activities that require close contact or that would promote congregating are not permitted at this time," the state's updated guideline warns.
"Tournaments, events, or competitions, regardless of whether teams are from the same school or from different schools, counties, or states are not permitted at this time."
The new guidelines are consistent with the July 20 announcement by the California Interscholastic Federation in which it pushed back its 2020-21 calendar to better deal with the current health crisis.
The updated state directive notes that the risk of transmitting the COVID-19 virus depends on several factors germane to sports, including the number of people in a location, type of location (indoor versus outdoor),  distance between people, length of time at a location, physical contact between people, touching of shared objects, use of face coverings and mixing of people from locations with different levels of community transmission.
As general guidance, the updated directive points out that smaller groups are safer than larger; outdoor locations are safer than indoor; sports that can ensure distance of six feet or more are safer than close contact; and shorter duration is safer than longer.
"Leagues, coaches, parents, and athletes need to consider all these factors as they plan to return to play," the state's Aug. 3 directive states.
The new directives come at a time when elementary and secondary schools are about to open for the 2020-21 term and sports leagues are preparing for their fall season, especially in regard to soccer leagues.
According to the new directive, youth sports and physical education are permitted only when physical distancing of at least six feet and a stable cohort, such as a class, that limits the risks of transmission, can be maintained.
Activities should take place outside to the maximum extent practicable, the guidelines added.
Large number of youth athletes assembled for an event, such as in a tournament setting, would be barred from happening under the new guidelines issued. This would rule out many contests that take place in a typical sports season.
However, some sports activities are allowed to continue in scaled-back form with proper social distancing protocols in place.
In these cases, only physical conditioning and training are permitted.
Conditioning and training should focus on individual skill-building (e.g., running drills and body weight resistance training) and should take place outside, where practicable, the new guidelines stress.
Indoor physical conditioning and training is allowed only in counties where gyms and fitness centers are allowed to operate indoors.
The updated guidelines continue to advocate avoiding equipment sharing, and if unavoidable, cleaning and disinfecting shared equipment between use by different people to reduce the risk of COVID-19 spread.
It also states that consistent with guidance for gyms and fitness facilities, cloth face coverings must be worn during indoor physical conditioning and training or physical education classes (except when showering).
Activities that require heavy exertion should be conducted outside in a physically distanced manner without face coverings, according to the new list of health and safety guidelines.
Other things to consider:
Activities conducted inside should be those that do not require heavy exertion and can be done with a face covering. Players should take a break from exercise if any difficulty in breathing is noted and should change their mask or face covering if it becomes wet and sticks to the player's face and obstructs breathing.
Masks that restrict airflow under heavy exertion (such as N-95 masks) are not advised for exercise.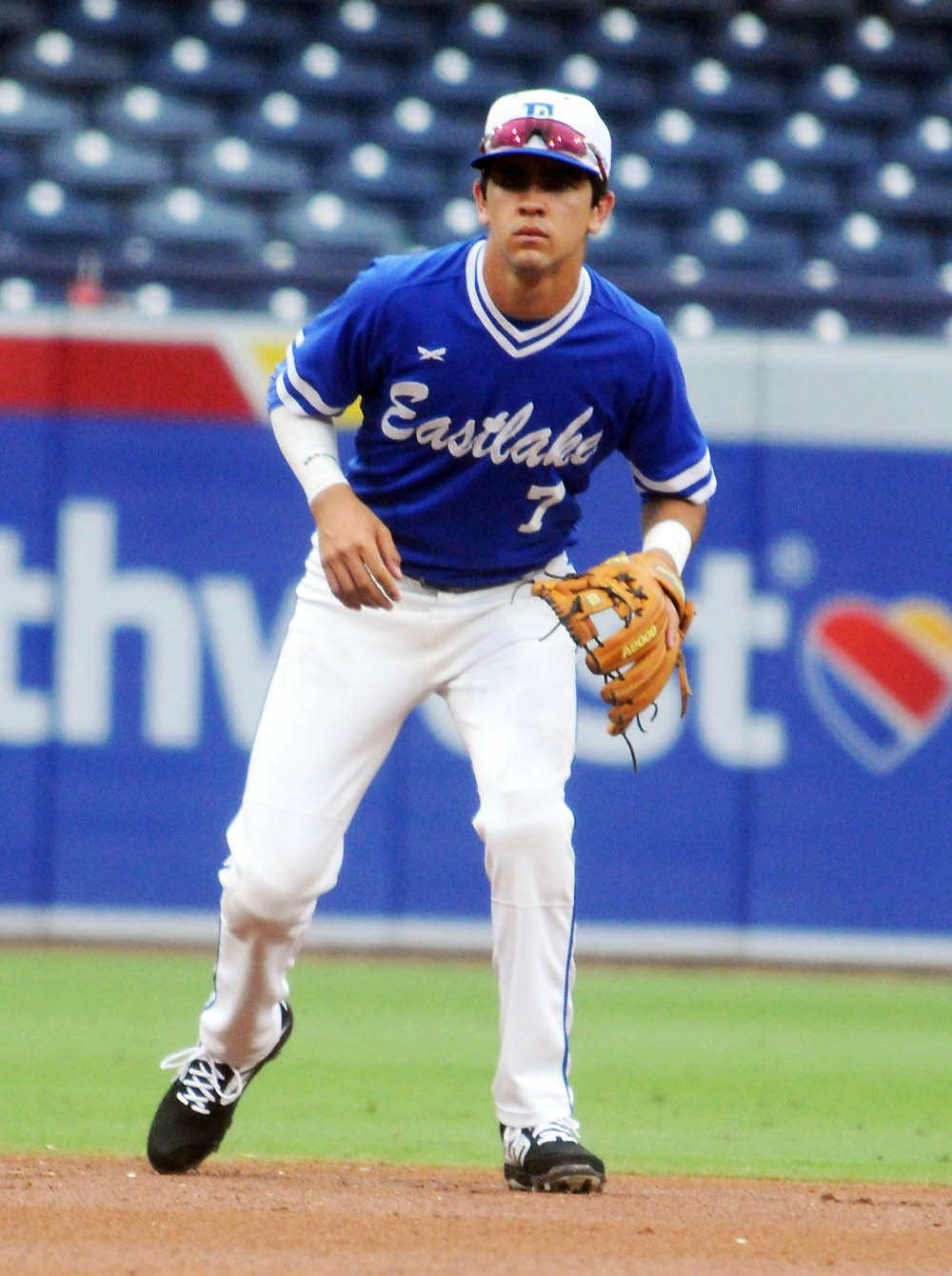 Eastlake's Mayer named to 2020 Perfect Game All-American Classic 
The Perfect Game All-American Classic has been a fixture every August at Petco Park showcasing top high school baseball prospects in the nation.
While this year's event, scheduled for Sept. 4, has been moved to Oklahoma City due to the COVID-19 (coronavirus) pandemic, the high-profile game will still spotlight a deserving San Diego County standout: Eastlake High School shortstop Marcelo Mayer.
Mayer becomes the third Eastlake player to be featured in the event, now celebrating its 18th edition, joining Nick Romero and Ben Ramirez.
Mayer has been on scouts' radar since his freshman season. EHS head coach Dave Gallegos said Mayer has the potential to be a Major League Baseball draft pick.
Mayer helped the Titans capture the 2019 San Diego Section Open Division championship as a sophomore. He batted .294 with two doubles, three home runs and seven RBI in six games as a junior this spring before the season was cancelled due to the pandemic.
The Perfect Game All-American Classic had been held at Petco Park for the last 12 years.