No one who watched last Friday night's high school football game between the Bonita Vista Barons and Patrick Henry Patriots will say it was easy but the Barons have finally put to rest one of their most dubious chapters in school history following their 21-6 non-league victory.
Bonita Vista entered last Friday's game riding a 16-game losing streak that spanned parts of three seasons — one game in 2016, 11 games in 2017 and four games to start 2018.
The marathon losing streak is no more; fans are now curious whether the team under first-year head coach Sam Kirkland can add to its modest one-game winning streak.
"We believed we could win this game, we believed we could win even when we were down 6-0," said sophomore running back Saiyvionn Williams, who led the Barons with two touchdowns in last Friday's victory.
"It feels great to finally get a win. We've been really working hard.
"We believe we can win our homecoming game. We believe we can win out the rest of the season."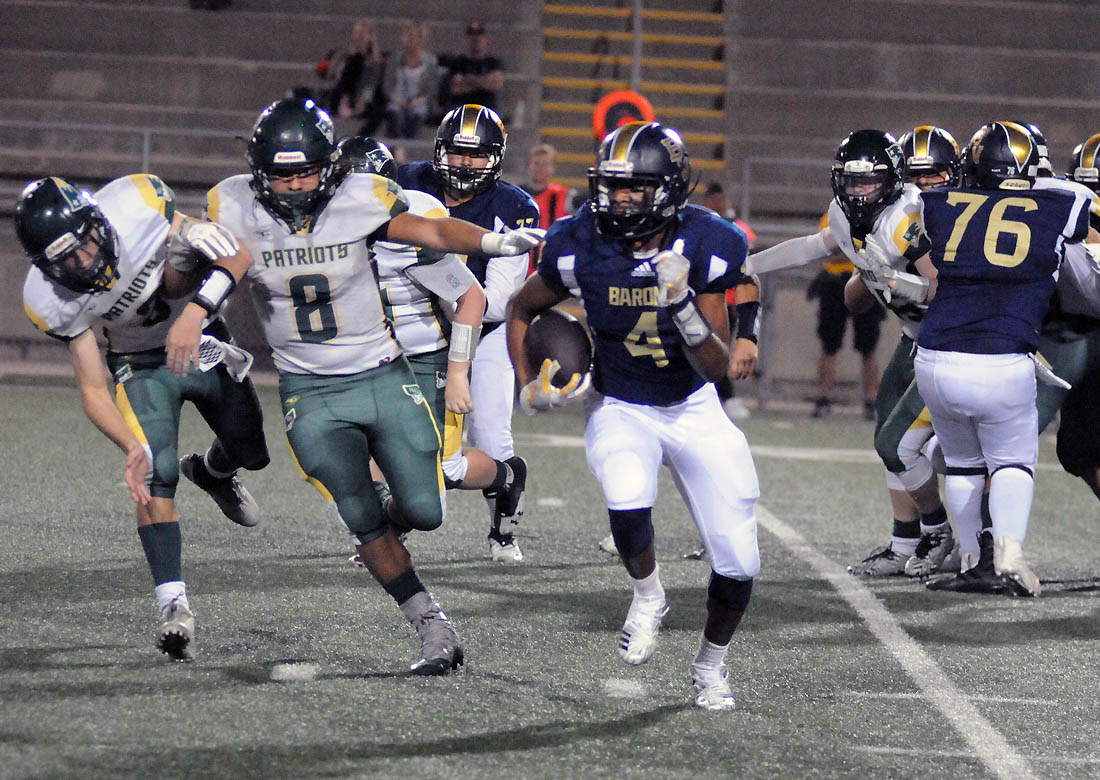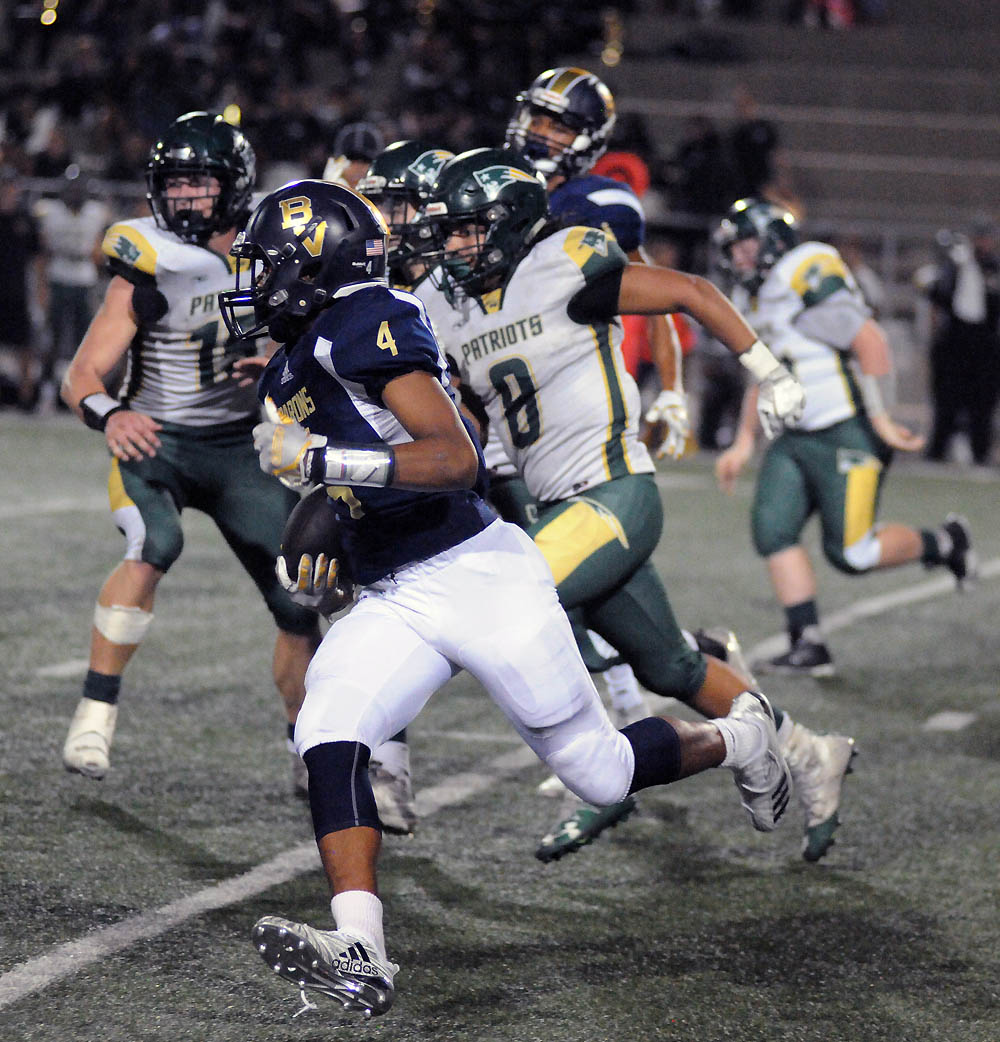 Positive thinking might be the Barons' best ally at the moment.
However, the Hilltop Lancers might have something to say about whether Bonita Vista can reward its homecoming crowd with a second consecutive win this Friday. The Lancers are 1-4 and coming off back-to-back blowout losses to Olympian 49-6 on Sept. 7 and 40-6 to Granite Hills last Friday.
Both teams will be hungry to pick up a victory when they collide at Southwestern College's DeVore Stadium. Kick-off is 7 p.m.
Patrick Henry and Bonita Vista both entered last Friday's contest with 0-4 records, meaning that one team would earn its first win of the season.
The Patriots held the upper hand through the opening quarter when senior tight end Jacob Adelman scored on a 67-yard touchdown catch-and-carry. The visitors missed the extra-point conversion to lead 6-0.
Bonita Vista rallied with a touchdown in each of the final three quarters to record the milestone victory.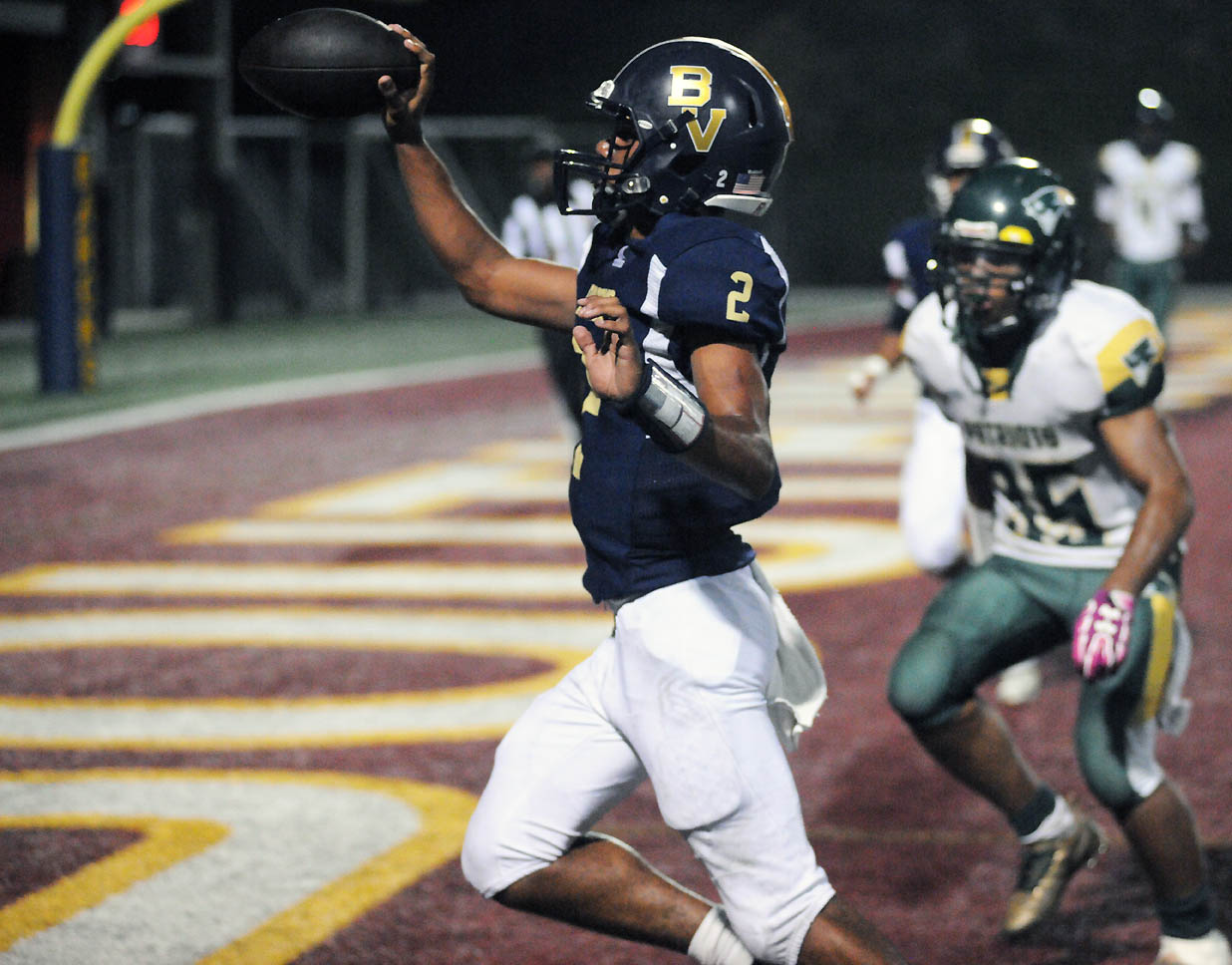 Senior quarterback Kevin Rozar scored on an 11-yard run, reversing course and skimming along the opposite sideline, to momentarily tie the score. The Barons took a 7-6 lead when junior Cristian Tapia successfully split the uprights on the PAT conversion.
The teams remained scoreless over the final 6:56 of the second quarter as the hosts carried a tenuous one-point lead into halftime.
A monstrous punt by Tapia to the Patrick Henry two-yard line helped set up the Barons' second touchdown of the game — a four-yard run by Williams with 2:45 left in the third quarter.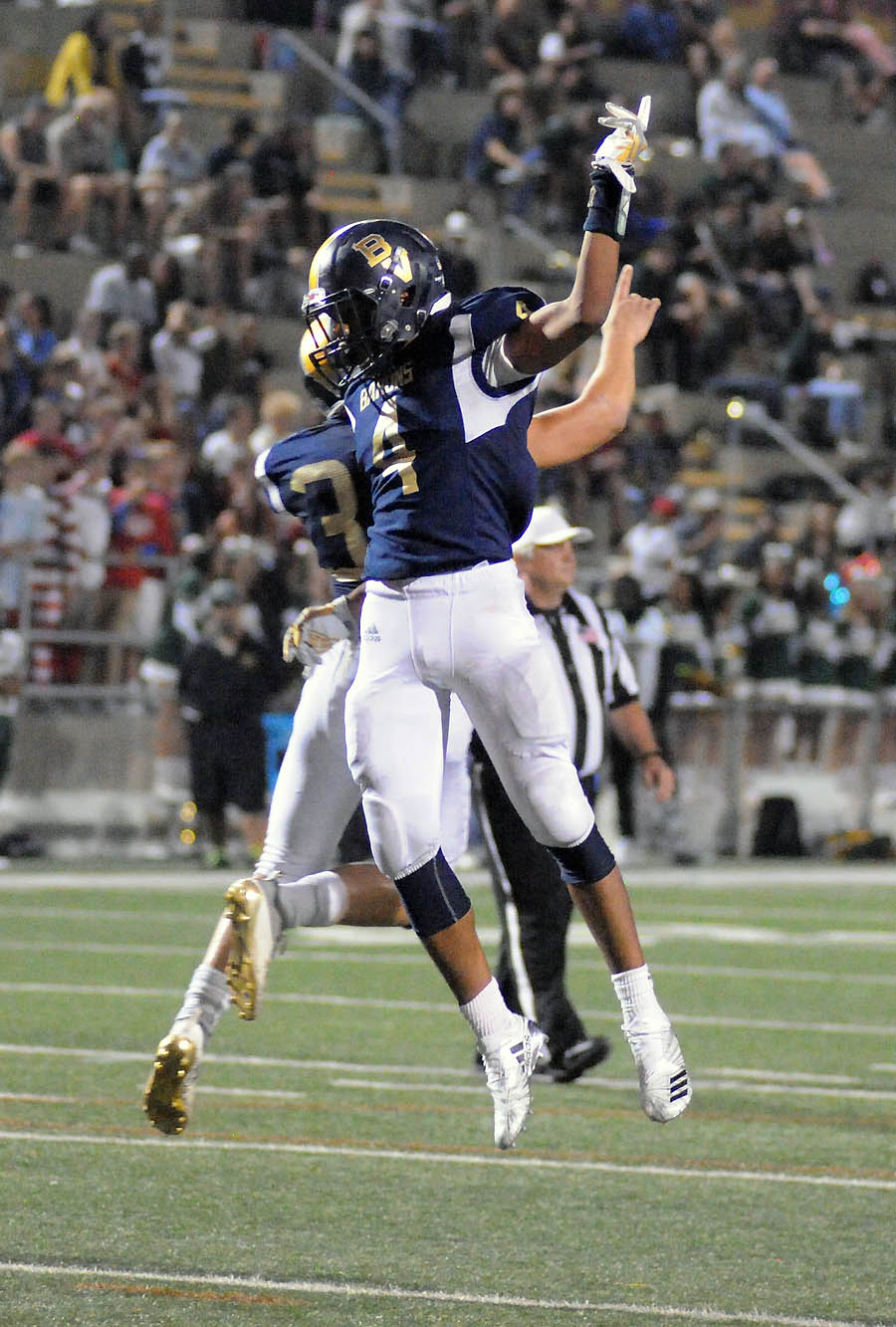 The hosts nursed their 14-6 lead for much of the fourth quarter, though the Patriots, having proven earlier they could hit the big play, remained only one score down.
But the visitors did their best to avoid winning the game, with costly penalties and poor field position playing a pivotal role in the Barons finally putting the game out of reach as time wound down in the game.
Starting at their own 48-yard line after forcing the Pats to punt from their end zone, Bonita Vista converted on a key fourth-down pass from Rozar to senior receiver Raymond Terrones to the 18-yard line. The Barons recovered their own fumble at the 11-yard line to set up Williams for the game-clinching TD.
The game might not have been the prettiest to watch but the important thing, Kirkland noted, is that this team got the win.
Kirkland awarded the game ball to BVHS principal Roman Del Rosario, noting it was Del Roario's first win at the school.
The Baron coach emphasized to his players in the post-game huddle that the focus for the rest of the season will be on becoming a better team, which could lead to more victories.
"We've got a lot of games ahead of us," Kirkland told his team.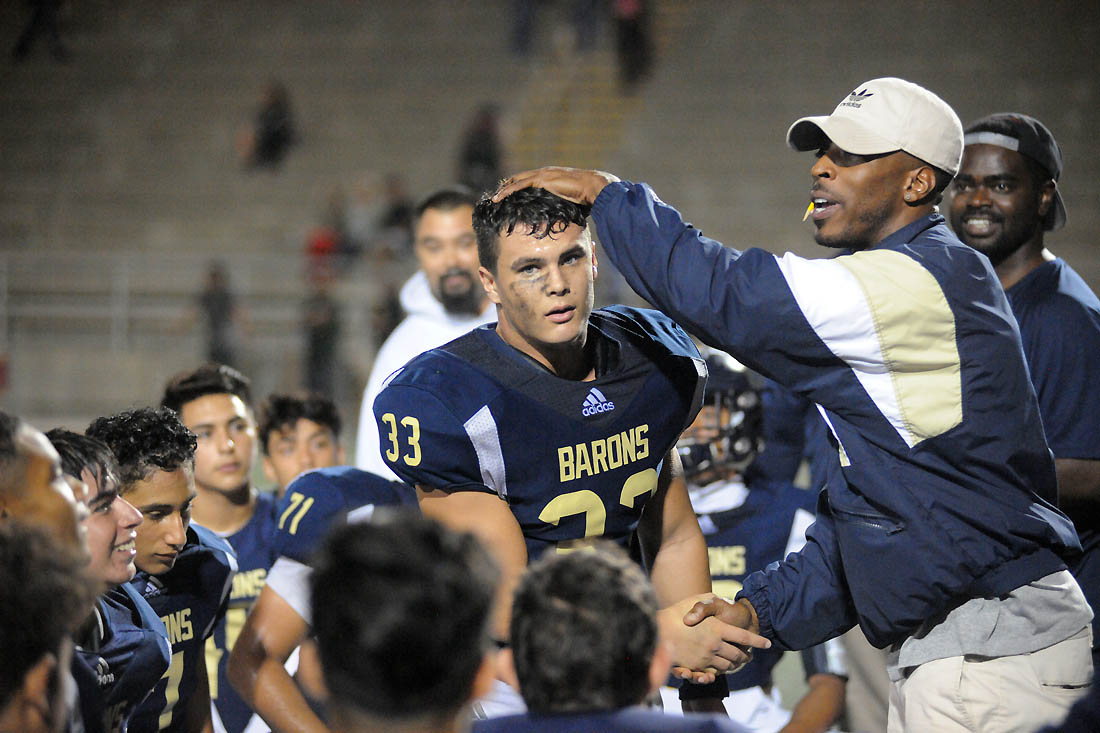 Red Devils blank Braves, 35-0, on homecoming to pick up first win of season
The Sweetwater High School football team recorded its first win of the season in front of a festive homecoming crowd last Friday. It couldn't have come at a more opportune time.
"Our team was finally able to have a home game, and to get a win in front of a homecoming crowd was great," explained Sweetwater head coach Bryan Wagner, whose team defeated the visiting El Cajon Valley Braves 35-0. "We played with a lot of energy and emotion. We played great on defense and special teams, and at times on offense, but we need to clean up the mental mistakes and penalties."
The Red Devils (1-4) held the Braves (0-5) to zero passing yards in the non-league game and minus-18 rushing yards.
The Sweetwater offense generated 274 total yards — 229 rushing yards and 45 passing yards.
The Devils scored four rushing touchdowns, including a pair of short runs by senior Jose Urenda and a pair of longer runs (70 yards, 40 yards) by senior Luciano Estopier, and added a score on an electrifying 90-yard punt return by sophomore Julian Torres.
Estopier rushed 10 times for 119 yards while Urenda had eight carries for 48 yards. Junior Nicolas Salazar had two catches for 30 yards to highlight the passing game.
Estopier has rushed for 462 yards in five games while Torres has six receptions for 100 yards.
Sweetwater kicked off the season with a demanding schedule that included teams with a current 13-7 record. Injuries were a problem early on but players have started to return to the lineup to bolster the team.
The Devils will have an extra week to heal before they host the winless San Ysidro Cougars on Sept. 28.
In other non-league games last Friday:
Montgomery 23, Army-Navy 3
The Aztecs improved to 2-3 on the season after rolling up 242 total offensive yards against the host Warriors (2-2). After trailing 3-0 at the end of the first quarter, Montgomery racked up 23 unanswered points.
Highlights included an interception return by Daniel Sandoval in the third quarter and a 38-yard touchdown run by junior Xavier Brown (five carries, 65 yards) in the fourth quarter.
Southwest 49, O'Farrell Charter 0
The host Raiders evened their season record at 2-2 with the non-league victory against the Falcons. Southwest accumulated 321 total yards in offense, including 168 rushing yards and 153 passing yards. Senior Daniel Beltran (seven carries, 71 yards) led Southwest with three rushing touchdowns.
The Raiders scored five rushing touchdowns in the game, with sophomores Daniel Carrillo (five carries, 44 yards) and E Gonzalez (two carries, 40 yards) both reaching the end zone.
Senior quarterback Aaron Hildalgo hit Carrillo on a 40-yard scoring pass. Senior Kelton Lindsey had two catches for 35 yards.
Junior Ray Flores led the Southwest defense with 12 tackles, including six tackles for a loss and one sack. Lindsey also had one interception and one fumble recovery (which went for a 20-yard touchdown return).
The Raiders will play at winless Clairemont (0-4) this Friday in a bid to climb over the .500 mark.
PREP FOOTBALL KICKOFF
FRIDAY NIGHT LIGHTS
Non-League
Friday, Sept. 14
Bonita Vista 21, Patrick Henry 6
Eastlake 52, Valhalla 0
Sweetwater 35, El Cajon Valley 0
Castle Park 37, Hoover 7
Montgomery 23, Army-Navy Academy 3
Mater Dei Catholic 26, Chula Vista 0
Southwest 49, O'Farrell Charter 0
University City 18, Mar Vista 7
Granite Hills 40, Hilltop 6
Steele Canyon 25, Otay Ranch 7
Point Loma 45, Olympian 13
Kearny 58, San Ysidro 0
Friday, Sept. 21
Hilltop vs. Bonita Vista at Southwestern College, 7 p.m.
Chula Vista at Morse, 7 p.m.
San Ysidro at Francis Parker, 7 p.m.
Castle Park at Crawford, 7 p.m.
Valhalla at Otay Ranch, 7 p.m.
Mar Vista at Santana, 7 p.m.
Southwest at Clairemont, 7 p.m.
Olympian at Cathedral Catholic, 7 p.m.
Eastlake at El Camino, 7 p.m.
Mater Dei Catholic at Oceanside, 7 p.m.
Eight-Man
Friday, Sept. 14
Victory Christian Academy 52, Warner Springs 30
Horizon Prep 13, Ocean View Christian Academy 7
Calvary Christian Academy 60, Borrego Springs 48
Friday, Sept. 21
Ocean View Christian Academy vs. Victory Christian Academy at Mt. Miguel High School, 7 p.m.
MaxPreps/Top 10 RANKINGS
Division I: 1. La Costa Canyon (5-0), 2. Cathedral Catholic (3-1), 3. Torrey Pines (5-0), 4. Helix (2-3), 5. Eastlake (4-1), 6. St. Augustine (4-1), 7. Mission Hills (2-3), 8. Carlsbad (3-2), 9. Madison (4-1), 10. San Marcos (3-1). Others: 13. Otay Ranch (2-3)
Division II: 1. Point Loma (3-2), 2. Vista (4-1), 3. Granite Hills (4-0), 4. Lincoln (5-0), 5. Ramona (3-2), 6. Mira Mesa (4-0), 7. Valley Center (3-2), 8. Poway (3-2), 9. Bishop's (2-2). 10. San Pasqual (3-2). Others: 11. Olympian (1-4), 12. Bonita Vista (1-4), 13. Mater Dei Catholic (2-3)
Division III: 1. Christian (4-0), 2. Monte Vista (3-1), 3. Central Union (5-0), 4. Brawley (4-1), 5. Santa Fe Christian (3-1), 6. West Hills (4-0), 7. Morse (2-2), 8. University City (4-1), 9. Imperial (3-2), 10. Escondido (3-2). Others. 15. Hilltop (1-4)
Division IV: 1. Kearny (4-0), 2. San Diego (3-1), 3. Santana (4-1), 4. Mar Vista (3-2), 5. Del Norte (3-2), 6. Chula Vista (2-3), 7. La Jolla Country Day (2-3), 8. Coronado (4-1), 9. Classical Academy (3-1), 10. Serra (1-3). Others: 12. Sweetwater (1-4), 14. Montgomery (2-3)
Division V: 1. Francis Parker (5-0), 2. Holtville (4-1), 3. Vincent Memorial (3-1), 4. Tri-City Christian (3-1), 5. Palo Verde Valley (3-2), 6. Maranatha Christian (3-2), 7. Orange Glen (3-1), 8. Mountain Empire (3-2), 9. Castle Park (2-3), 10. Southwest (2-2). Others: 14. San Ysidro (0-5)
Eight-man standings: Calvary Christian Academy 4-0, Victory Christian Academy 1-2, Ocean View Christian Academy 0-3
Prep Football Pictorial
Patrick Henry vs. Bonita Vista
Photos by Phillip Brents