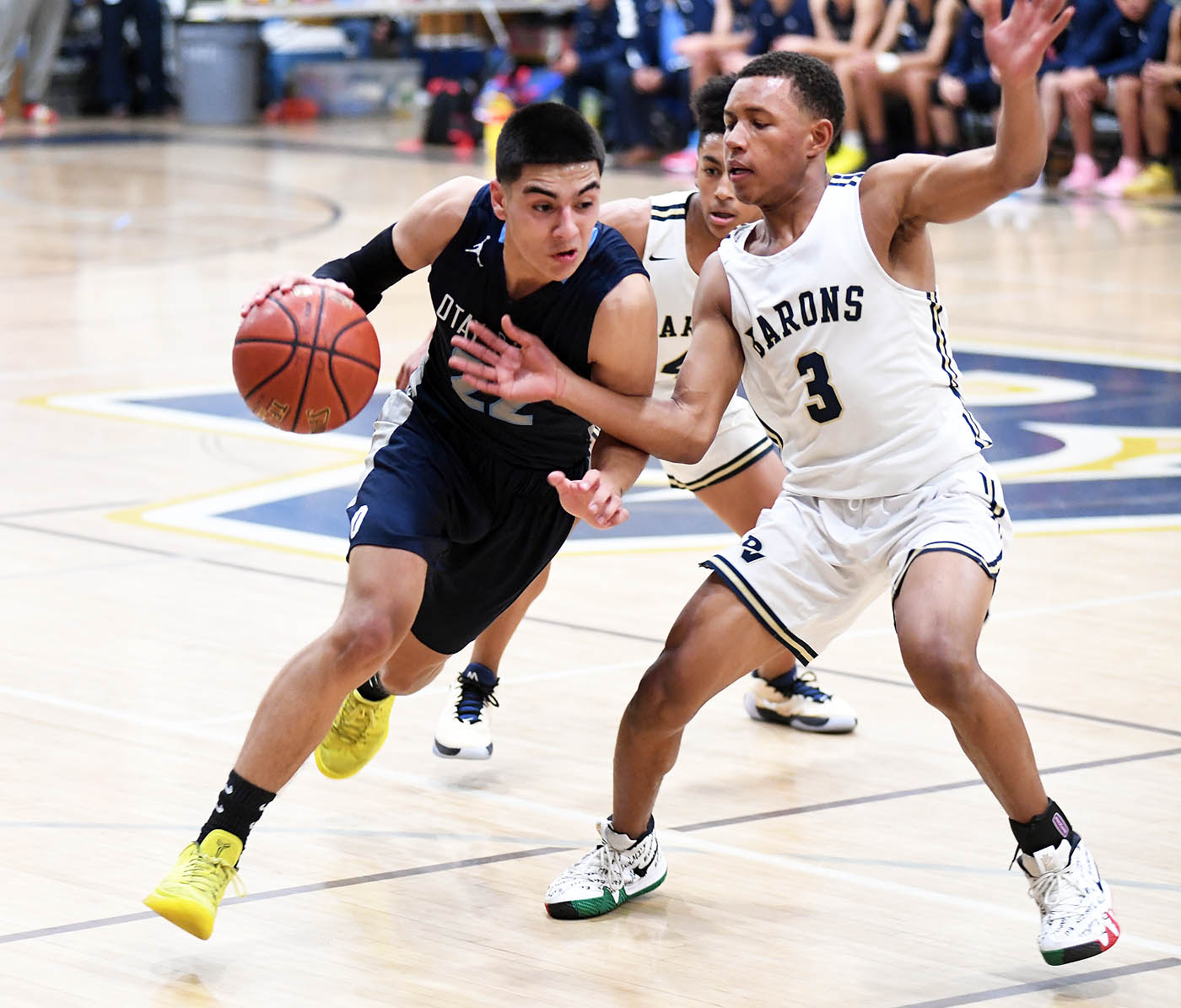 Rankings are what they are, but league play can be a great equalizer.
The Otay Ranch and Bonita Vista high school boys basketball teams played to that axiom in Wednesday's Mesa League opener at Bonita Vista High School.
Otay Ranch entered the 2020 calendar year ranked third among the San Diego Section's Division II teams while Bonita Vista was ranked fifth.
The teams appeared much more evenly balanced by the time league play rolled around, with the host Barons capturing a 77-70 decision over their higher-ranked opponent.
"We came out of the gates very fast," BVHS head coach Don Dumas said. "We started out 7-0. We lost a couple but rebounded with a 13-5 record going into league. I'm happy how we played during the tournament season. We played some tough teams to get us ready to play in our tough league. I think that worked out."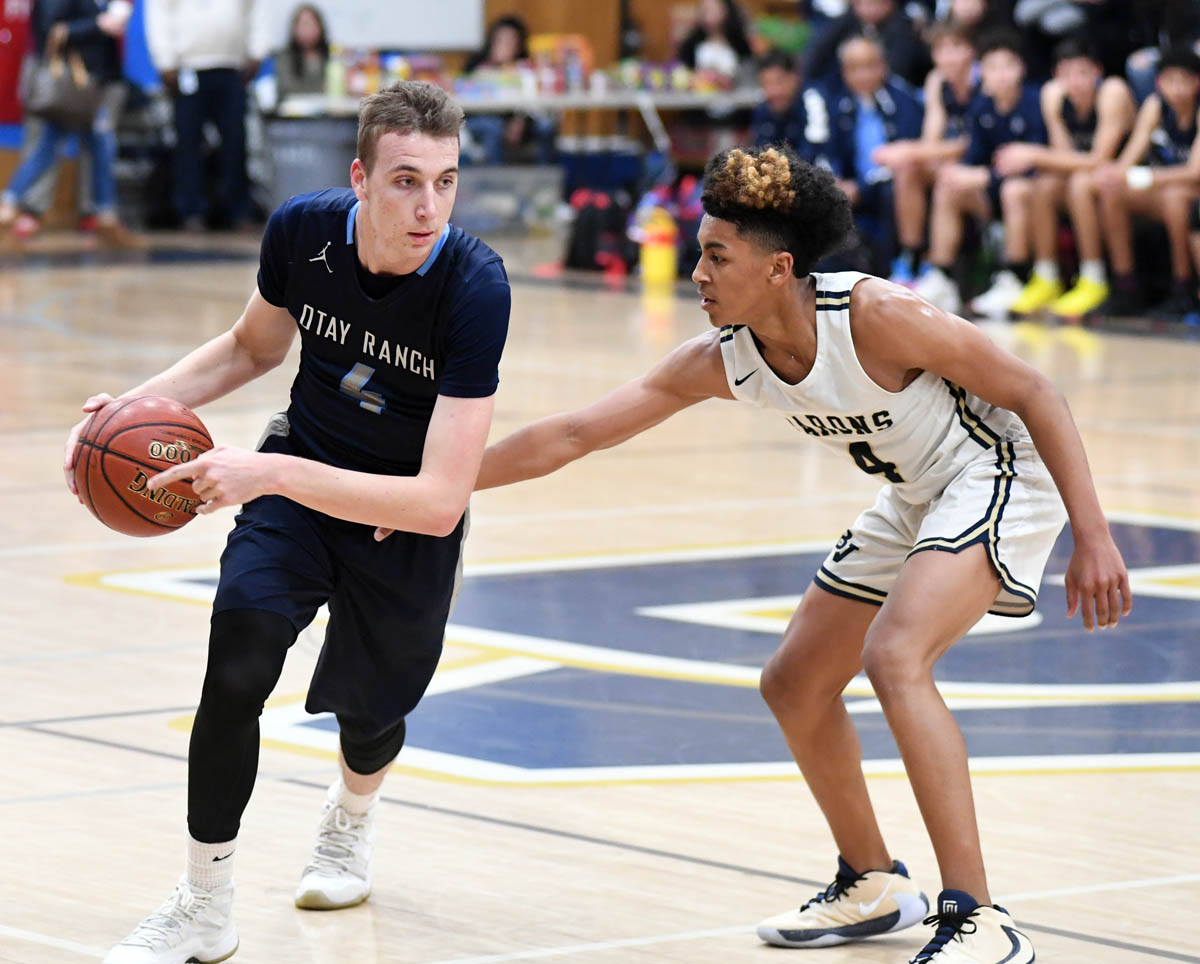 Things worked out for the Barons (14-5) in their first of many big tests in league play.
The hosts scored the first four points in Wednesday's high profile matchup before the Mustangs — blessed with a superior height advantage — rallied to take an 11-9 lead.
The teams ended the first quarter embroiled in an 18-18 tie and quickly engaged in a rapid-fire exchange of leads throughout the second quarter.
Bonita Vista led 36-35 at halftime.
Otay Ranch, which entered Wednesday's game with a 15-3 record, was thrown for a loss in the third quarter.
Six-foot-nine senior Zak Rachow scored clutch back-to-back baskets to put the Mustangs in front 46-45. But the Barons promptly answered back by engineering a 10-point run that had the home crowd airing out their lungs in satisfaction.
Treys helped ignite the BV scoring streak. The Barons ended the quarter with a 64-50 lead on the scoreboard.
The visitors rebounded to trim the BV lead to three points, 70-67, with 1:30 to play in the fourth quarter but ran out of steam.
Fouls placed the Barons at the free-throw line down the stretch for insurance points. A defensive swat under the bucket on Otay Ranch senior forward Patrick Brinkman with 30 seconds left effectively ended the Mustangs' comeback bid.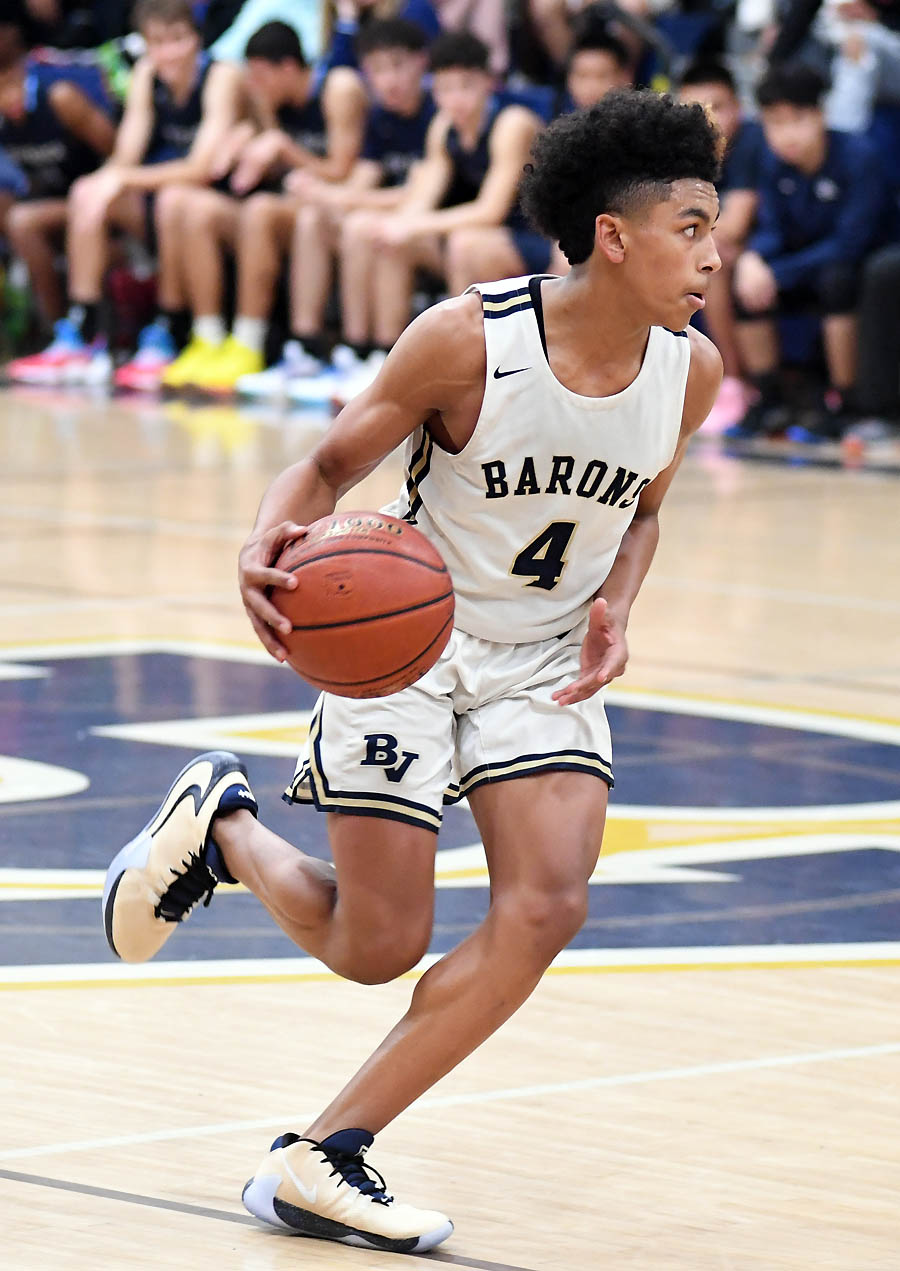 Morris "Mo Mo" Stokes led Bonita Vista with 23 points while twins D.M. and D.J. Sanders both poured in 16 points and D.J. Holmes dropped in 10 points.
"We weren't as sharp as we wanted to be offensively in our execution, but we showed grit and determination," Dumas said. "League games can be ugly. As long as we win, I'm happy."
Three Otay Ranch players hit for double digits. Brinkman led the Mustangs with 19 points while Tony Sanchez had 17 points and Kolby Yates had 14 points.
"We've played a lot of games, so we don't have a lot of time to practice," Otay Ranch head coach Howard Suda explained. "We've had to make adjustments on the playing court. There was a point in the game when Bonita made some good plays on defense and made some buckets. They did a good job of running their offense. It was a combination of their offense and their press that helped them in their run. They're a good team."
The upset win elevated the Barons to the No. 2 perch in the Division II rankings while the Mustangs remained at No. 3.
Dumas said his team is taking the balance of the team's 2019-20 schedule one game at a time.
"We don't talk about league championships for CIF championships," the BV coach said. "We talk about our next opponent. Our goal is to beat Olympian on Friday. We want to win the next period; we want to win the next game. We want to stay focused on the moment and don't look too far ahead."
Bonita Vista travels to Olympian (13-4 overall, 1-0 in league) while Otay Ranch hosts eighth-ranked Mater Dei Catholic (13-3 overall, 1-0 in league).
Both games tip off at 6 p.m.
In other Mesa League games on Wednesday, Olympian topped host Montgomery, 54-52, while Mater Dei Catholic defeated visiting Eastlake 79-60.
Olympian is ranked ninth among Division II teams.
Girl power
Bonita Vista won its Mesa League opener on Jan. 13 by a 60-point margin over visiting Olympian and captured its second league victory on Wednesday by a 29-point margin, 81-52, at Otay Ranch.
Bonita Vista received points from 10 players in the league opening win over Olympian, with junior transfer Sylena Peterson leading the group with 17 points and six steals. Freshman Kendal Alloway led the team with 14 rebounds.
Bonita Vista, ranked fifth among Division I teams, charged to the victory by amassing 33 rebounds and 20 steals.
Peterson led the way with 28 points in Wednesday's game while freshman Madison Canon grabbed 11 rebounds.
The pair of league wins pushed Bonita Vista's overall record to 9-4. Mater Dei Catholic (10-5) is also 2-0 in league play (and ranked ninth among Division I teams) while Montgomery (12-5) won its league opener on Wednesday by a 63-60 score at Olympian.
Michelle Castro poured in 32 points for the Lady Aztecs against the Lady Eagles (9-11, 0-2 in league).
Four Metro Conference teams have cracked the Division II top 10 rankings — Otay Ranch (14-3) at No. 1, Eastlake (12-7) at No. 2, Montgomery at No. 6 and Chula Vista (12-7, 4-0 in South Bay League play) at No. 9.
Castle Park (9-8, 5-0 in South Bay League play) is ranked fourth among Division IV teams.
Bonita Vista coach Tristan Lamb believes his team can reach high this season.
"It's great," Lamb said of his team's start to the 2019-20 season. "Everyone's together. Not only is everyone together but they're coming together as a team. We're really putting it together. We expect to make it all the way. Our girls feel they can make it to the CIF championship and put another banner on the wall."
Bonita Vista topped league rival Mater Dei Catholic in the Division I championship game in 2018.
Photo Gallery by Phillip Brents
Bonita Vista 77, Otay Ranch 70