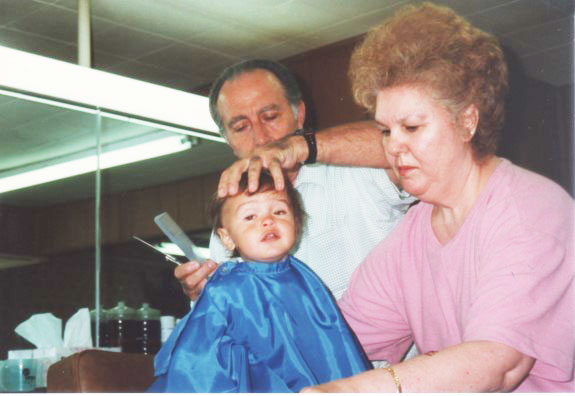 The Small Business Administration San Diego District Office presented its 2023 Small Business Week Awards winners on May 9. National City's Highland Barber Shop earned the Family-Owned Small Business of the Year Award.
Antonio "Tony" Camara opened the shop in 1972. After Antonio's passing in 2018 his wife Betty took over until she got cancer. Then Raland, her son, started running the business. Transitioning from being an engineer at Northrop Grumman, Raland needed help, so he sought and received a wealth of guidance from the Small Business Development Center in several areas, which helped the business weather the storm and emerge better than ever. It is the longest running barber shop in National City.
During the forced closures in the early stages of the pandemic, Raland took advantage of that time to remodel the shop. He also expanded the shop's digital presence and clientele and hired more barbers during a tumultuous time for the industry. His team and loved one's 50th anniversary efforts also produced a bump in business that has continued.
Raland Camara said this is the little yellow barber shop on the corner that has remained there for more than 50 years.
"My parents had a pretty simple business model," he said. "They just wanted to provide a good haircut at a great price. That business model has stood the test of time."
Camara said his mother was diagnosed with cancer during the COVID-19 pandemic, and that is when she asked him to step in and take over. An engineer by day said he turned to the SBDC to help him understand how to run this business.
"I'm an engineer. I build avionic systems," he said.
He said the SBDC was extremely helpful with all the "ups and downs" and closures during the pandemic, and that was a challenge. He said because of closures, he went seeking government funding because he thought it would help them navigate through the forced closures, but he learned much more than expected about running the business.
"They have very sound, good business mentors," he said. "I learned many things. Not just running the shop, but attracting new business, advertising our product, and a myriad of things that they provided to help. And they are a good sounding board. My moral to the story in working with them is, 'You may think you are going there for some reason, and you may find something totally different that they can be of help with.'"
Camara said the team at the SBDC worked with him together trying to move forward during those tough times. He said it was also when the shop was approaching its 50th anniversary.
"Someone asked me what it was like in 1972. I was 11 years old at that time," he said. "One of the big box retailers in the country was right down the street. Montgomery Wards. Who would have guessed 50 years from then, that big box retailer was gone, and Highland Barber Shop was here."
Camara said it shows the resiliency of a family-owned small business with a great work ethic and a business plan that still works today. He said as he got more involved, he really began to realize how much the barber shop was part of the National City community.
"I was hearing stories from customers coming in about how they would come in and get a haircut from my dad. They would come in with their dad and their grandfather and now they are coming in with their own kids," he said. "So, you get multiple generations where this little barber shop is part of their lives. This is something special. This is something that has been part of the community, part of these people's lives, and part of the local history."
Camara said as a teenager, he was going to the shop to help clean up on its busiest day, Saturday.
"The shop was full. The waiting room was full," he said. "A mom came in with her severely disabled son and it looked like he had not had a haircut in a very long time. I remember my dad stopped. Really took his time giving this young man a haircut. He was kind of a moving target, part haircut, part wrestling, and it took him a long time. But what I remember, when it was all done, I saw this young man with probably the best haircut he had had in a really long time. It was a transformation. I saw his mom who was crying her eyes out because she was so happy to see her son looking so good. My dad says, 'It's on the house.' I remember going home that evening after witnessing all this and watching my dad sitting at the dinner table and not saying anything about it. I was waiting for him to tell the story. For him it was just pass the chicken. I could not take it any longer and had to say something. My mom said he did it all the time."
Camara said it was very common for people to stop his dad on the street and thank him for giving haircuts to people homebound, and more ways that he "would go out of his way to help people."
"I think that kind of gives you a flavor of what happens at this barbershop," he said. "That is one of the big reasons it is part of the community, and it has been for so long."