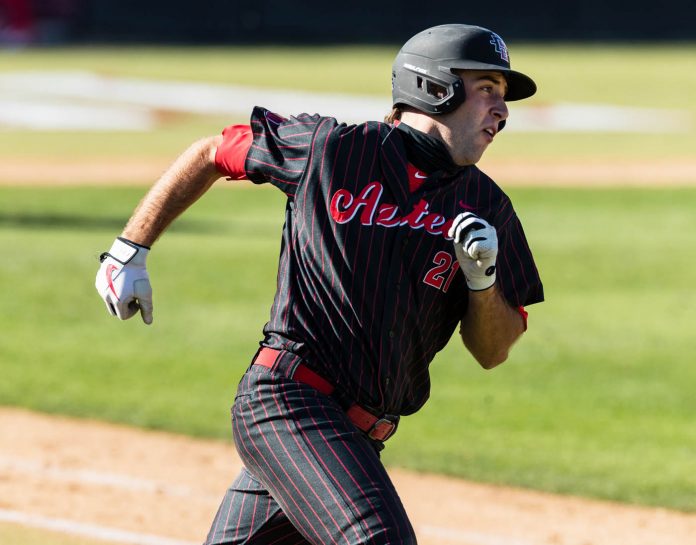 San Diego State University took two of three games from the University of San Diego in the teams' season opening series last weekend. South County prep alumni made an impact in the series for the Aztecs.
Brian Leonhardt (Eastlake) proved to be a major contributor for SDSU with seven hits, four runs scored and seven RBI while also seeing action on the mound. He recorded at least one hit, one run scored and one RBI in each of the three games.
Tre Brown and Ricky Tibbett, also both ex-Titans, saw action on the hill. Brown picked up the win in relief in the middle game of the series, a wild 19-18 comeback win for the Aztecs.
Leonhardt and teammate Jacob Cruce each drove in three runs to lead SDSU to a 14-7 victory in last Friday's season opener. The Aztecs battered seven Torero pitchers for 19 hits to notch their fifth consecutive victory on opening day.
Leonhardt, serving as a designated hitter, went three-for-four at the plate with a double, one run scored and three RBI.
In all, seven players recorded multiple hits for SDSU, including Leonhardt, Jaden Fein and Ryan Orr, who finished with three apiece.
Leonhardt stroked two hits, including a double, in four plate appearances in last Saturday's marathon game. He scored twice while driving in three runs.
The Aztecs rallied from a 17-12 deficit in the seventh inning before Mike Jarvis scored on a wild pitch in the bottom of the 10th inning to keep SDSU undefeated.
Brown, one of six Aztec pitchers in the contest, picked up the win after tossing 2.1 scoreless innings while yielding two walks and no hits.
Tibbett appeared earlier in the game, allowing three earned runs in two-thirds of an inning.
Leonhardt went two-for-five with one run scored and one RBI in Sunday's finale, a 16-12 loss.
Batter up
Melton (1-0) allowed four runs (two earned) on four hits and one walk to go with three strikeouts in 4.2 innings to earn his first win of the season in last Friday's opener.
SDSU closed the gap in last Saturday's game on a pair of two-run singles by Jacob Cruce and Jaden Fein in the bottom of the seventh inning while Leonhardt looped a two-run single to left, scoring Wyatt Hendrie and Cruce, who had doubled after Hendrie was hit by a pitch.
Offensively, Fein led the Aztecs with three hits and four RBI, while Leonhardt and Caden Miller each delivered two hits and drove in three RBI.
The second game of the season featured some huge momentum swings. SDSU scored eight runs in the second inning while sending 12 batters to plate. The Toreros countered with nine runs in their next turn at-bat, highlighted by Adam Lopez's grand slam.
Lopez finished with five RBI in the loss.
Fein earned honors as the Mountain West Player of the Week after posting a .533 hitting average, leading the team with eight hits while tying for the top spot on the team with seven RBI in the three-game series against USD. Fein was the MW Co-Freshman of the Year in 2019 as well as earning Freshman All-American honors from Collegiate Baseball magazine.
Fein was tabbed as the 2021 MW  Player of the Year by Baseball America.