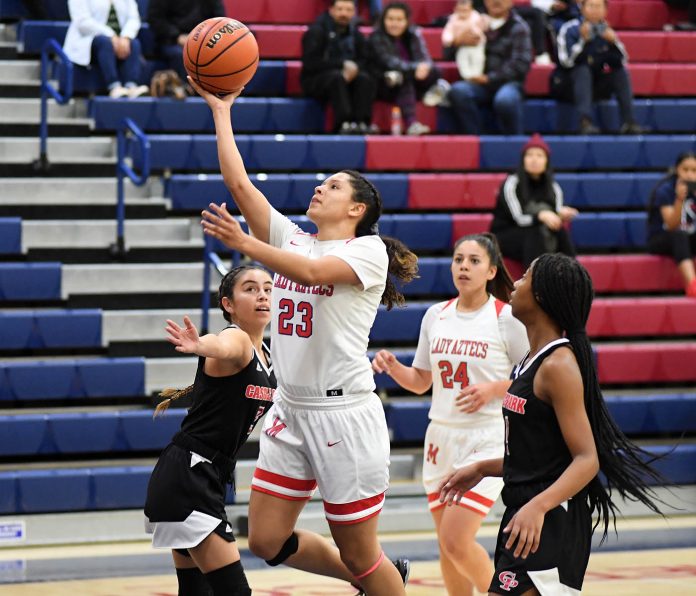 The 37th annual Aztec Holiday Classic basketball tournament wrapped up Monday at Montgomery High School with 16 participating teams — eight in each gender field.
Point Loma defeated Morse, 55-46, in the boys championship game to finish tourney play 4-0 while tourney-host Montgomery finished runner-up in the girls championship game following a 67-25 setback to Scripps Ranch.
Tournament play took place from Dec. 26-30.
"I think we're the longest-standing boys and girls tournament in the county," said Montgomery athletic director Ed Martin, who serves as the school's boys basketball coach.
Eastlake, San Dieguito Academy, Monsignor McCoy (Medicine Hat, Alberta), Morse, Point Loma, Mount Miguel and Madison joined the host Aztecs in this year's boys field while Castle Park, Scripps Ranch, La Jolla, Central Union, Otay Ranch, Calexico, Mount Carmel and Montgomery filled out the girls field.
"We like our quality of teams," Martin said of the tournament lineup. "The Torrey Pines tournament has gotten so big it's tough to get in. We've got some good basketball teams here. It makes for a competitive tournament."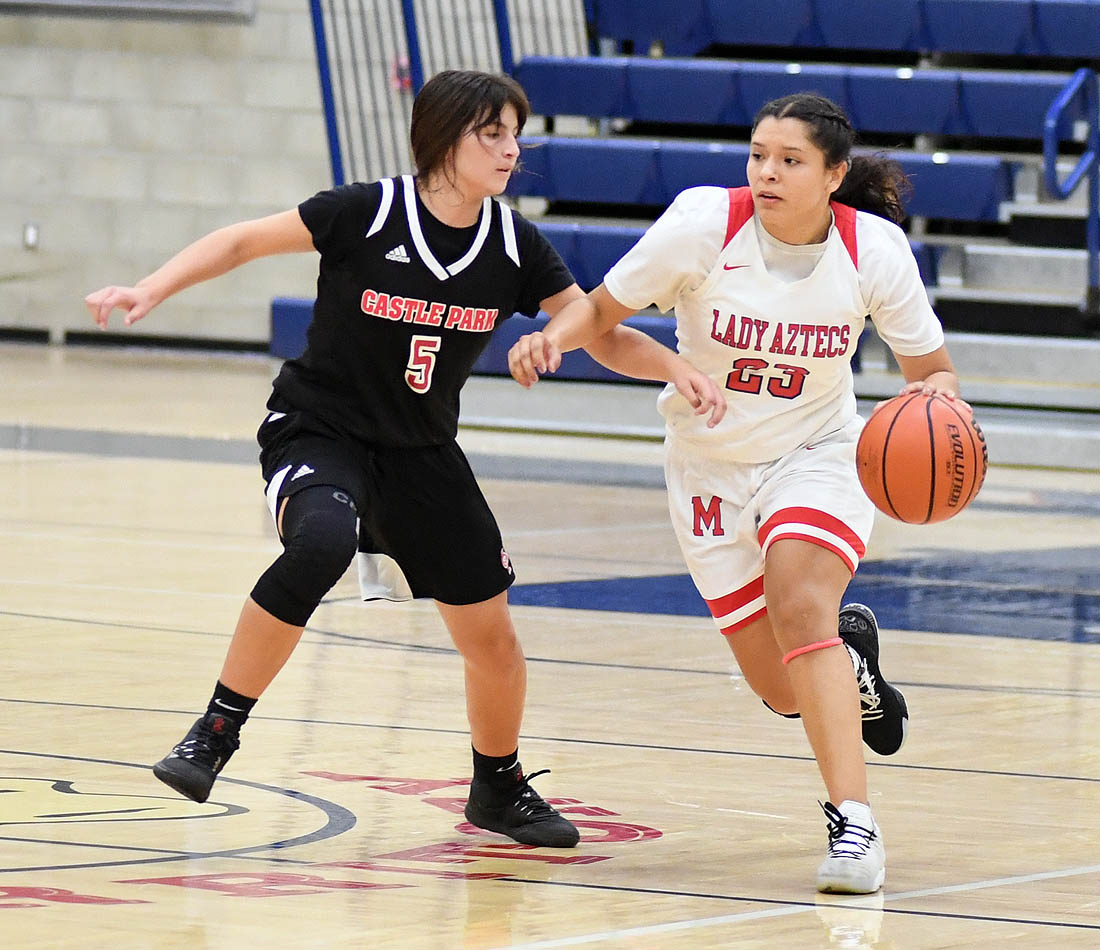 Ladies first
Montgomery improved to 10-4 on the season with a 3-1 tournament showing.
The Lady Aztecs won their opening three games — 35-19 against Castle Park, 42-20 over La Jolla and 49-29 against Central Union — to reach Monday's championship game against the Lady Falcons.
Michelle Castro led Montgomery with 25 points in the win over Castle Park
Gichelle Villar keyed Montgomery with 27 points in the win over La Jolla and topped the team with 30 points in the win over Central Union.
Scripps Ranch, which finished 4-0 in the tournament to improve to 7-4 on the season, led 42-18 at halftime of Monday's championship game.
Otay Ranch, which is off to a 14-2 start, finished 2-2 at the Aztec Classic. The Lady Mustangs had opened the season with 12 consecutive wins before dropping a 53-38 decision to Scripps Ranch on the opening day of the tournament.
The Lady Mustangs rebounded with a 54-53 win over Calexico but then fell, 46-26, to Mount Carmel in third round play last Saturday.
Otay Ranch wrapped up tourney play with a 62-30 non-league win over La Jolla in a cross-over game on Monday.
Following the loss to Montgomery, Castle Park (6-6) rebounded with wins over Central Union (38-25) and La Jolla (41-20).
Hoop men
The host Aztecs (7-5) finished 3-1 in the tournament with wins over Canada's Monsignor McCoy (89-48), Madison (86-60) and Mount Miguel (71-19) and a narrow loss to Point Loma (45-43).
Montgomery broke out to an electrifying 24-7 first quarter lead over the Canadian visitors before outscoring them 65-41 in the final three quarters.
Junior Eddie Magdalena led the hosts with 24 points while senior Albert Magdalena had 16 points.
Montgomery hosts Olympian to tip off Mesa League play on Jan. 15. Martin likes where his team sits at this point of the season.
"We've played a really tough schedule," the Aztec coach said. "I think we've played good basketball. We have lost a couple good leaders to injuries. But we have a lot of talented players who work well together. I think we have a lot of positives."
Eastlake (9-6) also finished 3-1 with wins over San Dieguito Academy (59-52), Mount Miguel (79-55) and Monsignor McCoy (79-30) and a loss to Morse (64-47).
Alexander Crawford earned player of the game honors in the wins over San Dieguito Academy and Mount Miguel while Bryan Orozco earned player of the game honors in the win over Monsignor McCoy.
Crawford dropped in 23 points against SDA and 21 points against Mount Miguel while Orozco led Eastlake with seven rebounds and tacked on eight points in the win over the Canadian visitors.
Xavier Rubio led the Titans with 21 points in the loss to Morse.
Eastlake tips off Mesa League play Jan. 15 at sixth-ranked Mater Dei Catholic.
Notable
Otay Ranch finished runner-up to Mission Hills, 59-54, in Monday's Mayors Division championship game of the Under Armour Holiday Classic at Torrey Pines. The Mustangs opened the tourney by defeating Mission Vista (99-48), High Tech High San Diego (75-49) and Sweetwater (71-69).
Otay Ranch improved to 13-2 on the season. The Mustangs tip off Mesa League play Jan. 15 at Bonita Vista.
Sweetwater (6-8) topped Twentynine Palms, 76-71, to capture third place in the division. The Red Devils finished 3-1 at the Torrey Pines tournament after finishing 2-3 at the Frank Perkarek Host Lions Club Classic Dec. 13-21 in National City.
Sweetwater opened play in the Under Armour Classic with wins over La Canada Flintridge Prep (68-59) and Sage Creek (59-42) before engaging rampaging Otay Ranch.
The Red Devils host Castle Park on Wednesday, Jan. 8, to tip off South Bay League play.
The Red Devils host Castle Park on Jan. 8 to tip off South Bay League play.