The 71st San Diego Lions tournament, which annually fills dates between Palm Sunday and Easter, treated fans to high-profile high school baseball games this past week on fields throughout San Diego County.
One notable difference this year because of changes in scheduling within the San Diego Section is that the event is now a four-game tournament. Two brackets are set up between divisions, with the bracket winner advancing directly to the championship game. There were no semifinal games, as in past years.
Twelve East County and 14 South County high school baseball teams participated in this year's event, which was founded in 1951, thus preceding the formation of the San Diego Section.
Granite Hills and Helix Charter high schools were part of the Dennis Pugh Open Section A division while Santana and Grossmont were part of the Mike Morrow Open Section B division.
Eastlake was part of the John Baumgarten Classic A division while Steele Canyon and Bonita Vista were part of the Les Cassie Classic B division.
Otay Ranch was part of the Dick Serrano Premier A division while Montgomery and Mater Dei Catholic were part of the John Netterblad Premier B division.
Valhalla and West Hills were part of the Mike Luitzi Division 4A division while Monte Vista and Olympian were members of the Bob Hinshaw Division 4 B division.
Mount Miguel, San Ysidro, Foothills Christian and El Capitan were part of the Gaylord Stickney 3A division while Mar Vista and Hilltop were part of the Ray Hummel 3B division.
Chula Vista was part of the Bill Burrows 2B division while Southwest-San Diego and High Tech High Chula Vista were part of the Jim Gordon 1A division.
Sweetwater and Castle Park were both of the Jim Reed 1B division while El Cajon Valley was part of the Bob Merchant 1C division.
Pool play began Monday and wrapped up with championship games on Thursday. The annual Lions tournament is regarded as the fourth best high school baseball tournament in the country and usually tops 120 teams each year.
Many top 25 teams in the nation have played in the tournament.
Grossmont and Sweetwater high schools were part of the inaugural eight-team tournament held at the Navy Fields along with La Jolla, Point Loma, San Diego, Hoover, University and St. Augustine.
Out-of-town teams began to attend the tournament in the mid-1980s.
The tournament has produced a slew of players who have gone on to play in Major League Baseball.
Batter up
After opening with an 8-6 loss to Central Union on Monday, Hilltop (0-2 in South Bay League play) posted a 4-3 win over visiting Nevada Union in nine innings on Tuesday to improve its season record to 7-9.
Hilltop head coach Kurt Gritts said he welcomes the Lions tournament each year.
"It's an opportunity to see different people, different teams," said Gritts, whose team was scheduled to host Linfield Christian on Wednesday. "We played them (Nevada Union) about eight years ago and I noticed they still had the same coach. It was great to see them again."
Hilltop, which Gritts said has won its division in the Lions tournament several times, has hit several speed bumps along the way this season with a team slanted toward the younger side of the roster. The Lancers lost their two league opening games to Mater Dei Catholic by scores of 4-1 (at home on April 5) and 17-3 (away on April 7).
It was an uphill battled again on Tuesday.
"We make a lot of mistakes, especially base-running blunders, that a more mature team wouldn't make," Gritts said. "We're still young."
But the Lancers appear to be learning and that counts for something.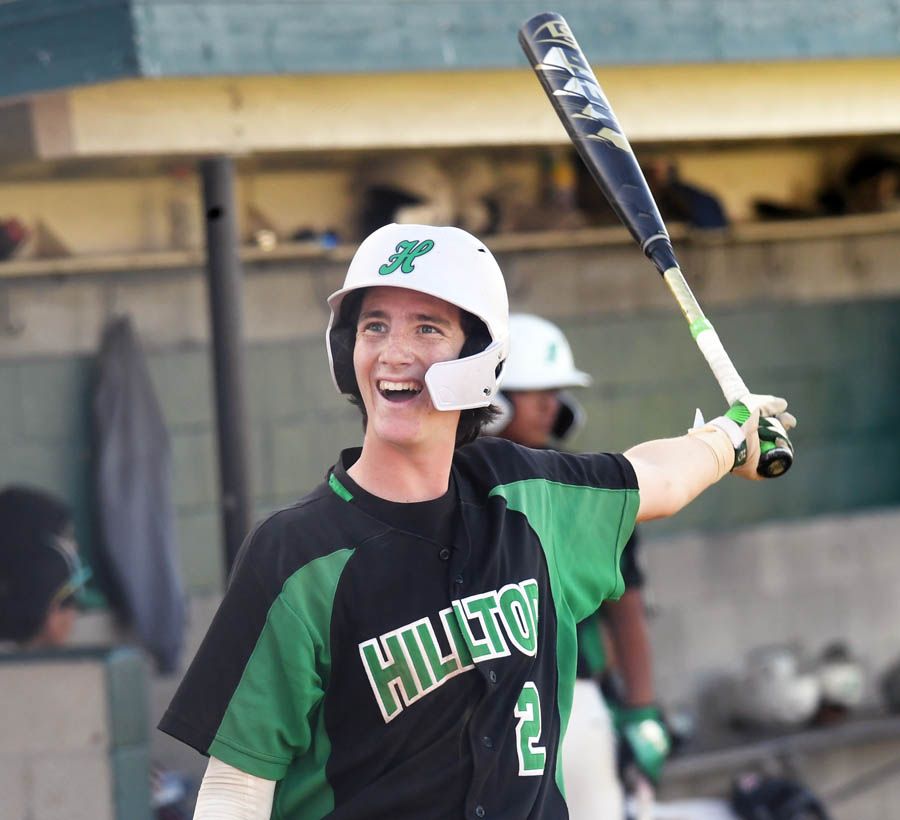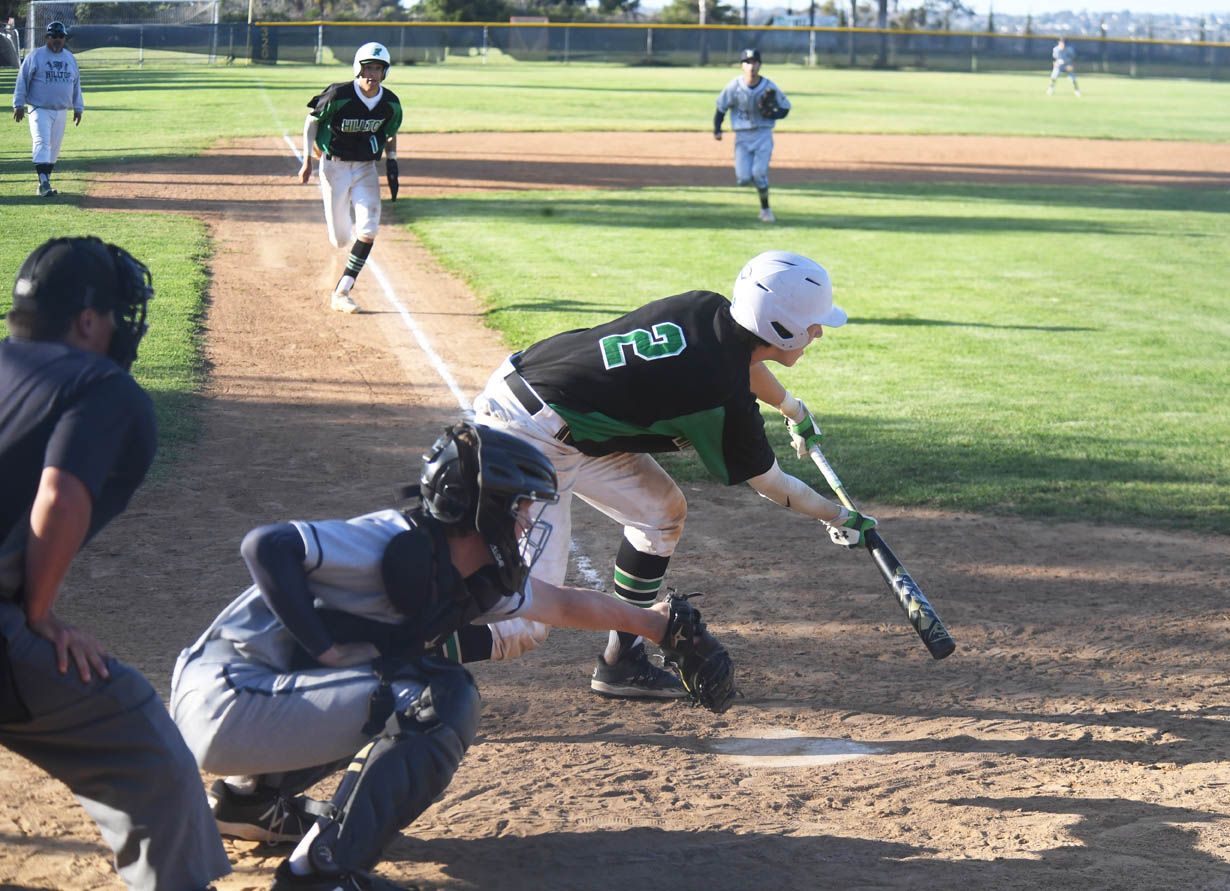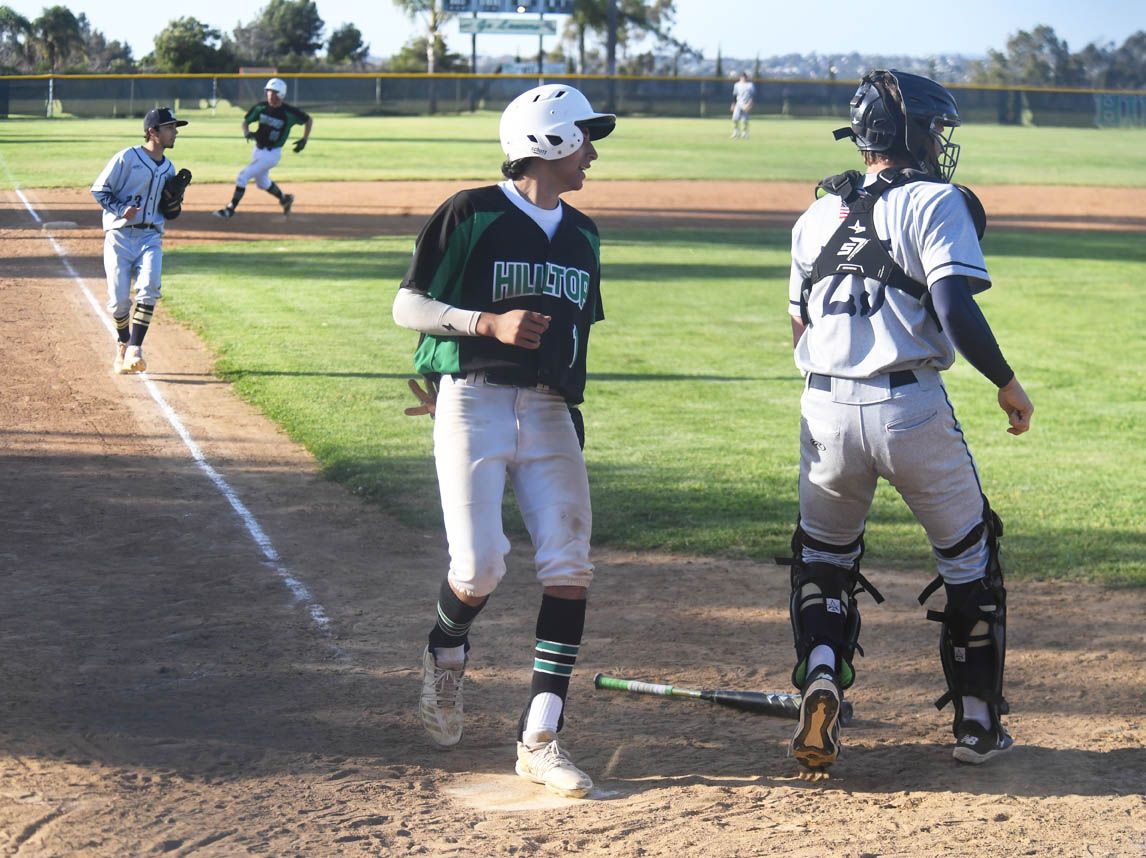 "Now that we lost our two games to Mater Dei Catholic, it's going to be tougher to try to win league," Gritts said. "We have to hope that someone can knock them off and we can catch fire and the end, and we'll see what happens."
Hilltop caught fire late in Tuesday's tournament contest to plate a much-needed victory.
Ivan Ortega scored the Lancers' first run in the opening inning after reaching base on a drag bunt and then advancing to second base on a sacrifice. He stole third base and scored on the ensuing overthrow.
However, the Miners would take a 2-1 lead with runs in both the fifth and sixth innings.
But it was time for the hosts to manufacture another run to avert a third-consecutive loss.
With two down, junior Parker Salts put down a perfect squeeze play to score teammate Jorge Garcia. Salts managed to beat the play to first base to keep the bases loaded in a 2-2 tie. But the Lancers could not plate another run as the game flipped to the top of the seventh inning.
Hilltop responded with consecutive base hits in the bottom of the seventh inning to offer some promise for a walk-off victory. But one ball hit deep down the left field line only resulted in a long single to blunt the rally.
After a scoreless eighth inning, Nevada Union (9-10) scored one run in the top of the ninth inning to go ahead, 3-2, on the scoreboard. Corey Ellis received credit for the RBI.
Javier Meza opened the bottom of the frame with a walk off freshman Mason Muellenhoff. Ortega sacrificed him to second base and Diego Garcia followed with a double to score Meza to knot the teams in a 3-3 deadlock.
But the standoff on the scoreboard did not last long, however.
A hit batsman put two runners on the basepaths. Jorge Garcia hit into a force play at second base but advanced a runner to third base.
Carlos Vazquez ended the game with a ball hit deep into left center that the Nevada Union fielder lost track of and it landed over his head, allowing both Lancers to score.
4-3 Hilltop.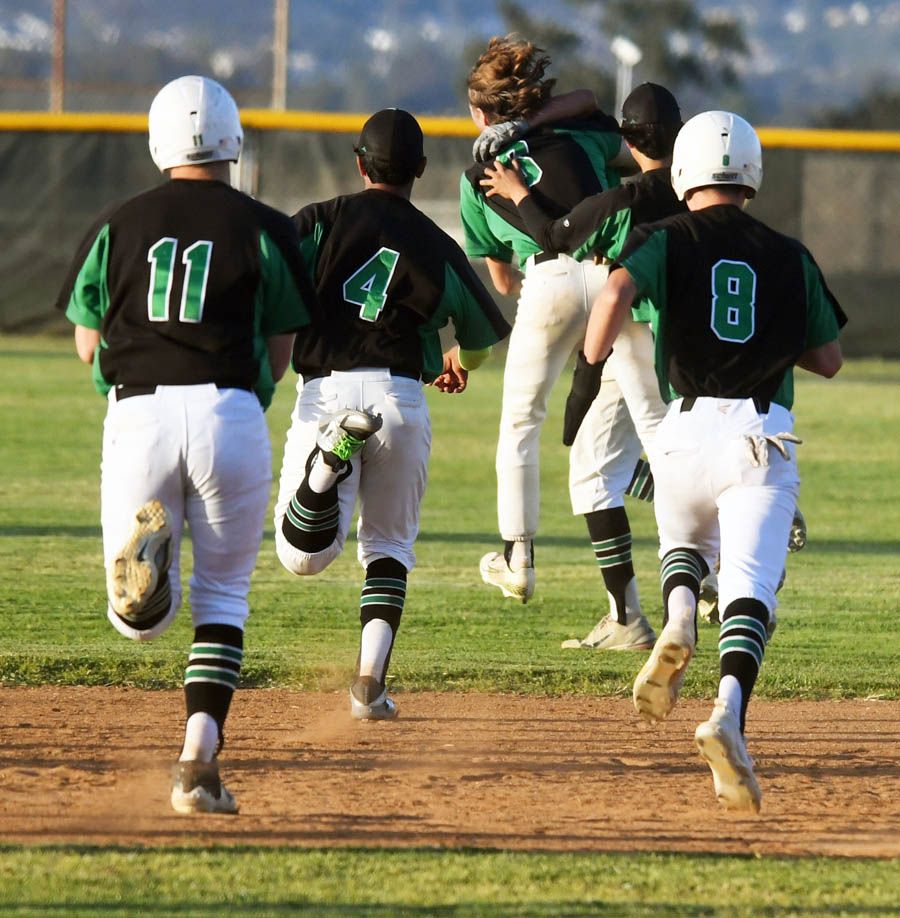 Nevada Union used three pitchers. Sophomore Brenden Pinney started and went five innings, allowing three hits, before sophomore Brady Mallette relieved him, pitching three innings with three hits. Muellenhoff took the loss while pitching two-thirds of an inning.
The Lancers employed the services of four hurlers. Fernando Ponce started but left in the second inning. Rivera followed on the mound before being relieved by Meza. Vazquez finished the game as the winning pitcher.
Lucas Mackey and Steel Witchek were the Miners' other two RBI-makers. Witchek and Ellis both recorded doubles.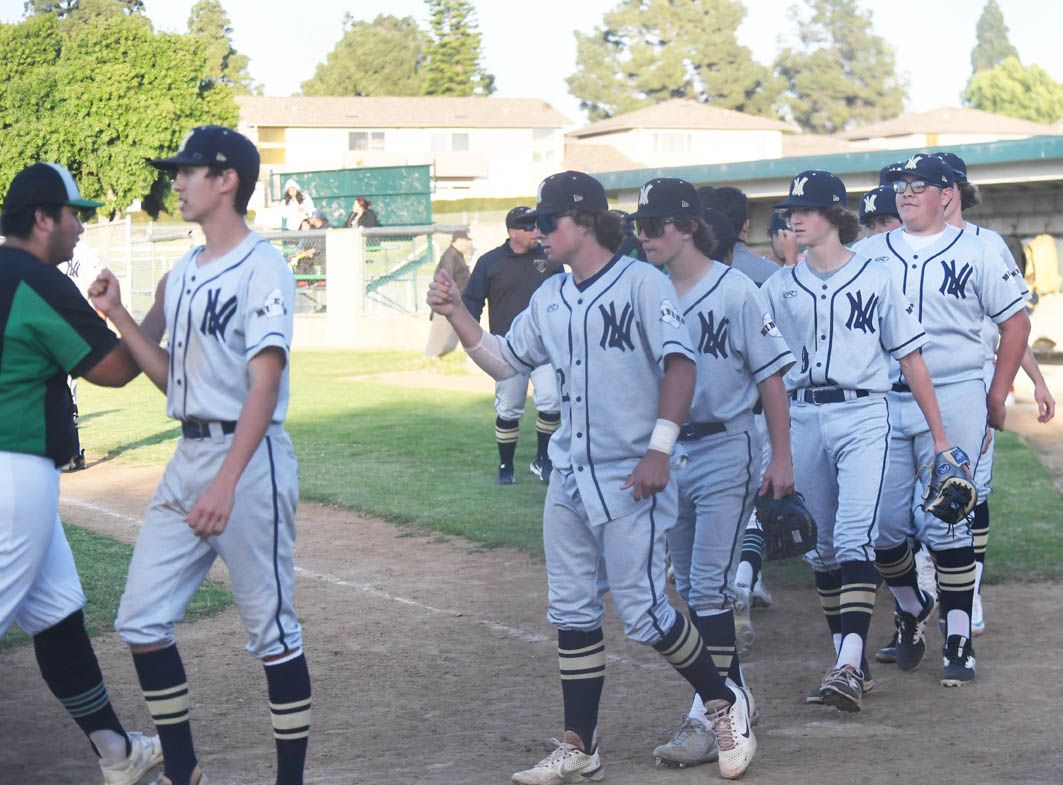 MLB alert
Two Hilltop alumni were on the 40-man rosters of the Pittsburgh Pirates (Greg Allen) and Tampa Bay Rays (Calvin Faucher) during spring training.
Allen, 29, has logged five years at the MLB level with Cleveland, Padres and New York Yankees, with a 0.241 career batting average, 37 stolen bases, 59 RBI and eight home runs.
He opened the 2022 season with the Pirates on the 60-day injured reserve list.
Faucher, 26, was taken in the 10th round of the 2017 amateur baseball draft by the Minnesota Twins. He attended UC Irvine after graduating from Hilltop and has compiled an 11-8 record in the minor leagues with 211 strikeouts in 187.1 innings.
He has since been sent to the Durham Bulls, the AAA affiliate of the Rays.
"It's great to have coached both and see where they are now," Gritts said.