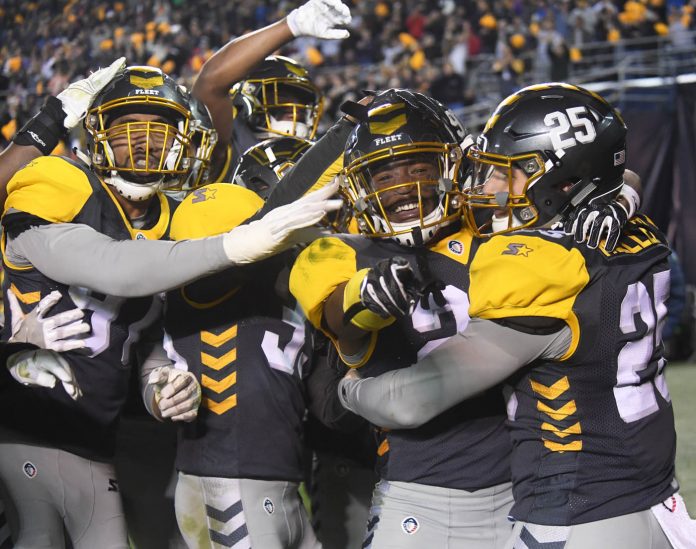 The Alliance of American Football has reached the halfway point of its inaugural season. While the fledgling league continues to generate positive press, it also continues to experience growing pains.
Those growing pains extend to its playing talent.
The AAF is not in direct competition with the long established National Football League but sees itself more as a development league for future NFL players.
The caliber seems to be slightly above college football given that most of the playing talent is drawn from NFL training camps.
A number of San Diego County high school and community college products are spread around the league.
Former Southwestern College quarterback Luis Perez is scheduled to make his San Diego homecoming this Sunday, March 17, when the Birmingham Iron takes on the San Diego Fleet at SDCCU Stadium in Mission Valley. Kick off is 5 p.m.
The Iron (3-2) may boast the top defenses in the league; the Fleet (3-2) ranks highly as well.
Sunday's game will pit teams with winning records; it will be interesting to see if the game matches the hype. Also making a San Diego homecoming with the Iron will be former Chargers kicker Nick Novak.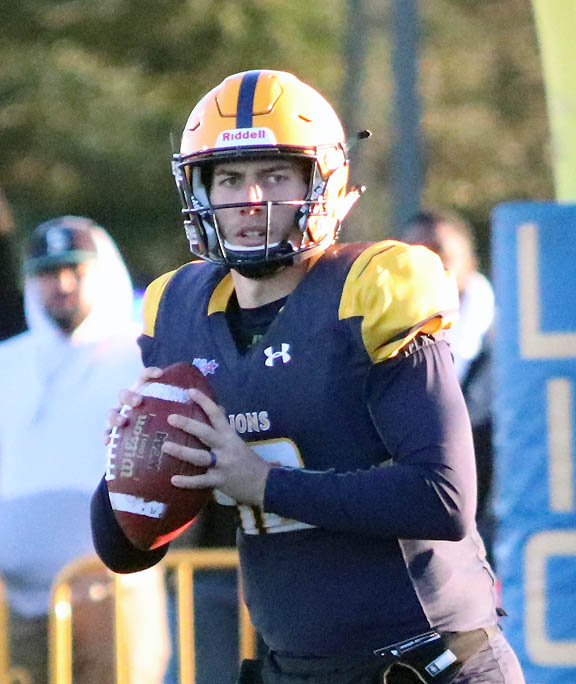 Perez, who guided Texas A&M-Commerce to the 2017 NCAA Division II championship and won the Division II equivalent of the Heisman Trophy, made headlines after leading Birmingham to a 3-0 start. But the Otay Ranch High School alumnus just as quickly met his match against opposing defenses.
After not throwing an interception in his first two games, he threw four picks in his next three games, prompting his removal from last Saturday's game against the visiting Orlando Apollos in favor of back-up Keith Price
Price dazzled with some gaudy numbers (234 passing yards and one touchdown), but the Iron still came up on the short end of a 34-14 loss.
It will be interesting to see if Perez or Price gets the start in the upcoming game against the Fleet.
Perez's numbers in five games include 801 passing yards, no touchdowns, four interceptions and a 55.4 completion percentage.
Perez called the AAF a "league of opportunity" while leading the Iron to its perfect start; he also said he wanted to continue to develop as a player.
That development is obviously ongoing.
All hands on deck
The Fleet is in somewhat of a quarterback quandary as well after Philip Nelson, the starter for three games, suffered a collarbone injury in a 26-23 loss in Memphis on March 2 that may sideline him for the rest of the season. Nelson won two games during his stint as the Fleet signal-caller.
Mike Bercovici, the starter in Week 1, returned to lead the Fleet to last Saturday's thrilling 27-25 comeback win against the Salt Lake Stallions by passing for 304 yards with one touchdown and one interception to go with a 72.2 quarterback rating.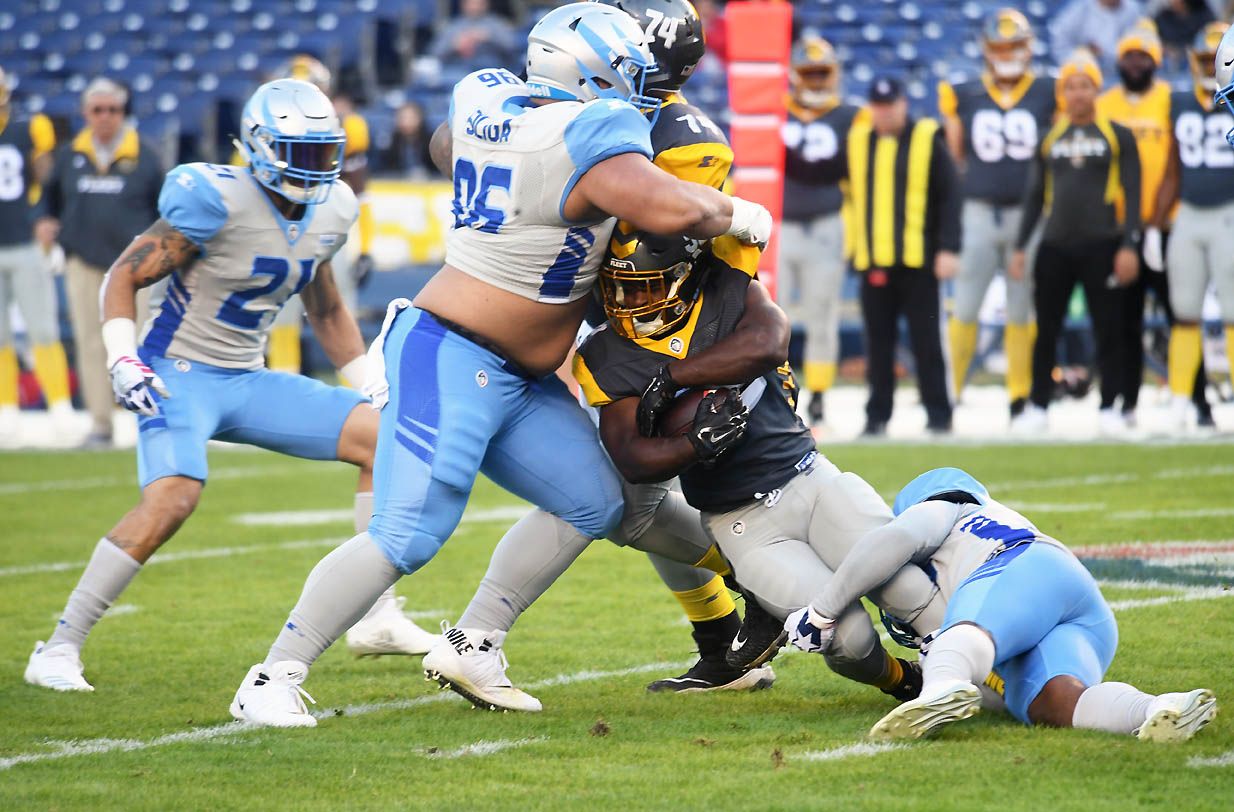 The physically larger Salt Lake defense limited the run-oriented Fleet to just 31 rushing yards.
Final frenzy
The Fleet and visiting Stallions turned in the league's most exciting finish last Saturday as Salt Lake rallied from a 24-11 deficit to go ahead 25-24 on the scoreboard with just 57 seconds to play in the fourth quarter.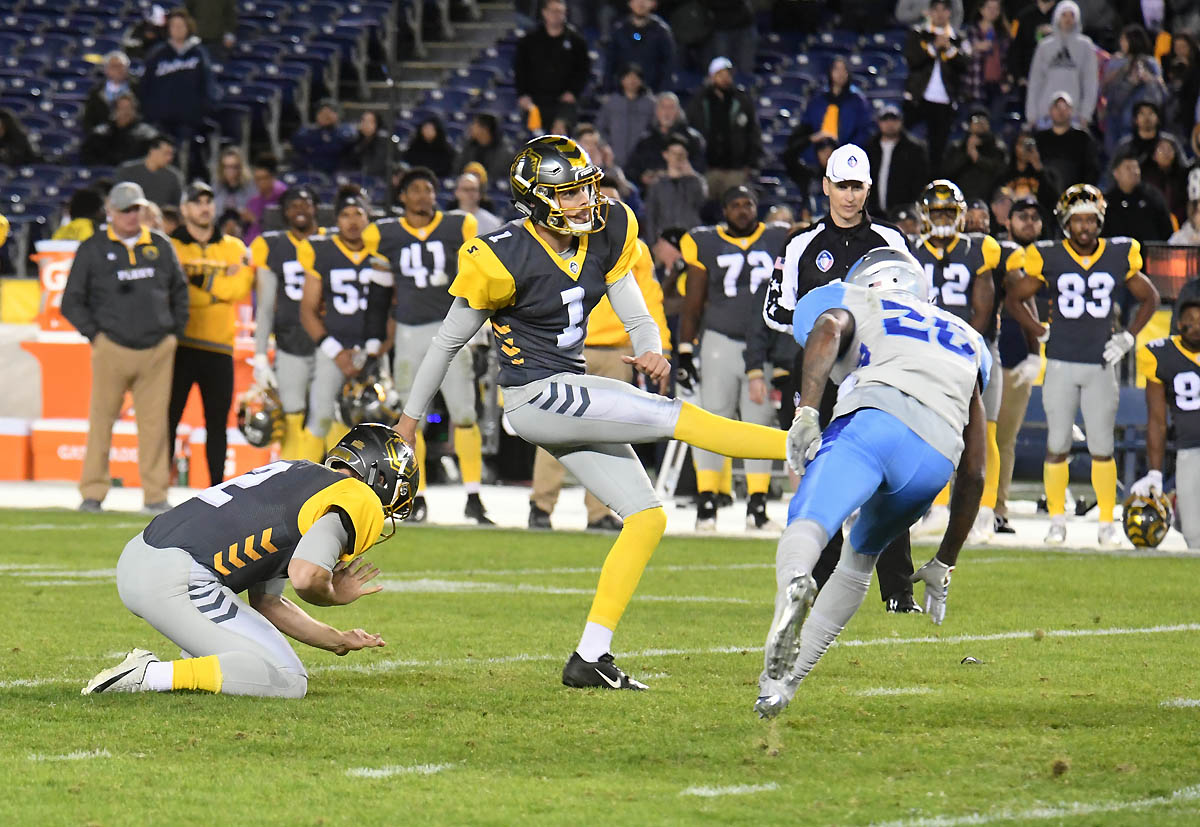 But turnabout proved fair play as the hosts drove down the field in five plays to win on a 44-yard field goal by former SDSU place-kicker Donny Hageman as time expired.
Pandemonium quickly ensued on the field as Fleet teammates lifted Hageman on their shoulders to celebrate their last-second victory. Fans went nuts in the stands.
The Fleet kicked off its season with eight former SDSU players, most of whom have proven impact performers.
Hageman has kicked 11 field goals while cornerback Kameron Kelly turned in a career day with three interceptions, including a pick-six early in the fourth quarter that ignited the crowd – and the team – in last Saturday's comeback win.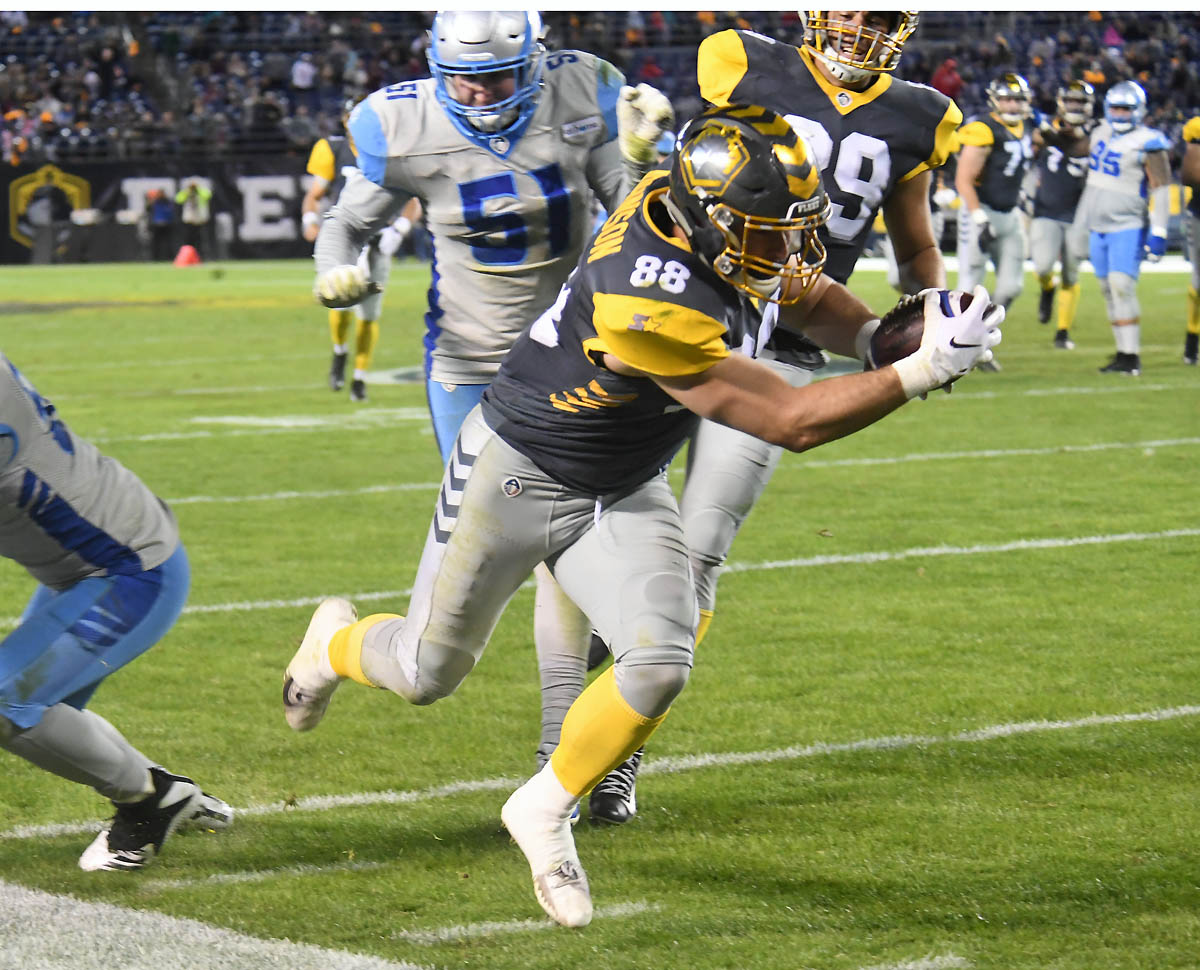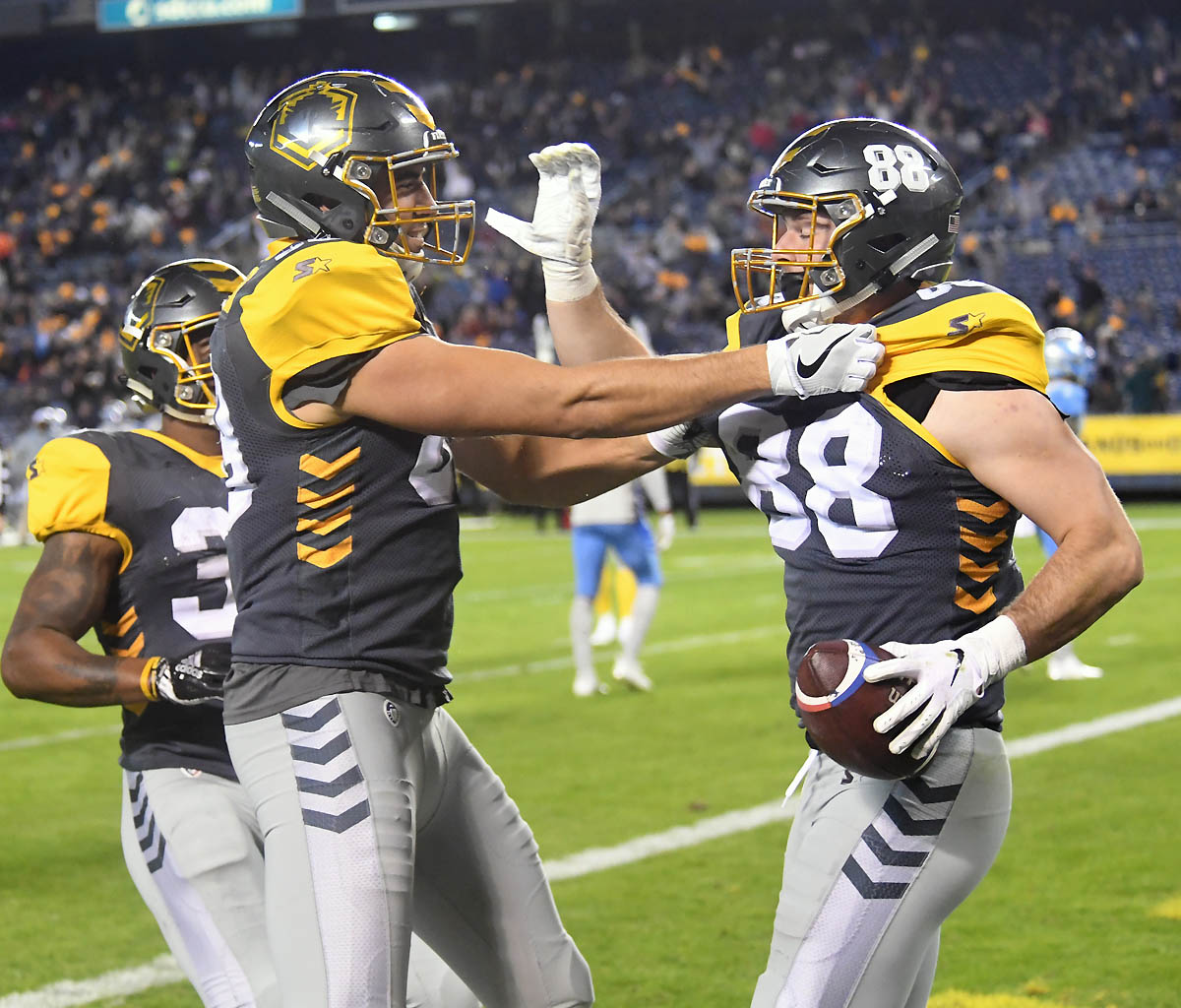 The league itself has been pretty low scoring, especially in the first half, and late arriving fans haven't missed too much. The final 30 minutes of last Saturday's San Diego-Salt Lake game featured 38 points between the teams — 21 by the Fleet and 17 by the Stallions — while the first half produced just 14 points, with the Stallions holding a narrow 8-6 lead.
The teams combined to score 23 points in the final quarter, including three touchdowns.
The Fleet's defense has certainly out-performed its offense so far this season. Besides Kelly's 22-yard interception return, the Fleet also scored on a 41-yard fumble return by free safety Jordan Martin to slip past the Stallions.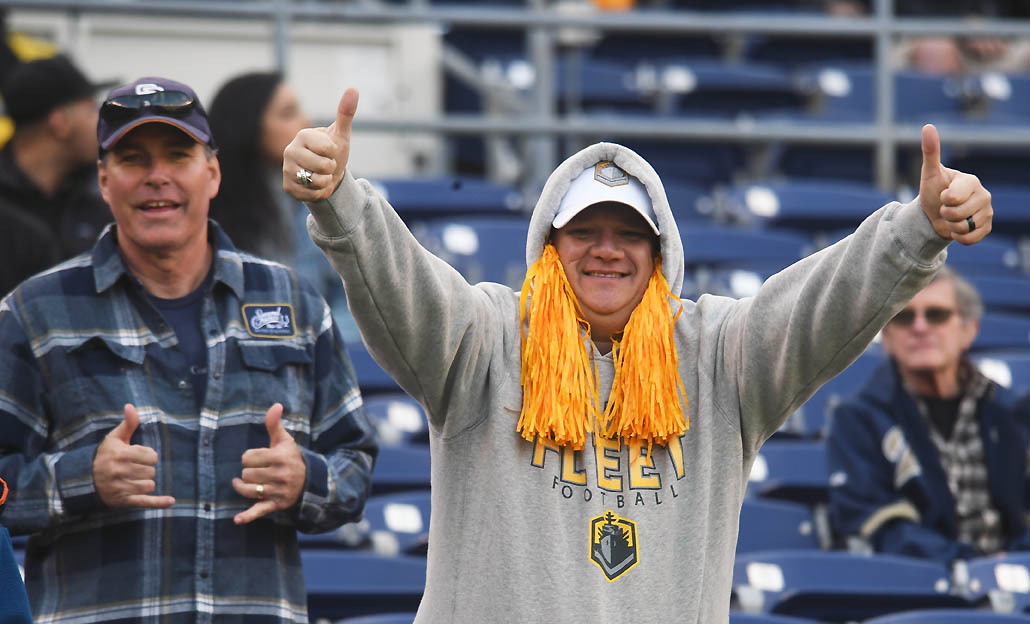 By the numbers
The eight-team AAF kicked off its 10-week regular season with two strong weeks of attendance figures. But poor weather across the nation, along with perhaps the initial novelty wearing off, has since resulted in a major downturn in the turnstile count.
The league averaged 19,210 for its inaugural weekend and followed that up with an average of 19,624 for four more games in Week 2.
However, the numbers for the next two weeks showed a sharp drop – from a 14,078 average in Week 3 to just a 9,582 average in Week 4.
However, better weather led to a jump to a 13,578 average for last weekend. Still, the Week 5 figure is well below the numbers posted during the league's first two weekends.
Locally, the San Diego Fleet saw a considerable increase from its second home game (14,789) to last Saturday's season high of 20,823. The Fleet sold 20,019 tickets to its rain-soaked home opener on Feb. 17, though perhaps only half that many fans actually attended the game.
The Fleet is averaging 18,544 fans through three home games — third in the fledgling league behind runaway leader San Antonio (28,517) and Orlando (20,293).
The Birmingham Iron is averaging 13,522, followed by the Memphis Express at 12,801, the Atlanta Legends at 10,773, the Arizona Hotshots at 9,989 and the Salt Lake Stallions at 9,972.
The league average at the midpoint of the season is 15,226.
In all fairness, fans in Birmingham stayed away in droves due to tornadoes that killed 23 people in Alabama. Meanwhile, Salt Lake held its home opener amid a snowstorm that chilled spectators with a 30-degree temperature.
Football weather, some fans might say. But if the league depends on ticket sales to significantly augment whatever other sources its other revenue streams might be, a midwinter to early spring schedule might not be the optimum choice.
The low numbers in Arizona are puzzling as some fans in Phoenix initially felt the Hotshots actually might be better than the NFL Arizona Cardinals.
For those who have attended games, it's been fun to see the league develop.
Every team has posted at least one win while Orlando, coached by 73-year-old Steve Spurrier, appears to be separating itself from the rest of the league as its lone undefeated team (5-0).
Those who do show up to Fleet home games genuinely seem to have embraced this new team. Chants of "Fleet! Fleet!" provide a chorus for every big play amid a sea of waving yellow pompoms.
Pro football is back in the stadium, and it's actually OK to cheer on a team other than the Chargers or Aztecs.
One city, one team? How about just maybe … one city, two teams?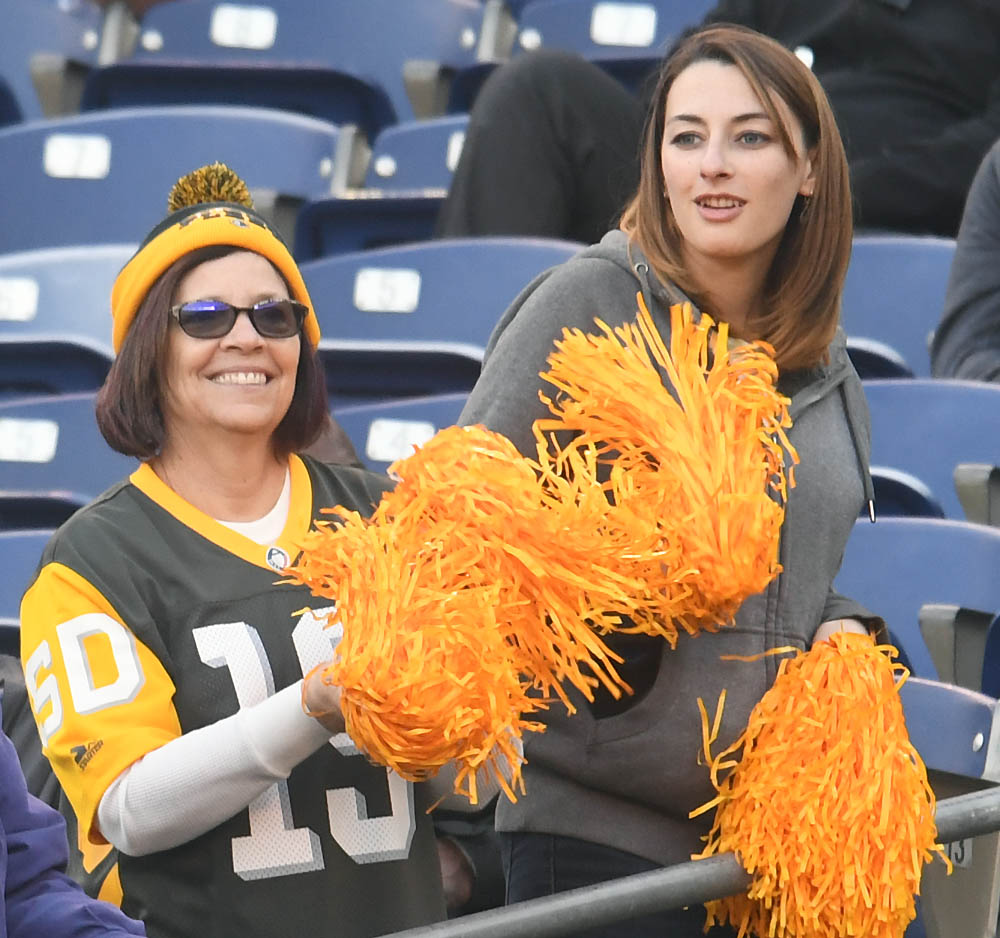 Homegrown
San Diego County high schools had a presence in last Saturday's AAF game in more ways than one.
The Fleet featured a trio of locals in its line-up: receiver Kyle Lewis (San Marcos), offensive tackle Daniel Brunskill (Valley Center) and center Jeremiah Kolone (Fallbrook). The Stallions treated Trevor Reilly (Valley Center) to a San Diego homecoming.
The Fleet continued its community outreach by showcasing members of the San Diego Section champion San Diego Cavers (Division IV), Lincoln Hornets (Division II) and Cathedral Catholic Dons (Open Division) during halftime ceremonies.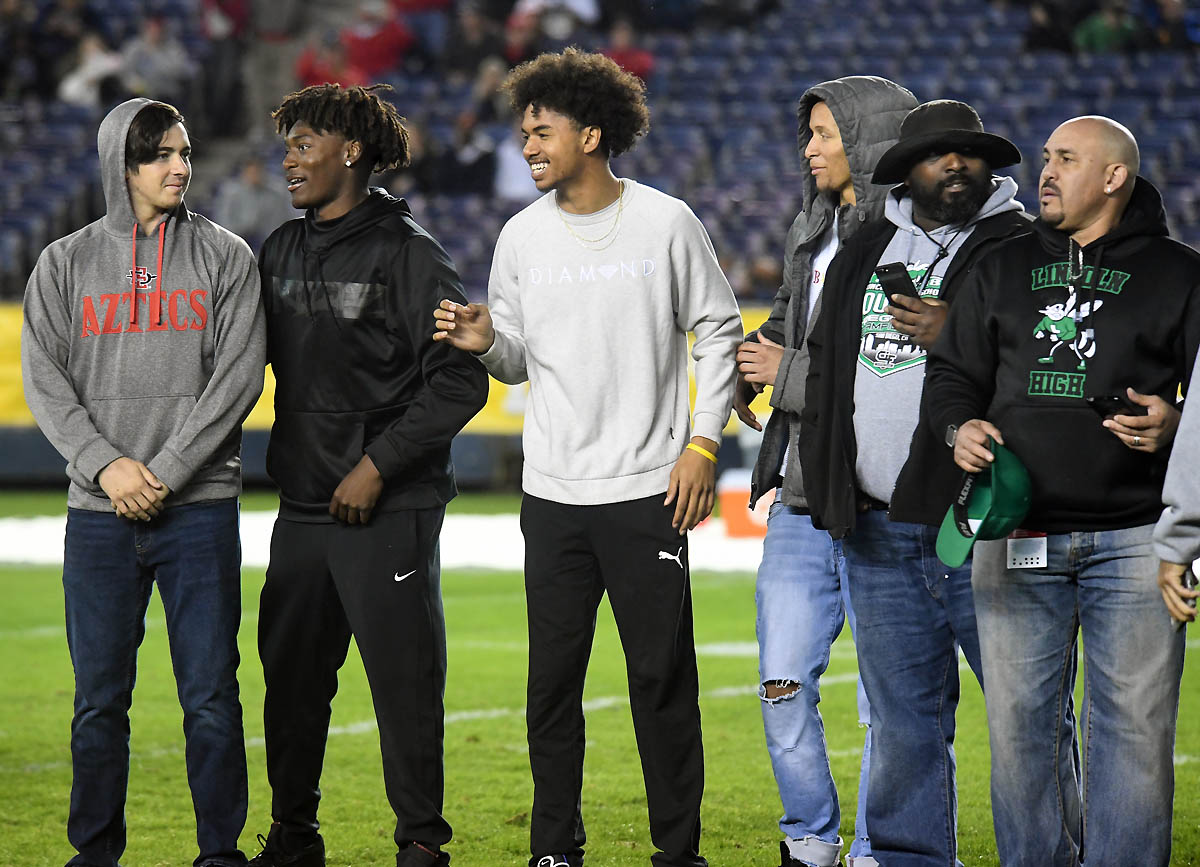 The Cavers went on to win the state Division 5-A championship while the Dons finished runner-up to highly touted Folsom, 21-14, in overtime in the state Division 1-AA title game.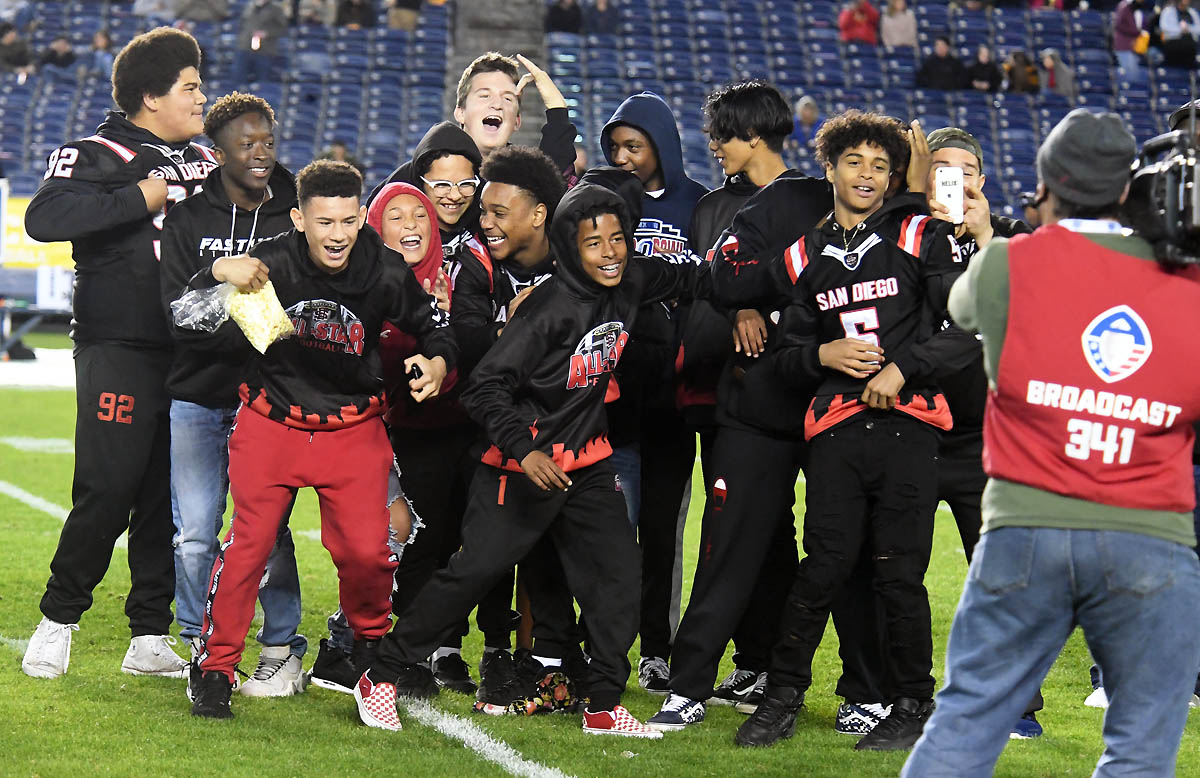 Also honored by the Fleet were the San Diego 14U all-star team, coached by Eastlake Panthers head man Clark Moses, and the Balboa Raiders 10U youth team, both of which won division championships at the American Youth Football national championships in Florida last December.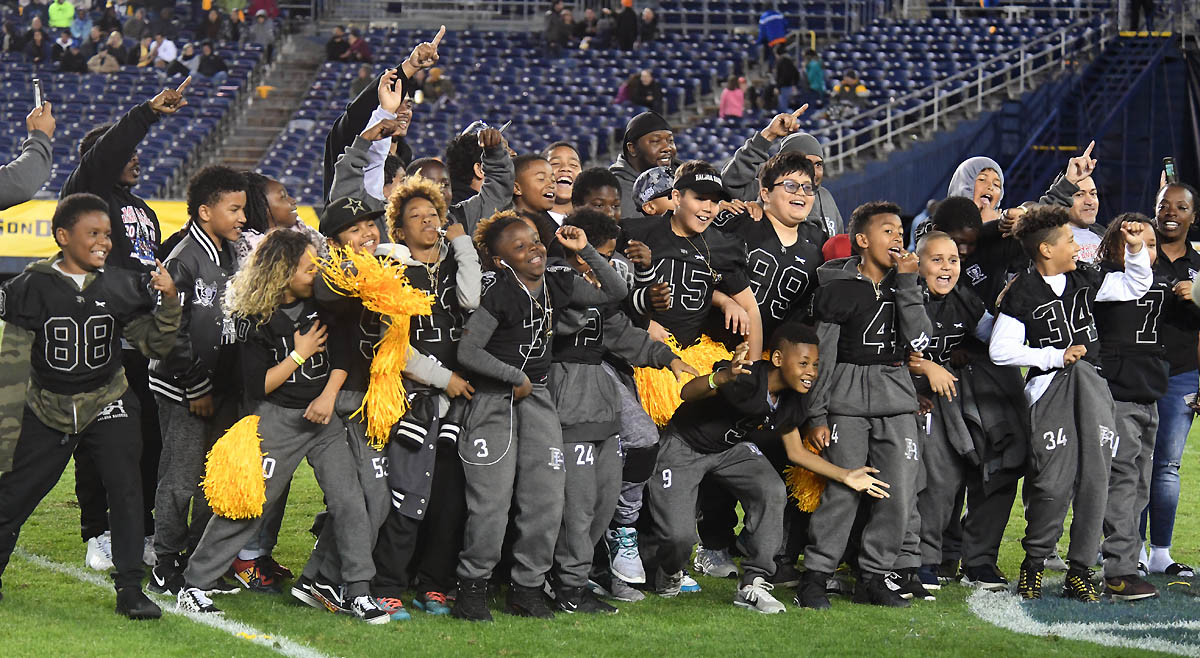 Former Mount Miguel standout and current L.A. Rams linebacker Cory Littleton presented the ball during opening ceremonies at the Fleet's home opener while wearing his Matadors letterman jacket.
East County does a presence in the AAF. Former Grossmont College all-conference standout Jovann Letuli is on the San Antonio Commanders roster (but was inactive for the team's game in San Diego on Feb. 24) while former Steele Canyon standout Chancellor James opened the season on the Salt Lake roster (before being waived on March 5).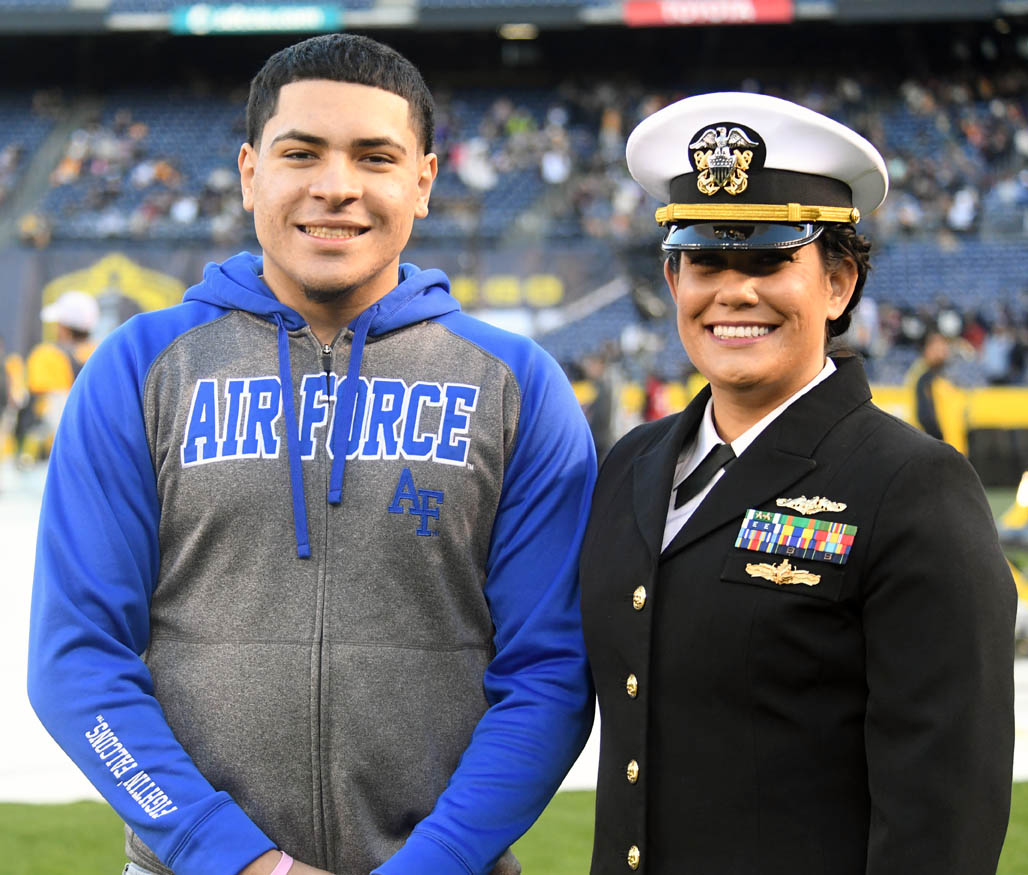 Locals only
The Fleet, living up to its military homage, honors members of the local military during timeouts throughout its home games.
Former Sweetwater High School and Chula Vista High School multi-sport standouts Aaron Porras (Air Force) and Analee Jacques (Navy) received face time on the stadium's jumbotron scoreboard during a first-half timeout during last Saturday's game.
"It's fast becoming a league to watch," noted Porras, a 2017 SuHi graduate, who participated in football, wrestling and track and field as a Red Devil. "It rivals the NFL."
Jacques, a 2004 CVHS grad who participated in football, basketball, volleyball and track and field as a Spartan, was attending her first Fleet game.
"It's fun," she said. "I think San Diego needs something to help in the football realm."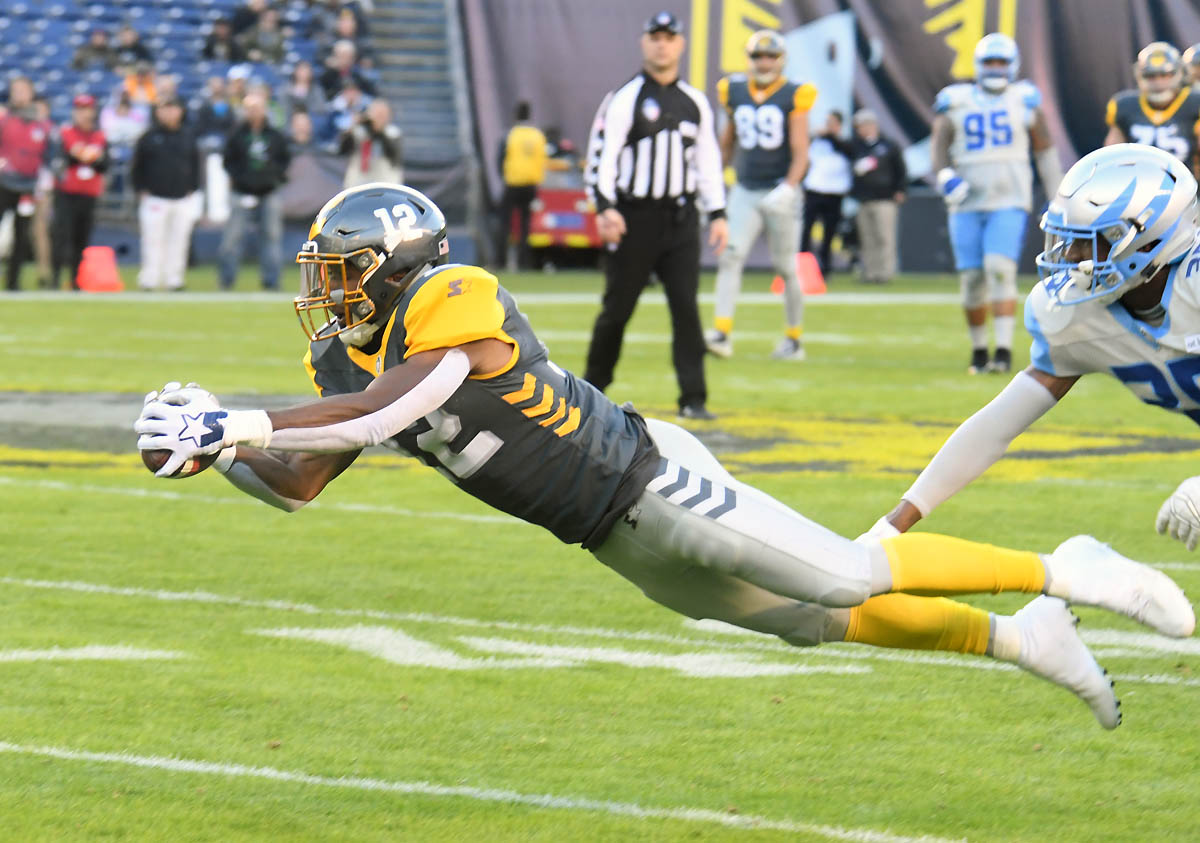 Stat attack
Tight end Ben Johnson had two catches for 22 yards, including one touchdown grab for 18 yards.
Besides the one offensive touchdown and two defensive scores, Hageman successfully converted on three of four field goal attempts. He missed his opening attempt but nailed the game-winner on his final attempt.
Ford led Fleet receivers with three receptions for 94 yards, including one 45-yarder, while Marcus Baugh had two catches for 65 yards, including one for 35 yards. Nelson Spruce had four catches for 47 yards, including one for 21 yards.
Terrell Watson led the Fleet with 14 rushing yards on five carries.
Ron Brooks had two punt returns, including one that went 37 yards.
The Fleet defense forced two fumbles – one each by Damontre Moore and Frank Ginda – and two fumble recoveries (Moore and Martin).
Salt Lake quarterback Josh Woodrum (Liberty University) completed 31 of 48 passing attempts for 380 yards with one touchdown and three interceptions. De'Mornay Pierson-El (Nebraska) led the Stallions with 130 receiving yards.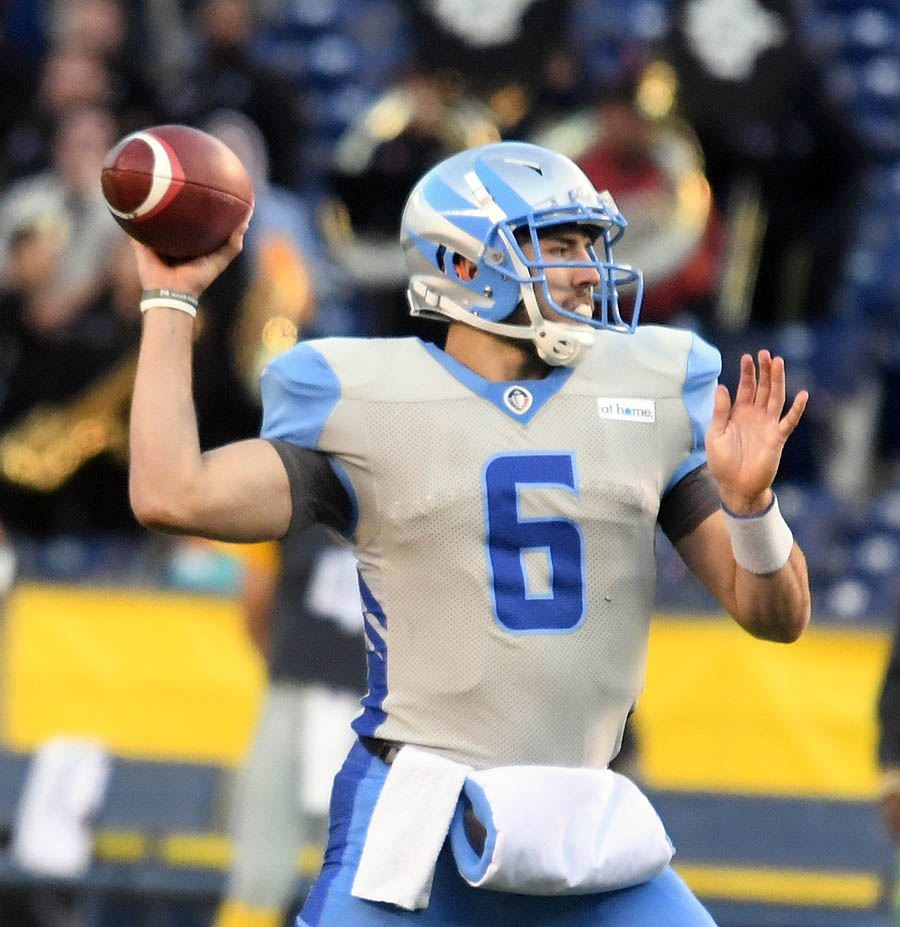 Photo Gallery by Phillip Brents