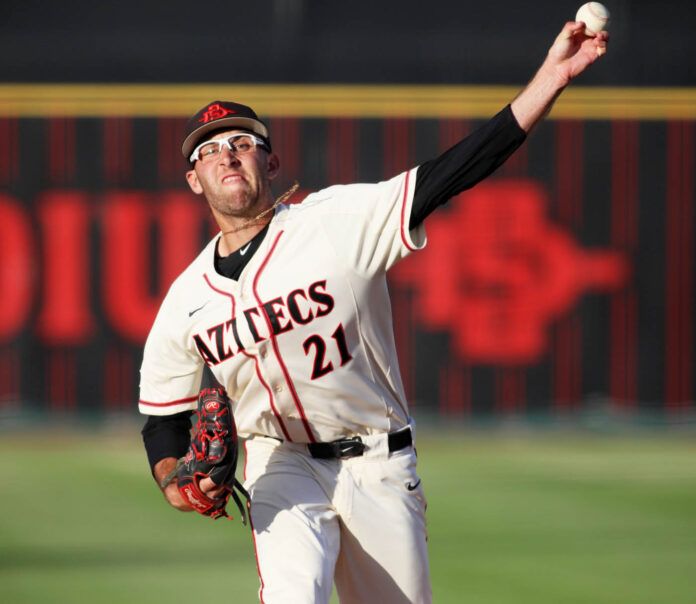 UC San Diego is now participating in Big West Conference play at the NCAA Division I level. That fact – and the recent extension of the San Diego Trolley to the La Jolla campus – has created a new rivalry series with the San Diego State University baseball team.
The two campuses are now linked by rails, allowing fans to hop on the trolley and easily venture between the teams' games.
Dubbed the "Trolley Series," the Aztecs and Tritons will play four games this season — two at the home of each team.
Halfway through the newly christened rivalry series, the teams are tied with a win apiece (coming on the opponent's field). SDSU surged past UC San Diego, 14-7, on March 22 as the Aztecs set season highs with 14 runs and 14 hits to snap a seven-game losing streak. The Tritons got the better of their hosts in a 4-0 shutout victory March 29 at Tony Gwynn Stadium to even the inaugural series.
Eight of SDSU's nine position starters recorded at least one hit in the opening leg of the series, including three apiece by Cole Carrigg and Caden Miller, who tied his career high with four RBI. Carrigg totaled two RBI and two runs scored as well, along with Deron Johnson (Poway) and Brian Leonhardt (Eastlake).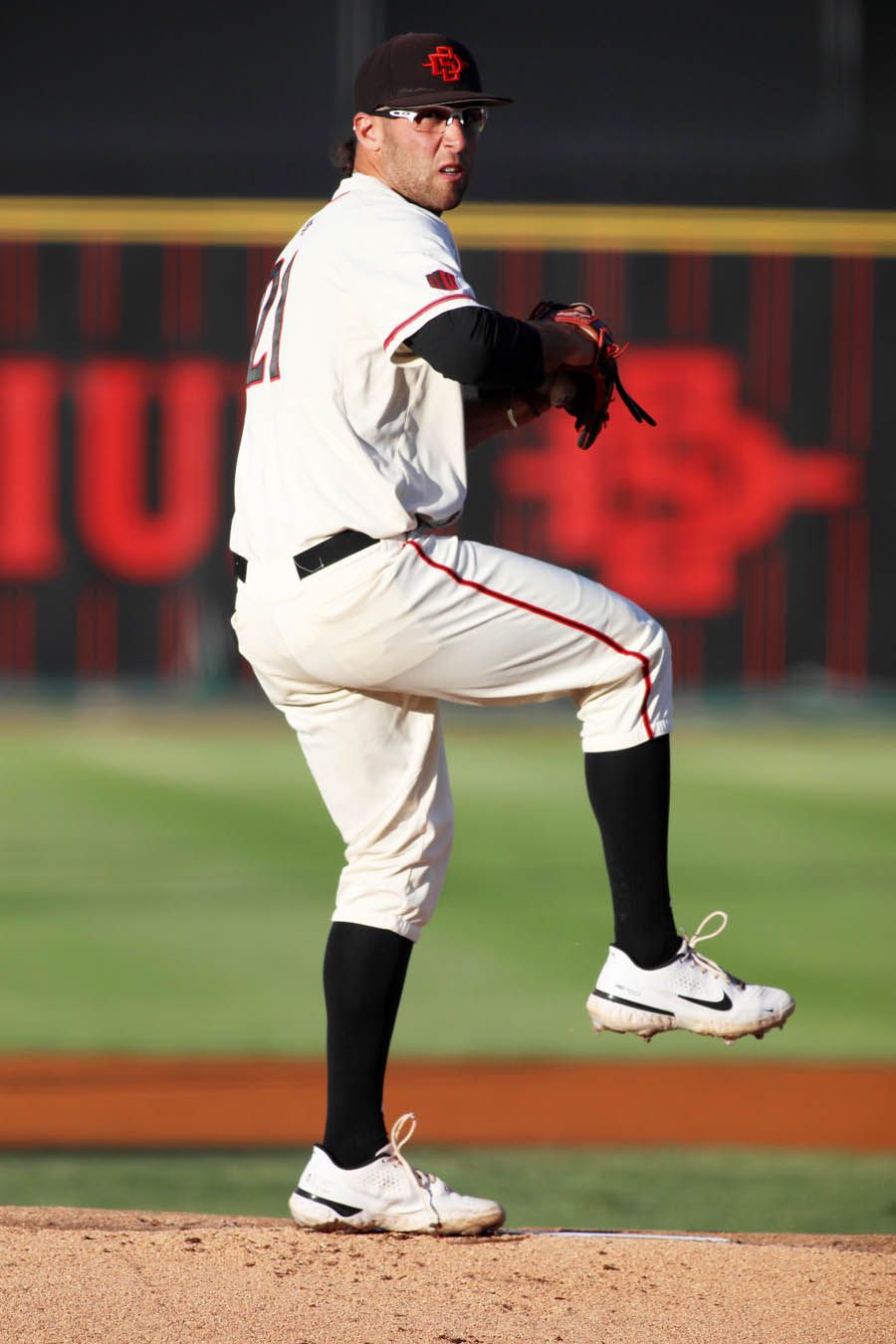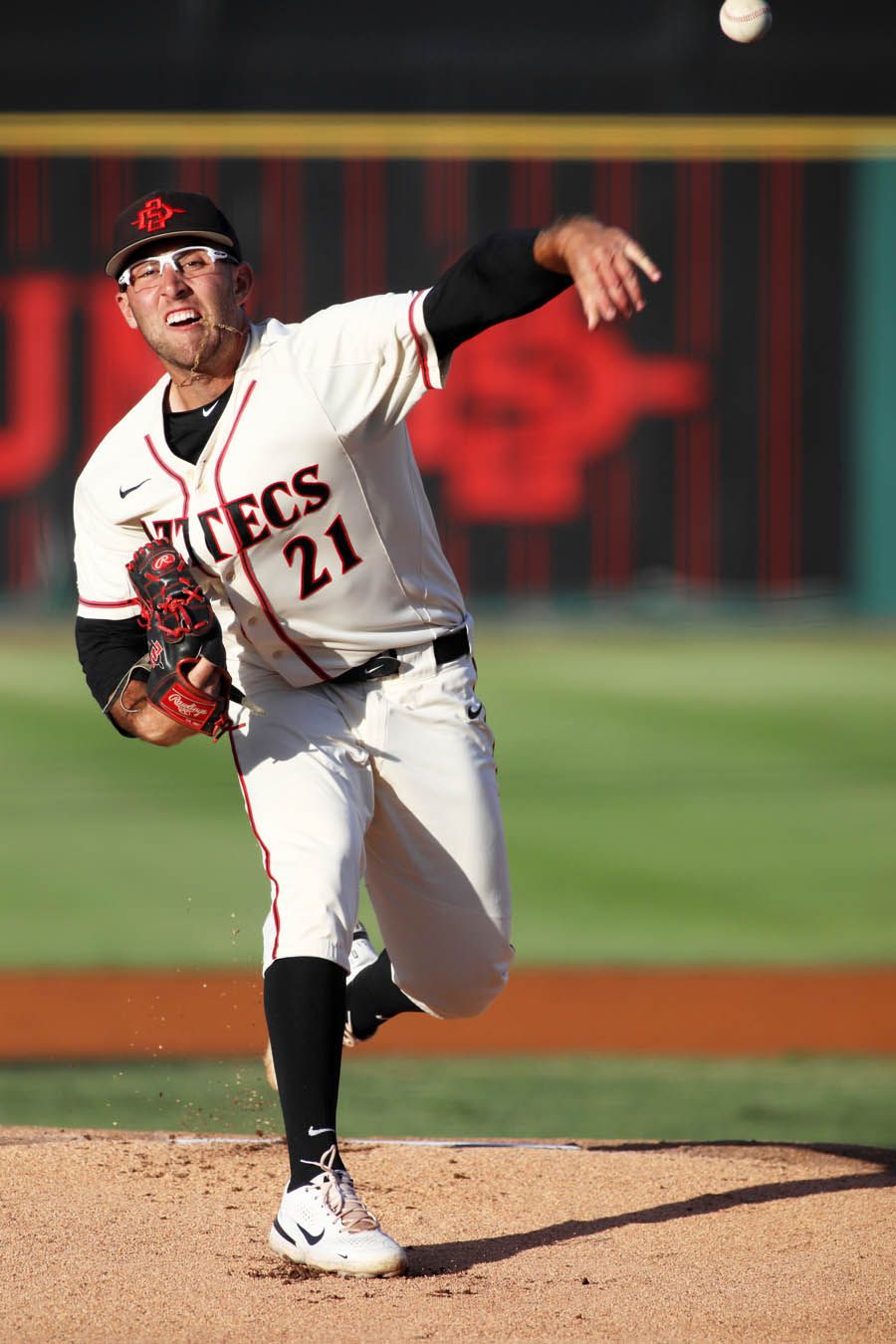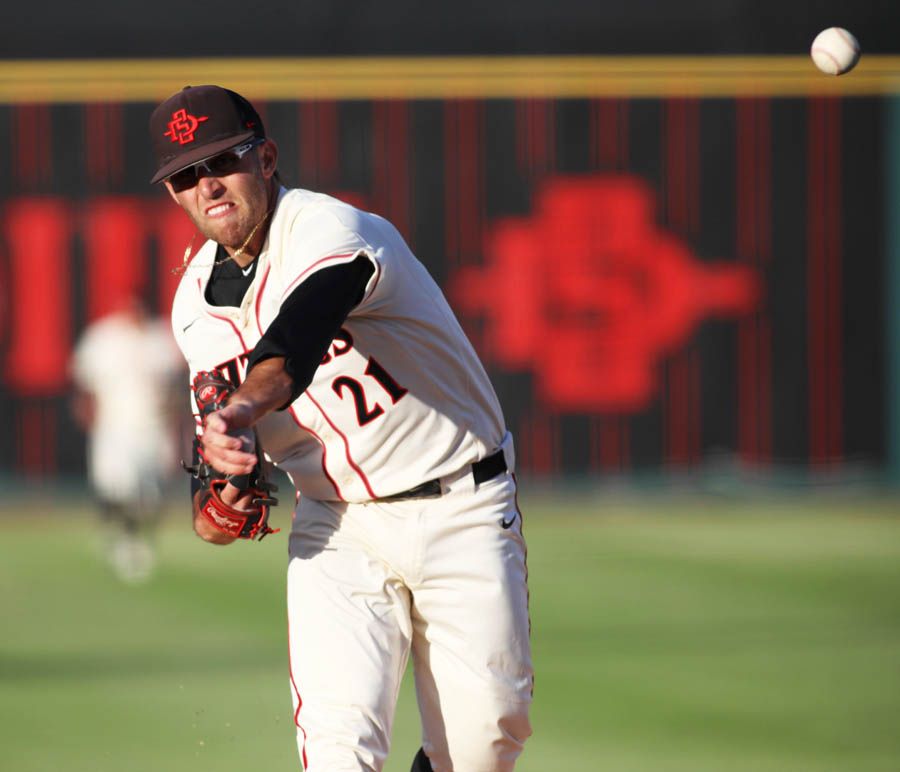 The Aztecs erased a 4-3 UCSD lead by exploding for six runs on five hits in the top of the sixth inning. Leonhardt delivered the big hit with a two-run double with two outs.
SDSU had 11 players score at least one run. The Aztecs sent seven pitchers to the mound, recording 12 strikeouts. Jonny Guzman (1-2) picked up his first collegiate win as the visitors improved to 5-15 on the season.
In the return leg, Leonhardt (0-1) was saddled with the loss after surrendering all four Tritons in his two-inning start on five hits and one walk. However, five ensuing Aztec hurlers — Eldridge Armstrong, Avery Jones, Omar Serrano, Chris Canada and Hunter Cranton — kept the visitors scoreless for the rest of the game while allowing just two hits and striking out seven batters.
The Tritons (9-15) jumped out to a 2-0 lead in the first inning when Marc Filia laced a two-out double to left field to score Austin Smith (Granite Hills) and Jalen Smith, who had previously reached on a walk and single, respectively.
UCSD scored two more runs in the top of the second inning to double its lead as Noah Sudyka singled in Ryan McNally and Austin Smith later delivered a base hit to score Brock Kleszcz.
The Aztecs were limited to four hits on the night, including two by Miller, who stole a career high three bases.
Zack Ernisse (1-1) was credited with the win for the Tritons after striking out five of the six batters he faced in the sixth and seventh innings.
The Trolley Series continues April 19 at UC San Diego and concludes May 3 at SDSU. Both games are slated for 6 p.m. starts.
SDSU opens a three-game Mountain West weekend series against San Jose State (6-6, 15-15) on Friday at 6 p.m.
TROLLEY SERIES/SAN DIEGO-IMPERIAL COUNTIES LOCALS
SDSU
Fisher Pyatt (St. Augustine)
Charlie Rhee (St. Augustine)
Tyler Glowacki (Santana)
Brian Leonhardt (Eastlake)
Poncho Ruiz (Mater Dei Catholic)
Hunter Hargett (Point Loma)
Joseph Ingrassia (Valhalla)
Robert Brodell (Brawley)
Ricky Tibbett (Eastlake)
Deron Johnson (Poway)
Evan Sipe (San Marcos)
Trevor Hazelhurst (Granite Hills)
UC-SAN DIEGO
Austin Smith (Granite Hills)
Sam Hasegawa (Carlsbad)
Ryan Forcucci (San Marcos)
Ben Pajak (La Jolla Country Day)
Jalen Fejeran (Eastlake)
Jason Rocha (Westview)
Aztecs collect pair of lopsided victories
In a largely disappointing 7-21 season (1-11 in conference play), wins have come at a premium for San Diego State University's baseball team. But when they do, the Aztecs seem to rain down runs on opponents.
SDSU 13, Nevada-Reno 1
The Aztecs pounded put a season-high 18 hits in the opener of a weekend series at Nevada-Reno on April 1. Brian Leonhardt's second career grand slam in the fifth inning helped SDSU snap a four-game losing streak. Poncho Ruiz (Mater Dei Catholic) had a career best four hits. Trevor Hazelhurst (Granite Hills) had a season high three hits. Leonhardt had two hits, including a RBI-double.
SDSU 5, Long Beach State 1
The Aztecs snapped an eight-game home losing streak on Tuesday. Ruiz scored on Cole Cariggs's two-home run in the sixth inning and later on a sacrifice fly by Tyler Glowacki (Santana) in the eighth inning. Ruiz threw out successive runners in the sixth inning on steal attempts.
Photos by Andy Bartotto