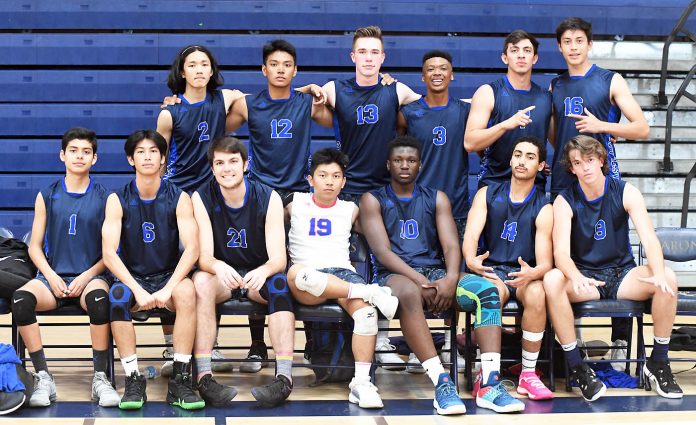 The Eastlake High School boys volleyball team made the most of a rebuilding season in 2018 by scoring a runner-up finish in the San Diego Section Division I championship game.
Titan coach Alex Garibay is hoping his 2019 team can make a return to the elite Open Division playoffs.
"We had been in the Open Division since it began," said Garibay, a 2004 EHS grad. " Last year we didn't make it to the Open Division but we made the most of it by playing in the Division I championship game. We want to get back to that Open Division status where we feel we belong."
Eastlake improved to 9-3 overall, 2-0 in Mesa League play, after sweeping host Bonita Vista by scores of 25-12, 25-11, 25-19 on Wednesday.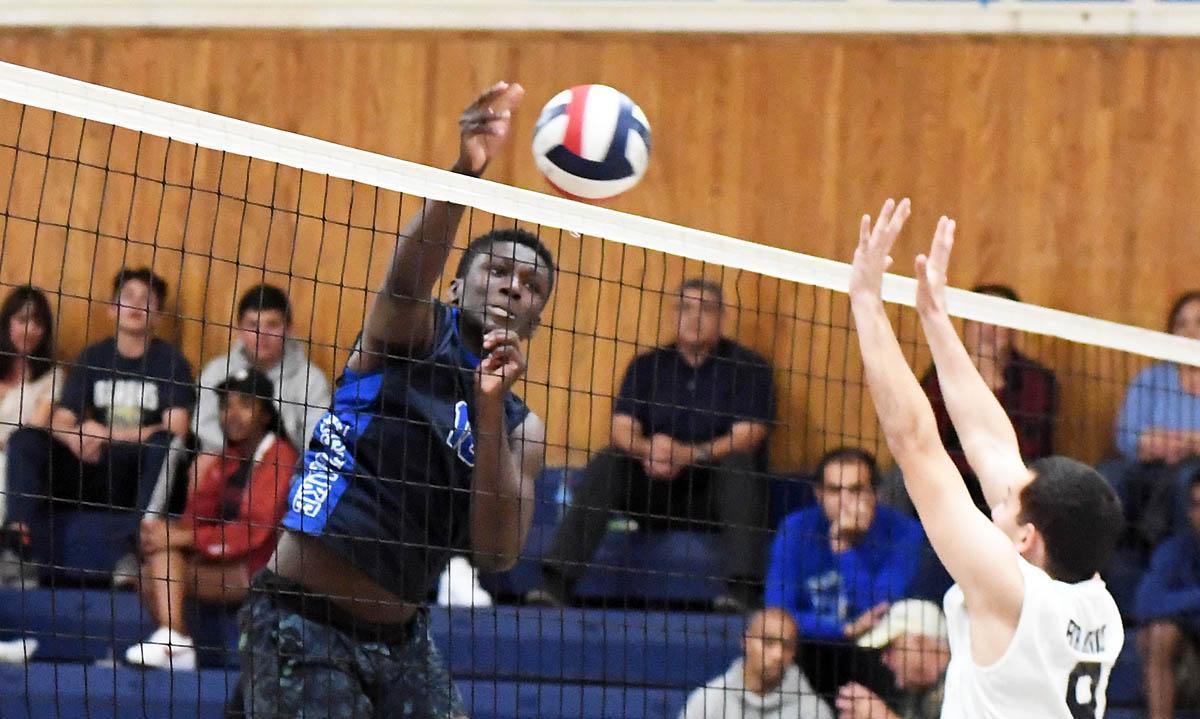 The Titans will attempt to extend their first place record in league play by hosting the Montgomery Aztecs (0-1 in league, 4-9 overall) on Friday, March 29, at 5 p.m.
Otay Ranch (11-5-2 overall) and Olympian (7-5) are both 1-0 in league and in closest pursuit of Eastlake. Bonita Vista is 0-1 in league, 10-7 overall, while Hilltop is 0-2 in league, 8-13 overall, in bringing up the current rear in the league standings.
Otay Ranch is the defending league champion.
Eastlake finished 10-2 in league last year, 18-9 overall, in placing second to Cathedral Catholic in the Division I final at St. Augustine High School by scores of 25-21, 25-20, 21-25, 25-18.
Otay Ranch finished 11-1 in league play, 22-12 overall, while advancing to the third round of the Open Division playoffs with a 1-2 record.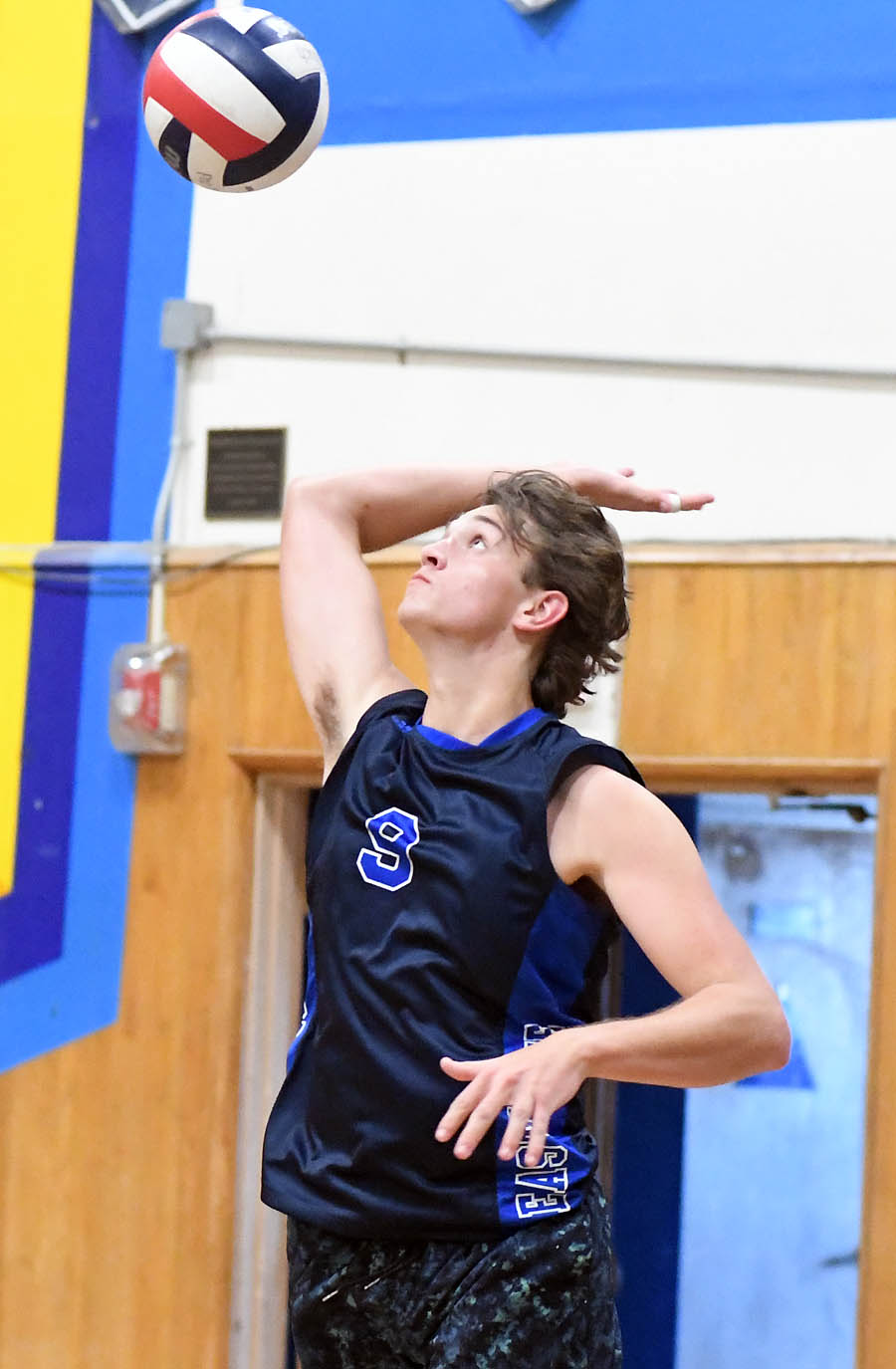 Montgomery finished 9-3 in third place in last year's league standings, 26-6 overall, en route to capturing the Division II championship in a five-set victory 25-22, 19-25, 9-25, 25-22, 15-9 against San Dieguito Academy in finals also held at St. Augustine.
The Aztecs then went on to claim three consecutive victories in the Southern California Division III regional playoffs to claim a second postseason championship.
"Last year we felt it was a rebuilding year," Garibay noted. "We had lost a lot of talent two years prior. We started pretty slowly (1-3). It took us a while to figure out our lineup. Eventually, we ended up making something out of last year. We lost to Otay Ranch in five sets in league. We rebounded and made it to the Division I final."
In the match for last year's league title, Eastlake won the first set 31-29, lost the second 26-24, won the third 25-20, lost the fourth 26-24 to tie at two wins apiece. The host Mustangs won the fifth-set tiebreaker 15-11.
Top returners for the Titans include senior outside hitter Jano Tello, junior middle blocker Lulu Allen and senior libero Jhon Manabat.
Impact newcomers include senior middle blocker Ben Palguta, junior setter Ben Lincoln and junior outside hitter Jerwin Novicio.
Senior middle blocker Preston Howard commands a presence on the right side, Garibay noted.
The Titans may get their wish with a return to the Open Division playoffs this season.
According to statistics maintained by the MaxPreps website, Eastlake is ranked sixth among teams in the section while Otay Ranch is ranked 13th.
Torrey Pines(18-1) is the top-ranked team, followed by No. 2-ranked Westview (11-3), third-ranked La Costa Canyon (12-7), fourth-ranked Sage Creek (19-4) and fifth-ranked Francis Parker (13-4).
The top eight teams qualify for the Open Division playoffs while the remainder drop to the Division I field for postseason competition.
Otay Ranch defeated host Montgomery in a sweep 25-17, 25-19, 25-18 on Wednesday to open league play. The Mustangs host Hilltop on Friday, March 29, at 4 p.m.
Senior Nickolys Jefferson leads Otay Ranch with 99 kills, followed on the score sheet by senior Johnathan Padilla with 81 kills. Senior Emilio Yale ranks third on the team with 60 kills.
Senior Joel Aninipok Jr. tops Otay Ranch with 25 serving aces and 196 digs.
Yale leads the team with 19 blocks, followed by junior Logan Foreman with 17 blocks.
Senior Tyson Duan leads the Mustangs with 191 assists while Foreman has 104.
Olympian senior Jacob Simon has collected 58 kills this season while classmate Gabe Son has 53 kills and 115 digs. Olympian senior Axel Paz has 146 assists.
Eastlake hosts Olympian on April 3 and plays on the Eagles' home court on April 17.
Otay Ranch hosts Eastlake on April 16 and plays on the Titans' home court on April 26.
Photo Galley by Phillip Brents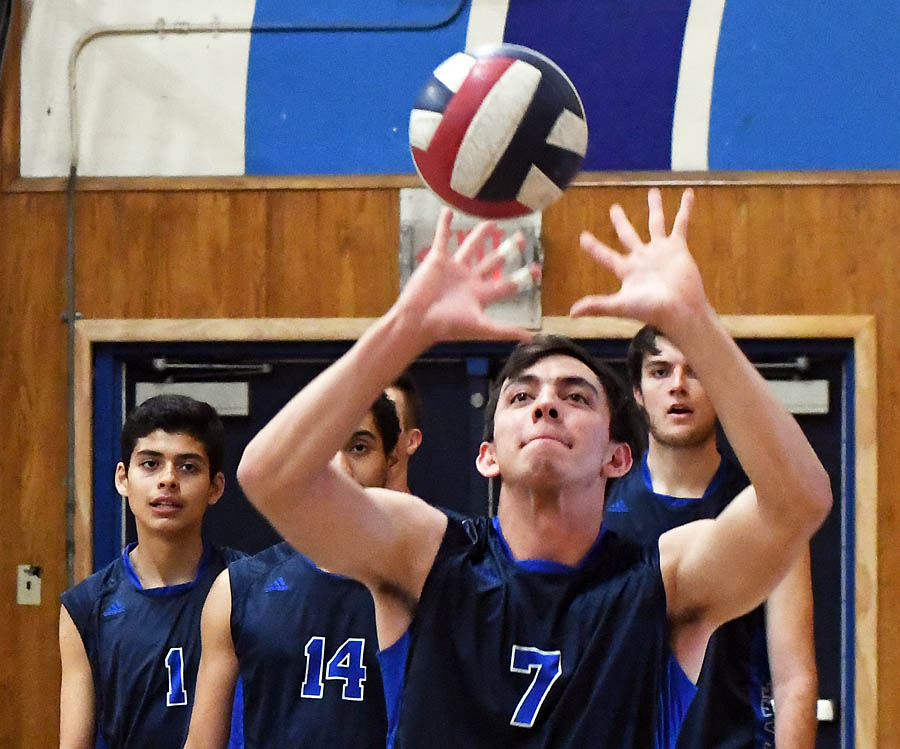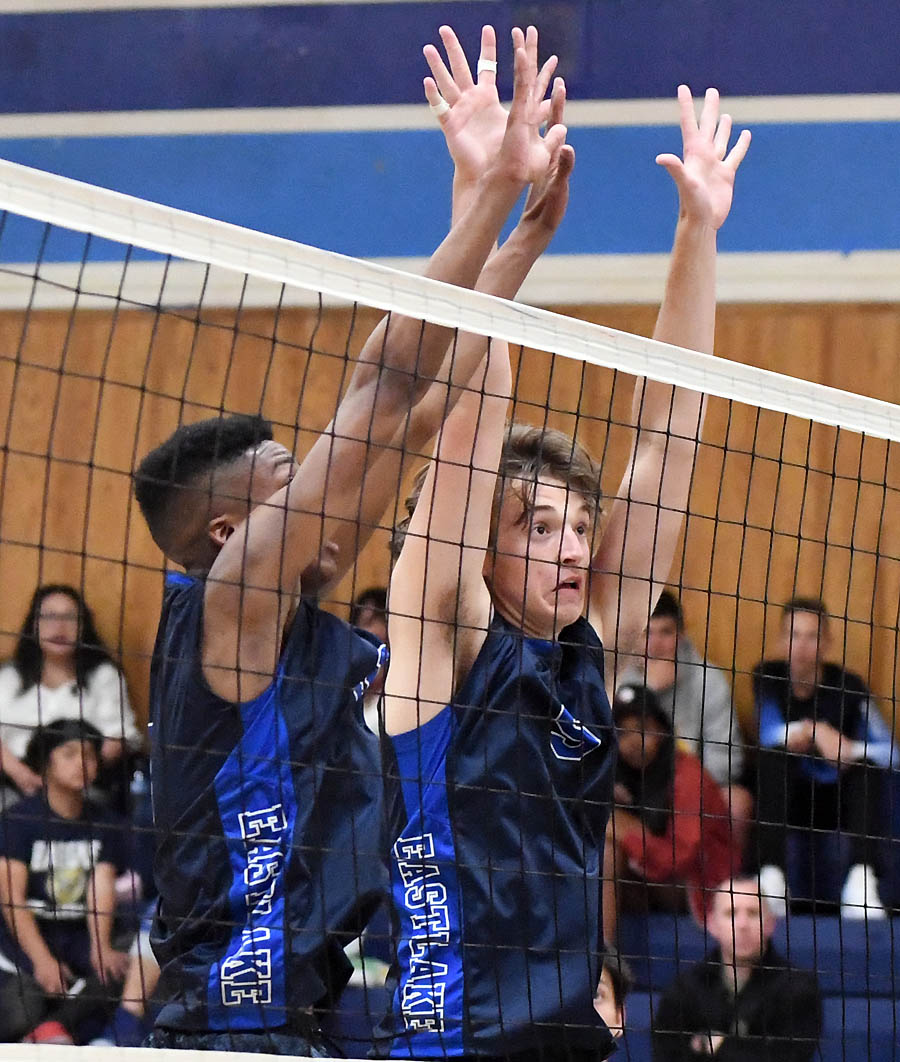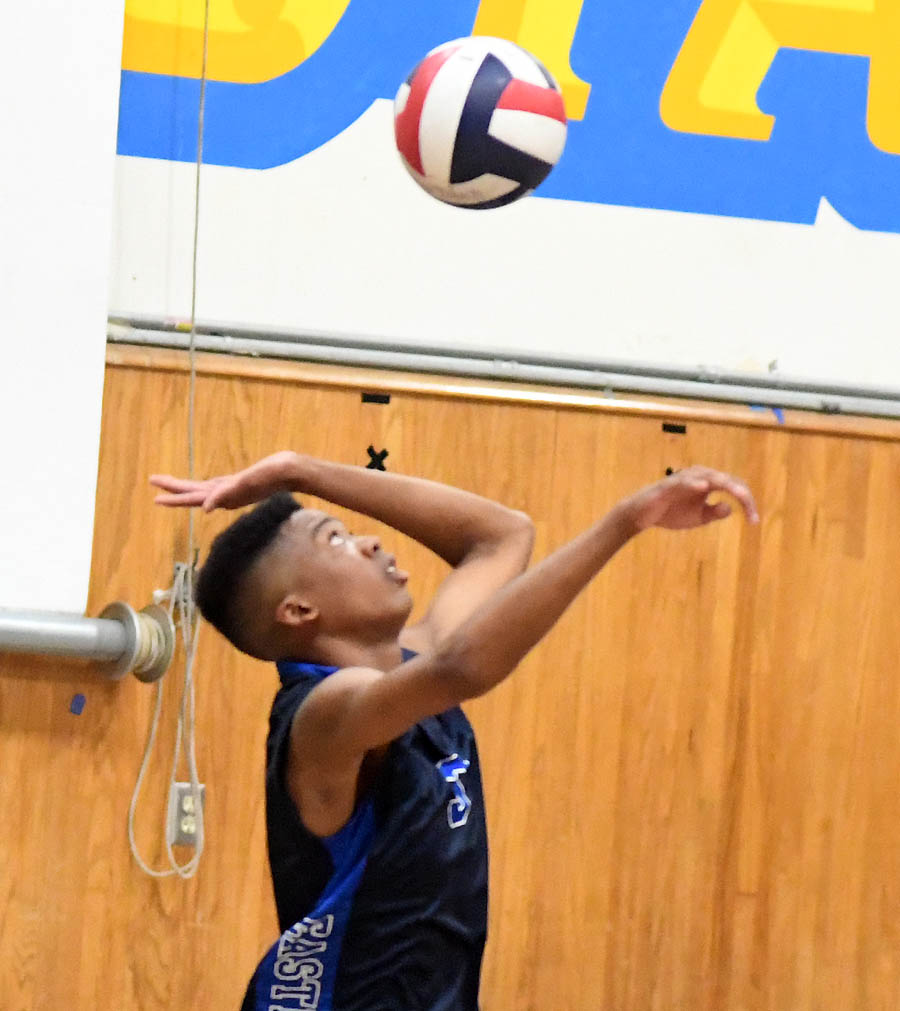 METRO CONFERENCE
BOYS VOLLEYBALL STANDINGS
Mesa League
Eastlake 3-0, 10-3
Otay Ranch 2-0, 12-5-2
Olympian 2-0, 8-5
Bonita Vista 0-2, 10-8
Montgomery 0-2, 4-10
Hilltop 0-3, 8-14
Wednesday, March 27
Eastlake defeated Bonita Vista 25-12, 25-11, 25-19
Otay Ranch defeated Montgomery 25-17, 25-19, 25-18
Olympian defeated Hilltop 18-25, 37-35, 26-24, 25-14
Castle Park defeated San Ysidro 18-25, 31-29, 25-23, 25-23
Friday, March 29
Eastlake defeated Montgomery 25-10, 25-11, 25-21
Otay Ranch defeated Hilltop 25-19, 25-9, 25-20
Olympian defeated 26-28, 25-23, 26-24, 14-25, 15-12
Sweetwater defeated Castle Park 26-24, 25-17, 25-18
Monday, April 1
Olympian at Montgomery, 4 p.m.
Eastlake at St. Augustine, 5 p.m.
Tuesday, April 2
Hilltop at Eastlake, 4 p.m.
Wednesday, April 3
Olympian at Eastlake, 4 p.m.
Montgomery at Hilltop, 4 p.m.
Bonita Vista at Otay Ranch, 4 p.m.
Friday, April 5
Bonita Vista at Hilltop, 4 p.m.
South Bay League
Sweetwater 5-0, 11-8
Mater Dei Catholic 3-1, 6-7
Chula Vista 3-1, 10-3
Castle Park 2-2, 8-3
San Ysidro 2-3, 10-8
Mar Vista 0-4, 3-13
Southwest 0-6, 1-10
Wednesday, March 27
Castle Park defeated San Ysidro 18-25, 31-29, 25-23, 25-23
Sweetwater defeated Mater Dei Catholic 20-25, 25-13, 26-24, 25-18
Mar Vista at Southwest, no report
Friday, March 29
Sweetwater defeated Castle Park 26-24, 25-17, 25-18
San Ysidro defeated Southwest 23-25, 25-21, 25-13, 25-23
Mater Dei Catholic at Chula Vista, no report
Wednesday, April 3
Castle Park at Mar Vista, 4 p.m.
Chula Vista at Sweetwater, 4:30 p.m.
Mater Dei Catholic at San Ysidro, 4:30 p.m.
Friday, April 5
Mar Vista at Chula Vista, 4 p.m.
Southwest at Mater Dei Catholic, 4 p.m.
San Ysidro at Sweetwater, 4:25 p.m.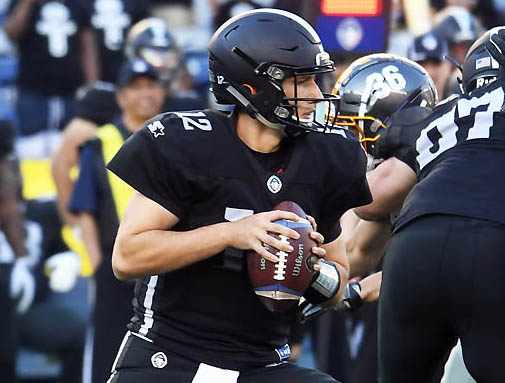 ALUMNI REPORT
Alliance of American Football: Perez leads Birmingham Iron to 25 points, but it's not enough in 31-25 OT loss to Memphis Express
Last Sunday's Alliance of American Football game opened on a positive note for former Southwestern College quarterback Luis Perez as the Otay Ranch High School alumnus led the visiting Birmingham Iron to touchdowns on its opening two possessions.
Perez threw an 11-yard touchdown pass to Braedon Bowman to stake the Iron to a quick 6-0 lead. Trent Richardson scored over left guard on the ensuing two-point conversion to up the score to 8-0.
Memphis tied the game, 8-8, on a one-yard run by Terrence Magee and a two-point conversion pass from quarterback Brandon Silvers to Daniel Williams.
It took three plays for the Iron to cover 75 yards to go ahead 16-8 as Richardson finished the scoring drive with a one-yard touchdown run before tacking on the two-point conversion run.
The Iron, which defeated the host San Diego Fleet on a walk-off 44-yard field goal by Nick Novak the previous week, took a 19-8 lead on a 28-yard field by Novak to kick off scoring in the second half.
The teams exchanged touchdowns as the game entered the early moments of the fourth quarter.
Memphis narrowed the Iron lead to 19-14 when Terrell Bonds blocked by punt by Birmingham's Colton Schmidt and returned the ball 50 yards for a touchdown.
The two-point conversion attempt, however, fell incomplete as the 2012 Heisman Trophy winner Johnny Manziel entered the game.
Manziel had signed to play in the AAF a week earlier and was allocated to Memphis. He entered the game in the third quarter to much buzz among the13,758 in attendance at the Liberty Bowl and a streaming Internet audience.
Manziel, who bombed out in a short stint with the NFL Cleveland Browns and subsequently was banned in the Canadian Football League, gave the Express some momentum by rushing for 13 yards on his first AAF carry.
He later completed a 36-yard pass to Alton Howard. But Manziel would not finish the game, as Silvers returned to the field to lead the Express to its final 17 points and the OT victory.
The blocked punt proved to be the turning point in the game as the momentum clearly swung to the side of the home team.
Perez led the Iron to its fourth scoring drive of the game with 9:06 left in the fourth quarter to make the score 25-14. Perez threw his second touchdown of the game, competing a four-yard pass to Wes Saxton Jr. The two-point conversion play, however, fell incomplete.
The hosts would finish the rest of the scoring in the game.
Austin MacGinnis kicked a 22-yard field goal with 4:20 to play to narrow the Birmingham lead to 25-17.
The Express got the ball back after Perez failed to move the ball forward on its next possession. Perez was sacked for a three-yard loss. He then threw incomplete to the sideline. A motion penalty then made it third-and-18. Perez once again threw to the sideline but the ball hit the receiver's hands and bounced away.
The Iron punted with 3:20 left.
Memphis took over at its own 32-yard line with 3:09 to play and easily moved down field against a suddenly defenseless Birmingham defense. Silvers passed to Reece Horn for a seven-yard touchdown with just 29 seconds left in regulation. A two-point conversion completion from Silvers to Brandon Barnes then tied the game 25-25.
In the AAF version of overtime, each team gets one possession, with the ball placed on the 10 yard-line, first and goal. There are no field goal attempts permitted and teams must attempt a two-point conversion, if required.
The Iron received the first overtime possession. Perez passed incomplete to Richardson/ Perez then pass incomplete at the goal line. Perez was then sacked back to the 18-yard line. On fourth down, his pass fell incomplete out of the end zone.
Memphis received the next overtime possession. Silvers threw incomplete at the goal line on his first pass but hit Williams in the end zone on his second passing attempt for 10 yards and the game-winning touchdown.
Final score: 31-25.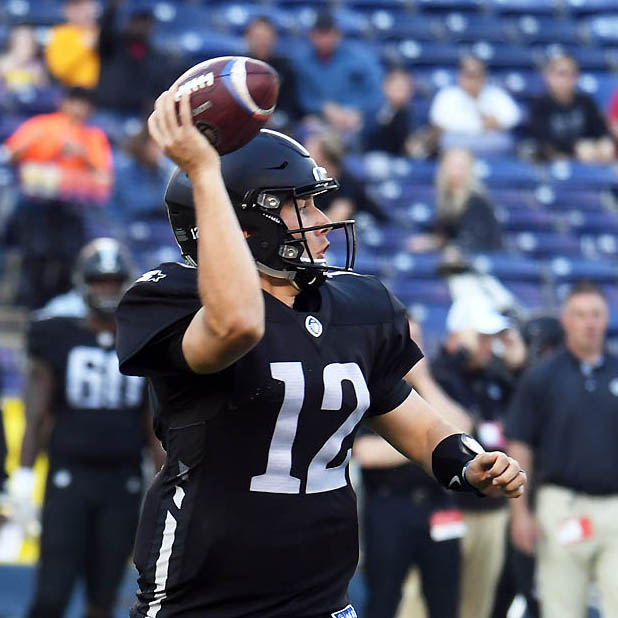 Perez completed 16 of 37 passing attempts for 235 yards with two touchdowns and no interceptions. His longest pass of the game went for 46 yards. However, he was sacked three times for 18 yards. He rushed seven times for 27 yards to finish the contest with an 82.6 quarterback rating.
Silvers completed 24 of 35 attempts for 266 yards with two touchdowns and no interceptions. He was sacked twice for seven yards to finish the game with a 109.9 QB rating.
Manziel completed three of five passing attempts for 48 yards. He was sacked once for nine yards but made up for that by rushing twice for 20 yards to finish the game with a 92.1 rating.
Horn led all receivers in the game with seven catches for 113 yards while Amba Etta-Tawo had three receptions for 71 yards for the Iron.
Richardson rushed 16 times for 56 yards and one touchdown. The Express totaled 41 yards on 19 carries.
There were no interceptions in the game, and that statistic was crucial for Birmingham in the loss. Iron coach Tim Lewis said in a postgame press conference that when his team notched at least two turnovers in a game, it usually won.
Birmingham (4-3) will attempt to get back in the win column when it hosts the Atlanta Legends (2-5) on Sunday, March 31.
The Iron has a tough assignment in its final two regular season games as it plays at Arizona (4-3) on April 7 and at Orlando (6-1) on April 14.
Arizona picked up a 32-15 home field win over the Fleet on Sunday. The game was close in the first half, with San Diego holding leads of 6-0 and 9-6 before the Hotshots piled up a 23-6 scoring advantage in the second half.
The Fleet dropped to 3-4 with its second consecutive loss.
Terrell Watson scored on a three-yard run to open scoring in the game and Donny Hageman followed with a 47-yard field goal to give the visitors their second lead.
But the San Diego offense otherwise stalled. Quarterback Mike Bercovici finished the game 22-of-43 for 310 passing yards and one touchdown but was intercepted twice and sacked once for a 63.1 passer rating.
Bishop Sankey led the Fleet with 12 carries for 54 yards while Watson rushed 10 times for 44 yards as the visitors rushed for a total of 108 yards on 27 attempts.
The Hotshots did much better on offense in front of another small gathering of just 9,760 at Sun Devil Stadium. John Wolford completed 15 of 19 passing attempts for 212 yards with two touchdowns and one interception for a 126.3 quarterback rating.
Arizona rushed for a game-high 189 yards on 39 carries, adding two touchdowns on the ground.
Nelson Spruce led the Fleet with 12 catches for 146 yards while Jhurell Pressley led the Hotshots with 64 rushing yards on 15 carries.
Former SDSU Aztec Kameron Kelly recorded another interception for the Fleet, which plays at Salt Lake (2-5) on Saturday, March 30 (5 p.m. telecast on the NFL Network).
Arizona plays at Western Conference leading San Antonio on Sunday, March 31. With a Fleet win and loss by the Hotshots, San Diego could climb back into solid playoff contention with two games to play in the regular season.
The Fleet hosts the Hotshots in the regular season finale for both teams on April 14 at SDCCU Stadium.
Eastern Conference Standings
Orlando Apollos 6-1-0 (clinched playoff berth)
Birmingham Iron 4-3-0
Memphis Express 2-5-0
Atlanta Legends 2-5-0
Western Conference Standings
San Antonio Commanders 5-2-0
Arizona Hotshots 4-3-0
San Diego Fleet 3-4-0
Salt Lake Stallions 2-5-0
AAF Statistical Leaders
(Through seven weeks)
Passing Yards
Garrett Gilbert (Orlando) 1,842
John Wolford (Arizona) 1,400
Luis Perez (Birmingham) 1,395
Logan Woodside (San Antonio) 1,353
Josh Woodrum (Salt Lake) 1.295
Rushing Yards
Jhurell Pressley (Arizona) 407
D'Ernest Johnson (Orlando) 348
Kenneth Farrow II (San Antonio) 348
Zac Stacy (Memphis) 318
De'Veon Smith (Orlando) 318
Receiving Yards
Charles Johnson (Orlando) 552
Rashad Ross (Arizona) 505
Reece Horn (Memphis) 449
De'Mornay Pierson-El (Salt Lake) 385
Mekale mckay (San Antonio) 375
Sacks: Karter Schult (Sal Lake) 7, Jayrone Elliott (San Antonio) 6.5, Damontre Moore (San Diego) 6
Interceptions: Kameron Kelly (San Diego) 4, De'Vante Bausby (San Antonio) 4
Indoor Football League
The San Diego Strike Force dropped to 0-4 on the season following a 53-45 loss to the visiting Green Bay Blizzard on Sunday in front of an estimated crowd of 1,800 fans at Pechanga Arena San Diego. It was the most competitive game so far for the first-year Strike Force, which led 21-20 after the first quarter.
The Blizzard outscored the hosts 21-14 in the second quarter and 3-0 in the third quarter to take a 44-35 lead. San Diego scored 10 points in the fourth quarter but came up short after the visitors responded with nine points of their own.
The game ended with the Strike Force attempting a touchdown rally.
Both first-quarter touchdowns scored by the Blizzard came on interception returns.
San Diego quarterback Derrick Bernard was 18-of-34 passing for 201 yards and four touchdowns. However, the Blizzard intercepted three of those passes while Bernard gained just seven yards on 10 rushing plays.
Bakari Triggs led Green Bay (2-2) with two interceptions, including one for a touchdown.
The Strike Force next plays in Tucson (2-1) on Sunday, March 31.