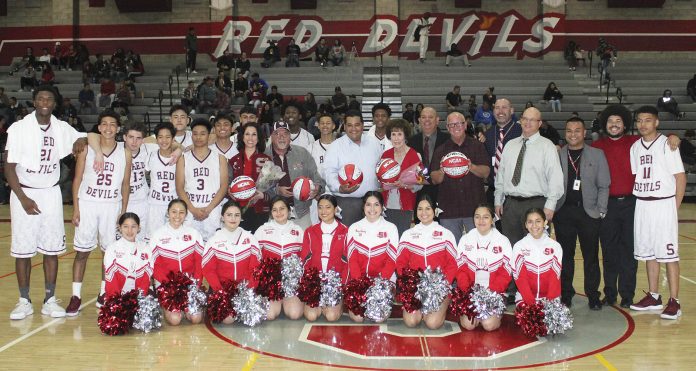 The Sweetwater High School boys basketball team will honor some of its top alumni during a halftime ceremony at Saturday's upcoming South Bay League game against visiting Mar Vista.
Tip off is 6 p.m.
The Red Devils' latest class of inductees includes Carlos Campbell, Aaron Combs, Jim Finnerty and Spencer Mattox.
Campbell was a member of Sweetwater's San Diego Section Division I championship team in 1990 during which he earned all-league and all-section honors.
Combs, a 1982 SuHi graduate, captured a CIF championship his sophomore year. He earned honors as a Street & Smiths All-American his senior year.
Finnerty, a 1965 grad, earned first team all-league and All-CIF honors in three sports his senior year. He earned a full scholarship in basketball to UC Santa Barbara.
Mattox, a 2014 grad, was a member of Sweetwater's Division III runner-up team. He broke Michael Pitts' 35-year-old scoring mark while helping Sweetwater to a 28-0 start during the 2013-14 season.
Mattox earned first team All-CIF honors and league player of the year honors his junior and senior years. He received a basketball scholarship to Northern Christian University in Oregon. He graduated this past spring.
His younger brother, Jimmy Mattox, is a member of Sweetwater's current team.
This is the fifth year that the Sweetwater boys program has held its Hall of Fame night.
"After the second year everyone was giving me names of ex-players to induct," SuHi head coach Jesse Aguirre explained. "It's become an annual event and everyone looks forward to it. Last year we had over 86 ex-players attend. It's a little rough on the team because it puts pressure on them to win. We are about .500 on this night. It's OK, though, because pressure is part of the game and good for us."
Sweetwater improved its season record to 12-5 following Monday night's 67-48 non-league victory at Morse. The Red Devils improved to 4-0 in South Bay League play following last Friday's 81-47 win over visiting Chula Vista.
Past principals
The Red Devils continued to showcase school pride by honoring the five past principals at the National City school during last Friday's game against the arch rival Spartans.
Louise Phipps, Ralph Mora, Wes Braddock, Roman Del Rosario and current principal Maribel Gavin were all present for the all-star showcase event.
Aguirre called last Friday's event "special."
"Not just any person can be a principal at Sweetwater," the Red Devil alumnus said. "You have the pressure of the alumni, community and clubs in the city. They were all very appreciative and enjoyed the night. It was their night and the team played a great game against their rival."
Phipps, who served eight years as principal, from 1990-1998, earned notoriety as the first female principal at the school. She would later go on to serve as principal at Mar Vista High School.
She retired from the Sweetwater Union High School District in 2009 after working nearly four decades as an educator and administrator. In 2007, she earned recognition as the California Secondary Administrator of the Year by the Association of California School Administrators.
With approximately 2,400 public middle and high schools in the state, the award is considered a mark of professional prestige.
Phipps, a native of Pittsburgh, continues to be active in the community. She currently sits on the executive board of St. Paul's Senior Services and recently became a member of the East County Program of All-inclusive Care for the Elderly Advisory Committee.
Mora served as Sweetwater principal from 1998 to 2004. He said it was one of the most enjoyable posts he had as a school administrator.
"People don't understand until they come here what makes this school so unique being the only high school in the city as far as school sprit," Mora said. "The whole city is behind the school."
Mora started his teaching career at El Toyon Elementary School in National City and then at National City Middle School (formerly National City Junior High School) before coming to Sweetwater as a teacher and coach before entering the administrative level.
Braddock, who served as principal at Sweetwater from 2004 to 2010, currently serves as a principal in the district's adult school program while Del Rosario is currently the principal at Bonita Vista High School.
Braddock called his tenure at Sweetwater a "great experience."
"I loved the kids, the city and the pride that SUHi has in its history and traditions," Braddock recalled. "No one kept that 'lamp' shining as bright as the late great Laura Charles. She is truly missed but she would have been so proud of the thoughtful gesture by coach Aguirre of honoring us past principals."
Braddock taught at Sweetwater for three years in the early 1990s. He followed Phipps from Southwest Junior High when she was promoted to principal at Sweetwater.
"I fell in love immediately with the school and National City kids," Braddock said. "Phipps was a great mentor to me and Mora and Del Rosario are close friends. Maribel Gavin is a super leader and great role model as a SuHi grad herself.
"I've always said that the best and brightest of SUHi are as good as the best and brightest of any school, anywhere and I've been at enough schools in my 34-year career to know.
"I love the passion that Jesse Aguirre has brought to Sweetwater basketball. He loves the school, the city and the traditions as well, but most of all, he loves basketball. I played with and against some of the greatest high school players this county has ever seen when I played at San Diego High School in the mid-1970s. Jesse could have coached us any time.
"Nothing speaks to the impact that SuHi has on a person more than the last stanza of the alma mater: 'Where e'r we may roam in our hearts, SuHi LIVES!'"
Del Rosario served as Sweetwater principal from 2010-14. Gavin, who has served as principal in the Sweetwater district since July 2010, took over the position starting in 2014.
Gavin has helped guide the National City school into a new era of understanding after the school crowned its first transgender homecoming queen last September.
Sweetwater High School first opened its doors in 1920.
"Sweetwater High School is a place that cares deeply about tradition," Del Rosario said. "I was honored coach Jesse Aguirre invited us all back to help celebrate the legacy of Old Su-Hi."
"It was truly an honor to be recognized at last week's basketball game along with my colleagues," Gavin explained. "I was a student at SuHi from 1988 to 1991 and Dr. Phipps was my principal my senior year. Mr. Mora was my assistant principal.
"Dr. Phipps then hired me for a teaching position at SuHi in 1997 and I continued to teach English until December 2003. I then became an administrator in the district and I was able to return to my alma mater in 2014 to serve as principal.
"I saw Dr. Phipps as a strong woman while I was a student and again when I worked alongside her. She has served as one of my role models and I hope to continue a legacy of excellence at Sweetwater as I continue in my role as principal."
Red alert
C.J. Jackson led Sweetwater with 20 points while C.J. McMillan dropped in 15 points and Jimmy Mattox added 10 points in last Friday's win.
The Red Devils took a 29-12 lead after the first quarter and led 53-28 at halftime. The Devils sealed the win with a 26-10 scoring edge in the third quarter.
Melvin Dale led Chula Vista (0-4 in league, 4-16 overall) with 19 points.
Sweetwater will battle host Southwest for sole possession of first place in the league standings on Wednesday.
Southwest defeated host San Ysidro, 65-62, last Friday to match the Red Devils' 4-0 start in league play. The Raiders are 14-5 overall.
"San Ysidro led most of the game, sometimes by eight or 10 points, as our top scorer Diego Edwards got in foul trouble and had to sit out for awhile," Southwest coach Steve Selland said. "But we hung in there, always staying within reach. Then, in the fourth quarter, we stepped up our defensive intensity and San Ysidro started missing shots they were hitting in the first three quarters.
"Led by senior Jorge Castillo we played great defense in the fourth quarter, outscoring them 16-7 to win by three points. The winning shots were two three-pointers by senior Issac Gonzalez that eventually put us ahead. Then, senior Diego Edwards made key free throws at the end to preserve the win, eventually hitting 11 of 13 free throws.
"Also playing well was Bryant Encinas, who scored 20 points, keeping us in the game when our other scorers were misfiring."
Freshman D.J. Dudley led San Ysidro (3-2 in league, 13-7 overall) with 29 points and 16 rebounds.
In another South Bay League game last Friday, Hilltop defeated visiting Castle Park, 69-41, as Bret Leonhardt scored 12 points and teammates Danny Kuheleloa and Luke Acosta each tallied 10 points.
The victorious Lancers improved to 2-2 in league play, 6-14 overall, while the Trojans dropped to 0-5 in league play, 2-15 overall.
In a pair of Mesa League match-ups last Friday, the Montgomery Aztecs and Mater Dei Catholic Crusaders joined the Bonita Vista Barons with 2-0 league records after the Aztecs topped visiting Eastlake, 74-63, and the Crusaders edged Otay Ranch by a 79-70 score.
Montgomery opened up a decisive 23-9 scoring edge in the first quarter. Kyle Paranada keyed the Aztecs (14-2 overall) with 24 points while Rahin Williams added 20 points. Jaylen Reynolds led Eastlake (0-2 in league, 6-11 overall) with 17 points.
Mater Dei, which improved to 9-7 overall, received 19 points from Melo Sanchez, 19 points from Adrian Calderon and 12 points from Jake Tawhiao in its win over the Mustangs (0-2 in league, 10-9 overall).
Montgomery hosts Mater Dei Catholic in a first-round showdown for first place in the league standings on Wednesday. Tip off is 6 p.m.
South Bay League Standings
(Through Jan. 12)
Sweetwater Red Devils 4-0, 11-5
Southwest Raiders 4-0, 14-5
San Ysidro Cougars 3-2, 13-7
Hilltop Lancers 2-2, 6-14
Mar Vista Mariners 2-2, 8-7
Chula Vista 0-4, 4-16
Castle Park Trojans 0-5, 2-15
Thursday, Jan. 10
Mar Vista 66, Bonsall 21
Friday, Jan. 11
Southwest 65, San Ysidro 62
Sweetwater 81, Chula Vista 47
Hilltop 69, Castle Park 41
Monday, Jan. 14
Sweetwater at Morse, 6 p.m.
Wednesday, Jan. 16
Sweetwater at Southwest, 6 p.m.
San Ysidro at Mar Vista, 6 p.m.
Hilltop at Chula Vista, 6 p.m.
Mesa League Standings
(Through Jan. 12)
Montgomery Aztecs 2-0, 14-2
Mater Dei Catholic Crusaders 2-0, 9-7
Bonita Vista Barons 2-0, 8-11
Olympian Eagles 0-2, 13-4
Eastlake Titans 0-2, 6-11
Otay Ranch Mustangs 0-2, 10-9
Friday, Jan. 11
Montgomery 74, Eastlake 63
Mater Dei Catholic 79, Otay Ranch 70
Desert Pines 62, Bonita Vista 43
Saturday, Jan. 12
Olympian 70, High Tech High San Diego 29
Wednesday, Jan. 16
Otay Ranch at Bonita Vista, 6 p.m.
Mater Dei Catholic at Montgomery, 6 p.m.
Photo Gallery by Erik Hernandez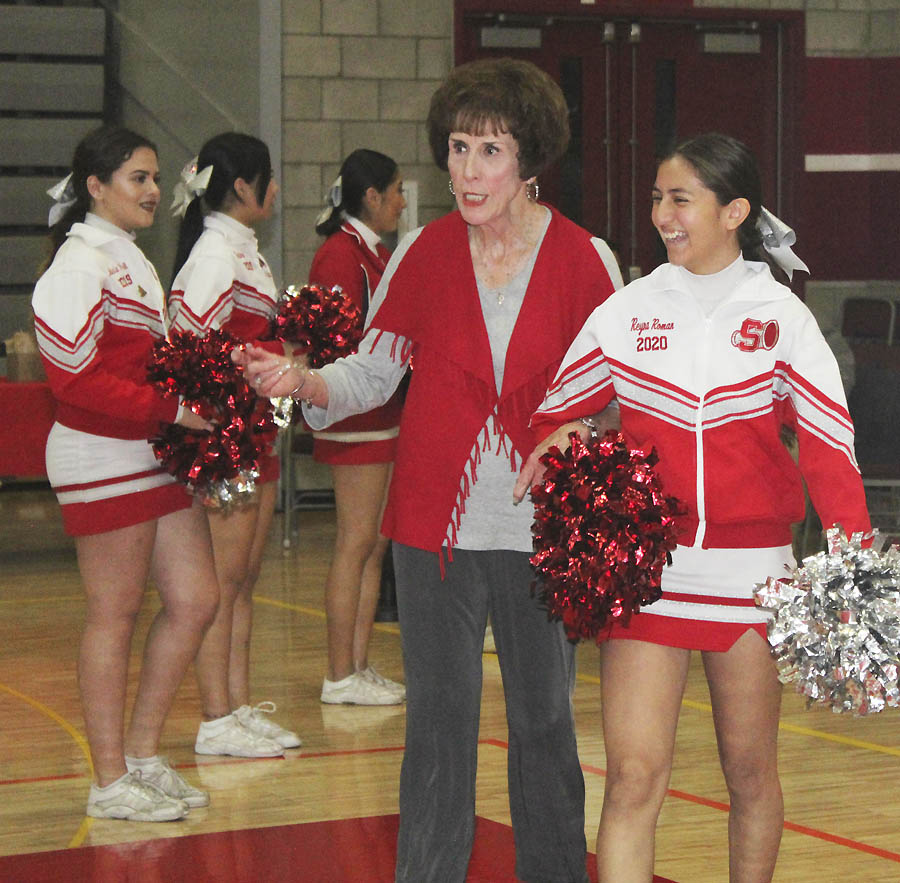 Former Sweetwater High School principal Louise Phipps makes her entry at halftime ceremony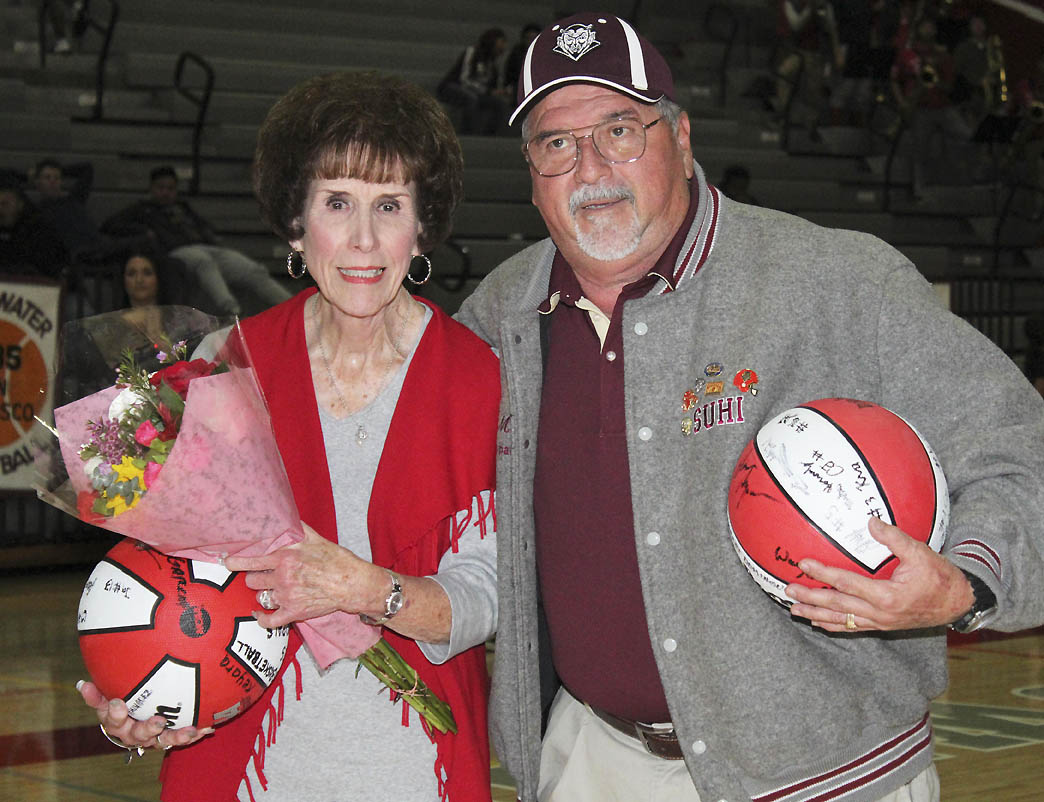 Former Sweetwater High School principals Louise Phipps and Ralph Mora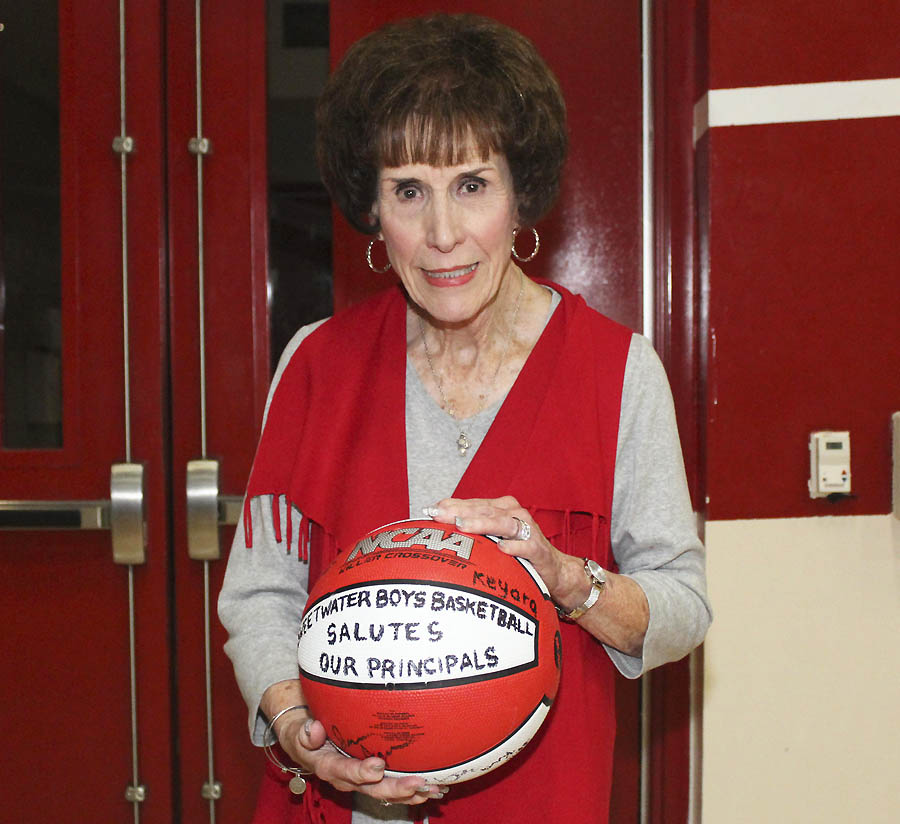 Former Sweetwater High School principal Louise Phipps (1990-98)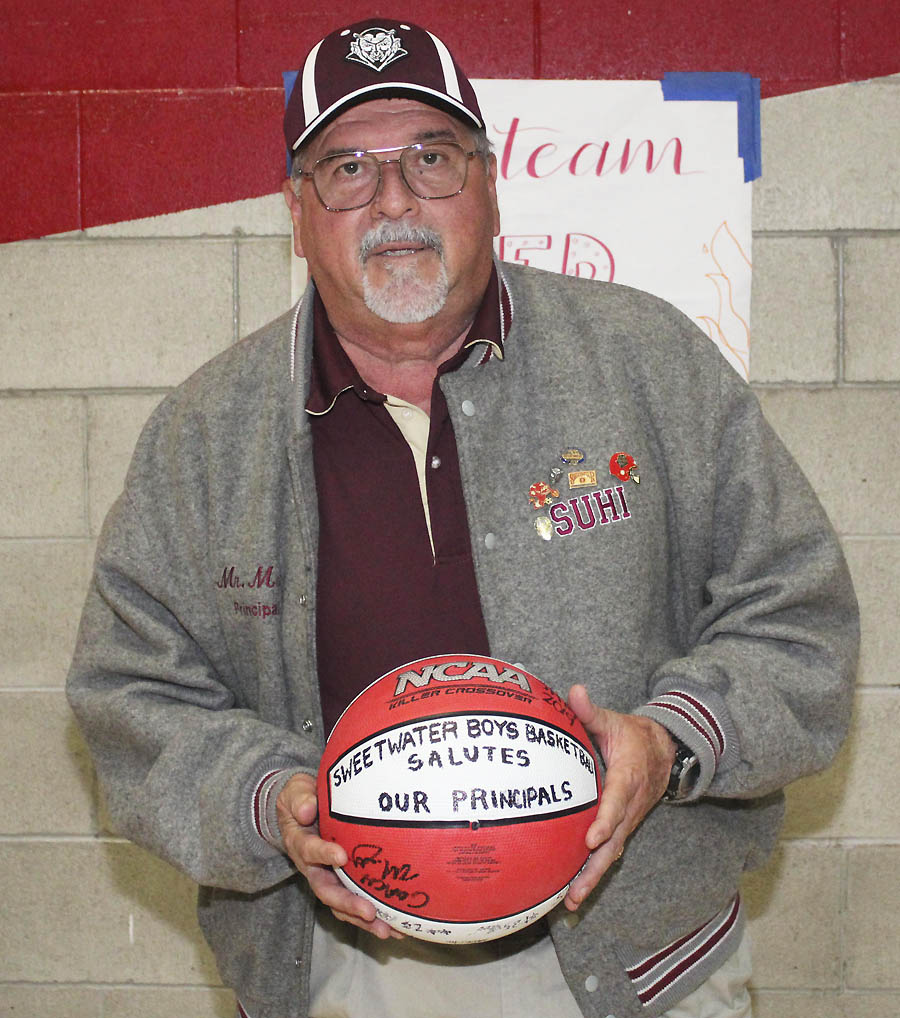 Former Sweetwater High School principal Ralph Mora (1998-2004)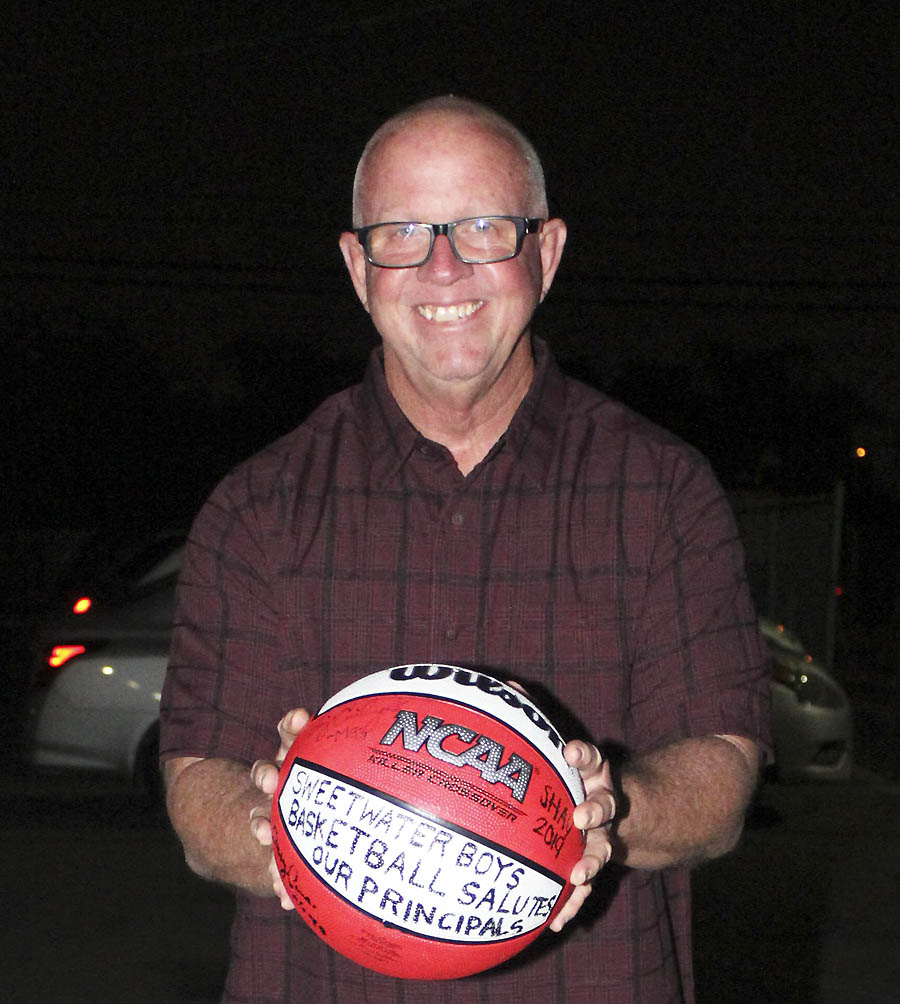 Former Sweetwater High School principal Wes Braddock (2004-10)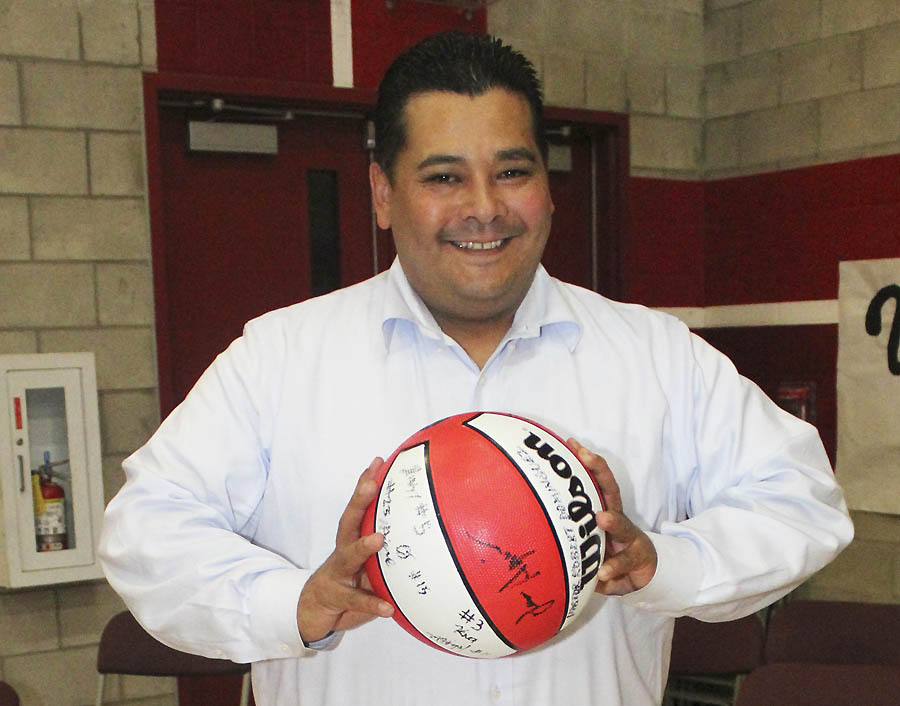 Former Sweetwater High School principal Roman Del Rosario (2010-14)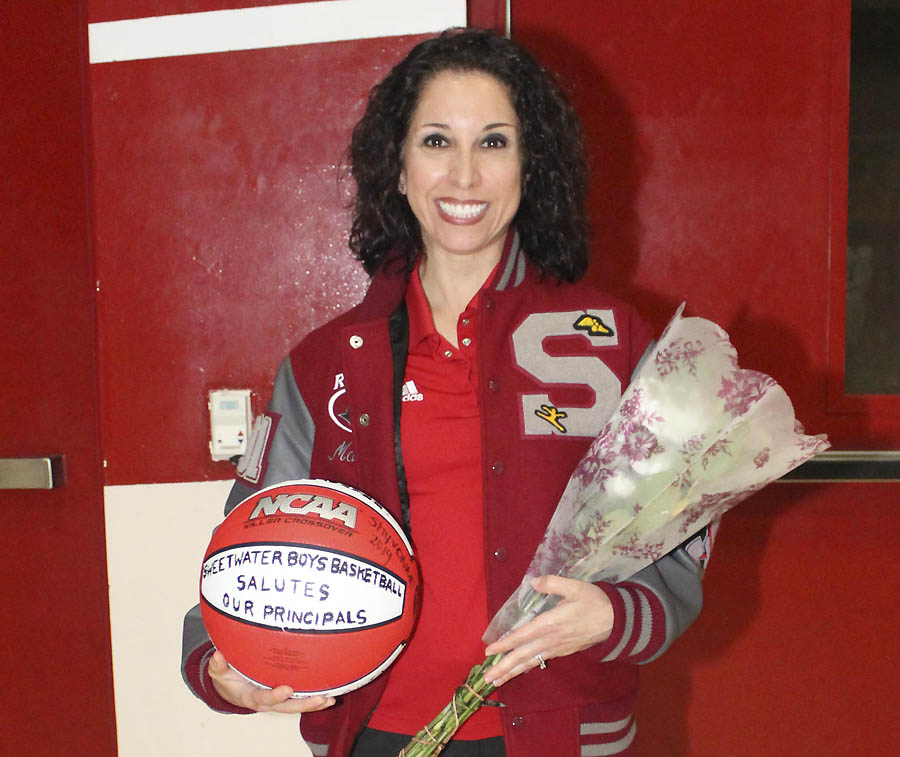 Current Sweetwater High School principal Maribel Gavin
Sweetwater High School boys basketball coach Jesse Aguirre (center) with honored dignitaries of the evening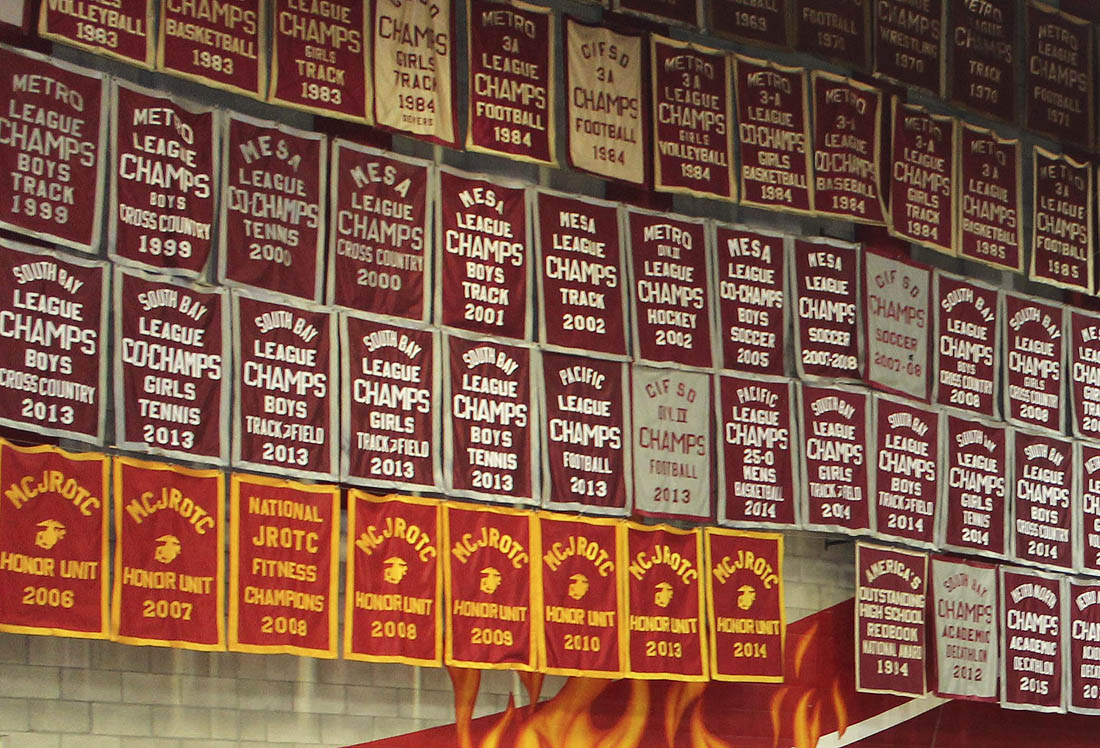 Red Devils add to impressive South Bay League start by topping host Raiders
The Mesa League has traditionally hosted the top programs in the Metro Conference but the South Bay League has been the focal point of some tantalizing first-round showcase games between Sweetwater, Southwest and San Ysidro.
Sweetwater and San Ysidro met in a match-up of league unbeatens on Jan. 9. Southwest and Sweetwater met under similar circumstances on Wednesday.
Sweetwater won both high profile contests to emerge from the fray with a 5-0 league record.
The Red Devils (13-5 overall) topped host Southwest, 64-54, on Wednesday. The visitors led 21-12 at the end of the first quarter and built their lead to 35-24 at halftime. The Red Devils boosted their lead to 47-32 entering the final quarter.
"The stats tell it all," Sweetwater coach Jesse Aguirre said. "Our two bigs played a great game. C.J. Jackson has 24 points and 25 rebounds. C.J. McMillan had 20 points and played point guard most of the game.
"The kids were ready mentally and brought their 'A' game. We lost there last year and we were determined not to let that happen again. They play very good defense, so we knew we had our work cut out for us."
Jackson was 11 of 14 from the floor and 2 for 5 at the free-throw line. He grabbed 14 defensive rebounds and had 11 offensive rebounds.
McMillan was 9 for 25 from the floor and 2 for 3 at the free throw line. He chipped in with seven rebounds.
Jimmy Mattox tacked on 11 points and five rebounds.
Sweetwater racked up 47 rebounds in the victory, including 30 defensive rebounds.
It was a formula that worked well in the previous win 76-59 over San Ysidro.
The Raiders, who bounced back with a 73-34 win at Chula Vista on Friday to improve to 5-1 in league play, 15-6 overall, did not exactly wilt in Wednesday's match-up against the Devils.
"We got in early foul trouble and fell behind by 10 early, but eventually were able to come back within four," Southwest coach Steve Selland said. "As the game went on, we were unable to keep up with their ability to score both inside and outside.  Our shots were not falling.  Their inside strength proved to be too much for us this night."
Diego Edwards scored 16 points, Bryant Encinas added 11 points and Jorge Castillo 10 had 10 points to lead the Raiders.
Sweetwater hosts Mar Vista on Saturday, Jan. 19, in a bid to maintain their position on top of the league standings.
Mar Vista defeated host Castle Park, 53-41, on Friday to improve to 3-3 in league, 9-8 overall.
As for the Mesa League, the Mater Dei Catholic Crusaders have taken the early lead after recording wins at Montgomery (67-54 on Wednesday) and at Bonita Vista (56-48 on Friday) to improve to 4-0 in league play, 11-7 overall.
Jake Tawhiao led the visiting Crusaders with 19 points while Jessie Campbell dropped in 13 points and Adrian Calderon had 11 points to help lift Mater Dei Catholic in the scoring column.
Ze'taime Burton led Montgomery with 12 points while Kyle Paranada and Rahin Williams both recorded 11 points.
South Bay League Standings
(Through Friday, Jan. 18)
Sweetwater Red Devils 5-0, 13-5
Southwest Raiders 5-1, 15-6
San Ysidro Cougars 5-2, 15-7
Mar Vista Mariners 3-3, 9-8
Hilltop Lancers 2-4, 6-16
Chula Vista Spartans 1-5, 5-17
Castle Park Trojans 0-6, 2-16
Wednesday, Jan. 16
Sweetwater 64, Southwest 54
Chula Vista 69, Hilltop 58
San Ysidro 100, Mar Vista 43
Friday, Jan. 18
Southwest 73, Chula Vista 34
San Ysidro 74, Hilltop 43
Mar Vista 53, Castle Park 41
Mesa League Standings
(Through Friday, Jan. 18)
Mater Dei Catholic Crusaders 4-0, 11-7
Montgomery Aztecs 3-1, 15-3
Otay Ranch Mustangs 2-2, 12-9
Bonita Vista Barons 2-2, 8-13
Olympian Eagles 1-3, 14-5
Eastlake Titans 0-4, 6-13
Wednesday, Jan. 16
Olympian 45, Eastlake 37
Otay Ranch 56, Bonita Vista 54
Mater Dei Catholic 67, Montgomery 54
Friday, Jan. 18
Mater Dei Catholic 56, Bonita Vista 48
Otay Ranch 76, Eastlake 50
Montgomery 70, Olympian 65