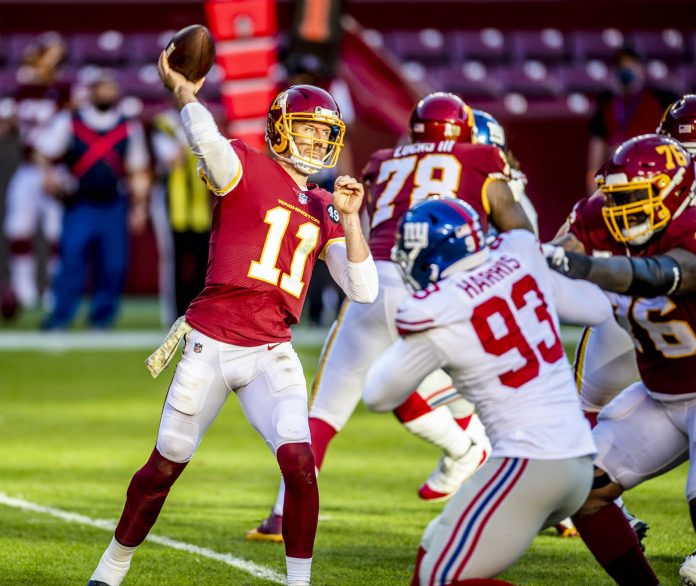 While San Diego County will be without a representative in Sunday's Super Bowl game, the region was well represented on the playing field this past season.
A total of 47 players with San Diego connections attended NFL training camps ahead of the 2020 pigskin campaign.
Leading the parade of local talent was former Helix High School and Bonita Vista Middle School alumnus Alex Smith, who is expected to receive the Associated Press NFL Comeback Player of the Year Award at Saturday's NFL Honors ceremony in Tampa.
Smith was named the NFL Comeback Player of the Year by The Sporting News on Jan. 21 in a poll of the league's players. The publication noted that more than 90 percent of the players polled voted for Smith, who returned to lead the Washington Football Team to an unlikely playoff berth after missing nearly two years on the field due to a catastrophic leg injury — and a brush with death.
Smith's latest NFL season ended on the sidelines after he was declared inactive for the team's Super Wild Card playoff game on Jan. 9.
Smith, a 16-year veteran quarterback, had helped Washington secure the 2020-21 NFC East championship and a berth in the playoffs while fighting through a strained calf injury in a 20-14 victory at Philadelphia on Jan. 3 on national television, to enable Washington to clinch the NFL's final playoff berth.
However, he was unable to recover in a week's time and was not activated for the playoff game.
Smith, 36, finished 5-1 as a starter for Washington (7-10) this season, helping the team reverse a 2-7 start. He passed for 1,582 yards with six touchdowns and eight interceptions.
Smith played in eight games overall this season in Washington, finishing with a 78.5 quarterback rating.
His career statistics include 35,650 passing yards, 199 touchdowns, 109 interceptions and an 86.9 QB rating.
Saturday's NFL Honors program (6 p.m. Pacific Time on CBS-TV) will precede Sunday's Super Bowl clash between the defending NFL champion Kansas City Chiefs (AFC champion) and Tampa Bay Buccaneers (NFC champion).
Sunday's game will be broadcast at 3:30 p.m. on CBS-TV.
Smith remains undecided about whether he will return next season while Washington remains undecided on its starting quarterback for next season.
The Chiefs enter defense of their Super Bowl championship title with a commanding 16-2 record while the Bucs are 14-5 after winning three playoff games on the road.
Top-seeded Kansas City defeated the second-seeded Buffalo Bills, 38-24, in the AFC championship game on Jan. 24 while fifth-seeded Tampa Bay upended the top-seeded Green Bay Packers, 31-26, in the NFC championships game earlier that day.
Chiefs quarterback Patrick Mahomes is bidding to win his second consecutive Super Bowl championship while Bucs signal-caller Tom Brady is out to capture his record seventh Super Bowl ring after winning six titles with the New England Patriots.
Mahomes, 25, has passed for 5,320 yards with 42 touchdowns and six interceptions this season, including the playoffs, while Brady, 43, has passed for 5,493 yards with 47 touchdowns and 15 interceptions.
Mahomes carries a 108.2 QB rating into Sunday's game while Brady holds a 102.2 efficiency rating.
Tyreek Hill remains the Chiefs' top catch threat with 87 receptions for 1,276 yards and 15 touchdowns. The Bucs counter with Mike Evans (1,006 receiving yards, 13 touchdowns) and Chris Godwin (840 receiving yards, seven TD).
Almost famous
Former Mira Mesa High School standout Damien Williams, a member of Kansas City's LIV Super Bowl victory, opted out of this season due to COVID-19 concerns while wide receiver Bryant Mitchell (Mount Miguel/Northwestern State) and quarterback Reid Sinnett (University of San Diego) were both waived by Tampa Bay in training camp.
Mater Dei Catholic alumnus Jason Myers and his third-seeded Seattle Seahawks were grounded during Super Wild Card Weekend following a stunning 30-20 loss to the visiting Rams, seeded sixth.
Myers completed the season with two field goals in as many attempts to run his consecutive field goal streak to 37 dating to last season. Myers split the uprights from 50 yards to tie the score, 3-3, early in the second quarter. He made a 52-yard kick in the third quarter to make the score 20-13 with the visitors in the lead.
He also was successful on two extra-point conversions to finish the game with eight kicking points.
Myers ended his second season with Seattle a perfect 26-for-26 on field goals and 51-of-55 on extra-point conversions (92.7 percent). He finished the season with 129 kicking points (tying a single-season high while with the New York Jets in 2018).
In his career, Myers has kicked 146 field goals and 197 extra-point conversions. He averaged 63.6 yards on kickoffs this season.
Field of dreams
Helix alum Levine Toilolo completed his eighth NFL season by appearing in 16 games for the New York Giants at tight end with five receptions for 46 yards.
Toilolo, 29, spent the first five years of his pro career (2013-17) with the Atlanta Falcons before playing one season each with the Detroit Tigers (2018) and San Francisco 49ers (2019).
His best season came in 2016 when he accumulated 264 receiving yards and two touchdowns.   He logged 263 receiving yards and one touchdown in 2017 and had 238 receiving yards with a career high 31 catches and two touchdowns in 2014.
His career statistics include 124 games (69 starts) with 102 receptions for 1,042 yards and eight touchdowns.
He has appeared in eight playoff games, including five with Atlanta (2016-17) and three with San Francisco (2019). He made four catches for 43 yards in the five games for the Falcons but did not catch a touchdown pass.
He ended his one season with the 49ers by appearing in his second Super Bowl game (the first with Atlanta in 2016).
San Francisco finished 13-3 in the regular season as NFC West champions before defeating the Minnesota Vikings, 27-10, in the divisional playoffs and Green Bay Packers, 37-20, in the conference finals.
San Francisco ended the 2019 season with a 31-20 setback in Super Bowl LIV to the AFC champion Kansas City Chiefs.
"Being on the wrong end of two of those is obviously tough, but you know what it takes to get there," Toilolo told the Giants.com website. "For me, I can only imagine how it'll feel to be on the other side right now. Obviously, even just making it to that point is such an accomplishment. A lot of people don't even get to play in that game. It just excites me more for the future and for what's to come. I'm hoping this next time, hopefully I make it back there a third time, and the third time will be the charm."
New England long-snapper Joe Cardona (Granite Hills) ended his sixth season with the Patriots out of the playoffs for the first time since joining the team in 2015.
He has appeared in three Super Bowl games with New England, winning two NFL championship rings.
He was on the field or seven special teams plays in the Patriots' 34-28 overtime win over the Atlanta Falcons in Super Bowl LI in 2017.
New England defeated the Los Angeles Rams, 13-3, to win Super Bowl LIII in 2019. The Pats kicked two field goals in the game and punted five times.
Linebacker Corey Littleton (Mount Miguel) appeared in 14 games for the relocated Las Vegas Raiders during this past season, recording 75 tackles, including 49 unassisted tackles and 26 assists.
In five NFL seasons, the former Matador has appeared in 78 games (51 starts) with six interceptions, one defensive touchdown, four fumble recoveries and 397 tackles.
He appeared in Super Bowl LIII with the Rams, recording one interception and making a team high 10 tackles (six solo stops), and was named to the 2018 NFL Pro Bowl team.
Cornerback Jalen Davis (Helix/Utah State) was waived by the Arizona Cardinals in training camp but later signed with the Cincinnati Bengals, playing six games with Bengals with four tackles.
Davis previously appeared in three games for the Miami Dolphins in 2018 and two games with the Cardinals in 2019. He had six tackles and two quarterback hits with the Dolphins.
Defensive back Jamar Taylor (Helix/Boise State) appeared in eight games for the 49ers this past season with 22 tackles, two interceptions, one sack and two quarterback hits before being waived.
He has appeared in 98 NFL career games over the past five seasons with five interceptions and 264 tackles.
Taylor spent three seasons with Miami (2013-15) and two seasons with the Cleveland Browns (2016-17). He played for two teams during the 2018 season — 10 games for the Cardinals and four games for the Denver Broncos. He played for two teams in 2019 — nine games with the Seattle Seahawks and three games with the Atlanta Falcons.
Red and Black
SDSU alumni in the NFL include cornerback Luc Barcoo (Jacksonville), long snapper Aaron Brewer (Arizona Cardinals), tight end Kahale Warring (Houston Texans), linebacker Calvin Munson (Miami Dolphins), running back Rashaad Penny (Seattle Seahawks), defensive end Alex Barrett (49ers), offensive tackle Daniel Brunskill (49ers) and offensive center Keith Ismael (Washington).
Damontae Kazee (Atlanta) and fullback Nick Bawden (Detroit Lions) both were listed on reserve.
Barcoo (Castle Park) and Brunskill (Valley Center) are local prep products. Barcoo appeared in three games for the Jaguars this season with 10 total tackles.
Also famous
Other notables active on NFL rosters include Detroit defensive back Jamal Agnew (Point Loma/USD), Patriots punter Jake Bailey (Santa Fe Christian), Rams running back Terrell Burgess (San Marcos), defensive lineman Kameron Cline (Patrick Henry), 49ers tight end Ross Dwelley (USD), Denver running back Royce Freeman (Imperial), Denver defensive back Alijah Holder (Oceanside), Las Vegas offensive lineman Erik Magnuson (La Costa Canyon), Los Angeles Chargers defensive back Quenton Meeks (Del Norte), Falcons defensive back Jordan Miller (Oceanside), Indianapolis wide receiver Dezmon Patmon (Patrick Henry), Denver wide receiver Tim Patrick (University City), Tennessee offensive lineman David Quessenberry (La Costa Canyon), Patriots tight end/fullback Paul Quessenberry (La Costa Canyon), Chargers offensive lineman Scott Quessenberry (La Costa Canyon), Houston wide receiver Kenny Stills (La Costa Canyon), Philadelphia linebacker Casey Toohill (Cathedral Catholic), 49ers linebacker Fred Warner (Mission Hills) and Arizona defensive back Jace Whitaker (Oceanside).
Locals waived in training camps included defensive back Kameron Kelly (SDSU), Rams offensive lineman Jeremiah Kolone (Fallbrook). Vikings defensive tackle David Moa (Kearny), Jacksonville offensive tackle Ryan Pope (SDSU), Lions punter Matt Wile (Francis Parker) and Seattle tight end Dominick Wood-Anderson (Steele Canyon).
Players on reserve lists include Miami defensive tackle Ray Smith (Cathedral Catholic) and New Orleans offensive lineman Larry Warford (Oceanside).