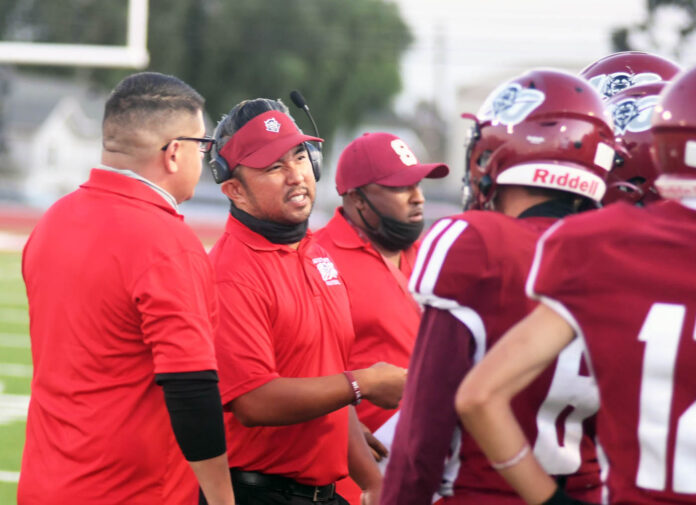 The Chula Vista Spartans and Sweetwater Red Devils will renew San Diego County's longest-running rivalry when they meet Friday at Gail Devers Stadium in National City.
This will be the 75th edition in the rivalry series, with the winner hoisting the rather large Legacy of Pride trophy following the game.
Sweetwater leads the series 40-29-5. The Devils won the last game 36-7 during the abbreviated spring season.
Kick-off is slated for 6:30 p.m.
While neither team will lack motivation when taking the field, there is more at stake than just bragging rights. The winner takes the inside track to this year's South Bay League championship.
"Our game with Sweetwater should be special," Chula Vista head coach Howard Bannister III said. "Both programs seem to be back on the rise. We know it's their homecoming. We know how much it means to them. And we expect the game to live up to the hype. From what I hear, this will be the first time since 1986 that Chula Vista and SUHi will play in a game that has major league banner implications. That fires me up. We will be ready."
The Spartans (3-0 in league, 4-2 overall) take a four-game winning streak into Friday's game while Sweetwater has won three straight contest, including last Friday's key come-from-behind 26-19 overtime victory at Montgomery.
Chula Vista defeated visiting Orange Glen, 25-21, last Friday in a non-league game. The Spartans had to rally from a 21-3 halftime deficit to keep their winning streak alive.
The Spartans, near the bottom of the Division IV power rankings, entered the game as underdogs to the Patriots, who were sitting in the middle of the Division III power rankings.
As a result, Chula Vista has shot up to No. 9 in this week's divisional power rankings.
"Our game against Orange Glen was a huge step for the program," Bannister acknowledged. "We were down 21-3 at the half and our staff made some great adjustments. However, more importantly, our kids never gave up hope … they believe."
The Patriots out-gained the hosts 345-219 in all-purpose yards, forcing the Spartans into an uphill battle.
Junior Giovanni Barrios got the Chula Vista offense back on track the second half. He finished the game with 25 carries for 101 yards with two touchdowns. He also scored on a two-point conversion.
Orange Glen senior quarterback Dennis Andrew passed for 253 yards with three touchdowns. But two interceptions he threw proved critical to the Chula Vista win.
Junior Angel Zuniga earned the Spartans' defensive player of the game award with both interceptions — one that went for a pick six and the other that ended the game.
Senior Raymond Cruz led the hosts with nine tackles, including two sacks. Senior Saul Garcia-Contreras also had one sack.
Senior Daniel Montes had five kicking points with two extra-point conversions and a 28-yard field goal.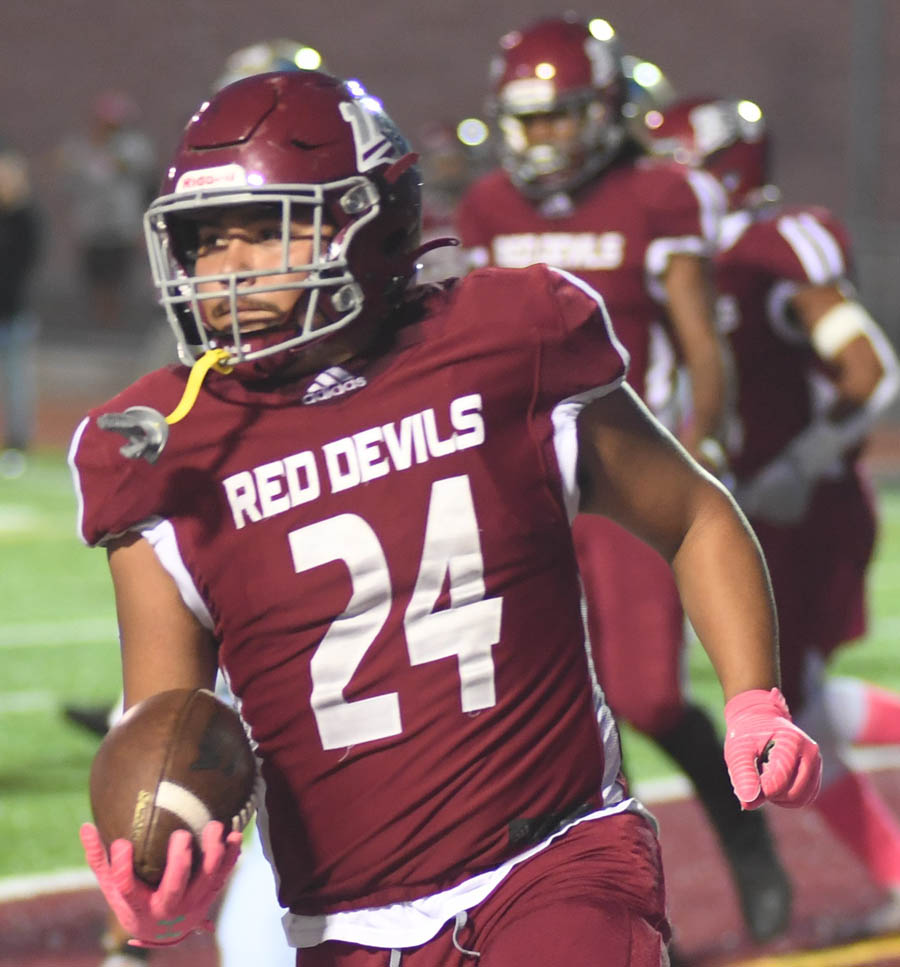 Red alert
Sweetwater has also made a climb up the power rankings at the right time of the season. The Red Devils enter Friday's game fifth among Division IV teams.
With the loss, Montgomery dropped to No. 12 among Division IV teams.
Friday's game is thus a key divisional matchup for playoff seeding positioning.
"It is always a big game for the Legacy of Pride rivalry game," SuHi head coach Ervin Hernandez said. "Like all games, we take each week one day at a time and look to go 1-0 for the week no matter who the opponent is."
The Red Devils (2-0 in league, 3-3 overall) had to overcome two deficits to go 1-0 in last Friday's game.
Montgomery senior Juan Estrada opened scoring on a five-yard run to thrill the school's 50th homecoming crowd.
The visitors tied the score, 6-6, on a six-yard run by senior Javier Sanchez. But the hosts went back in front, 12-6, on a 32-yard completion from senior quarterback Ansel Flanagan to junior Jordan Benton to start the third quarter.
Sweetwater scored the next two touchdowns to take a 19-12 lead. Sophomore Xzavier Crews recovered a fumble in the end zone to put the Devils in front 13-12. Crews later broke away for a 54-yard touchdown run to extend the lead to seven points.
The visitors looked to claim the regulation victory until Flanagan scored on a two-yard run with 48 seconds left to send the game into overtime.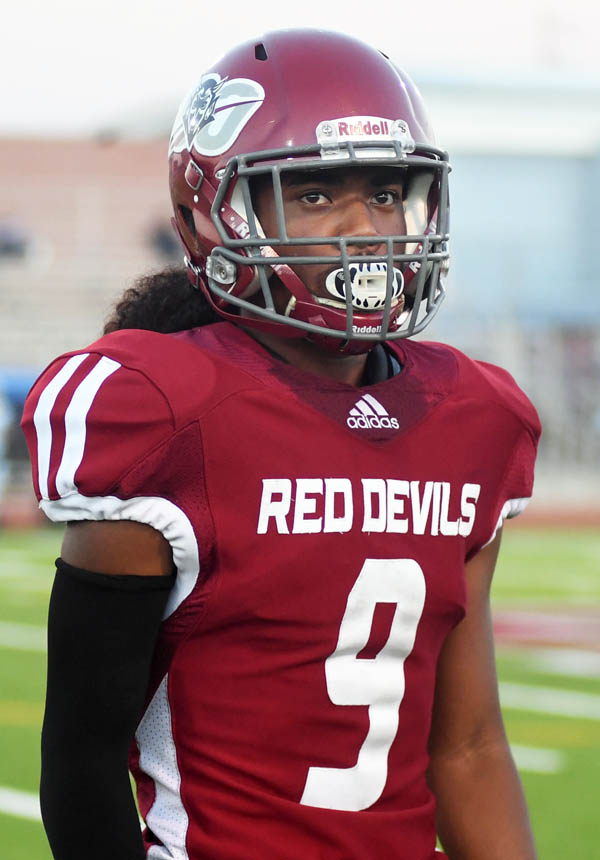 In the tie-breaker, senior Carlos Hopper scored from the seven-yard line on fourth down for what proved to be the game-winning points.
"It was a big team win for us and it showed our resilience," Hernandez said. "We talk to the kids about responding instead of reacting, and all the kids focused up and responded to the challenge.  They played hard and gave everything they got and we can't ask more than that as coaches."
Hopper led the Devils with 135 yards on 22 carries while Sanchez had 24 carries for 101 yards. Crews gained 58 yards on two carries while senior Fabian Venegas had 11 carries for 54 yards.
Sweetwater piled up 353 rushing yards.
Venegas led the Devils on the other side of the ball with eight tackles while Sanchez had one sack. Sophomore Cesar Guerra had one interception.
The visitors grabbed two fumble recoveries. Sanchez caused two while senior Nick Jenkins had another. Crews had one recovery for a touchdown while sophomore Izell Wright had the other.
Montgomery recorded 182 yards — 123 passing and 59 rushing. Flanagan passed for one touchdown and one interception. Estrada rushed nine times for 39 yards to lead the Aztecs on the ground. Benton had four catches for 59 yards.
Montgomery (1-1 in league, 3-3 overall) hosts Mar Vista (1-1, 4-3) this Friday in another key Division IV matchup. The Mariners, winners of their last two games, have moved up to 11th in the division power rankings.
Mar Vista 38, Castle Park 31
The host Mariners jumped out to a 24-0 first quarter lead but had to fight back on a two-yard scoring run by Nathan Pulido after the Trojans tied the game 24-all.
Lah'Darius Crawford (10-yard receiving touchdown, Jordan Mahan (70-yard TD reception and 15-yard scoring catch) and Gerardo Moya (five-yard TD run) all scored touchdowns for Mar Vista (4-3 overall).
"It was a tough game, neither team wanted to lose and it was visible," Mar Vista coach Syd Reed said. "Once again Jordan Mahan's determination was on display as one of the best wide receivers in the county."
SOUTH BAY LEAGUE STANDINGS
League/Overall
Chula Vista 3-0, 4-2
Sweetwater 2-0, 3-3
Mar Vista 1-1, 4-3
Montgomery 1-1, 3-3
San Ysidro 1-2, 3-3
Castle Park 0-4, 0-8
Friday, Oct. 8
Mar Vista 38, Castle Park 31
Sweetwater 26, Montgomery 19 (OT)Non-League
Chula Vista 25, Orange Glen 21
Friday, Oct. 15
Chula Vista at Sweetwater, 6:30 p.m.
Mar Vista at Montgomery, 6:30 p.m.
San Ysidro at Foothills Christian, 7 p.m.
San Diego Section Power Rankings
(Through Oct. 9)
Division I: 1. Carlsbad (7-0), 2. Mission Hills (5-2), 3. Cathedral Catholic (5-2), 4. Torrey Pines (4-2), 5. Lincoln (6-1), 6. Helix (3-3), 7. Granite Hills (4-3), 8. Madison (5-2), 9. La Costa Canyon (4-3), 10. Eastlake (5-2), 11. El Camino (3-4), 12. Grossmont (2-5), 13. Oceanside (3-4), 14. Steele Canyon (1-6), 15. San Marcos (1-6), 16. St. Augustine (1-7)
Division II: 1. Scripps Ranch (6-0), 2. Poway (5-2), 3. La Jolla (3-4), 4. Christian (4-2), 5. Valley Center (4-3), 6. Otay Ranch (2-4), 7. Rancho Bernardo (4-3), 8. Mira Mesa (3-2), 9. San Diego (7-1), 10. Central Union (3-4), 11. San Pasqual (4-3), 12. Morse (3-4), 13. Bishop's (5-2), 14. Point Loma (3-4), 15. Vista (2-5), 16. Olympian (0-6)
Division III: 1. Mater Dei Catholic (6-0), 2. Mt. Carmel (7-0), 3. Santa Fe Christian (7-0), 4. Santana (6-1), 5. Ramona (5-2), 6. West Hills (7-0), 7. El Capitan (6-1), 8. Brawley (6-2), 9. Imperial (4-3), 10. Westview (2-5), 11. Orange Glen (4-2), 12. Bonita Vista (3-3), 13. Canyon Hills (1-6), 14. Escondido (3-5), 15. Hilltop (1-6), 16. Kearny (0-6), 17. Monte Vista (0-7)
Division IV: 1. Coronado (5-2), 2. Rancho Buena Vista (5-3), 3. Patrick Henry (5-2), 4. University City (3-4), 5. Sweetwater (3-3), 6. Valhalla (2-5), 7. Del Norte (3-4-1), 8. Mount Miguel (2-3), 9. Chula Vista (4-2), 10. La Jolla Country Day (5-2), 11. Mar Vista (4-3), 12. Montgomery (3-3), 13. Vincent Memorial (5-2), 14. Francis Parker (3-4), 15. Southwest El Centro (2-5), 16. Classical Academy (1-6), 17. Castle Park (0-8), 18. Hoover (2-5)
Division V: 1. Palo Verde Valley (5-2), 2. Mission Bay (6-1), 3. Army-Navy Academy (4-3), 4. Holtville (5-2), 5. Escondido Charter (7-0), 6. Fallbrook (2-5), 7. Calexico (4-3), 8. Crawford (2-6), 9. El Cajon Valley (2-6), 10. Foothills Christian (3-3), 11. San Ysidro (3-3), 12. Mountain Empire (3-4), 13. O'Farrell Charter (1-6), 14. Calipatria (2-4), 15. Maranatha Christian (1-6), 16. Tri-City Christian (1-6), 17. Clairemont (0-8)
MaxPreps Rankings
Top 25: 1. Cathedral Catholic (5-2), 2. Carlsbad (7-0), 3. Lincoln (6-1), 4. Mater Dei Catholic (6-0), 5. Mission Hills (5-2), 6. Torrey Pines (4-2), 7. Scripps Ranch (6-0), 8. Helix (3-3), 9. Madison (5-2), 10. Mt. Carmel (7-0), 11. Poway (5-2), 12. Eastlake (5-2), 13. La Costa Canyon (4-3), 14. Ramona (5-2), 15. Oceanside (3-4), 16. Rancho Bernardo (4-3), 17. La Lolla (3-4), 18. El Camino (2-4), 19. Santa Fe Christian (7-0), 20. Granite Hills (4-3), 21. Mira Mesa (4-2), 22. St. Augustine (1-7), 23. Otay Ranch (2-4), 24. Patrick Henry (5-2), 25. San Diego (7-1)