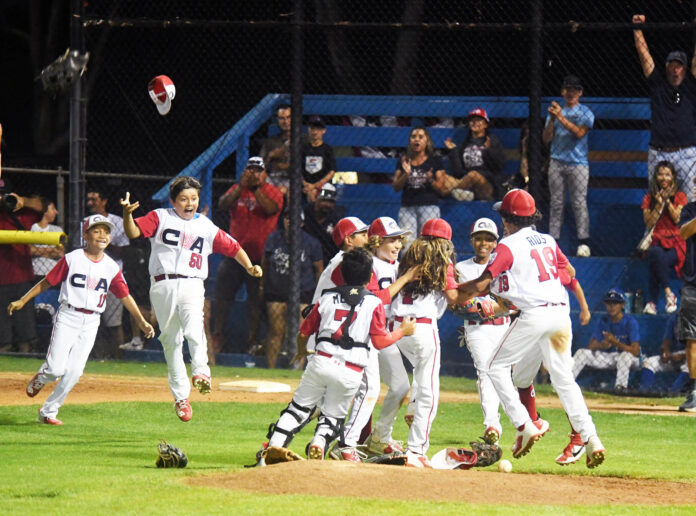 It was a star-spangled season for Chula Vista American Little League's 10U all-star team, and for that matter, all the teams representing California District 42 in all-star tournament play this summer.
CVA's spunky group finally put an end to its season of thrills after placing runner-up in its division at this past week's Southern California state tournament at Imperial Beach Little League.
Chula Vista American entered the tournament undefeated at 7-0 in all-star play. The Red Machine won its opening three games at the Imperial Beach venue to advance to the championship game, which turned out to be championship games in the 10-team double-elimination tournament.
After successfully navigating the California District 42 and California Section 7 all-star tournaments, Chula Vista American defeated La Mirada, 5-2, on July 24 to open play in the Southern California regional, the final stop for the age-group in Little League hierarchy.
CVA won its second game in the IB tournament, 4-3, with a comeback effort against Dos Pueblos on July 27 and shut out Palos Verdes, 5-0, in last Friday's semifinals to improve to 10-0.
Palos Verdes caught fire from there, defeating Dos Pueblos, 11-0, in an elimination game on Saturday to advance to Sunday's championship game.
Chula Vista American needed just one more win to sew up the Southern California state title while Palos Verdes had to win two games — Sunday and the so-called "if necessary" game on Monday.
Palos Verdes came through to deny CVA's championship celebration with a 4-1 victory on Sunday to force a double-elimination contest on Monday, which the District 25 champions also claimed by a score of 5-3 to begin their own championship celebration.
Chula Vista American ended its season with an overall 10-2 record, with both losses coming in the state championship tournament to the eventual state champions.
"Our 8-10 year-old Chula Vista American Little League team lost in the championship game against the Palos Verdes Little League team from Los Angeles," District 42 administrator Ernie Lucero said. "The parents from Palos Verdes team were respectful and gracious about their victory. They thanked everyone at the Imperial Beach Little League for hosting a great tournament on such an enviable location.
"Had this tournament been a long series between these two teams, there's no doubt it would have been a toss-up. The managers on both sides prepared their teams as if these 10-year-old players were 12-year-olds.
"Chula Vista American Little League manager Sergio Feria demonstrated his deep understanding of baseball and was able to translate his knowledge to the kids who readily grasped it and ran with it.
"Despite their young age, this team demonstrated a good understanding of the game. We are so proud that his team represented District 42."
District 42 made history by advancing teams in six divisions to the Southern California regionals.
"Even though none of our teams won the Southern California tournament, they all played well and we are proud of them for representing District 42," Lucero said. "We look forward to 2023 spring Little League season."
Final conflict
Down four runs after one inning in Monday's series finale, Chula Vista American scored one irun n the third inning and two more in the fifth inning but fell short in a 5-3 loss to a very strong Palos Verdes team in the championship game.
CVA had the bases loaded with one out in the second inning, but could not score.
Palos Verdes was led by Miles Baranick, who pitched 4.2 innings, allowed three runs, two hits, four walks and struck out 10 CVA batters. "His strikeouts were timely and in critical situations," Feria said.
Sonny Garcia pitched six strong innings for CVA, allowing four hits, three walks, five runs (two earned) and struck out two batters.
Feria pointed out that the CVA defense, which had committed only seven errors in 11 games, committed three errors in the championship game, including two in the first inning that resulted in three unearned runs for Palos Verdes.
"By playing in the Southern California championship game, this 2022 CVA team advanced further in the playoffs than any other CVA team ever," Feria explained. "The team defense was very strong, committing only 10 errors in 12 games (out of 270 total chances). The team pitching — Manny Dorado, Evan Bortscheller, Sonny Garcia, and Luke Moreno — was outstanding, with a team ERA of 1.84 over 12 games and 65 innings, allowing only 20 walks and striking out 63 batters."
The CVA offense was highlighted by Sammy Feria (.471 average, 16 hits, 5 doubles, 13 runs scored), Javier Rios (.467 average, 14 hits, 3 doubles, 1 triple, 12 runs scored) and Moreno (.452 average, 14 hits, 12 runs scored).
Red Machine
Chula Vista American kept working and kept winning after the team ran its summer all-star tournament record to 10-0 following last Friday's 5-0 semifinal victory over Palos Verdes.
The win guaranteed CVA either a first- or second-place finish in this year's SoCal finals.
Evan Bortscheller pitched a gem of game going 4.1 innings, striking out nine, allowing only four hits and one walk in helping catapult his team to Sunday's state final.
Meanwhile, Sonny Garcia delivered the big hit in last Friday's game with a second inning bases-loaded double that scored three runs for CVA.
"The CVA defense once again was stellar in that there were no errors, a great defensive play by second baseman Israel Mejia to end a fifth-inning scoring threat by Palos Verdes (runners on first and second base, two out)," CVA manager Sergio Feria explained. "Also, a key sixth-inning double play executed by CVA to clear the bases with Palos Verdes again threatening to score."
Throughout the summer, CVA's pitching and defense have been outstanding, the elder Feria said. CVA pitchers had allowed only 15 runs and 16 walks in the opening 10 games. The CVA defense had made only six errors in 10 games.
Offensively, CVA had scored 82 runs in 10 games.
"CVA is not done," Feria said after last Friday's semifinal victory. "The tournament continues, and CVA has more work to do. Keep working, keep winning."
***
Chula Vista American absorbed its first loss of the state tournament on Sunday. The win by Palos Verdes forced a second championship game on Monday in the double elimination tournament.
Bennet Lopes, for Palos Verdes, pitched 4.1 outstanding innings. He allowed only three hits, struck out seven, walked one to tame the bats of Chula Vista American.
Meanwhile, CVA's Manny Dorado allowed his first runs of the tournament on Sunday. He pitched 4.2 innings, allowed eight hits, struck out six, and allowed three earned runs.
CVA batters totaled six hits in the loss.
Monday's game was the third matchup between the teams in the SoCal state tournament. Palos Verdes won the series two games to one.
11s on deck
After coming back to sweep Rancho de Oro Little League in the double-elimination championship series to capture this year's California Section 7 championship at Spring Valley Little League, Eastlake Little League kept its winning streak going by defeating Conejo Valley, 15-1, in the first game of the Southern California Tournament on July 23.
Hunter Piring led the charge offensively by going four-for-four while starting pitcher Eddie Acosta set the tone defensively by striking out the side in the first inning.
It proved to be uphill going from there, however, for the newly crowned Section 7 champions at Fountain Valley Little League.
Eastlake dropped a 7-1 decision to District 32 champion Scripps Ranch in as winners bracket contest on July 26 to fall to the elimination bracket. Eastlake defeated Temecula, 2-1, on July 27 to advance to a second consecutive elimination bracket game against El Segundo (District 36) on July 28.
El Segundo won 13-4 to eliminate Eastlake from championship contention. Eastlake Little League finished 9-3 overall in all-star tournament play.
"The Eastlake 11-year-old all-star team played with an unfortunate occurrence at Fountain Valley," Lucero recounted. "Three of their players became ill during the tournament. The remaining team members were able to forge ahead and played with a lot of heart, almost reaching the semifinals.
"Next year these players from Eastlake Little League will be one of the top 12-year-old teams in Southern California for the 2023 spring season. I was very impressed with parental support for the team throughout the games even though they were losing. That is the kind of positive reinforcement that these kids thrive on."
Scripps Ranch defeated El Segundo, 7-4, to advance to the championship game. Sherman Oaks eventually emerged as this year's SoCal regional champion.
Eastlake Little League 11U All-Star roster
Eddie Acosta, Logan Boliguen, Malaki Maestas, Ryan Nicolaus, Hunter Piring, Joey Ziomek, Dante Baca, Zakai Castruita, Isaiah Cortes, Jaziel Gonzalez, Saul Gross, Braylen Martinez, Logan McElroy.
Manager: Matt Fischer. Coaches: Eddie Acosta, Marlow Martinez, Diego Uribe
End of the road
Sweetwater Valley's 12-year-old all-stars won their opening two games in the SoCal regional — 12-0 over Orcutt National and 7-0 over La Mirada — but ran up against a strong Glendora American team in its third game, coming out with a narrow 3-2 loss.
Sweetwater Valley dropped to the elimination bracket but needed five consecutive wins to come back and win the tournament to stay on the road to the Little League World Series.
The Bonita team created some sparks by eliminating two teams — 6-4 over Huntington Valley and 3-0 over District 31 champion Encinitas— before coming up short in a 4-3 setback to Del Rey American from Westchester/Playa del Rey.
Sweetwater Valley manager Ward Lannom called the shutout win over Encinitas in a battle of San Diego County teams "a great game of baseball."
"These games are tough," he said.
Sweetwater Valley finished with a final 12-3 all-star tournament record while taking the memory of Micah Pietila-Wiggs on the road with them for inspiration.
"The Sweetwater Valley 12-year-old team stood out as a strong group in all Southern California," Lucero said. "Every team that makes it to the Western Region tournament in San Bernardino or to the Little League World Series in Williamsport, Pa., needs a bit of luck to get there. The strength of their team was evident. However, this team was simply undermined by the little bit of luck they did not have. At times these games are determined by inches. On several occasions the ball was hit so hard but directly at the defensive player for an out.
"Kudos to manager Ward Lannom and coaches Arturo Maldonado and Ramon Orozco. These players received top-notch coaching from these great volunteers. Parents, relatives and friends were very supportive of the Sweetwater Valley team, traveling from Bonita to the city of Eastvale in Riverside County to cheer on their team."
In handily winning its first game at the SoCal regionals on July 23, Sweetwater Valley rapped out 12 hits in four innings with Brandon Hirsch accounting for six total bases and three RBI with a double and home run. Niko Duncan had six total bases with a double. Joel Vargas had two hits and three RBI while Kenson Johnson had two hits and two RBI.
The game ended when Sweetwater Valley scored seven runs in the fourth inning to enact the 10-run rule.
Johnson pitched three and two-thirds innings, allowing two hits while striking out six batters. He and Roman Murphy (one third of an inning, one strikeout) combined on the shutout win.
Sweetwater Valley played a regulation six-inning game against La Mirada on July 24, out-hitting its opponent 9-4. The District 42 champions nursed a 4-0 lead into the final inning before tacking on three insurance runs.
Vargas and Maelo Forrero both had two RBI while Johnson and Nico Villa both had one RBI. Forrero had a double while Johnson and Vargas both hit home runs. Johnson finished the game with five total bases while Vargas had four.
Vargas pitched a complete game four-hitter with nine strikeouts.
With SVLL trailing 2-0 early in its July 27 game against Glendora American, Vargas hit a two-run home run to tie the game, 2-2, in the middle stages of the contest.
Sweetwater Valley received single RBI from three players in its July 28 elimination win over Huntington Valley. Vargas, Austin Walrath and Lucas Yriqui. Duncan scored two runs while Vargas, Johnson, Forrero and Hirsch each scored once.
Glendora American defeated Del Rey American to advance to the West Region tournament in San Bernardino. Sweetwater Valley finished third out of 291 teams in Southern California.
Southern California Regional State Champions:
10U Division: Palos Verdes
11U Division: Sherman Oaks
12U Division: Glendora American
Junior League: 4S Ranch
Intermediate League: Laguna Beach
Senior League: La Verne
West Region: Aug. 6-12
LLWS WEST REGION
Aug. 6-12 in San Bernardino
Arizona: Sidewinder Little League, Peoria, Ariz.
Southern California: Tri-City Little League, Rocklin
Northern California: Glendora American Little League, Glendora
Hawaii: Honolulu Little League, Honolulu

Games of Aug. 6:
Northern California 5, Arizona 0
Hawaii 3, Southern California 0
Games of Aug. 7:
Arizona 7, Southern California 6
Games of Aug. 8:
Hawaii 13, Northern California 3
Games of Aug. 10
Arizona 8, Northern California 1
Games of Aug. 12:
Hawaii 9, Arizona 2 (championship game, Hawaii advances to Little League World Series)