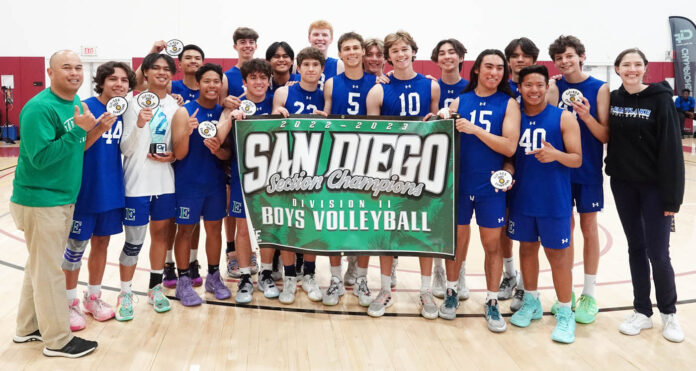 When the Eastlake Titans won the San Diego Section Division II boys volleyball championship in 1999 under then head coach Jim Knox, none of the players on the school's current edition had even been born.
The 2023 Titans thus entered a new chapter in school history after winning last Saturday's Division II championship at Southwestern College.
Top-seeded Eastlake (31-7) defeated second-seeded Mission Hills (31-5) in four sets by scores of 25-23, 25-18, 22-25, 25-23.
The fabled 1999 team's opponent: The Titans dispatched Scripps Ranch in five games.
Knox's 2001 EHS team recorded a runner-up finish to Valhalla in the CIF finals, also in five games.
Last Saturday's CIF championship was the first for Eastlake coach Erwin Macalagium, either boys or girls, in his long coaching career at the east side school.
Titan pride was already showing its true colors moments after match point.
"I'm more happy for the kids for all the hard work this year they've put into this," Macalagium said. "It's a reward for all those morning practices. Next year we'll start with a new group."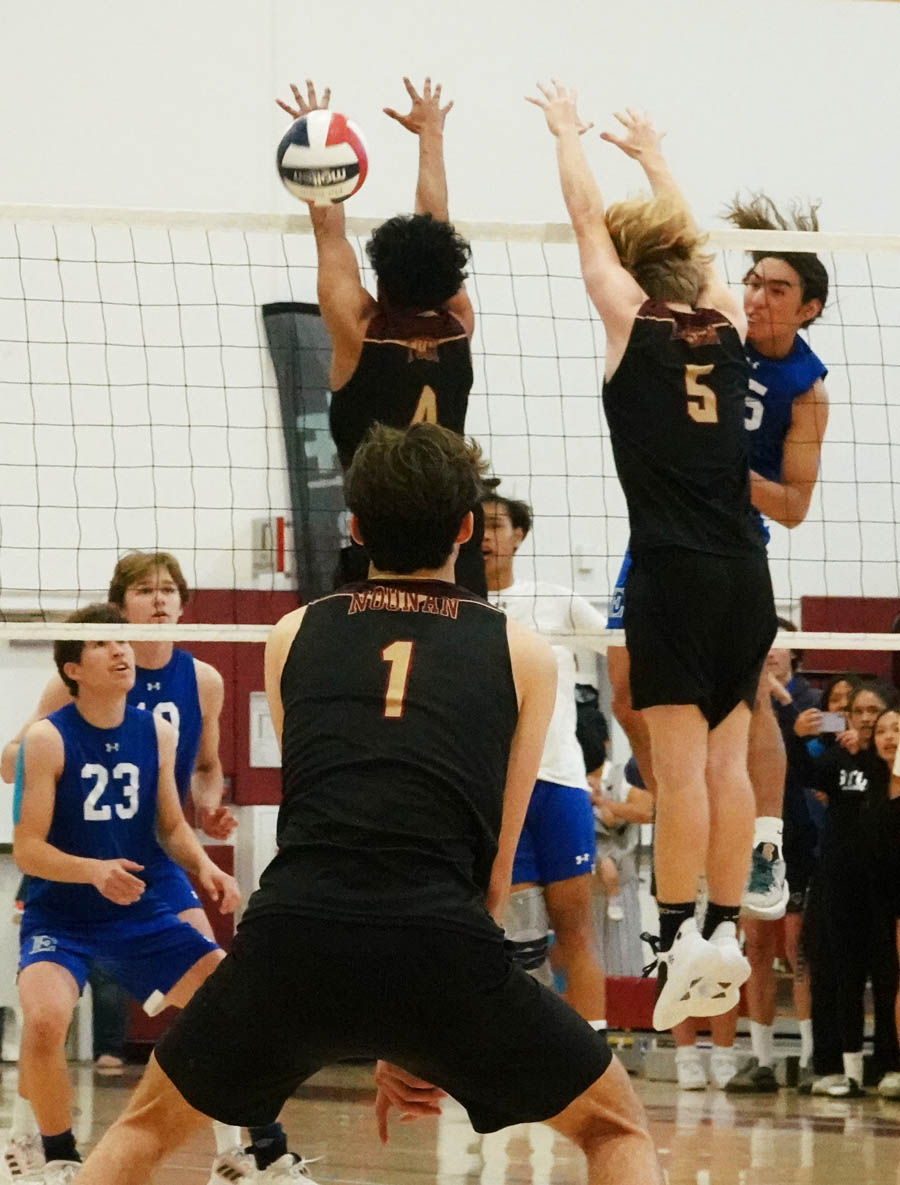 The tight scores were indicative of the matchup of top seeds. When one team seemed to pull away, the other team rallied to either close the gap or even go ahead on the scoreboard.
Eastlake had to work very hard to dispatch the Grizzlies despite taking a 2-0 lead in sets and threatening to conclude a sweep.
The recently crowned Metro-Mesa League champions won the first game 25-23 after taking an initial 4-1 lead only to have Mission Hills chip away to tie the opening game seven times – 14-14, 15-15, 17-17, 18-18, 20-20, 21-21, 22-22. The Titans finally found some much-needed breathing room at 24-22 but the Grizzlies rallied to trim the margin to 24-23 before Eastlake finally managed match point.
Eastlake opened up an 8-3 advantage in the second game only to see Mission Hills narrow the score to 10-9 and 11-10 before the Titans were able to regain momentum to spurt ahead 20-11 on the strength of consecutive serving aces by senior middle blocker Dallin Samson. But it wasn't over as the Grizzlies mounted a late challenge to cut the score to 22-17. But Eastlake was able to weather the storm with a 3-1 count to end the match.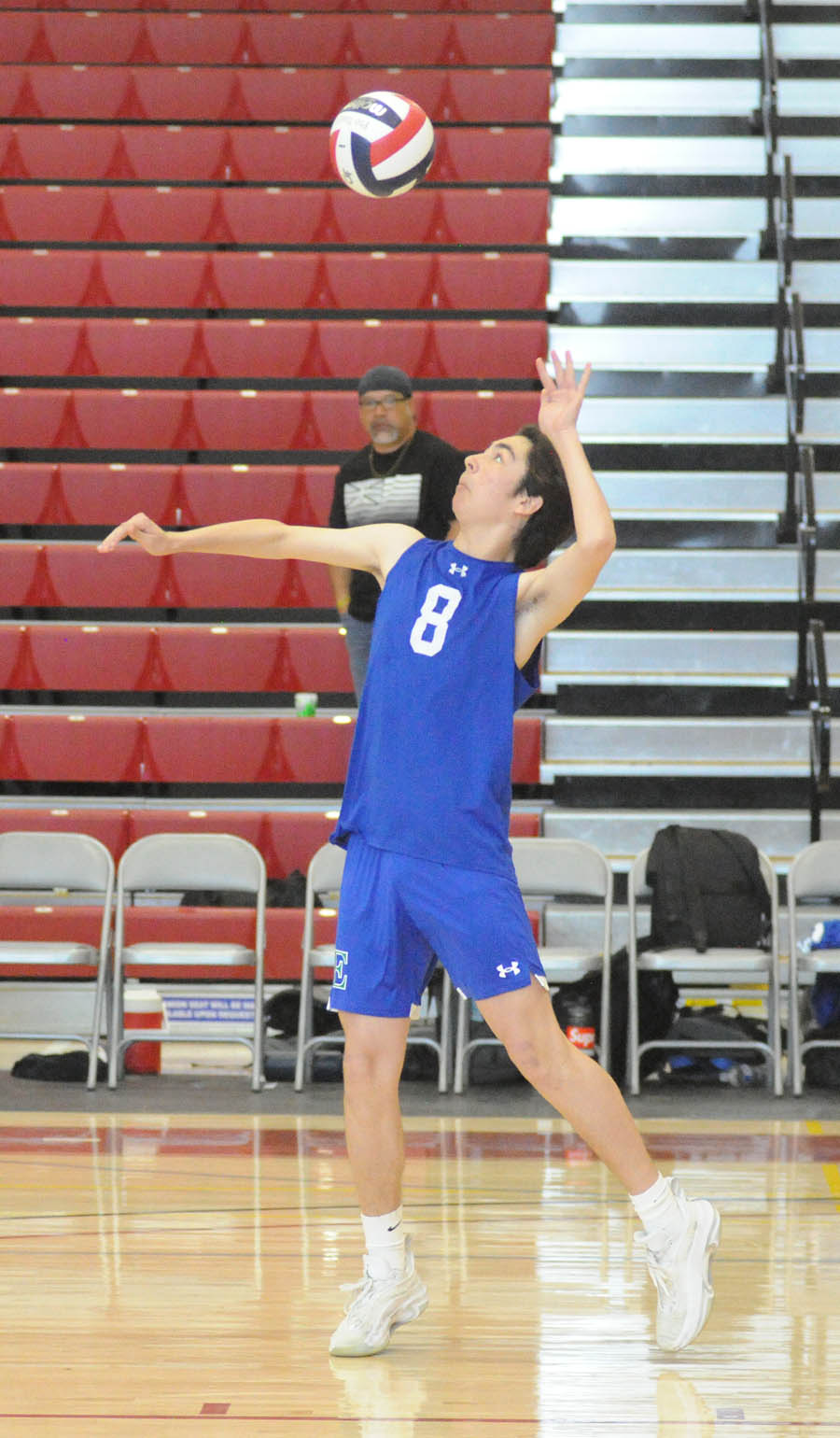 Mission Hills grabbed the first point in third game to eventually go up 5-2. The Titans rallied throughout the game, knotting the score at 5-5 before the Grizzlies roared back to lead 13-6. It was a dogfight from there as Eastlake closed the gap at various stages to 16-15, 17-16, 18-17 and finally 18-18 and 19-19 before taking a narrow 20-19 lead.
The game ended in see-saw fashion as Mission Hills rallied to lead 21-20, Eastlake came back to go in front 22-21 and the Grizzlies rallied once more, slipping ahead 23-22, before finally scoring the final two points to nail down the victory.
It was frustrating – just as the fourth game would prove.
The teams were tied 11 times. Alternately, the Titans led by scores of 2-1, 5-4, 7-6, 8-7, while Grizzlies led by scores of 3-2, 9-8, 14-13, 15-14, 16-15, 17-16. Eastlake took an 18-17 lead before expanding it to 21-17 on five unanswered points while junior Gannon Walters conducted service.
But the Grizzlies proved pesky by closing to within two points: 21-19 and 24-22. Mission Hills then whittled the Titan lead to one point, 24-23, before junior Nicholas Jimenez scored his 11th kill of the match to finally win it for Eastlake.
The finish was as exhilarating as it was exasperating.
The Titans found themselves playing with one arm pinned behind their back when senior Troy Fleming, one of the best outside hitters in the section, was limited by an injury primarily to defensive duty.
"He took it upon himself to help the other guys at whatever he could do, setting or defense," Macalagium said.
"We've been working so hard," said Fleming, who is bound to continue his athletic career at Cal State Northridge. "Now it's on to state. I wanted to do everything I could to help the team win. The team gave so much to everyone, I wanted to give it back."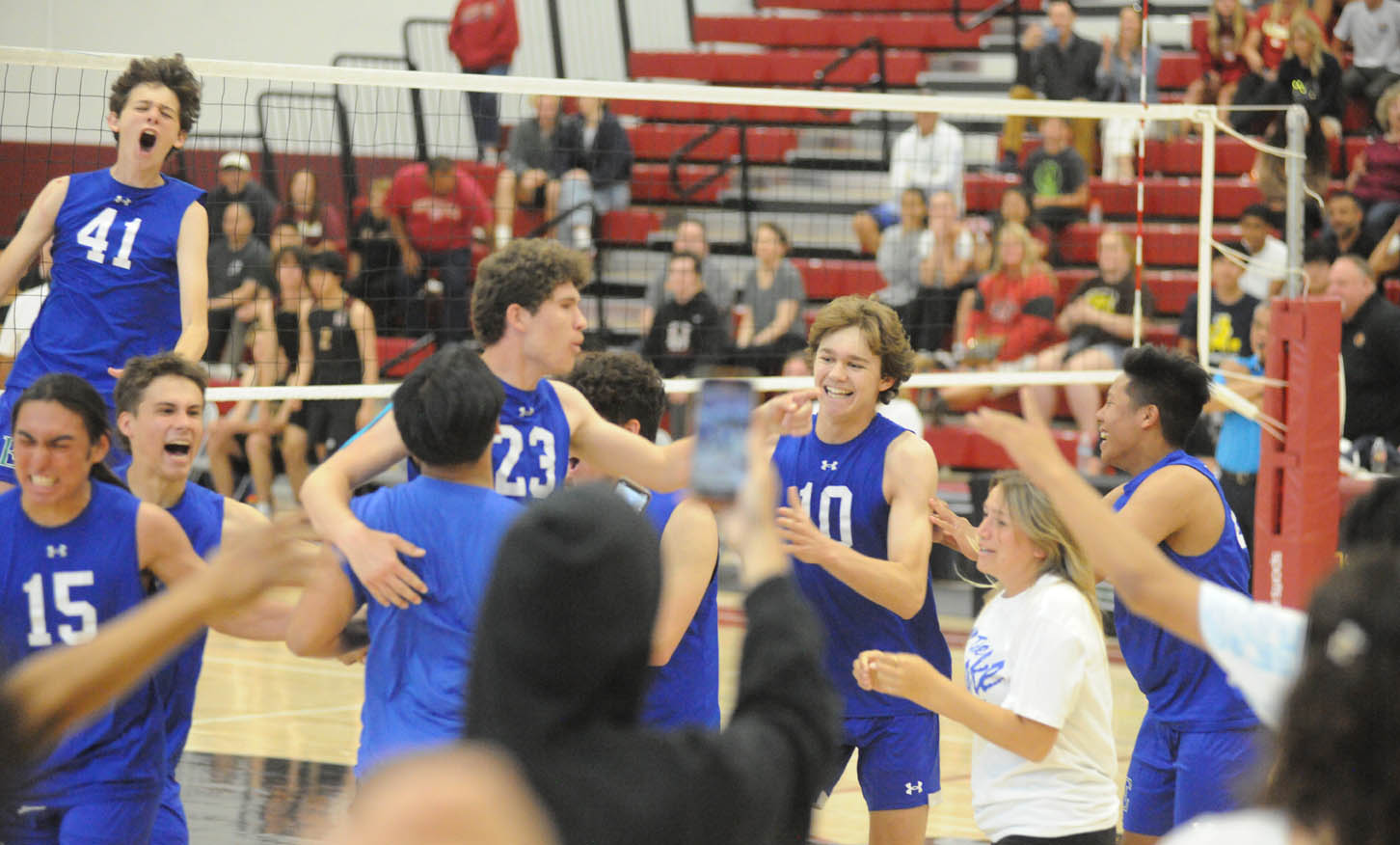 Banner and trophy checked off the championship bucket list. Photo by Phillip Brents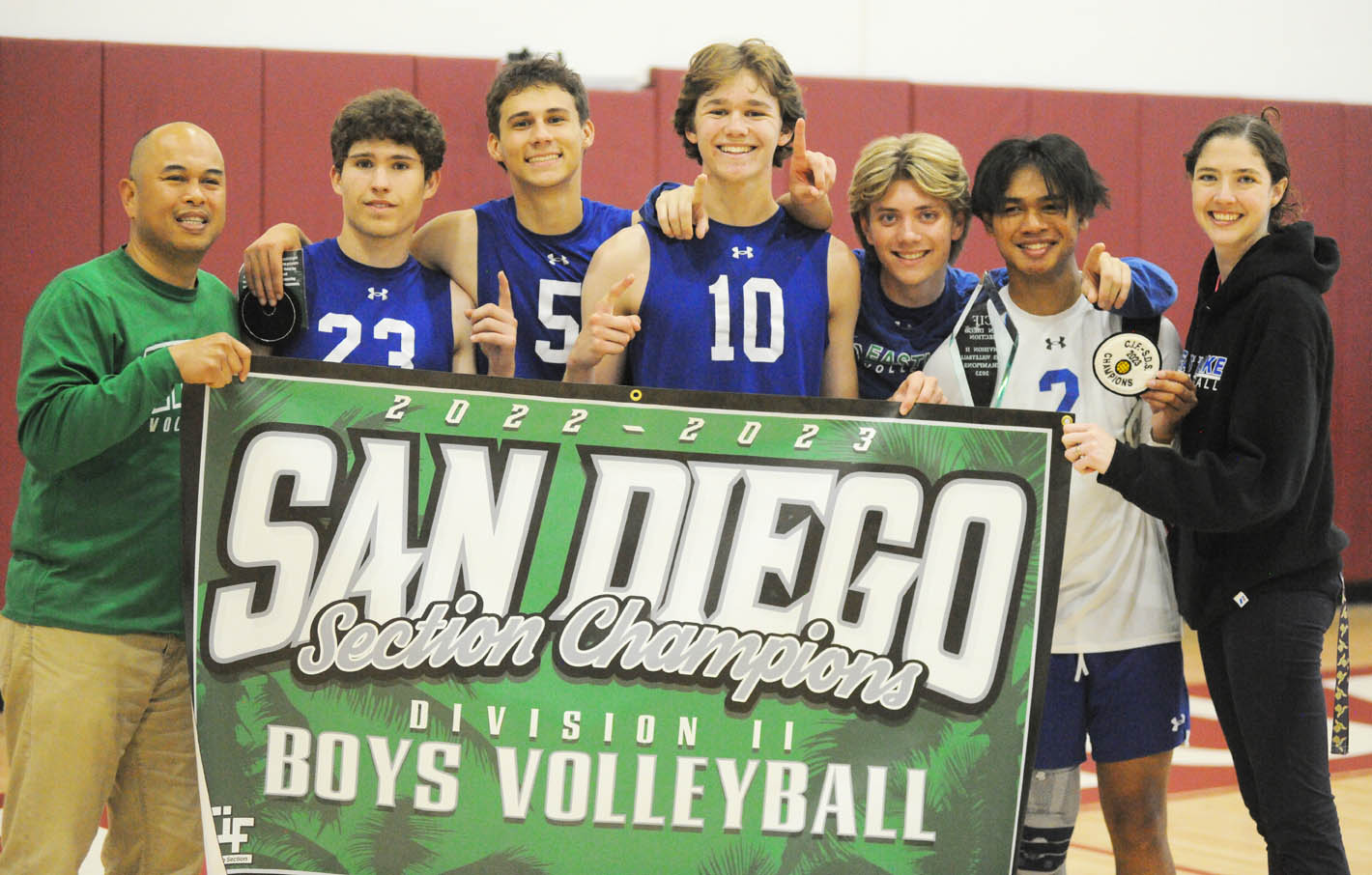 Samson was a big contributor with nine kills, eight blocks and seven aces.
Eastlake defeated ninth-seeded Mission Vista, 3-0, in the quarterfinals and fourth-seeded St. Augustine, 3-1, in the semifinals.
All six divisional finals took place last weekend at Southwestern College, a first for the sport at the South County venue.
San Diego Section commission Joe Heinz gave the weekend event's a generous thumbs-up.
"The college was a great host," Heinz said. "It's a nice venue. We hope to have more events there, possibly basketball."
Granite Hills (Division III) and West Hills (Division IV) both claimed their first boys volleyball titles in school history while Foothills Christian won the first Division V championship in section history.
Fifth-seeded Granite Hills (20-16) defeated second-seeded Clairemont (17-9) in four games, 25-13, 23-25, 25-21, 25-17, while fifth-seeded West Hills (20-17) topped the second-seeded San Diego Cavers (23-10) in five games, 20-25, 25-21, 18-25, 25-12, 15-11.
Second-seeded Foothills Christian (25-12) outlasted fifth-seeded Escondido Charter (24-13) in a grueling five set roller-coaster 19-25, 25-14, 23-25, 25-16, 15-13.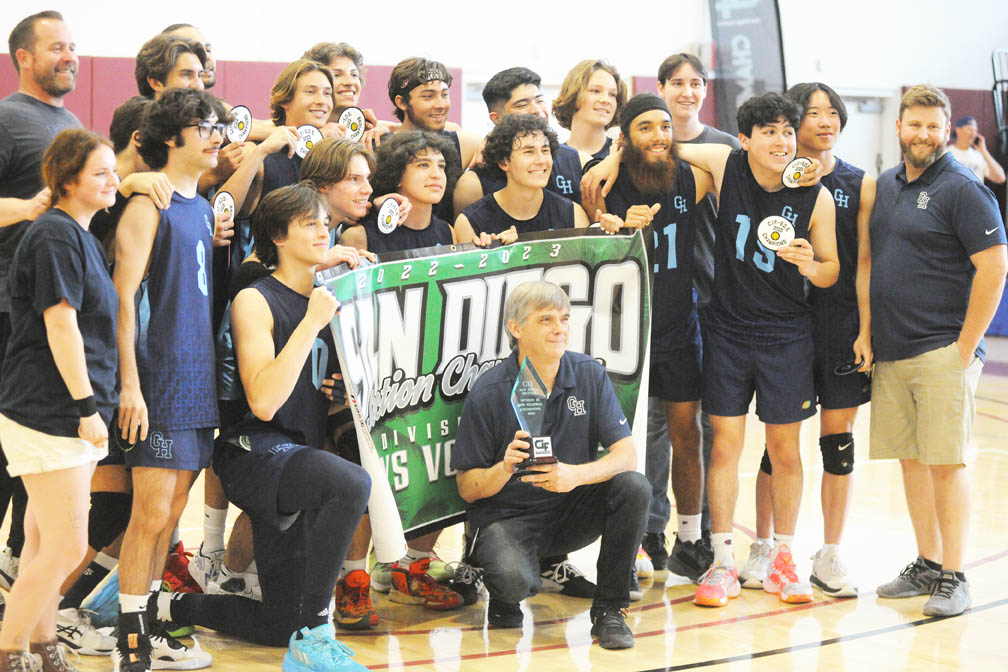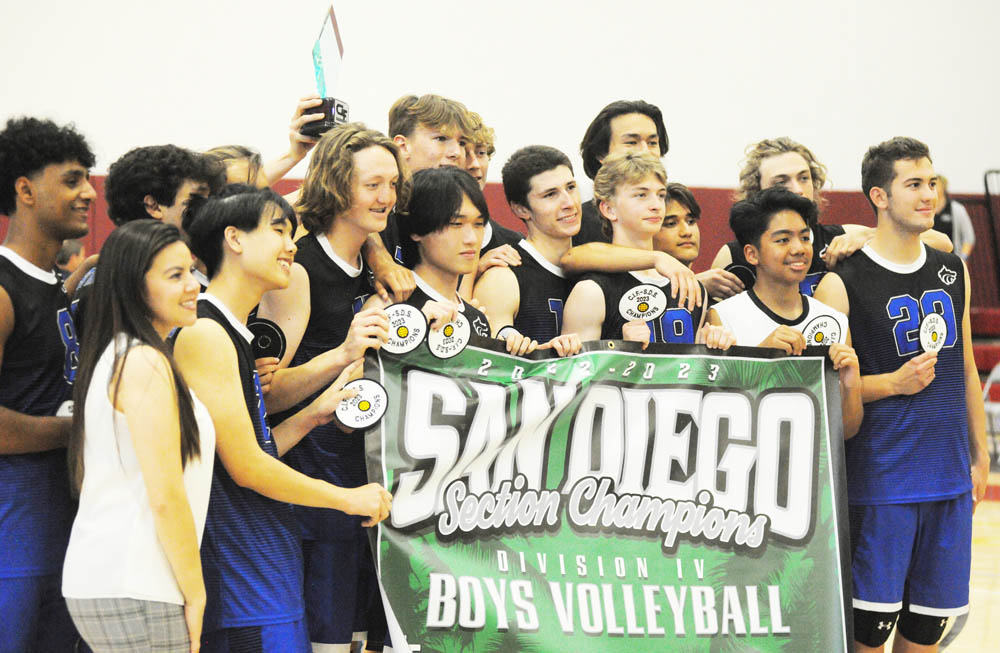 CIF boys volleyball finals: Three East County champions in 2023
The San Diego Section hosted the 2023 boys volleyball championships last weekend at Southwestern College.
Of the six divisional finals, East County teams were peppered across four of them — and three walked off the court with coveted CIF championship trophies and banners.
Fifth-seeded Granite Hills (20-16) defeated second-seeded Clairemont (17-9) in four sets, 25-13, 23-25, 25-21, 25-17, while fifth-seeded West Hills (20-17) got past the second-seeded San Diego Cavers (22-10) in five sets, 20-25, 25-21,18-25, 25-12, 15-11.
Second-seeded Foothills Christian (22-15) squeezed past fifth-seeded Escondido Charter (24-13) in heroic fashion by scores of 19-25, 25-14, 23-25, 25-16, 15-13 to win the Division V title while top-seeded Helix (33-9) fell to second-seeded Poway (23-11) in four sets, 16-25, 25-18, 26-24, 25-18 in the Division I championship matchup.
The division championships were the first for Granite Hills and West Hills in school history while Foothills Christian claimed the first Division V championship in section history.
"We've never been this far," West Hills coach Michelle Mercado said. "It's a blessing for our program to get respect, which we really hadn't had before."
"It took a lot of hard work," Granite Hills coach Dana Zeno acknowledged. "We have a great group of kids but we're a young team. We graduate four. We hope to repeat next year."
The SWC venue was a first for hosting the sport. Section commissioner Joe Heinz said he was impressed by the weekend's events.
"The college was a great host,"Heinz said. "It's a nice venue. We hope to have more events here, possibly basketball."
Hard hitters
Granite Hills defeated 12th-seeded Chula Vista (19-19) in four sets, 25-20, 25-16, 24-26, 25-13 in the opening round on May 3. The Eagles advanced to meet fourth-seeded High Tech High San Diego (17-13) in the quarterfinals on May 6, winning in four sets in comeback fashion by scores of 20-25, 25-23, 25-22, 25-20.
Sophomore Lathan Fry recorded 26 kills in the opening playoff win over Chula Vista while junior Hudson Perry logged 15 kills.
Freshman Ryan Ramsay had three serving aces while Fry had two aces. Fry led the team with four blocks while senior Bucky Espinoza had two blocks.
Fry and senior Drew Perkins shared the team lead with 10 digs apiece while Perkins amassed 51 assists.
Fry soared over the court with 29 kills and five blocks in the quarterfinal win while Perkins had 42 assists.
Senior Royce Harper had four blocks, sophomore Conall Cicchetto had nine digs and sophomore Max Rice tacked on two aces.
That set up an all-East County semifinal matchup against eighth-seeded Santana on May 10, resulting in a three-game sweep, 26-24, 27-25, 25-15, for host Granite Hills.
Fry logged 14 kills and 14 digs in the win over the Sultans (21-17) while Perry had 11 kills, two aces and nine digs. Perkins tallied three blocks, 12 digs and 32 assists in the sweep.
Fry led the Division III champion Eagles with 28 kills in the CIF final while Perry contributed 12 kills. Each had one serving ace. Harper had 10 blocks while Perkins had 20 digs. Fry tacked on 16 digs while Perry had 12 digs. Perkins paved the way to the championship for Granite Hills with 48 assists.
"It's just amazing to win it with my boys," said Fry, who ranked third in the nation in kills at one point this season. "I knew we had it in us. We had a lot of guys who stepped up."
Santana had advanced with back-to-back wins against Mar Vista (25-21, 21-25, 25-18, 25-19) in first-round play and top-seeded Coastal Academy (24-26, 25-21, 25-19, 25-21) in the quarterfinals.
Clairemont, meanwhile, advanced to the division finals with consecutive wins over 10th-seeded Olympian (12-17) with a three-sets sweep in the quarterfinals and third-seeded Escondido (18-9) in the semifinals in four games (25-14, 20-25, 25-15, 25-22).
In the championship final, Granite Hills rolled out a 25-13 win in the opening game, the Chieftains bounced back in the second game, 25-23, to tie things up at a win apiece. The Eagles took flight with victories in the next two games — 25-21 and 25-17 — to make school history.
Harper and junior middle blocker/opposite hitter Josh Zander were no strangers to notoriety. Harper won three CIF championships during the 2022-23 school term: football, wrestling and boys volleyball. Zander was a CIF champion in football and boys volleyball.
Both won state titles in football.
"Football was super fun to win," said Harper, who played defensive end on the school's state bowl championship team and wrestled at 182 pounds. "It was humbling to be surrounded by so many great wrestlers. It's great to be a part of this team (volleyball).
"It's very rare but well deserved," Zander said of the Eagles' multi-sport titles in 2022-23.
Junior middle blocker Robert Petrich also won a CIF title in the fall as the football team's place-kicker.
Fry has keyed the Eagles with 605 kills while Perry has logged 275 kills this season.
West Hills swept its opening two playoff opponents — 12th-seeded Maranatha Christian, 25-21, 25-15, 25-22, in the opening round and fourth-seeded O'Farrell Charter, 25-18, 25-17, 25-21, in the quarterfinals.
It took an extra push to get past top-seeded Oceanside in the semifinals, with the Wolf Pack howling the loudest following an upset win in five games, 22-25, 25-22, 25-17, 15-25, 15-13.
San Diego had defeated third-seeded Mater Dei Catholic (22-10-1) in four sets in the semifinals.
The division championship final opened with a 25-20 Caver victory before the reigning Grossmont Valley League champions rallied 25-21 to even the match at 1-1. San Diego took the third game 25-18 to go up 2-1 in the best-of-three championship before the Wolf Pack rallied again, 25-13, to force a deciding fifth game.
West Hills was the first to 15 points in the tiebreaker to win 15-11.
"It's a great feeling," said junior outside hitter Loni Mesina, who notched 16 kills. "This is what we wanted from the beginning of the season. We pulled together."
Senior Dominic Wetton, the GVL Player of the Year, led the Wolf Pack in the division final with 18 kills. Other contributors included Caden Aikens (five kills, four blocks) and Austin Rodgers (six kills, two serving aces).
"It's amazing, incredible to be here and finally get it," said Aikens, a senior middle blocker. "There aren't any words for it."
Foothills Christian finished 9-1 as the top team in this year's Ocean League standings ahead of Escondido Charter (8-2 in league). The Knights won both league matchups in advance of the teams' eventual pairing in the division final.
Foothills swept 10th-seeded Southwest El Centro (12-18) and third-seeded Steele Canyon (16-18) in straight sets to reach the rematch with Escondido Charter. The Knights cruised past Southwest 25-14, 25-16, 25-19 before de-clawing the Cougars 25-11, 25-19, 25-19.
Steele Canyon received an opening round bye before defeating neighborhood rival Monte Vista (15-17) in four games, 25-22, 29-31, 25-21, 25-21, in the quarterfinals.
Steele Canyon had finished runner-up to West Hills in the Grossmont Valley League standings while Monte Vista tied for third with Valhalla.
The Knights, who exchanged wins with the White Tigers through the opening four games, made up a 12-6 deficit in the fifth game tiebreaker with a torrid 9-1 finish to claim the first Division V championship in section history.
Freshman Hunter Hamilton led Foothills with 24 kills and six serving aces while older brother Logan, a junior, had 16 kills, eight blocks and recorded match point.
Helix finished 10-0 in Grossmont Hills League play as this year's league champion. The Scotties received a bye in the opening round of the playoffs before defeating eighth-seeded Westview (10-21) in four sets, 27-25, 27-25, 21-25, 25-11, in the quarterfinals.
The Highlanders swept fourth-seeded Sage Creek (15-21) in three sets, 25-22, 25-13, 25-19, in the semifinals.
In advancing to the division final, senior Christian Chestnut, the GHL Player of the Year, racked up 329 kills with a team-leading 27 serving aces. Junior Stephen Trainer amassed 365 digs while senior Noah Olivieiri tallied 834 assists.
"This team has a lot of guts," Helix coach Linda Brown underscored. "We worked very hard this year. We battled for every point."
Next level
Granite Hills and West Hills both qualified for the Division IV regional state playoffs — the Eagles received the No. 1 seed while West Hills received the No. 2 seed.
Quarterfinals in the Southern California bracket were scheduled Tuesday, with survivors advancing to Thursday's regional semifinals. The regional championship game is scheduled Saturday, May 20.
Granite Hills drew eighth-seeded Westchester Comets (6-13) in Tuesday's quarterfinals while West Hills was scheduled to host the seventh-seeded Cudahy Elizabeth Bulldogs (15-3).