Three weeks into the current high school football season, teams are still looking for the right combinations in their lineups to secure success for the remainder of the season.
The Chula Vista Spartans appear to have found just that in their 48-27 non-league victory at Hilltop in the teams' annual Chula Vista Kiwanis Bowl match-up on Aug. 31.
The Spartans (2-1) kicked off the season with an impressive 48-26 non-league win against visiting La Jolla Country Day on Aug. 18, then foundered on the rocks in a 49-0 walloping at Mt. Miguel the following week.
It was back in the win column against the host Lancers, who dropped their second consecutive contest to fall to 1-2 after opening the season with a 27-21 road win at Valhalla on Aug. 18 and falling at Temescal Canyon, 35-21, on Aug. 25.
"This is definitely a confidence-builder after our game against Mt. Miguel," CVHS head coach Howard Bannister III said. "We're young. We're trying to get something going. This is a step in the right direction for us."
The Spartans picked up $1,500 from the sponsoring Kiwanis Club of Chula Vista for earning the timely win while the Lancers received $1,000.
The donations to each team have risen significantly since the first game was played in 2002 when the winning team received $500.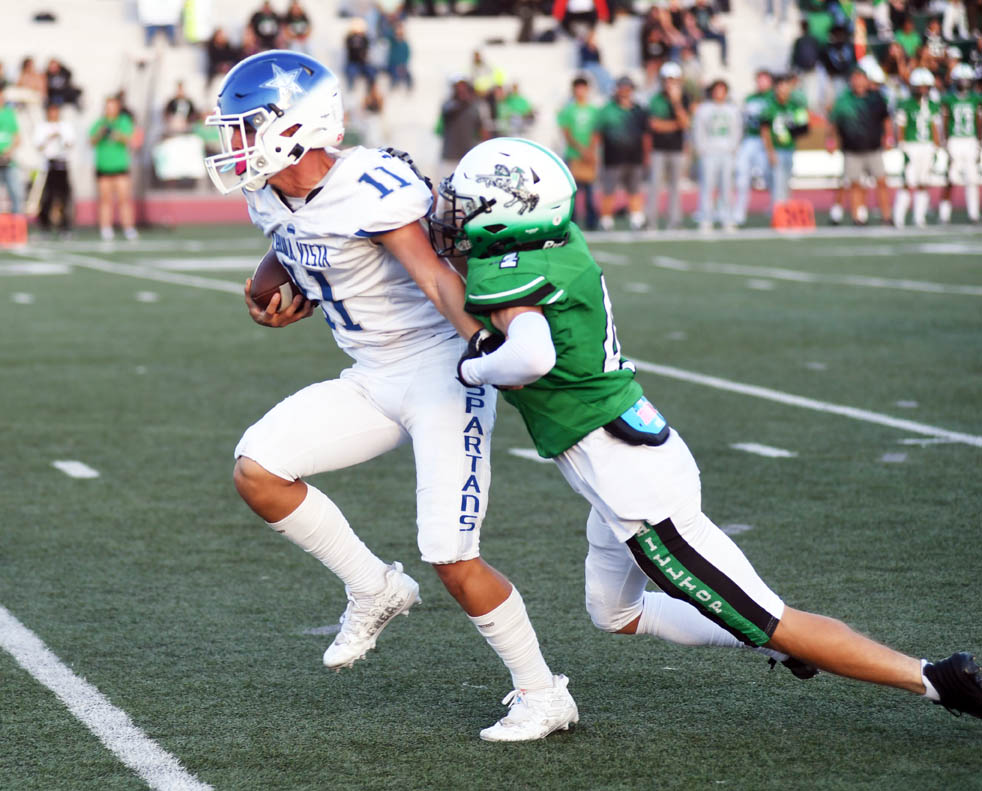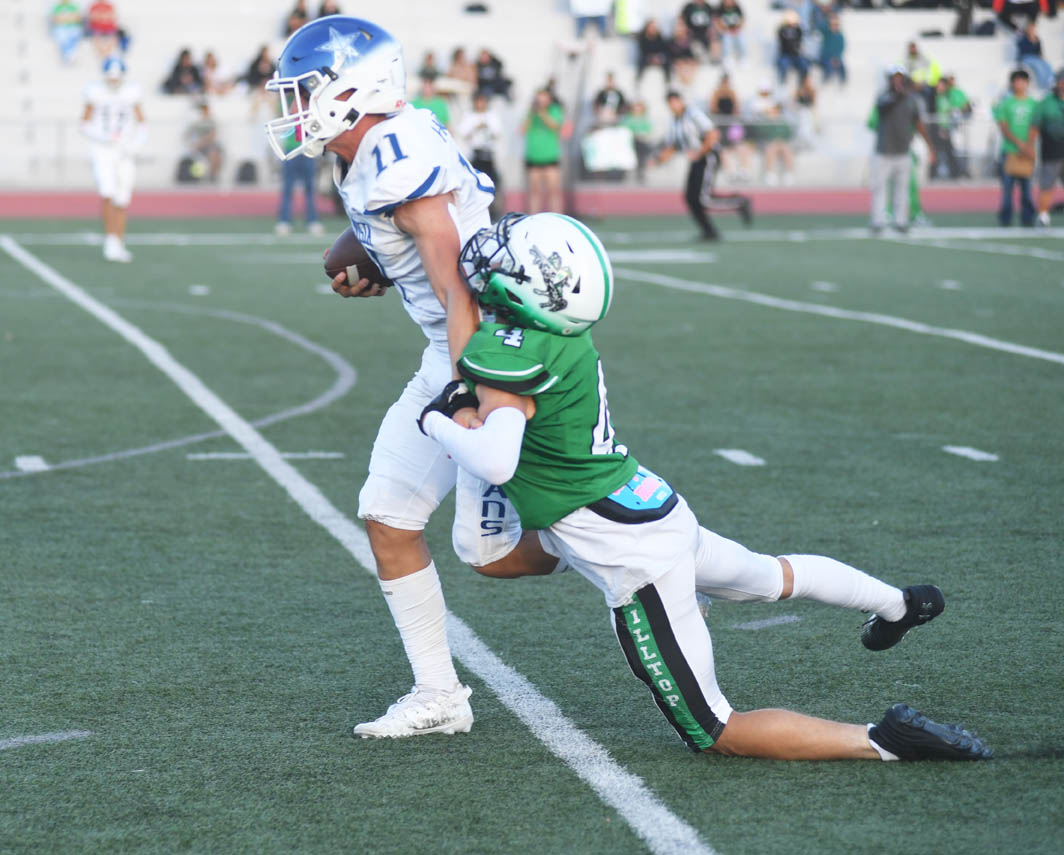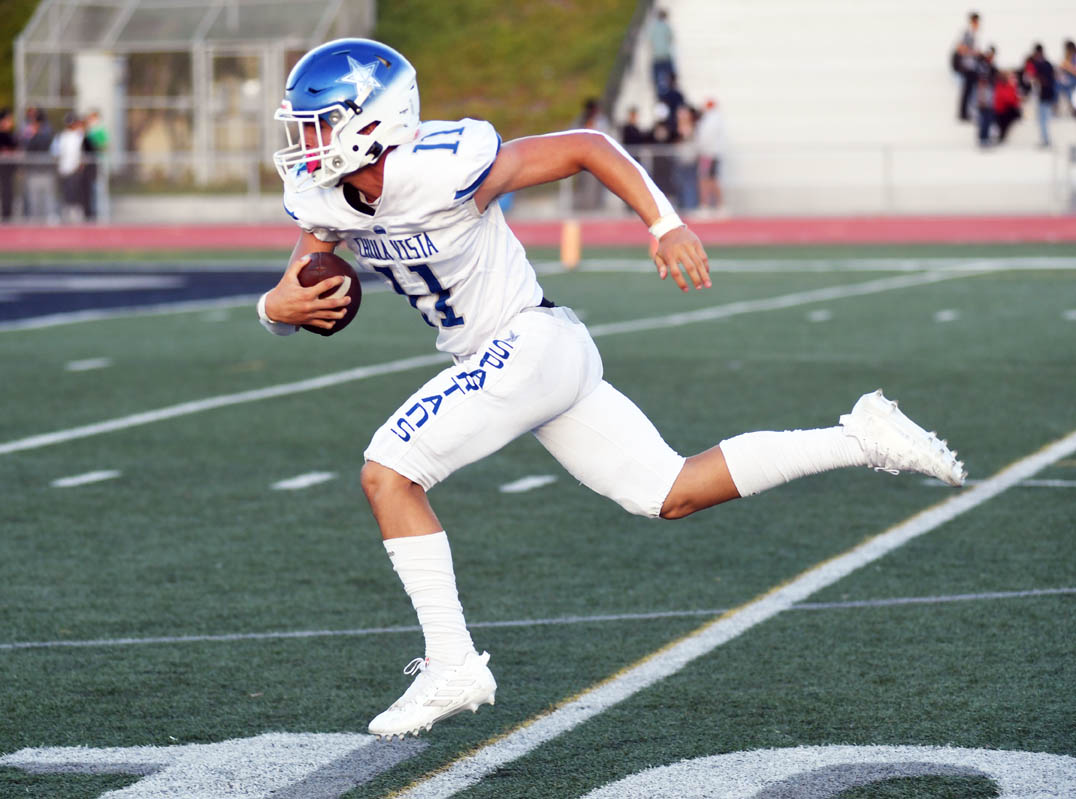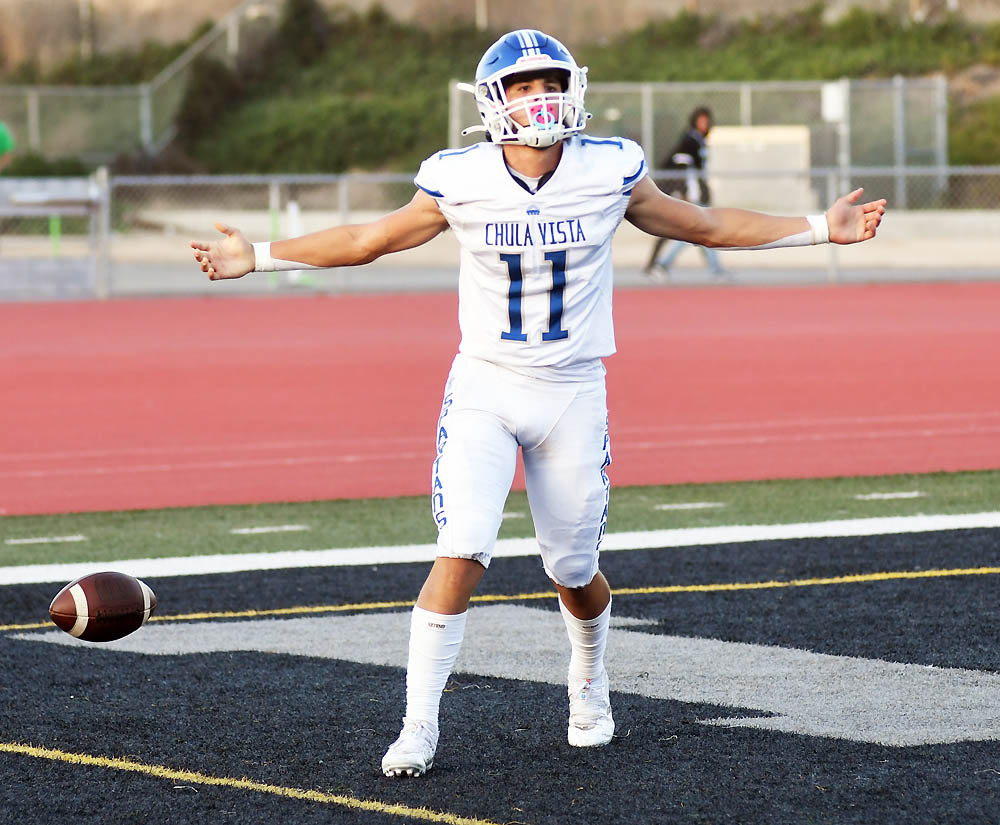 Hilltop had won five consecutive games in the series from 2015-2019 before the Spartans posted a 42-21 win during the 2021 spring season. The Lancers won last year's match-up by a score of 21-19 on a quarterback keeper with 12 seconds to play in the game.
The 22-game series is now tied 11-11 between the teams.
"We are not playing to our potential," Hilltop head coach Bryan Wagner noted. "Half of it is that we're struggling to find a great fit on the offensive line. We have guys going both ways. You get tired. Our back-ups need to step up. We need to play better."
It looked like this year's gridiron battle might be a shoot 'em-up showcase after each team scored once in the first quarter.
But the visitors reeled off 21 unanswered points to leap in front 28-7 at halftime. A 70-yard kick-off return by junior Elijah Gillespie on the first play of the second half may have finally taken the wind out of the hosts' sails.
35-7 Chula Vista.
The Spartans would eventually build a 48-14 lead in the rivalry contest before the Lancers tacked on the final two scores of the game for a respectable finish.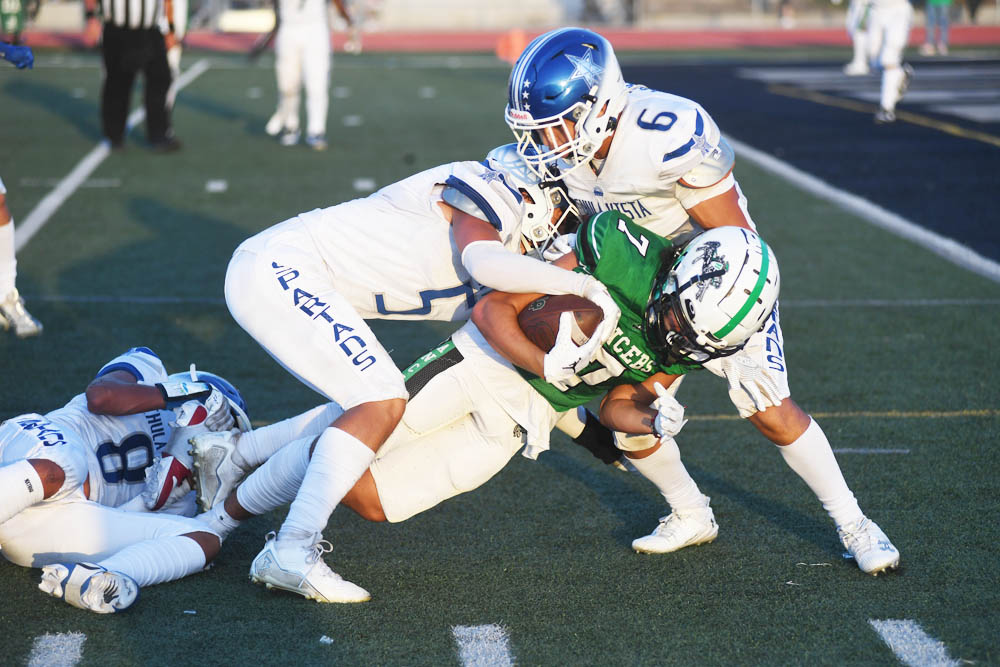 Besides a trophy awarded to the winning team, most valuable offensive and defensive players of the game are awarded to deserving players on each team.
Junior La'Darrione Perkins earned the Offensive MVP award for Chula Vista while senior Isaac Meza received the award for Hilltop.
Senior Ke'Andre Davis was named the Defensive MVP winner for the Spartans while senior Freddy Fleck was given the nod for the Lancers.
Perkins rushed 15 times for 108 yards and three touchdowns while making two catches for 49 yards and another score to lead all players on the field with four touchdowns.
He scored on a three-yard run to push the visitors ahead, 14-7, with 8:31 remaining in the first half, then tacked on a one-yard scoring run with 4:51 left for a 21-7 lead before ending the half with a 35-yard touchdown catch to hike the Spartan lead to 28-7. He scored his third rushing touchdown of the game with 7:46 to play in the third quarter to make the score 42-14.
"Offensively, La'Darrione Perkins was amazing," Bannister said. "He's really coming into his own. He deserved the MVP award. Defensively, we played a real solid game. We kept the ball from them."
Davis led the Spartans with eight tackles, including five solo stops, while recording a team-high two sacks.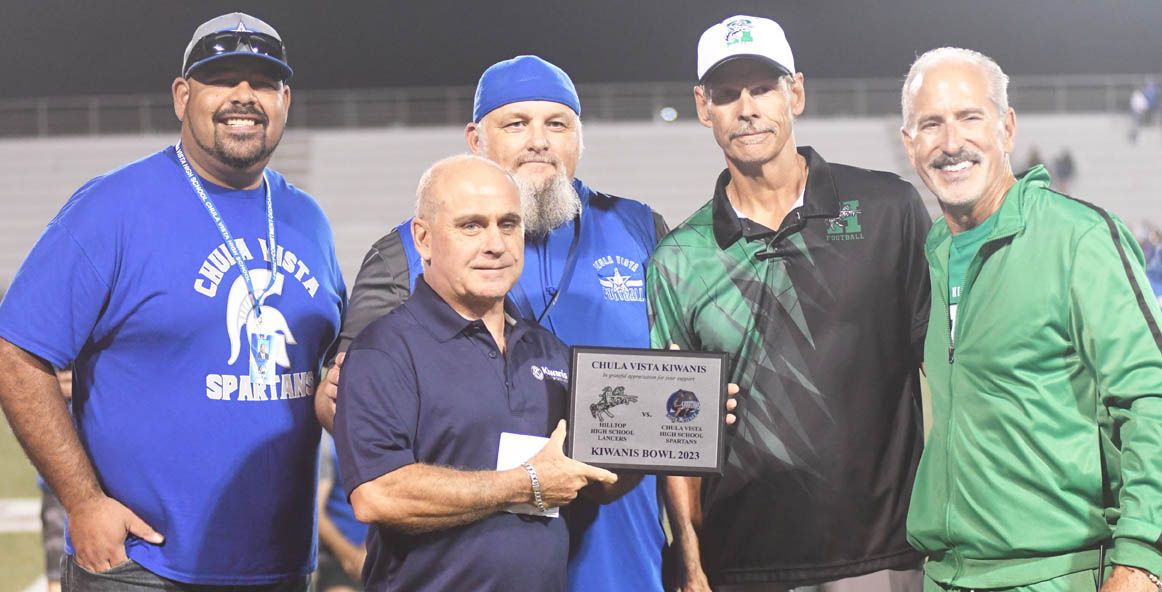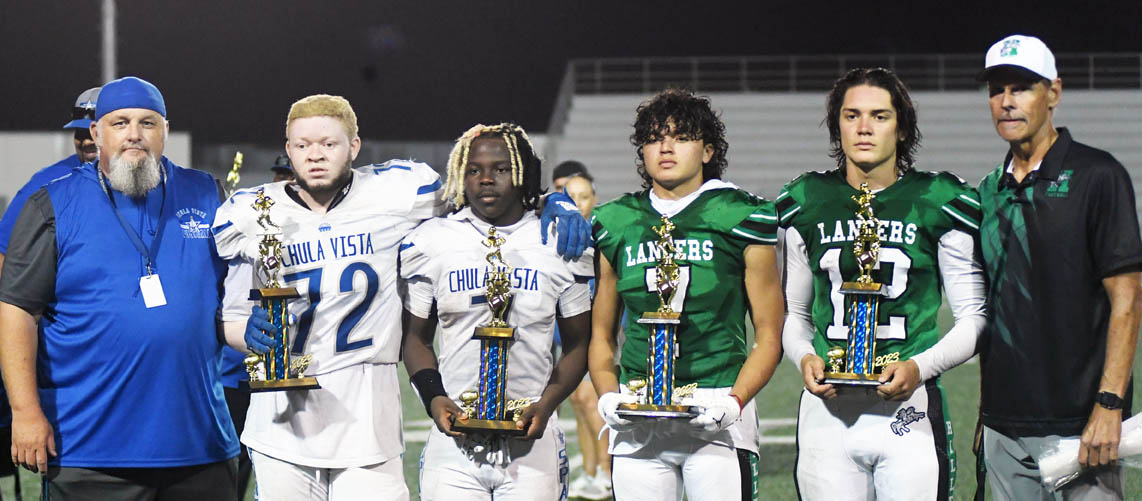 Overall, Chula Vista recorded three sacks in the game, including two by Davis and one by senior Franky Olmedo. The Spartans also recorded 18 quarterback hurries in the game and five pass deflections.
Meza had four catches for 36 yards and scored one receiving touchdown. The 10-yard scoring pass trimmed the CV lead to 35-14 with 9:20 left in the third quarter.
Chula Vista junior Izaac Baca completed 11 of 20 passing attempts for 179 yards with three touchdowns and also rushed three times for 24 yards to finish the game with 203 total yards.
Besides Gillespie, Baca also connected with Perkins and junior Blake Franco on scoring passes. Franco helped set the tone in the game by loosening himself from a tackle and sprinting 31 yards untouched into the end zone for the game's opening touchdown.
Gillespie scored twice in the game for Chula Vista. His 70-yard kick-off return took just 11 seconds off the clock to start the third quarter, He caught a touchdown pass with 1:49 to go in the third quarter to make the score 48-14.
Senior Nathan Houck rushed seven times for 31 yards while making six tackles on defense. Junior Joshua Gogue-Rios recorded seven tackles while Franco added five tackles on defense.
Sophomore Oberon Tamashiro had one catch for 17 yards while junior Izayah Ringfield had five carries for 19 yards. Senior Sean Arce carried the ball twice for 18 yards.
The Lancers tallied 171 passing yards and 161 rushing yards.
Hilltop senior Isaac Nones led all players with 206 total yards, including 144 passing yards with one touchdown and 62 rushing yards with a touchdown. He tied the game, 7-7, on a two-yard scoring run.
Junior Kneko Vasquez entered game late for Hilltop, completing three of eight passing attempts for 27 yards and one touchdown.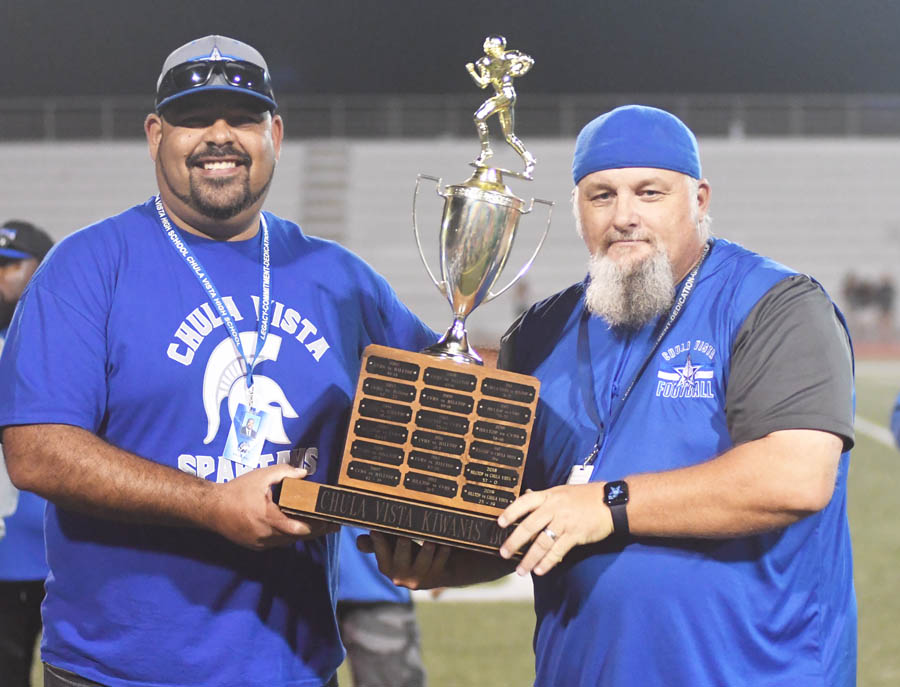 Senior Jose Cabrera rushed seven times for 40 yards and one touchdown on a short run midway through the fourth quarter to trim the hefty Chula Vista lead to 48-21.
Senior Nick Moore (four catches, 52 yards) scored game's final touchdown on a neat over-the-shoulder grab at the back of the end zone with 2:05 to play. He racked up 107 all-purpose yards by adding 55 yards on kick returns.
Junior Mason Vaquero had three catches for 31 yards while senior Rio Nava had three catches for 28 yards.
Junior Juan Matuz had a busy night with two catches of 18 yards, two carries for 26 rushing yards and 48 yards in kick returns for 92 all-purpose yards.
Chula Vista was scheduled to return to the gridiron for a Thursday night encounter against visiting Canyon Hills on Sept. 7 while Hilltop hosts Bonita Vista in a non-league match-up on Friday, Sept. 8.
Both games are set to kick off at 6:30 p.m.
Extra points
The Metro Conference sports three teams with winning records through the opening three weeks of play.
Besides Chula Vista, the Bonita Vista Barons and Southwest Raiders are all 2-1 to start the season.
The Castle Park Trojans, Montgomery Aztecs, Mar Vista Mariners, San Yisdro Cougars and Olympian Eagles join Hilltop with 1-2 records.
Four teams remain winless: the Mater Dei Catholic Crusaders (0-2), Eastlake Titans (0-3), Otay Ranch Mustangs (0-3) and Sweetwater Red Devils (0-3).
Southwest fell from the ranks of the undefeated following last Friday's 24-13 non-league loss to the visiting Kearny Komets. Senior Justice Pigee passed for 153 yards with one touchdown and one interception while also rushing for 72 yards and one touchdown. Junior Connor Davis rushed for 90 yards and one score.
Pigee tallied 225 total yards for Southwest while junior Kearny catalyst Brodie Stump racked up 279 total yards (188 passing, 91 rushing).
The Raiders improved to 2-0 after topping the visiting Mountain Empire Red Hawks, 20-6, on Aug. 24. Pigee passed for two touchdowns while junior Jaylen Garcia scored one rushing touchdown and one receiving touchdown. Senior Andrew Moreno (four catches, 40 yards) also caught a scoring pass while Garcia piled up 102 rushing yards.
Castle Park recorded its first win of the season following a 0-2 start by taming visiting the Lazaro Cardenas Jaguars from Tijuana, Mex., by a score of 34-6.
Friday Night Lights
In games last Friday, Bonita Vista moved into the win column for the second time this season by stopping visiting Sweetwater, 17-7, in the first varsity football game played on a Friday night on campus.
The host Barons staked themselves with a 14-0 first quarter lead on touchdown passes by junior Isayah Luna to seniors Jayden Peterson (three catches, 70 yards) and Julian Ramirez (two catches, 25 yards).
The first BV score was set up by a fumble recovery deep in SuHi territory.
Luna completed five of 12 passing attempts for 103 yards with two touchdowns and one interception (by Sweetwater senior Ryan Guerra).
Senior Caden Ada-Tannehill led the hosts on the ground with 81 rushing yards on 15 carries. The Sweetwater defense managed to contain the rest of the Baron runners for one net yard on nine carries.
Bonita Vista claimed the non-league victory with 232 total yards.
Senior Carlos Ochoa had one catch for 35 yards while senior Julian Cota caught one pass for 12 yards.
Sweetwater scored its lone touchdown in the fourth quarter on a run by senior Carlos Delgado (six carries, 58 yards) while the Barons offset that with a 22-yard field goal by junior Richie Rojas.
The Red Devils racked up 231 rushing yards in the loss while generating 50 passing yards. Junior quarterback Zaryan Crews keyed Sweetwater on the ground with 104 yards on 18 carries. He led all players in the game with 154 total yards.
Senior Xzavier Crews had seven carries for 42 yards while senior Izell Wright had 10 carries for 27 yards.
Sophomore Sean Carlos had two catches for 49 yards.
Guerra and Zaryan Crews keyed the SuHi defense with nine tackles while Delgado and Xzavier Crews both had seven tackles. Delgado and Wright each had one sack.
Bonita Vista travels to Hilltop for a Sept. 8 non-league game while Sweetwater plays at Mission Bay in a Thursday night game on Sept. 7.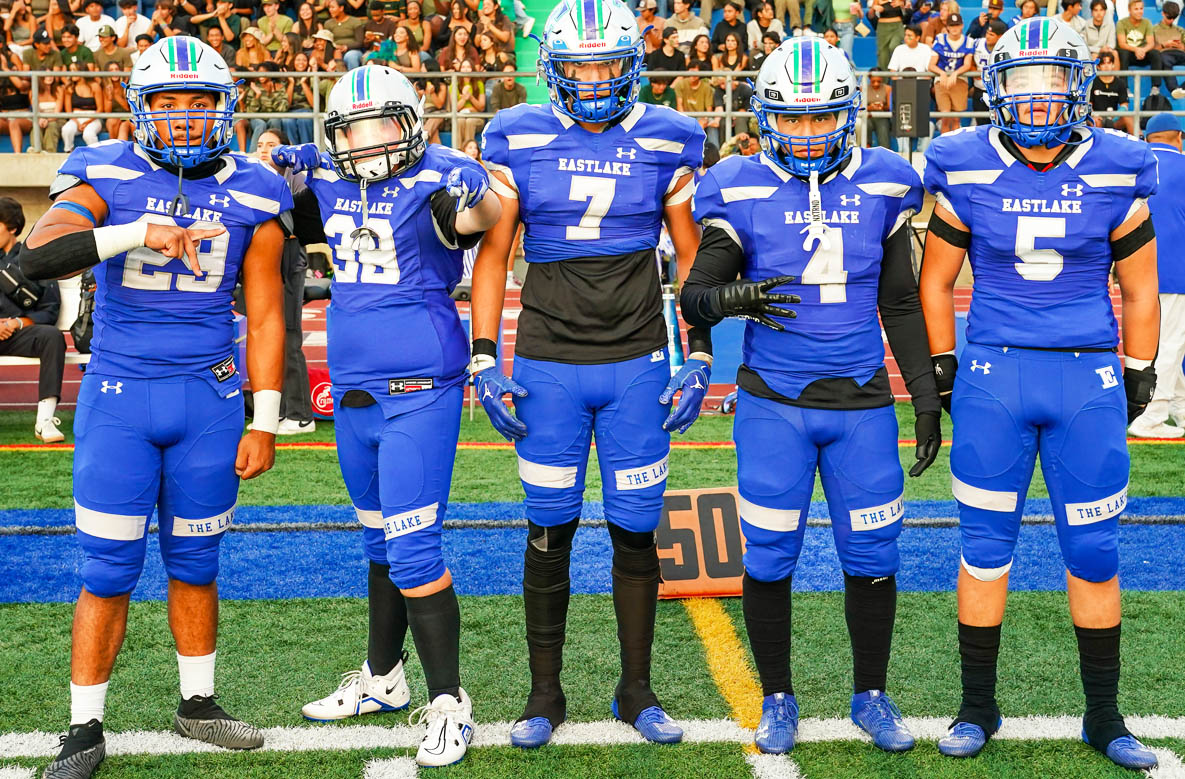 The Eastlake Titans carry a 0-3 record into Friday's homecoming game against top 5-ranked Granite Hills after posting their best offensive effort of the young season in last Friday's 31-17 non-league setback to the visiting Del Norte Nighthawks.
Senior Luke Schwenke led the Titan defense with 10 tackles while classmates Michael Martin and Blake Schweer each logged eight tackles. The hosts registered five sacks on the game, including two by senior Caleb Addleman and one each by senior A Hinojosa, senior Austin Michael and junior Tyler Rierson.
Del Norte's defense also recorded five sacks.
Offensive leaders for Eastlake included junior Sawyer Bray (eight-of-11 passing for 81 yards), junior William Schmitz (11 carries, 54 yards) and junior Kingston Schaaf (four carries, 43 yards) and sophomore Isaiah Rodriguez (three catches, 52 yards). Schaaf scored one rushing touchdown while Rodriguez had one receiving touchdown.
Rodriguez earned player of the game honors with 107 all-purpose yards by adding a 55-yard on punt return.
Senior Marco Gonzalez rounded out the host scoring with a 32-yard field goal.
Kiwanis Bowl:
By the numbers
Chula Vista Kiwanis Bowl Series
2002: Chula Vista 44, Hilltop 14
2003: Chula Vista 57, Hilltop 37
2004: Chula Vista 27, Hilltop 20
2005: Hilltop 32, Chula Vista 13
2006: Chula Vista 47, Hilltop 7
2007: Chula Vista 42, Hilltop 19
2008: Chula Vista 42, Hilltop 8
2009: Chula Vista 49, Hilltop 18
2010: Hilltop 35, Chula Vista 14
2011: Chula Vista 17, Hilltop 10
2012: Chula Vista 42, Hilltop 20
2013: Hilltop 21, Chula Vista 7
2014: Chula Vista 36, Hilltop 27
2015: Hilltop 35, Chula 33
2016: Hilltop 38, Chula Vista 16
2017: Hilltop 29, Chula Vista 6
2018: Hilltop 37, Chula Vista 0
2019: Hilltop 35, Chula Vista 29
2021 (spring): Chula Vista 42, Hilltop 21
2021 (fall): Hilltop 24, Chula Vista 0
2022: Hilltop 21, Chula Vista 19
2023: Chula Vista 48, Hilltop 27
HIGH SCHOOL NOTEBOOK
Girls volleyball rankings: 1. Cathedral Catholic (7-2), 2, Westview (12-1), 3. Eastlake (7-1), 4. Bishop's (9-2), 5. Otay Ranch (16-2), 6, Carlsbad (7-1), 7. Our Lady of Peace (7-0), 8. El Capitan (5-2), 9. San Marcos (13-4), 10. Poway (4-2), 11. Pacific Ridge (7-3), 12. San Dieguito Academy (9-4), 13. Rancho Buena Vista (4-1), 14. Francis Parker (4-2), 15. Helix (3-2), 16. Central Union (8-4), 17. LJCD (5-4), 18. Fallbrook (6-3), 19. Del Norte (6-4), 20. Imperial (9-2)