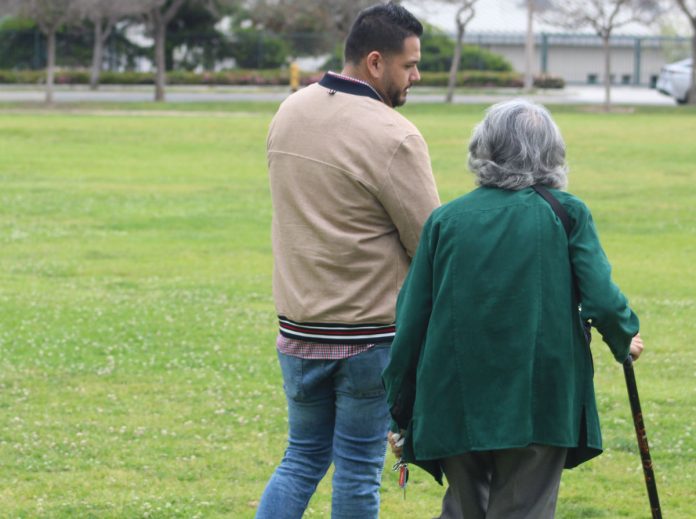 Chula Vista's Empower Hour program held an inaugural event for seniors at Heritage Park on the morning of April 5.
Empower Hour –sponsored by San Diego Gas & Electric – normally offers after school programs aimed at educating youth about energy, so the switch to serving seniors is a new focus.
Karla Villa-Lagarda, a city employee who works with the Empower Hour program, said the group – which goes around to different city parks — wanted to reach a larger amount of people in Eastern Chula Vista, such as seniors.
"We wanted to incorporate all the community, not just as specific as kids," she said.
Three tables were set up at the event, each topped with an open jar of almond butter, wooden popsicle sticks and two paper plates filled with bird seed.
The sky was overcast with grey clouds, which may have kept many away, but did not deter Esperanza Rodriguez, an 88-year-old Chula Vista resident who braved the threat of rain for a morning in the park.
Rodriguez, often called Nana or Mama Nana, successfully made a toilet-paper roll bird feeder.
"I do a lot of painting, ceramics and stuff like that, embroidery, needle-work, but I've never done this," Rodriguez said.
Rodriguez also took part in a game of mancala – her first time playing – and said it's good for older people to get out of the house and exercise both mentally and physically.
"I think it's wonderful, because there aren't that many things that older people can participate in," she said. "When you offer something like that for older people, not only can you use your brain but you can use your hands, which is what older people do."
Empower Hour teamed up with other city employees, including Aaron Ruiz, a recreation supervisor at Norman Park Senior Center, to develop a program which would be beneficial to seniors.
Ruiz helped guide the direction of the program during its formation, giving advice on what could work and what might not.
"We want to have a variety of craft items, we can do some exercise demonstrations, we can even have health and education presentations," Ruiz said. "Anything that you would benefit from our centers we can just put it in, condense it into two hours, but that's how we envisioned the program expanding."
Ruiz said giving back to Chula Vista's elderly population is important, and can help them fill a social need.
"Some of our community members are battling with just being a little lonely, or are widowed," he said. "It's important for them to have a conversation to continue their motivation, they've served our community through their careers now we're able to give back to them."
The plan moving forward is for the event to happen on Friday's from 10 a.m. to noon, with Heritage Park tentatively being the home-base because of its high senior population and proximity to nearby senior living facilities.
"This is hopefully a long term thing," Ruiz said. "We know that we're limited to one senior center and we have a community that continues to grow, so we're trying to just adapt with it."