The San Diego Wave of the National Women's Soccer League announced in December that it would move its home games to the still-under-construction Snapdragon Stadium on the Mission Valley campus of San Diego State University in September 2022.
In the meantime, the expansion team will utilize the University of San Diego's Torero Stadium for home matches during its inaugural season.
The Wave is currently engaged in the league's preseason Challenge Cup series through April 23. The new women's pro club, which kicked off Challenge Cup play with a 1-1 draw against Angel City on March 19 in Fullerton's Titan Stadium, is set to host its first ever home match Saturday, March 26, against the Portland Thorns. Kick-off is 7 p.m.
The Wave has already announced a sellout for Saturday's inaugural home match.
Additionally, the San Diego Loyal continues to use the USD stadium pitch for its USL Championship home matches. The Loyal is continuing to grow its fan base with a possible move to Snapdragon Stadium in the future if warranted. The Division II tier club is also exploring the option of building its own stadium.
At present, the college facility is a good fit for the minor league soccer franchise, which attracted 5,014 fans to its March 12 season opener, a 2-1 victory over Southern California rival L.A. Galaxy II.
The Loyal's regular season schedule runs through Oct. 15.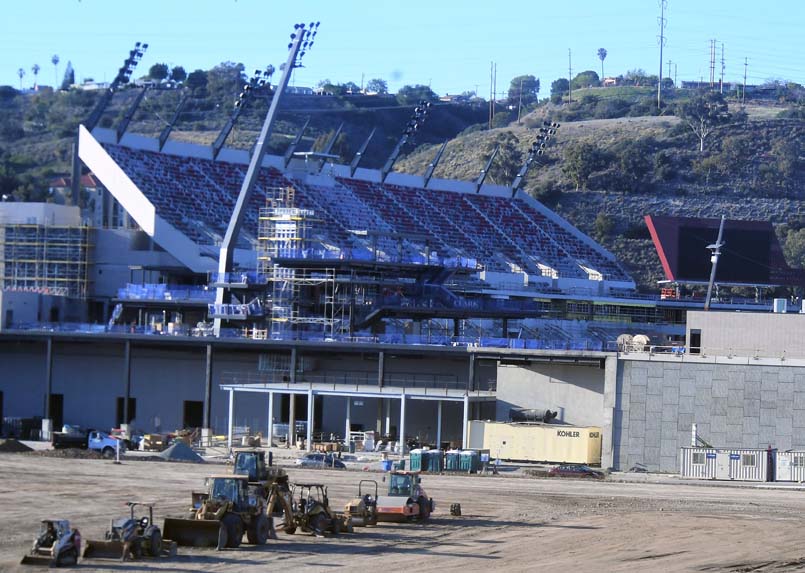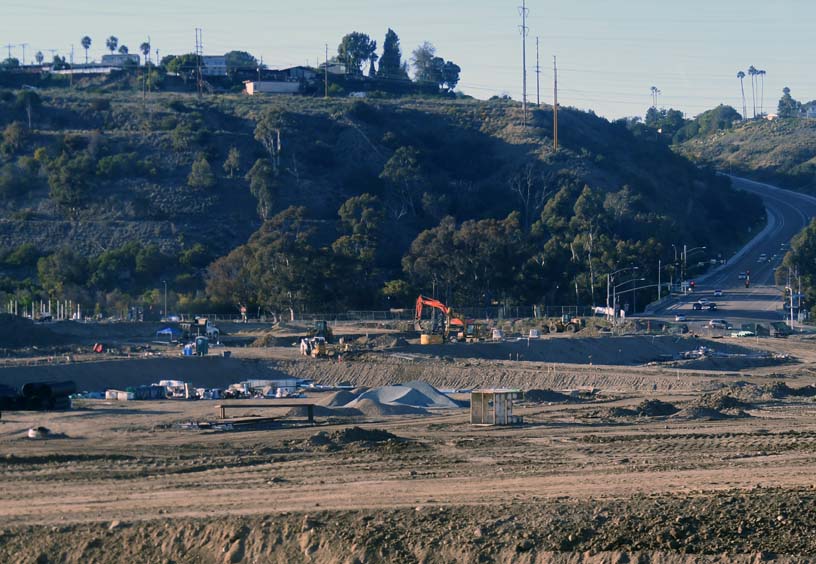 Torero Stadium is becoming downright crowded at present.
Thus, the San Diego Legion of Major League Rugby has moved its home games to the SDSU Sports Deck for this season with an eye on moving into Snapdragon Stadium in 2023 as another sports tenant.
Snapdragon Stadium is also becoming crowded even before its official opening on Sept. 3 when the SDSU Aztecs football team will host the University of Arizona in a non-conference NCAA Division I football game.
The new Mission Valley venue will serve as the primary venue for the 2023 World Lacrosse Championship scheduled to be hosted in San Diego.
Football, soccer, rugby, lacrosse … what could be next?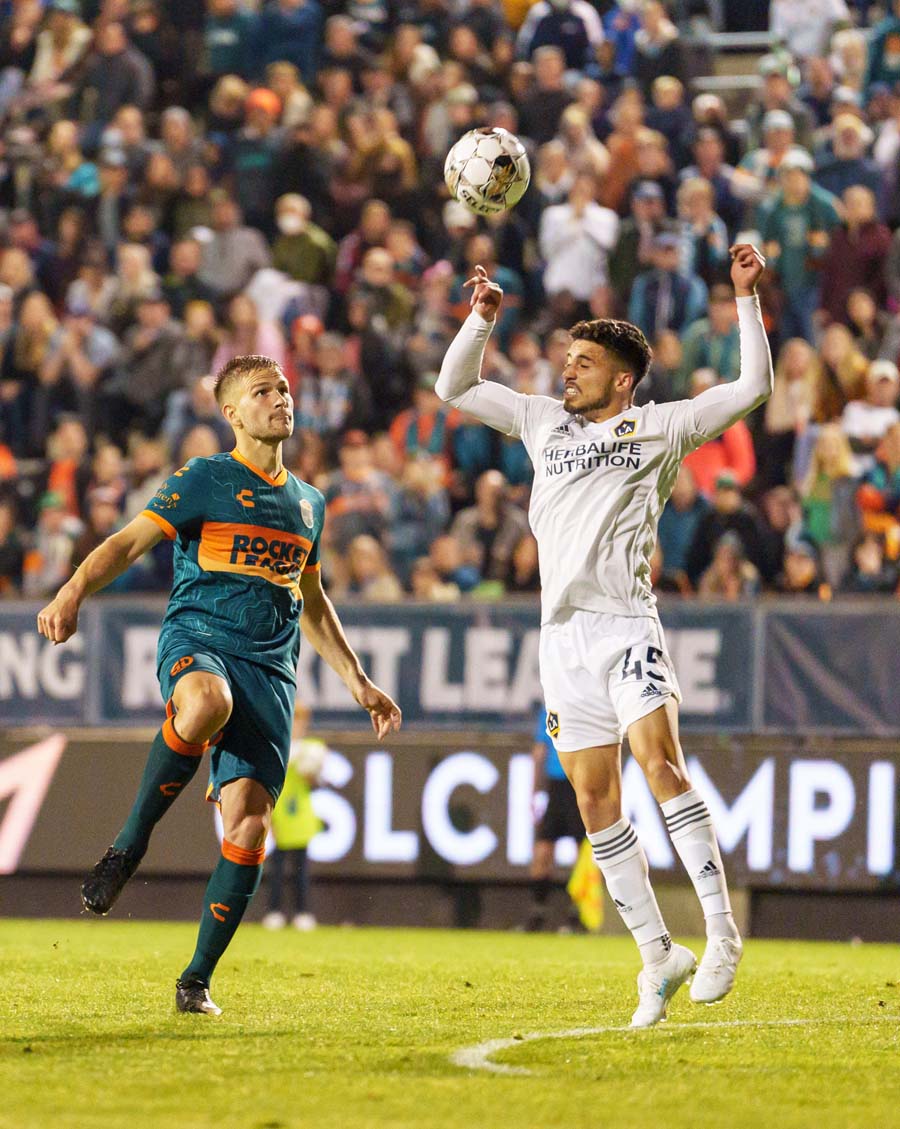 Loyal locos
Those in attendance at the Loyal's home opener were treated to a flurry of late goals that ultimately decided the outcome of the match in the Loyal's favor.
Thomas Amang, a Cameroon international obtained in a preseason trade with the Colorado Switchbacks FC, opened scoring in the 78th minute of a scoreless deadlock with the Loyal's first goal of the 2022 season.
Amang sifted between defenders to an open area in the penalty box where he slid to tap in a feel from teammate Tumi Moshobane.
"When Tumi received the ball I then I knew he would hit it to me and then I just did a one-touch and it went in," Amang said. "But this was a tough one. We created a lot of chances but we couldn't make it. Our team was different in the second half and the most important thing was for us to get the three points in the end."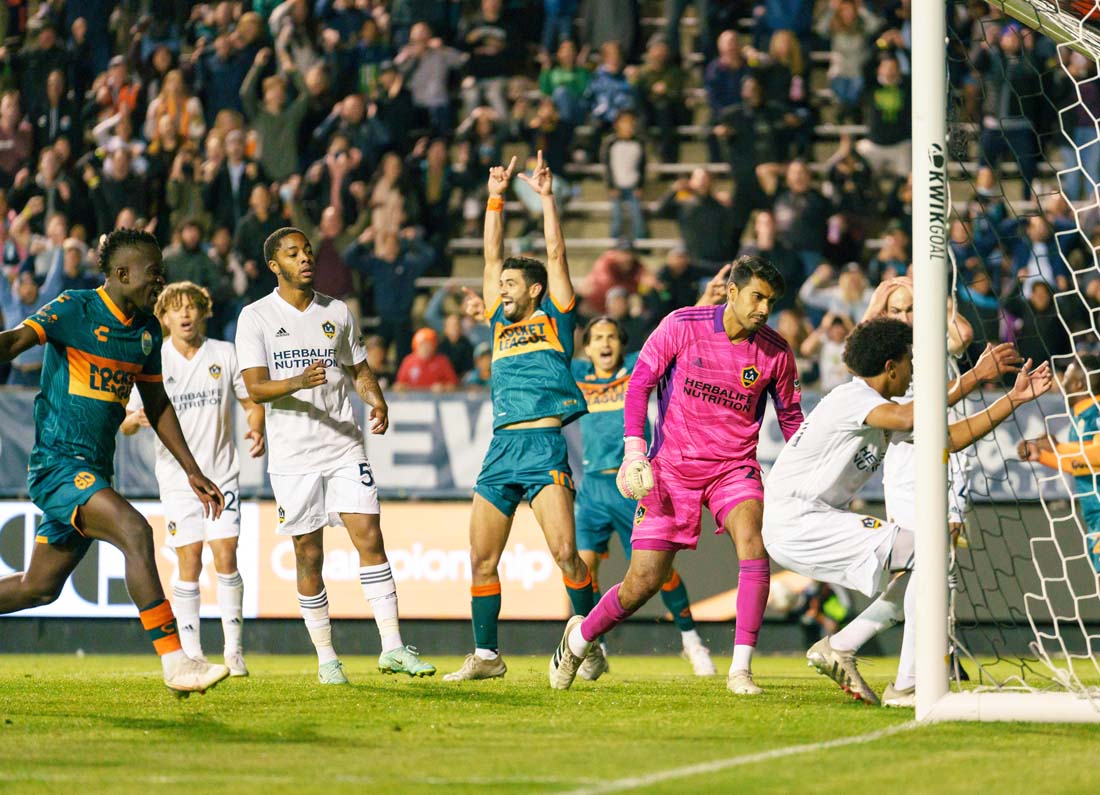 The Galaxy II finished the match with 10 men after Remi Cabral was ejected in the 82nd minute. But that didn't seem to slow down the L.A. side, which scored on a counter-attack in the 84th minute by Preston Judd to tie the match at 1-1.
But the Loyal faithful erupted into another frenzy when the Galaxy II's Jalen Neal misdirected a shot into his own net for an own goal seven minutes into stoppage time. Amang had managed to get a touch on the ball prior to Neal's inadvertent game-winning play.
The Loyal played with intensity throughout the match and its constant pressuring eventually paid off.
Loyal head coach and executive vice president Landon Donovan was appreciative of the fans' persistent support during the match.
"That was a real soccer crowd tonight. It felt like a real atmosphere like I was in Europe or playing for the Galaxy," Donovan said. "It was a great night. I am proud of our guys. Over the course of the game, we just wore them out. On the last play, they were just tired and couldn't react."
Mater Dei Catholic alumnus Alejandro Guido earned a spot on the Loyal's starting XI.
SDSU alum nets game-winner for Loyal in 'homecoming' match
The San Diego Loyal defeated the visiting Sacramento Republic, 2-0, last Saturday, March 19, for the first 2-0 start in club history.
Defender Kyle Adams opened the scoring in the 35th minute when he headed in a ball past Sacramento goalkeeper Carlos Saldaña to help give SD Loyal (2-0-0, 6 points) an early 1-0 lead.
The scoring play came off a set piece. The ball went to Nick Moon, who got a piece of it and volleyed it to where Adams was charging the box. The defender got his head on the ball and sent it past Saldaña in his first start with the Loya (2-0-0, six standings points).
"Honestly, I was a little bit in shock. I don't know if you saw my celebration, but I didn't really know what to do and I kind of just grabbed someone," Adams said. "I was more shocked than anything. I kind of thought it could happen. We worked a lot on set pieces during preseason and this week I got on a few in training so as long as you commit to your runs, the ball will find you. You just have to be ready to put it in."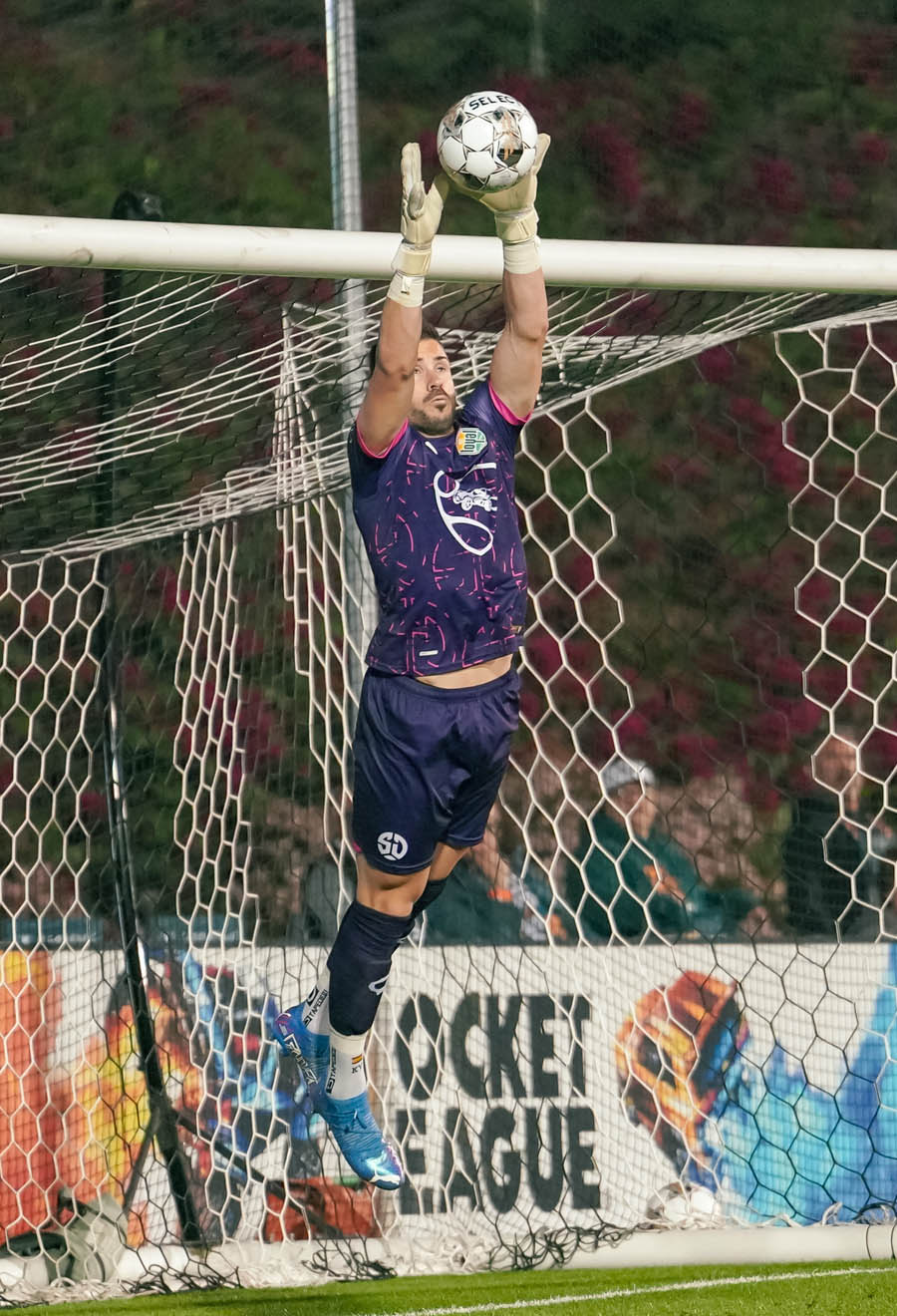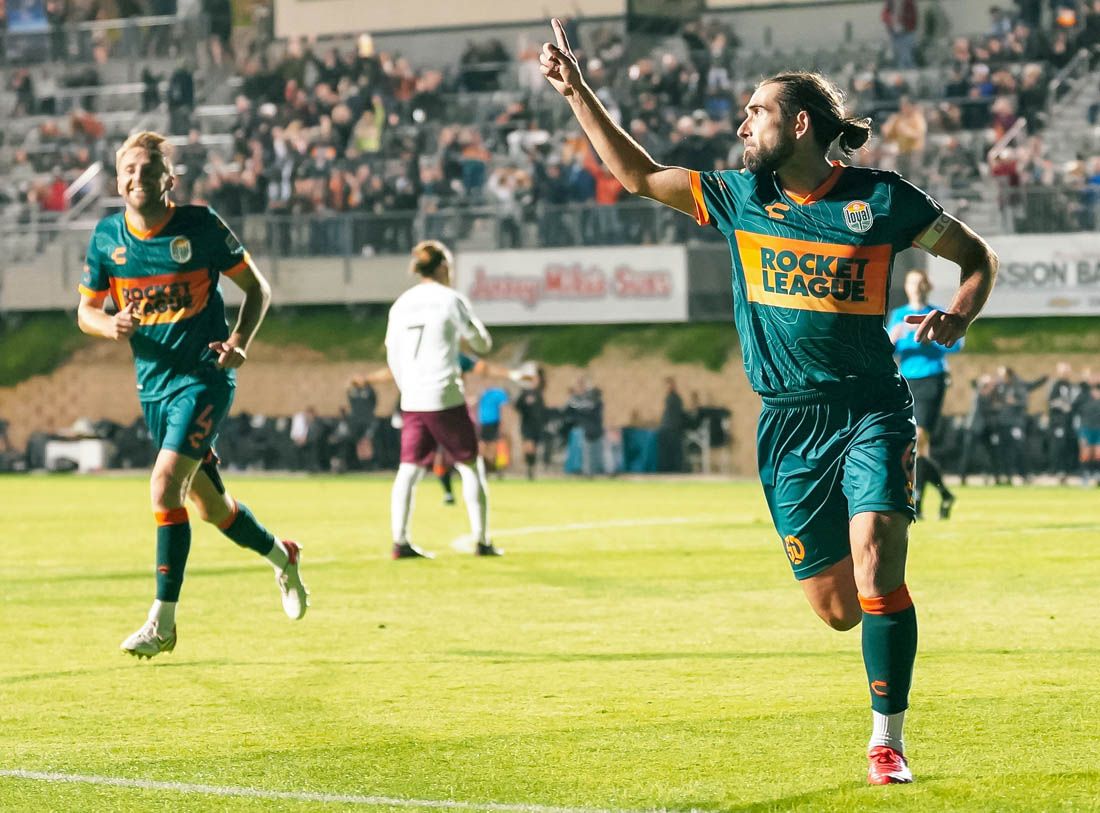 Adams also helped his team earn its first shutout of the season by clearin a dangerous ball out with his head earlier in the match. It was a homecoming of sorts for the 25-year-old who played his college soccer at San Diego State University from 2015-17. He signed with SD Loyal this offseason after spending time at Real Monarchs and Rio Grande Valley FC.
"It's a pretty proud moment," Adams said. "I love San Diego. I call it home now. I have a lot of fond memories of San Diego. It feels great to be back home and playing in front of those fans, you can't ask for anything better."
While Kyle Adams' goal sent the crowd into a roar, it was Charlie Adams who sent fans into frenzy with the second goal of the night when he blasted a shot from 20-yards out in the 45th minute.
The Loyal team captain raced up towards the Sacramento penalty box, sent in a zooming left-footed shot that bent to the lower left corner of the visitor's net. Saldaña had no chance.
SD Loyal had a handful of chances to score again in the second half. Alejandro Guido (Mater Dei Catholic) sent in a low shot that was deflected by Saldaña after he dribbled in and across the penalty box in the 59th minute. Then there was Thomas Amang, a second half sub, who tried his luck from the left side of the penalty box but Saldaña was there to save it at the center of the goal.
"I am proud that we keep competing and finding ways to win," Loyal manager Landon Donovan said. "You have to find ways to win, and our guys did that. I am very proud of them. We are about how we do. Tonight was a different version of us that I am really proud of because we grinded out a result."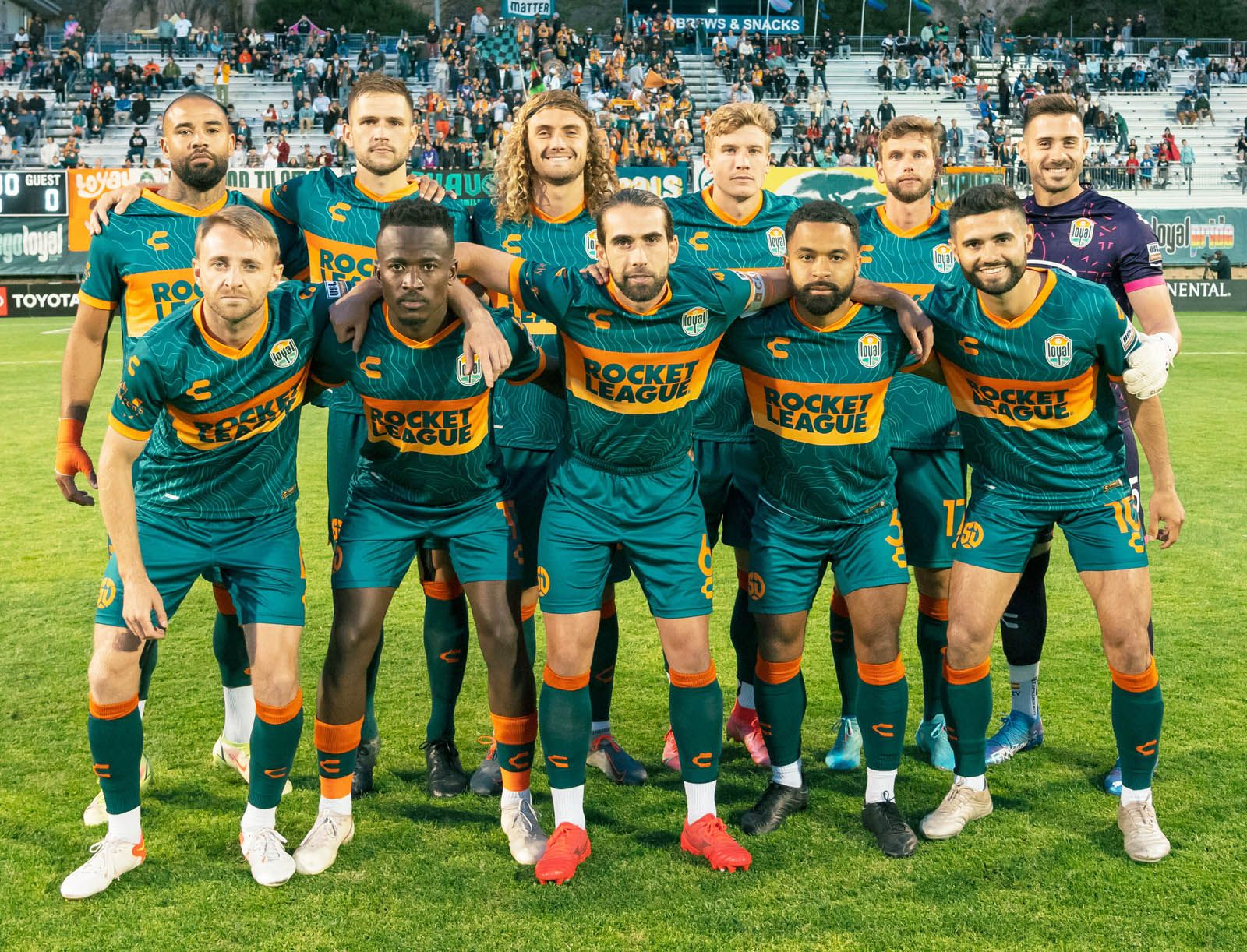 Koke Vegas, the newly acquired Loyal goalkeeper, helped with the result. He had a standout save of his own at his line in the 38th minute. He punched away a one-timer by Sacramento's Jack Gurr from outside the 18-yard box. Gurr sent his blast straight to Vegas who stood at the center of his goal and made the save. Vegas went on to secure the shutout, a first in the USL Championship for the Spanish goalkeeper.
With the win, Donovan's team earned three more points in the Western Conference standings as it prepared for its first road trip of the 2022 season — Wednesday in Oklahoma to face FC Tulsa and Saturday, March 26, at Phoenix Rising (television on YurView, Azteca America 33).
Sacramento dropped to 1-1-0 with three standings points.
The Loyal's next home match is on Sunday, April 3, against El Paso Locomotive at 2 p.m. It will be nationally televised on ESPN Deportes.