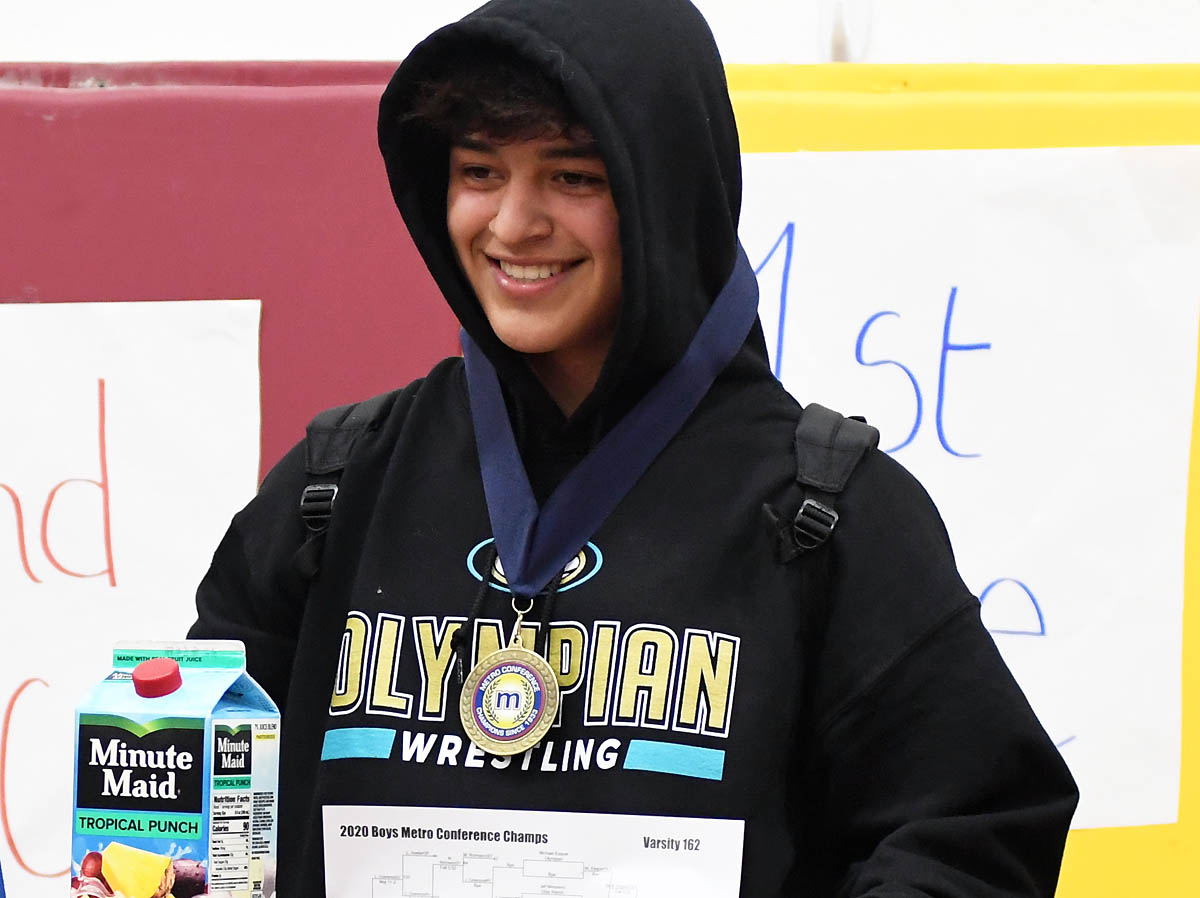 Mesa League dual meet champion Olympian High School may not have racked up Olympic-like numbers at last Saturday's San Diego Section Division I boys wrestling championship tournament at Mission Hills High School, but the Eagles still nested above their local rivals.
Olympian posted a third-place finish behind Rancho Bernardo and Mira Mesa among the 18 participating teams. The Eagles accumulated 194.5 team points — well behind RB's championship total of 306.5 points but closer to the 254.5 points recorded by runner-up Mira Mesa.
Among Metro teams, Eastlake finished in a tie for seventh place with 95 points while San Ysidro finished 12th with 53 points. South Bay League dual meet champion Chula Vista placed 13th with 38 points, followed by Sweetwater in 16th place with 20.5 points and Otay Ranch in 18th place with 14 points.
Overall, two South County mat men won individual CIF weight class championships at the Division I finals: San Ysidro's Israel Ramirez and Olympian's Michael Esquer.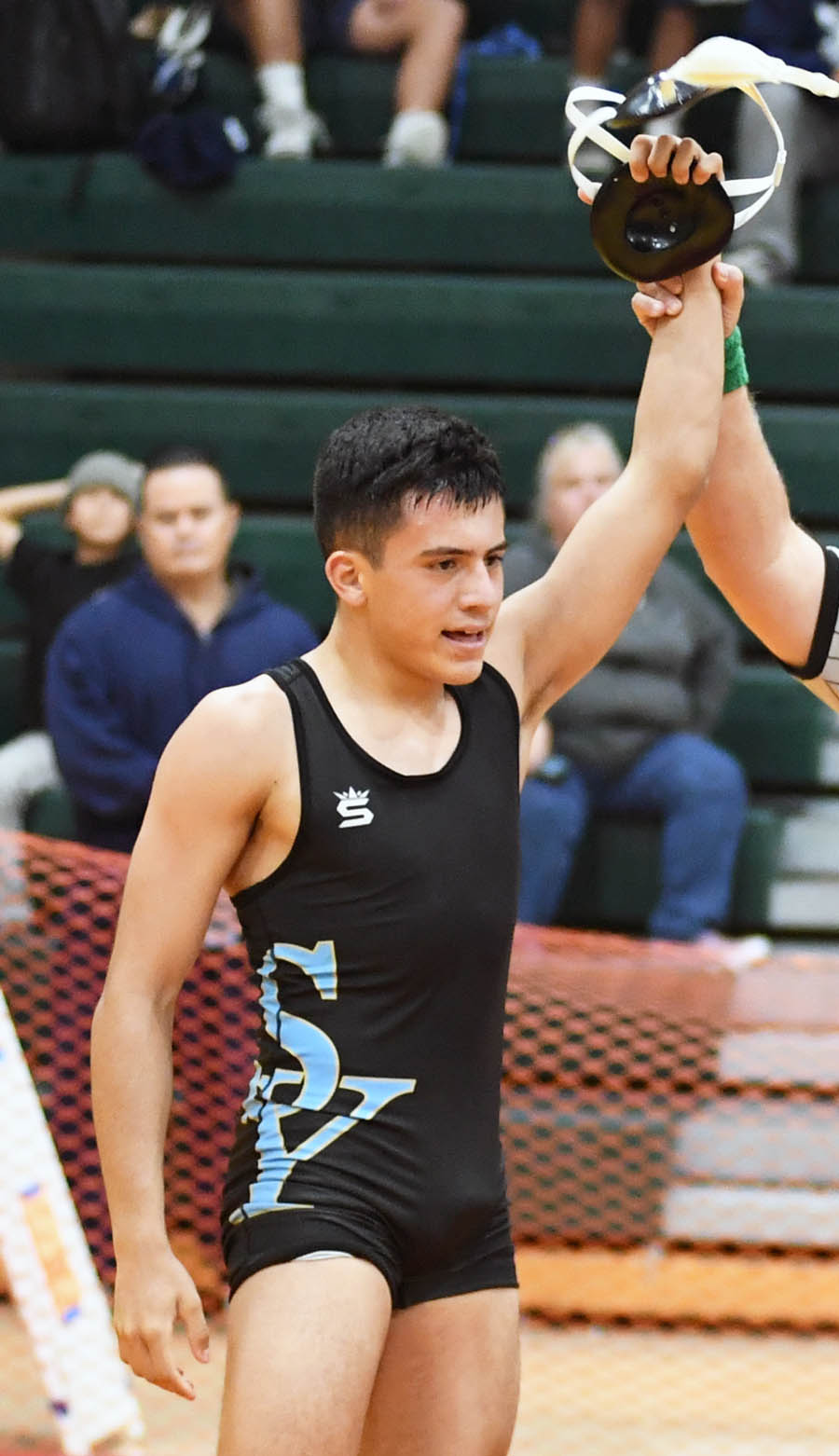 Ramirez defeated Olympian's Ryan Magsino by a 10-4 decision to capture the Division I title at 128 pounds while Esquer won by a 10-1 major decision over Rancho Bernardo's Andrew Han at 162 pounds.
Ramirez, who began the season ranked second in the section, racked up three pins in a 4-0 performance while Esquer finished 3-0 with a pin and major decision.
The Eagles did soar with six finalists at the tournament.
Second-place finishers included Zachary Ramos (115), Ralph Magsino (122), Ryan Magsino (128), Mico Gonzalez (140) and Jacob Neiman (147).
Ramos dropped a 1-0 decision to Rancho Bernardo's Brandon Eusebiuo in the finals while Ralph Magsino lost by an 8-0 major decision to RB's Gavin Concepcion.
Gonzalez dropped a 5-3 decision to San Diego's Alexander Schwaebe in the finals while Neiman lost by a 2:22 pin to RB's Jaden Le.
Ralph Magsino recorded three pins while Ramos hit for the cycle with a pin, technical fall and major decision.
The top seven place-finishers at both the Division I and Division II finals advanced to Masters.
Olympian led the six Metro teams competing at the Division I finals with 10 Masters qualifiers. The Eagles' honor roll also included Alejandro Llarena (third, 154), Auric Famisan (fifth, 134), Brian Reyes (fifth, 184) and Benjamin Daluz (sixth, 108).
Eastlake had seven wrestlers notch Masters qualifying berths. Tristan Curby (184) placed third, Tomas Jocobo (122) placed fourth, Jesus Plascencia (115) placed fifth, Nicholas Pultorak (222) placed fifth, Emilio Lopez (154) placed sixth, Alexander King (108) placed seventh and Richard Inzunza (162) placed seventh.
Efrain Montoya Mancisidor was Chula Vista's top finisher by placing third in his 122-pound division.
Luis Ocaranza was Sweetwater's top finisher by placing fifth at 162 pounds.
Other Masters qualifiers included Chula Vista's Alexis Lopez (seventh, 128) and San Ysidro's Xavier Bustamante (sixth, 222).
Alternates (eighth-place finishers) at the Division I finals included San Ysidro's Christian Ferrer (108), Chula Vista's Armando Dilan (115), Eastlake's Estevan Hernandez (140), San Ysidro's Brett Laing (184), Olympian's Brandon Susana (197) and Chula Vista's Daniel Topete (287).
Bonita Vista led the two Metro teams competing at the Division II finals at Steele Canyon High School with five Masters qualifiers.
The Barons' honor roll included Ricardo Castillo (third, 140), Michael Miller (fourth, 197), Cale Merton (fifth, 162), Joel Lopez (sixth, 122) and Cameron Alanis (seventh, 115).
Hilltop had two Masters qualifiers: Carlo Arreola (third, 108) and Christian Aguilera (fifth, 115).
Perennial section power Poway won the team title in a runaway with 395.5 points — more than double the 176.5 points posted by runner-up Vista.
Bonita Vista finished 10th among the 18 participating teams with 68 points while Hilltop finished 16th with 32 points.
Desert duel
Four Metro teams participated in the Division III tournament at Brawley High School. Montgomery finished 14th in the 19-team field with 36 points while Castle Park followed in 15th place with 24 points. Southwest placed 17th with nine points while Mar Vista was 18th with four points.
The top six place-finishers qualified for Masters.
Top place-finishers included Montgomery's Ruben Rodriguez (fourth, 134), Castle Park's Luis Avelar (fifth, 162) and Montgomery's Jason McCanahan (fifth, 197) and Christian Venegas (fifth, 222).
Castle Park's Roberto Escobar (172) finished seventh while Trojan teammate Rodrigo Parra (140) finished eighth.
Southwest's Pedro Lopez (162) and Juan Cobian (287) both finished eighth.
Brawley won the team title with 267 points — well ahead of runner-up La Costa Canyon with 202 points.
Mater Dei Catholic placed ninth among the 23 teams competing at the Division IV tournament at Army-Navy Academy.
The Crusaders' place-finishers included Javier Salas (fourth, 134), Nathan Karl (fifth, 140) and Daniel Moreno (sixth, 128).
The top four place-winners qualified for Masters.
Imperial out-dueled desert rival Holtville 217-183 to win the team title.
The top four place-finishers in each of the 14 weight classes at this weekend's Masters tournament at Southwest El Centro High School advance to the state championship tournament Feb. 27-29 in Bakersfield.
For updates, visit the website at www.trackwrestling.com.