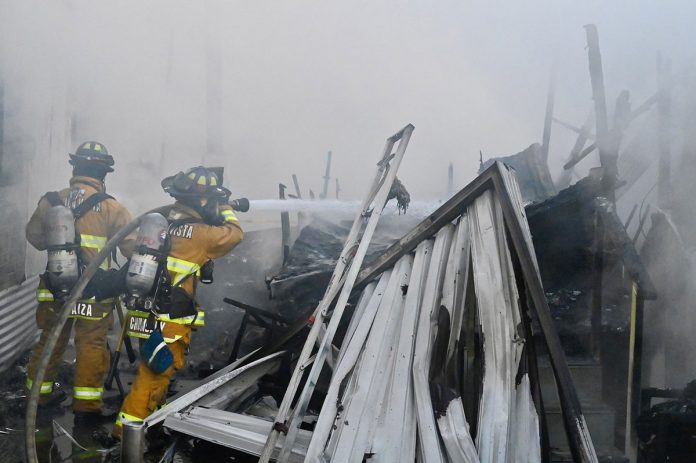 Two fires erupted Monday morning in Chula Vista — one at an apartment complex on Woodlawn and the other at a mobile home park on Broadway.
"About 7:10 a.m. in the apartment above me, I saw smoke coming out, then the windows popped and glass came out," said Ariel Sands, a resident at The Atheron Apartments on Woodlawn, "The flames were coming out."
"People started running out. Two guys went into her apartment (where the fire originated) to try and put the fire out, but it got worse," said Sands. "Ten to 15 minutes later the Chula Vista Fire Department had the fire out."
Sands, with her 6-year-old maltese-poodle mix Princess, was waiting to hear from a friend to see if she could stay with her. "I've lived here since September 2018."
While Sands left her apartment on her own, not everyone did.
"We live on the second floor. My husband and I, Pablo, got woken up by the police," said Melanie Garcia. "They (police) said, 'Get out fast.'"
Apartments had differing levels of damage from either the fire, water or smoke.
"I can go back in, but I have to start washing everything because of the smoke," said resident Ernie Hernandez.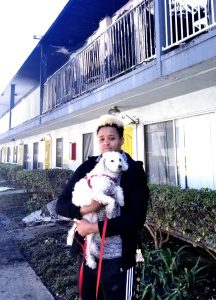 Sands' door to her apartment had a note posted from management saying in part, "Dear valued residents, Tragedy has struck our home at The Atherton Apartments. Your unit is (uninhabitable) at the moment due to safety concerns."
The note and the American Red Cross's Disaster Action Team directed displaced residents to the Otay Recreation Center on Main Street.
Dolores Kilby, whose home was destroyed in the Broadway fire at Trailer Villa Family Park, was at the Otay Recreation Center the day of the fire and utilized services the next day as well.
Mary Kilby, Kilby's daughter, translated from Spanish to English what her mother said. Dolores felt, when she learned about the loss of her home, "depressed and sad because she just lost her husband, Richard, four months ago." According to Mary Kilby her father died in the mobile home that was destroyed.
"I was at home (in Thermal) when I got a phone call from my cousin stating that my mom's home was on fire," said Mary. "My mom was at my home. That's when I picked up my mom and hit the road."
"There were no fire hydrants in the park, there are 150 mobile homes there," said Mary Kilby. "We had to buy our own fire extinguishers. We have three. The manager kind of made it seem like when are you going to move this stuff out?'' said Mary Kilby.
The manager was unavailable at press time for comment.
The Kilbys utilized the disaster center as did nine overnight residents and additional people who came for dinner, according to Emily Cox, regional communications director for ARC.
"I slept here in front of the trailer the night of the fire," said Hollis Kilby at the trailer park.
"I wanted to make sure there were no schemers or pillagers." Hollis Kilby also wanted to search for the American flag that was draped over his father's casket. The trailer was cordoned off.
The ARC disaster relief team, lead by ARC supervisor Marie Sablan, conducted a check list, and walk through at the recreation center before setting up the disaster shelter on Monday. Volunteers and staff helped unload cots customized to fit children, adults and the handicapped. A nurses station, food station and registration area were mapped out.
The San Diego Humane Society, in conjunction with ARC, set up an animal disaster shelter.
"We brought enough supplies to care for at least 50 animals," said Sarah Thompson, director of rescue & recovery for the San Diego Humane Society. "We're prepared for a variety of species."
"There were 75 people displaced from one of the fires," said Jerrica Owen, with the SDHS,
"The second fire it's undetermined." A staff of three from the SDHS was at the disaster
relief shelter to start setting up for displaced pets.
"We had nine overnight residents last night and several people came by for dinner last night," said Emily Cox, regional communications director for the ARC in an email.
"We will be closing at noon on March 20," said Sablan. "We still have one client staying overnight."
"Both fires from Monday are currently under investigation. We anticipate the official report won't be ready for release for a few weeks," said Chula Vista Fire Department Justin Gipsons.
"At 228 Broadway, sp #139 value was $162,929 and is a total loss. There was also $32,370 in content loss," said Diane Howell, public information specialist, city of Chula Vista, in an email.