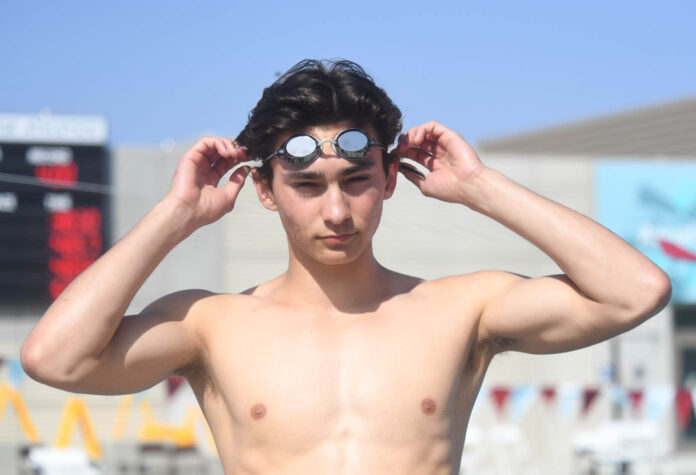 The Southwest High School boys swim team exceled at this year's league timed finals by out-dueling Montgomery High School's Aztecs in the final scoring column 450-422.
The Raiders capped their honorary meet title (league titles are determined by regular season dual meet standings) by out-touching the Aztecs in the final boys event April 27 at Southwestern College. The Southwest foursome of Francisco Garcia, Henry Torija, Ian Jacobo and Jordan Guevarra timed 3:56.98 in the 400-yard freestyle relay to the 4:25.86 posted by the Montgomery quartet of freshman Aaron Gonzalez, sophomore Alan Aaron, senior Shawn Talamantes and junior Aziel Juarez.
Torija had a memorable meet by earning the male swimmer of the year award with four gold medals. He claimed individual championships in the 200 individual medley (2:08.28) and 100 backstroke with a meet record 56.67 while also swimming legs on the Raiders' victorious 200 medley relay (1:59.45) and 400 freestyle relay.
Castle Park senior Kai-Dylan Macfarland won three gold medals besides receiving recognition as the league's male sportsmanship winner. He won individual titles in the 50 freestyle (meet record 23.76) and 100 freestyle (56.50) as well as swimming a leg on the Trojans' victorious 200 freestyle relay team (1:46.94) with teammates Canon Humphrey, Hector Martinez and Leonardo Chavez.
Macfarland missed a potential fourth gold medal by 0.3 second after placing runner-up in the 200 medley relay (1:59.75 to Southwest's 1:59.45).
"Pretty good, I could have done a little better," he said. "CIF is the goal."
Macfarland seems to just now be hitting his stride in the pool in his second year on the team. "Once I knew I was good, I kept going," he said.
He also appears to be hitting his stride in track and field by competing in the long jump, high jump, 400 dash and hurdles. "It's busy," he admitted. "It's a lot of time management."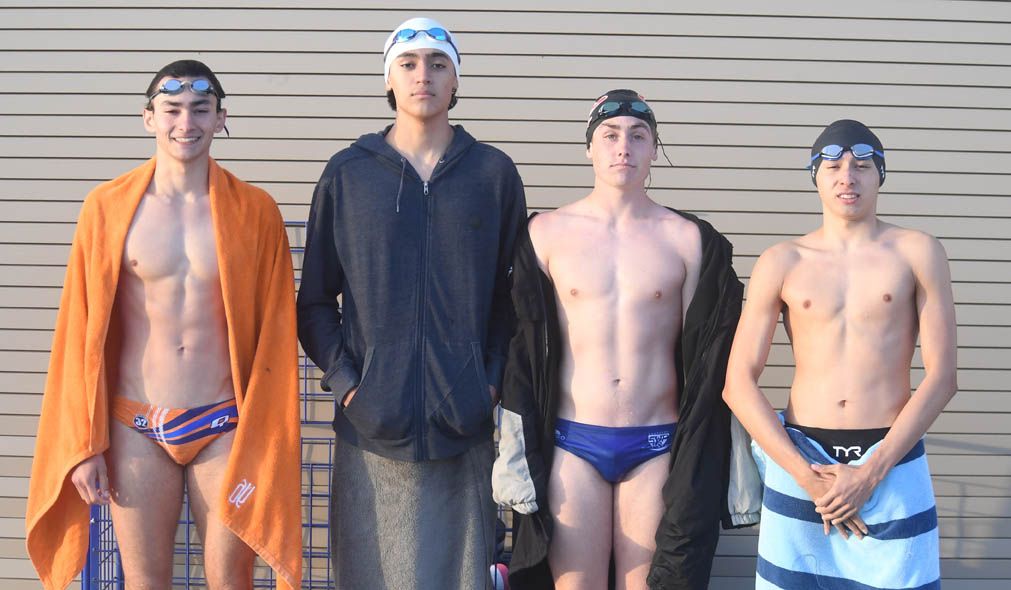 South Bay League female swimmer of the year Miranda Mitra is the academic valedictorian at San Ysidro High School with plans to attend UCLA. She finished this year's league finals with gold medals in the girls 200 individual medley (2:26.96) and 100 butterfly (meet record 59.20).
"I felt really accomplished and that all my hard work paid off," she said.
Sweetwater freshman Derrell San Agustin earned honors as the league's female sportsman of the year. The Lady Red Devils capped a memorable outing by winning the team title with a score of 417 points over runner-up Southwest.
San Agustin teamed with sophomore Karina Serrato and juniors Daniuela Covarrubias and America Cortez to win the meet-ending 400 freestyle relay in 5:06.22.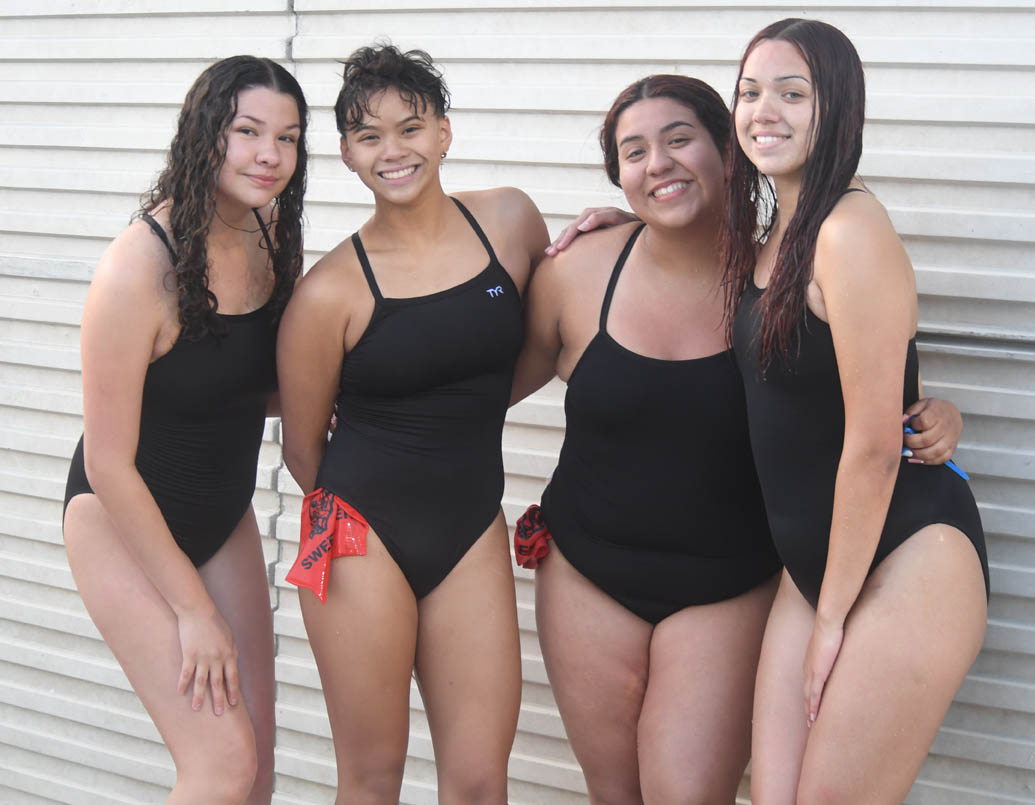 Sweetwater managed to win the team title despite only claiming a victory in one event.
San Agustin was second in the 100 butterfly (1:21.25) and fourth in the 200 IM (2:51.82) while Cortez finished second in the 500 freestyle (7:26.19) and third in the 200 freestyle (2:42.47).
Sweetwater placed third in the 200 freestyle relay in 2:19.10 with junior Faith Carillo and Covarrubias, Cortez and San Agustin alternating legs.
Karina Serrato was third in the 100 butterfly in 1:36.58 to account for further depth.
The Montgomery duo of Silvia Vazquez and Oscar Aaron were selected as the league's coaches of the year.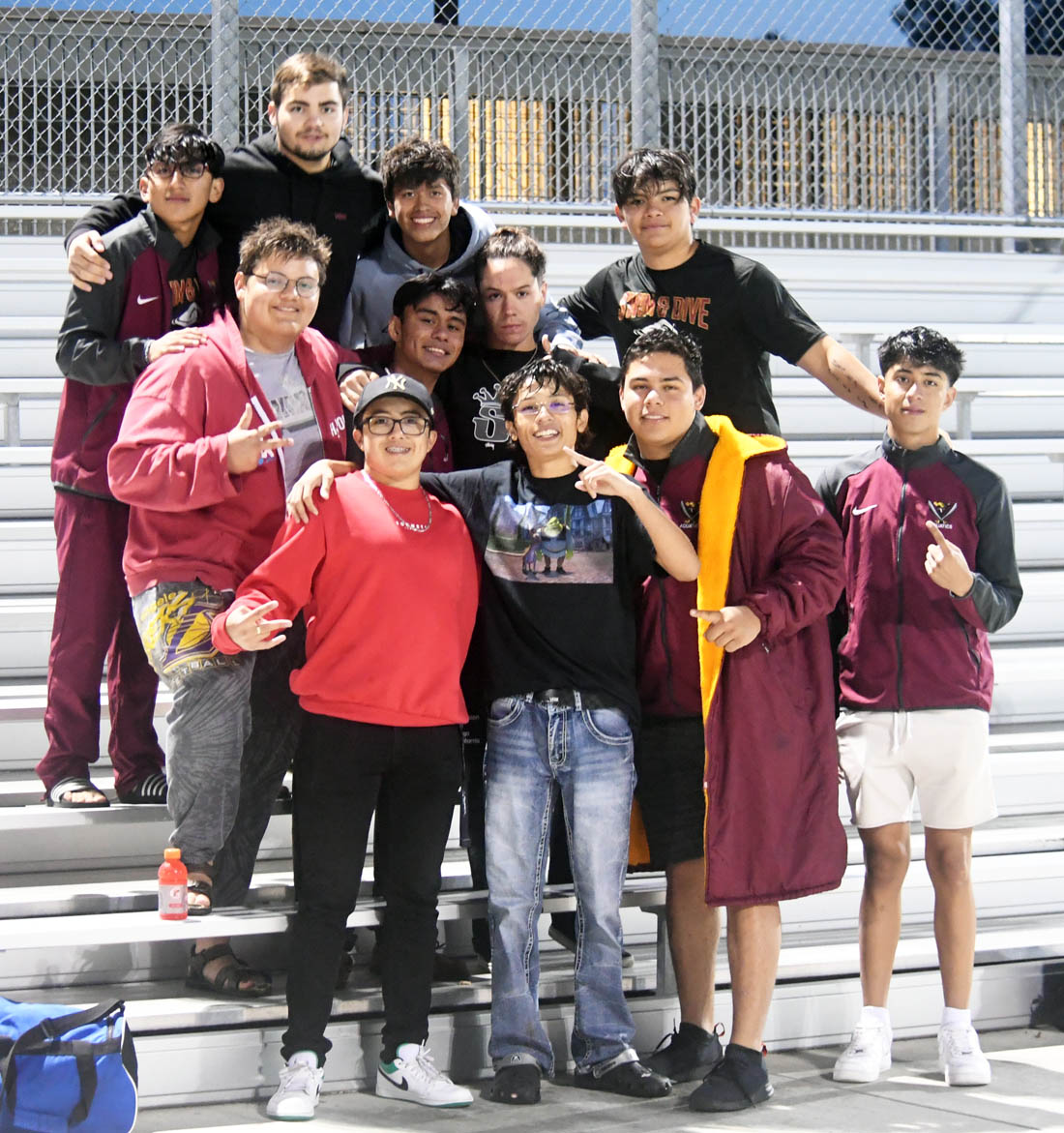 South Bay League Swim Championships
Boys Finals
200 medley relay: 1. Southwest (Francisco Garcia, Ian Jacobo, Henry Torija, Carlo Lira) 1:59.45; 23. Castle Park (Canon Humphrey, Hector Martinez, Leonardo Chavez, Kai Macfarland) 1:59.75; 3. Montgomery (Aziel Juarez, Jovan Checo, Samuel Gonzalez, Axel Jimenez) 2:11.60
200 freestyle: 1. Victor Heredia (Southwest) 2:21.56; 2. Alberto Verdugo (Southwest) 2:24.60; 3. Leo Urrea (Southwest) 2:26.44; 4. Alan Aaron (Montgomery) 2:31.03; 5. Brian Moreno (Southwest) 2:33.62; 6. Shawn Talamantes (Montgomery) 2:39.62; 7. Jovan Checo (Montgomery) 2:40.86; 8. Pablo Ahumada (Castle Park) 2:40.96; 9. Rawa Muhammad (Castle Park) 2:54.24; 10. Jorge Calderon (Castle Park) 3:13.60
200 individual medley: 1. Henry Torija (Southwest) 2:08.28; 2. Leonardo Chavez (Castle Park) 2:22.36; 3. Santiago Aguilar (San Ysidro) 2:22.81; 4. Jordan Guevarra (Southwest) 3:00.17; 5. Josaiah Mendoza (Montgomery) 3:05.97
50 freestyle: 1. Kai Macfarland (Castle Park) 23.76 (meet record); 2. Axel Jimenez (Montgomery) 25.38; 3. Canon Humphrey (Castle Park) 26.88; 4. Francisco Garcia (Southwest) 27.31; 5. Carlo Lira (Southwest) 27.38; 6. Hector Martinez (Castle Park) 28.28; 7. Leo Urrea (Southwest) 29.34; 8. Esteban Vega (Sweetwater) 30.01; 9. Ishmael Guzman (Castle Park) 30.27; 10. Ato Aliping (Montgomery) 30.51
100 butterfly: 1. Santiago Aguilar (San Ysidro) 1:02.40; 2. Francisco Garcia (Southwest) 1:05.20; 3. Ivan Galindo (Castle Park) 1:14.57; 4. Josaiah Mendoza (Montgomery) 1:19.21; 5. Samuel Gonzalez (Montgomery) 1:20.61; 6. Alan Aaron (Montgomery) 1:31.12; 7. William Svacina (Castle Park) 2:27.90
100 freestyle: 1. Kai Macfarland (Castle Park) 56.50; 2. Ian Jacobo (Southwest) 58.63; 3. Alberto Verdugo (Southwest) 1:04.47; 4. Aaron Gonzalez (Montgomery) 1:05.41; 5. Carlo Lira (Southwest) 1:06.09; 6. Omar Alvarez (Montgomery) 1:09.50; 7. Javier Del Real (Montgomery) 1:12.19; 8. Rawa Muhammad (Castle Park) 1:16.62; 9. David Avila (Sweetwater) 1:17.05; 10. Tait Villarreal (Castle Park) 1:27.01
500 freestyle: 1. Aziel Juarez (Montgomery) 6:10.38; 2. Victor Heredia (Southwest) 6:39.96; 3. Brian Moreno (Southwest) 7:10.91; 4. Samuel Gonzalez (Montgomery) 7:15.72; 5. Ato Aliping (Mongtomery) 7:49.59; 6. Oscar Soto (Montgomery) 7:55.85; 7. Ivan Galindo (Castle Park) 7:59.50; 8. Alejandro Moreno (Southwest) 8:31.48; 9. William Svacina (Castle Park) 11:30.83
200 freestyle relay: 1. Castle Park (Canon Humphrey, Hector Martinez, Leonardo Chavez, Kai Macfarland) 1:46.94; 2. Montgomery (Aaron Gonzalez, Samuel Gonzalez, Josaiah Mendoza, Axel Jimenez) 1;50.09; 3. Southwest (Jordan Guevarra, Alberto Verdugo, Leo Urrea, Victor Heredia) 1:53.83
100 backstroke: 1. Henry Torija (Southwest) 56.67 (meet record); 2. Aziel Juarez (Montgomery) 1:12.62; 3. Canon Humphrey (Castle Park) 1:15.58; 4. Brian Ibarra (Southwest) 1:22.12; 5. Jordan Guevarra (Southwest) 1:22.93; 6. Omar Alvarez (Montgomery) 1:24.39; 7. Pablo Ahumada (Castle Park) 1:30.81; 8. Javier Del Real (Montgomery) 1:31.97; 9. Alejandro Moreno (Southwest) 1:50.67; 10. Christopher Del Moral (Montgomery) 2:12.68
100 breaststroke: 1. Leonardo Chavez (Castle Park) 1:11.16; 2. Hector Martinez (Castle Park) 1:20.69; 3. Ian Jacobo (Southwest) 1:21.04; 4. Axel Jimenez (Montgomery) 1:22.10; 5. Ishmael Guzman (Castle Park) 1:24.52; 6. Jovan Checo (Montgomery) 1:26.13; 7. Aaron Gonzalez (Montgomery) 1:26.22; 8. Esteban Vega (Sweetwater) 1:28.91; 9. Manny Huezo (Southwest) 1;46.98
400 freestyle relay: 1. Southwest 3:56.98; 2. Montgomery 4:25.86; 3. Castle Park 5:17.06
Team scores: 1. Southwest 450; 2. Montgomery 422; 3. Castle Park 380; 4. Sweetwater 44; 5. San Ysidro 36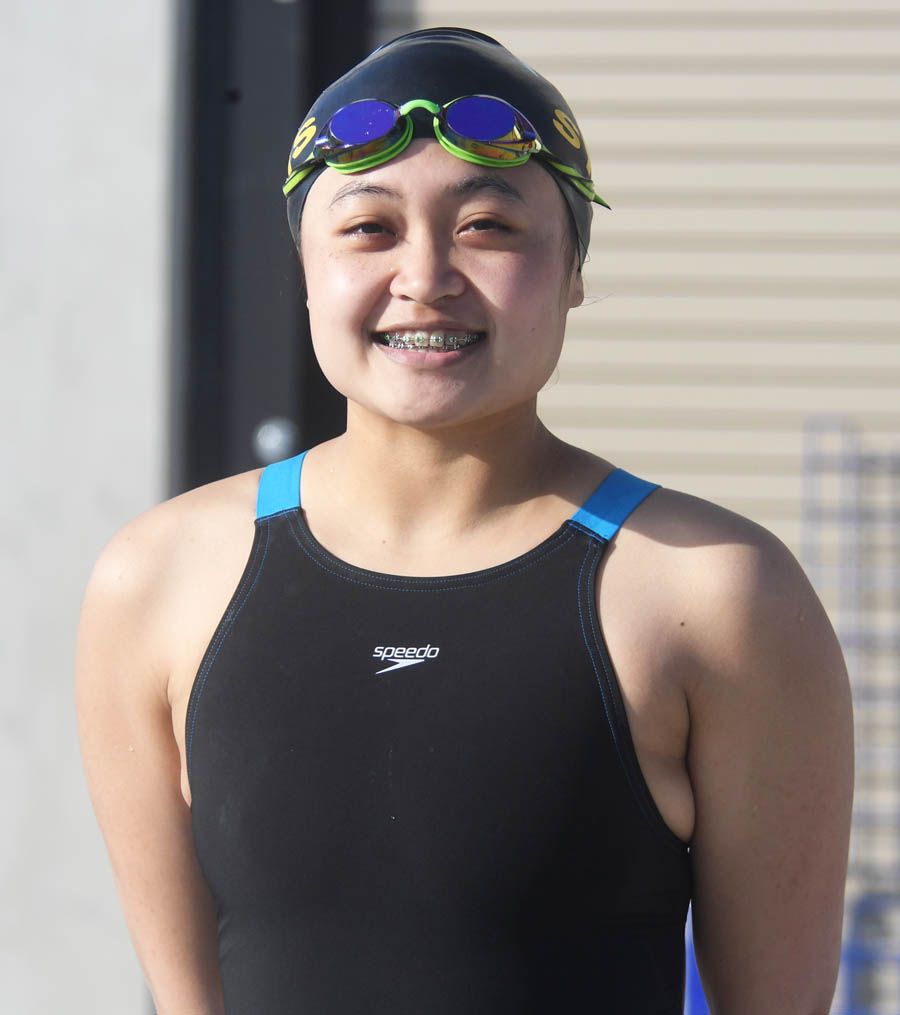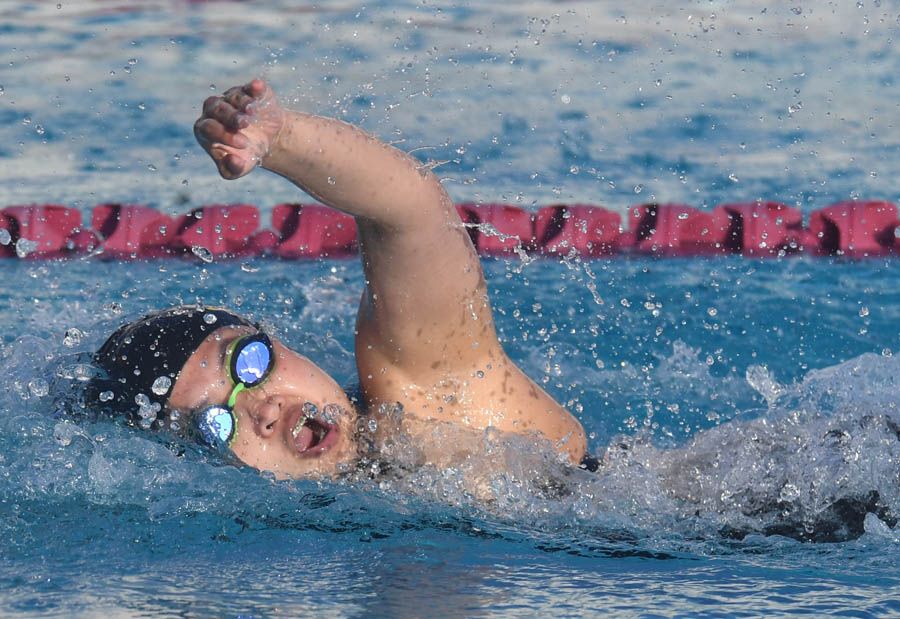 Girls Finals
200 medley relay: 1. Southwest (Roxana Aguilera, Aylin Cruzm Joselyn Hernandez, Isabella Origel) 2:23.89; 2, Montgomery (Kiara Turner, Eli Gutierrez, Juliana Flores, Laila Gomez) 2:25.36; 3. Chula Vista (Hannah Patton, Jamie Feldman, Nyla Wraight, Katia Zuppa) 2:41.51; 4. San Ysidro (Paulina Espinoza, Daphne Ledesma, Miranda Mitra, Mariana Gerardo Chavarin) 2:46.64; 5. Sweetwater (Denia Buenaventura, Andrea Kaopua, Karina Serrato, Faith Carillo) 2:47.85
200 freestyle: 1. Roxana Aguilera (Southwest) 2:32.62; 2. Juliana Flores (Montgomery) 2:42.45; 3. America Cortez (Sweetwater) 2:42.47; 4. Paulina Espinoza (San Ysidro) 2;50.86; 5. Daniela Covarrubias (Sweetwater) 2:51.85; 6. Karina Serrato (Sweetwater) 2:53.06; 7. America Villasenor (Sweetwater) 3:09.04; 8. Natalia Bautista (Southwest) 3:12.12; 9. Genesis Sanchez (Southwest) 3:18.87; 10. Adilene Vasquez (Montgomery) 3:35.41
200 individual medley: 1. Miranda Mitra (San Ysidro) 2:26.96; 2. Joselyn Hernandez (Southwest) 2:33.03; 3. Eli Gutierrez (Montgomery) 2:50.90; 4. Derrell San Agustin (Sweetwater) 2:51.82; 5. Kiara Turner (Montgomery) 3:09.22; 6. Andrea Kaopua (Sweetwater) 3;55.30; 7. Denia Buenaventura (Sweetwater) 3;55.53
50 freestyle: 1, Jamie Feldman (Chula Vista) 31.13; 2. Aylin Cruz (Southwest) 31.64; 3. Laila Gomez (Montgomery) 32.99; 4. Brianna Jean (Montgomery) 33.20; 5. Katia Zuppa (Chula Vista) 33.85; 6. Isabella Origel (Southwest) 34.52; 7. Faith Carillo (Sweetwater) 35.01; 8. Jocelyn Garcia (Chula Vista) 37.29; 9. Roanne Espinoza (Chula Vista) 37.71; 10. Norma Blanco Osorio (San Ysidro) 38.65
100 butterfly: 1. Juliana Flores (Montgomery) 1:21.15; 2. Derrell SanAgustin (Sweetwater) 1:21.25; 3. Karina Serranto (Sweetwater) 1:36.58; 4. Victoria Rui (Montgomery) 1:39.93; 5. Paulina Macias (Southwest) 1:41.73; 6. Kassandra Ramirez (Sweetwater) 2:20.91
100 freestyle: 1, Miranda Mitra (San Ysidro) 59.20 (meet record); 2. Brianna Jean (Montgomery) 1:13.83; 3. Jamie Feldman (Chula Vista) 1:16.00; 4. Isabella Origel (Southwest) 1:17.08; 5. Daniela Cavarrubias (Sweetwater) 1:20.74; 6. Natalia Bautista (Southwest) 1:26.56; 7. Faith Carillo (Sweetwater) 1;27.07; 8. Norma Blanco Osorio (San Ysidro) 1:27.49; 9. Renata Delatorre (Chula Vista) 1:27.87; 10. Adilene Vasquez (Montgomery) 1:32.49
500 freestyle: 1. Eli Gutierrez (Montgomery) 6:30.48; 2. Armerica Cortez (Sweetwater) 7:26.19; 3. Paulina Espinoza (San Ysidro) 7:56.97; 4. Paulina Macias (Southwest) 8:15.76; 5. Payton Kubisak (Chula Vista) 8:19.29; 6. America Villasenor (Sweetwater) 8:46.97; 7. Genesis Sanchez (Southwest) 9:08.65; 8. Yanelli Hernandez (Sweetwater) 9:13.22; 9. Ma Viktoria Vega (Castle Park) 13:08.80
200 freestyle relay: 1. Southwest (Genesis Sanchez, Isabella Origel, Paulina Macias, Joselyn Hernandez) 2:06.76; 2. Montgomery (Laila Gomez, Brianna Jean, Victoria Ruiz, Juliana Flores) 2:16.83; 3. Sweetwater (Faith Carillo, Daniela Cavarrubias, Armerica Cortez, Derrell SanAgustin) 2:19.10; 4. Chula Vista (Hannah Patton, Katia Zuppa, Jamie Feldman, Nyla Wraight) 2:19.23; 5. Castle Park (Eliana Soto, Alexis Delgado, Elena Salcedo, Evalyssa Perez) 2:57.13
100 backstroke: 1. Aylin Cruz (Southwest) 1:26.93; Kiara Turner (Mongomery) 1;27.72; 3. Denia Buenaventura (Sweetwater) 1:38.41; 4. Victoria Ruiz (Montgomery) 1:41.02; 5. Nyla Wraight (Chula Vista) 1:41.77; 6. Zuelema Ramirez (Sweetwater) 1:47.83; 7. Payton Kubisak (Chula Vista) 1:48.71; 8. Renata Delatorre (Chula Vista) 1:48.94; 9. Venus Calderon (Sweetwater) 1:51.72; 10. Isabel Silveira (Sweetwater) 1:56.35
100 breaststroke: 1. Joselyn Hernandez (Southwest) 1:22.43; 2. Roxana Aguilera (Southwest) 1:30.99; 3. Hannah Patton (Chula Vista) 1:42.95; 4. Laila Gomez (Montgomery) 1:43.00; 5. Andrea Kaopua (Sweetwater) 1:49.91; 6. Isole Aranda (Sweetwater) 2;04.29; 7. Yaneli Hernandez (Sweetwater) 2:09.16
400 freestyle relay: 1. Sweetwater 5:06.22; 2. Montgomery 5:08.55; 3. San Ysidro 5:27.92; 4. Chula Vista 5:51.02; 5. Southwest 6:05.22
Team scores: 1. Sweetwater 417; 2. Southwest 328; 3. Montgomery 318; 4. Chula Vista 252; 5. San Ysidro 157; 6. Castle Park 52
PARADE OF CHAMPIONS
Photos by Phillip Brents