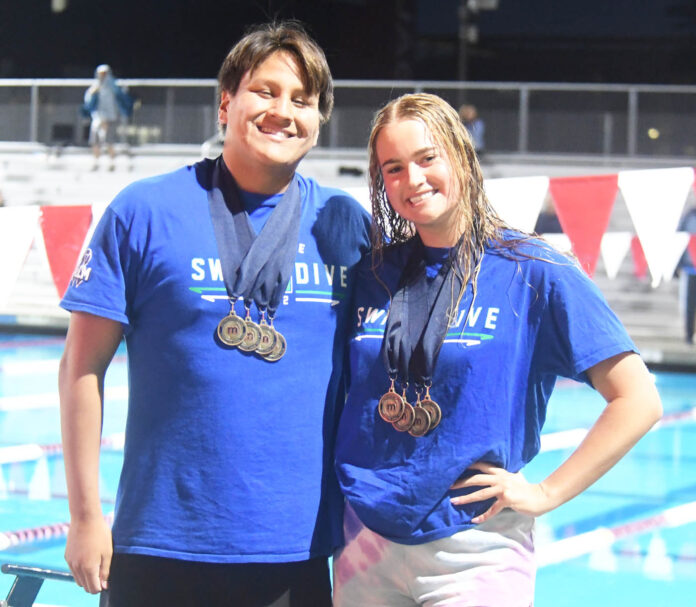 It will be extremely difficult to upstage this year's Mesa League swim finals in terms of sheer excitement — and talent — level.
The meet, held April 28 at the Southwestern College pool, featured a staggering 13 meet records and a huge showing by Eastlake High School's boys and girls teams.
The Titans overwhelmed the competition with 577.5 points in the girls field and 565.5 points in the boys field. The second-place boys team — Olympian — scored 277 points while Olympian's runner-up girls team tallied 296 points.
Eastlake set 10 meet records – six in the boys field and four in the girls field.
"This was by far the most exciting league championship I have ever been a part of," EHS head coach Steve Wiggs said. "Several teams had meet records broken and there was a tie on the 200 freestyle relay."
Emotions got the better of Wiggs after being named Mesa League Coach of the Year.
"It was a special year," he said, fighting back tears.
The meet opened with meet records set in the first two events, both the boys and girls 200-yard medley relays. The positive energy seemed to feed upon itself, creating more meet records along the way.
The Lady Titans faced off this year's finals in record-breaking fashion as the quartet of sophomore Victoria Naval and seniors Emily Lundgren, Aranza Martha and Mirsha Lora timed 1:48.95 to win the girls 200 medley relay to set a new meet record.
It was a fast race as the top four teams all posted CIF automatic-qualifying times. Olympian placed second in 1:57.50, followed by Mater Dei Catholic in third place in 1:58.95 and Bonita Vista in fourth place in 2:00.02. Otay Ranch (fifth, 2:10.39) and Hilltop (sixth, 2:14.11) both notched consideration times in the championship heat.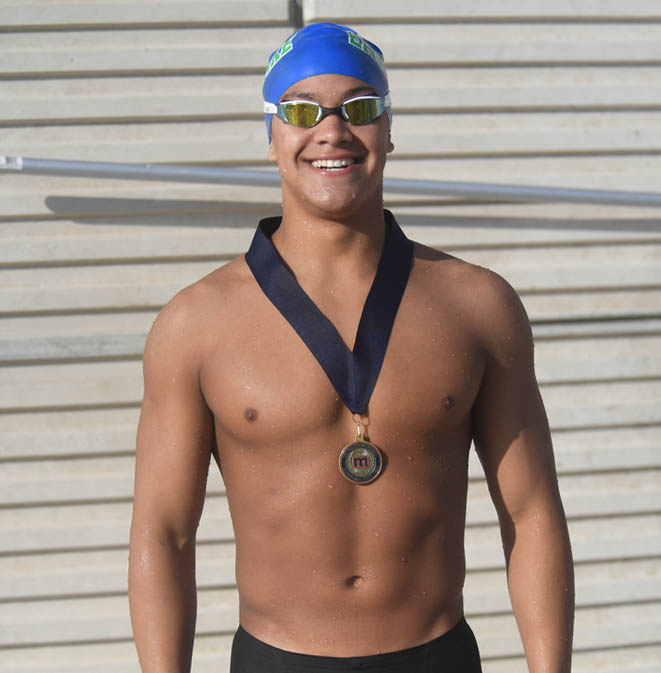 Eastlake's boys team wasted no time in setting its first new meet record as sophomore Edgar Martinez, freshman John Calma, senior Colby Hughes and sophomore Zane Johnson combined strokes for an automatic CIF-qualifying time of 1:38.82.
Otay Ranch was second in 1:50.49 while Olympian was third in 1:50.60, also with CIF automatic-qualifying times. Hilltop (fourth, 1:52.77), Mater Dei Catholic (fifth, 1:54.94) and Bonita Vista (sixth, 2:05.07) all posted CIF consideration marks.
Hughes and Johnson were no strangers to setting meet records during the highest profile event of the league season. Hughes set individual meet records in winning the 200 freestyle (1:42.86) and 500 freestyle (4:35.00) while Johnson won the 200 individual medley (1:59.54) and 100 butterfly (50.99) in meet record times.
Hughes also won a gold medal with a meet record clocking of 1:30.02 in the 200 freestyle relay alongside Johnson, Martinez and Calma. Hughes finished the meet with four gold medals and four meet records en route to being named the league's male swimmer of the year.
"I was not expecting to set a record, I just wanted to have fun and get the small details down for CIF," Hughes said. "I came here to have a good time. That said, the experience of setting records was fun."
Johnson also snared four gold medals with courtesy two individual and two relay events.
Martinez and Calma earned gold medals in two relay events. Martinez also won the 100 backstroke to nab a third gold medal.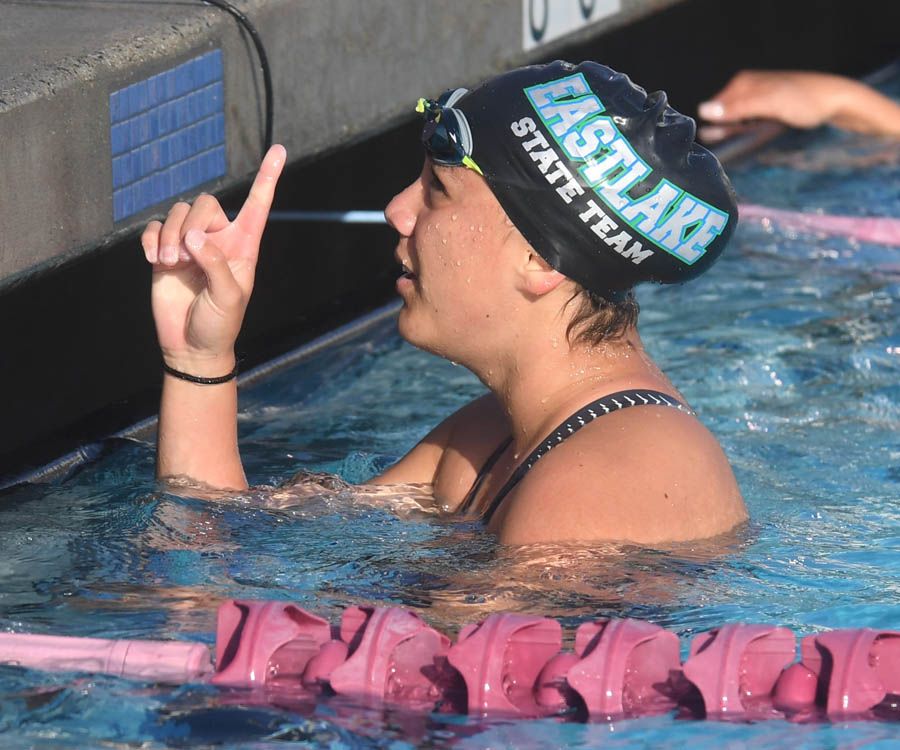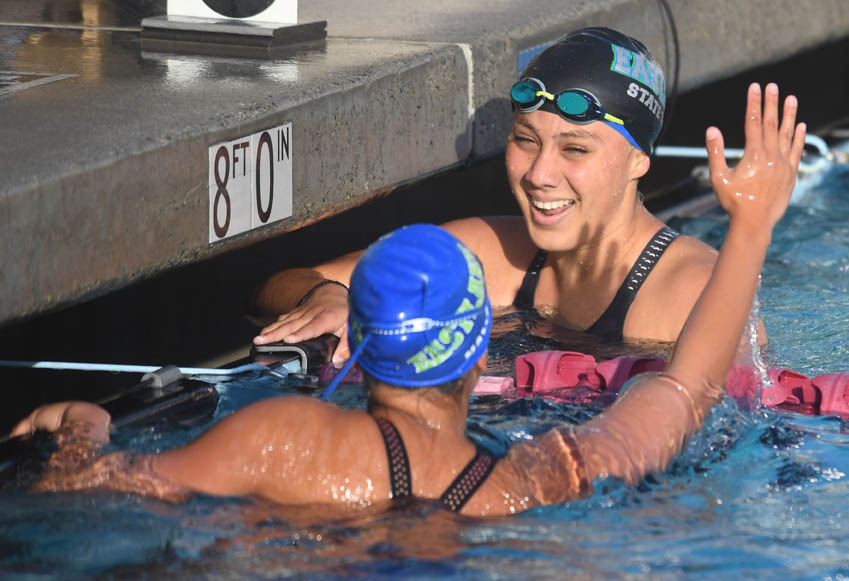 Martha led Eastlake's girls team with four gold medals. Besides swimming a leg on the victorious meet-opening medley relay, she also won a gold medal in the meet-concluding 400 freestyle relay (3:37.87) with teammates Naval, Lora and Lundgren. Both relays set new meet records.
Martha won individual gold medals in the 50 freestyle (24.49) and 100 freestyle (53.69), though not in record times.
Lundgren finished with three gold medals and one silver medal. She racked up gold medals in winning the girls 100 breaststroke with a meet record time of 1:01.54 while recording gold medals in both the 200 medley relay and 400 freestyle relay (3:37.87) with teammates Martha, Naval and Lora. All three wins came in meet record times.
Lundgren was denied a potential fourth gold medal after being out-touched by Mater Dei Catholic freshman Isabella Chavez-Varela in the 200 IM. Chavez-Varela set a new meet record with her 2:03.18 time while Lundgren, whose goggles broke during the race, hit the wall in 2:05.22, both automatic CIF-qualifying times.
Interestingly, Lundgren's second-place time was under the old meet record.
Lora finished the meet with two gold medals in relay events.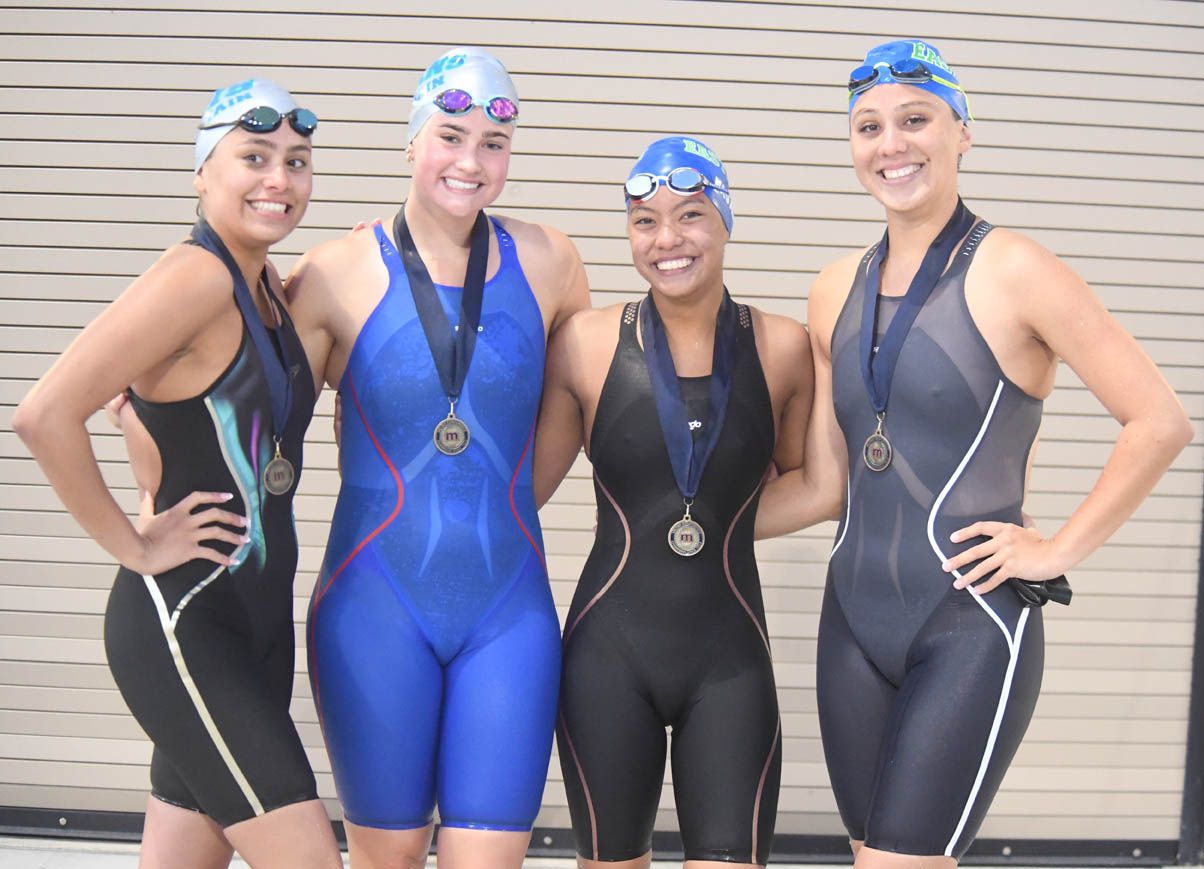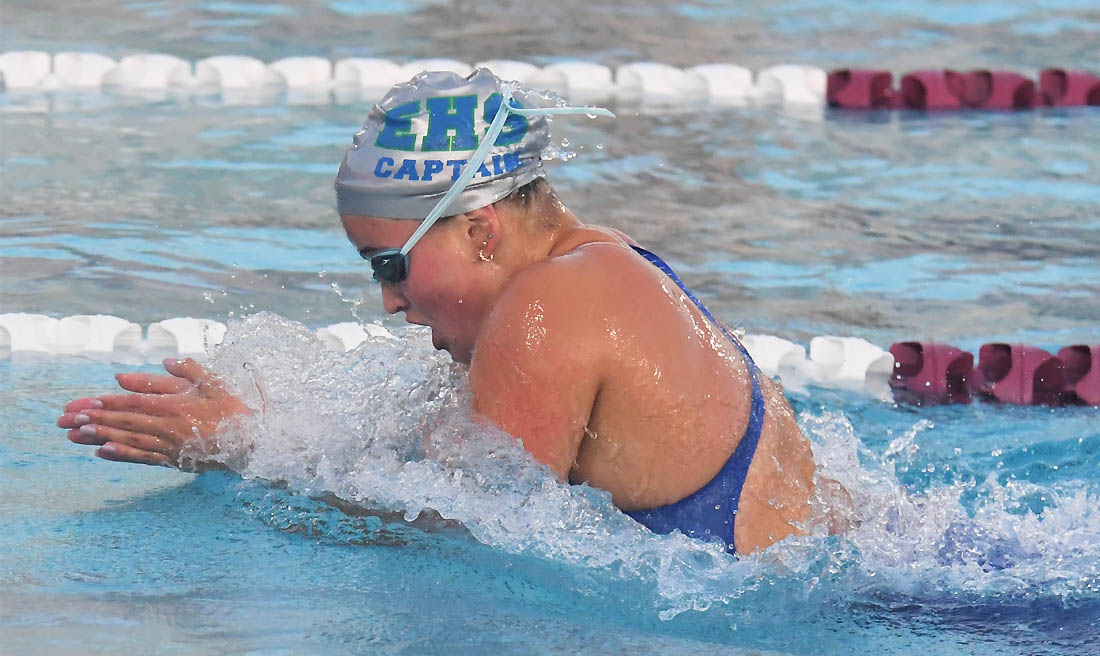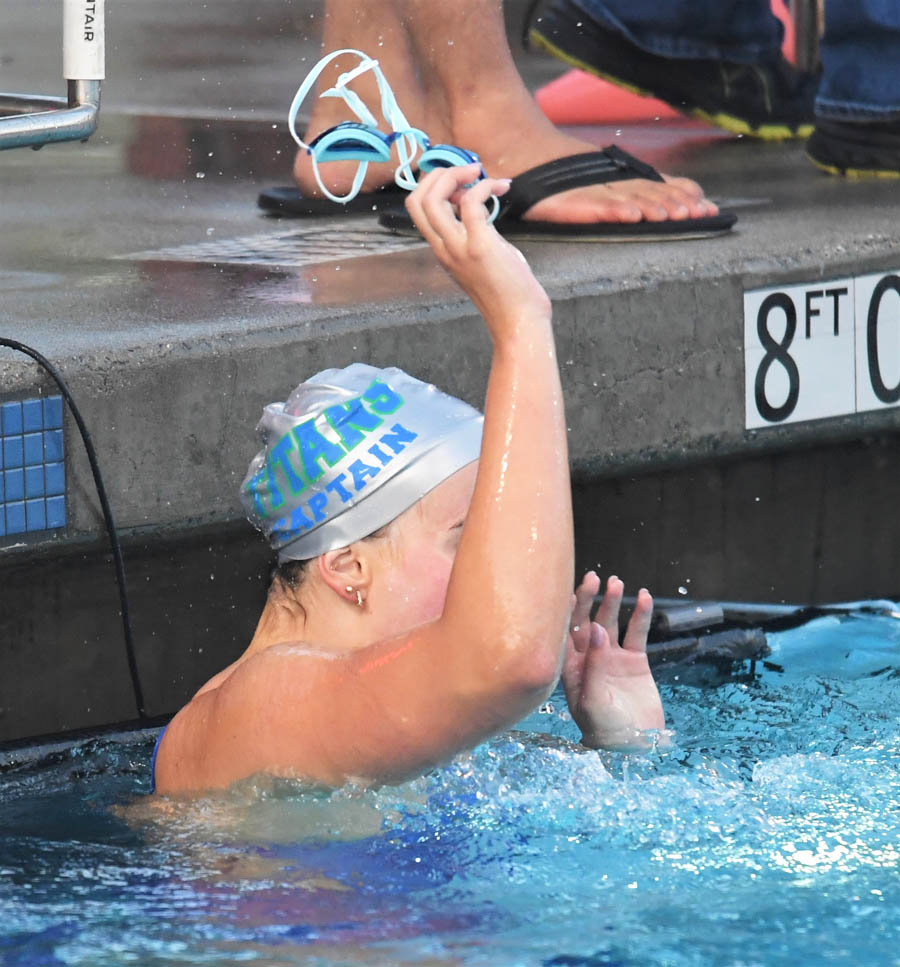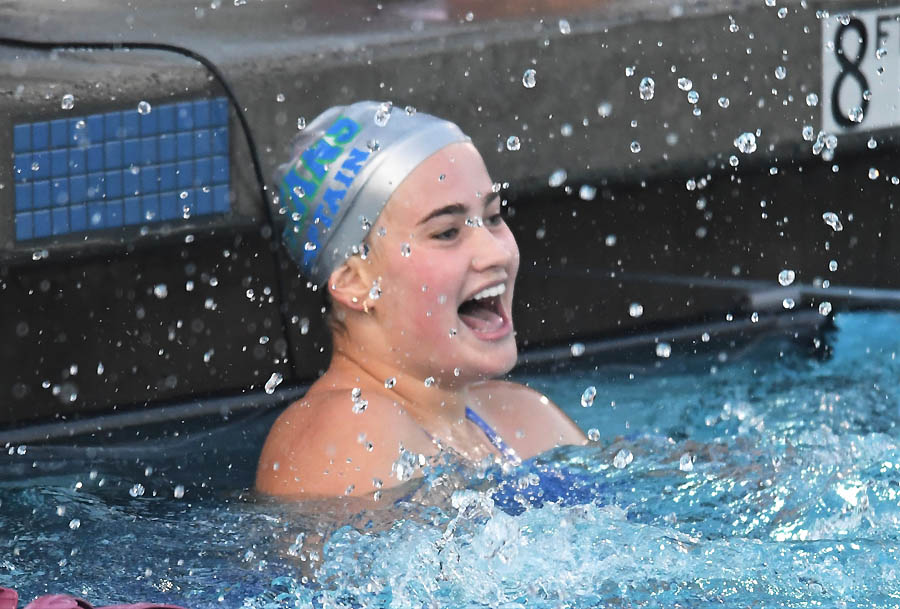 Mater Dei Catholic had two swimmers collect three gold medals and three meet records in the guise of freshmen Aslan Lofthus (100 freestyle) and Chavez-Varela (200 IM, 500 freestyle).
Lofthus set a meet record with his winning time of 48.23. Chavez-Varela picked up her second individual meet record with a 4:59.14 clocking in the 500 event.
Chavez-Varela also swam a leg on the Lady Crusaders' silver medal-winning 400 freestyle relay team (4:01.14).
"I just wanted to have fun, meet new people, take it day by day, Chavez-Varela said of her debut high school season. "I think I did really well. I did my best each time, which I think is all that really matters. I just wanted to improve my times, have fun."
Lofthus echoed that. "I came to the team to have fun," he said. "I wasn't expecting to do massive improvement. I feel happy that I was able to set a new record."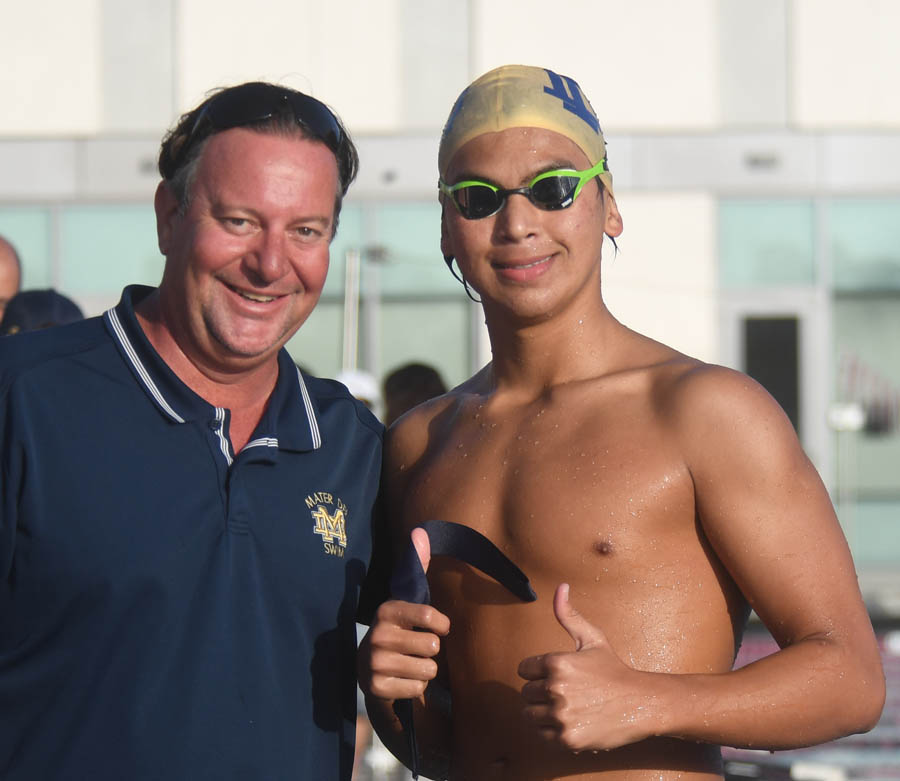 "Mater Dei Catholic had a strong program, especially with freshmen Isabella Chavez-Varela and Aslan Lofthus along with sophomores Emilia Garcia and Mary Jackson," Mater Dei Catholic girls coach Jennie Charlesworth said. "It's been a record-breaking year to look back on."
Olympian had a double event winner in senior Alexander Asuncion, who won the boys 50 freestyle in 23.32 and the 100 breaststroke in 1:03.01.
Meanwhile, Lady Eagles freshman Audrey Hill won the girls 100 butterfly in a meet record time of 57.69. Hill also was second in the 100 backstroke (1:00.54).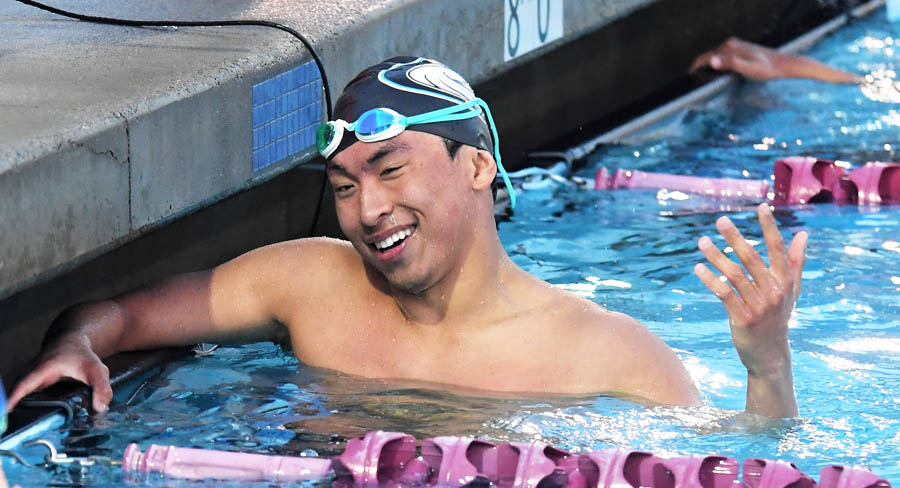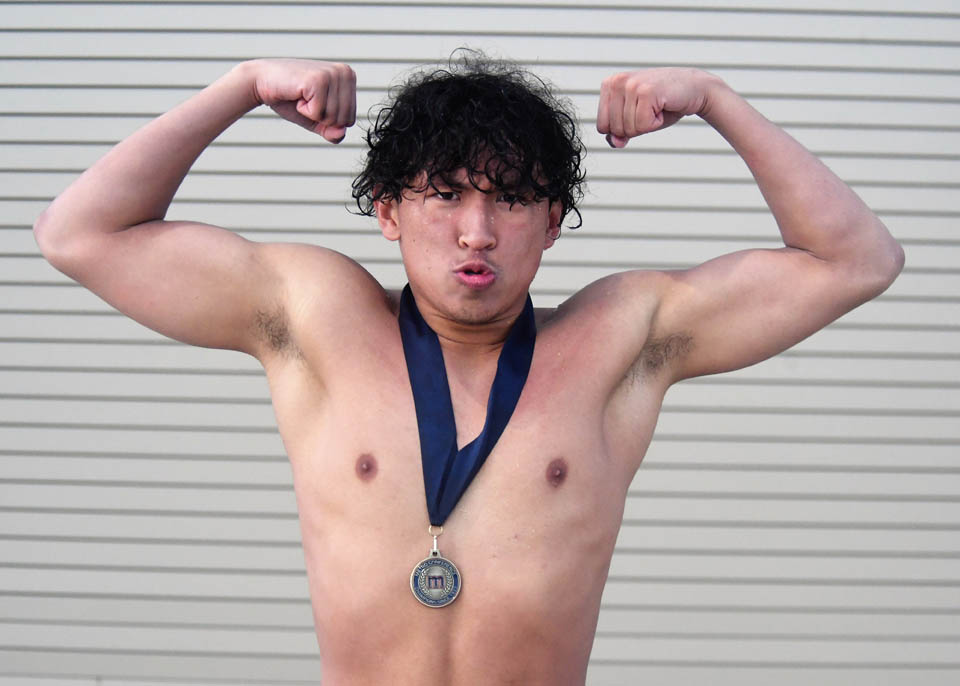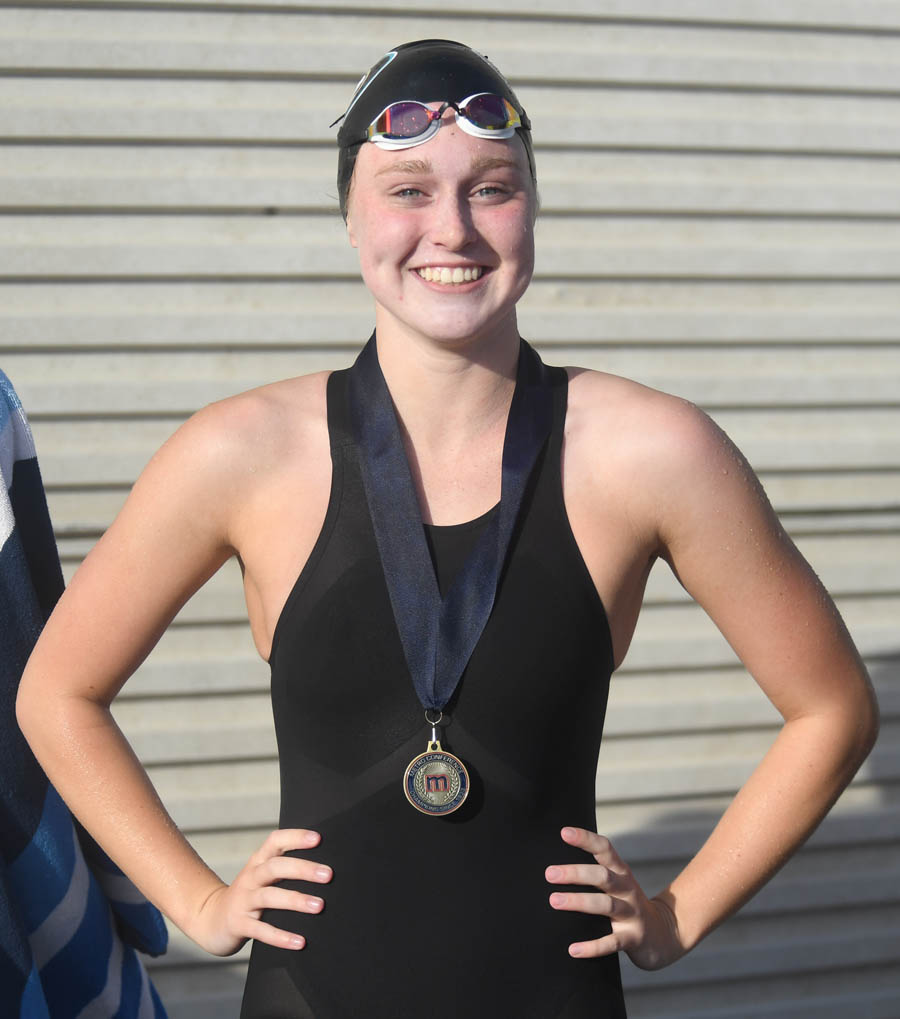 Bonita Vista did not go without an event victory as senior Paola Castillo came out a winner in the girls 200 freestyle (1:56.22) and sophomore Sarah Hardin captured the 100 backstroke (59.20).
Castillo and Hardin were also members of the Lady Baron 200 freestyle relay that tied Eastlake for first place with identical times of 1:45.71. Freshmen Aparri Tarpley and Olivia Gutierrez also were part of the gold medal-winning relay.
Castillo was second in the 500 free (5:14.89).
She finished her four-year league career undefeated in the 200 freestyle event.
Bonita Vista senior Paola Castillo bid adieu to her final Mesa League finals with a win in the girls 200 freestyle. Photo by Phillip Brents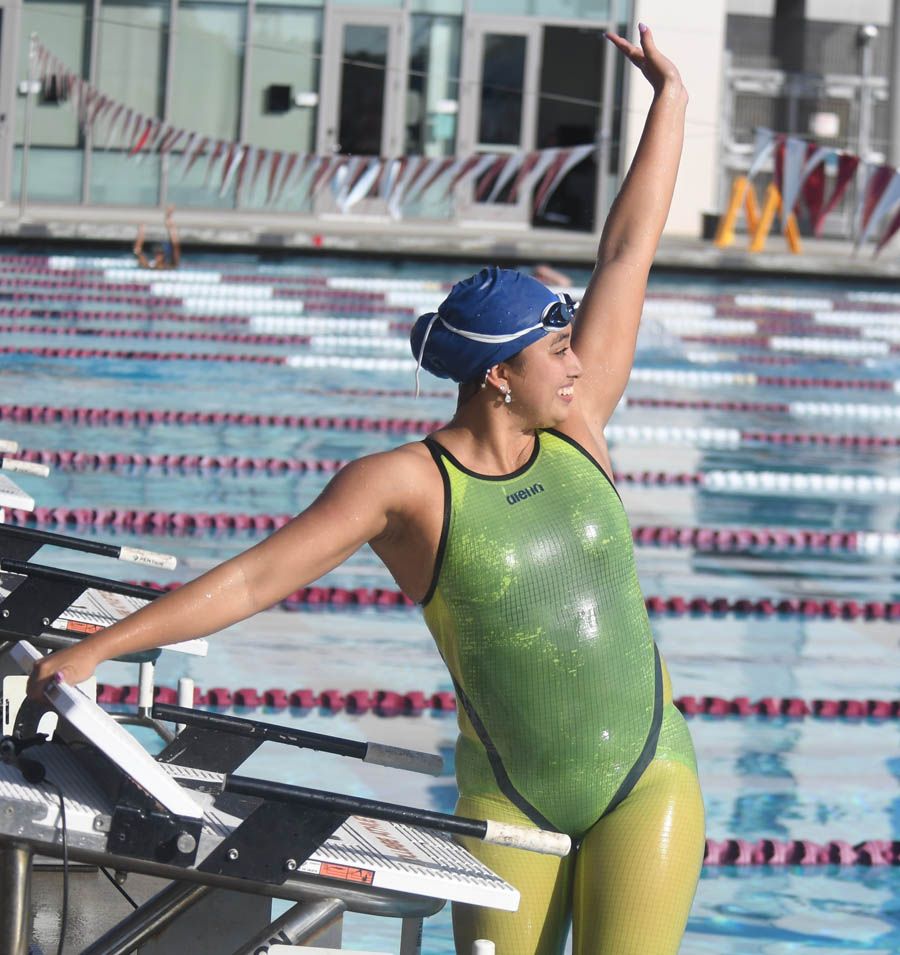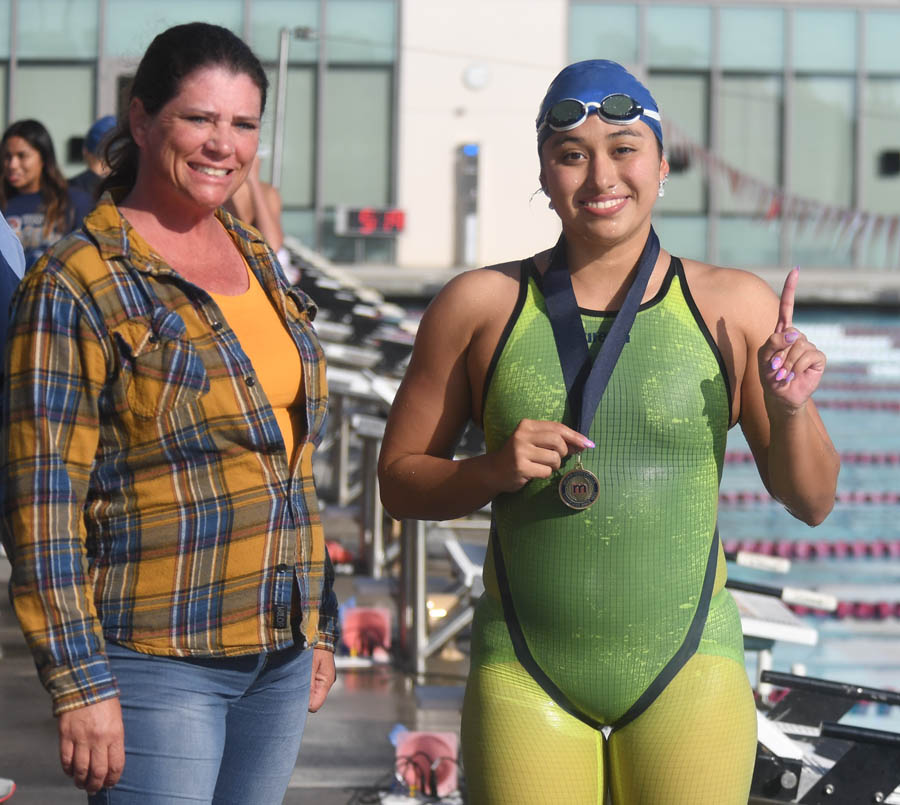 "It was nice to be a team captain — to inspire and be a role model for the younger swimmers, to be the reason they care about the sport," Castillo said. "It's been a thrilling adventure. It's been a rewarding experience."
"It's completely different for a club swimmer," Hardin said. "I could feel the competition. It feels good to get out of the house and back in the water after COVID."
The San Diego Section championship meet is scheduled Saturday, May 7, at Granite Hills High School. The Division I finals are slated to start at 9 a.m., followed by the Division II meet at 3 p.m.
With many of the higher-end swimmers not shaved for tapered yet, the best is expected to come.
Lundgren has her eyes set on returning to the state championship meet.
"This is definitely a meet I'm still training for," she said. "I'm not rested yet. For CIF, I'll be rested. This meet was just to have fun in my last league finals."
Female sportsman of the year award went to Mater Dei Catholic senior Ana Shaw and the male award to Eastlake sophomore Will Leon.
Mesa League Swim Championships
Boys Finals
200 medley relay: 1. Eastlake (Edgar Martinez, John Calma, Colby Hughes, Zane Johnson) 1:38.82 (meet record); 2. Otay Ranch (Zachary Soriono, Jadon Fernandez, Roman Silva, Rodney Jiao) 1:50.49; 3. Olympian (Jaesang Kim, Alexander Asuncion, Diego Munguia, Caeleb Collins) 1:50.60; 4. Hilltop (Carlos Lago, Petros Kapetanios, Aidan Garces, Samuel Del Real) 1:52.77; 5. Mater Dei Catholic (Aslan Lofthus, Julian To, Christian Del Rio, Ethan Tsao) 1:54.94; 6. Bonita Vista (Trevor Manaligod, Caleb Hutchins, Cyrus Lopez, Mario Gonzalez) 2:05.97; 7. Mar Vista (Samuel Lord, Jake Linsdau, Nicholas Rose, Aydin Palkovic) 2:15.84
200 freestyle: 1. Colby Hughes (Eastlake) 1:42.86 (meet record); 2. Aslan Lofthus (Mater Dei Catholic) 1:46.24; 3. Edgar Martinez (Eastlake) 1;48.71; 4. William Coziahr (Eastlake) 1:52.74; 5. Carlos Lago (Hilltop) 1:53.95; 6. Eduardo Flores (Eastlake) 1:54.83; 7. Luke Wilson (Mar Vista) 1:59.34; 8. Evan Rodriguez (Hilltop) 2:05.24
200 individual medley: 1. Zane Johnson (Eastlake) 1;59.54 (meet record); 2. Pablo Estrada (Eastlake) 2:03.28; 3. Thomas Spaulding (Mar Vista) 2:10.01; 4. Ivan Hernandez (Eastlake) 2:13.22; 5. Diego Munguia (Olympian) 2:16.70; 6. Ethan Ongteco (Olympian) 2:17.03; 7. Cyrus Lopez (Bonita Vista) 2:23.29; 8. Nikolaos Kapetanios (Hilltop) 2:28.16
50 freestyle: 1. Alexander Asuncion (Olympian) 23.32; 2. Zane Derrod (Eastlake) 23.52; 3. Samuel Del Real (Hilltop) 23.73; 4. Alex Jarugui Perez (Otay Ranch) 23.82; 5. Rodney Jiao (Otay Ranch) 24.87; 6. Christian Del Rio (Mater Dei Catholic) 24.99; 7. Anthony Gavino (Eastlake) 25.13; 8. Nicholas Garcia (Eastlake) 25.14
100 butterfly: 1. Zane Johnson (Eastlake) 50.99 (meet record); 2. Pablo Estrada (Eastlake) 55.57; 3. (tie) Thomas Spaulding (Mar Vista), Ivan Hernandez (Eastlake) 58.31; 5. Diego Munguia (Olympian) 58.93; 6. Roman Silva (Otay Ranch) 59.33; 7. Samuel Del Real (Hilltop) 1:00.44; 8. George Grosselfinger (Eastlake) 1:00.83
100 freestyle: 1. Aslan Lofthus (Mater Dei Catholic) 48.23 (meet record); 2. John Calma (Eastlake) 49.86; 3. Zane Derrod (Eastlake) 50.42; 4. Alex Jarugui Perez (Otay Ranch) 51.79; 5. Carlos Lago (Hilltop) 53.88; 6. Zachary Soriono (Otay Ranch) 56.19; 7. Anthony Gavino (Eastlake) 57.15; 8. Aidan Garces (Hilltop) 58.49
500 freestyle: 1. Colby Hughes (Eastlake) 4:35.00 (meet record); 2. William Coiahr (Eastlake) 4:59.18; 3. Eduardo Flores Hidalgo (Eastlake) 5:08.08; 4. Luke Wilson (Mar Vista) 5:28.71; 5. Diego Ayon (Otay Ranch) 5:40.45; 6. Marco Vargas (Mar Vista) 5:40.53; 7. Jason Esquivel (Hilltop) 6:02.02; 8. Jeffrey Hobson (Eastlake) 6:12.24
200 freestyle relay: 1. Eastlake (Zane Johnson, Edgar Martinez, John Calma, Colby Hughes) 1:30.02 (meet record); 2. Otay Ranch (Achille Arcidiacono, Rodney Jiao, Jadon Fernandez, Alex Harugui Perez) 1:37.92; 3. Olympian (Ethan Ongteco, Diego Munguia, Caeleb Collins, Alexander Asuncion) 1:38.25; 4. Hilltop (Petros Kapetanios, Nikolaos Kapetanios, Evan Rodriguez, Samuel Del Real) 1:42.89; 5. Mater Dei Catholic (Fabian Cazares, Christian Del Rio, Zachary Crockett, Aslan Lofthus) 1:43.11; 6. Mar Vista (Bradford Dickson, Fletcher Field, Thomas Spaulding, Luke Wilson) 1:44.08; 7. Bonita Vista (Cyrus Lopez, Caleb Hutchins, Mario Gonzalez, Trevor Manaligod) 1:55.78
100 backstroke: 1. Edgar Martinez (Eastlake) 57.41; 2. Ethan Ongteco (Olympian) 1:01.47; 3. Jared Ritchie (Eastlake) 1:01.85; 4. Zachary Soriono (Otay Ranch) 1:03.17; 5. Nikolaos Kapetanios (Hilltop) 1:07.86; 6. William Leon (Eastlake) 1:07.95; 7. Trevor Manaligod (Bonita Vista) 1:08.41; 8. Jaesang Kim (Olympian) 1:21.60
100 breaststroke: 1. Alexander Asuncion (Olympian) 1:03.01; 2. John Calma (Eastlake) 1:03.84; 3. Nicholas Garcia (Eastlake) 1:08.41; 4. Jadon Fernandez (Otay Ranch) 1:11.42; 5. Petros Kapetanios (Hilltop) 1:14.37; 6. Joel Kipp (Eastlake) 1:17.20; 7. Caeleb Collins (Olympian) 1:20.20; George Grosselfinger (Eastlake) DQ
400 freestyle relay: 1. Eastlake (Zane Derrod, William Coziahr, Ivan Hernandez, Pablo Estrada) 3:31.33; 2. Otay Ranch (Roman Silva, Rodney Jiao, Diego Ayon, Zachary Soriono) 3:48.31; 3. Mar Vista (Bradford Dickson, Fletcher Field, Thomas Spaulding, Luke Wilson) 3:52.71; 4. Hilltop (Evan Rodriguez, Jason Esquivel, Liam Romero, Carlos Lago) 3:56.79; 5. Olympian (Jaesang Kim, Dylan Banerjee, Grayson Rushing, Diego Vazquez) 4:11.18; 6. Bonita Vista (Freddie Sanchez, Eli Hutchins, Evan McDaniel, Jaan DeLeon) 5:03.96; 7. Mater Dei Catholic (Julian To, Jorge Montiel, Kieran McConchie, Zachary Crockett) 5:11.09
Team scores: 1. Eastlake 565.5; 2. Olymipan 277; 3. Hilltop 268; 4. Otay Ranch 241; 5. Mater Dei Catholic 196; 6. Mar Vista 193.5; 7. Bonita Vista 158
Eastlake High School's girls 200-yard freestyle relay championship team. Photo by Phillip Brents
Girls Finals
200 medley relay: 1. Eastlake (Victoria Naval, Emily Lundgren, Aranza Martha, Mirsha Lora) 1:48.95 (meet record); 2. Olympian (Audrey Hill, Poppy Caonstantino, Grace Hill, Annia Luna) 1:57.50; 3.rlu Mater Dei Catholic (Isabella Chavez-Varela, Mary Jackson, Emilia Garcia, Lauren Nicanor) 1:58.95; 4. Bonita Vista (Sarah Hardin, Aparri Tarpley, Paola Castillo, Olivia Gutierrez) 2:00.02; 5. Otay Ranch (Jamelyn Tan, Isabella Dang, Ivanna Munoz, Myriah Hurtado) 2:10.39; 6. Hilltop (Hannah Zimmerman, Chiara Carlucci, Magnolia Olin, Bryanna Chrisock) 2:14.11
200 freestyle: 1. Paola Castillo (Bonita Vista) 1;56.22; 2. Mirsha Lora (Eastlake) 1:57.43; 3. Abigail Connor (Eastlake) 2:10.24; 4. Daniella Rivas (Eastlake) 2:10.32; 5. Ana Mendias-Navarrete (Eastlake) 2:23.06; 6. Makaylin McIntryre (Hilltop) 2:26.77; 7. Bella Kovar (Bonita Vista) 2:27.84; 8. Ivanna Munoz (Otay Ranch) 2:30.43
200 individual medley: 1. Isabella Chavez-Varela (Mater Dei Catholic) 2:03.18 (meet record); 2. Emily Lundgren (Eastlake) 2:05.22; 3. Poppy Constantino (Olympian) 2:13.98; 4. Dani Ramirez-Ruvalcaba (Eastlake) 2:19.84; 5. Katherine Noller (Eastlake) 2:23.45; 6. Isabella Dang (Otay Ranch) 2:25.70; 7. Grace Hill (Olympian) 2:29.08; 8. Magnolia Olin (Hilltop) 2:30.44
50 freestyle: 1. Aranza Martha (Eastlake) 24.49; 2. Morgan Watson (Eastlake) 25.36; 3. Jamelyn Tan (Otay Ranch) 26.56; 4. Olivia Gutierrez (Bonita Vista) 26.70; 5. Melinda Espinosa (Eastlake) 27.76; 6. Sara Bishop (Eastlake) 27.83; 7. Annia Luna (Olympian) 28.17; 8. Kayla Rosenberg (Hilltop) 30.22
100 butterfly: 1. Audrey Hill (Olympian) 57.69 (meet record); 2. Sarah Hardin (Bonita Vista) 57.79; 3. Mary Jackson (Mater Dei Catholic) 1:02.45; 4. Aleesa Ebert (Eastlake) 1:04.13; 5. Emilia Garcia (Mater Dei Catholic) 1:04.29; 6. Grace Hill (Olympian) 1:06.31; 7. Daniella Rivas (Eastlake) 1:06.82; Magnolia Olin (Hilltop) DQ
100 freestyle: 1. Aranza Martha (Eastlake) 53.69; 2. Victoria Naval (Eastlake) 54.80; 3. Morgan Watson (Eastlake) 56.22; 4. Olivia Gutierrez (Bonita Vista) 58.55; 5. Melinda Espinosa (Eastlake) 59.26; 6. Ayaka Hirayama (Olympian) 1:02.87; 7. Annia Luna (Olympian) 1:03.74; 8. Sylvanna Olivas (Bonita Vista) 1:03.93
500 freestyle: 1. Isabella Chavez-Varela (Mater Dei Catholic) 4:59.14 (meet record); 2. Paola Castillo (Bonita Vista) 5:14.89; 3. Mirsha Lora (Eastlake) 5:15.46; 4. Erin Gidley (Eastlake) 5:30.09; 5. Katherine Noller (Eastlake) 5:38.08; 6. Sarah Tenney (Eastlake) 5:53.71; 7. Erika Preciado (Mar Vista) 6:29.74; 8. Lily Carranza (Bonita Vista) 6:41.08
200 freestyle relay: 1. (tie) Bonita Vista (Sarah Hardin, Aparri Tarpley, Olivia Gutierrez, Paola Castillo), Eastlake (Morgan Watson, Camille Arvega, Melinda Espinosa, Erin Gidley) 1:45.71; 3. Olympian (Audrey Hill, Annia Luna, Grace Hill, Poppy Constantino) 1:46.77; 4. Hilltop (Cambria Kirschenman, Sunny Perkins, Makaylin McIntyre, Bryanna Chrisock) 1:59.64; 5. Mater Dei Catholic (Lauren Nicanor, Amanda Dougherty, Kaylana Kelly, Michelle Martinez) 2:00.89; 6. Otay Ranch (Mariana Aguilar, Taylor Kreilich, Destiny Ruiz, Osabella De la Ossa) 2:21.20
100 backstroke: 1. Sarah Hardin (Bonita Vista) 59.20; 2. Audrey Hill (Olympian) 1:00.54; 3. Victoria Naval (Eastlake) 1:02.24l 4. Abigail Conner (Eastlake) 1:06.73; 5. Jamelyn Tan (Otay Ranch) 1:07.39; 6. (tie) Sarah Tenney (Eastlake), Emilia Garcia (Mater Dei Catholic) 1:07.90; 8. Camille Arcega (Easltake) 1:11.20
100 breaststroke: 1. Emily Lundgren (Eastlake) 1:01.54 (meet record); 2. Poppy Constantino (Olympian) 1:08.30; 3. Mary Jackson (Mater Dei Catholic) 1:10.16; 4. Dani Ramirez-Ruvalcaba (Eastlake) 1:11.17; 5. Isabella Dang (Otay Ranch) 1:11.48; 6. Aleesa Ebert (Eastlake) 1:17.25; 7. Ayaka Hirayama (Olympian) 1:21.89; 8. Isabella Del Castillo (Eastlake) 1:23.94
400 freestyle relay: 1. Eastlake (Aranza Martha, Victoria Naval, Mirsha Lora, Emily Lundgren) 3:37.87 (meet record); 2. Mater Dei Catholic (Emilia Garcia, Mary Jackson, Samantha Labrada, Isabella Chavez-Varela) 4:01.14; 3. Otay Ranch (Ivanna Munoz, Jamelyn Tan, Isabella Dang, Myriah Hurtado) 4:16.24; 4. Hilltop (Sunny Perkins, Hannah Zimmerman, Makaylin McIntyre, Magnolia Olin) 4:30.19; 5. Bonita Vista (Sylvanna Olivas, Lily Carranza, Rylie Ewert, Danica Clowers) 4:46.43; 6. Olympian (Miley Belen, Addison Rushing, Bella Colangeo, Ayaka Hirayama) 4:49.15
Team scores: 1. Eastlake 577.5; 2. Olympian 296; 3. Bonita Vista 290; 4. Mater Dei Catholic 259.5; 5. Hilltop 190; 6. Otay Ranch 170; 7. Mar Vista 25
PARADE OF CHAMPIONS
Photos by Phillip Brents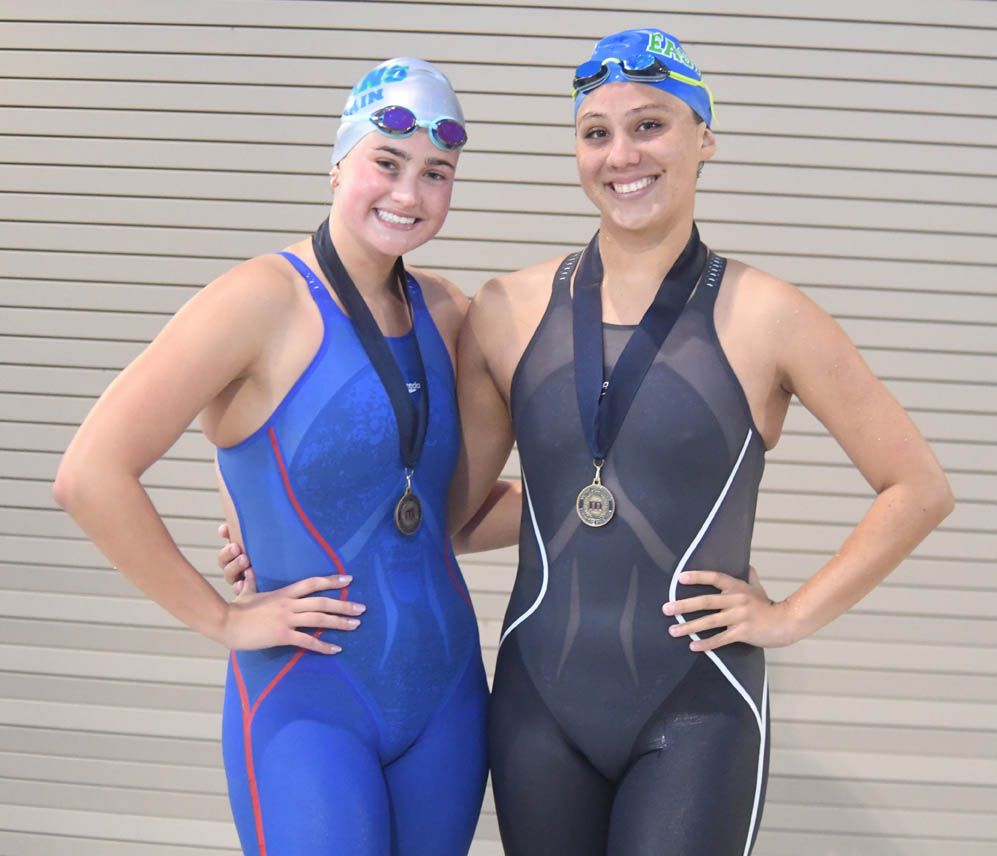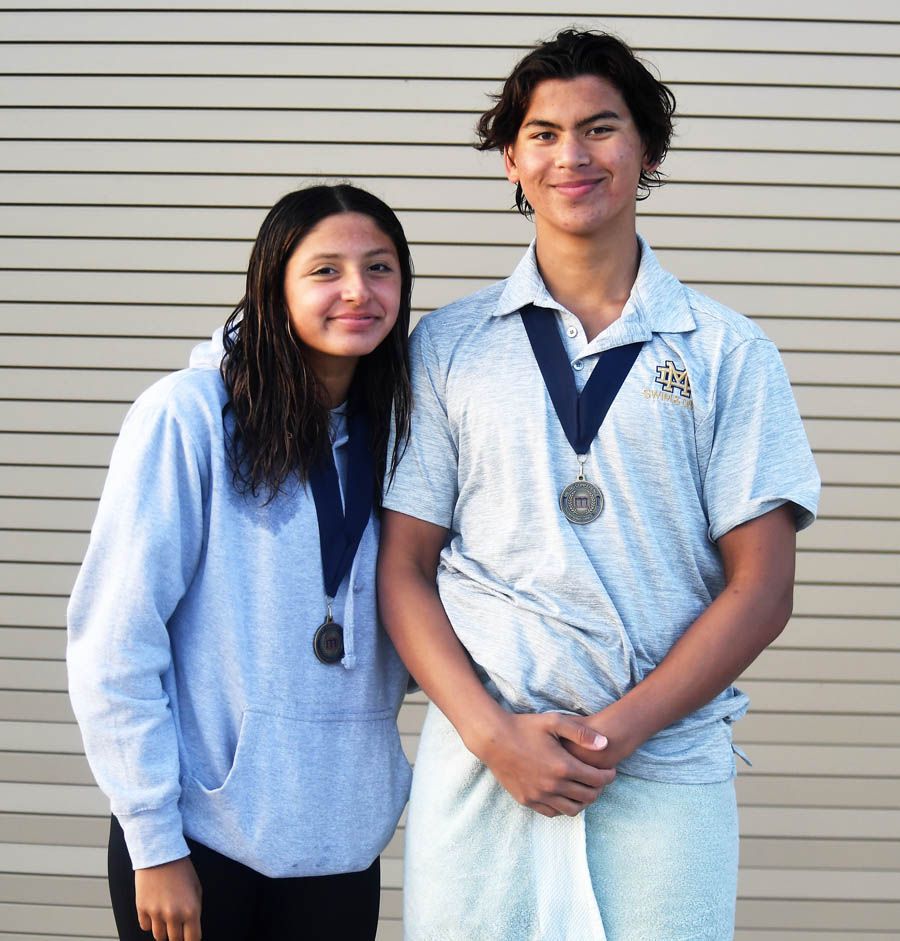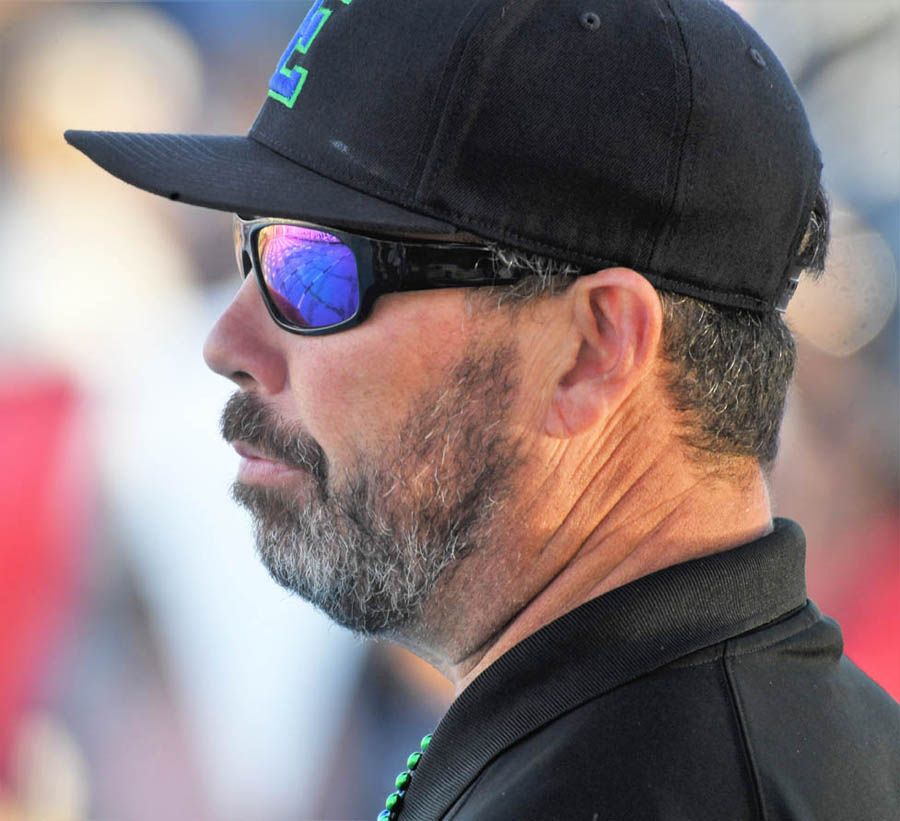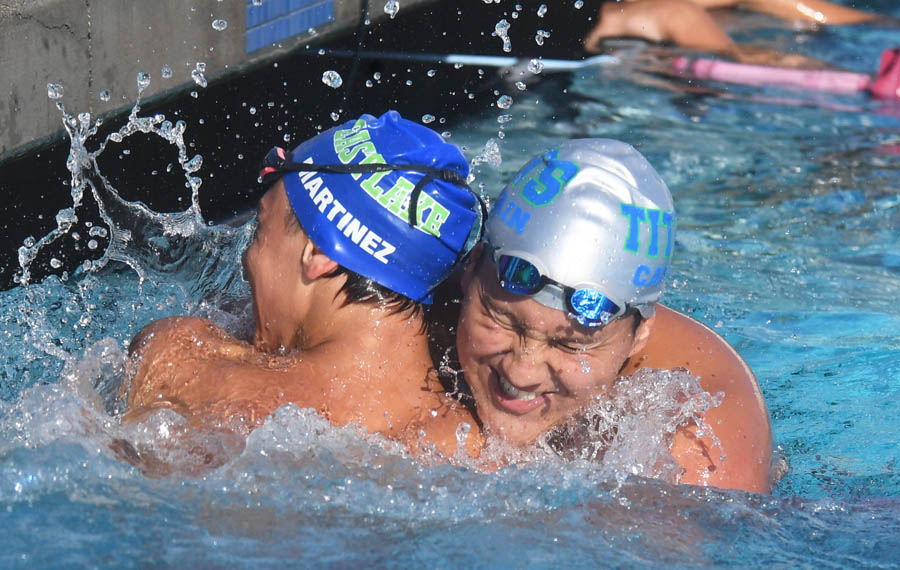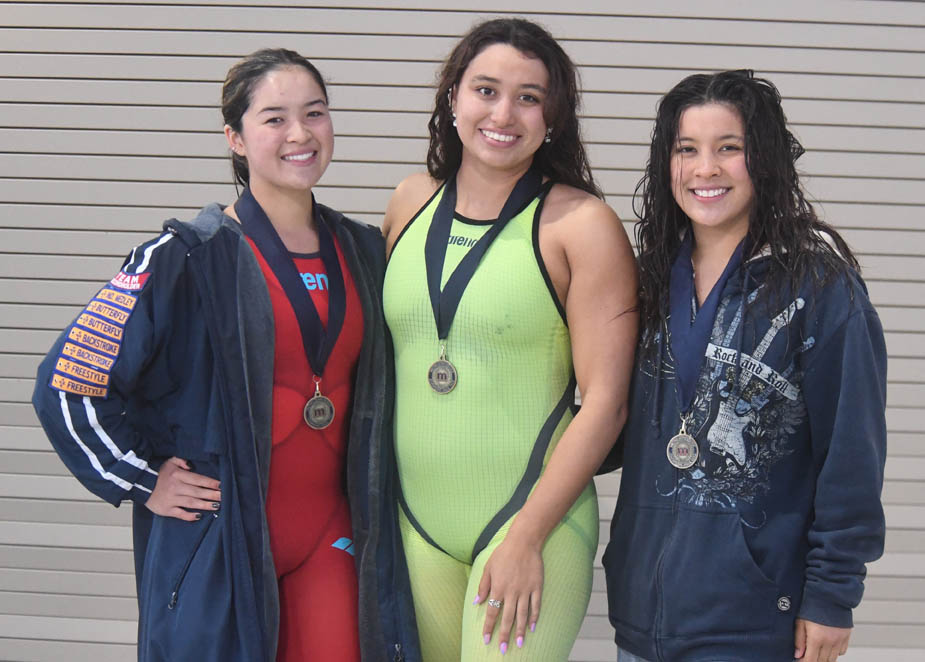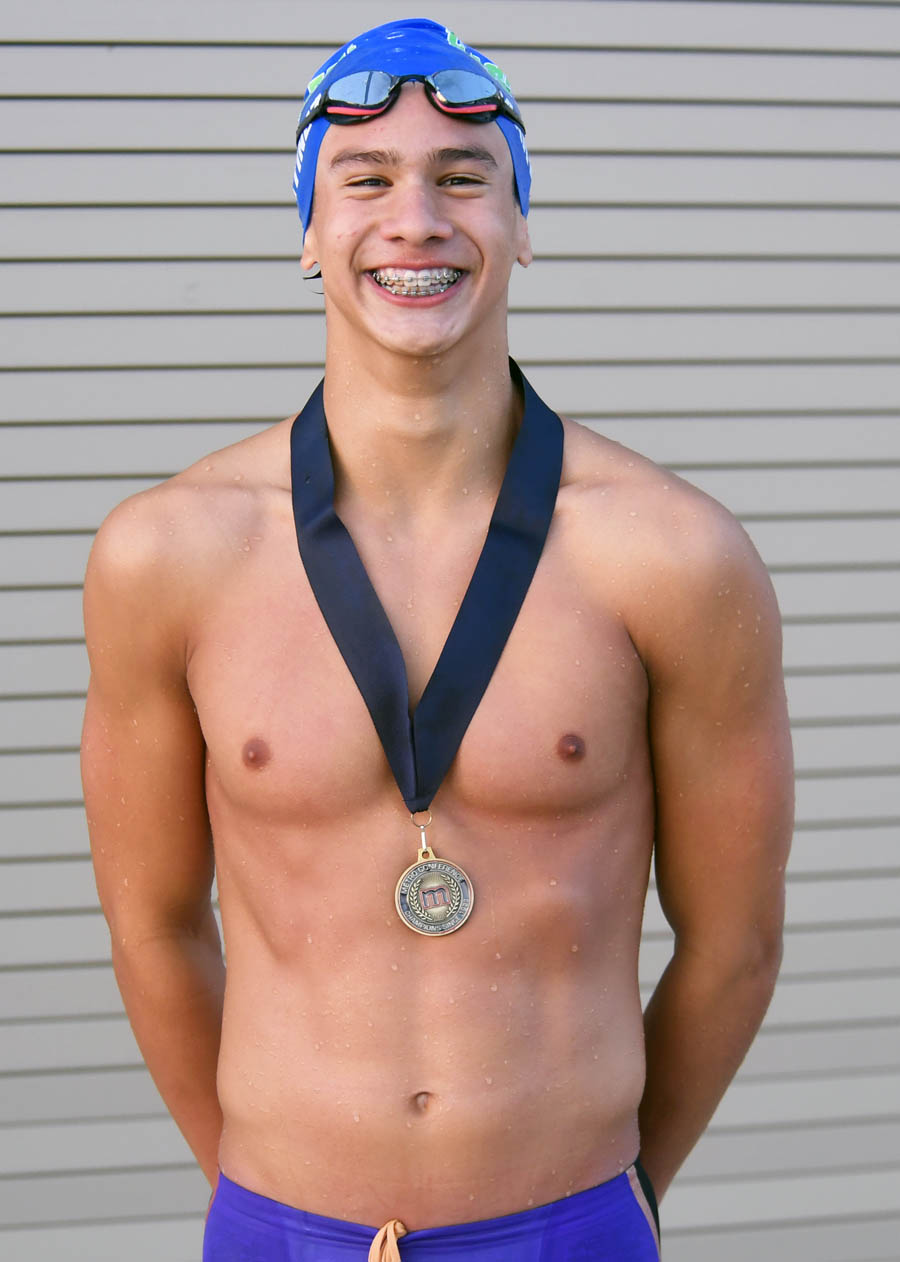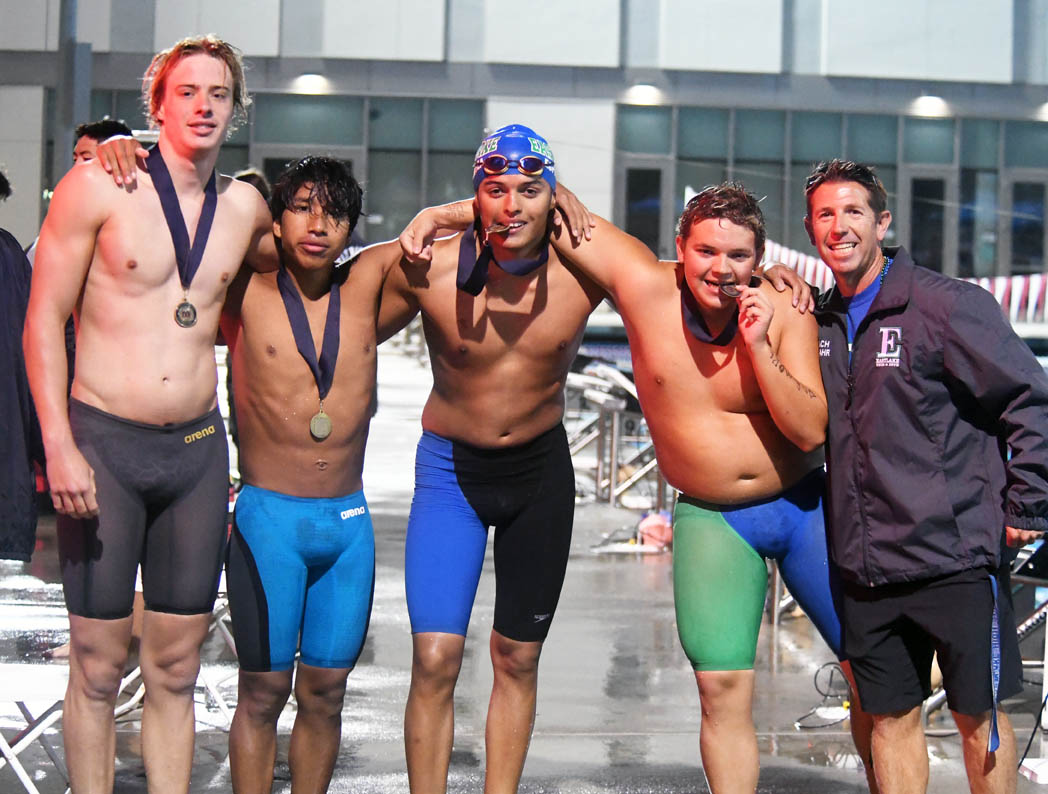 Parting shots