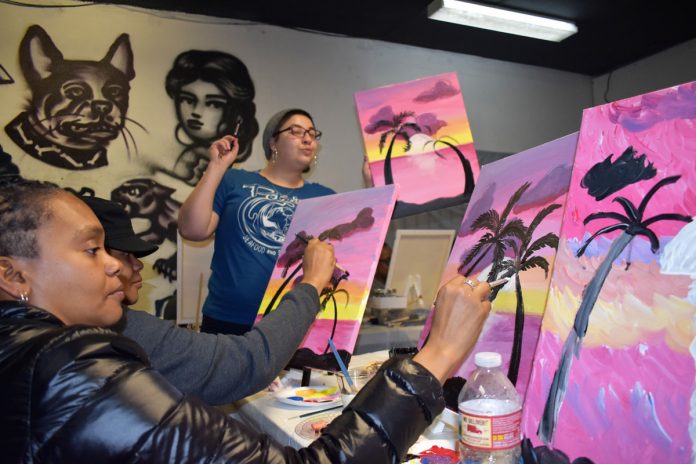 Sip & Paint parties, where participants pay to sip wine and paint, have evolved to the next level in the age of recreational cannabis — Puff & Paint parties.
With legalization of the use of recreational marijuana in 2018 the gatherings are reportedly held in San Diego, La Jolla, National City and Chula Vista.
Attendees can smoke marijuana and then paint. Or only paint if they choose not to smoke.
"I've been to Puff & Paints all over San Diego and in La Jolla," said Irie Earnest. "La Jolla had about 15-20 people."
"I have lupus and fibromyalgia. I've had the medicinal marijuana card about seven years," Earnest said.
During a recent party at a National City storefront an instructor guided participants through the painting process. Organizers did not provide marijuana.
"Most brought their own. It's a private party and I rented the space," said Briana Benyard, the organizer. "It's recreational use, which is legal now. I had been to a sip and paint, this is the next level with puff."
"I heard of some in Colorado. I went on a ski trip and I went to a Puff & Paint there," said Benyard.
"I was hoping to bring my Bob Ross tonight," said Goring Jordan of National City. "I'm going to paint a marijuana leaf but I'm feeling sassy — maybe I'll try a sunset."
In California the sale, use and possession of recreational marijuana is legal, although consuming cannabis in public is prohibited.
"Commercial marijuana activity is prohibited in the city of National City under National City Municipal Code section 10.14.020," according to a senior assistant city attorney's statement.
"We are looking into it," said Nicole Pedone, senior assistant city attorney, the matter is still being researched.