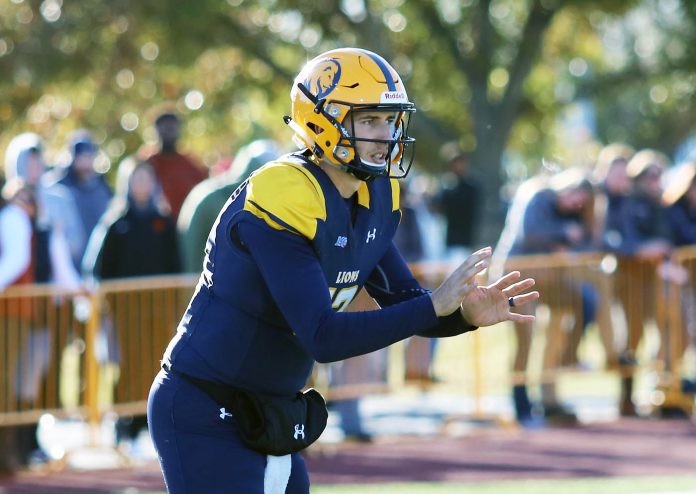 The Alliance of American Football is just three weeks old and South County native Luis Perez has already become one of its first stars.
Perez, who attended Otay Ranch High School and played parts of two seasons at Southwestern College, is the starting quarterback for the Birmingham Iron, one of eight teams in the start-up professional league.
Perez has led the Iron to a 3-0 start and ranks as one of the league's top quarterbacks.
He passed for 252 yards, completing 19 of 33 aerials, in Birmingham's 26-0 season opening win over the visiting Memphis Express.
He tacked on 184 passing yards in last Sunday's 12-9 come-from-behind win over the visiting Salt Lake Stallions.
In last Sunday's 28-12 win in Atlanta, Perez completed 17 of 31 attempts for 160 yards with one interception.
In three games, he's passed for 596 yards while completing 58.8 percent of his passes. While he has yet to complete a touchdown pass, he's has thrown only one interception.
The former SWC signal-caller entered last Sunday's game with a quarterback rating of 78.1.
The early season success that Perez, who guided Texas A&M University-Commerce to the 2017 NCAA Division II championship and, in the process, captured the Harlon Hill Trophy (the Division II equivalent of the Division I Heisman Trophy), has had is not really a surprise to Southwestern College coach Ed Carberry.
"I've really enjoyed watching him play," Carberry explained. "He's very accurate, which is not a new thing for him. He had a few drops, including a touchdown that hit a wide receiver right in the chest (in the season opener).
"The opponent played a defensive coverage that gave Birmingham the short-catch throws. Luis did a good job on that. The last drive was made up of great throws and short runs to win the game.
"Winners win."
Perez, who participated in the Los Angeles Rams training camp last summer and played in one exhibition game before being dropped to the team's practice squad, called the fledgling AAF a "league of opportunity" — and rightly so.
"We're very fortunate to be a part of something like this," Perez, 24, told the media during a press conference earlier this week in Birmingham. "All of us here, our goal is to go to the NFL."
If he continues to develop throughout the season, he may not be in the AAF long.
According to media reports, at least eight NFL teams have expressed interest in Perez.
For the moment, Perez said his goal is to continue to develop as he likely has the least experience among the league's starting quarterbacks.
"I didn't play high school football," he said. "I went to junior college. I played Division II, didn't play in a powerhouse in Division I. This is a big opportunity. That's what I see it as … to get out on the field and get exposure. I have the energy to get better, for sure."
With a strong defense in front of him and former NFL running back Trent Richardson behind him in the backfield, Perez hasn't been called on to be Superman.
"Defense wins championships," Perez noted. "I'm very fortunate to have a defense like that. Trent is an unbelievable person and player. He works very hard."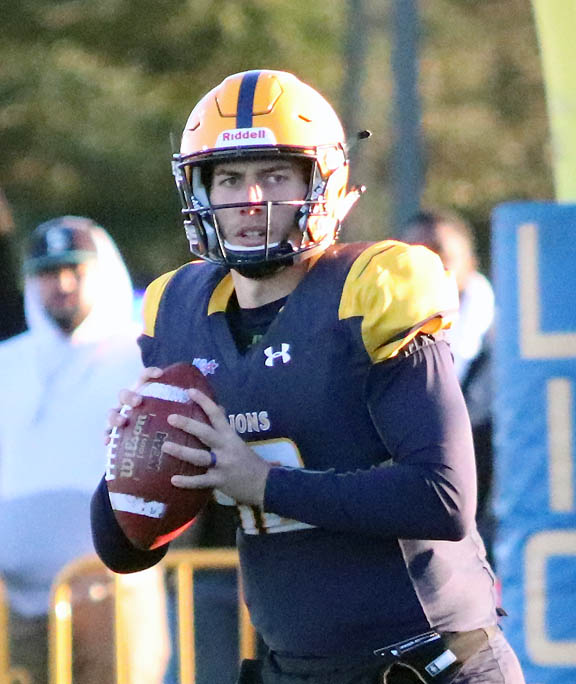 Homegrown
Perez, who grew up in the Rancho del Rey neighborhood in eastern Chula Vista, graduated from Otay Ranch High School in 2012. He played youth football and later basketball at Otay Ranch but never varsity football with the Mustangs, being listed as tight end at the sub-varsity level.
Perez took up amateur bowling at age 9 and eventually became a top amateur bowler in California with 12 perfect games to his credit.
However, the love for football persisted and, with no game film and varsity high school experience, he walked on at Southwestern College. Initially he was listed ninth on the Jaguars' depth chart in training camp. Due to injuries and transfers of other players, he eventually moved up to No. 2 on the team's depth chart.
Due to an injury, Perez got the start in Week 3 of the 2013 season for Southwestern, throwing for 250 yards and two touchdowns while rushing for one touchdown in a win over Los Angeles Pierce College.
Perez played in roughly half of the Jaguars' games that season before injuring his leg. He started again the next season and led the Jaguars to a conference title and was named all-conference while throwing for 280 yards in three or more games. His best game of the 2014 season came against San Bernardino Valley in which he threw for 299 yards and three touchdowns by completing 31 of 44 attempts (70.5 perent).
Perez completed 67.8 percent of his passes for 1,846 yards, 18 touchdowns and three interceptions his final season as a Jaguar, finishing with a quarterback rating of 100.75.
Perez transferred to Texas A&M-Commerce and red-shirted his first season in 2015. He became the first quarterback of Mexican-American or Hispanic heritage to start for the Lions in 2016.
Texas A&M-Commerce went 10-1 in the regular season in 2017 and qualified for the NCAA Division II playoffs, winning five playoff games en route to claiming the school's first national championship since joining the NCAA in 1982.
A First Team All-American in 2017, Perez guided the Lions to a 22-3 record during his playing time there. He passed for 5,001 yards his final season while completing 70.6 percent of his passes. He threw 46 touchdowns against 11 interceptions, finishing the season with a quarterback rating of 113.94.
He was one of just three NCAA passers (at all levels) to throw for more than 4,000 yards in 2017.
Yet he went unclaimed during the 2018 NFL Draft, electing to sign with the Los Angeles Rams as a free agent.
"It's one of those things when if you want something so bad you'll find a way to do it," Perez told CBS Sports. "When I was a child, at heart I was always a quarterback. That was one of the things I wanted, to play quarterback in the NFL. I set my mind to it and I was able to do it in a short stint with the L.A. Rams."
Perez described his first start as a pro with the Iron as an "unbelievable experience."
"Being the leader and the quarterback of the franchise is unbelievable," he said in the interview. "It's something I've dreamt of, for sure, especially with my experience of not having played high school football. I don't have the experience maybe that some of these guys have, playing 12 years of football.
"It's great to develop and learn. My biggest thing is learning to get better."
The success of the Iron will depend on how well the team gels, according to Perez.
"It takes all 11 players on offense and defense to make it work," he said. "We want to play quality football throughout the year. There's a six-month period where there is no football. We want to fill that void."
Fleet head coach Mike Martz confirmed much of what Perez has said in regard to the league.
"There are players on both sides who should be in the NFL," Martz told the media following last Sunday's 24-12 come-from-behind home field win over the Atlanta Legends.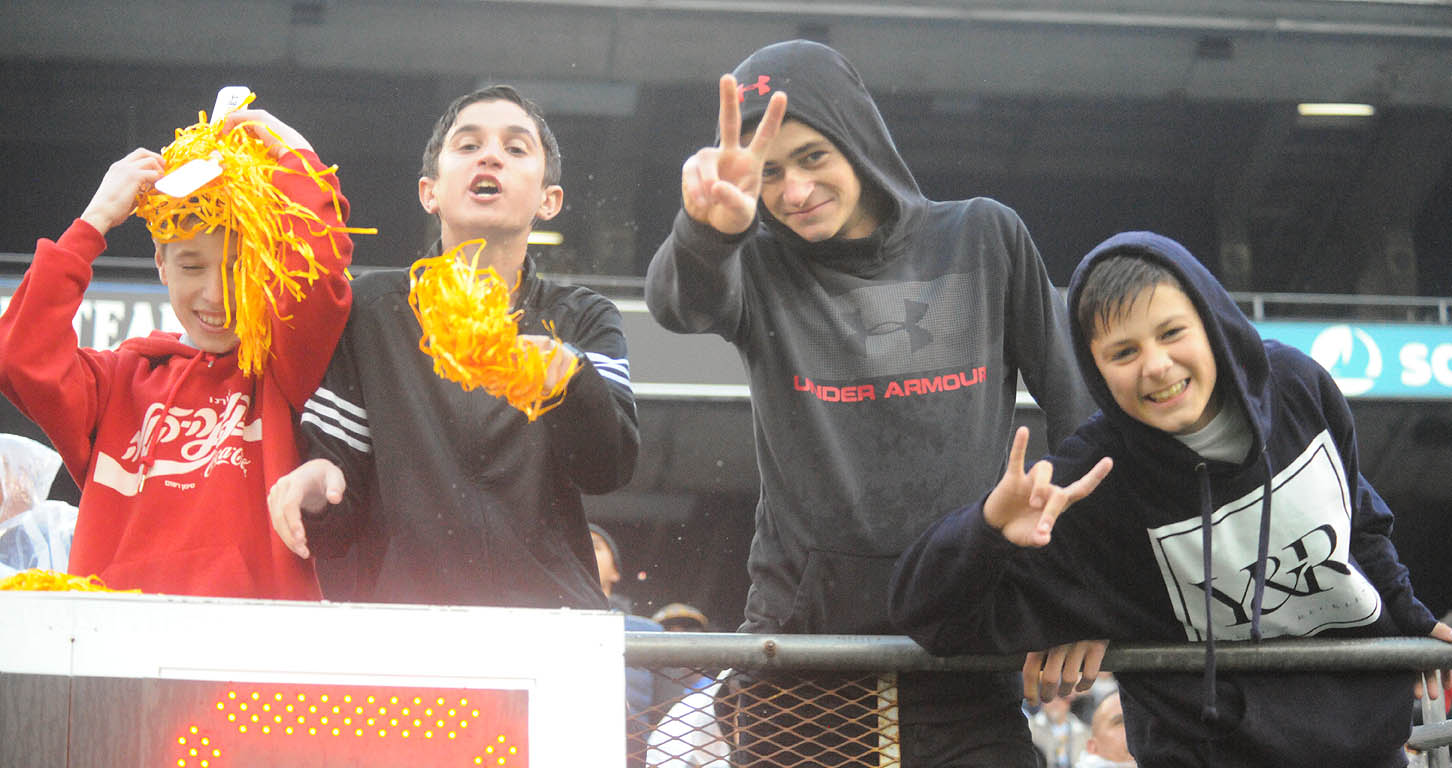 All hands on deck
The AAF has generated mostly positive feedback from media sources. Of note, the league's inaugural telecast on CBS-TV outdrew an NBA game.
League attendance has ranged from 12,000 to 27,000. A few games have been played in downpours, including last Sunday's San Diego Fleet home game at SDCCU Stadium against the Atlanta Legends.
Most fans huddled beneath the deck overhang during rain showers, eventually coming down to fill in a sea of otherwise empty seats as the rain finally abated in the fourth quarter.
The Fleet announced a gathering of 20,019, though it was evident many fans stayed home due to the inclement weather.
But the fans who did show up seemed to have developed an immediate love affair with the team, shouting "Fleet! Fleet!" on every play from scrimmage.
While Carberry did not attend the Fleet's inaugural home game last Sunday, he did have positive comments about the start-up league.
"Overall pretty good football," he said. "The defensive side is ahead of the game."
Sweetwater High School boys basketball coach Jesse Aguirre was among those in attendance.
"We had a good time," Aguirre said. "I think if the weather was better there would have been a bigger crowd. I think this city is hungry for football. The Chargers left a bad taste in everybody's mouth. I was a season ticket holder for seven years before they left. I think if this team starts winning the city will get behind them. It was some pretty good football and some good hitting going on."
More questions will be answered this Sunday (Feb. 24) when the Fleet hosts the San Antonio Commanders, a team that defeated the Fleet in its season opener 15-6 on Feb. 9 in Texas.
Kick-off is 5 p.m.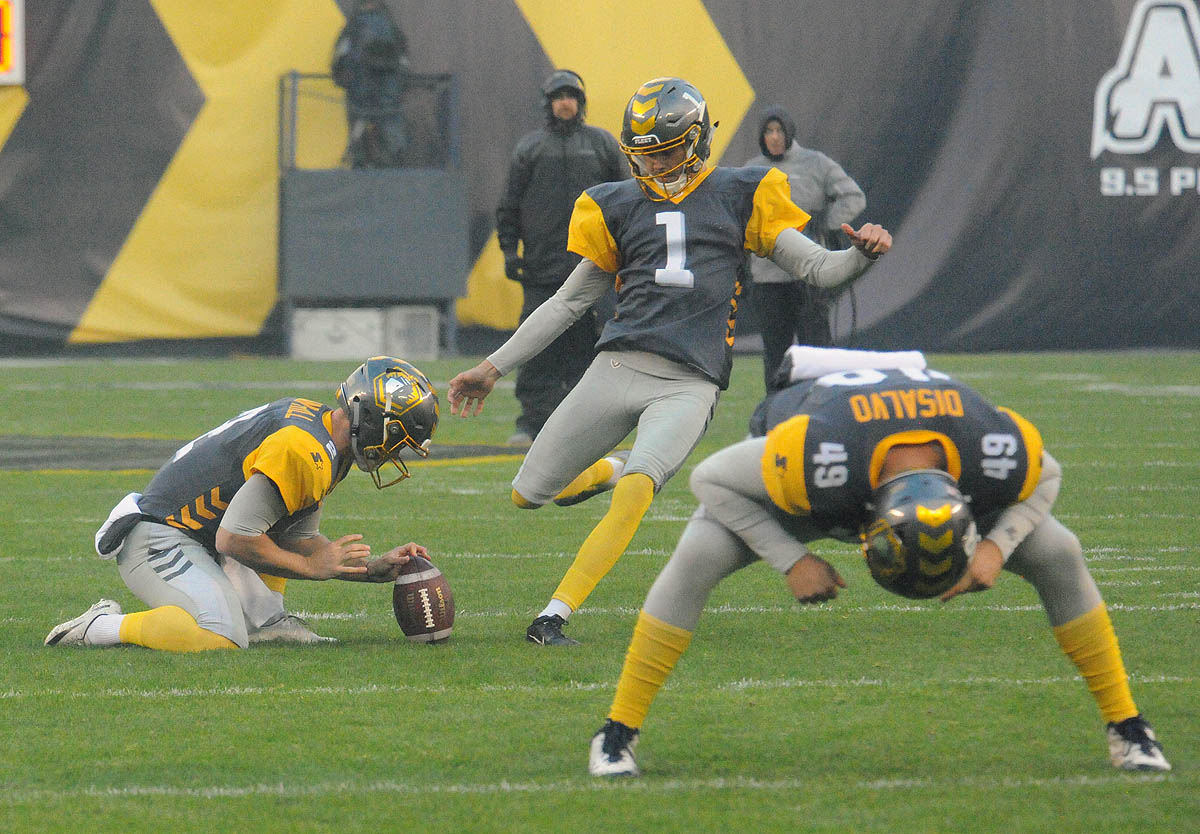 Extra points
Former SDSU kicker Donny Hageman, who last kicked in a real game in 2015, has accounted for most of the Fleet's early season offense. He kicked two field goals in the Fleet's season opening 15-6 loss at San Antonio and split the uprights four times in last Sunday's 24-12 home opening win over Atlanta while dealing with wet conditiions.
The Aztecs' 2014 MVP, Hageman has been cool under pressure – a key facet NFL teams are looking for in a sure-footed place-kicker.
The Fleet has benefitted from the performances of several college standouts. Former SDSU Aztec Eric Pinkins tops the team with eight tackles. Demontre Moore (Texas A&M) is tied for the team lead with Shakir Soto (Pittsburgh) with 1.5 sacks while Ryan Moeller (Colorado) leads the Fleet defense with two interceptions.
Ja'Quan Gardner, who played collegiate football at Humboldt State, leads the Fleet with 159 rushing yards. He scored two late touchdowns to clinch last Sunday's home opening win. Quarterback Philip Nelson (East Carolina) has passed for 210 yards in two games. Top receivers include former NFL Dallas Cowboy Brian Brown (93 yards) and former SDSU standout Gavin Escobar (78 yards).
The diminutive Gardner rushed 15 times for 104 yards in last Sunday's home game, breaking off one run of 31 yards besides scoring the first two touchdowns in franchise history.
The physically much larger Terrell Watson (Azusa Pacific) gained 49 yards on 14 carries.
Nelson completed 14 of 30 passes for 142 yards with one interception.
Atlanta's Matt Simms, son of former NFL Super Bowl MVP Phil Simms, completed 17 of 25 passing attempts with one touchdown and one interception.
Photo Gallery by Phillip Brents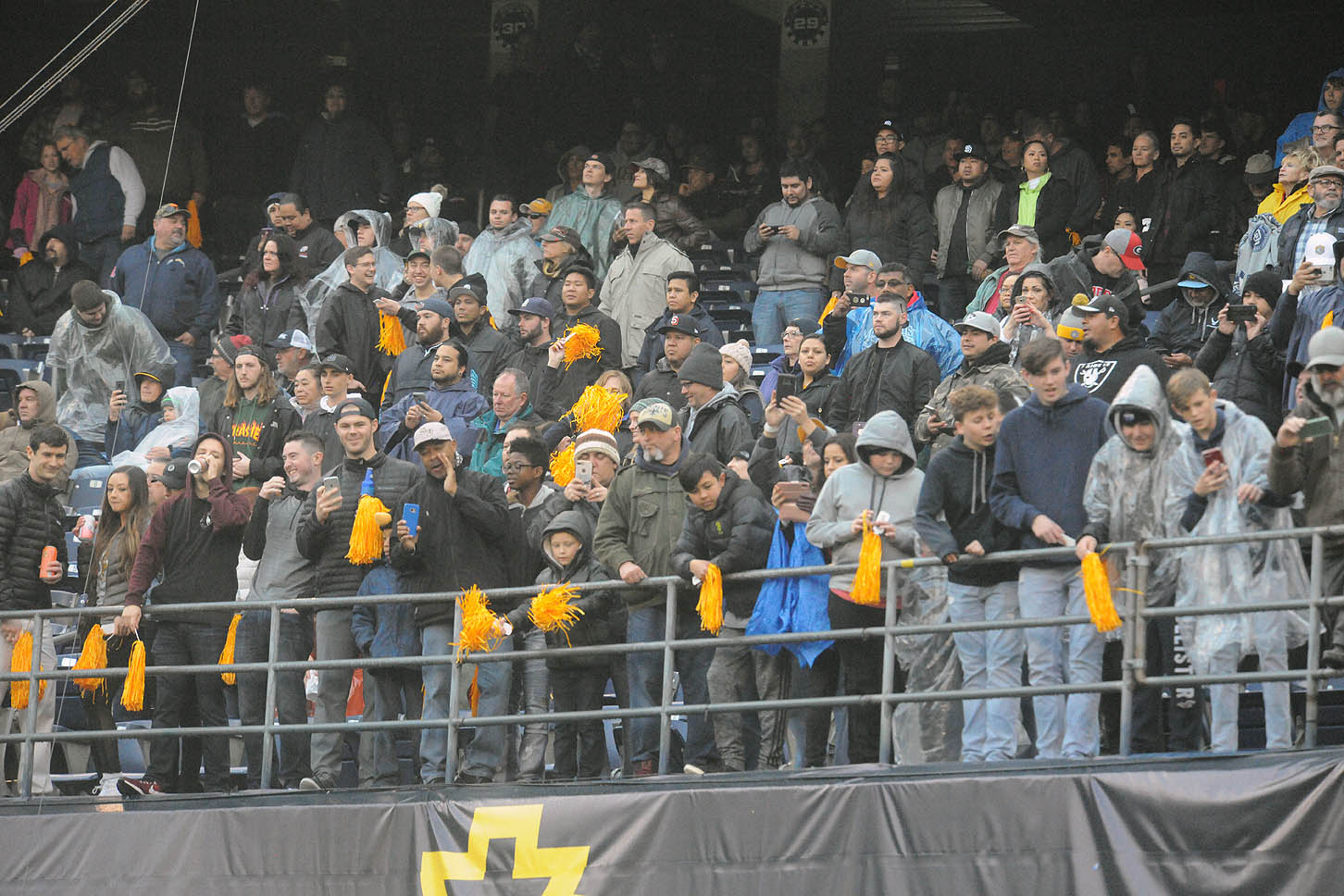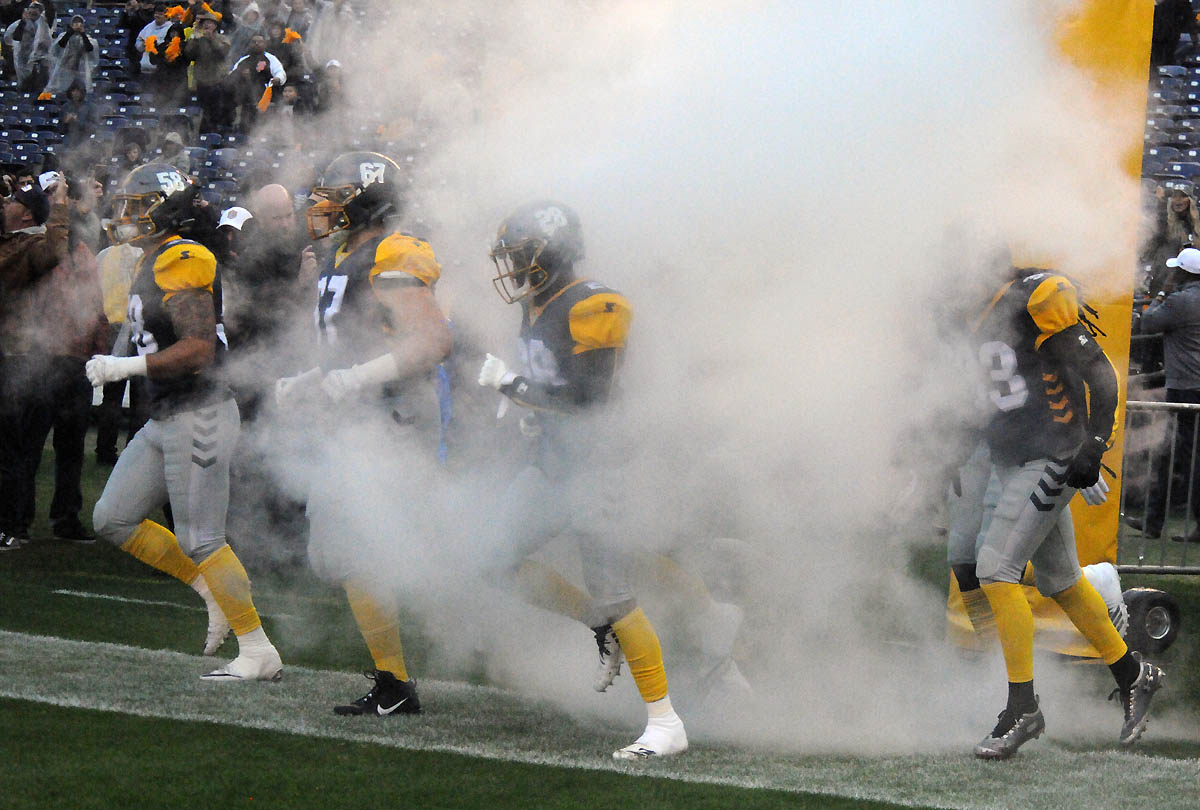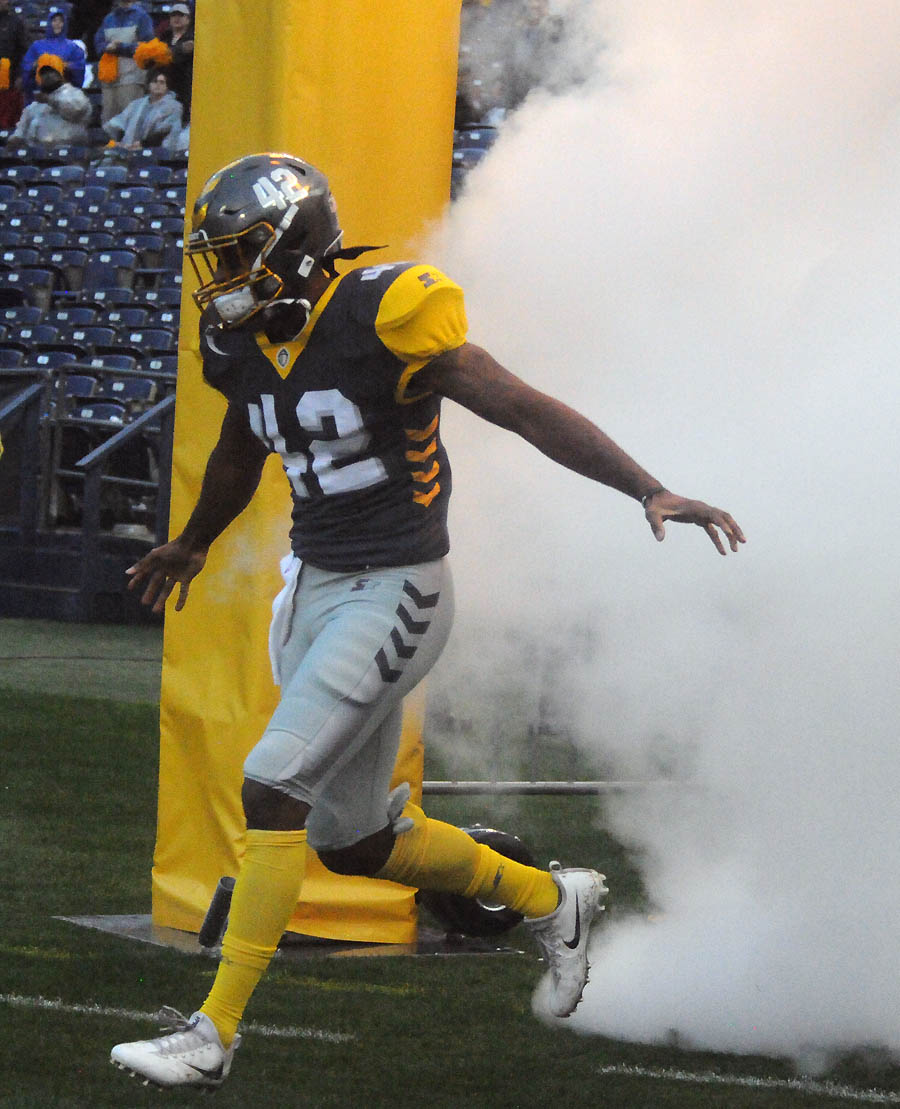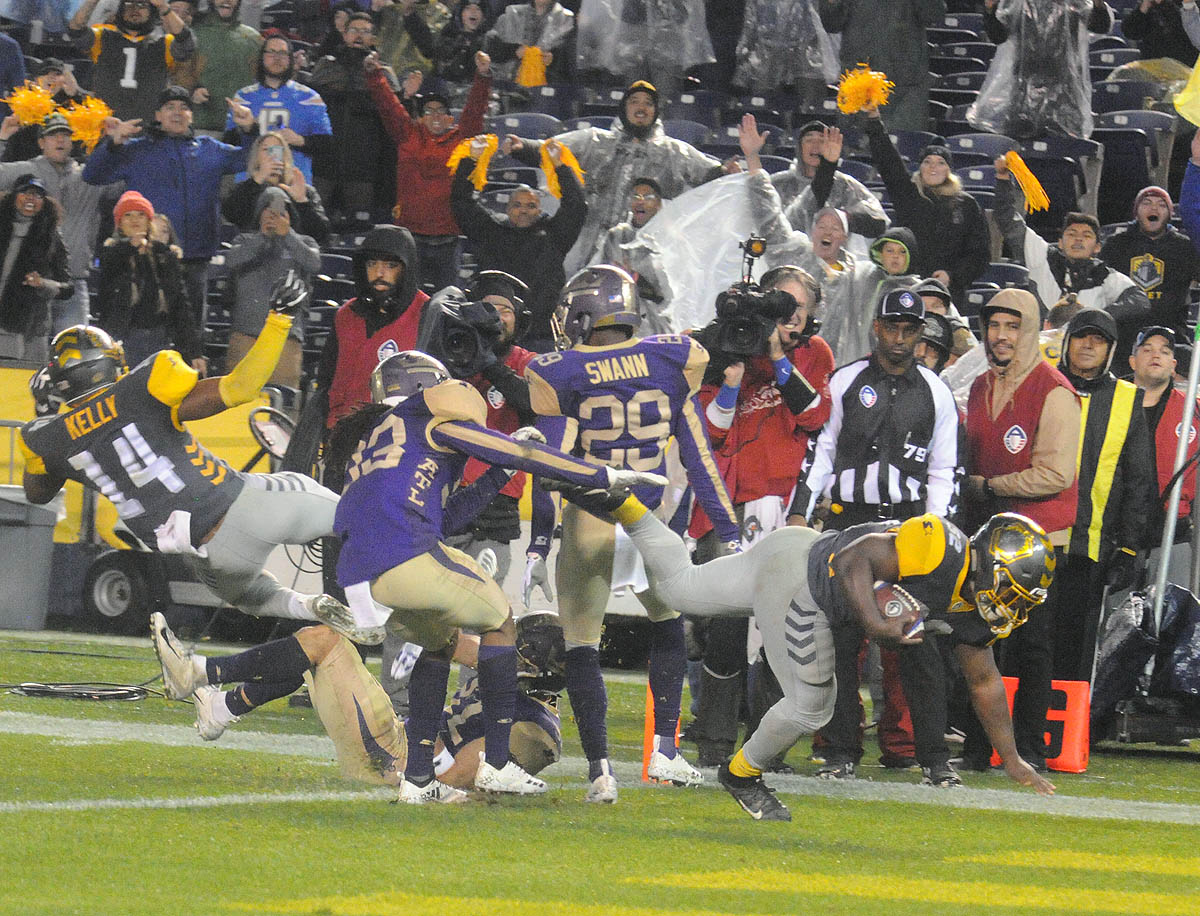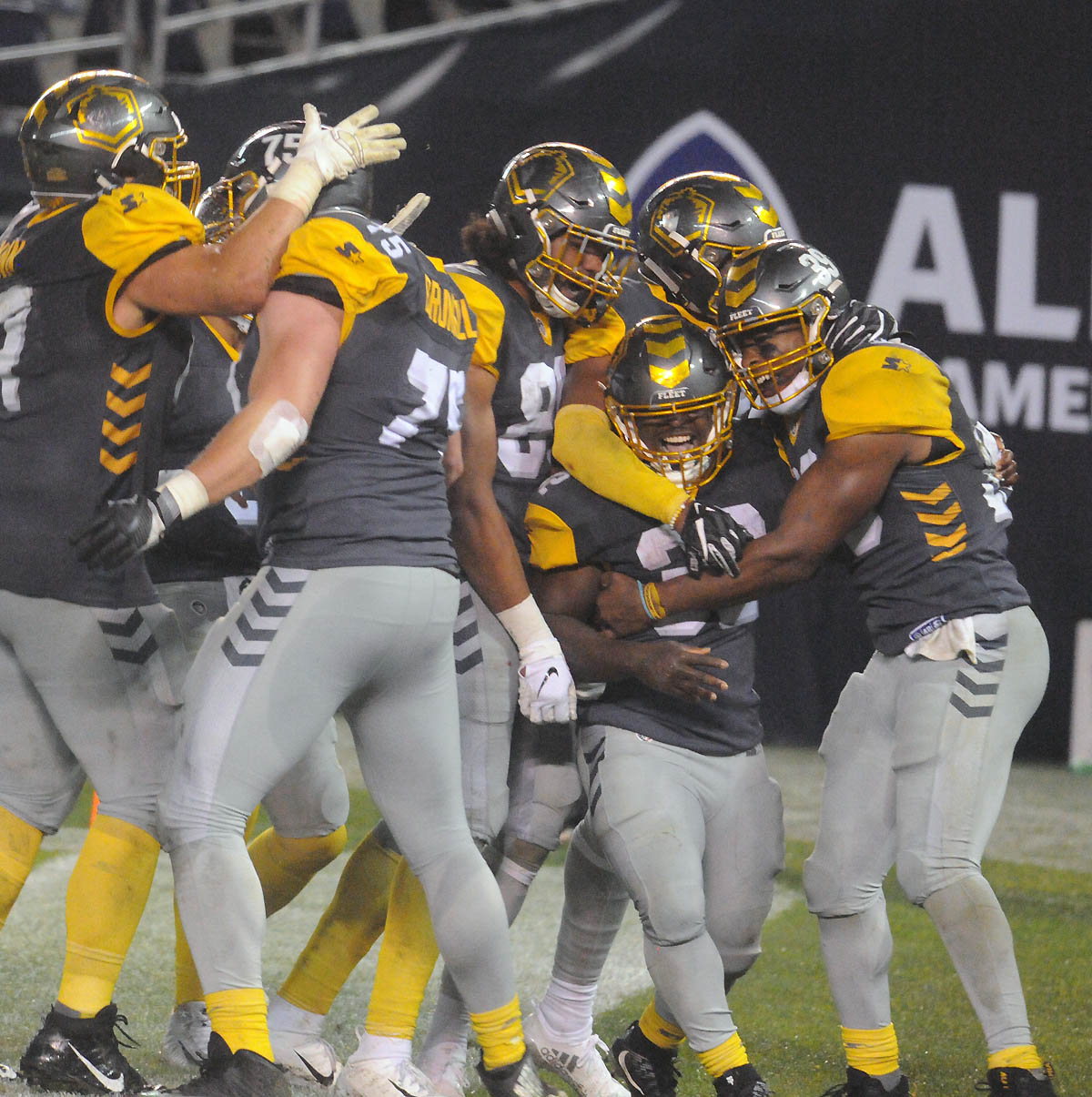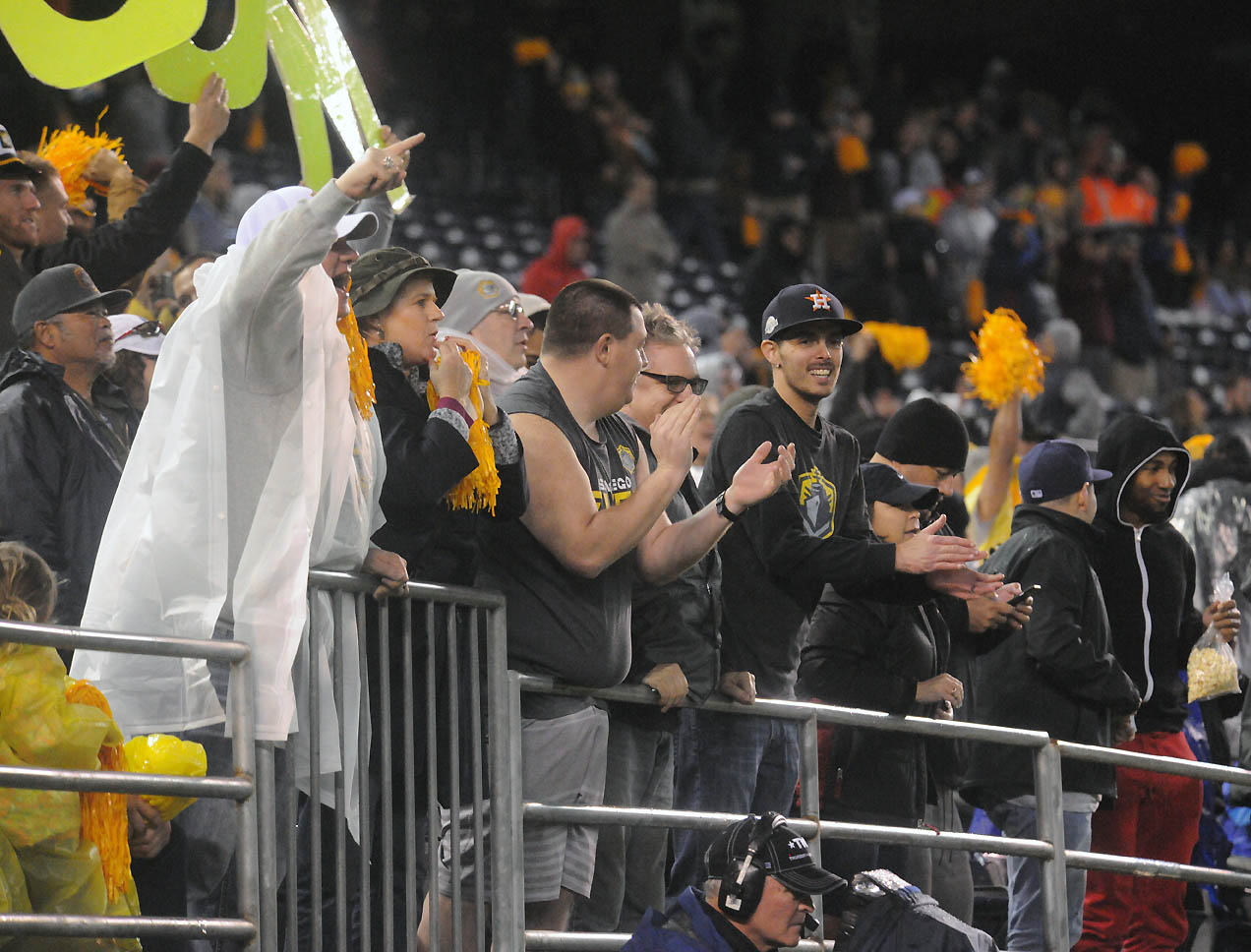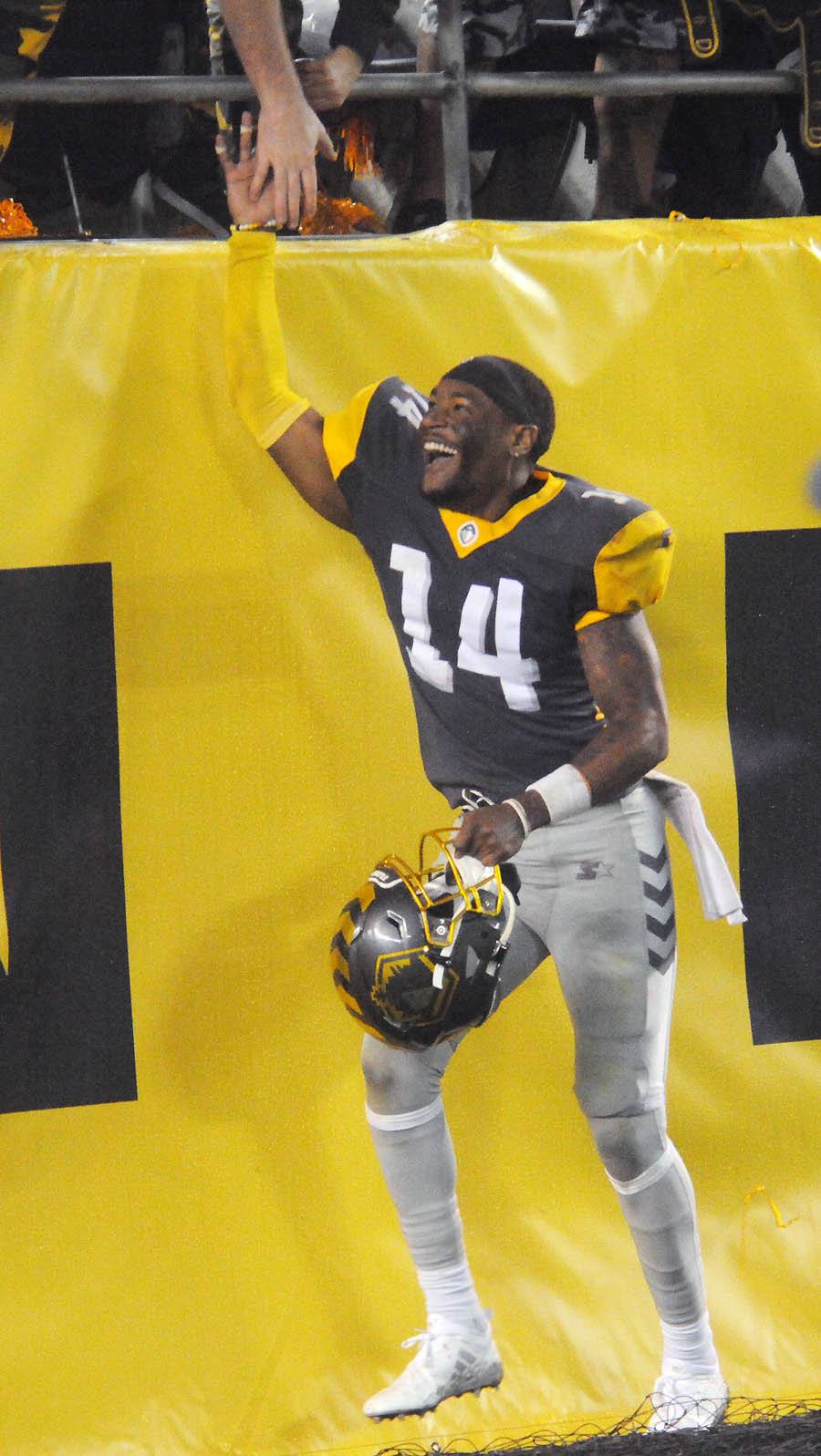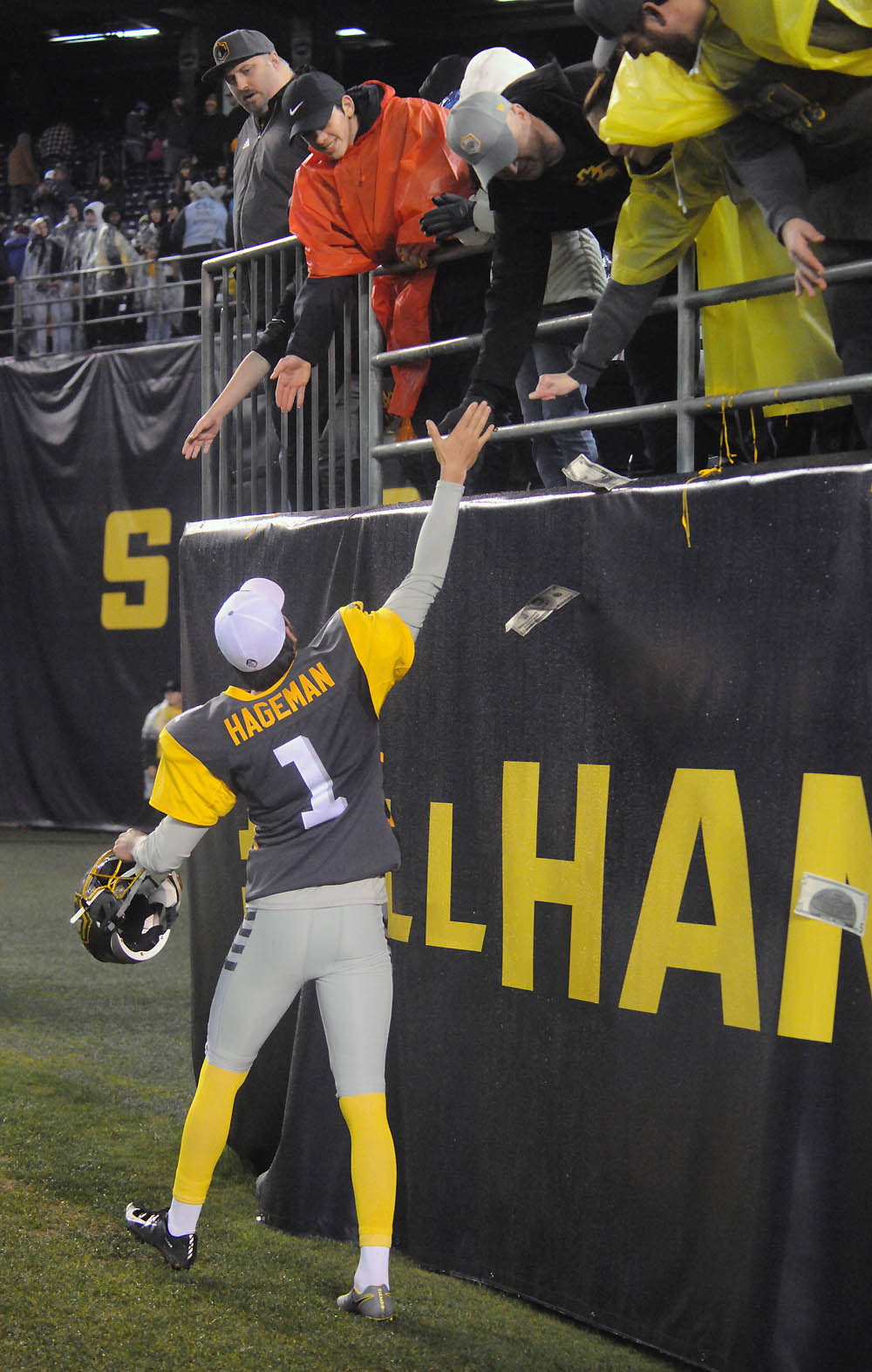 Fleet sinks San Antonio Commanders, 31-11, to capture second consecutive home win
The fledgling San Diego Fleet of the likewise fledgling Alliance of American Football continues to find its way through the early part of the 2019 season. Fleet head coach Mike Martz has to be pleased with his team's latest effort — a commanding 31-11 win over the San Antonio Commanders last Sunday, Feb. 24, at SDCCU Stadium.
The win over the Commanders — 15-6 winners over the Fleet in the teams' season opener in Texas two weeks earlier — raised the San Diego team's record to 2-1 with its second consecutive home win while the Texans dropped to 1-2.
Fleet quarterback Philip Nelson completed 17 of 25 passing attempts for 193 yards with two touchdowns and one interception while Nelson Spruce caught four passes for 50 yards, including a pair of touchdown grabs.
Developing fan favorite Ja'Quan Gardner rushed 12 times for 122 yards and tacked on one touchdown in the rout.
The game, played under clear skies, began somewhat ominously for the hosts when De'Vante Bausby intercepted Nelson's opening pass of the game and the Commanders promptly unleashed a 47-yard scoring bomb from quarterback Logan Woodside to receiver Mekale McKay.
But the Fleet rewarded its fans with four unanswered scores to take a 28-8 lead. A 27-yard interception return by A.J. Tarpley with 10:56 to play in the second quarter gave the hosts a 14-8 lead.
Gardner electrified the crowd when he broke off an 83-yard scoring run with 8:09 remaining in the third quarter to make league history with the AAF's longest rushing play from scrimmage. Gardner found a gaping hole in the line and broke into open territory, accelerating as he made separation from defenders.
Nick Rose ended the Fleet scoring barrage with a 23-yard field goal with 3:27 to play in the third quarter to make the score 28-11. But former SDSU place-kicker Donny Hageman kicked a 35-yard field goal with 11:49 to play in the fourth quarter to hike the Fleet's lead to 20 points.
The Fleet rushed for 202 yards and recorded five sacks on defense while adding two picks.
But after the Commanders scored on the ensuing two-point conversion, nothing looked certain just 19 seconds into the game with San Antonio leading 8-0.
Penalties cost the visitors dearly when an apparent touchdown pass was nullified that could have put the Commanders up 16-0 very early in the contest.
Instead, the Fleet set sail the rest of the game.
Gardner has been a catalyst for the Fleet with 326 all-purpose yards and three TDs in the team's inaugural three games. With his pick six, Tarpley earned honors as the leauge's defensive player of the week.
The Fleet will seek its third consecutive win when it visits the Memphis Express (0-3) Saturday (March 2) in Liberty Bowl Stadium.
The Fleet is tied with the Arizona Hotshots (2-1) for first place in the Western Conference.
Photo Gallery by Phillip Brents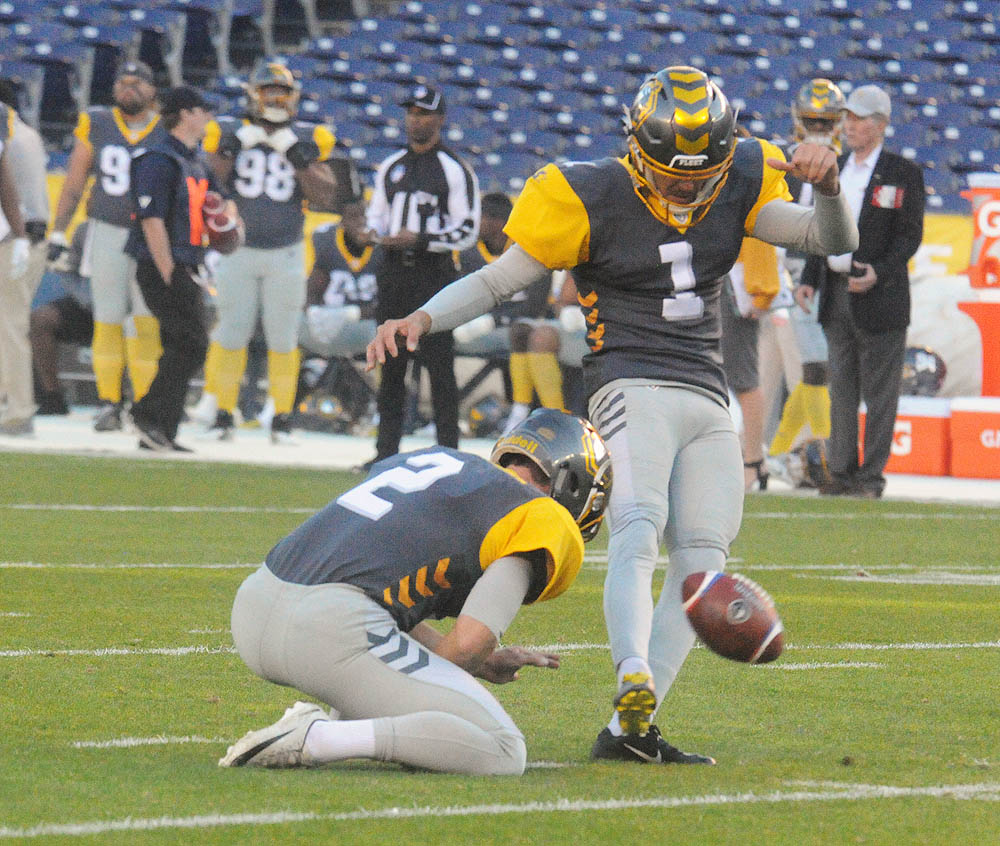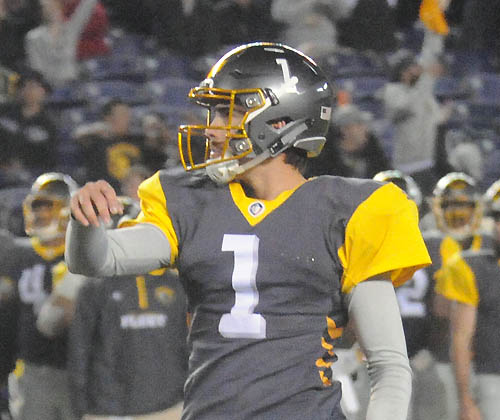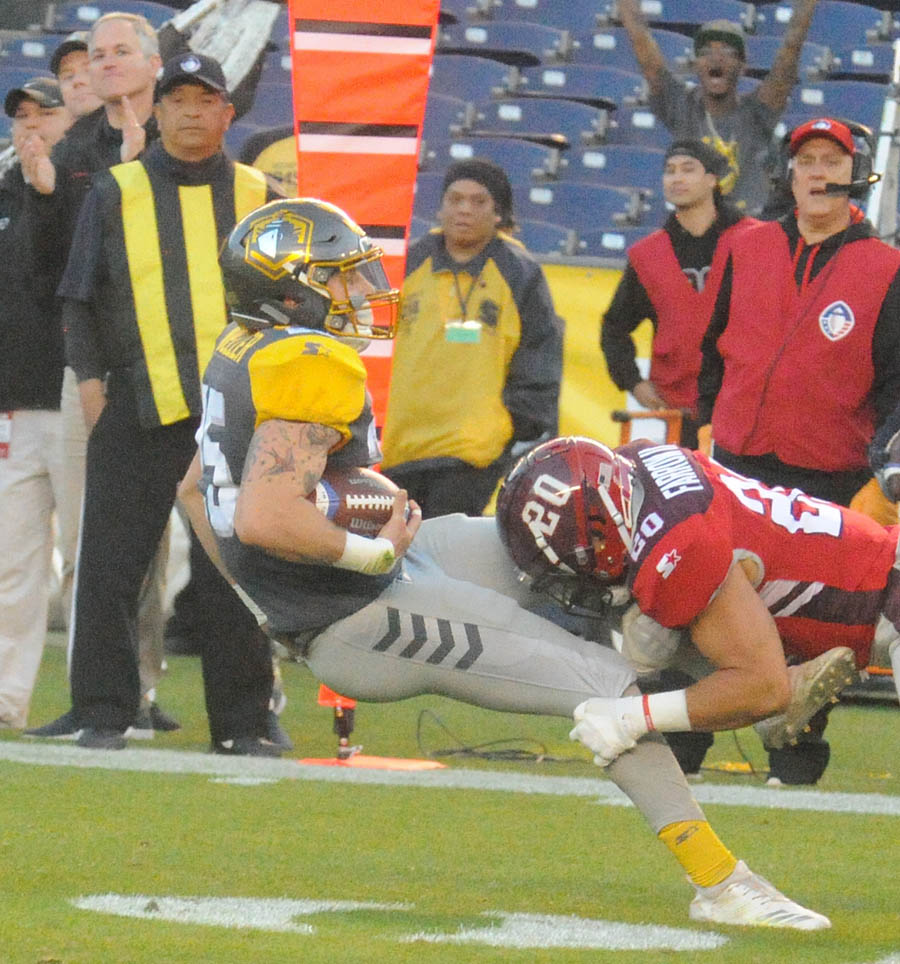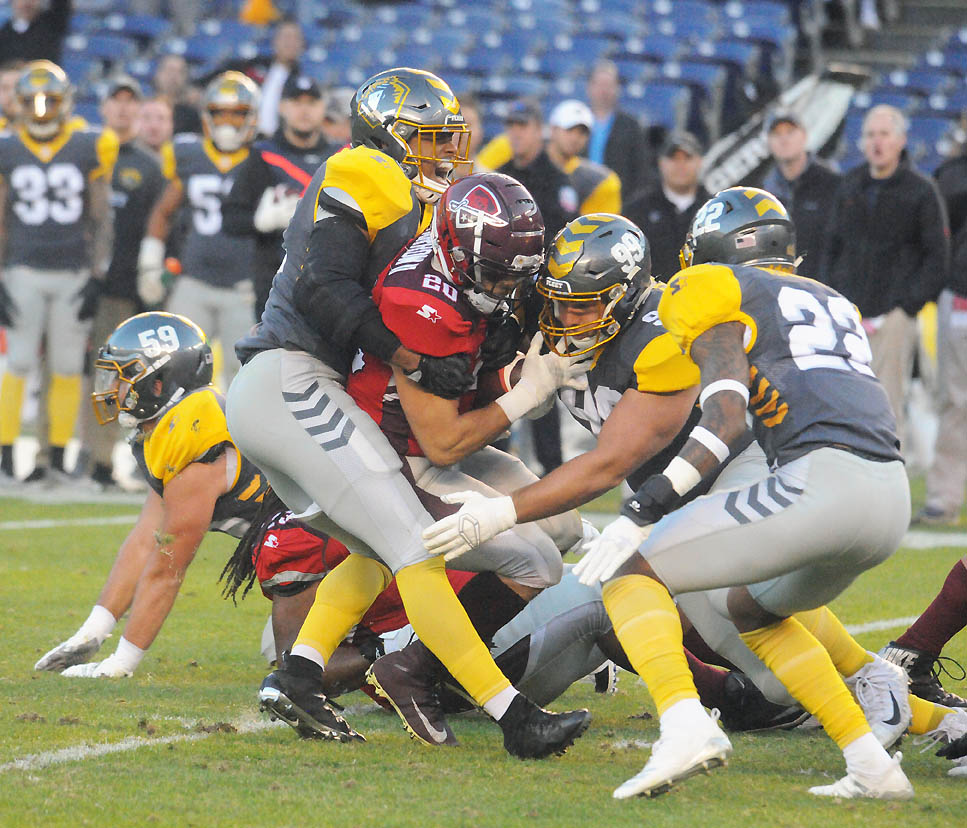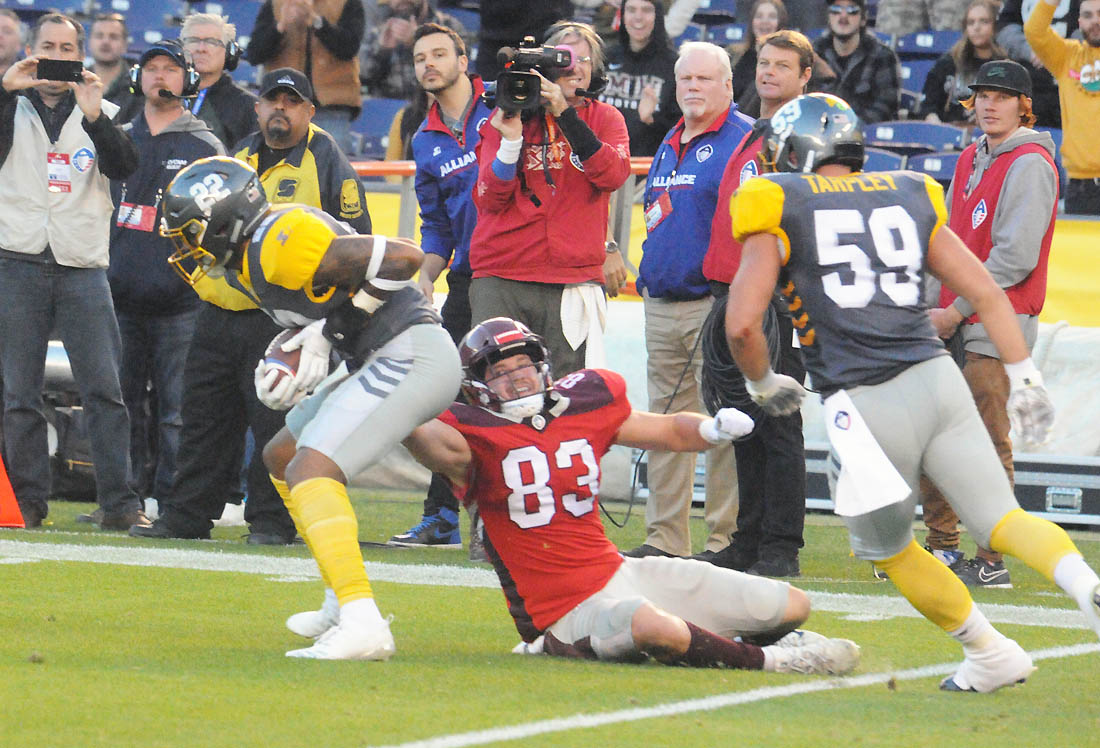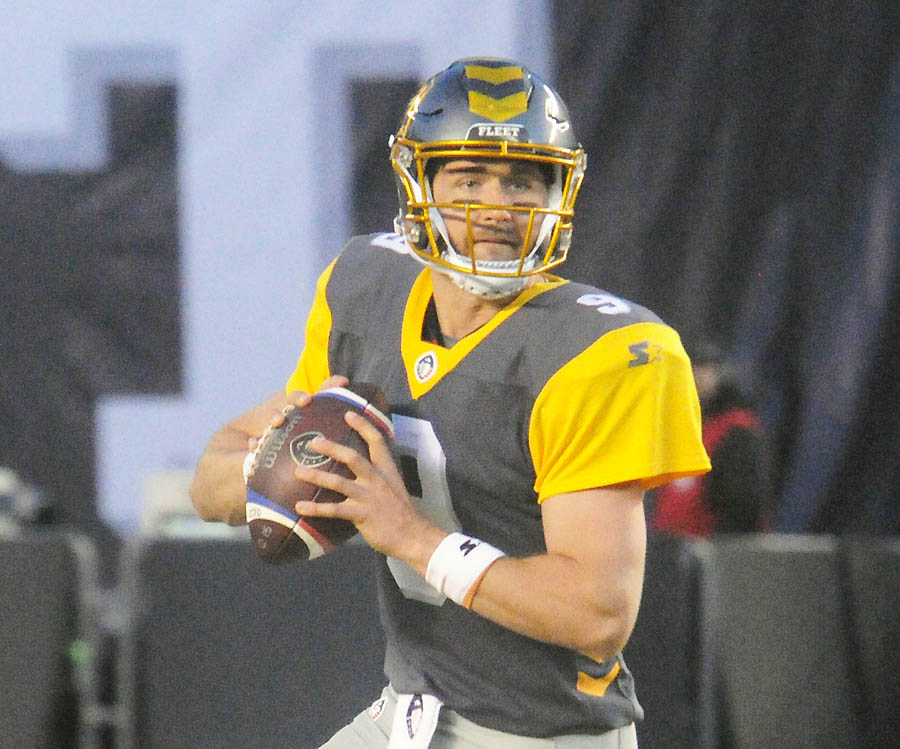 Professional Soccer:
Landon Donovan joins Sockers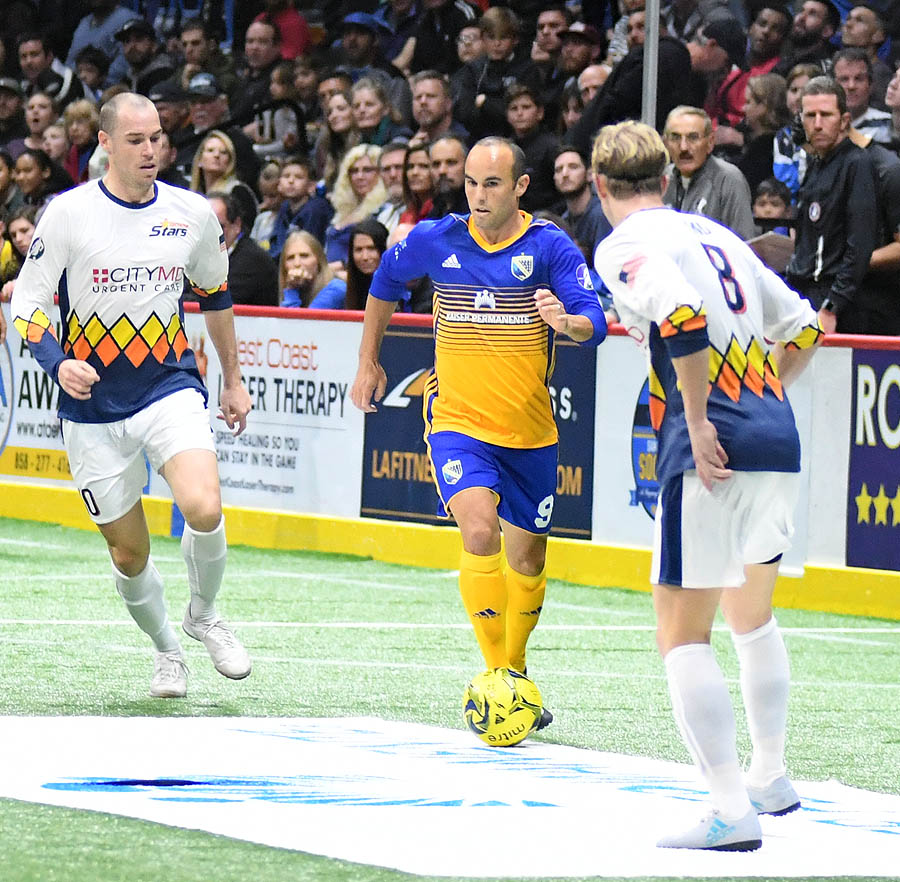 USA international Landon Donovan ventures into great indoors with Sockers
For those who failed to attend Friday's Sockers match against the Tacoma Stars at Ron Newman Field at Pechanga Arena San Diego, they missed a one-of-a-kind viewing experience as USA international outdoor soccer star Landon Donovan made his indoor soccer debut for the hometown team.
Friday's match (Feb. 15) between the Sockers and the Stars kicked off in front of a lively gathering of 8,492 fans that set a franchise attendance record in the Sockers' Major Arena Soccer League era since 2009.
The large crowd proved the region's soccer community still loves Donovan, one of the most decorated players in the history of the sport in the United States, and still loves the Sockers, one of the most storied indoor soccer franchises in history.
Donovan, 36, picked up an assist on what proved to be the game winning goal for the Sockers in a 6-4 win over the Stars.
The Sockers improved their record to 13-1 with the victory while the Stars fell to 6-7 on the season. The teams rematch Sunday in Tacoma.
Stars in their eyes
Considered one of the greatest outdoor soccer players in United States history, Donovan set numerous records for the U.S. men's senior national teams as well as in Major League Soccer over a career that first began in 1998 with the U.S. U17 team.
Donovan may be best remembered domestically as a member of MLS's L.A. Galaxy where he scored 112 goals in 247 matches from 2005-14, 2016. He won six MLS championship cups during his own storied career and earned a legacy as the league's all-time scoring leader.
He made 157 appearances with U.S. national outdoor teams from 2000-14. He appeared in six games for Leon in Mexico's Liga MX in 2018.
Upon signing with the Sockers, he said his goals are to "win, have fun and entertain."
"I'm joining a great team and hoping I can augment that," the Southern California native said. "They have 14 championships and want that 15th."
The Sockers may finally get it with Donovan in tow.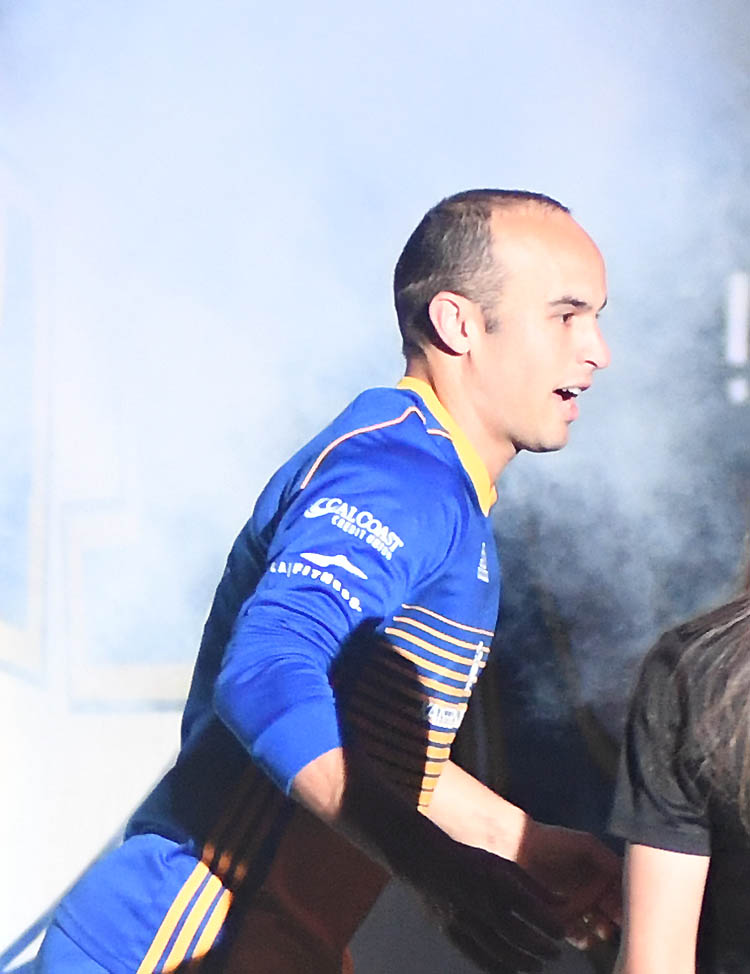 Donovan signed with the Sockers on Jan. 24. The high caliber signing underscored the MASL's goal to establish its reputation as a competitive force within the U.S. soccer landscape. The MASL features 17 teams across the United States, Canada and Mexico.
"We are thrilled to announce that one of the greatest soccer stars in U.S. history is joining the Major Arena Soccer League," MASL commissioner Joshua Schaub noted in the wake of Donvaon's signing with the Sockers. "Quality signings like Landon and Dwayne DeRosario (a four-time MLS Cup champion with the Missassauga MASL franchise) bring an entirely new level of professionalism and recognition to this league and to arena soccer as a whole. It's an exciting time for the MASL and we're very lucky to have him."
Sockers owner/coach Phil Salvagio called Donovan "not only a world class player but also been a big ambassador for the sport of soccer in San Diego."
"We're thrilled that he's decided to join our squad and continue his mission to make San Diego a top soccer city," Salvagio said after the club inked one of the most recognizable names in U.S. soccer history.
Fans were definitely thrilled to see Donovan performing in a Sockers uniform. He was announced as part of the team's starting lineup on Friday and strode onto the field as the last player to exit through the Sockers' iconic sign logo during pregame introductions.
He played midfield and gradually worked himself into the flow of the game. He didn't embarrass himself with any glaring mistakes and proved to be a steady addition to the team's lineup that was missing Kraig Chiles, the club's all-time leading scorer, who was out with a hamstring injury.
The Sockers broke a 1-1 first quarter standoff with the Stars on the strength of four second quarter goals to take a commanding 5-1 lead at halftime.
It took just 12 seconds on a power play late in the first half for Donovan to earn his first point with the Sockers. While working from the low left corner, he fed a centering pass through defenders to the far post to teammate Brandon Escoto, who tapped in the ball for his team leading 18th goal of the season.
Former Socker Nick Perera scored two goals in the third quarter for the Stars, who closed to within 6-4 on the scoreboard when Troy Peterson scored on a rebound at 2:43 of the fourth quarter. But the Sockers' defense held firm and kept the visitors off the scoreboard despite the Stars playing with a sixth attacker for more than three minutes in the waning stages of the contest.
Brian Farber, Cesar Cerda, Juan Gonzalez, Guerrero Pino, Escoto and Travis Pittman each scored goals for the Sockers. The veteran Farber left the game in the second quarter with a hamstring injury.
Donovan admitted he was impressed by the rich atmosphere that greeted his debut with the Sockers.
"It's awesome, and this team deserves it," Donovan said in a post-game press conference. "It's the best team in the league, the most storied franchise in soccer history, and the players deserve it. I think the crowd got to know a lot of these players tonight, see great goals, and their personalities shine, it's a win-win for everyone."
It's likely the Sockers made a sea of new fans on Friday.
Corner kicks
The only downbeat item on Friday's check list was the pregame announcement of the death of former Sockers legend Fernando Clavijo, who passed away on Feb. 8 in Ft. Lauderdale at the age of 63 after battling multiple myeloma for five years.
The Sockers held a moment of silence for the former defender, who won three championships during his four years with he team, prior to the singing of the national anthem. Clavijo, a native of Uruguay, played for the Sockers from 1984-88 and tallied 49 goals in 187 appearances.
He made 61 appearances for the U.S. national men's outdoor team from 1990-94 and appeared in eight games for the U.S. futsal team in 1992 in which the USA took second place at the world championships.
He coached professional at both the indoor and outdoor level, starting in 1991 with the Seattle Storm and later serving as head coach of the New England Revolution and Colorado Rapids in MLS.
He was inducted into the U.S. National Soccer Hall of Fame in 2005.
The Sockers return to Ron Newman Field at Pechanga Arena on March 1 to face the Turlock Express.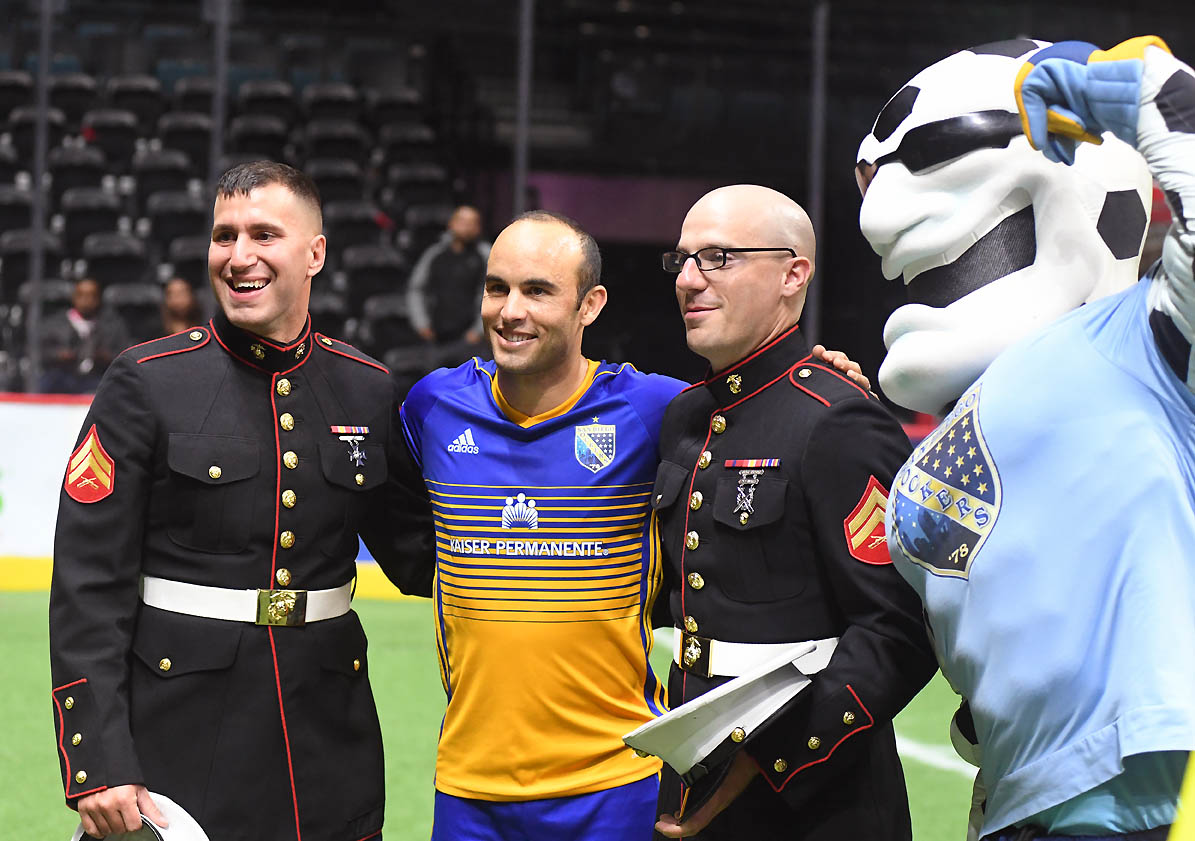 Donovan makes more history with first MASL goal, tacks on four points in 13-2 Sockers win
Landon Donovan, U.S. Soccer legend and newest member of the San Diego Sockers, scored his first two goals of his Major Arena Soccer League career in the first quarter of Friday's game against the Turlock Express at Ron Newman Field at Pechanga Arena San Diego.
Donovan finished his second outing as a Socker with four points while adding two second-half assists in a 13-2 victory.
With the win, the team's 13th consecutive, the Sockers (15-1) clinched the MASL regular season Pacific Division championship and a berth in the upcoming playoffs.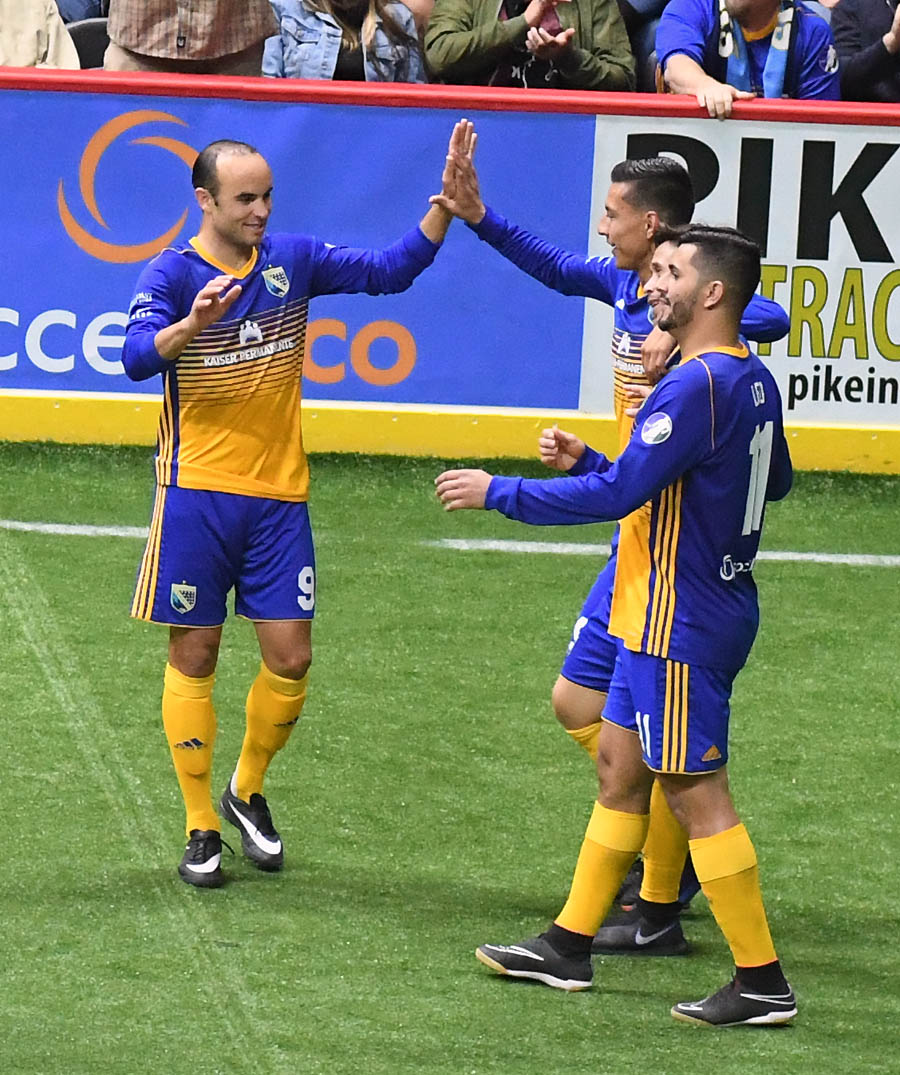 The Sockers set a MASL-era record when 8,492 fans turned out for Donovan's Sockers debut on Feb. 15. Though the attendance for Friday's game wasn't nearly as large – 4,263 – fans were treated to even more history when Donovan scored just 12 seconds into the game off a pass from teammate Brandon Escoto.
Donovan scored his second goal at the 7:40 mark of the opening quarter to stake the Sockers to a 3-0 lead.
The hosts carried a 5-2 lead into halftime and ran away from the Express (2-15) with an 8-0 scoring edge in the second half.
Donovan was once again the post-game media darling.
He remained humble in describing his reactions to his performance in the game as well as that of his teammates.
"It happened so fast, the game started and the next thing you know I had a tap–in," Donovan said of his first goal as a Socker. "It was good to get that out of the way, but more importantly a really good win, and a good performance."
An international outdoor soccer star and all-time Major Soccer League scoring leader, Donovan admitted he is still adjusting to the indoor game, as well as his new teammates.
He did not accompany the team on its return leg match against the Tacoma Stars in the Pacific Northwest on Feb. 17, a 9-5 Sockers' win.
"I came here in the middle of the season, the team is playing well and winning, and I just want to contribute," Donovan explained. "It was nice to get going right away. It felt good personally.
"It's easy to settle in with this group. They've been very accepting."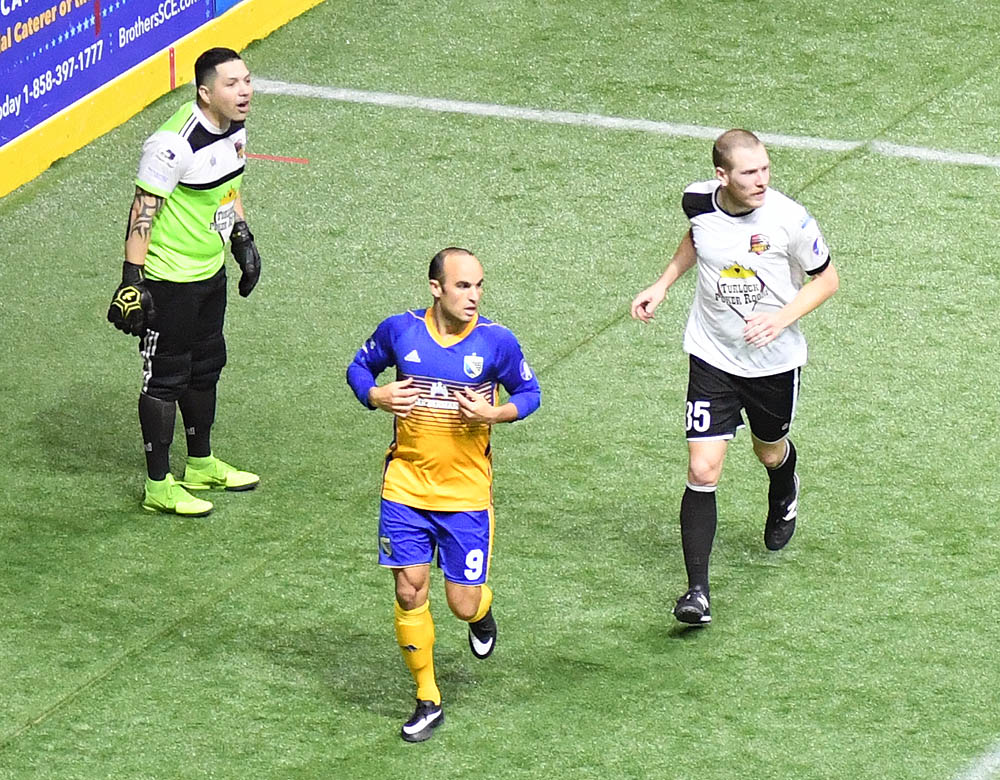 Playing a midfield role with the Sockers, Donovan appears more comfortable dropping back on defense, though his offensive thrusts and timing look much more polished than in his debut when he registered the assist on what turned out to be the game-winning goal in a 6-4 win over Tacoma.
"This is an adjustment," Donovan conceded. "There were a couple plays in the game that I was disappointed in, but I was able to contribute. I want to be able to contribute everywhere I can, whether it's scoring goals or defending."
Donovan's first goal resulted after a defensive turnover by Turlock; Luis "Pee Wee" Ortega assisted on Donovan's second goal.
The entire Sockers bench came onto the field to greet Donovan after the first goal.
Donovan picked up his third point of the game when Kraig Chiles, the former San Diego State University alum and all-time Sockers scoring leader, rocketed a shot into the top netting to up the lead to 7-2 on a power play.
Donovan fed Escoto at the 4:52 of the fourth quarter to extend the lead to 11-2.
However, Donovan, by no means, did it alone in Friday's game.
Joining Donovan on the score sheet with two goals each were teammates Chiles, Escoto and Ray Contreras while Hiram "Pollo" Ruiz scored his long-awaited first goal of the season while collecting two assists.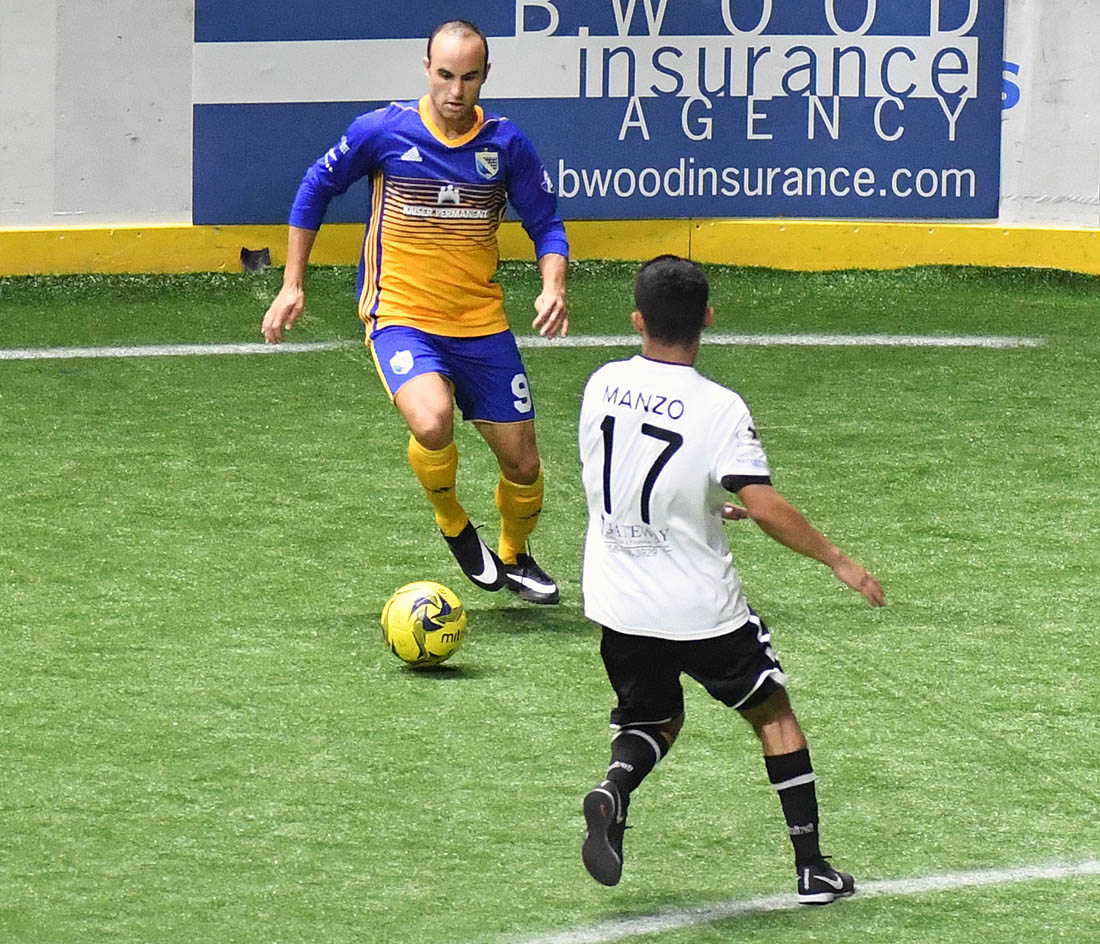 Donovan, who credited team chemistry as a big plus for the team, said the team's aggressive mentality continues to play dividends.
"We want to be aggressive," Donovan noted. "This team wants to be aggressive and put pressure on the other team."
The Sockers put their aggressive nature to good use in the opening minute of the game.
Just 18 seconds after Donovan's first MASL goal, the Sockers had a 2-0 lead when Ortega scored at the 30-second mark off an assist from Chiles.
The Sockers completed their romp over the Express by notching six goals in the final quarter, several of which were of the spectacular variety.
Christian Segura, Christian Gutierrez and Cesar Cerda closed out scoring in the game.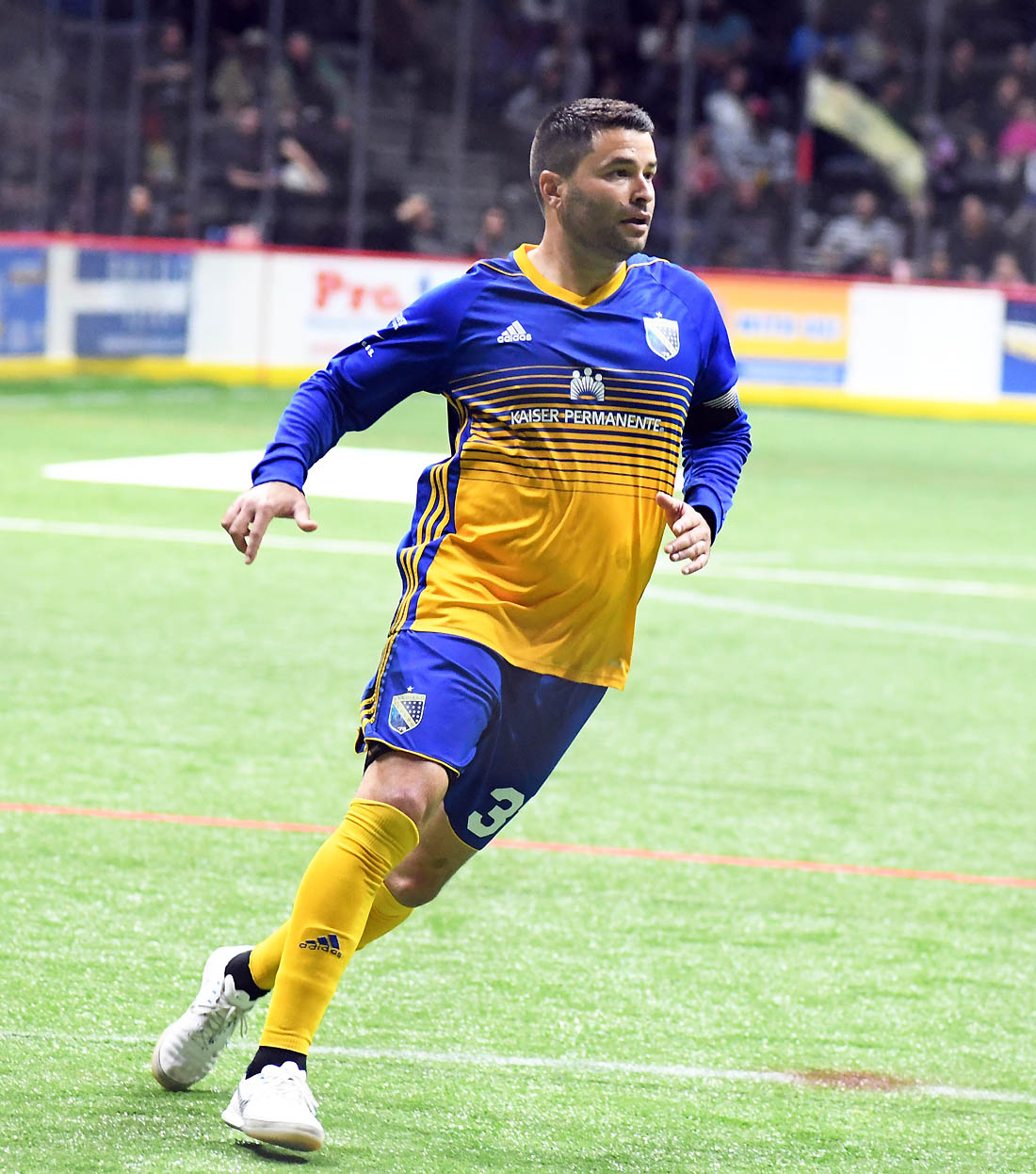 Despite the team's lofty .938 winning percentage — best in the 17-team league — Chiles cautioned that it's too early to award the Ron Newman Cup to the Sockers.
"As the captain, I'm doing my best to keep everyone focused," Chiles explained. "Winning the division means very little to us (at this point); we've done it in the past and lost in the playoffs, so we know it's about getting sharp, healthy and fit and getting ready to take care of business then."
Besides the Sockers, the MASL's other division leaders include the Milwaukee Wave (14-3 in the South Central Division, .824 winning percentage), Monterey Flash (10-3 in the Southwest Division, .769 winning percentage) and Utica City FC (12-5 in the Eastern Division, .706 winning percentage).
Teams play 24 regular season games.